15 Top-Rated Things to Do in Winter in Amsterdam
While spring and fall are the most popular seasons to vacation in Amsterdam, there are a slew of perks and rewarding things to do awaiting those who visit during winter. In addition to cheaper rates on everything from airfare to accommodation, winter travelers can enjoy crowd-free museums, skate on the canals (if it gets cold enough), and chow down on the most delectable wintertime treats.
Visit during December or early January to witness the magic of Amsterdam aglow with festive lights, charming Christmas markets, and more fresh flowers than you can count on National Tulip Day. Don't worry, you won't freeze. The temperature in Amsterdam rarely plummets below 34 degrees, even in February, and highs hover near 44. Don a couple of layers, and you'll be perfectly comfortable.
Plan your visit to the lovely Dutch capital with our list of the best things to do in winter in Amsterdam.
1. Be Wowed by the Amsterdam Light Festival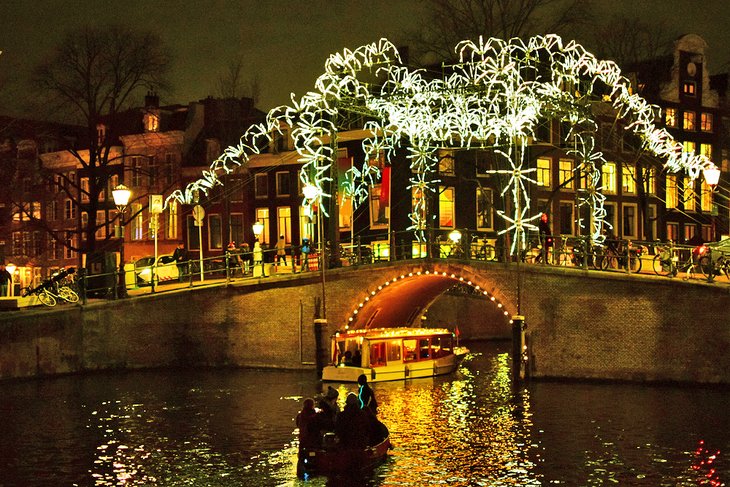 If you thought the city's architecture was impressive, just wait until you catch sight of the remarkable Amsterdam Light Festival. A massive, open-air exhibition descends on the city during December and January, flanking its canals and winding streets with giant light sculptures so impressive, you'll gasp with delight.
The first festival took place in 2012 and has grown into the highly anticipated and beloved event it is today. Nearly one million visitors arrive annually to admire the incredible light sculptures first-hand, making it one of the best free things to do in Amsterdam.
From a giant house of cards to life-sized models of people sitting on a park bench to a display of bacteria fighting the E. coli virus, visitors will be amazed by the innovative creations that light the capital each winter. Some are even set to music.
Each year, the displays vary in size and theme. The walking route invites tourists to explore the dramatic works on foot, while the canal route entices them to travel by boat to gape at the intricate displays in, around, and over the romantic waterways.
While you never know exactly what to expect at the Amsterdam Light Festival, you're sure to be mesmerized. You'll never look at festive lights the same way again.
2. Pick a Free Bouquet on National Tulip Day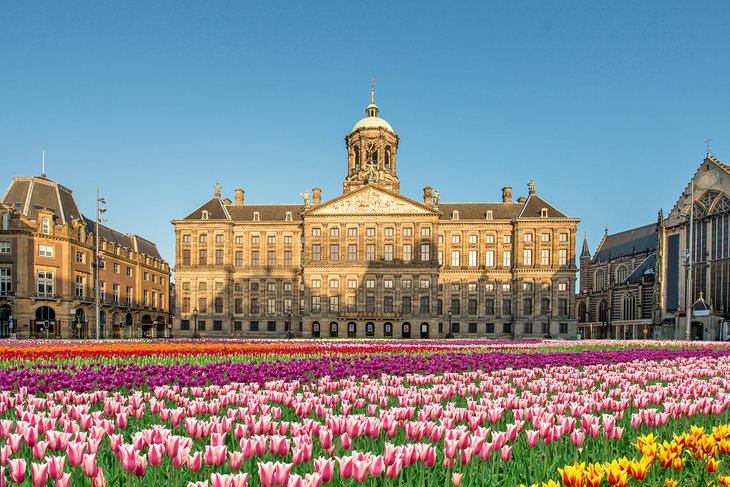 While many associate tulips with the arrival of spring, those in Amsterdam like to appreciate this cheerful flower much earlier in the year. The third Saturday of January plays host to National Tulip Day, or Nationale Tulpendag, as it's known in Dutch.
At 8am, locals begin unloading their trucks and arranging over 200,000 tulips into a temporary garden in Dam Square. At 1 pm, they open the garden to the public and offer everyone a chance to pick flowers for free. Watching the setup is almost as much fun as picking the flowers yourself, so arrive early.
Insider's tip: Be prepared to stand in line (sometimes for an hour or more) if you're hoping to leave with flowers. This is well known as one of the best free things to do in Amsterdam in winter.
If you're hankering for more beauty, head to Keukenhof, the gorgeous estate of Keukenhof Castle set just 30 minutes outside Amsterdam. Its colorful spring blooms are spectacular, but it isn't open until the end of March.
3. Skate on a Canal or an Outdoor Rink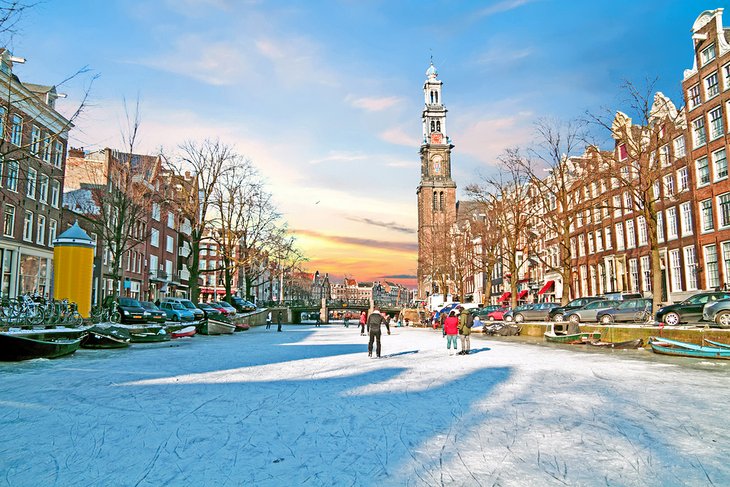 While skating on one of Amsterdam's famed Golden Canals is one of the most romantic ways to tour the city, this happens very rarely. Sections of the Prinsengracht and Keizersgracht canals last froze enough to support the weight of skaters during the "big freeze" in March of 2018. Prior to that, the canals hadn't frozen in over six years.
If you aren't lucky enough to visit during a deep freeze, take a swirl around one of the city's winter ice rinks. ICE*Amsterdam offers outdoor skating in one of the most picturesque settings: Museumplein, a spectacular venue for a glide. Skaters are blessed with incredible views of the Rijksmuseum from mid-November to March 1st.
Leidseplein also boasts an outdoor rink from mid-November to early January. Rental skates are available at both rinks, as are warm drinks and snacks, which you can enjoy before and after your session. Skating is a fun thing to do with the family, so be sure to bring the kids along.
For a more professional experience, lace up your skates at Jaap Eden Ijsbaan, which is open from October to March.
4. Get Inspired (and Warm) at the Museums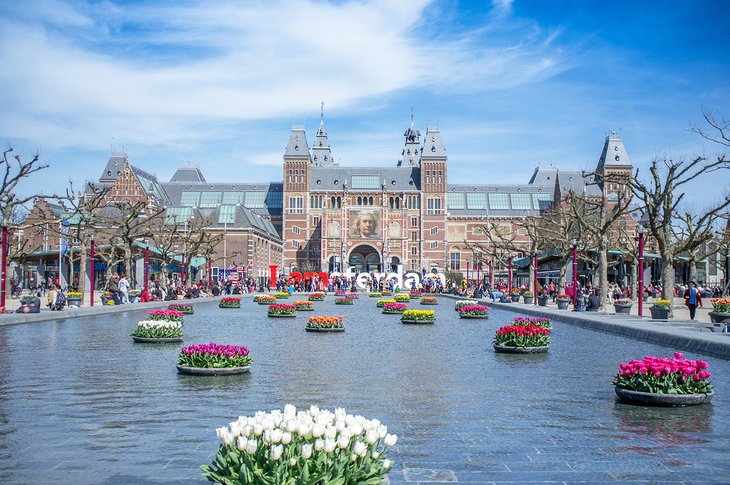 Amsterdam is home to some of the world's best museums, which are generally packed during the high season. Winter travelers get to experience the impressive exhibits found in these tourist attractions without the hassle of crowds.
Take advantage of the relative quiet, and explore the unmissable Rijksmuseum (a.k.a. National Museum) the scenic heart of Museumplein. This historic building is home to a vast collection of ancient and modern art and artifacts.
While in town, do not miss a visit to the Van Gogh Museum. Art buffs will be captivated by both the building itself (a modern creation designed by Gerrit Rietveld) and the incredible paintings by Van Gogh himself. Home to the largest collection of the artists' works, you'll find letters, etchings, and paintings on display.
The Ann Frank House is another important place to visit. Located on the Prinsengracht, this hauntingly unforgettable museum is housed in the home in which the Frank family hid from the Nazis during World War II. Inside, you'll find the hidden staircase to their living quarters and other items that remain as they were when Anne and her family hid here.
5. Hop aboard a Canal Cruise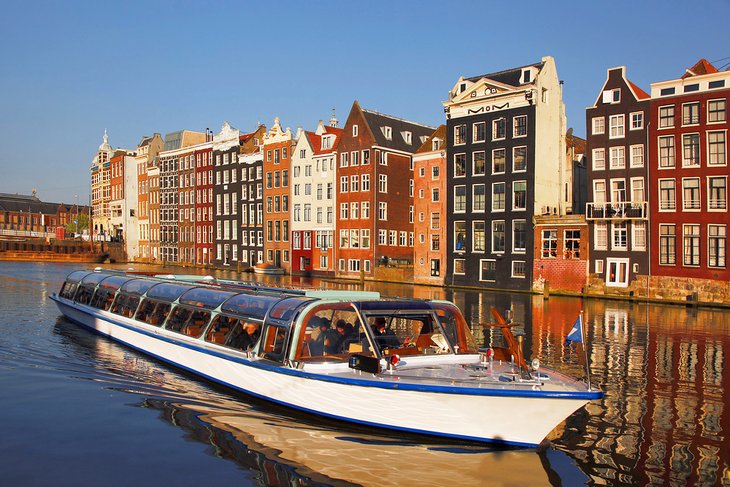 Dubbed the "Venice of the North," Amsterdam is perhaps best known for its romantic, tree-lined canals. And what better way to explore the city's sparkling stars than by getting up close and personal - on a boat cruise? Book one for New Year's and you're in for an unforgettable night!
With over 100 kilometers of canals (a.k.a. grachten) winding their way through the city, there's no shortage of places to cruise. That said, the most popular (and touristy) canals are Prinsengracht, Herengracht, and Keizergracht. Many cruises include a hot chocolate to warm your fingers, although most boats are heated, so you shouldn't feel chilled.
Multiple cruise companies (over 120 to be exact) have made a good business out of shuttling visitors between Amsterdam's tourist attractions or simply touring them around the waterways, pointing out architectural marvels and enlightening them on the area's history along the way. You'll have plenty of options to choose from.
Plan your cruise during the Amsterdam Light Festival for an even more memorable excursion.
6. Attend the Winter Festival Amsterdam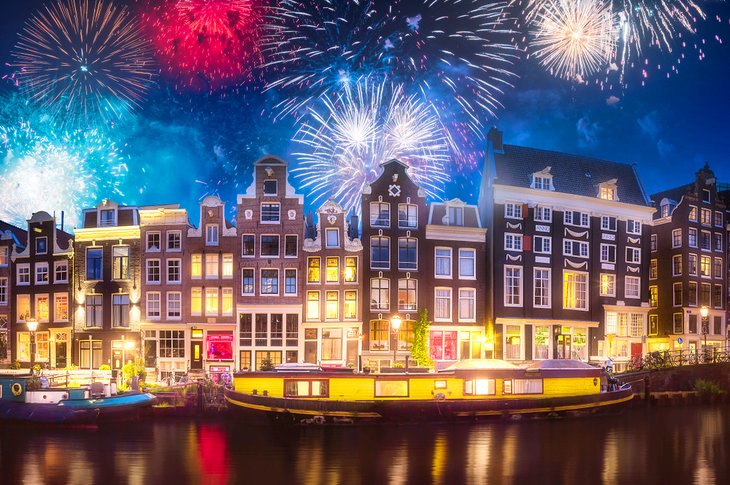 The Dutch love winter, and who can blame them? Romantic canals reflect twinkling lights, the narrow streets are lined with festive markets, and restaurants dole out delicious warm dishes.
Evening canal cruises, ice-skating, snowball tosses, and cross-country skiing are just some of the activities on offer at the city's beloved Winter Festival Amsterdam, an event created to celebrate this cool and wonderful time of the year.
One of the best points of interest in winter, this popular festival attracts thousands of tourists from late-December through early January (around the 18th to the 8th).
Famous Dutch artists will perform on the stage, tasty treats will be on offer, food trucks will hover, and visitors can ride a Ferris wheel or carousel when they're not twirling around an indoor or outdoor rink.
Official site: https://winterfestivalamsterdam.com/winter-festival-amsterdam/
7. Fill Your Belly with Classic Winter Dishes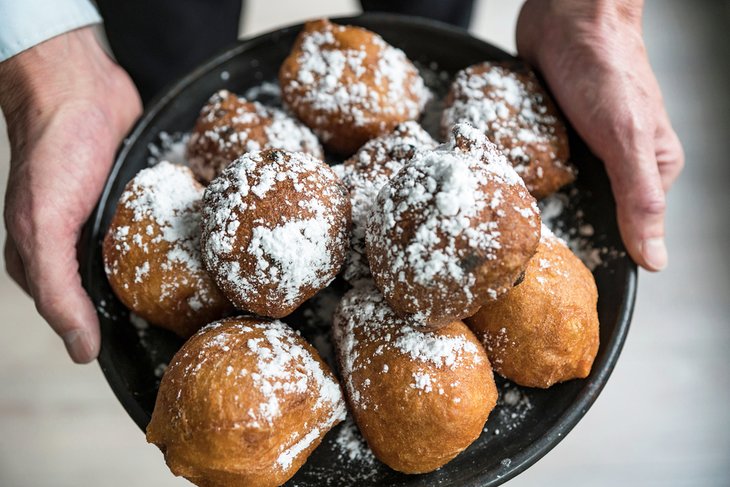 Warm and inviting cafés line Amsterdam's streets, enticing visitors to step in from the cold for a warm bowl of soup (Snert is a thick and hearty pea soup served with rye bread), stamppot (mashed potatoes and veggies served with meat), fondue, or a broodje (a.k.a. sandwich).
Once you've finished your meal, it's time to enjoy some of the tastiest treats on offer in Amsterdam. Oliebollen are the most famous winter dessert and are only available at this time of year. Eating these scrumptious, deep-fried dough balls is a delicious and beloved New Year's tradition, not to mention one of the most enjoyable things to do in winter. These are essentially donuts covered in powdered sugar, and are sold in stalls known as oliebollenkramen, which are positioned throughout town.
Appeltaarts (apple pie), Dutch pancakes, and Poffertjes (pancake-like treats doused in powdered sugar and butter) are also on offer at this time. Wash it all down with a mug of hot chocolate, and you'll be reenergized for a day of sightseeing.
8. Shop the Boutiques along the 9 Straatjes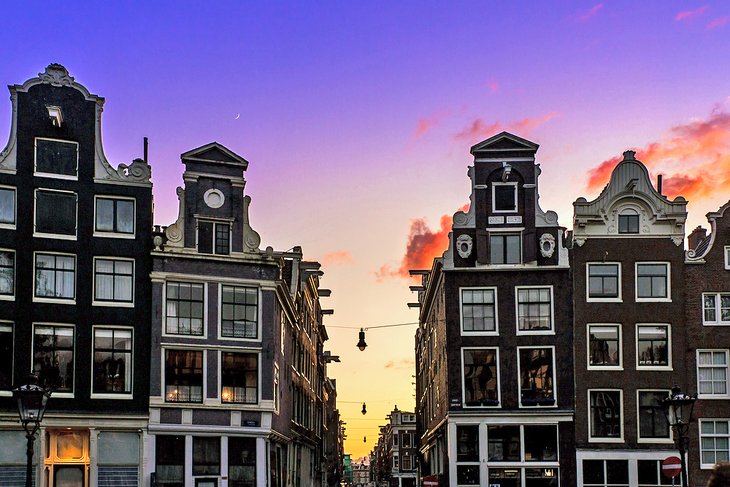 Engage in some retail therapy among the eclectic boutiques of Amsterdam's 9 Straatjes (a.k.a. nine little streets). This unique shopping area consists of nine scenic streets, which lie within the city's most prominent neighborhoods: Herengracht, Keizersgracht, and Prinsengracht. Each neighborhood houses three of the streets. Part of the fun is crossing bridges over the canals to reach the other side.
No matter what you're searching for, you'll find it here. Each street is lined with art galleries, designer shops, cafés, restaurants, and vintage clothing stores. You'll also find jewelry boutiques, book shops, and flower stores. Also, it wouldn't be Amsterdam without design stores and a bevy of shops selling lingerie.
Around Christmas, the streets are beautifully decorated, adding to their picturesque allure. Be sure to bring a camera, and allocate some extra spending money before you head into this land of temptation.
9. Tour Amsterdam's Christmas Markets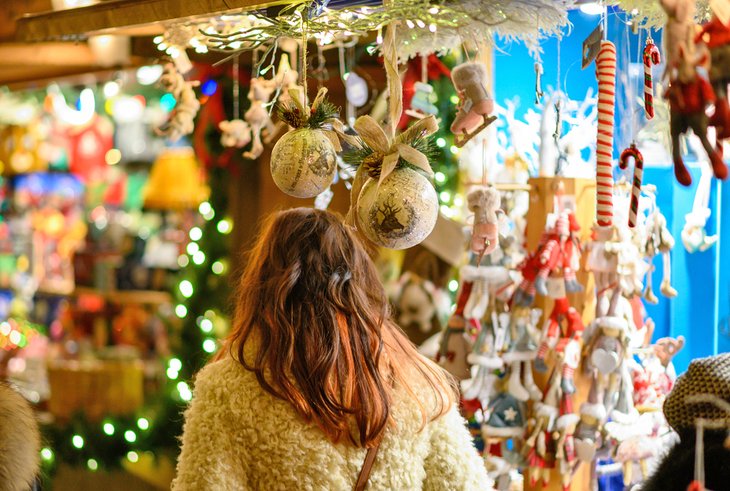 There's no shortage of festive markets in Amsterdam in winter. Boasting hand-made crafts, delectable treats, and skating rinks, these markets up the fun factor of any cold-weather Dutch vacation. A few faves include the Ice*Village Amsterdam, which surrounds the skating rink in Museumplein and features vibrant lights and dozens of vendors selling festive treats and wares.
In pure Amsterdam style, the traditional Sunday Market in Westergasfabriek is transformed into the Funky Xmas Market for one day in mid-December. Quirky handmade goods are on display by their unique vendors.
Pure Winter Markt Amsterdam is the perfect place for the environmentally conscious shopper. Sustainability is the theme here, which is what makes this such a rewarding place to visit. In addition to purchasing guilt-free gifts, the market - with 70 percent of its space devoted to food vendors - features the freshest local dishes around. This is a traveling market, so check their site to determine where they'll be when you're in town.
For a truly Dutch experience, head to Leiden, an adorable town about 40 minutes away, for their floating Christmas Market. Multiple stalls and food stations are set upon a floating platform on the Nieuwe Rijn, creating a majestically festive aura.
10. Step Back in Time at the Museum of Willet-Holthuysen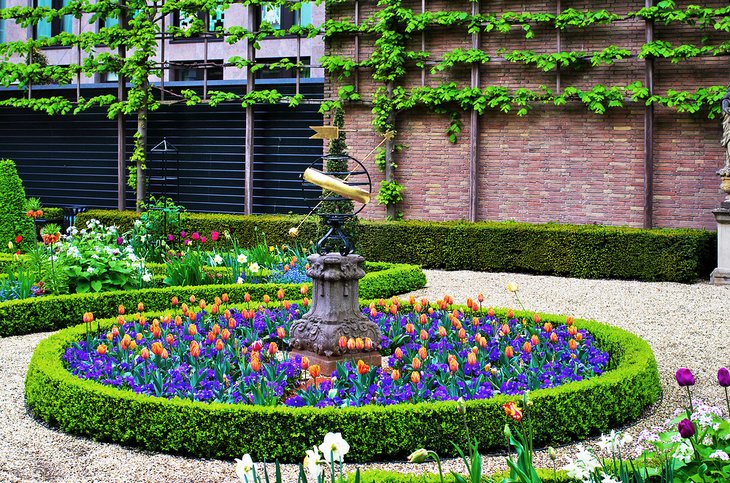 A perfect example of a historic canal home, the Willet-Holthuysen museum is located on the Herengracht. Last home to Abraham Willet and Louisa Holthuysen, this attraction serves as an enchanting example of what life was like for wealthy members of Dutch society (and their staff) in the mid-1800s.
From December to early January, the house is converted into a 19th-century festive wonderland as part of the Christmas Exhibition. The museum is decorated with trinkets and festive décor from the time of its last inhabitants. The remarkably decorated Christmas tree, complete with unwrapped children's gifts is a stunning centerpiece.
Visit during the last week of December, and you'll be graced with live music, including Christmas songs, and a reading of Christmas stories. Coffee, tea, and board games are on hand during these times, which will tempt you to prolong your stay.
11. Catch a Performance of Wereldkerstcircus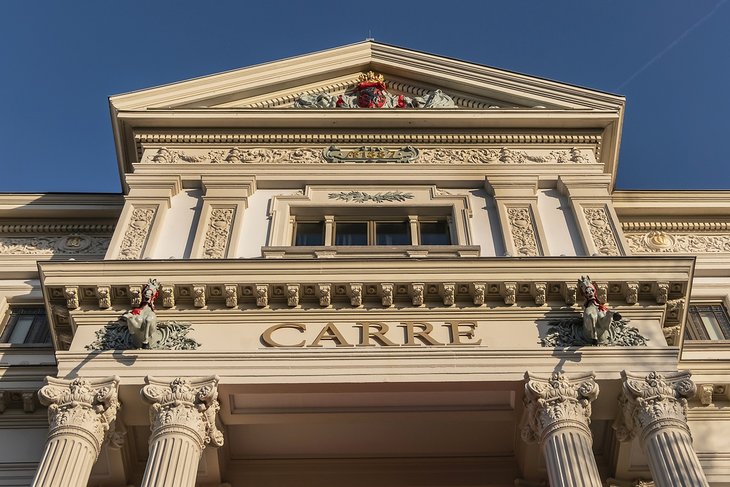 Acrobats, white horses, contortionists, Trapeze artists – if you can dream it, the Wereldkerst Circus Carré likely has it – and the shows don't disappoint. A much-loved tradition, the World Christmas Circus (a.k.a. Wereldkerstcircus) has been gracing Amsterdam's stages since it began as a one-man show with circus performer Oscar Carré in 1887. Locals flock to see this exciting performance at the Royal Theatre Carré each holiday season.
Much larger and more diverse than its original show, today's Christmas circus includes thrilling acts featuring circus performers from across the globe. If you're used to attending The Nutcracker ballet or a performance of Handle's Messiah to get in the holiday spirit, you'll be amazed by the fun you'll have ringing in the season at this entertaining event.
Performers from across the globe gather in Amsterdam from late December to early January (for just over two weeks) to thrill tourists with their unique acts. Not surprisingly, visiting this exciting Christmas attraction is one of the best things to do with the family in Amsterdam.
Hold your breath as you watch trapeze artists fly through the air and acrobats fling themselves around the stage. Contortionists, jugglers, clowns, and the "Italian Horse Whisperer" are a few of the featured acts.
Each year, over 60,000 people bombard the theater to be wowed by the amazing feats performed in this historic venue, which was built by Oscar Carré in 1887 to host circus performances. Be sure to book your tickets early.
12. Sled, Ski, or Snow Tube at Winter Paradise
Each December, the RAI and its surroundings are transformed into a wonderland of wintery goodness. We're talking real snow, tube slides, sledding, curling, and multiple skating rinks (both indoors and outside).
No matter the weather, Amsterdam's Winter Paradise (a.k.a. Het Amsterdamse Winterparadijs) brings the best parts of the season to its guests. Board the giant 40-meter-high Ferris Wheel for a spectacular view of the city, cross-country ski around Christmas trees, or have a snowball fight with friends. In need of a rest? Put your feet up as you enjoy a Christmas movie at the Christmas Cinema.
When hunger strikes, roast marshmallows over a fire, or grab a bite from one of the pop-up restaurants or cafés.
13. Talk to Animals at the ARTIS Amsterdam Royal Zoo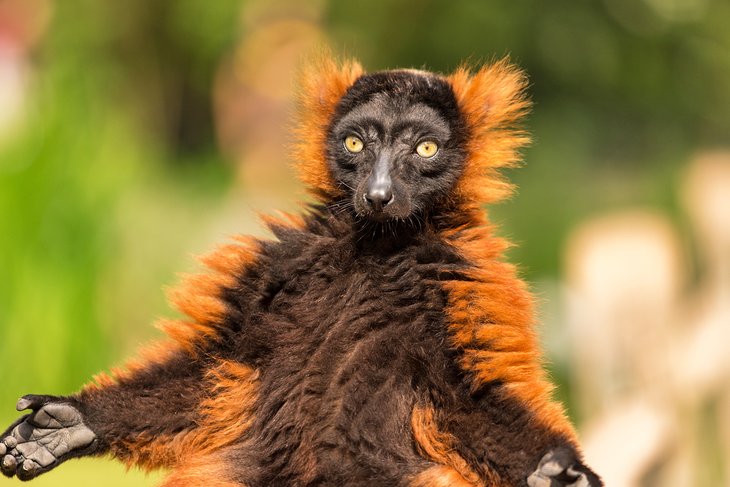 If you thought visiting a zoo was a summer activity, you clearly haven't been to ARTIS Amsterdam Royal Zoo. Home to enough creatures to keep kids and creatures of all ages happy (including lions, giraffes, penguins, and flamingos), this zoo was opened in its central location in 1838.
With more than 750 species calling this zoo home, this attraction remains one of the best places to visit for families in Amsterdam, even in winter.
When your toes are feeling the cold, head inside to the insectarium, butterfly garden or planetarium. There's also an aquarium on-site for those who'd like to explore the underwater world more closely. In all, there are over 25 historic buildings and enough animal enclosures to keep you busy for at least a half day.
Nearby, you'll find the Micropia museum. Tourists are granted an unsurpassed view into the world of microbes in this interactive space. Trust us, this is way more interesting than it sounds. In fact, it's astounding, and grossly intriguing; you won't want to miss it.
Address: Plantage Kerklaan 38-40, Amsterdam
Official site: https://www.artis.nl/en/
14. Question Your Existence at the Groote Museum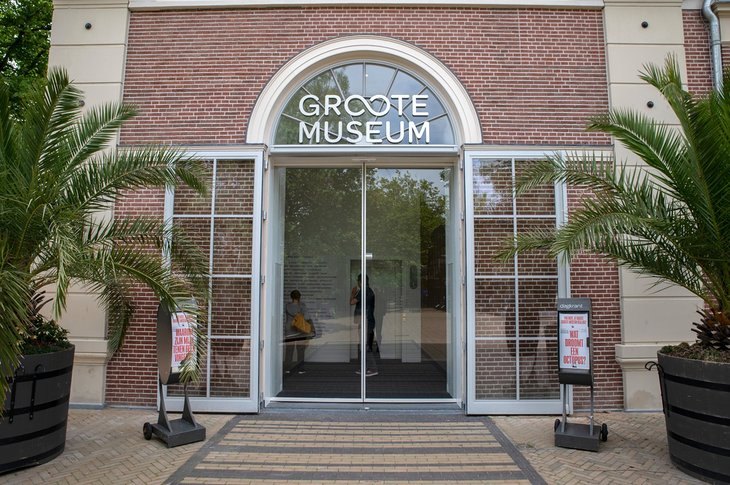 Ever wonder how you're connected to the world? Head to the Groote Museum in Artisplein to discover the multitude of ways in which you're linked to other life on Earth. From playing games to conducting experiments in tents, there are plenty of ways to beat the cold and stay intrigued inside this one-of-a-kind attraction.
Dubbed the "museum of big questions," the Groote Museum was designed to encourage tourists to deepen their perspective on everything around them. A unique space filled with interactive exhibits, this new museum (it opened in May of 2022) is housed in the main building of its predecessor, which was open from 1855 to 1947.
Today, the museum houses 14 zones in two galleries, each of which focuses on one part of the body. Each zone uses an array of methods to teach, including photographs, videos, and hands-on exhibits. They help show visitors the various ways in which one small section of the body is connected to the universe.
Insider's tip: While kids under 12 are free, this museum is best experienced with children who are eight and up.
Address: Artisplein, Plantage Middenlaan 41, Amsterdam
Official site: https://www.grootemuseum.nl/en
15. Catch a Flick at the International Documentary Film Festival Amsterdam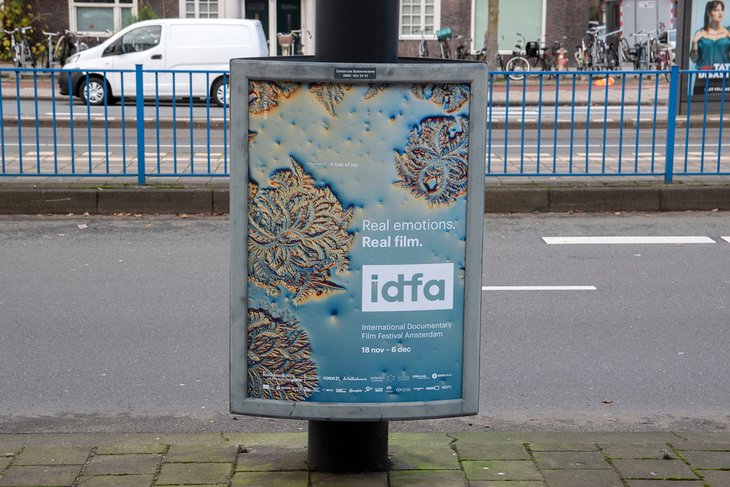 It's easy to feel cozy when cuddling up to a movie. When that movie is a documentary shown at the International Documentary Film Festival Amsterdam, you're in for a real treat.
Held over 12 days in November, the IDFA is the world's largest documentary film festival. It's been hosted in Amsterdam since 1988 and is held in various cinemas and other venues throughout the city.
Each film shown at this famed festival has been chosen for its ability to help change the way we understand the world. The movies are shot from a non-Western perspective, and feature cultures you don't find on the Blockbuster screens we frequent at home. They're thought-provoking, beautiful, and inspired.
In addition to films, the festival hosts talks, immersive and interactive projects, and performances. Be prepared to be wowed, moved, and happily entertained. Insider's tip: Book early as over 290,000 tickets are sold to these events.
Official site: https://www.idfa.nl/en/
Best Time to Visit Amsterdam, Netherlands - Historical Climate Averages
Average minimum and maximum temperatures for Amsterdam, Netherlands in °C
J
F
M
A
M
J
J
A
S
O
N
D

4

-1

6

-1

9

1

13

3

17

7

20

10

22

12

22

12

19

9

14

7

9

3

6

1

PlanetWare.com
Average monthly precipitation totals for Amsterdam, Netherlands in mm.

69

48

66

53

61

71

76

71

66

74

81

84
More Related Articles on PlanetWare.com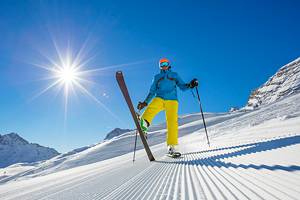 European Places to Visit in Winter: Amsterdam isn't the only winter wonderland in Europe. Prague is a fantastic winter destination if you are looking for cities to visit. Germany boasts spectacular, snow-covered landscapes and expansive Christmas markets. Austria is another must-visit in the colder months. Ski down (or across) majestic mountains, and visit a snow-dusted castle.