15 Top-Rated Attractions & Things to Do in Dusseldorf
The attractive city of Düsseldorf in Germany is highly regarded as one of the country's leading university towns and is an important center for art and fashion. This old electoral capital is also a city of wide streets lined by elegant shops, with a ring of parks and gardens encircling its vibrant downtown area.
As an important cultural center, Düsseldorf has dozens of museums and in excess of 100 art galleries. The latter encompass everything from internationally renowned facilities, such as the impressive Art Collection North Rhine-Westphalia, to the smaller installations found in the city's trendy Königsallee area. These tourist attractions – along with the city's location on the Rhine, its numerous wide squares, and its wonderful riverside walkways – make it a particularly pleasant place to spend time.
In addition to the many other fun things to do in Düsseldorf, each July the city hosts the Größte Kirmes am Rhein, which literally translates to the "Largest Fair on the Rhine." This massive, week-long funfair attracts more than four million visitors each year. And in November, the popular Karneval brings parades and colorful costumes.
For more great ideas for places to visit and fun things to do, be sure to refer to our detailed list of the top attractions in Düsseldorf.
1. Walk along Königsallee, Germany's Most Elegant Avenue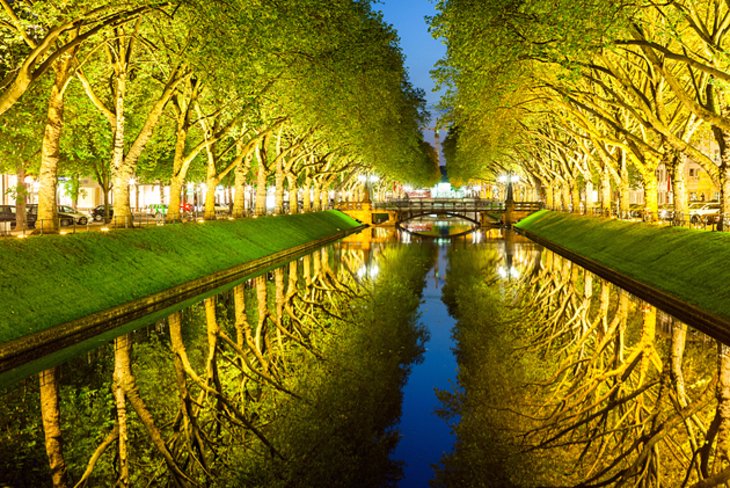 Düsseldorf's most elegant street, Königsallee – literally translated into English as "King's Avenue" – is affectionately known to locals as the "Kö" and is said to be Germany's ritziest shopping district.
Comparable to the chic Avenue Montaigne in Paris, this long stretch of high-end real estate was laid out in 1802 and continues to draw the crowds with its eclectic mix of exclusive boutique shops, designer clothing stores, and luxury shopping arcades. There's also no shortage of art galleries or restaurants and cafés.
A number of fine luxury hotels line the street, too, some of them boasting excellent rooftop patios with views over this bustling street and the city.
Extending along both sides of the old town moat – a 31-meter-wide, tree-lined stretch of water that adds to the street's sense of spaciousness – Königsallee stretches a distance of one kilometer all the way from Graf-Adolf-Platz in the south to the Hofgarten in the north. It ends at the spectacular Triton Fountain. Its entire length is a delight to explore on foot and is a must-add to your Düsseldorf travel itinerary.
2. Enjoy a Riverside Stroll on the Rhine Embankment Promenade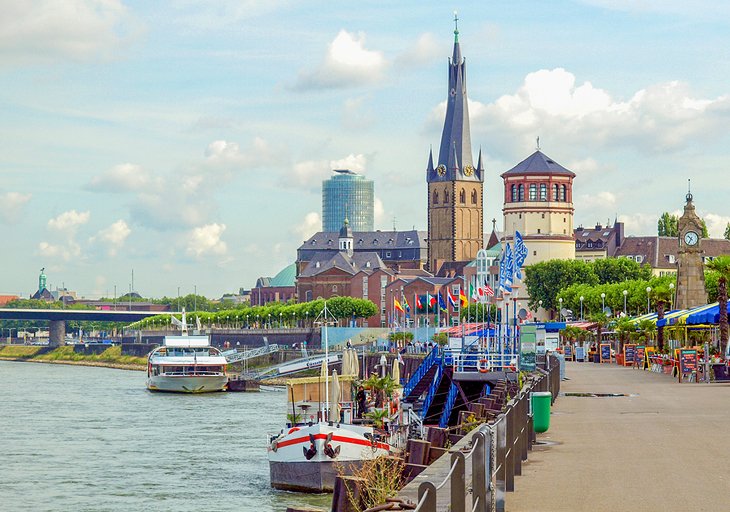 Düsseldorf's Rhine Embankment Promenade (Rheinuferpromenade) offers one of the best ways of enjoying the city's wonderful riverside. Opened in 1997 as a means of hiding one of the city's busiest roads (it's buried beneath the promenade), this long pedestrian route gives the city a distinctly Mediterranean flavor, lined as it is by cafés, restaurants, galleries, and shops on one side, and the mighty Rhine on the other.
Running all the way from the Oberkassel Bridge and connecting the Old Town to the state's Parliament buildings, the one-and-a-half-kilometer, tree-lined promenade encompasses pedestrian and bike paths and offers countless opportunities for sightseeing and people watching.
You'll find a genial mix of tourists and locals enjoying it all year long. Taking a stroll along this delightful pedestrian route remains one of top things to do in Düsseldorf at night.
3. Drive to Schloss Benrath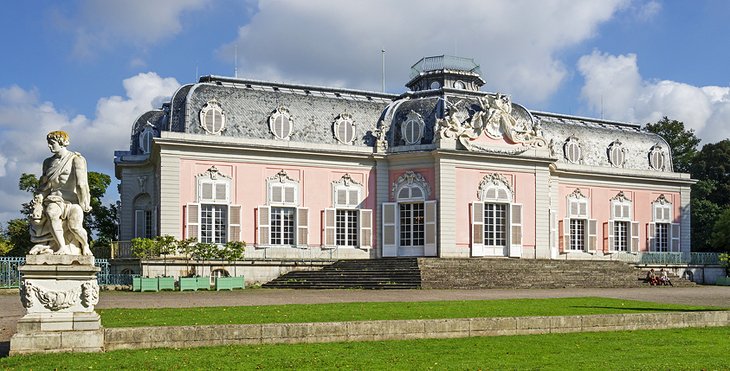 An easy 10-kilometer journey from the city center by public transit or car, Schloss Benrath (Benrath Palace) is a splendid Baroque mansion constructed between 1756 and 1773. Highlights include the palace's sumptuous interior, as well as a stroll around its huge park and gardens.
Originally built for Elector Carl Theodor, the palace is home to three excellent museums focusing on various aspects of life in the 18th century. In the main palace building is Museum Corps de Logis, showcasing the history of Benrath and its architecture.
Also located within the former place are the equally interesting Museum for European Garden Art and the Museum of Natural History are situated in other park buildings. English language guided tours are available for all museums here. The pleasant gardens, laid out in Baroque style, are also worth a visit.
Address: Benrather Schloßallee 100-108, 40597 Düsseldorf
4. Explore Old Town Düsseldorf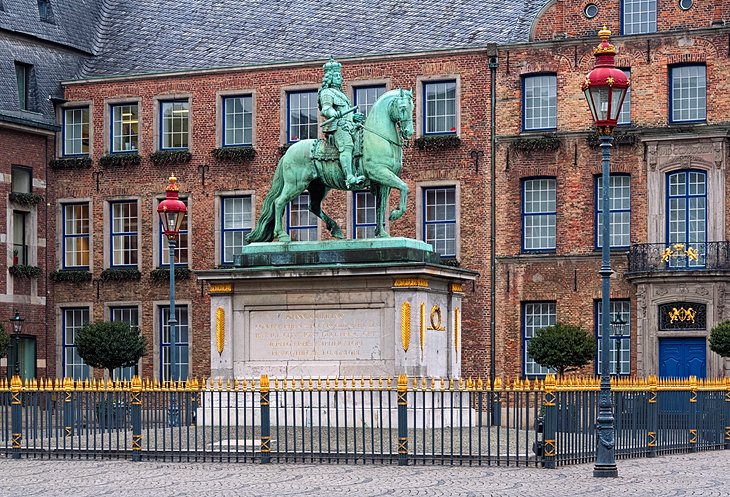 Düsseldorf's Old Town (Altstadt) remains remarkably well preserved and should be included on your list of must-see attractions. The focal point of the Old Town is the Marktplatz, where you'll find the imposing Town Hall (Rathaus) and a large equestrian statue of Elector John William II erected in 1711.
Another highlight is the Castle Tower (Schlossturm) in Burgplatz on the banks of the Rhine. The only surviving section of the old castle that once dominated the city, the tower is home to the SchiffahrtsMuseum, one of Germany's best (and oldest) marine museums with fascinating exhibits on the history of shipbuilding and trade.
Another attraction to visit is the Hetjens-Museum, dedicated to more than 800 years of ceramics, porcelain, and earthenware. St. Lambertus Church is also worth a look and is well-known for its unusual twisted spire.
5. Düsseldorf-Hafen & Neuer Zollhof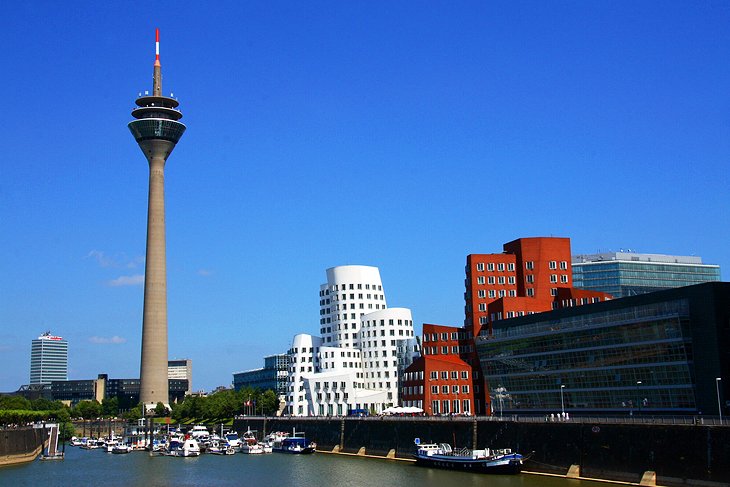 When Düsseldorf decided to reclaim the wasteland of its former river port area, instead of razing the derelict warehouses and freight yards, the city rehabilitated the most historic of them and replaced others with some of Europe's most daring modern architecture.
The best of the massive Düsseldorf-Hafen (Dusseldorf Harbor) redevelopment is in Neuer Zollhof, a stunning section highlighted by the Frank O. Gehry-designed office buildings of Medienhafen (Media Harbor), three quite distinct structures completed in 1998 that seem to defy gravity as they lean and curve like jelly frozen in mid-wobble.
In contrast to these modern structures, the former commercial harbor, with its walls, iron bollards and railings, cranes, and rail tracks remain as historical monuments. Topping the area off is the Rheinturm, a 240-meter-tall telecommunications tower. If you can, be sure to extend your visit to this interesting area with a meal at one of the many good harborside restaurants.
6. See the Views from the Rhine Tower (Rheinturm)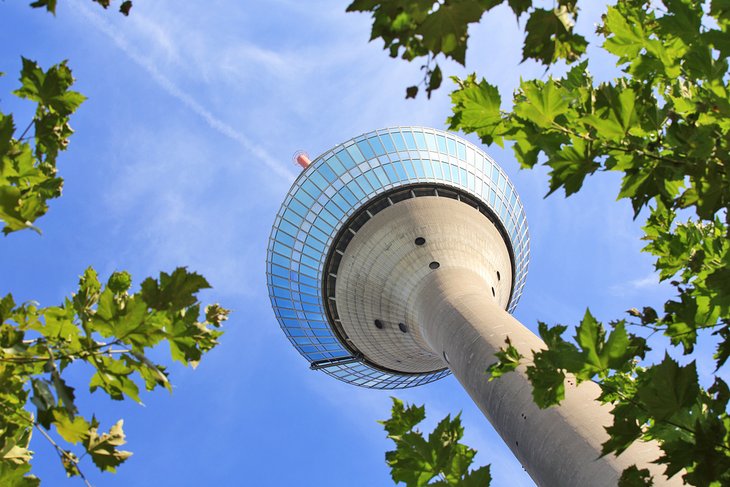 Another landmark you'll want to include on your list of sightseeing opportunities in Düsseldorf is the Rheinturm, or Rhine Tower. Set in the midst of the city's harbor area, this 240-meter-tall telecommunications tower was constructed in 1981 and features an observation deck that offers superb views of the city. For a special treat, visit late for excellent night vistas over the city far below.
Also of interest here is the Lichtzeitpegel (light time level), a fascinating sculpture that also just so happens to be the world's largest digital timepiece. A restaurant is also located atop the tower.
Address: Stromstraße 20, 40221 Düsseldorf
Official site: www.rheinturm.de/en/
7. View the North Rhine-Westphalia Art Collection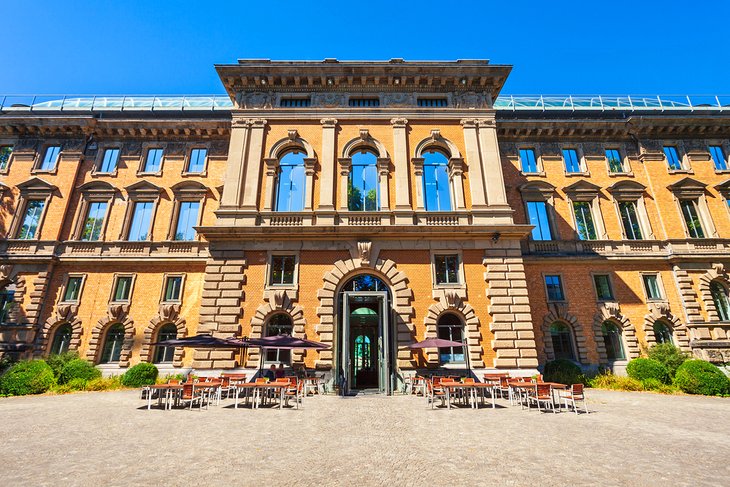 The North Rhine-Westphalia Art Collection (Kunstsammlung Nordrhein-Westfalen) is spread across three distinct locations in Düsseldorf. The largest collection, K20, is located in Grabbeplatz, an ultra-modern building with a façade of polished black granite, which is itself a work of art. This vast gallery houses numerous works of modern art, including a notable collection of paintings by Paul Klee.
K21, in the 19th-century Ständehaus building, includes a variety of installations focusing on modern painting and drawing, as well as sculpture and film, with works by Thomas Schütte, Reinhard Mucha, and Thomas Hirschhorn.
The third location, Schmela Haus, hosts numerous temporary exhibits. Other art-related museums of note in Düsseldorf include the Julia Stoschek Collection, a private collection of contemporary art, and the Ernst Schneider Collection. A variety of reputable dining options are available at the museum's various locations.
Address: Grabbeplatz 5, 40213 Düsseldorf
Official site: www.kunstsammlung.de/en/home.html
8. Visit the Museum of Art (Museum Kunstpalast)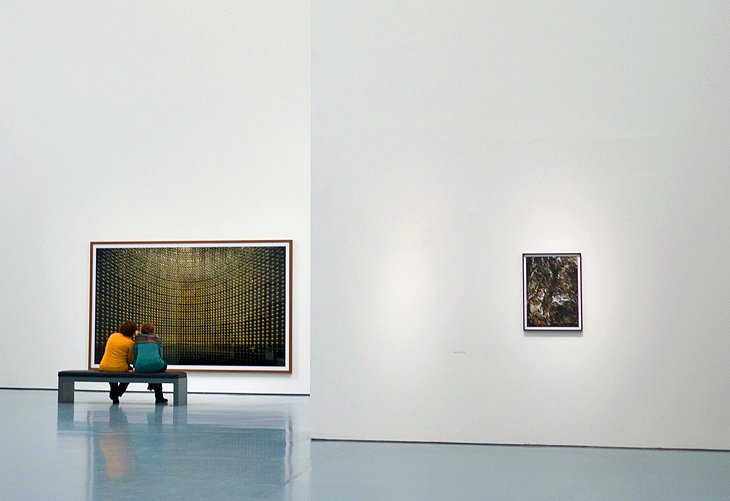 The Museum of Art (Museum Kunstpalast) displays artwork dating from the 3rd century BC right up to the present day. Works include fine art, sculptures, and drawings, in addition to more than 70,000 items of graphic art, photos, and applied art.
Highlights are a collection of glass by Helmut Hentrich and rare Italian Baroque works. The modern collection features Caravaggio, whose work laid the foundations of modern art, and works by Dali, Warhol, and members of the Düsseldorf School of Painting and Expressionism. The museum also offers theatrical performances and classical concerts, and guided tours are available.
Also of interest to art lovers is Kunsthalle Dusseldorf, a collective of local artists who regularly host displays of members' work in a unique underground gallery called Art in the Tunnel (Kunst im Tunnel).
Address: Ehrenhof 4-5, 40479 Düsseldorf
Official site: www.kunstpalast.de/en/home
9. Take in a Performance at Tonhalle Düsseldorf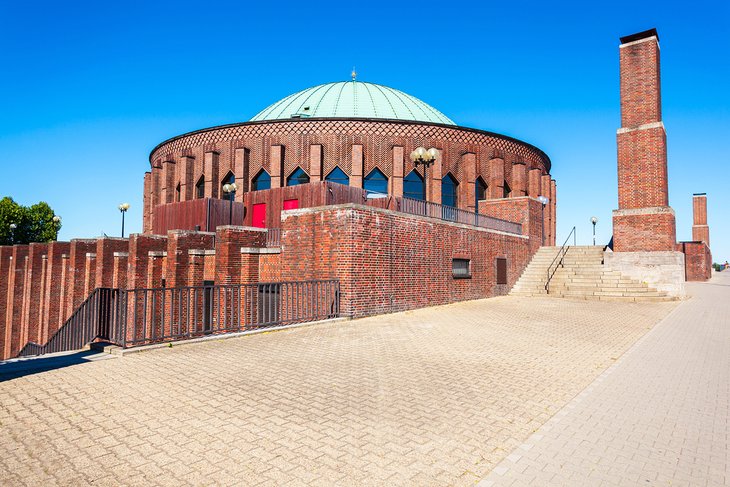 Those who enjoy high culture should be sure to visit Düsseldorf's Ehrenhof district. Here, you'll find the domed Tonhalle, a spectacular concert hall constructed in 1926 as home for the city's orchestra, Düsseldorfer Symphoniker.
The building is still the home for this world-class orchestra, and regular performances are held throughout the year. It's also used regularly as a venue for touring pop and rock artists.
Address: Ehrenhof 1, 40479 Düsseldorf
10. Good Neighbors: Visit Düsseldorf-Kaiserswerth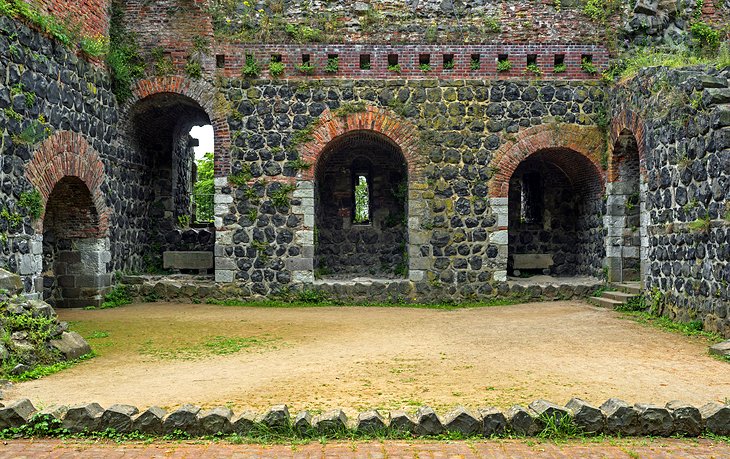 Incorporated into the city in 1929, Düsseldorf-Kaiserswerth is one of the city's oldest (and poshest) neighborhoods and is a wonderful place to explore Baroque buildings and the picture-perfect location on the Rhine.
Be sure to allow plenty of time to wander its pleasant cobbled streets, popular among tourists for its traditional German shops selling food items and crafts. There are also a number of good art galleries here, including the Kaiserswerth Art Archive (Kunstarchiv Kaiserswerth), plus pleasant cafés and restaurants.
Tracing its roots back to the 13th century is the Church of St. Suitbertus, noted for its beautiful reliquary of the saint. Even older is the Kaiserpfalz, the imperial stronghold of Emperor Frederick I, also known as Barbarossa. Although mostly ruins, the scale of the site still impresses, with walls more than four meters thick. The ruins also serve as a great vantage point for excellent views over the Rhine.
11. See Nordpark's Japanese Garden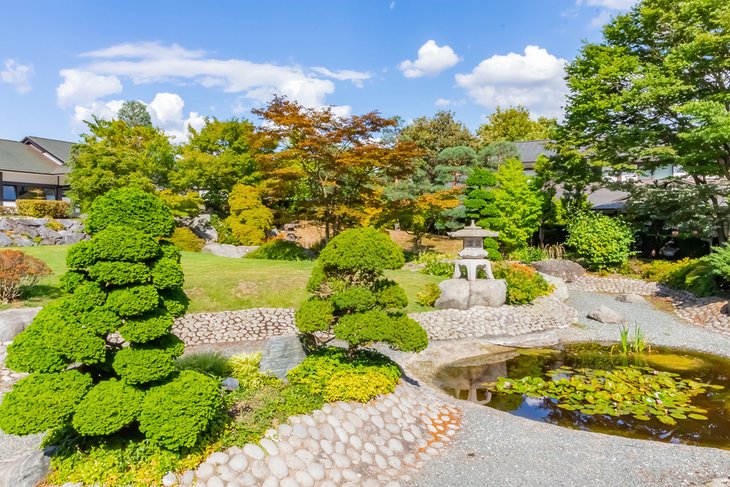 Among the more unusual things to do in Düsseldorf is to take a stroll through a serene Japanese garden. One of Düsseldorf's most popular parks – and at 90 acres, one of its largest – Nordpark is crisscrossed by wide pathways through its spacious lawns and themed gardens, including the lovely Lily Garden.
The large Japanese Garden, presented to the city by Düsseldorf's Japanese community, has an astonishing variety of landscapes.
Other Nordpark highlights are its Horse-Tamers statue, and the Aquazoo Löbbecke Museum, a great place for kids of all ages thanks to its excellent natural history displays, large aquarium, and insectarium.
Address: Kaiserswerther Str. 365, 40474 Düsseldorf
12. Indulge Your Green Thumb at the Botanical Garden of Düsseldorf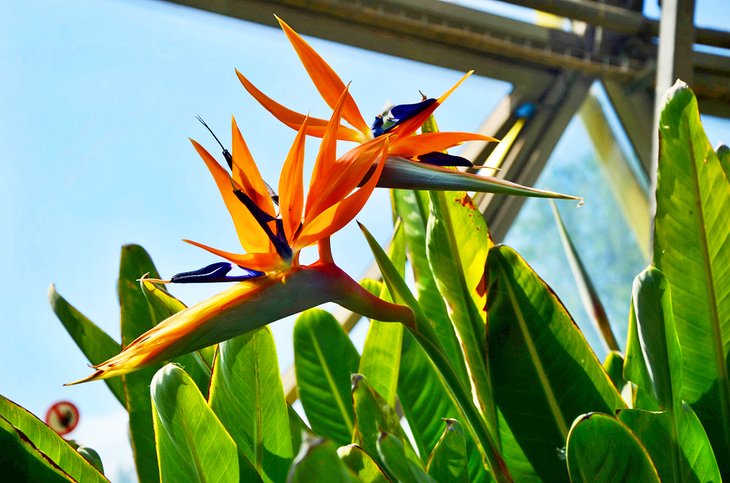 Green thumbs will also enjoy the Botanical Garden of Düsseldorf (Botanischer Garten Düsseldorf). Located just to the south of the city center on the grounds of the University Düsseldorf, the gardens spotlight plants from temperate climate zones and also feature a domed hot house, wildflower meadow, beehives, and delightful apothecary and Alpine gardens.
This impressive plant collection was established in 1974, and consists of more than 6,000 species. Guided tours are available, and a variety of changing exhibits are hosted in the site's Orangery.
Address: Universitätsstraße 1, 40225 Düsseldorf, Germany
Official site: www.botanischergarten.hhu.de/en/
13. Wander through the Hofgarten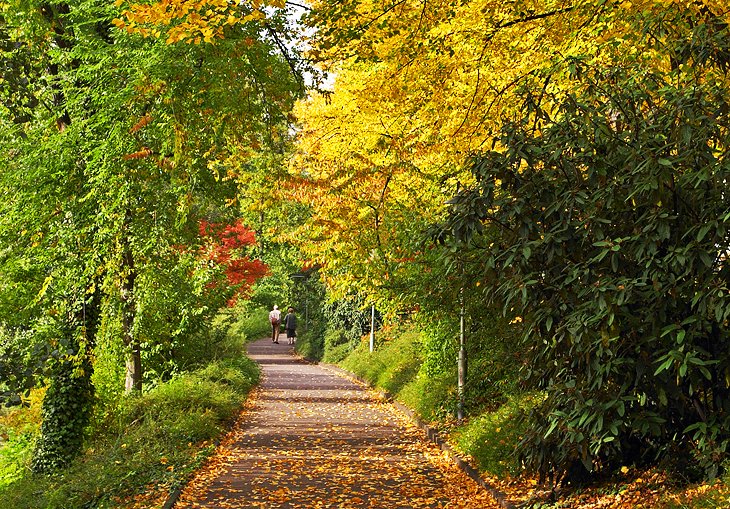 To the north of Düsseldorf's city center is the Hofgarten, a large park laid out in 1770 that stretches all the way from the Old Town and Königsallee to the banks of the River Rhine. Designed in the English landscape style, this lovely 68-acre site includes extensive meadows and wooded areas, as well as numerous streams and ponds.
Among its many notable buildings is the Baroque Hofgärtnerhaus, or Court Gardener House, former home of garden architect Maximilian Weyhe and now housing the city's Theatre Museum (Theatermuseum Düsseldorf).
Also worthy of a visit is Schloss Jägerhof, a former hunting lodge built in Rococo style in 1763 and occupied, albeit briefly, by Napoleon. Today, the building is home to the city's Goethe Museum, with its rich collection of artifacts and exhibits devoted to Germany's greatest writer and poet.
The park is also home to a number of interesting modern sculptures, as well as historic monuments and memorials, including the Märchenbrunnen, with its fairy-tale figures, and a sculpture by Henry Moore.
Address: Jacobistraße 2, 40211 Düsseldorf
14. Fast Cars: Classic Remise Düsseldorf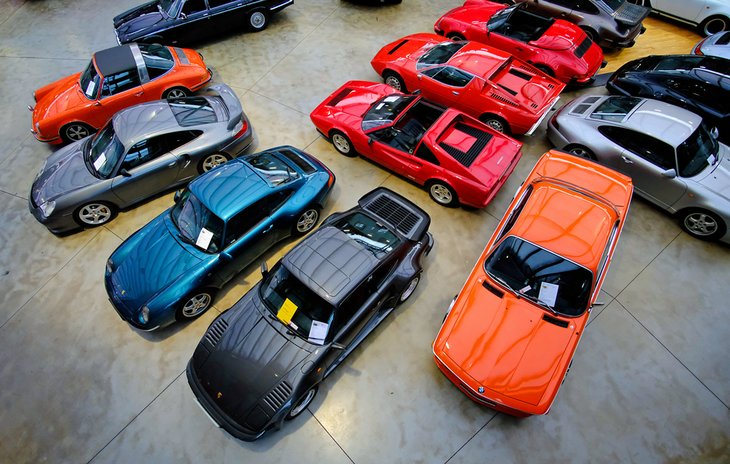 An historic roundhouse for locomotives finds a new calling as the home of Classic Remise Düsseldorf, a center for all things relating to classic cars. It's a car-lover's paradise and is really a combination show room, repair and restoration facility, parts shop, auto storage facility, and shop for auto-related clothing and gifts.
A particularly unusual feature is the number of glass storage "boxes" where owners can store cars securely while leaving them visible to aficionados. The facility also doubles as an event venue, too.
Address: Harffstr. 110 a, 40591 Düsseldorf
Official site: http://remise.de/Classic-Remise-Duesseldorf-english-summary.php
15. Meet the Family at the Neanderthal Museum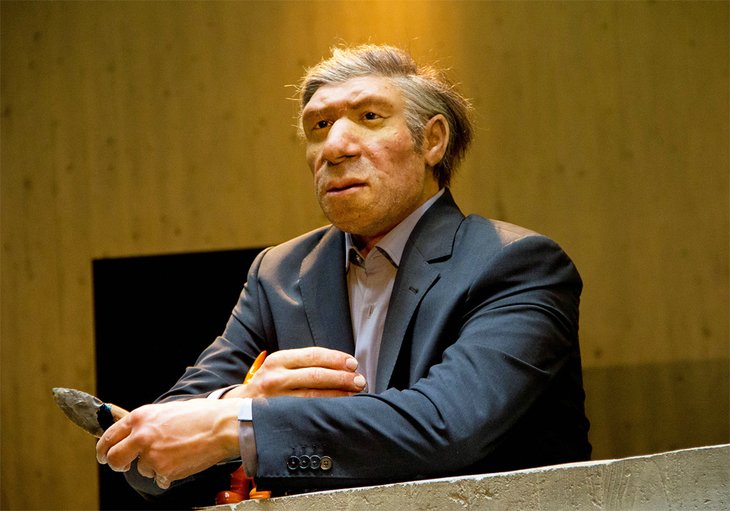 Just 25 minutes' drive (or 40 minutes via public transit) from Dusseldorf, the fascinating Neanderthal Museum is a must-do if there's time in your Germany travel itinerary. It was here in the Neandertal valley that the very first Neanderthal man was unearthed.
Opened in 1996, the museum provides an opportunity to have your photos taken with remarkably life-like waxworks of Neanderthals, along with ancestors from our direct branch of the human family tree. Other notable features include an archaeological park to explore, a reproduction of a workshop from the Stone Age, and artwork representing mankind's evolution. English language audio guides are provided.
The museum is located on the route of a 243-kilometer trail network; if you can manage the walk, (an hour each way), you can explore attractive downtown Mettmann from here.
Address: Talstraße 300, 40822 Mettmann
Official site: www.neanderthal.de/en/
Map of Attractions & Things to Do in Dusseldorf
Dusseldorf, Germany - Climate Chart
Average minimum and maximum temperatures for Dusseldorf, Germany in °C
J
F
M
A
M
J
J
A
S
O
N
D

4

0

5

0

8

2

12

5

17

9

20

12

22

13

22

13

18

11

14

8

8

3

5

1

PlanetWare.com
Average monthly precipitation totals for Dusseldorf, Germany in mm.

81

56

76

69

74

97

89

76

74

71

84

89
More Must-See Destinations near Düsseldorf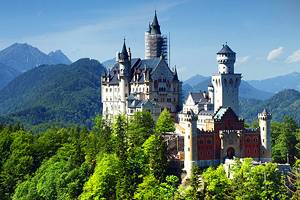 Exploring the Rhine Valley: Düsseldorf's location on the Rhine in western Germany makes it a very handy starting point for exploring the top attractions of the Rhine Valley, which can be explored via fun hop-on, hop-off river tours departing from the historic old university town of Mainz.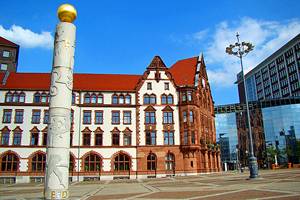 More Destinations near Dusseldorf: Other travel options easy to execute from Düsseldorf include visiting the attractive city of Dortmund, popular for its pedestrian-friendly Old Market square (Alter Markt) and its 13th-century church. Another must see destination that's close by is the charming Dutch city of Maastricht, famous for its 6th-century church dedicated to Saint Servatius and its medieval city walls.