9 Best Beaches near London, England
Whether it's to cool down on a hot day or simply to squeeze in a little sightseeing, residents and visitors to London will often plan on spending a day or two at the beach.
Thanks to England's first-rate public transit system and extensive motorway network, some of the best places to visit for an English beach break are very accessible from London.
To help you find one that's easy to get to from England's capital city, here's our list of the best beaches near London, England.
1. Brighton Beach, East Sussex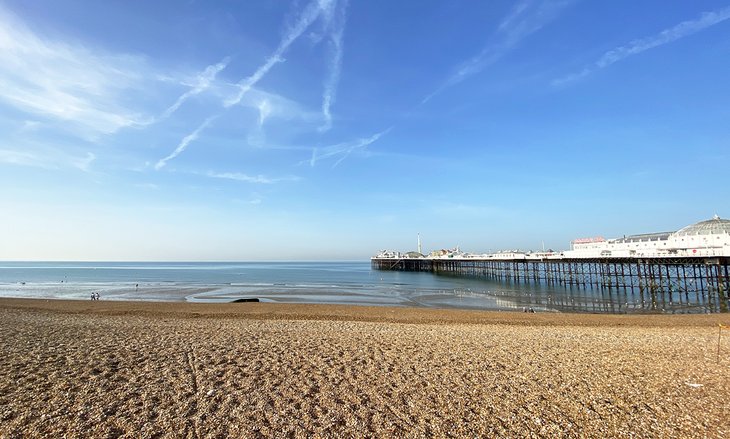 Thanks to its being only 54 miles south of London and on the same rail line that serves busy Gatwick Airport, numerous trains make the journey to Brighton from the nation's capital every day.
Less than an hour by train, and you'll find yourself deposited at Brighton Station, itself a 20-minute walk downhill to Brighton Beach.
If you're not in a hurry to claim your spot on the beachfront, spend a little time wandering Brighton's famous North Laine and The Lanes, two networks of narrow passages bursting with excellent, often quirky, shopping opportunities.
The beach itself is five miles long and is centered on Brighton Palace Pier, one of Brighton's top tourist attractions.
While mostly pebble, the beach is lovely to sunbathe on if you use a thick towel. Water-based fun includes everything from swimming and diving to kitesurfing and paddleboarding, with facilities and rentals geared to each activity.
Lifeguards are on duty during peak season, and there's no end of eateries and entertainment located along the lengthy Brighton Beach promenade.
Location: Kingsway/Madeira Drive, Brighton, East Sussex
2. Whitstable Beach, Kent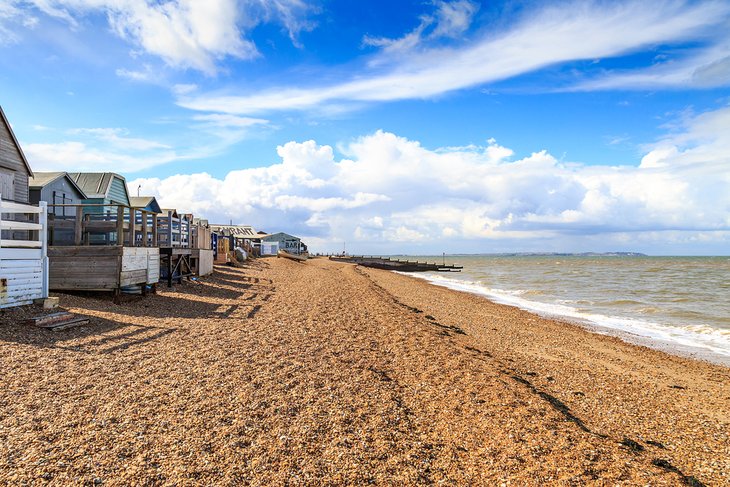 Only 60 miles away from the top sights of central London, and the nearest major Kent beach to the capital, Whitstable Beach is relatively easy to access.
This North Kent location can be reached in under 90 minutes by rail, with an easy 10-minute walk to the seafront and picturesque Whitstable Harbour.
Head west from the harbor and you're on Whitstable Beach proper, a superb stretch of shingle that continues for two miles all the way to the village of Seasalter. There's plenty of room to spread out with the numerous wood breakwaters, or groynes, adding a degree of privacy and shelter.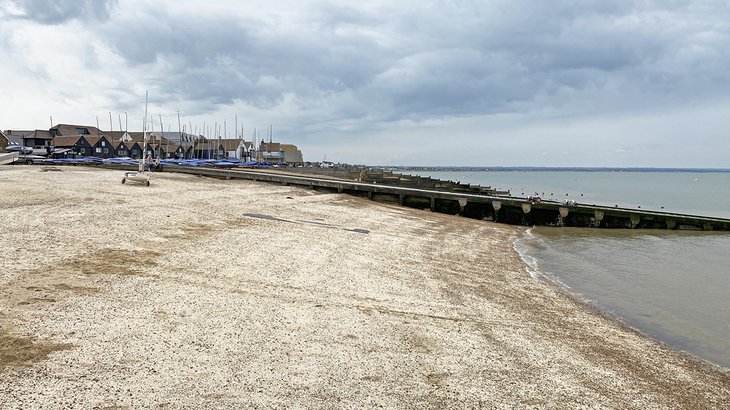 While it's a popular beach for families, on-water activities are plentiful and include windsurfing and kayaking. There are also many fun things to do in Whitstable itself, including partaking in afternoon tea at Whitstable Castle and Gardens or shopping in Harbour Market.
While in the area, you may also want to pay a visit to Tankerton Beach, another of Whitstable's excellent beaches. In addition to offering good beachside amenities including lifeguards and beach hut rentals, Tankerton also boasts a unique half-mile shingle causeway that's only exposed at low tide.
Address: Marine Parade, Tankerton, Whitstable, Kent
3. Eastbourne Main Beach, East Sussex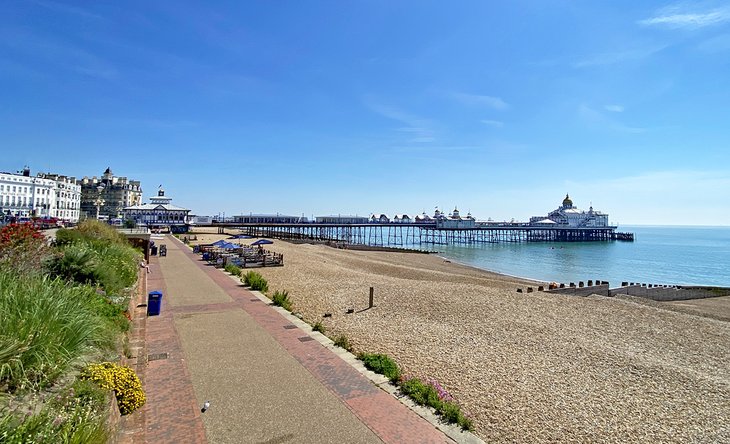 A half-hour train ride east of Brighton (it's a little longer by car), the beaches of Eastbourne are well worth including on your London beach adventure list.
Eastbourne Main Beach is the logical choice for those travelling by rail. Just 15 minutes' walk from the station, Eastbourne boasts a charming and well-kept three-mile long Victorian-era promenade that provides plenty of access points to the beach.
The main beach, also known as the Grand Parade Resort Beach, features clean water, safe designated swimming areas, and lifeguards on duty during the peak seasons.
Other amenities include public washrooms and showers, beach hut and beach chair rentals, as well as plenty of food outlets. There are also plenty of great sightseeing opportunities in Eastbourne, too, from visiting the historic pier to strolling through the iconic Carpet Gardens.
If you have time and came by car, venture out to Birling Gap. This remote and therefore usually quiet beach is set at the bottom of the magnificent Seven Sisters cliffs, Sussex's answer to the White Cliffs of Dover in Kent.
Address: Grand Parade, Eastbourne
4. Margate Main Sands, Kent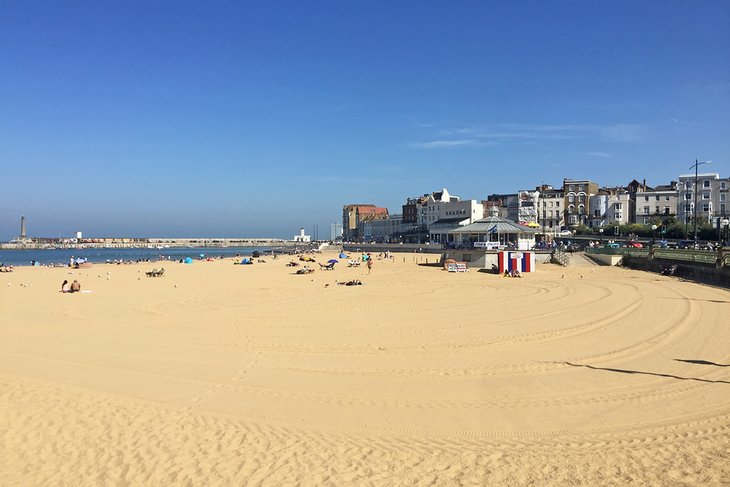 The seaside town of Margate has several good beaches, and is another great option for those seeking an easy-to-get-to beach from London.
Located on the North Kent coast, Margate is only a few miles east of Whitstable and is one of the best places to visit in Kent for those seeking a fun and typically English escape to the seaside.
A regular recipient of the prestigious Blue Flag Award for the quality if its water, Margate Main Sands is the place to hang out. While at just over 650 feet long, it does benefit from being wide and sandy, with a sizable section partially exposed even at high tide.
Visiting families enjoy the sand as well as the sheltered, shallow waters, plus the fact it's covered by a lifeguard service in peak times. There's also a large tidal pool for kids to splash about in when the tide's out.
Margate is also well known for its off-beach fun. When you're done with the sea and sand, fun things to do in Margate include exploring the historic town center, visiting the Turner Contemporary art gallery, and having a blast at the retro-themed Dreamland theme park.
Address: Marine Terrace, Margate, Kent
5. Camber Sands, East Sussex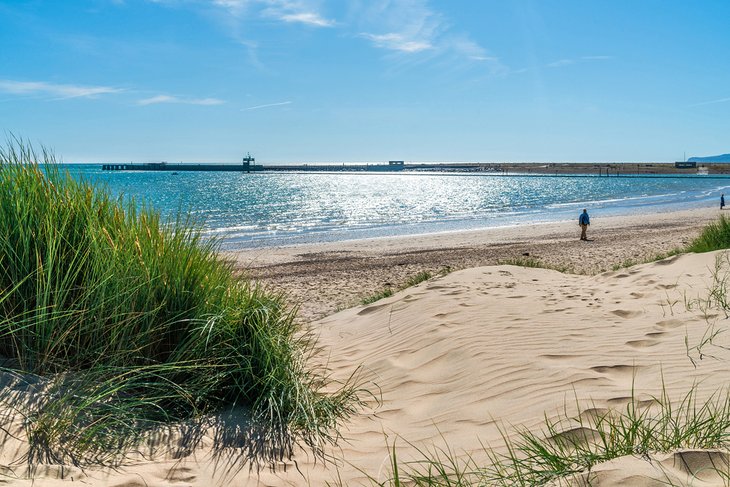 Camber Sands is another great Sussex destination to add to your list of must-visit beaches within reach of London.
You'll need to allow a total of two hours each way to get there, so you may want to break things up with an overnight stay at the historic old port town of Rye, just 10 minutes' drive away from the beach.
It's accessible only by crossing over high dunes from the car park, so expect to exert some energy getting to the beach itself, as the soft sand shifts under your feet. Also, have your camera ready.
Spread before you as you gaze down from the only sand dune system in East Sussex, a spectacular five-mile stretch of sand literally disappears into the distance in either direction.
It's also a very wide beach, especially at low tide when you can literally walk out into the water a fair distance, soft sand under your feet the whole way.
This huge abundance of sand ensures the main beach section, known as the West Dunes, can get a little crowded with families and adult sunbathers, but there's still plenty of room for all to spread out.
Lifeguards are on duty here during peak times, and public washrooms and snack vendors are located not far from the car park.
Address: Lydd Road, Camber, East Sussex
6. Southend-on-Sea, Essex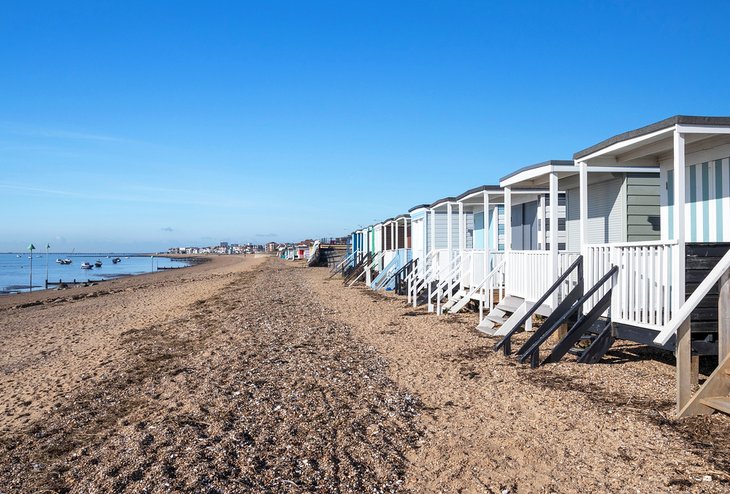 First made popular with the advent of the railway during Victorian times, Southend-on-Sea today is one of the most visited seaside and beach destinations in England, attracting over six million visitors a year.
Just 44 miles from Central London, this traditional English seaside resort town offers a little for every beachgoer, whatever their reason for being here.
For most, the more than seven miles of sand at Southend is the big draw. Soft and immensely diggable, kids love it for sandcastles.
Clean and safe, with shallow waters, this Blue Flag beach offers lifeguard services as well as lifeboats, which are stationed at the end of the nearly one-and-a-half-mile-long pier–a pier so long, in fact, that it's in the Guinness Book of Records and even has its own railway line!
There are also plenty of fun things to do when you're not soaking up the sun. Popular tourist draws include a free air show over the beach in May, and, come August, the Southend Carnival sees the long promenade lit up to spectacular effect each evening.
Address: Marine Parade, Southend-on-Sea, Essex
7. Broadstairs Main Beach & Botany Bay, Broadstairs, Kent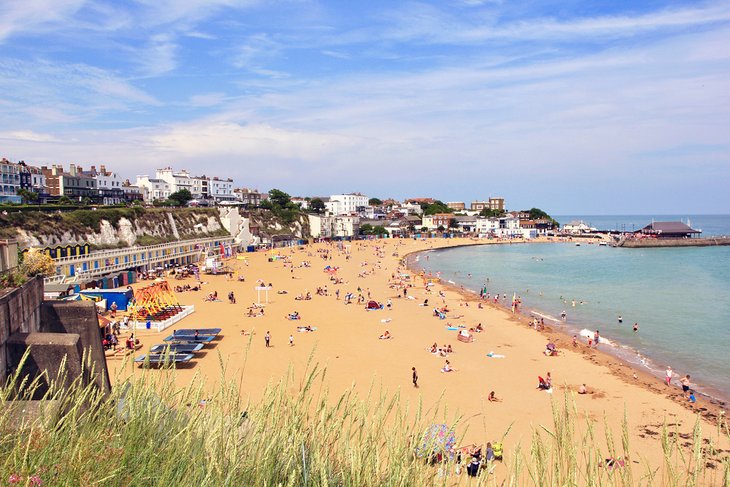 Carry on along the Kent coastline from Margate, and you'll soon find yourself in the attractive seaside community of Broadstairs.
Established in the late 1700s by Georgians wanting to escape the grime of the big city, Broadstairs was synonymous with a quality beach getaway by the time the Victorians introduced rail services to Kent.
Those same rail lines still bring beachgoers to the town, with day-trippers descending in large numbers to enjoy the numerous excellent beaches in and around Broadstairs.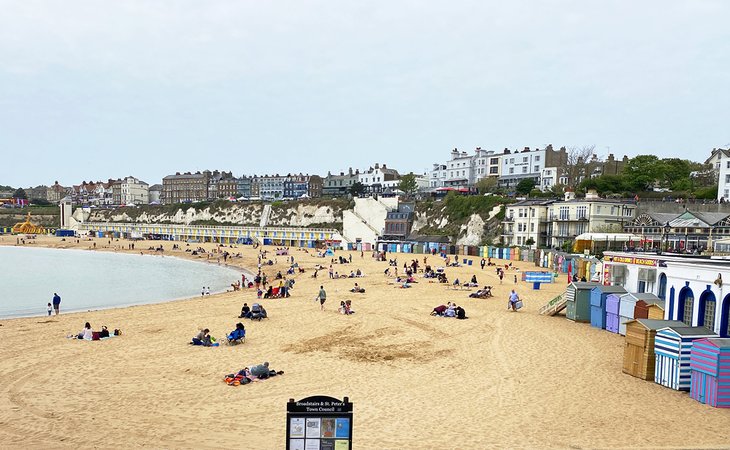 If you've only got time to explore and enjoy one beach here, then Broadstairs Main Beach on Viking Bay will do just fine. Consisting of soft sands and clean shallow waters, this Blue Flag beach is perfect for families with younger children. An added layer of security is provided by the on-site lifeguards.
Botany Bay is another Broadstairs beach to include on your itinerary–and bring your camera. In addition to its wide sandy beach, Botany Bay features a number of photo-worthy sea stacks. These tall, white structures were once part of the dramatic coastline's chalk cliffs, but now stand tall overlooking the beach after being separated from the mainland by erosion from the sea.
Address: Harbour Street, Broadstairs, Kent
8. Hastings Beach, East Sussex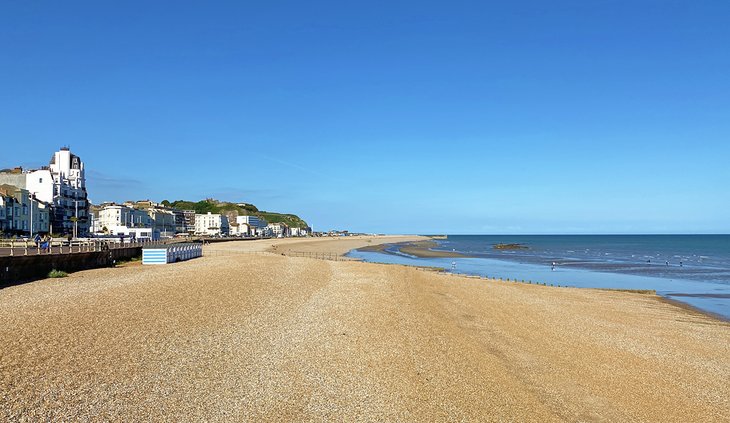 Those who enjoy more than simply sunbathing and swimming when visiting a beach would do well to consider Hastings for a beach getaway from London.
A pleasant hour-and-a-half journey by rail through the Kent and Sussex countryside, Hastings is especially popular among history hounds for having been where the invading William the Conqueror landed in 1066 to snatch the English crown.
After spending a little time on the beachfront, you may even find yourself wondering how William managed to resist the temptation to linger longer and enjoy the beach.
Mostly shingle with stretches of sand revealed at low tide, Hastings Beach extends the length of the town's largely traffic-free seafront all the way to St. Leonards-on-Sea, offering ample room to spread out.
Popular with families, the beach offers lifeguard coverage in summer with clear, clean water that's fun to splash about in when the tide's out.
When you're done enjoying the beach, Hastings also boasts plenty of fun attractions and things to do nearby. Highlights include Hastings Pier, the Net Shops in the historic fishing quarter known as the Stade, and the site of the Battle of Hastings in the village of Battle.
Address: Denmark Place, Hastings, East Sussex
9. Dungeness Beach, Lydd, Kent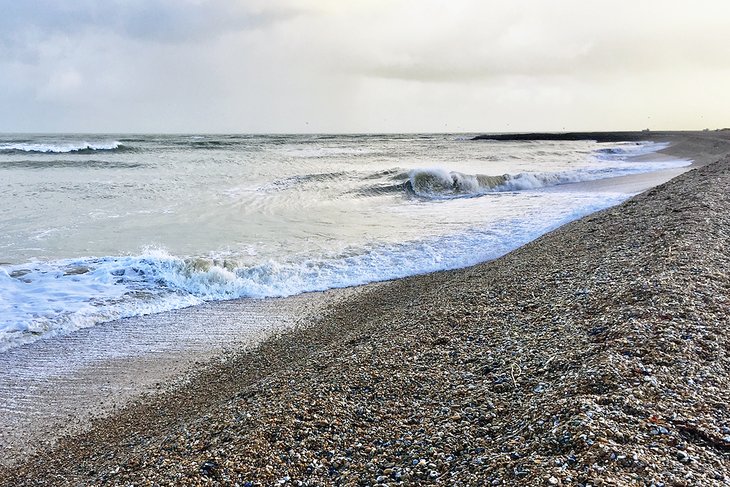 Dungeness, on Kent's southeastern-most tip, is another great beach within commuting distance of London that offers more than just a great beach experience.
Dungeness Beach is a wide shingle promontory jutting out into the English Channel that never gets too crowded due to its limited amenities and relatively remote location. Those that do venture here, though, enjoy a beach experience is quite unlike anything else in England.
While pebble beaches are quite common, none have the vast amount of shingle as seen here, mounds of it piled up on the high shoreline before tapering down to the water's edge. Sure, it can make walking the beach a challenge, but it's well worth it for the stunning English Channel vistas and serenity.
This somewhat stark, surreal landscape is also fascinating to visit in fall and winter, with the sound of crashing waves and shifting shingle offering a unique soundtrack to the experience–it can get blustery, though, so dress warm. Fishing is a popular activity here year-round.
Itself an important nature reserve, the beach actually protects the neighboring Romney Marsh, an area of flat marshland that's home to the famous Romney Hythe & Dymchurch Railway, one of the top attractions in neighboring Folkestone.
You can, in fact, take this historic miniature railway from its main terminus in Hythe all the way to Dungeness Beach, or possibly stop at other beaches on the nearly 14-mile route.
Dungeness is also just nine miles away from the popular sandy beach of Camber Sands in Sussex, allowing visitors to combine more than one great seaside experience.