14 Top-Rated Things to Do in Bourton-on-the-Water
It's impossible to feel stressed in Bourton-on-the-Water. Dubbed the Venice of the Cotswolds, this lovely town oozes English charm. From picturesque bridges spanning the River Windrush to stone-roof cottages dating to the 15th century, this fairy-tale village is captivating and packed with fun things to do. No wonder it's been voted one of England's prettiest villages.
Photographing its immense beauty isn't the only tourist activity to keep visitors occupied in this idyllic place. Whether you're hoping to make your way through a maze, enjoy high tea by a river, or see one of the world's first cars, there is a bevy of fun to be had in Bourton-on-the-Water.
Tour buses unload in this tiny village, especially during summer. If you're hoping for a quieter trip, visit in spring instead — you'll be rewarded with optimal weather and smaller crowds.
Be sure to check out these helpful ways to get from London to the Cotswolds, located just 84 miles northwest of London, before you leave. And plan your trip with our list of the best things to do in Bourton-on-the-Water.
1. Visit the Cotswold Motoring Museum & Toy Collection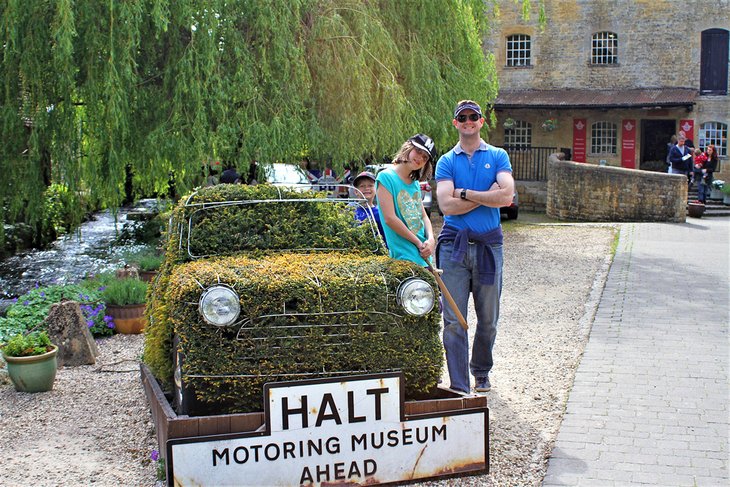 Car buffs will be greatly rewarded by a visit to Cotswold Motoring Museum & Toy Collection. Opened in 1978, the museum was the mastermind of avid collector Mike Cavanagh. He purchased the Old Mill to display his vast collection of old motoring signs, motor bikes, and historic cars.
In 1999, the museum was sold to the CSMA club (a.k.a. Boundless). They transformed the space into the impressive, seven-gallery attraction you'll find today. A tribute to the history of 20th-century motoring, the museum includes cars, caravans, enamel signs, and other memorabilia.
Wander through the Blacksmith's Workshop to get a feel for the trade's progression — from creating anvils to distributing motorcycles and cars. There's even a funky section called Paved Paradise, which offers multiple throwbacks to the 60s and 70s.
The oldest car in the museum is a 1911 Alldays & Onions Victoria. You'll also find a 1924 Levis bike, which was once used to play motorcycle football (that's soccer to North Americans).
Kids will love the toy collection. Although they can't touch the displays, there are plenty of hands-on areas, as well as a dress-up space and a play zone conveniently placed in the middle of the untouchable section. Brilliant!
The museum is open daily from 10am to 6pm.
Address: The Old Mill, Sherborne Street, Bourton-on-the-Water, Cheltenham
Official site: https://www.cotswoldmotoringmuseum.co.uk/
2. Feed Penguins at Birdland & Jurassic Journey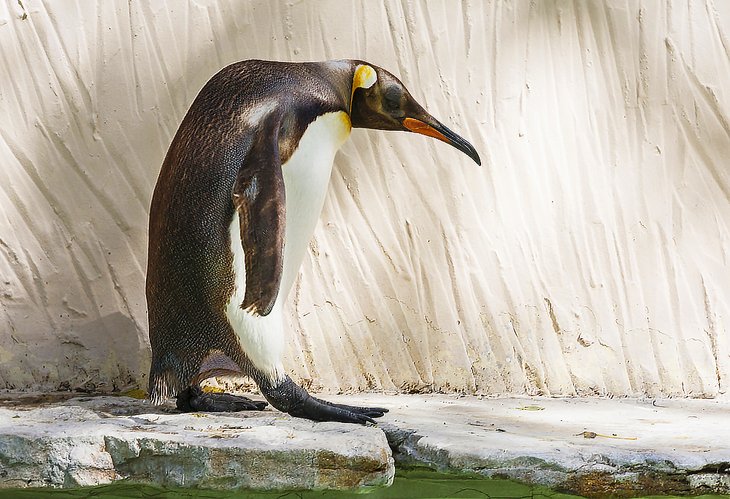 Come face to beak with birds of all different sizes and colors in this unique attraction. Established in 1957 on what was once a tree plantation, this nine-acre site is home to more than 500 birds (including rare and exotic creatures) and 50 aviaries.
In addition to species like flamingos, cranes, pelicans, hornbills, and falcons, visitors can see egg-laying amphibians and reptiles. Special experiences, which involve an additional fee, offer visitors a chance to feed the penguins and be a zookeeper for a day.
Unsurprisingly, this is a popular place to visit for families. Take your kids to the Jurassic Journey for some fossilized fun set along a woodland trail. They'll be able to spot dinosaurs in the trees (don't forget to look up), follow dino footprints, and excavate fossils in the Dino Dig.
If you're hoping to get even closer to the animals, head to the Encounters Area, where guests are invited to listen to Meet the Keeper talks (daily at 12:15), be climbed on by a parrot, and slithered on by a snake.
Address: Rissington Road, Bourton-on-the-Water
Official site: https://www.birdland.co.uk/attractions/jurassic-journey/
3. Feel Tall at The Model Village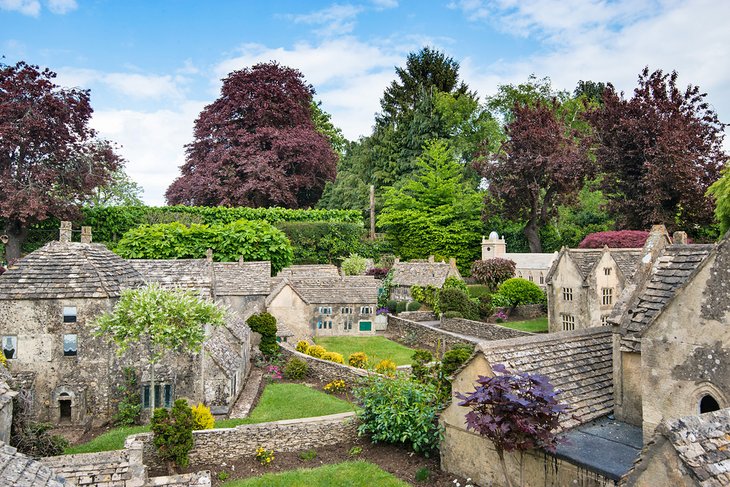 Know anyone with a short-person complex? Send them to The Model Village at The Old New Inn. A model town of Lilliputian dimensions, this mini village is a phenomenal recreation of Bourton-on-the-Water in the 1930s. It resides in the inn's back garden and attracts sightseers from across the globe.
The Model Village features buildings created from the same local Cotswold stone used to build the actual town's homes, banks, shops, and meeting halls.
Special exhibitions include The Miniature Landscape Exhibition, featuring detailed cottages crafted by miniature specialist John Constable (he's not the famous painter). The intriguing Exhibition of Miniatures, which costs an extra £1, is adorable. You'll see uber detailed scenes and room sets created by more than 100 English craftspeople.
Insider's tip: Strollers won't fit down the narrow streets of this small-scale village, so be prepared to carry your little ones.
Address: Rissington Road, Bourton-on-the-Water, Cheltenham
4. Get Lost in The Dragonfly Maze
Traveling to England without visiting a maze is like having a scone without clotted cream. This verdant land is known for its hedge-lined labyrinths and one of the most fun, kid-friendly-mazes is located right in Bourton-on-the-Water. It will take about 20 to 30 minutes to complete.
The Dragonfly Maze, which lies beside Birdland, was crafted out of yew hedges in 1997. As you travel along its complicated pathways, you'll come across 14 numbered clues. As with most English mazes, the goal is to reach the center before moving on to the exit.
Each clue will help lead guests to the middle, where they'll find the hidden, golden dragonfly. Hint: it's housed in a round house. Don't worry, if you get stuck, the lovely woman in charge is more than willing to help get you out.
Address: Rissington Road, Bourton-on-the-Water, Cheltenham
Official site: https://thedragonflymaze.com/
5. Enjoy Afternoon Tea along the River Windrush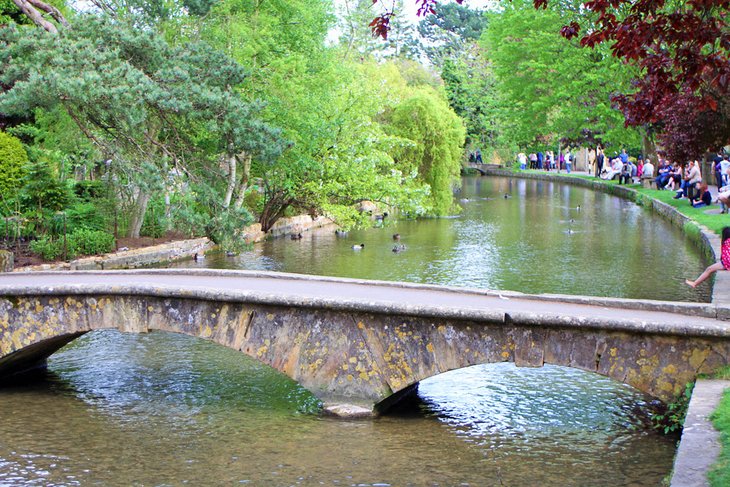 Usually served between 2 and 3pm, afternoon tea is a classic English tradition you won't want to miss. Depending where you go, it involves tea (of course), sammies (a.k.a. crustless finger sandwiches), and pastries. Some places even offer scones with jam and clotted cream. Yum!
The best way to enjoy afternoon tea in Bourton-on-the-Water is by having it "by the water." This way, visitors can enjoy the stunning view, people-watching, and a tasty treat while relaxing at a local restaurant or café.
Green & Pleasant Tea Rooms, a family-owned restaurant on the banks of the River Windrush, is a wonderful spot to rest and enjoy a cuppa. Their baked goods are homemade, meaning you're in for a treat. Plus, they cater to those with allergies. Their gluten- and dairy-free cakes are divine!
Bakery on the Water is another family-friendly spot. This small artisan bakery produces some of the most delectable cream tea around. Your order will include two homemade scones (yay!), jam, clotted cream, and a small pot of tea. Take a pain aux raisin to the riverside patio and exhale!
Green & Pleasant Tea Rooms
Address: 6 West Market Place, Riverside, Cheltenham
Bakery on the Water
Address: 1 Sherborne Street, Bourton-on-the-Water, Cheltenham
6. Picnic along the River Windrush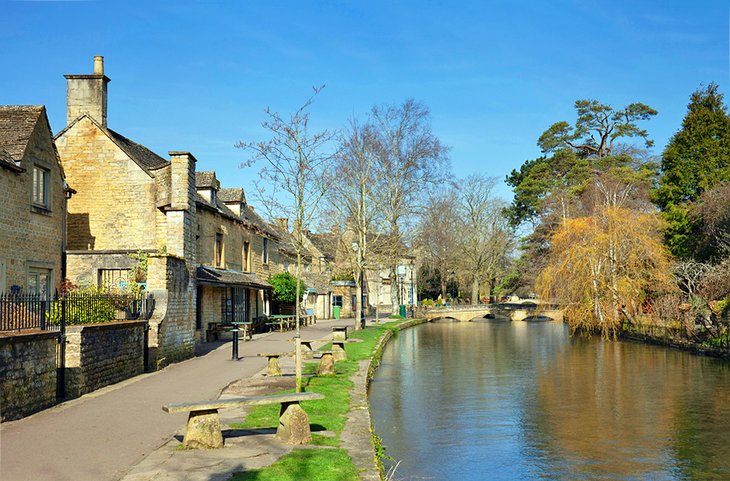 One of the best villages in the Cotswolds, this picturesque spot is so pretty, you'll gasp with delight. Its main attraction lies in the center of town. Sandwiched between long, vibrant greens, the River Windrush snakes its way under stone bridges and beside cute shops, quaint cafés, and charming restaurants.
On warm, sunny days, children and adults alike dangle their feet in its shallow water, some maneuvering their way between ducks to cross to the other side. The town's main hub, this is a fantastic spot to people-watch.
Roll out your blanket, pop open your picnic basket, and settle in for a lovely afternoon on the river bank. When you're bored, head to the stores or grab a cuppa from one of the local tea shops.
7. Greystone's Farm Nature Reserve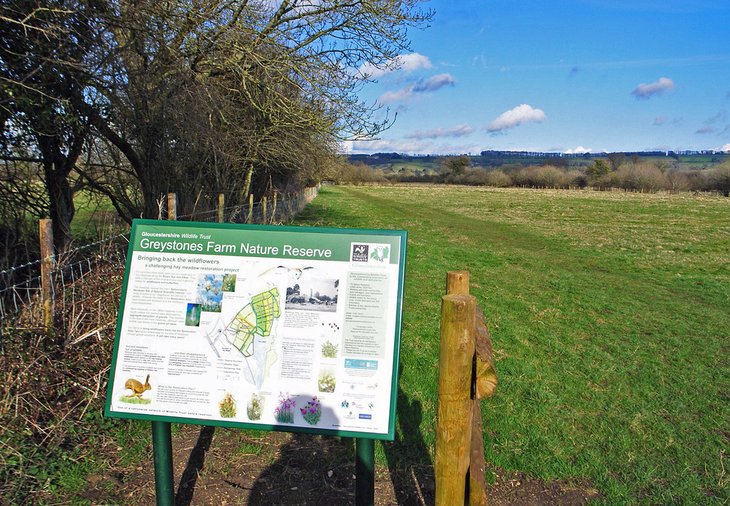 Sixty-six acres of a verdant wonderland await visitors to Greystone's Farm Nature Reserve. You'll find meadows to explore, the River Eye to enjoy, and an abundance of wildlife to observe. Look closely; you may spot a devil's-bit scabious, sedge warbler, common knapweed, or pied wigtail. Pack binoculars for a better view.
Vibrant walking trails wind their way within the grounds, transporting visitors on a quiet and beautiful adventure through the reserve. The main trails — Wildlife Walk and Time-Travel Trail — are both level, with no steep areas to worry about. Meadows Walk is closed during Autumn to protect the area and its creatures.
Pack a picnic and enjoy it on a bench in front of the Discovery Centre.
Insider's tip: There's no on-site public parking, so you'll have to park in the village and walk about 10 minutes.
Address: Greystones Farm, Greystones Lane, Bourton-on-the-Water, Cheltenham
Official site: https://www.gloucestershirewildlifetrust.co.uk/nature-reserves/greystones-farm
8. Treat Your Senses at Cotswold Perfumery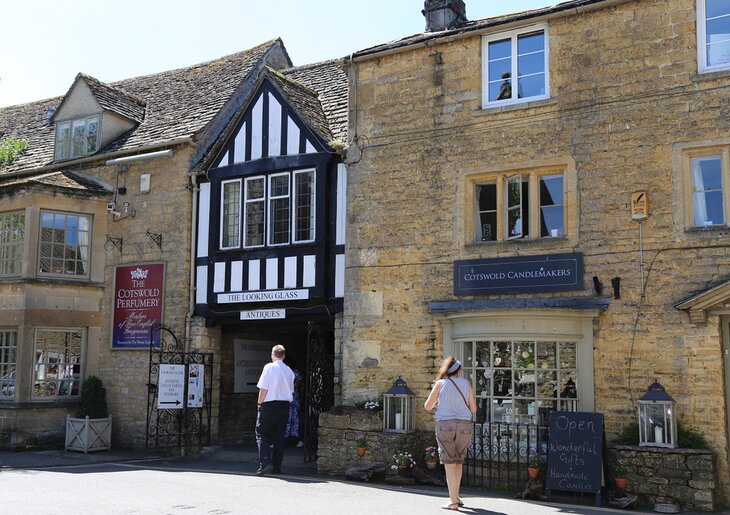 You may smell the Cotswold Perfumery before you see it. Housed in a lovely, 300-year-old Grade-II-listed historic building, this luxurious shop will melt your worries away. Founded in 1966, the perfumery was a welcome, well-scented addition to Bourton-on-the-Water.
In addition to fragrant soaps, moisturizers, and perfumes, guests can find oils, scent-making equipment, and jewelry in the store. Those who have a penchant for all things smelly may want to sign up for a perfumery course.
The perfumery even offers luxury accommodations. Two five-star, self-catering apartments are located on-site. One offers views of the town center while the other overlooks the river.
Address: Victoria Street, Bourton-on-the-Water, Cheltenham
Official site: https://www.cotswold-perfumery.co.uk/
9. Dine and Sleep at The Mousetrap Inn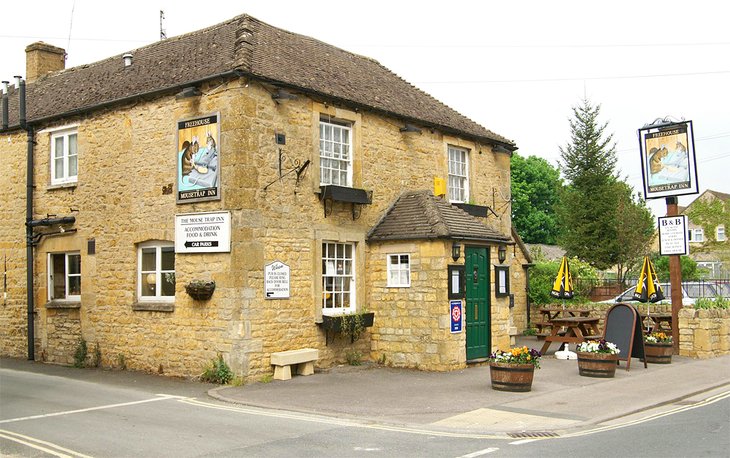 Breakfast, lunch, and dinner are served at The Mousetrap Inn, and boy are they delicious. Each tasty dish features locally sourced produce, and the menu changes with the seasons. Dishes range from simple fruit smoothies to miso-glazed cauliflower to classic fish and chips with a side of mushy peas.
As for dessert, you won't be disappointed. While the sticky date pudding is a decadent English fave, the coconut and kaffir posset with mango sorbet and warm Madeleines really hits that sweet spot.
Have allergies? Don't worry. There are plenty of options to suit all types of diets, including vegan, gluten-free, and dairy-free. We'd suggest making a reservation, especially if you're visiting during half-term or the summer.
Insider's tip: If you stay in one of the inn's 11 recently revamped rooms, you won't have far to commute for your meal.
Address: Lansdowne, Bourton-on-the-Water, Cheltenham
10. Solve the Crime at Bourton-on-the-Water Mystery Trail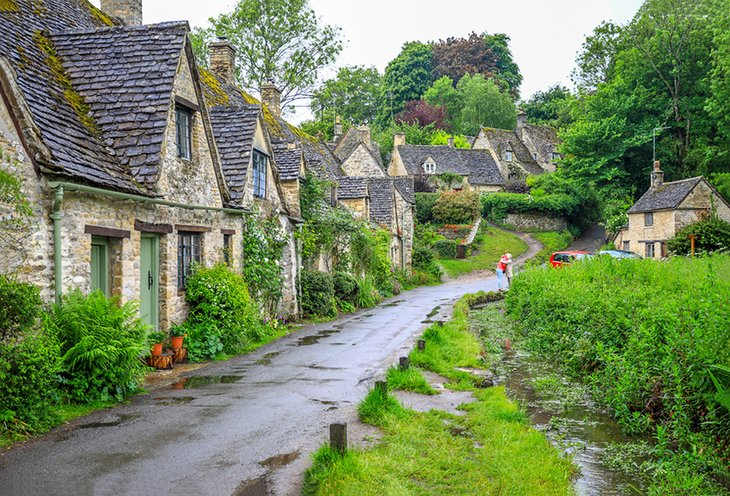 Be honest, sometimes walking sightseeing tours are boring, especially if you're following a monotonous guide. Treasure Trails, a company that creates self-guided, themed treasure hunts, does not fall into this category. For a small fee, you can print (or have printed) a Murder Mystery-themed Treasure Trail around Bourton-on-the-Water.
Expect between 20 and 25 sneaky clues along this two-hour trail, the most exciting tour in town. Along the loop, you'll wind around the most historic buildings, across the five bridges spanning the River Windrush, and through the Model Village, Birdland, and the Cotswold Motoring Museum.
This mysterious, 2.5-mile-long trail will also take you through the town center and a Roman encampment site. Kids six and up are more than welcome to participate, and if you get stuck, there's a number to text for clues. Can you find the murderer? There's only one way to find out.
11. Feel Like a Hobbit at St. Edward's Church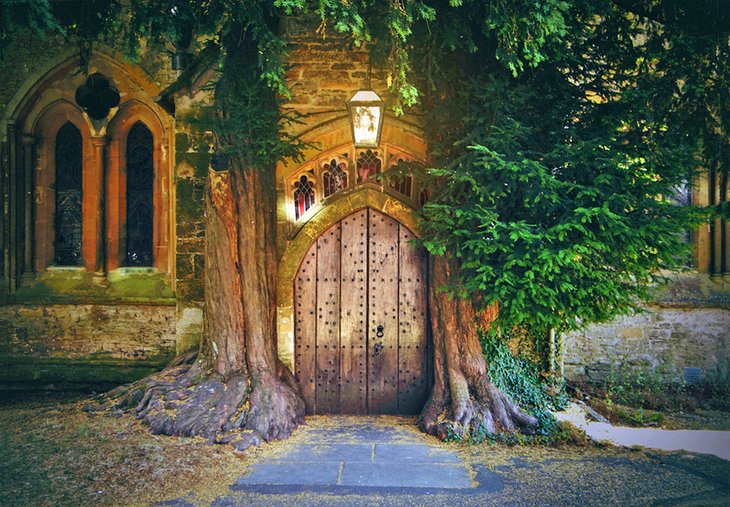 Stow-on-the-Wold is an adorable market town located a six-minute drive from Bourton-on-the-Water. Nestled among the ancient stone homes, right near Market Square, is the town's crowning feature: St. Edward's Church.
Dating back to the 11th or 12th century, this classically English church (complete with a tower and stained-glass windows) doesn't seem very unique upon first glance. Walk behind it, and you'll see why so many tourists add this attraction to their Bourton-on-the-Water itineraries.
The wooden back door is framed by two giant yews that were planted so close to the building, they appear to be part of the stone walls. This section of the church dates to the 17th or 18th century, so these trees have been around for a while.
Some believe this mysteriously beautiful sight that's been photographed about a zillion times to be the inspiration behind J.R.R. Tolkien's Doors of Durin in Lord of the Rings.
Address: Sheep Street, Stow-on-the-Wold, Cheltenham
12. Become One with Nature at the Batsford Arboretum & Garden Centre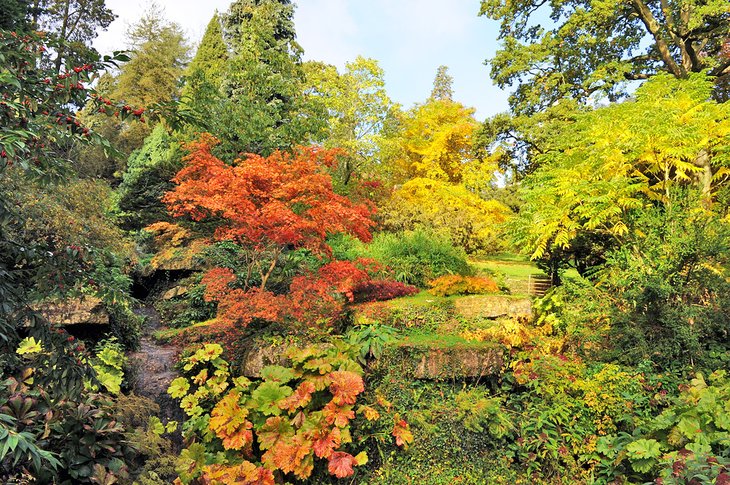 Although not technically in Bourton-on-the-Water, the Batsford Arboretum & Garden Centre lies less than 10 miles (and under 20 minutes) north of the ancient village. Created on an estate owned by Algernon Bertram Freeman-Mitford, parts of this interesting natural attraction (in particular the giant bamboo trees) date back to the late 1880s.
Mitford based his garden's design on naturalistic plantings he saw and admired during trips to China and Japan. After years of neglect following the Second World War, the garden was restored to its former glory by new owner Lord Dulverton the Second in 1956.
He planted multiple rare and beautiful trees (including birch, oak, ash, fir, spruce, magnolia, and maple) that make up the arboretum today. Visit in every season, to see the park in every stage of its life.
While you're here, don't miss the café, garden center, and gift shop. You're sure to find some wonderful things to munch on and a few wonderful gifts to bring home.
Address: Batsford, Moreton-in-Marsh
Official site: http://www.batsarb.co.uk/
13. Go Wild at Cotswold Wildlife Park and Gardens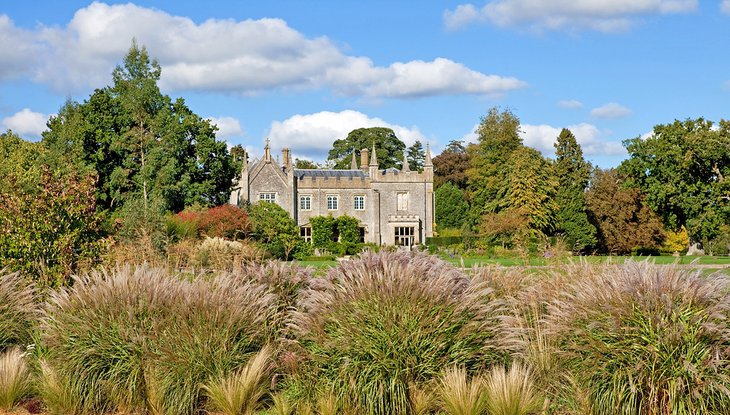 Just over 12 miles separate Bourton-on-the-Water from the magical world found at Cotswold Wildlife Park and Gardens in Burford. Founded in 1970, this park was established on over 160 acres of the Heyworth family estate.
It is currently one of the largest zoological collections in the UK. Among its famous guests are over 260 species of animals, including giraffes, rhinos, and alligators. The park has worked hard to protect animals, including the endangered crowned sifaka and greater bamboo lemurs, which can be seen in the Madagascan Walkthrough exhibit.
The animal enclosures are bordered by magnificent gardens, including the vibrant Walled Garden. Be sure to bring a camera if you visit once the spring bulbs have burst into bloom.
Bring the kids for a super fun day out. In addition to the animals, they'll love playing in the adventure playground and Skymaze, a web of interconnected treehouses, slides, and jungle bridges. A ride on the narrow-gauge railway (open from April to October) is another hit with little ones.
Insider's tip: When hunger pangs hit, head to the Oak Tree Restaurant near the rear of the Manor House. Their treats are delish!
Address: Bradwell Grove, Burford, Oxfordshire
Official site: https://www.cotswoldwildlifepark.co.uk/
14. Enjoy a Peaceful Moment at St. Lawrence Church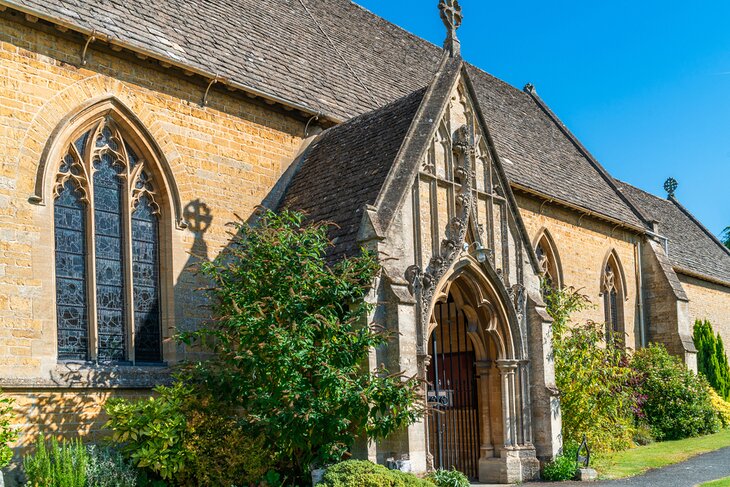 You can't miss St. Lawrence Church. Set a short walk from the town's High Street, Bourton-on-the-Water's parish church is highlighted by a tall clock tower topped by a dome. It's so picturesque that you'll be tempted to snap a few selfies.
While this site has hosted a church since the 8th century, the pretty structure you see today presents a lovely mix of old and new attributes. Parts of this Grade II listed building date to the 14th century. The oldest part still standing is the chancel, which was built in 1328 by a former benefactor, Walter de Burhton.
Other sections have been renovated multiple times, most recently in 2017, to create a more comfortable and welcoming environment for visitors and worshipers. Below the chancel, you'll find a crypt dating to the 12th century. It supposedly connects to the Old Manor House, which lies across the street, but this has yet to be proven.
When inside, search for the 14th-century window that sits on the sanctuary's south wall. There's another one to match in the choir section. Between these windows lies a priest's door that dates to the same period.
Address: School Hill, Bourton-on-the-Water
Official site: https://www.bourtonparishchurch.co.uk/
Map of Things to Do in Bourton-on-the-Water
More Related Articles on PlanetWare.com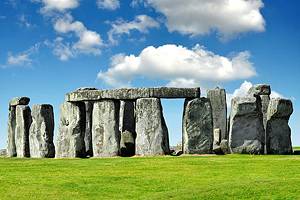 More Things to Do in England: There are so many great reasons to visit Britain — castles, charm, history, food, bucolic landscape — the list is virtually endless. While you're there, don't miss these top attractions in England. Then, up the charm factor by heading to these fun places to visit in Bath.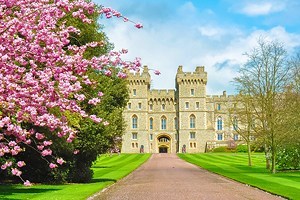 Best English Weekend Getaways: Whether you're staying in London and want to see a bit of the countryside during your trip, or are hoping for a break from the hustle and bustle of life, these are the best weekend breaks in England. Need another restorative place to visit? Head to Rye, one of the most charming villages in the South East.