16 Top-Rated Beaches in Bali
We may earn a commission from affiliate links ()
A trip to Bali has topped many a bucket list. As one of the most captivating and picturesque islands of the Indonesian archipelago, it's easy to see why. Have you seen photos of those insanely gorgeous beaches? We're talking turquoise water so warm and vibrant, you'll want to bathe in it, and soft, white sand so silky, it massages your tired feet.
That's not all! From treks through the lush, monkey-laden jungles to surfing along volcanic sandy beaches, Bali offers visitors a vacation they'll beg to repeat, and the type of innate beauty that will heal their souls and fill their memories for years to come.
The elite island's pristine coastline, majestic beaches, and dazzling azure water are the stuff of dreams. From buzzingly popular white, sandy beaches on the south coast to quiet black beaches hidden by towering cliffs, you'll never get bored by the shore.
A haven for those who love water sports, Bali's spectacular coast attracts divers and surfers from across the globe. It's also a phenomenal place for a family vacation, with plenty of luxurious beach resorts and a fun water park to keep everyone happily entertained.
Now for the hard part: deciding which of the paradisiacal beaches to visit. We've narrowed down the options with our list of the best beaches in Bali.
1. Amed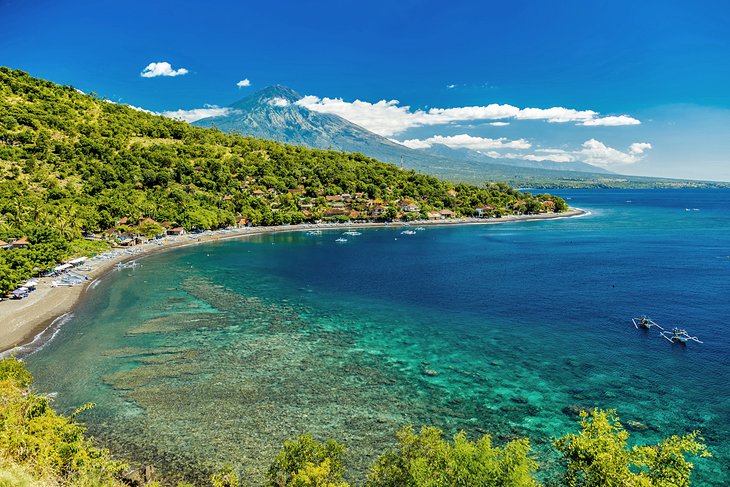 You'll find one of the best beaches in Bali situated on the northeastern coast. A remarkable black-sand beach, Amed's most beautiful feature is found above its onyx base and beneath the translucent turquoise water. A healthy garden of coral lines the ocean floor, rewarding visitors to this top beach with a spectacular show of vibrant colors and unique ocean life.
As a result of this thriving aquatic environment, diving and snorkeling top the list of things to do at this stunning beach. A historical shipwreck only adds to the mystical allure.
Above ground, you'll spot volcanoes sprouting up towards the sky and local jukung fishing boats floating in neat rows close to shore. You'll find plenty of accommodation in nearby Cadidasa, a captivating 40-minute drive south. Wear water shoes or sandals, as the beach is rocky.
Just over 15 miles north of this remarkable beach is Tulamben, another hot spot for divers. Don't forget your waterproof camera.
Accommodation: Where to Stay in Amed
2. Jimbaran Bay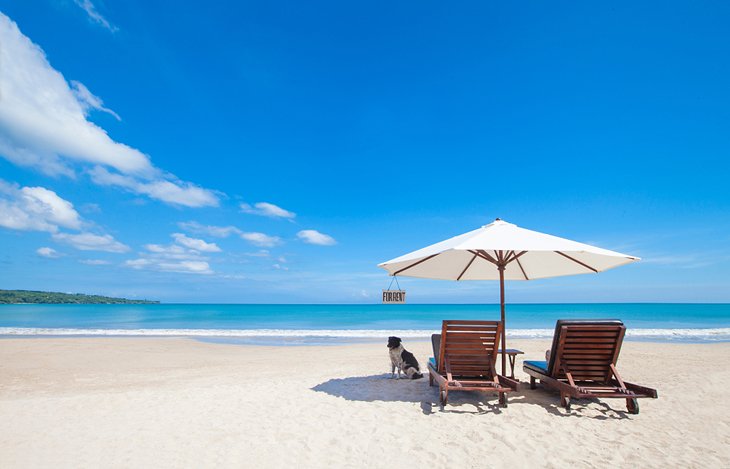 No Balinese holiday is complete without a trip to Jimbaran Bay – a sliver of paradise on the south coast. The waves at this phenomenal beach are calm, and the sand is soft, making it one of the best beaches for families in Bali. Many a sandcastle has been created (and destroyed) upon this luxurious shore. The reason most people come here, though, is to watch the sun set slowly before disappearing into the sea.
Tourists have caught on to the bay's impressive charm, which is why so many luxury honeymoon resorts, hotels, and restaurants line its golden shore. One of the top things to do here is dine on the beach. You'll find plenty of restaurants with tables on the sand, primed for a perfect sunset view.
Insider's Tip: Dial up the romance by booking an "exclusive romantic table" at Bawang Merah Beachfront Restaurant. You'll eat within a sand-drawn, petal-infused heart shape at a secluded table on the beach. The seafood is uber fresh and divinely delicious. The view is as you'd expect: breathtaking.
Accommodation: Where to Stay in Jimbaran
3. Sanur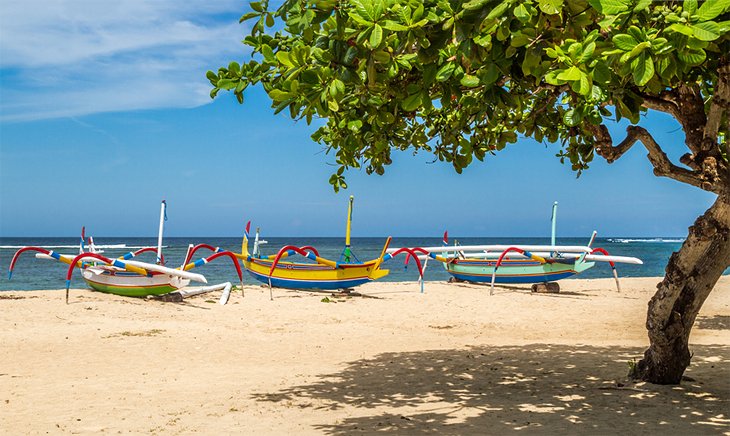 Sanur beach is the place to be if you're looking for something a little quieter and more low-key than touristy Kuta (see number 13 below). Just because it's quieter, though, doesn't mean you'll have to worry about where to stay – there are a slew of beachfront resorts to choose from.
Plenty of "warungs" (locally owned and operated restaurants or small shops) sell food and those essential items you forgot (like sunblock and a hat). These add to the area's charm and give you a more cultural feel to your holiday as you soak up the village vibe.
The beach is clean and heavenly, and there's pretty much no surf due to the nearby breakwater, so this isn't the place to visit if you're hoping to surf. Low tide makes swimming a challenge, which is perhaps why sailing and kitesurfing have become the most popular things to do at this more serene Balinese beach.
Take a break from the heat at the Sindhu Market in town. This small night market is known for its scrumptious (and cheap) street food fare. This is where you'll find the most delicious and authentic martabak – an Indonesian delicacy. Similar to a thick pancake, it is stuffed with sweet or savory foods (i.e. spicy beef) and usually served with a sweet curry sauce.
Insider's Tip: Walk or bike along the four-mile seaside path and search the beach for temples. You never know what you'll discover in this wonderland.
Accommodation: Where to Stay in Sanur
4. Seminyak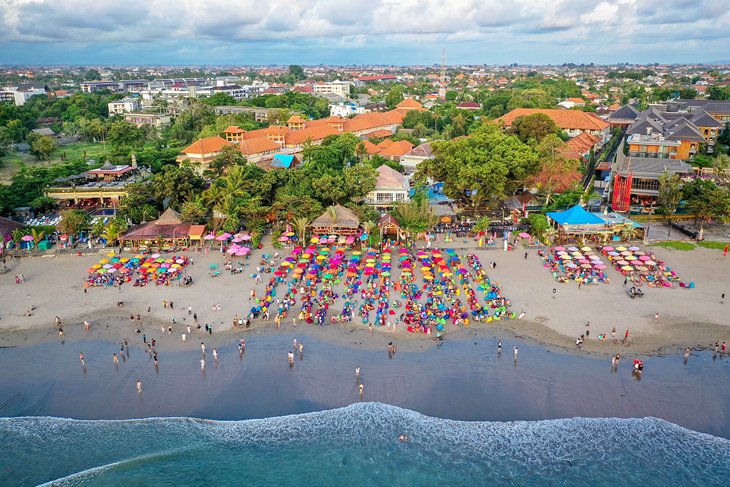 Treat yourself to an afternoon or, better yet, a full day you'll never forget in Seminyak. Known as Bali's "most stylish and upscale beach resort area," this is one of the most popular and best beaches in Bali. The small villages and warungs found in other areas of the island lie in direct contrast to the eclectic fashion boutiques and upscale restaurants near this pretty beach.
Its shore is peppered with the highest classes of accommodation. The Oberoi Beach Resort, Bali, for instance, was one of the first luxury hotels in Seminyak and remains an iconic (and lavish) oceanside beach resort.
The sugar-white sand at this top Balinese beach begs to be sat upon, but the perfect surf is what really attracts visitors. While it is rough enough to make swimming a challenge (especially for kids), the water at Seminyak makes this one of the best beaches for surfing in Bali. For those who'd rather sit back and watch, there are plenty of opportunities to rent sun beds or umbrellas.
You've already heard about the island's awesome sunsets. Seminyak is another great place to witness one. Local restaurants throw giant bean bags onto the sand to offer weary beachgoers an optimal spot to eat while enjoying nature's ultimate show of wonder.
Insider's Tip: Come in the morning or early afternoon when crowds are particularly thin.
5. Legian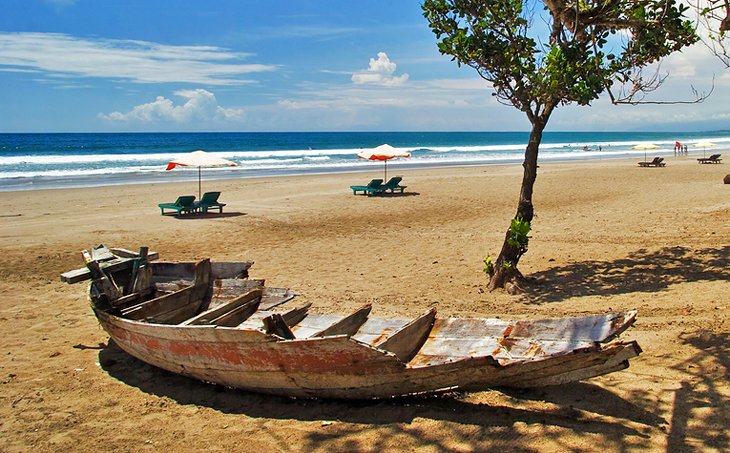 A more relaxing beach than its close relatives, Seminyak (to the north) and Kuta (to the south), Legian offers vacationers a place to surf, body board, shop, and relax in a more laid-back environment. The waves here can be large, which at times makes swimming a bit iffy, especially for the younger set. Check the flags to see if swimming is prohibited when you're there. But the wide, gold, and silver sandy beach is an ideal place to chill out, picnic, or create a sand mermaid.
The paved beachside path is another plus to Legian beach, making it an easy place to take the family on a walk or bike ride. Fly a kite with the kids, grab food from a local vendor, or curl up on a lounge chair with a good book.
Insider's Tip: Watch out for beach hawkers. They can become annoying when constantly bombarding you with their wares. If you aren't interested, try to be firm. If you are, you might just get a taste of deliciously refreshing coconut water or find a lovely necklace to take home.
6. Padang Padang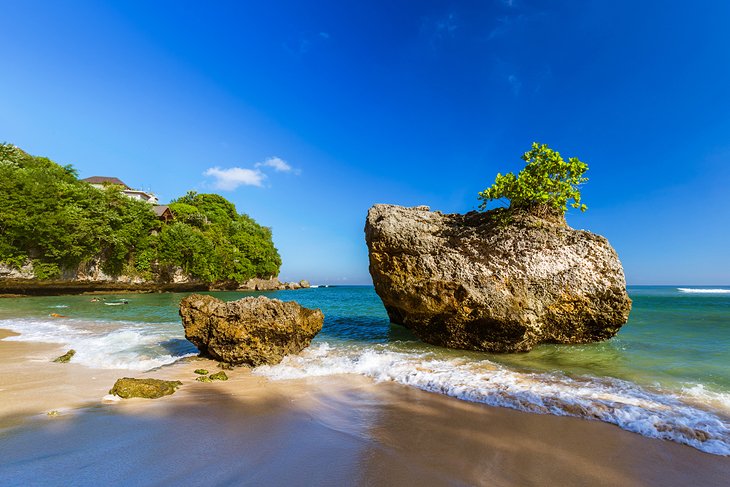 This beautiful beach is reached by walking down stairs you find after entering a hollowed rock. Talk about exotic! Located on Bali's southern coast, Padang Padang is made even more captivating by the giant rocks and limestone cliffs of the Bukit Peninsula that surround its azure waves and golden sand.
Once a truly secluded spot, this top beach in Bali was made famous as the spot where Julia Roberts' character finds love in Eat, Pray, Love. The result: an influx of tourists and new western-style restaurants, shops, and surf lodges aimed at the throngs of vacationers.
The majority of beachgoers are here to surf, since the waves are optimal for experienced surfers. Beware: they break over shallow coral, so beginners are better off choosing a safer beach like Seminyak or Kuta for their first lesson. That said, Padang Padang's fine sand is an inviting play area for families, while the local warungs offer traditional tourist fare, as well as tasty treats.
7. Nusa Dua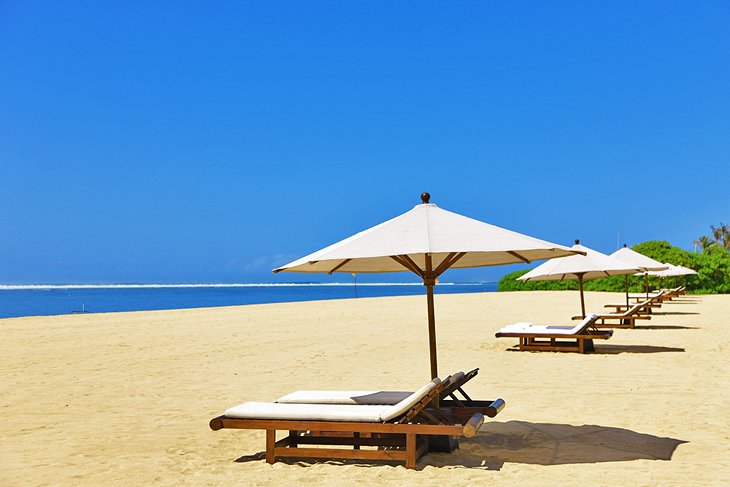 When it comes to luxury, Nusa Dua has it all. Searching for a perfect honeymoon resort? Check. Want a relaxing massage? There are spas aplenty. Craving a golf game? It has its own 18-hole course. This beach is essentially a giant peninsula of immaculate sand bordered by everything you never knew you needed. And it's all encompassed within a gated compound.
In stark contrast to the bustling Kuta, Nusa Dua is quieter, more serene, and highly upscale. It's the mecca of all-inclusive beach resorts, with more than 20 big resorts on its shore. You can walk for miles along the pristine white sand, gaping at mega hotels along your path. Take a dip in the inviting water to cool off, then cross the boardwalk to gaze at the resorts' impressive pools or grab a bite to eat at one of their restaurants.
Insider's Tip: At the far end of the beach is a large shopping complex, The Bali Collection, filled with upscale stores, restaurants, and places to get everything from a pedicure to hair braiding.
8. Bingin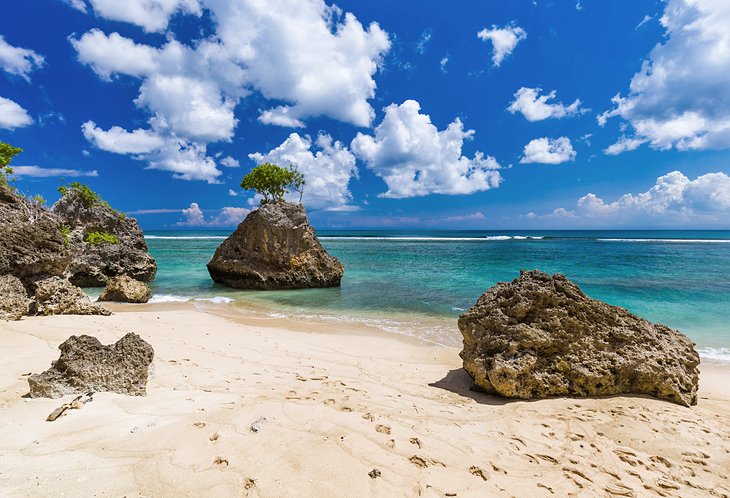 Another exquisite beach on the Buckit Peninsula, Bingin is small but mighty. Also a surf haven, this isolated spot is free from big crowds and loud music. The reason? It's well hidden by the dramatic white limestone cliffs and isn't easy to get to. The cliff top offers an unparalleled panoramic view. Once you've safely climbed over the uneven rocks to reach the impeccable beach, you'll know your journey was worthwhile. Its postcard-worthy beauty will take what's left of your breath away.
Whether you're looking to stay at a small surfing camp or live the high life in a luxury villa, there are plenty of places to stay near this picturesque beach. And you'll be able to grab a bite at a local warung.
Insider's Tip: Time your visit around low tide, so you'll have an even more extensive area of land to explore. Also, this is primarily a surfing and sunbathing spot due to its rough water, so it's not a great option if you're looking for a safe place for kids to swim.
9. Balian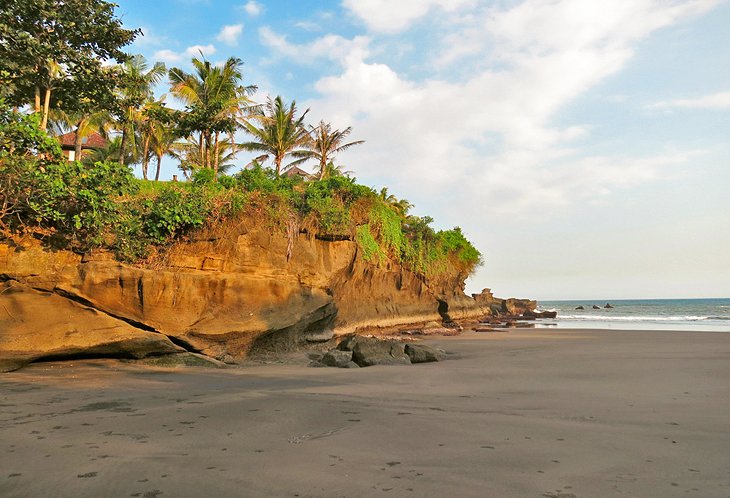 Visitors to Balian beach are greeted by exotic black volcanic sand reaching up through the beach's dramatic dunes. A quiet place to find respite, Balian is remote enough to provide a needed break from the crowds found at other more popular beaches. The giant swells off this dramatic coastline make Balian a veritable surfer's paradise. Rent a board, sign up for lessons, or merely sit back and watch as the surfers do their thing at this top beach in Bali. Either way, you'll be happy you came.
You won't find any luxury accommodations near this quiet beach, but those on a tight budget will have a ton of affordable options to choose from. Grab a bite at a nearby warung and bring it down to enjoy on the sand.
Insider's Tip: Try a yoga session. If you're lucky, Nicky Yoga will be holding classes when you're there. They aren't to be missed!
10. Green Bowl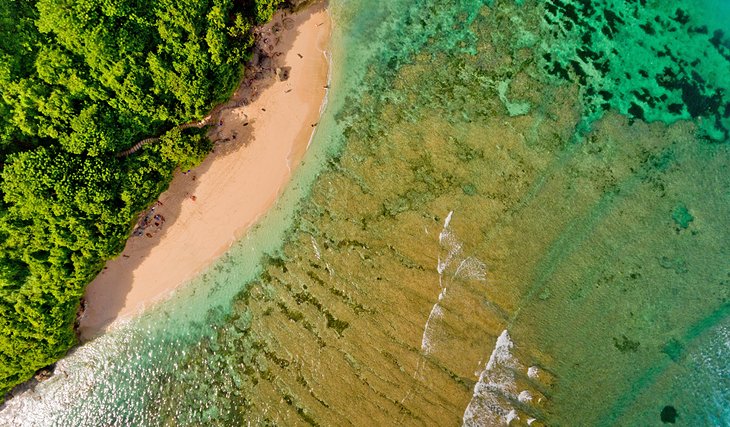 It's not easy to get down to Green Bowl beach (aptly named for its shape and green water), but that's not necessarily a bad thing. You'll have to climb more than 300 steps to get to the bottom of the 75-meter cliff towering above the unspoiled sand. The upside: you won't have to elbow your way through crowds to find a spot for your towel. This secluded nirvana boasts two limestone caves, inside of which are small rock shrines and much needed shelter from the hot sun.
Speaking of hot sun, you'll be able to buy a cold drink or coconut from a warung at the top of the stairs. If you can't fathom climbing back up for a snack, make sure to bring it with you on the way down.
Inisder's Tip: Go early in the morning to make the most of your day. Once the tide comes in, much of the beach is swamped, as are the caves. Also, don't feed the macaques, which line the stairway. They'll leave you alone if you ignore them.
11. Nyang Nyang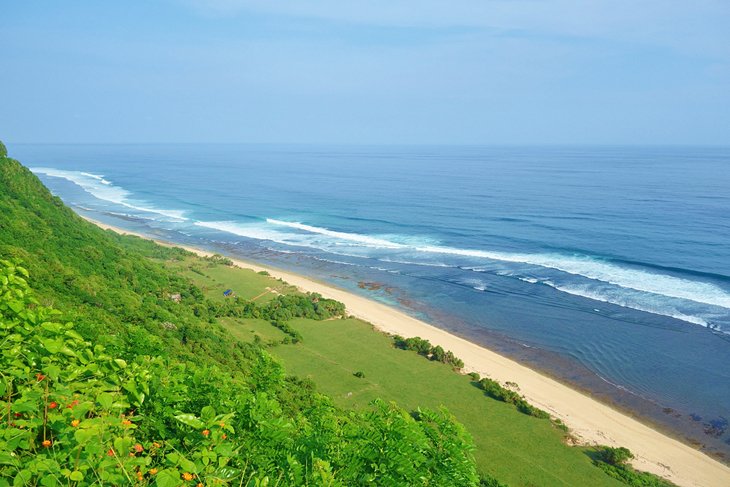 Nyang Nyang is another isolated beach requiring a hefty trek through rough terrain. The reward at the end of this hike is more than worth it – outstanding views over limestone cliffs and the untouched coastline below. This hidden gem is also bordered by lush grassland, making it an idyllic place to avoid the crowds. Another bonus: you won't have to deal with beach hawkers.
The sand at this utopia is lovely, but coarse, so you might want to don shoes. Sit back and let the waves lull you as they break on a reef just out from shore. But beware: swimming isn't recommended, as conditions can get rough and there are no lifeguards on duty.
Insider's Tip: Bring food and water with you, as the walk to the beach is quite strenuous (and takes about 30 minutes). If you're going to make the journey, you should plan to stay for at least a few hours to truly soak up the beauty of this exceptional piece of paradise.
12. Suluban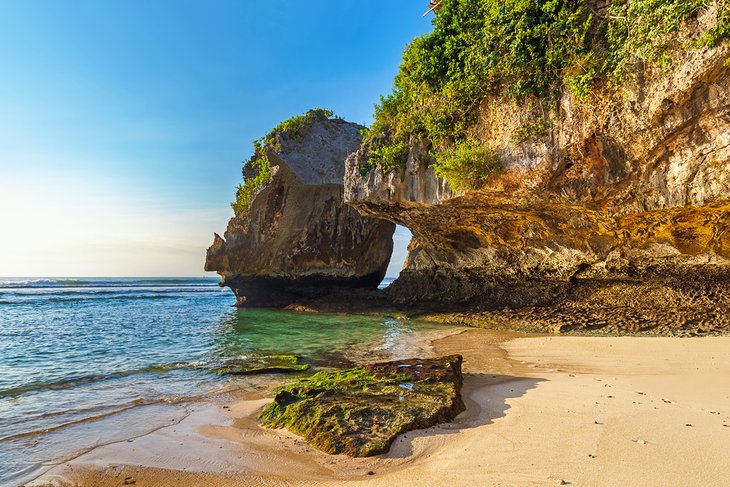 Suluban beach is a pretty haven located in the southern, Uluwatu region of Bali. Getting to this hidden gem requires a 10-minute trek past shops and cafés, down multiple concrete stairs, across a log "boardwalk," and through a picturesque cave.
Visit during low tide, when more of the beach is exposed, for a better chance at finding an optimal spot for your towel. Or, stop at one of the restaurants set on the cliff above. They offer incredible vistas and tasty fare. The sunset view from here is spectacular.
Also known as Blue Point Beach, this fun surfing beach offers waves that are optimal for hanging 10. Its rough waters and strong current mean this isn't a great place to swim, though, especially if you have little ones in tow. Also, be careful, as sharp rocks hide among the sand.
Along the shore, you'll find tide pools and small caves to explore. This beach is also well shaded, so sun worshippers may want to seek another lounging locale, unless they're looking for a nice break from the heat.
While there aren't lifeguards on the beach itself, you'll find a few in clifftop watchtowers, keeping an eye mainly on the surfers.
13. Dreamland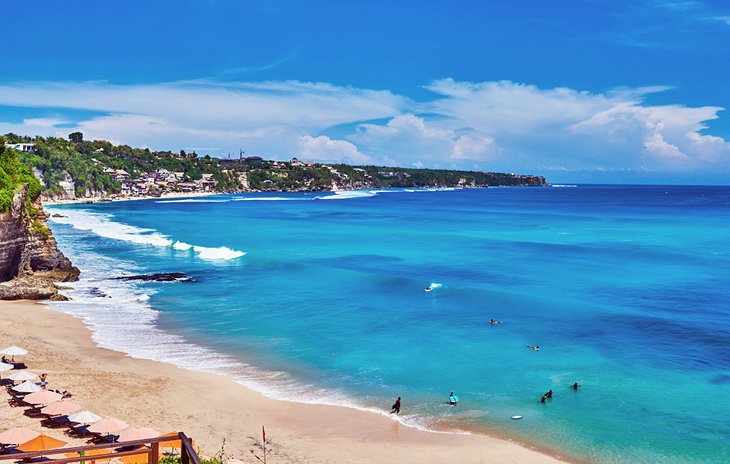 A mere 30 minutes south of Kuta, Dreamland beach lives up to its name. While more and more large beach resorts are creeping their way towards this spot, it's still a captivating place with surf-worthy waves and the softest white sand. Like Padang Padang, Dreamland also boasts the rugged coastline and high limestone cliffs of the Bukit Peninsula. And the view is spectacular.
If you're traveling with kids, though, beware–the surf is large, which means the waves can be treacherous for little ones. You might want to allow them to bury you in the sand or fly a kite instead. Those who were looking for a serene place to float seamlessly in the ocean may want to reconsider a trip to this beach as well.
Insider Tip: Beach Hawkers will offer everything from chair rentals to a massage. Make sure to bargain to get the best deal.
14. Kuta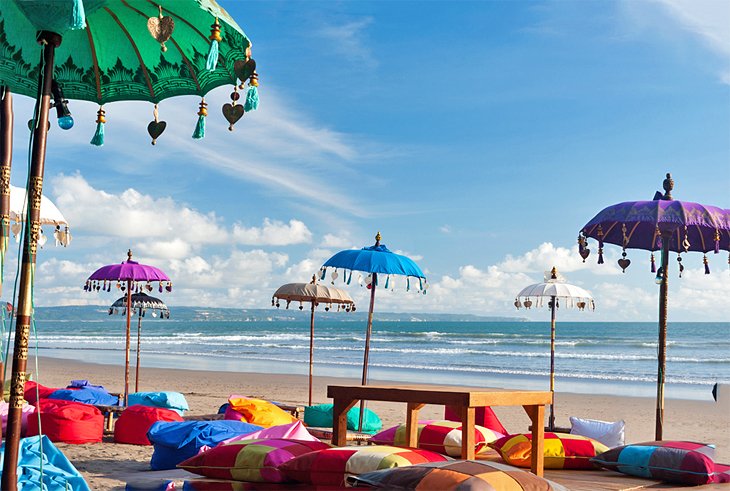 Ever been to Miami beach? Then you're prepared for an experience on Kuta. This popular tourist beach is located close to Ngurah Rai International Airport, the island's main travel hub. While it features the soft golden sand and dreamy blue waters of other best Bali beaches, Kuta is also situated close to the action.
Once a quiet fishing village, Kuta has sprawled and grown into a vibrant resort town. Beach resorts and hotels abound, as do countless restaurants. At night, you'll hear music pumping as you walk along the main streets.
The beach itself is a go-to spot for experienced surfers and those hoping to take up the sport. It's so popular, in fact, that you'll find multiple surf schools located along the sprawling sand.
While many vacation packages include a place to stay in Kuta, those looking for a quiet night's sleep might want to look a bit further afield.
15. Kelingking Beach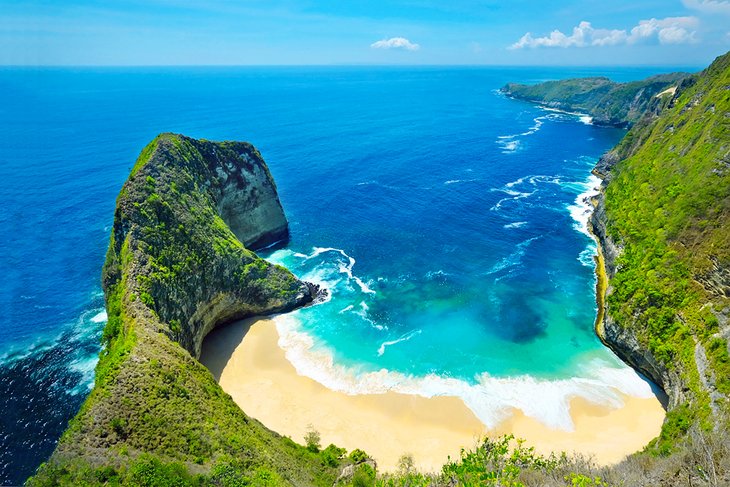 Looking for a secluded beach to brag about to friends back home? Kelingking beach is it! Perfectly situated, this lush wonderland is nestled between towering limestone cliffs and bordered by the captivatingly turquoise Manta Bay on Nusa Penida Island, a 30-minute boat ride from Bali. Its gorgeous image has graced ad campaigns for Bali and Indonesia for years.
Not easy to reach, the long, steep trek down to this beach rewards visitors with spectacular views and postcard-worthy photos, especially from the jagged cliff tops. Be sure you're fit enough for the hike back up, and pack plenty of water and snacks, as you won't be able to buy anything once you've reached the soft white sand of the beach. Also, flip flops aren't going to cut it for this journey.
The water is calmer in the shallows by the shore, so stick to this region if you aren't a strong swimmer.
16. Crystal Bay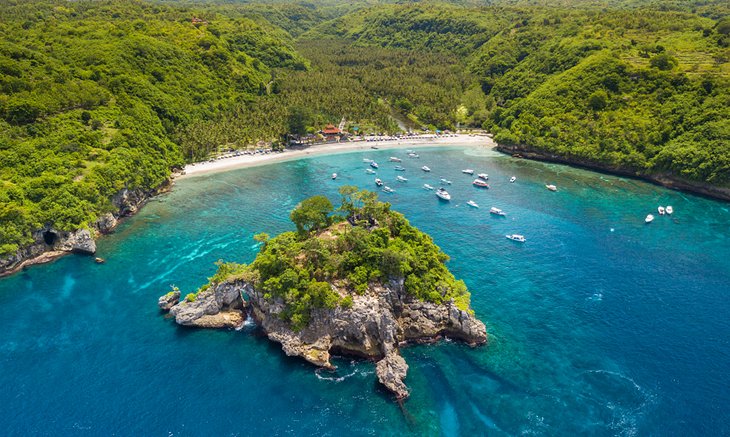 Technically not on Bali, this secluded haven is an hour's speed-boat ride away from the main island. Depending where you dock, you can rent a motorbike or charter a car to make it the rest of the way. Beware: although beautifully lined with towering palm trees, the road is bumpy.
Located in a sheltered cove on the west coast of Nusa Penida island, Crystal Bay is aptly named for its translucent blue-green water. It boasts a thriving reef, making this one of the best places to visit for snorkelers and divers. The current can be quite strong, though, so take care.
While still undeveloped, you'll find small bungalows and thatched-roof buildings offering everything from coconuts to cold drinks to snorkel rentals. Insider's Tip: Avoid the crowds by going earlier in the day. Like many of Bali's best beaches, Crystal Bay is a popular place to watch the sun set.
More Related Articles on PlanetWare.com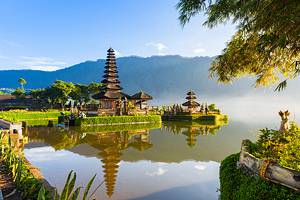 Resorts in Bali: Independent travelers often look to book hotels but families will be better off finding a nice resort to relax and enjoy some time around a pool and the beach. For ideas to begin planning your stay, see our guide to the Best Family Resorts in Bali. From your resort you can sign up for an excursion to some of the top attractions in Bali.