12 Top-Rated Attractions & Things to Do in Puerto Vallarta
We may earn a commission from affiliate links ()
Puerto Vallarta is one of those places that will stick with you forever. Unlike other beach destinations in the country that were built for tourism, Puerto Vallarta retains its roots as an authentic port town, packed with history, culture, and the heart of real Mexico.
Of course, this isn't to say that there aren't tourism offerings in the city. It's one of Mexico's most popular tourist resort towns. Much of the city's beauty has been restored and preserved, even as new hotels and resorts spring up year after year.
Puerto Vallarta is one of the only places to visit in Mexico where mountains meet jungles meet sea. Its historic downtown, the Zona Romantica, is veined with cobblestone streets. Brilliant purple blossoms hang low over crisscrossing avenues, which add bursts of color to the whitewashed buildings that are capped with iconic terra-cotta roofs.
Puerto Vallarta is visually stunning. It's also got soul, with plenty of things to see and do at any time of day. It's a rare example of a city where locals jive with tourists and expats, creating a unique medley of international flair.
Are you ready to discover all that this city on the Bay of Banderas has to offer? Plan your sightseeing with our list of the top-rated attractions and things to do in Puerto Vallarta.
Note: Some businesses may be temporarily closed due to recent global health and safety issues.
1. The Malecon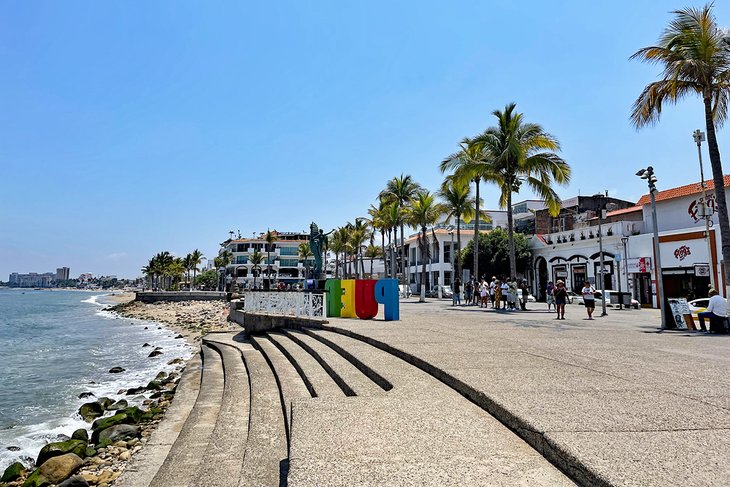 If Puerto Vallarta could be boiled down to one snapshot, it would be its iconic Malecon. This mile-long walkway that hugs the coast takes visitors on a journey from Centro down to the Zona Romantica, or the historic district.
Along the way, travelers can take in the stunning views of the Bay of Banderas and jungle-covered mountains; see the beautiful red-tiled roofs of downtown; stroll past many of the hottest restaurants; and view the city's sculptures, beaches, and live street performances.
The Malecon is also closed to vehicle traffic, which means you can take your time as you stroll. It's also a perfect spot for a morning run. It ends at one of Puerto Vallarta's most famous beaches and the iconic sail-shaped pier.
At any time of day there is something happening along the Malecon, and it's the premiere spot where locals, tourists, and expats come together.
Address: Paseo Díaz Ordaz S/N, Centro, 48300 Puerto Vallarta, Jal.
2. Zona Romantica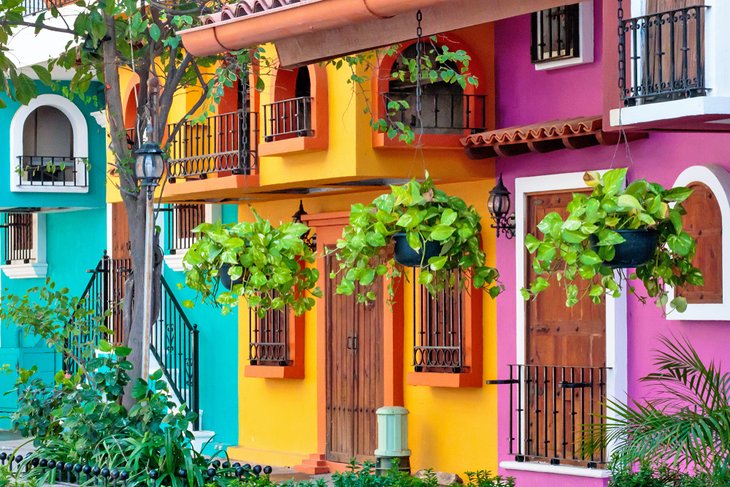 Take a step back in time and experience the very heart and soul of the original Puerto Vallarta. The Zona Romantica is the city's historic district, and is one of the most visually pleasing parts of the city.
Cobblestone streets and alleys are flanked with historic buildings, each capped with the trademark red-tile roofs. Purple bougainvillea blossoms arch over side streets, creating brilliant pops of color.
The Zona Romantica begins at the bridge over the Rio Cuale. Here, you will find the Old Farmers Market and some of the city's more popular beaches, restaurants, art galleries, and boutique hotels. It is also where the largest concentration of expats live, so you'll find it's very tourist-friendly.
The Pier is one of the most important attractions in this part of the city, from which you can grab a water taxi to many of the surrounding areas, or hire a boat tour to take you around the bay for an incredible view of the city from the water.
3. Our Lady of Guadalupe Parish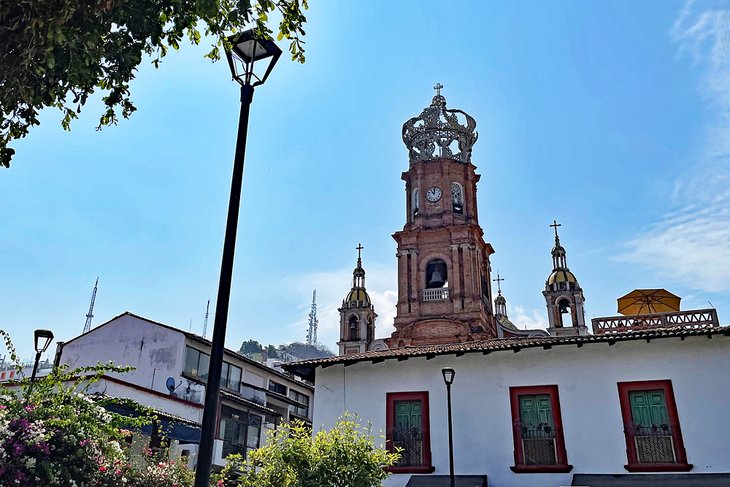 If you've seen the skyline of Puerto Vallarta, then you've surely seen the Parish of Our Lady of Guadalupe, or the Parroquia de Nuestra Señora de Guadalupe. This icon of the city is known for its red-brick facade and the regal crown that sits perched atop its steeple.
Activity is always buzzing around the church and in the square directly in front of it. The bells ring every 30 and 15 minutes prior to each service.
From December 1 to 12, it's particularly frenetic around the square, as the city celebrates the Feast of Guadalupe. The city comes alive with parades, dancing, decorated floats, and music.
Address: Hidalgo 370, Proyecto escola, Centro, 48300 Puerto Vallarta, Jal.
4. Puerto Vallarta Beaches
Puerto Vallarta has some of the most beautiful beaches in Mexico. Unfortunately those beaches are not in the city. The city itself is fringed with shoreline, but these beaches tend to be incredibly crowded and packed with restaurants and activity.
For a more tranquil beach experience, your best bet is to get out of town – slightly. To the south of Puerto Vallarta are two important beaches: Playa Las Gemelas and Playa Mismaloya. Playa Las Gemelas is a discreet beach to the south of Puerto Vallarta on a stretch of sugary sand. It's a local beach, meaning you won't see many tourists here, but that's part of its magic.
Playa Mismaloya is in the next small beach town down from Puerto Vallarta, called Mismaloya. In fact, it was this beach that put Puerto Vallarta on the tourism map, as it was the scene of the 1964 film, Night of the Iguana, starring Richard Burton.
5. Bay of Banderas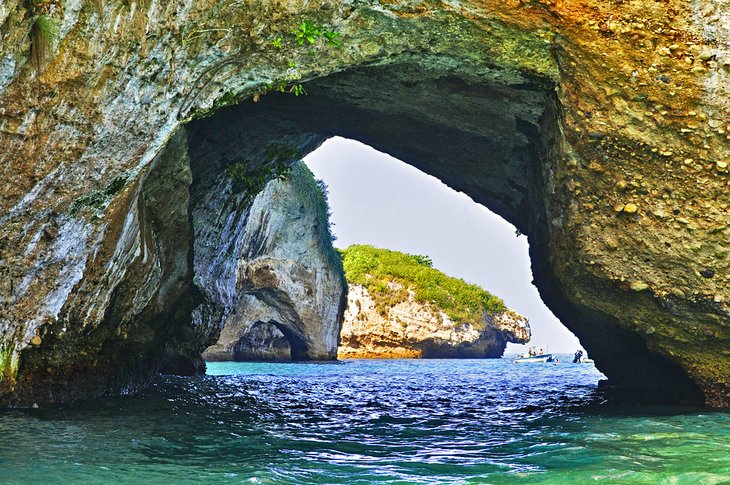 Puerto Vallarta thrives on its coastal location. Life revolves around the water, whether it's fishing, boating, or simply lying by the beach. One of the best ways to enjoy the city is to get out on the water. The Bay of Banderas, the body of water on which Puerto Vallarta sits, is one of the largest bays in the world.
It's teeming with wildlife, from hawksbill turtles and octopuses to whales, dolphins, and so many different kinds of fish. In fact, it's rare to be out on the bay and not have a dolphin or whale sighting.
Several boat companies take visitors out on the water for an afternoon, whether it's cruising around the Los Arcos natural monument; visiting beaches only accessible by boat, like Yelapa or Las Animas; or a wildlife cruise.
The Day Sailing on Banderas Bay explores the bay and allows a chance to go snorkeling and swimming. All equipment as well as snacks and beverages are included.
6. Mirador Cerro de La Cruz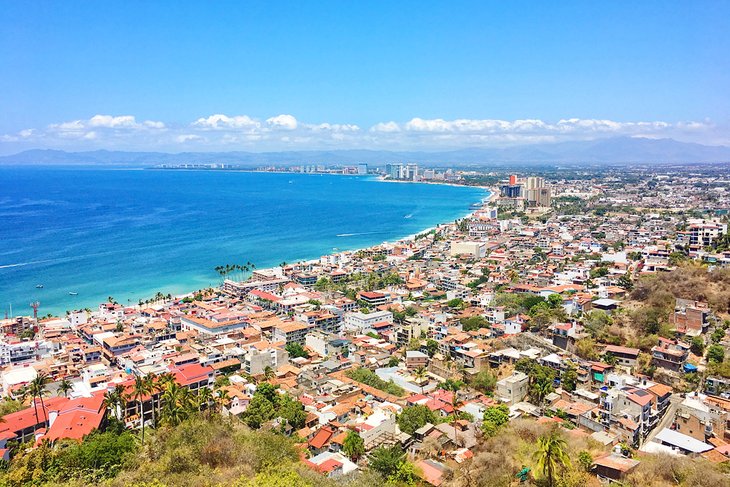 After you've seen Puerto Vallarta from the water, it's time to see it from the sky. Puerto Vallarta enjoys a unique location, nestled between the sea and the mountains. The city climbs back up into the green-carpeted hills, making for picture-perfect vantage points over the entire city.
One of the best (and best-kept secrets by locals) is the Cerro de la Cruz lookout. Perched high above Centro, this lookout point offers a bird's-eye view over the entire city, the bay, and north into Nuevo Vallarta and the hills of Punta Mita.
Climbing is not for the faint of heart, as it is a straight shot up, but the view is entirely worth it, as the red-roofed city unfolds before you. In high season, a funicular is available, which operates between 6am and 10pm. The climb lasts anywhere from 15 to 40 minutes depending on your level of fitness.
7. Magic Towns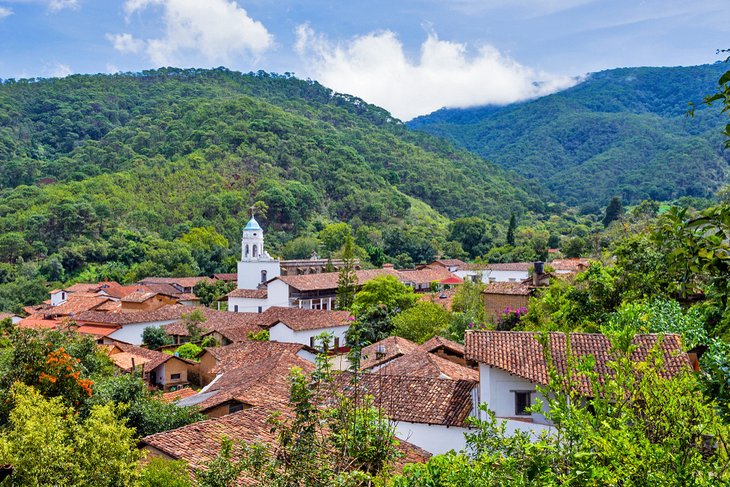 A few years ago, Mexico's Secretary of Tourism started bestowing the designation "Magic Town" to several towns in Mexico that had held on to their cultural heritage and charm. This title was given to towns that exemplify historic, authentic Mexico, and they can be found all over the country.
Near Puerto Vallarta are three Magic Towns that give a very different look into life in the state of Jalisco. The first is San Sebastian del Oeste. San Sebastian owes its history to the mining days of Mexico, which peaked during the colonial period. A trip here is a step back in time to the old mining days, with preserved churches, ranches, and even old mines. The mountain town is shrouded in lush trees and blanketed in fog, giving a completely different experience from the beaches of Puerto Vallarta.
The next is Talpa de Allende, which is a village veined with cobblestone streets and lined with brilliantly colored buildings. Visit the central church, which blossoms with bright purple bougainvilleas. The church is often the stopping point for pilgrims coming to pay homage.
Finally there is Mascota, which sits tucked among the tall pine and oak trees of the Sierra Madres. The fresh, mountainous town is known for the unfinished church, the Temple Inconcluso de la Preciosa Sangre, which sits at the center.
8. Yelapa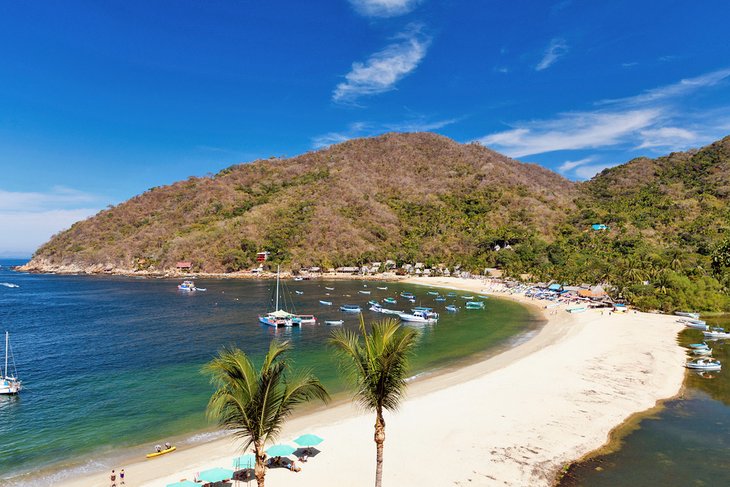 When it comes to beach destinations in Mexico, Puerto Vallarta is one of the most popular. With that said, it means that it can often be difficult to find your own private stretch of sand. But that's where Yelapa comes in – one of the best-kept secrets in Puerto Vallarta and one of the most beloved hideaways for locals.
Yelapa is a quiet crescent of sandy beach just 20 miles south of Puerto Vallarta. What keeps it so low-key? You can only get here by boat. (You can do this from the Los Muertos pier, or by hiring a private charter from Boca de Tomatlan, another fishing village south of Puerto Vallarta).
You won't find chain restaurants or even mainstream hotels here. It's all about guesthouses, small hotels, and a handful of palapa-style beach restaurants. Airbnb is alive and well here, though, which can be an attractive option if you want to cook your own meals.
Keep in mind that supermarkets are non-existent, so it's all about what you can score at the local "market." But more often than not, people hole up at the beach restaurants for deliciously fresh food, minus the price tags from Puerto Vallarta.
The water is a shimmery turquoise-green, which pops against the golden sand and jungle-backed hillside. If you are looking for an escape from your escape, Yelapa is certainly the place to visit.
9. Casa Kimberly
When Richard Burton came to Puerto Vallarta to star in John Huston's film, he fell in love with the city, and decided to have a house here for himself.
But that wasn't enough. He was in the throes of a tumultuous and scandalous relationship with Elizabeth Taylor and arranged for her to stay in a casita across the street from his, known as Casa Kimberly. Burton had a bridge built between the two casitas, over the street, as a way for the lovers to visit each other without having to wade through the flow of paparazzi.
In 2010, the villa opened as a luxurious boutique hotel, with its nine rooms decorated in the style that Taylor and Burton would have been familiar with. A pink marble, heart-shaped tub, the central pool, and the bridge have all been restored. The hotel's nine suites are decked out with sparkling chandeliers, luxurious bathrooms, wide patios, and private plunge pools, all overlooking the roofs of the city.
The restaurant, The Iguana, is one of the best in the city and has a killer view, to boot.
Address: Calle Zaragoza 445, Centro, 48300 Puerto Vallarta, Jal.
10. Islas Marietas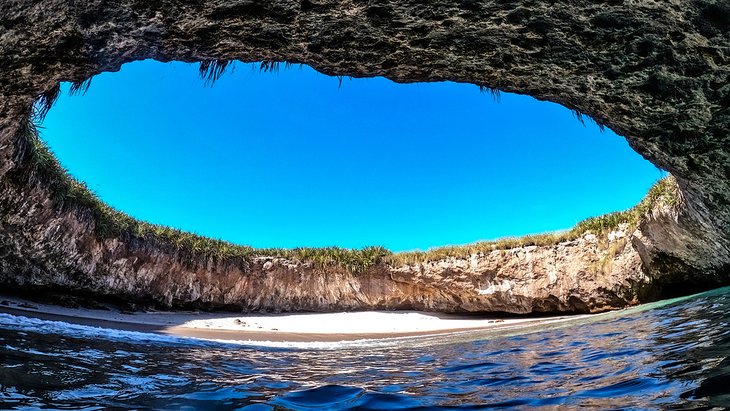 Wildlife abounds in this government-protected natural area. Islas Marietas is a group of uninhabited islands that sit out in the Bay of Banderas off the coast of Puerto Vallarta and the neighboring state, Nayarit. The islands are protected from human access to preserve the native and rare wildlife species that live here.
When it comes to visiting the islands, many options exist. Visitors can book a tour with a local tour operator, like Vallarta Adventures, which can arrange everything from snorkeling the islands to kayaking or paddleboarding around them. It's also a popular site for scuba diving.
One of the best parts of Islas Marietas is the hidden beach that lives inside one of the islands. When the tide is just right, swimmers can swim through a narrow channel and emerge into an open-air cave that has a quiet, pristine beach, hidden from public view. It's one of the more magical ways to experience Puerto Vallarta.
11. Day Trip to Sayulita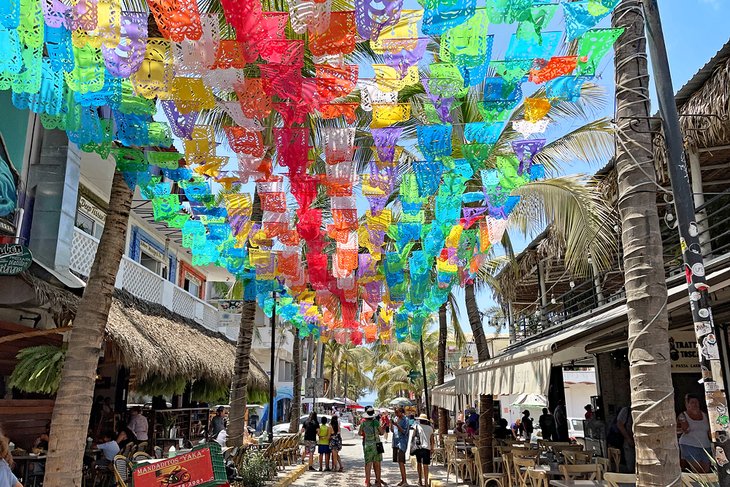 Technically not in Puerto Vallarta, Sayulita is just over the border in the state of Nayarit, but makes a perfect (and common) day trip from Puerto Vallarta. The bohemian surf town used to be sleepy and geared toward backpackers and surfers. But recent discovery has morphed it into a veritable cultural gem all its own, packed with small restaurants, boutiques, and art galleries.
Stay away in high season, like around Easter and New Year's, when the shores are teeming with tourists. But during the week and in shoulder season, you can still find the fishing village charm that Sayulita old timers still remember wistfully.
12. Vallarta Botanical Garden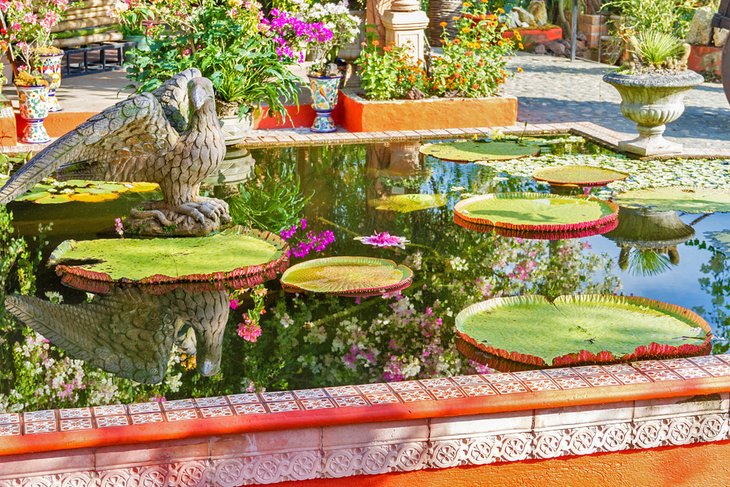 Escape the fray of Puerto Vallarta's downtown with an excursion to the Jardin Botanico de Vallarta (Vallarta Botanical Garden). Here, you will find a wide assortment of brilliantly colored wildflowers, including one of the most-visited public collections of orchids in Mexico.
Discover plants like cacao, agave, vanilla, cacti, and magnolias, as well. It's also possible to see parrots and different species of hummingbirds. It's much more than gardens that you'll find here – discover hiking trails, a restaurant, and even a section of river that visitors can swim in.
Address: Carretera Puerto Vallarta, Carr. Costera a Barra de Navidad Km 24, 48425 Jal.
Official site: https://www.vbgardens.org/
Where to Stay in Puerto Vallarta for Sightseeing
Luxury Hotels:
Hotel

Mousai

is the only AAA Five-Diamond rated resort in Puerto Vallarta and a wonderful luxury choice. All rooms are spacious and beautifully decorated and, best of all, feature private Jacuzzis and hammocks on their patios. Right on the beach, there are sun loungers and umbrellas for guests, as well as a delightful rooftop infinity swimming pool. Breakfast is complimentary, and there is a restaurant for other meals. Other amenities include a spa, hot tub, and fitness center.
Casa

Velas

is an adults-only, luxury all-inclusive boutique hotel that is perfect for romantic getaways. The old Mexican hacienda-style architecture is beautiful as is the lushly landscaped grounds. The 80 suites are done up in locally inspired styles and are very comfortable, with Nespresso machines and private balconies with sitting areas. The food is excellent, especially considering this is an all-inclusive property, and there are two restaurants to choose from. Other amenities include a private beach club, swimming pool, spa, and golf course.
Another luxury choice is the Villa Premiere Boutique Hotel & Romantic

Getaway

right on the beach. It has contemporary rooms and ocean-facing suites with tile floors and bespoke decor. The resort is open to children 16 and over but is really adult-focused. It also offers all inclusive options should you wish to have meals included.
Mid-Range Hotels:
Velas

Vallarta

is at the high end of the mid-range bracket. It is a family-friendly all-inclusive property known for its excellent food at two restaurants. Accommodation is in 345 suites with Mexican hacienda decor. Amenities include a kids' club, beach access, spa, and swimming pools.
Sunset Plaza Beach Resort &

Spa

is another good-value, all-inclusive option. There are ocean views from all the rooms and suites, which are also modern and comfortable. Amenities include 24-hour butler service, sun loungers and umbrellas on the beach, two swimming pools facing the ocean, and a spa. The family-friendly property also has a kids' club and can arrange babysitting.
Right on the beach at Banderas Bay, Villa del Palmar Beach Resort &

Spa

is another family-friendly property that also caters to couples. The rooms have Mexican style throughout and come with kitchenettes. There are interconnected rooms for families. Amenities include two free-form swimming pools, three restaurants, and a spa.
Budget Hotels:
Hotel Posada de

Roger

is located in downtown Puerto Vallarta and is an authentic Mexican-style hotel surrounded by lovely gardens. The location is just a block away from the main beach in old town and also very near the sea walk, markets, and shopping areas. Rooms are attractive, with bright artwork on white walls and multicolored pillows on crisp white-linen-clad beds. There is a swimming pool, rooftop terrace, and restaurant on-site.
Another top budget choice downtown is Hotel Porto

Alegre

. Rooms are clean and comfortable and come with fridges and bottled water. The hotel is near Los Arcos Plaza and other downtown attractions. Breakfast is included, and there is a rooftop swimming pool.