20 Top-Rated Beaches in Mexico
With almost 500 beaches spread across four bodies of water, Mexico has no shortage of surf and sand. The country's land touches the Pacific Ocean, Caribbean Sea, Gulf of Mexico, and the Sea of Cortez, and Mexico also has a number of inhabited islands including famous Isla Mujeres in the Yucatan.
So whether you're looking for a lazy holiday spent staring into the brilliant turquoise hues of the Caribbean Sea on the Riviera Maya or an active vacation that involves surfing in the Pacific Ocean in Oaxaca, Mexico has a beach destination that is perfect for you.
Beyond the beaches themselves, you'll also find charming small towns like Zipolite, where the pace of life runs slow, or larger resort areas, where you can dance the night away to live music or shop designer stores.
There are also areas surrounded by jungle that house ancient Mayan Ruins near Tulum and Cancun. And spots where you can go deep sea fishing, snorkeling, scuba diving, and, of course, surfing. From the popular (for good reason) to the relatively undiscovered, find an idyllic stretch of sand and sea with our list of the best beaches in Mexico.
1. Tulum, Riviera Maya, Yucatan Peninsula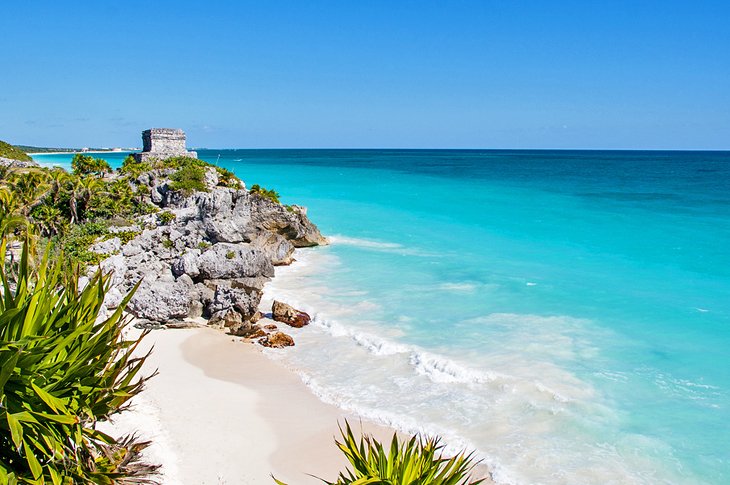 At the far southern end of the Mayan Riviera, about a two-hour drive from Cancun, Tulum's beach is not only picture-perfect, it is also historically rich. The gorgeous white-sand beach is backed on one side by the turquoise-hued waters of the Caribbean Sea and on the other by jungle and cliffs that house 13th-century Mayan ruins.
There are a few different beach areas around Tulum, including Playa Ruinas in the north, which features direct views of the ruins and water and is the most photogenic of the beaches here.
Most of the high-end resorts are clustered along Tulum's South Beach (South Playa), which features bright white sand and some good kitesurfing spots.
Accommodation: Top-Rated Resorts in Tulum
Read More:
2. Akumal Beach, Riviera Maya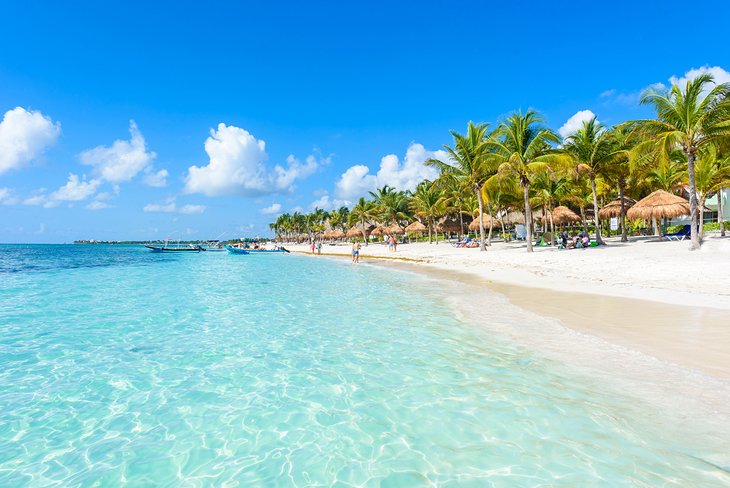 Akumal Beach is also in the Tulum area. The gorgeous white-sand beach is less touristy than other Riviera Maya beaches and is where to come if you are an animal lover.
The name Akumal translates to "place of the turtle" in Mayan, and this is a favorite place for large sea turtles to lay their eggs. Spotting turtles on this beach is pretty much a given during this season.
The water just offshore is clear and calm and perfect for swimming, which makes Akumal a great choice for families. There is also a thriving coral reef just offshore that is perfect for snorkeling excursions.
Accommodation: Best All-Inclusive Resorts in Tulum
3. Maroma Beach, Riviera Maya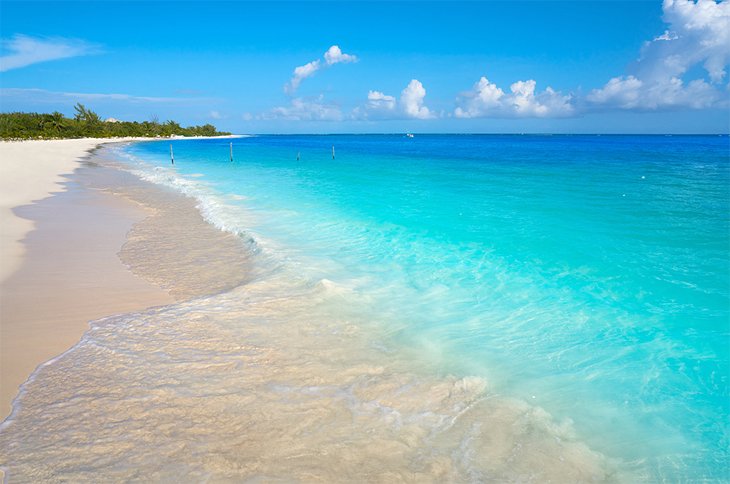 To access this beautiful stretch of white sand meets aquamarine sea in the Riviera Maya, you'll need to book into one of the luxury properties located along it. Maroma Beach is part of the gated Maroma community here. If you can pay to stay, however, it is worth it if your ideal vacation includes powder soft sand and those stunning shades of blue the Caribbean Sea is known for.
It's also a good choice if you don't want as many crowds as you'll find on nearby Playa del Carmen or Cancun beaches. Oh, and the water here is calm and perfect for swimming.
For accommodation, try the luxury boutique Belmond Moroma Resort & Spa, which has a great location right on the beach and just 63 rooms and suites, so you get personalized service. The resort is kid friendly with a daily Adventure Camp for children.
Accommodation: Top-Rated Family Resorts in the Riviera Maya
4. Playa del Amor, Cabo San Lucas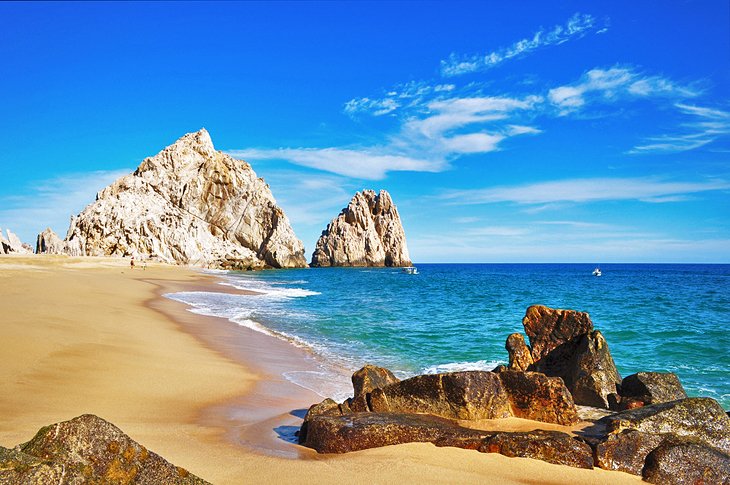 At the tip of Mexico's Baja California Sur peninsula, which extends like a finger south of California in the U.S., Cabo San Lucas is unlike any other place in Mexico. Here, the desert meets the Pacific Ocean on one side and the Sea of Cortez on the other, and you'll find giant cacti and soaring sand dunes bumped up against the deep blue sea.
Accessible only by water taxi, Playa del Amor is Cabo's most beautiful beach. On Land's End at the far southern edge of Cabo San Lucas, at "Lover's Beach," craggy rock formations meet the sand and crashing waves in dramatic fashion.
The beach runs between the Pacific Ocean and the Sea of Cortez, so you can experience the wild waves on one side and the gentler sea on the other. From here, you can also see Cabo's most famous natural landmark, El Arco, which is a stunning rock arc formation in the ocean.
Accommodation: Best Beach Resorts in Cabo San Lucas
5. Balandra Beach, La Paz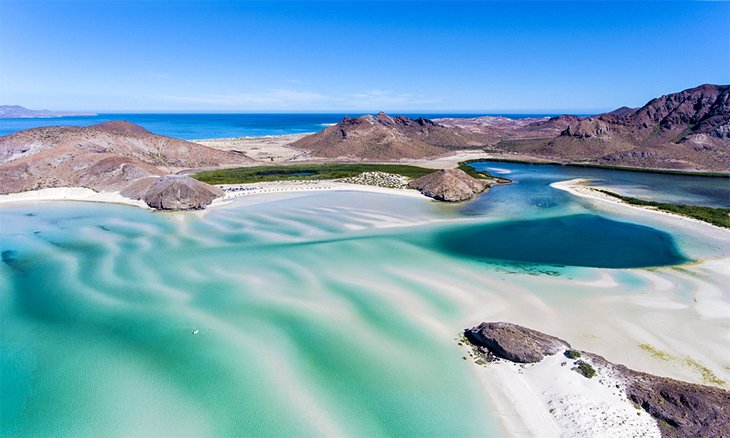 Also on the California Baja Sur peninsula, La Paz is the state capital and home to beautiful Balandra Beach. This is a great choice if you are looking to get off the main tourist trail and visit a picture-perfect stretch of sand and sea without the crowds you'll find in nearby Cabo San Lucas.
Balandra is special for resembling a lagoon despite just being a bay. The illusion comes from high cliffs that almost entirely encircle the beach and shallow waters that let you wade from one side to another-it is an excellent choice for young children. There is also great snorkeling in the vicinity, both in the bay and in the reef beyond it.
6. Cancun Beach, Riviera Maya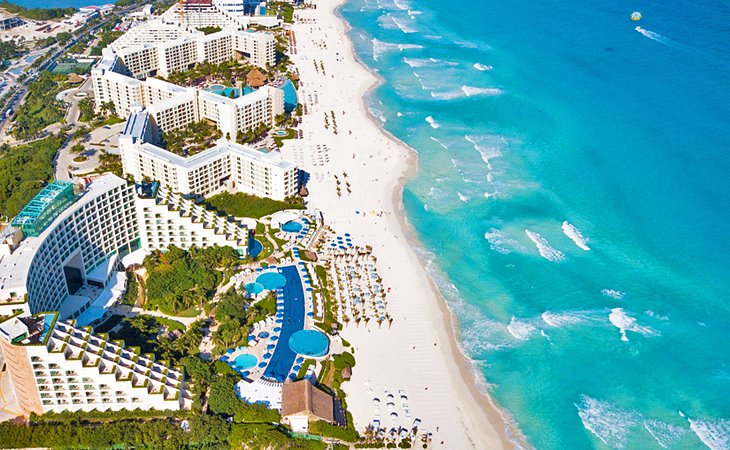 Covering a 14-mile stretch, Cancun Beach is one of the most popular beaches in all of Mexico. Anchoring the Riviera Maya in the Yucatan Peninsula, which sticks out into the Caribbean Sea, Cancun is famous for its developed tourism industry, powder-soft white-sand beach, and turquoise sea.
At one time the beach here was actually part of the ancient Mayan civilization in this area, and you can take day trips to a number of Mayan temples and ruins.
On the beach itself, you'll find numerous restaurants and entertainment venues, as well as dozens of resorts and a very buzzy vibe. All sorts of water sports can also be arranged here, and there is great snorkeling and diving in the reef just offshore.
Accommodation:
7. Sayulita, Riviera Nayarit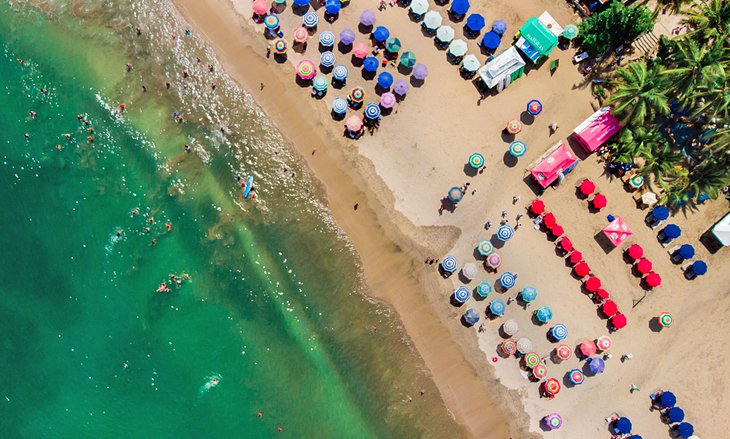 For a taste of surf culture and charming small town life head to Sayulita Beach on the Riviera Nayarit. On the Pacific Ocean coastline, about 30 miles from Puerto Vallarta, it is a wide golden-sand beach backed by the town and the Occidental Mountains beyond. This beach is a surfing mecca of sorts with consistent breaks and surf camps and schools. The town is also filled with restaurants, artisan shops, and plenty of eco-friendly boutique resorts.
8. Medano Beach, Cabo San Lucas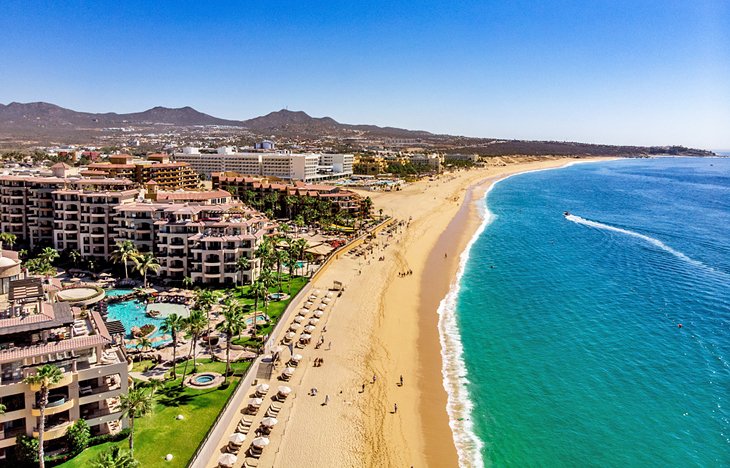 Unlike many Los Cabos area beaches where the current is way too rough to swim, Medano Beach boasts safe swimming. Cabo San Lucas' main beach is also home to all sorts of water sports, from Jet Skis to banana boat rentals, and boat excursions to popular spots like Lover's Beach and El Arco with stops for snorkeling in the Sea of Cortez can also be arranged here. There are plenty of restaurants on the pavement beyond the sand catering to hungry travelers.
Accommodation: Top-Rated Beach Resorts in Cabo San Lucas
9. Isla Holbox, Yucatan Peninsula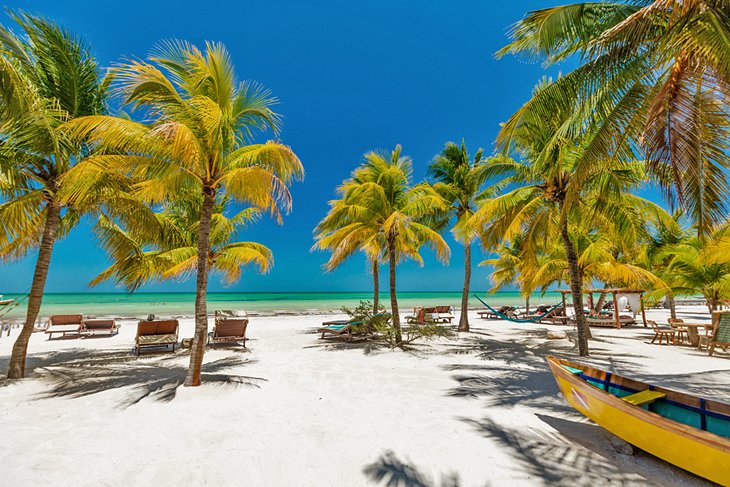 While much of the Yucatan Peninsula and nearby islands like Cozumel and Isla Mujeres are very touristy, Isla Holbox, about three hours north of Cancun in the Caribbean Sea, is an exception. The small island features deserted beaches, including a white coral beach on its north side that has excellent windsurfing. The water here is also shallow and crystal clear and there are great spots for long swims.
Isla Holbox is also protected as part of an ecological reserve and has a large seabird population. There are a number of hotels and guesthouses on the island.
10. Puerto Escondido, Oaxaca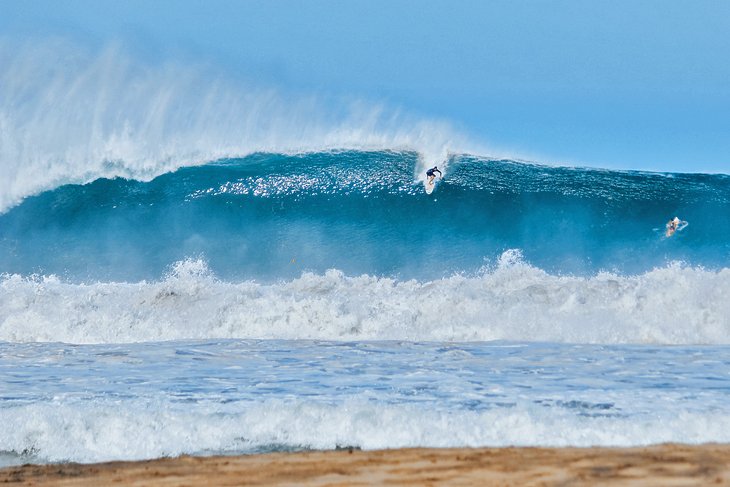 For a surf-focused vacation, head to Puerto Escondido on the Pacific coast in Oaxaca. The town is a popular spot for expats from around the world, as well as surf and budget travelers and as yet is spared from mass development.
The waves here are no joke, some 10 feet high at times. This is one of the best surfing spots in Mexico. There are also a slew of hotels, guesthouses, and mom-and-pop restaurants cooking up street tacos and other local fare. Visit before the rest of the planet discovers it.
Read More:
11. Puerto Vallarta Beach, Jalisco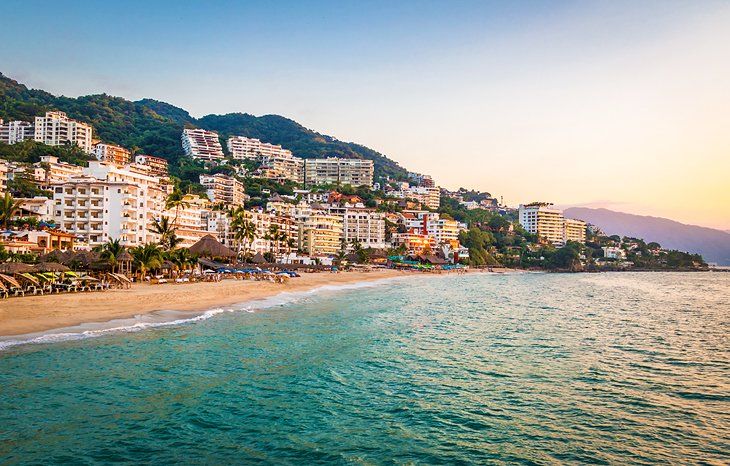 On the Pacific coast, Puerto Vallarta Beach offers a long stretch of golden sand backed by deep blue water on one side and the Sierra Madre Mountains on the other. There is excellent snorkeling in the sheltered coves around the beach. All sorts of excursions are also organized here, from deep sea fishing trips to sailing and whale-watching adventures.
The town of Puerto Vallarta is also charming with a Zona Romantica old town filled with cobblestone streets, local shops, and plenty of restaurants. Several beaches around Puerto Vallarta are worth checking out.
Accommodation: Best Resorts in Puerto Vallarta
12. Zipolite Beach, Oaxaca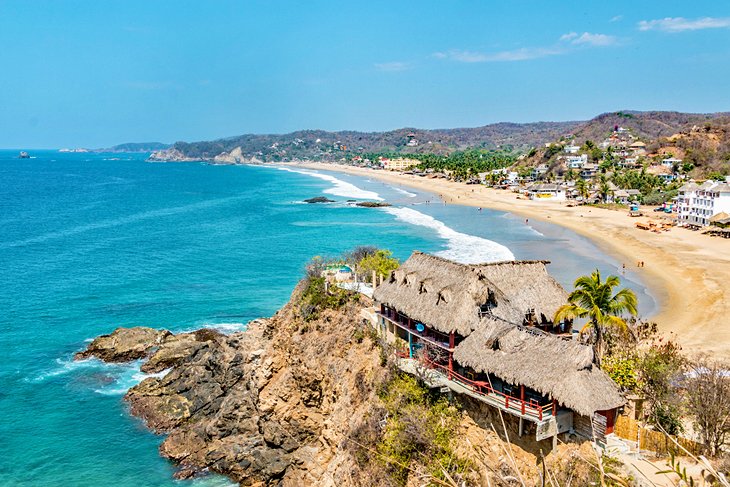 Long and pretty Zipolite Beach in Oaxaca is set between two rocky headlands and is a top surfing beach. The undercurrent can be strong here, so you'll need to know what you are doing if you venture beyond the designated safe swimming zones with lifeguards.
There are numerous thatched-roof restaurants lining Colonia Roca Blanca, the town's main drag. If you are interested in learning more about sea turtle preservation then head to the Mexican Turtle Center on nearby Mazunte Beach.
13. Yelapa Beach, Jalisco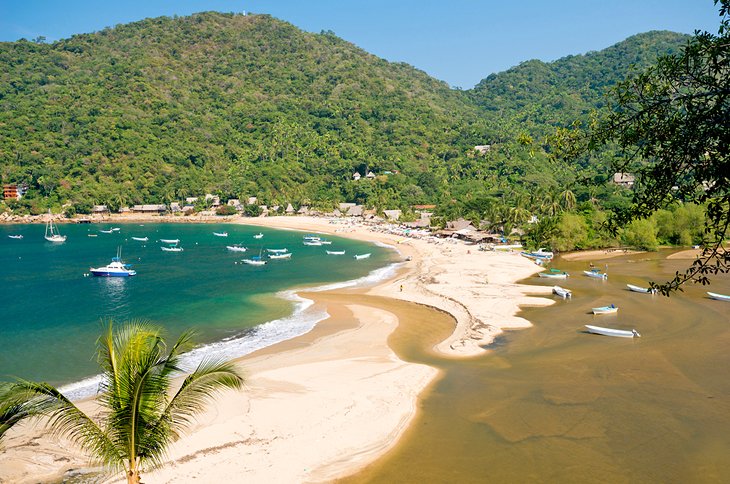 The small and remote fishing village of Yelapa and its beautiful gold-sand beach fronts the world's seventh largest bay, Bahia de Bandaeras. This beach is a great choice if you want to experience small-town Mexican life and few crowds on an unspoiled stretch of sand.
Take a kayak out into the bay and paddle the calm waters or check out the view below with a mask and fins-there is good snorkeling here as well. Yelapa is located about 40 minutes south of Puerto Vallarta by water taxi.
14. Playa del Carmen, Riviera Maya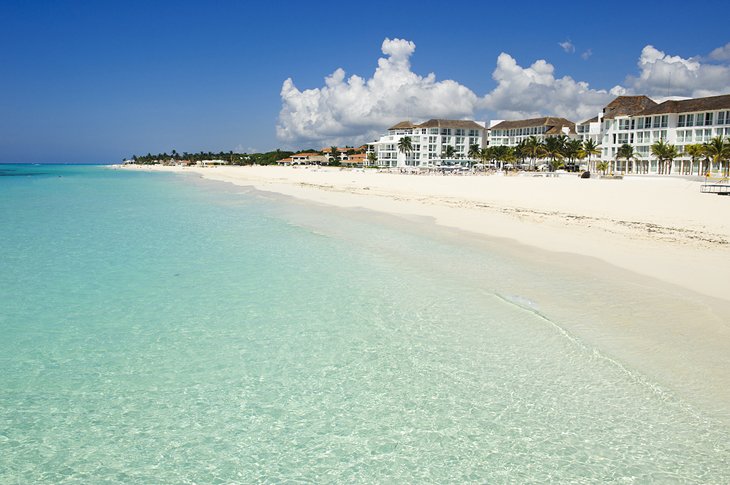 One of the most well known spots on the Riviera Maya, Playa del Carmen is a beautiful beach backed by a lively town with the same name. There are numerous resorts to the north and south of the city beach. The sand here is white and powder soft and the turquoise water dreamy.
After a day at the beach, take a stroll down the town's famous 5th Ave for shopping and dining options galore.
Accommodation: Top-Rated Resorts in Playa del Carmen
15. Playa Norte, Isla Mujeres, Yucatan Peninsula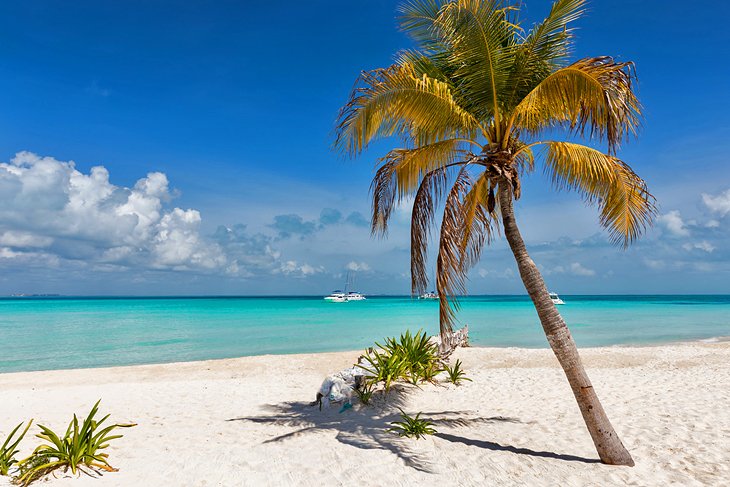 Less than an hour by boat from Cancun in the Caribbean Sea, lively Isla Mujeres is another favorite vacation destination. Here, you'll find Playa Norte, which is one of the prettiest beaches around. The shallow turquoise water is calm and great for swimming. Offshore there is excellent snorkeling and scuba diving in the coral reefs surrounding the island.
You can visit Isla Mujeres on a day trip from the Riviera Maya beach towns or make it a destination and stay at one of the island's resorts. There are also numerous restaurants and shops in the main town.
16. Playa Las Gatas, Zihuatanejo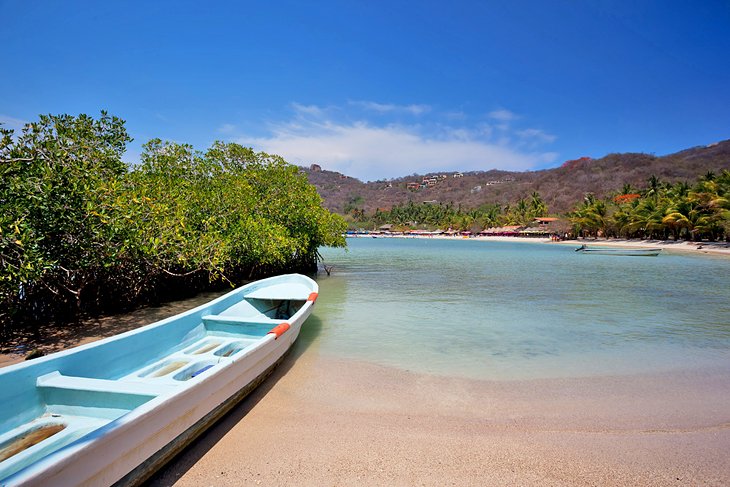 Just a few miles from Zihuatanejo and accessible by boat from the town's pier, Playa Las Gatas is a beautiful white-sand beach protected from wind and currents. There is good snorkeling offshore and around the rocky coves surrounding the beach, and gear can be rented from a vendor on the beach.
The calm water also makes it popular with parents looking for a safe spot for the kids to swim. There are a number of restaurants should you get hungry. Also check out the view from the lighthouse on a cliff near Playa Las Gatas.
17. Cabo Corrientes, Jalisco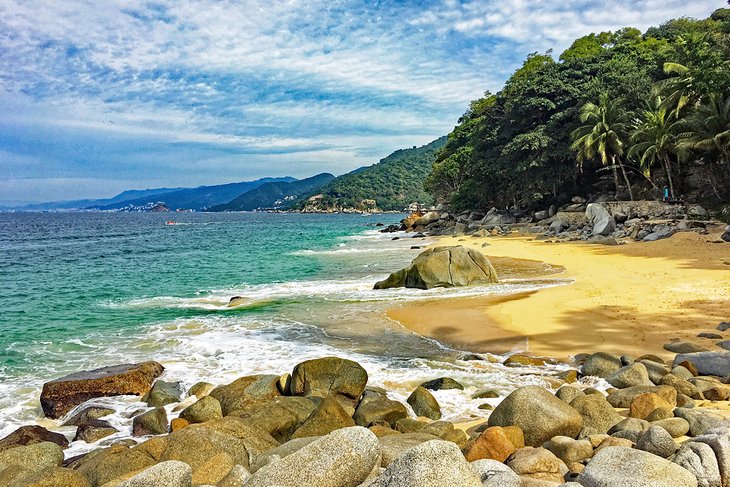 Truth be told, the best beaches in Puerto Vallarta are actually found outside the city. Traveling south from the Zona Romantica along Highway 200 reveals a snaking stretch of coastline with stunning, photoshoot-worthy beaches. Among the best can be found along Cabo Corrientes.
The beaches are not always the easiest to access – you may have to take a water taxi from Puerto Vallarta or the small village of Boca de Tomatlan. But the views are worth the extra legwork, plus the fact that you'll likely have the beaches along Cabo Corrientes all to yourself.
18. Playa Canalan, Riviera Nayarit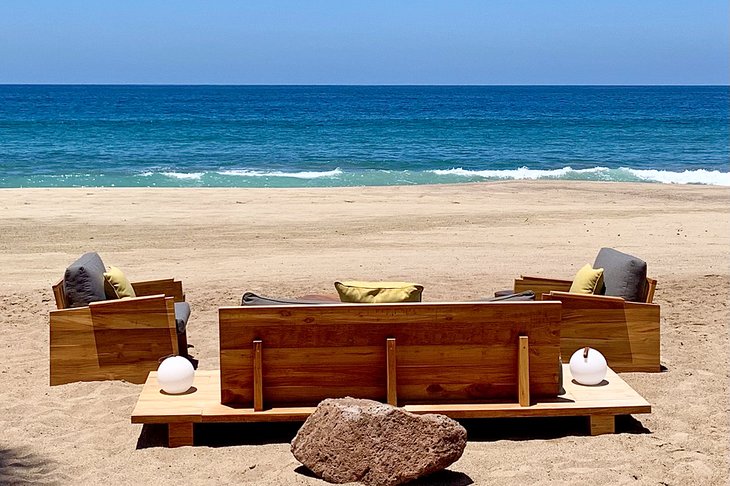 If you have not heard of Mexico's Riviera Nayarit, you likely will in the near future. This unspoiled stretch of coastline that runs north from Puerto Vallarta throughout the state of Nayarit is home to some of Mexico's most raw, untouched jungle and beach landscapes. Still, resorts and development are just around the corner, so if a pristine vibe is your style, you'll want to go sooner rather than later.
Speaking of development, the latest One&Only resort to open in Mexico has opened along the Riviera Nayarit, and features Playa Canalan on its grounds. Though technically all beaches in Mexico are public, it would be difficult to get to this resort if you are not a guest or a customer of the beachfront Italian restaurant on-site.
Flanked on either end by jungle-covered cliffs, Playa Canalan is still as ruggedly beautiful as it was before the beachfront lounge opened. Still, the lounge does its best to blend seamlessly into the natural beauty of the beach.
19. Playa Carrizalillo, Oaxaca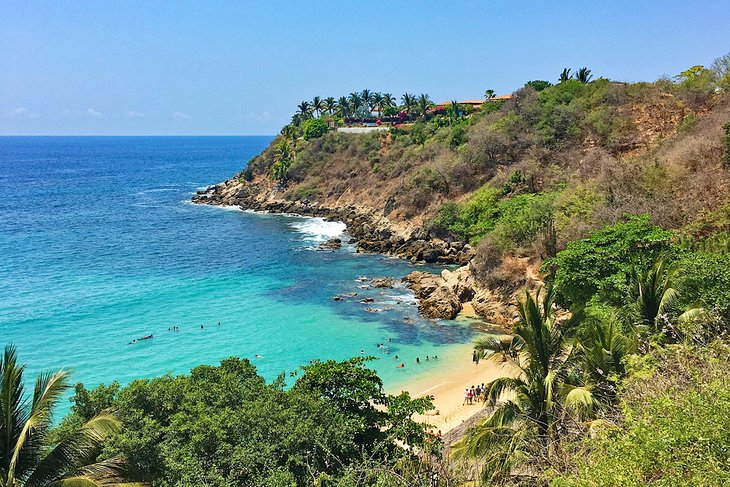 Located in the small surf town of Puerto Escondido, Playa Carrizalillo is a local favorite. This small, crescent-shaped beach is an explosive pop of turquoise that shimmers in a protected bay at the base of more than 150 steps.
The waves here are gentle and calm, making it a prime spot for beginner surfers. It's always buzzing with activity from the strip of beachfront restaurants, as well. Stop by this beach to see where the locals like to play, and marvel in the jewel-colored beauty of the water that is rare along the Pacific Coast. Keep in mind that the beach is only accessible via more than 150 steps, so if mobility is an issue, it may be worth exploring one of the many other accessible beaches in Puerto Escondido.
20. Playa Las Palmas, Tulum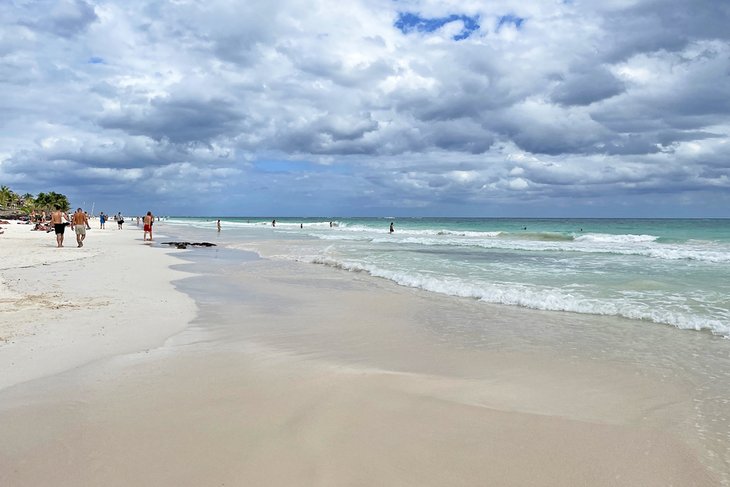 It's difficult to have a bad beach experience anywhere in Tulum. This world-famous Mexican beach destination became so famous because its beaches are among the best in the country, if not the world. But because of this, many of the beaches in Tulum can often get overcrowded, and it may be difficult to find a spot to sit.
Playa Las Palmas, at the southern end of the long, sugary white stretch, is the answer to this. This is one of the quietest beaches in Tulum, but is no less beautiful. In fact, the solitude and rocky outcrops only contribute to its beauty.