From Las Vegas to Death Valley: 3 Best Ways to Get There
There are multiple ways to cross the 70 miles of Nevada and California desert separating Las Vegas from Death Valley. It's a fairly easy drive on divided highways, and most of the damage caused by flooding in 2022 has been repaired. The route takes you across a desert environment and typically does not see snow, even in the winter.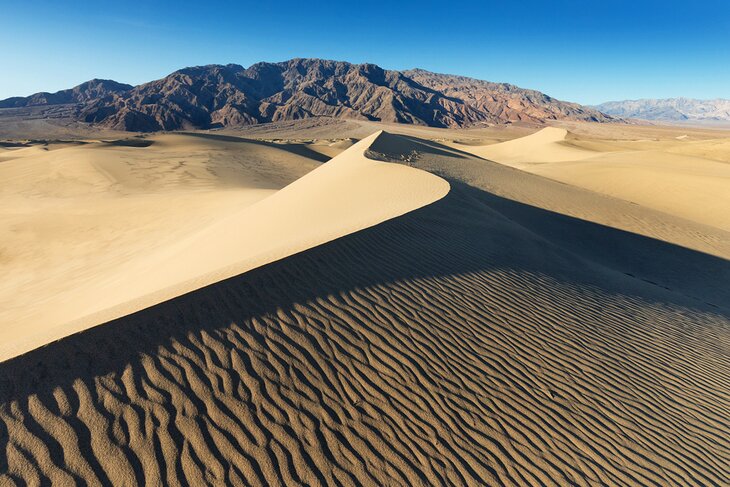 In the summer, Death Valley sees deadly high temperatures. It's the location of the highest temperature ever recorded on Earth: 134 degrees Fahrenheit (56.7 degrees Celsius).
Aside from driving yourself, another way to get from Las Vegas to Death Valley is to take a guided tour. Guided tours include round-trip transportation from most of the major Vegas Strip resorts, a guide who narrates your journey, and admission to parks and attractions in Death Valley. Most tours include stops at other interesting places to visit, like the Rhyolite Ghost Town.
Bus service can also get you from Vegas to Death Valley. Greyhound and Salt Lake Express have buses from Las Vegas to Beatty, Nevada, which is right near the national park's eastern entrance. A better option might be the Bundu Bus, a shuttle service that runs between Las Vegas and Yosemite, with a scheduled stop in Death Valley.
1. From Las Vegas to Death Valley by Car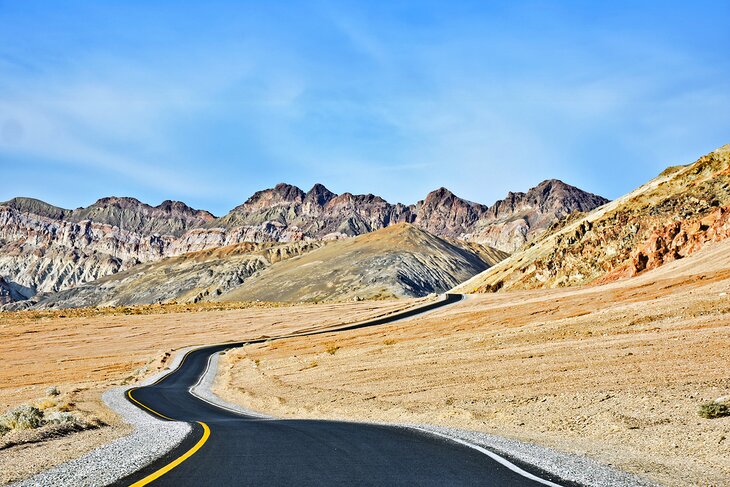 The drive from the Las Vegas Strip to the Furnace Creek Visitors Center (in California) of Death Valley National Park takes just over two hours. You can also drive to the park's eastern portal which is near Beatty, Nevada. The distance and travel time are about the same, but the majority of visitors explore the park via the Furnace Creek Visitors Center at the western entrance.
Be sure to check the Death Valley National Park website for the most current updates on road conditions. Flooding in 2022 damaged some of the roadways and repairs are ongoing and can sometimes cause delays of up to two hours on CA-190 between Emigrant Junction and Panamint Valley Junction.
Consider renting a car in Las Vegas for the drive to Death Valley. Major car rental companies like Budget, Hertz, and Avis have outposts at the Las Vegas airport (LAS) formerly known as McCarran. Keep in mind Harry Reid International Airport (LAS) has an offsite rent-a-car center located about 10 minutes from the terminal. Airline passengers can take a shuttle service (buses run every five minutes) that stops at Terminal 1 and Terminal 3.
You can also find car rental locations throughout the city and at several of the major resorts on the Las Vegas Strip. Enterprise Rent-A-Car offers a free pickup service for their non-airport locations. They will pick you up and take you to their office to rent and pick up your rental car.
To spice up your drive from Las Vegas to Death Valley, consider a car rental from Sixt, which has a location at the LAS car rental center. They offer a wider variety of luxury and sports cars from BMW, Mercedes-Benz, and Audi than the other rental car companies.
2. From Las Vegas to Death Valley by Guided Tour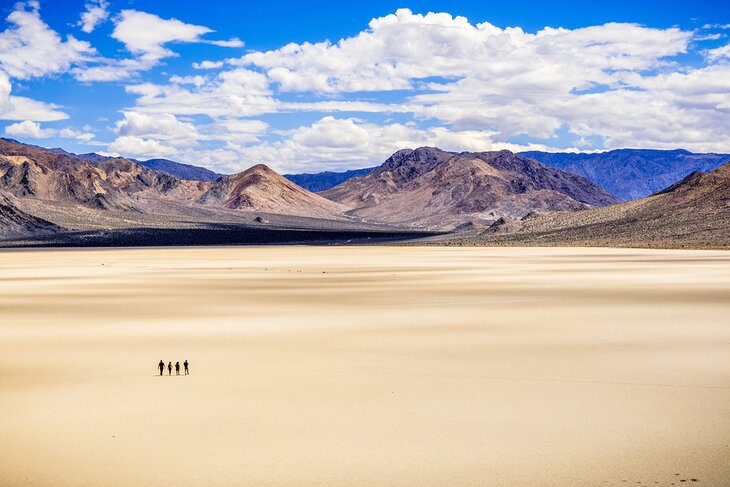 Probably the easiest and most enjoyable way to get from Las Vegas to Death Valley is to leave the driving to someone else while also getting a guided, narrated tour of the spectacular desert area.
The Death Valley Day Tour from Las Vegas provides guided transportation and admission to parks and attractions and provides pickup and drop-off at several major Strip resorts. En route, you'll stop and visit Rhyolite Ghost Town. At Death Valley, you will visit the Furnace Creek Visitor Center where you can learn about America's largest national park.
You'll learn how Death Valley is one of the lowest points on Earth (282 feet/86 meters below sea level) and is the hottest place on Earth, having once had a recorded temperature of 134 degrees Fahrenheit/56.7 degrees Celsius. After checking out the visitor center, you will explore the park itself with stops at Badwater Basin and Zabriskie Point. This tour is wheelchair accessible but involves a lot of walking.
For a more private, personalized experience, the Small-Group Death Valley National Park Day Trip from Las Vegas also gives you a round-trip adventure but with a small group. You get personal pickup and drop-off, as well as a chance to visit Dante's Peak, the highest point in Death Valley National Park and a great vantage point for viewing and for photos. You'll visit places in the park like Furnace Creek, Artist's Palette, Badwater Basin, and Zabriskie Point. This tour also includes a box lunch and all the bottled water you can drink. This tour is not wheelchair accessible.
Both of these tours are led by English-speaking guides. A free app is available that has the tour narration in French, German, Spanish, and Italian. Both tours last about 12 hours, with a very early morning (5:30 am) pickup time, getting you back to Las Vegas around 6 pm.
3. From Las Vegas to Death Valley by Bus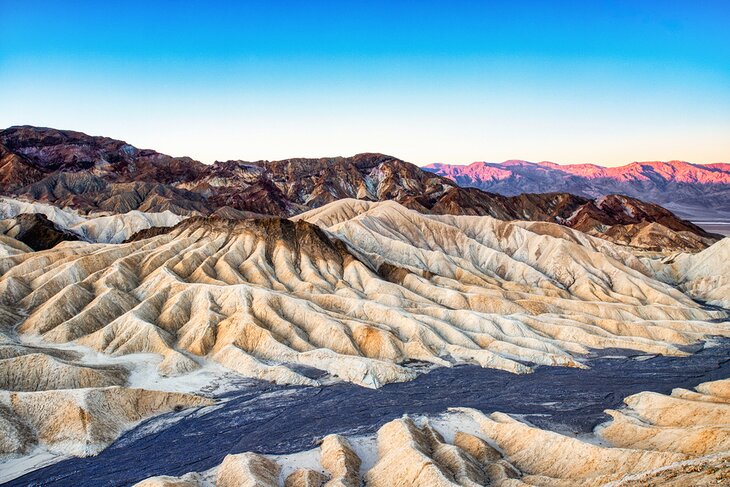 An easy way to travel between Las Vegas and Death Valley is by bus. You can take a Greyhound bus from Las Vegas to Beatty, Nevada, which is close to the eastern entrance to Death Valley National Park. The small town sees a lot of Death Valley tourists and has guided tours and other tourist infrastructure. The Greyhound bus stops at the Death Valley Nut & Candy Company in Beatty.
Salt Lake Express is another bus company that has one direct bus between Las Vegas and Beatty. The trip takes just over two hours. The Silverado Mainline is another bus service, operated by the regional transit authority. The bus route starts in Vegas at the RTC Bonneville Transit Center (147 Garces Avenue) in DTLV, stops in Pahrump, and gets you to Beatty in about two and a half hours.
A great option to get from Vegas to Death Valley is the Bundu Bus, a shuttle bus that runs between Las Vegas and Yosemite, stopping in Death Valley. The Bundu Bus shuttle service runs four times a week, stopping in Death Valley (at Furnace Creek Ranch on CA-190), twice on the outbound, and twice on the return trip. For travelers who want to explore the area beyond Death Valley, Bundu even offers an unlimited Hop On, Hop Off pass good for travel all over the Western U.S.