18 Top-Rated Beaches on Cape Cod (with Map)
Cape Cod is one of the best places to visit for a weekend on the East Coast. Flanked by nearly 560 miles of soft sand, this idyllic, hook-shaped peninsula boasts over 130 beaches, making it a haven for beach bums and adventure lovers.
Everything from rugged surfing spots to family-friendly tidal flats can be found on its popular New England beaches.
The Cape is divided into four sections: Upper, Mid, Lower, and Outer, each with its own exciting attractions, personality, and offerings. There is something for every type of beachgoer, including numerous hotels.
The Cape Cod National Seashore lies on the outer Cape and includes about 12 town-run beaches and six well-equipped beaches managed by the National Park Service. The inner cape is calmer and warmer, the sparkling Cape Cod Bay gently caressing its sandy shores.
Choose a picturesque slice of coast to enjoy with this list of the best beaches on Cape Cod.
1. Craigville Beach, Centerville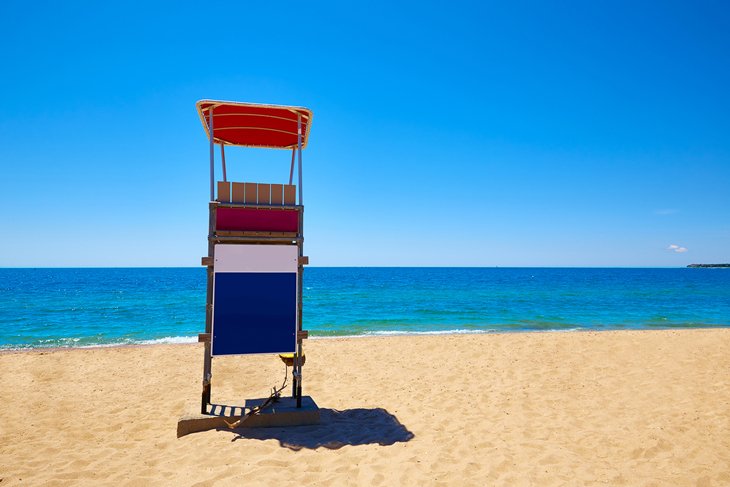 The south side of Cape Cod is home to many beaches, but Craigville Beach is probably the one that receives the most attention. Although the beach is regarded as a favorite with the younger generation, its large, vast space, soft golden sand, and picturesque setting welcomes everyone. No wonder it's been dubbed one of the best beaches on Cape Cod.
Regular winds make this a popular spot for kitesurfers whose colorful sails dot the skies along Nantucket Sound. The town also has a private beach, Covell's, but the parking lot is open to both residents and non-residents for a fee.
Enthusiastic entrepreneurs offer chairs and umbrellas for rent, and this lovely stretch of beach provides showers, restrooms, lifeguards, and even swimming lessons. The boardwalk allows for wheelchair access.
Address: Craigville Beach Road, Centerville, Massachusetts
2. Marconi Beach, Wellfleet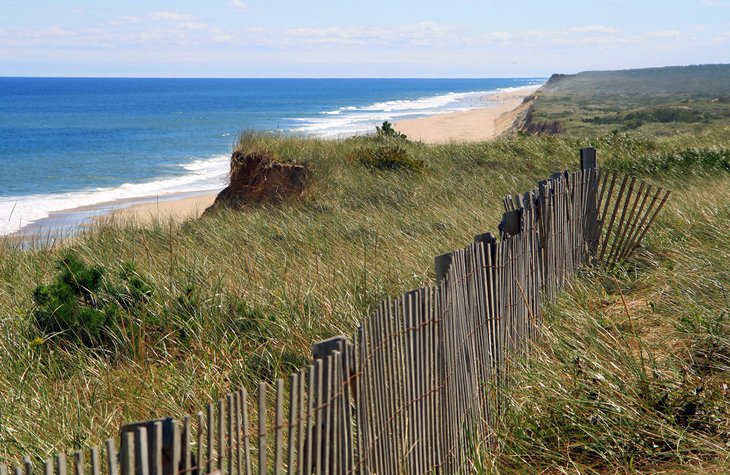 Travelers would be amiss to skip Marconi Beach on a visit to Cape Cod. One of the region's true gems, this is a stunning place to visit with the family.
Best known as the site of the first transmitted telegraph to Europe, Marconi has since gained fame for its soaring cliffs framing a backdrop to a beach that sparkles in the sunlight. Its beauty makes it easy to see why this is deemed one of Cape Cod's best beaches and a popular place to spend a weekend in Massachusetts.
The sand often changes colors along the cliffs of this beauty in Wellfleet, resulting in an ombré of hues. Many have recorded the layers of earth one would normally see in Sedona and the cliff sites in Arizona. The beach is wide and backed by large dunes that can take a beating over the storm season from the surf. This means the size of the beach fluctuates from year to year.
The views from atop the dunes stretch out to the bay, the ocean, and the outer cape. Wooden stairs lead from the dunes to the beach, and as you can imagine, such a beautiful spot can get crowded, even during the off-season.
Guards are on duty in areas designated for swimming, and visitors can often see seals frolicking in the waves or sunning on a secluded spit of sand. Walkers will find a perfect place to daydream as they peruse the shore.
A volleyball game is usually taking place, boogie boarders are busy riding the surf, and everyone can enjoy their own activity in this part of Massachusetts's most spectacular natural attraction, the Cape Cod National Seashore. Bathrooms and outdoor showers are available.
Location: Six miles north of Salt Pond Visitor Center, Wellfleet, Massachusetts
3. Monument Beach, Bourne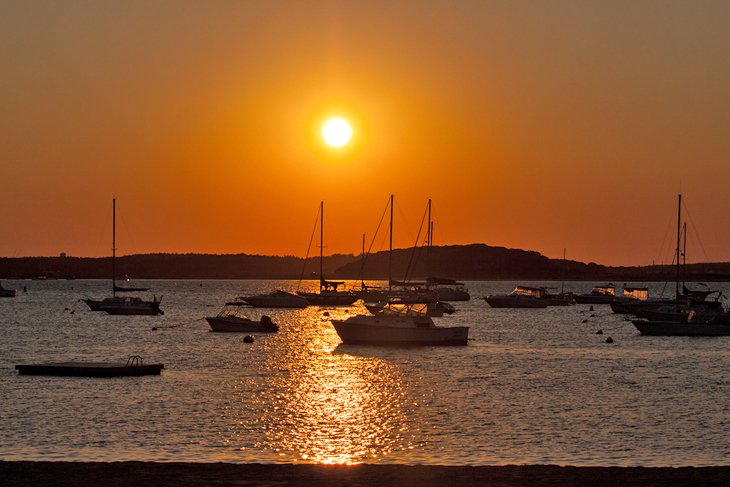 Monument Beach is monumental (sorry, we had to). A gorgeous, sandy spot perfect for digging in toes, it's located in Bourne at the southern entrance to the seven-mile-long Cape Cod Canal, connecting Cape Cod Bay with Buzzards Bay.
This remarkable piece of engineering saves boats 135 miles when traveling on the Intracoastal Waterway, and it hosts multiple pretty beaches along its shores.
Despite the fact that more than 140,000 boats travel on the water here every year, the beach, with views of the entrance, is quite beautiful and low-key. The water is usually calm, as the adjoining Mashnee Island shelters the sea. Many water birds call this island home; ospreys and cormorants can often be seen diving for fish in the distance.
Beach volleyball and windsurfing are two of the popular sports taking place on the wide expanse of sand. Sunsets in the area are magnificent, and if you are really lucky, the occasional whale or dolphin might make an appearance.
Adjacent to the beach is the Monument Beach Marina, which has many boating activities, including sailing and marine science lessons. Seasonal lifeguards, public restrooms, concession stands, and bathhouses can be found, in addition to a boardwalk.
Location: Shore Road, Bourne, Massachusetts
4. Nauset Beach, Orleans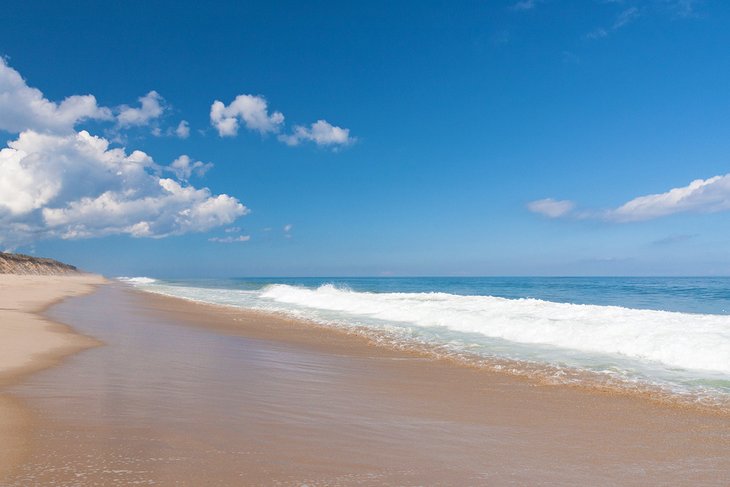 Fishermen would like to keep the secrets of Nauset beach all to themselves. Bass and bluefish make a habit of swimming in these waters when the timing is right. Unfortunately for them, word is out, and this spot is as popular for early sunrises as it is for the golden hour.
Despite an enormous parking lot, in prime season, you must arrive early, or find another means of transportation to this popular beach on Cape Cod. This is one of the most scenic places to visit in Massachusetts, so prepare to encounter the crowds during this high season.
With a special permit, the beach is open to off-road vehicles, which, depending on your point of view, can be a deal breaker. The 10-mile stretch of open space starts in Orleans and works its way down to Chatham. Good waves make Nauset popular with boogie boarders and swimmers. Surfing is allowed outside of the protected areas, and lifeguards are on duty from 9am to 6pm.
Although the beach is wide, find a spot close to the water, so you won't be dodging umbrellas and burning your feet on the way to the water in the heat of summer. That said, the water is cool at the best of times; downright freezing at others (between 44 degrees Fahrenheit in spring to a high of 72 in mid- to late summer), so it will be easy to cool off.
Additional amenities include showers and restrooms, picnic areas, and snack bars, as well as beach wheelchairs for water entry. On a location note: there is another beach in the area called Nauset Light Beach, part of the National Seashore. It's easy to confuse the two.
Tip: Time your trip for September if you're looking for a good deal on accommodation and travel. The beach will be just as gorgeous but less crowded, and the weather is still fantastic at this time of the year.
Address: 250 Beach Road, Orleans, Massachusetts
5. Grays Beach (Bass Hole), Yarmouth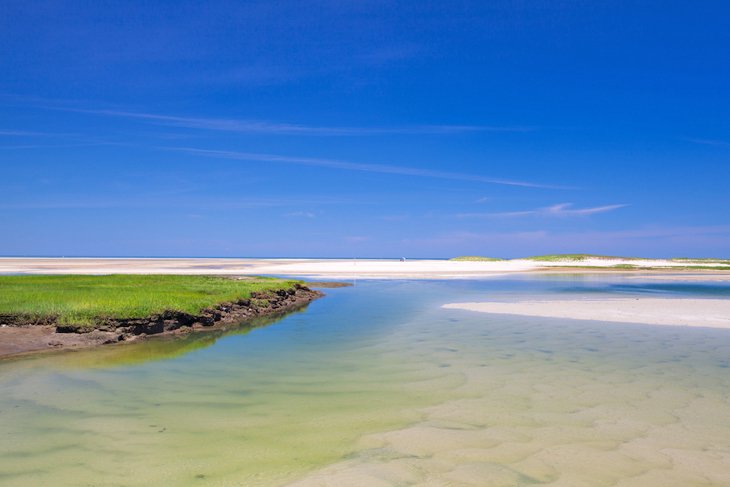 At the other end of the ocean spectrum are the saltwater marshes of Yarmouth, with an area known as Grays Beach or Bass Hole. This region represents the quintessential landscape often seen in calm, scenic paintings of low tides and wetlands. Wildlife is frequently found in the tall grasses, and the many shades of blue and green are welcome to the eye.
A long wooden boardwalk extends over the marshes and leads to the beach at Cape Cod Bay and the opening to Garden Creek. Sparkling from the distance are views of typical flora and fauna known to the marsh area. Families are drawn to this area for the size of the beach and the shallow water. At high tide, expect to see plenty of cannon balls off the platform that sits over the water.
Although not the largest beach in Cape Cod, there is a spacious picnic area that features a shaded, covered gazebo. Next to the residents' beach sits the parking lot for Grays Beach, which is open to the public. Seasonal lifeguards and restrooms (no showers) are available.
Since there is no food on-site, this is a great spot to plan a picnic and bring all the necessary utensils. The boardwalk makes it fairly easy to get all the inevitable paraphernalia over to the sand.
Yarmouth Port is well known for its selection of bed-and-breakfasts, all providing a central location for exploring Cape Cod. Built in the 1800s by shipwrights, the Liberty Hill Inn is an elegant destination with rooms offered in the main house, as well as a quaint carriage house. The convenient and tastefully decorated The Village Inn Cape Cod has a long history of hospitality.
Address: 400 Center Street, Yarmouth, Massachusetts
6. Race Point Beach, Provincetown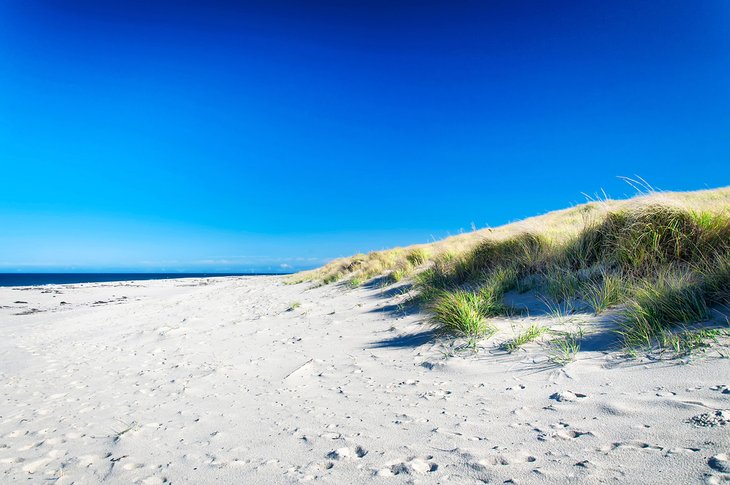 For the determined and adventurous, driving to the end of Cape Cod takes you to an area far fewer people visit on trips to the Cape. Situated on the hook of Cape Cod is the unique and vibrant town of Provincetown, which sits majestically on a slight bluff looking out on the Atlantic and Cape Cod Bay, offering visitors all the tasty treats and funky merchandise they could wish for.
The addition of a seasonal fast ferry from Boston transports day visitors to the area in a quick 90 minutes. Whatever your means of transportation to the end of the Cape, all will be pleasantly rewarded when you arrive at one of Massachusetts's most popular beaches, Race Point Beach.
This wide, lengthy beach belongs to the Cape Cod National Seashore and sits at the confluence of Cape Cod Bay and the Atlantic Ocean. Its unique location means rougher waters and some dangerous tides. It's considered one of the best beaches in Provincetown.
Traveling with kids? Don't worry. There are still plenty of shallow areas for less experienced swimmers and children. Another plus, the beach provides seasonal restrooms, showers, and changing rooms.
Sick of beachin'? The area boasts extensive cycle and hiking paths behind the rolling dunes and sea grass off the beach. The Province Lands Bike Trail is a challenging path and leads you to another beach and Herring Cove.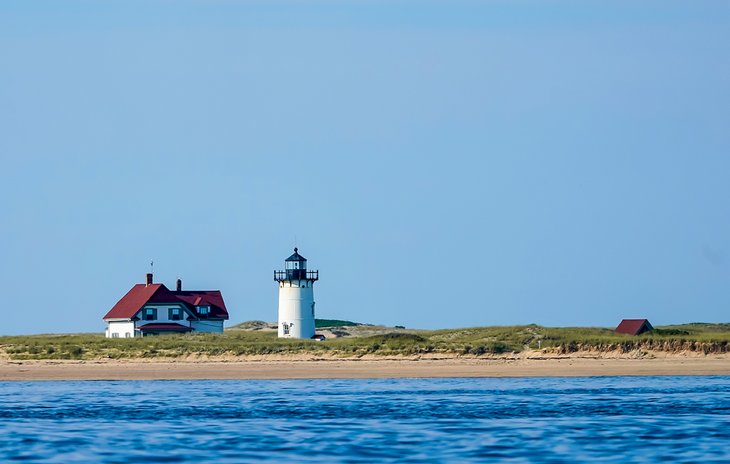 A two-mile stretch (about 45 minutes by foot) leads walkers through spectacular dunes to Race Point Lighthouse, a local landmark that has saved many a mariner from an unwelcome introduction to sandbars surrounding the hook of the Cape.
Be warned: dunes and seagrass, like all areas of the Cape and Islands, have poison ivy and a tick population, so take care. If you prefer to drive, sand permits can be purchased in town. Free lighthouse tours are offered at limited times, and the open hours can be checked online.
Wondering where to stay? The highly rated Land's End Inn offers luxurious accommodations with majestic views of the Atlantic and beaches. Additional Provincetown accommodations can be found at the Cape Colony Inn boasting an above-ground pool among its many amenities. The Seaglass Inn and Spa sits atop a scenic hill with an accompanying spectacular sea view. For those not comfortable in the ocean and seeking a cooling swim, the inn has an outdoor pool for an enjoyable dip.
Location: Race Point Road, Provincetown, Massachusetts
7. Coast Guard Beach, Eastham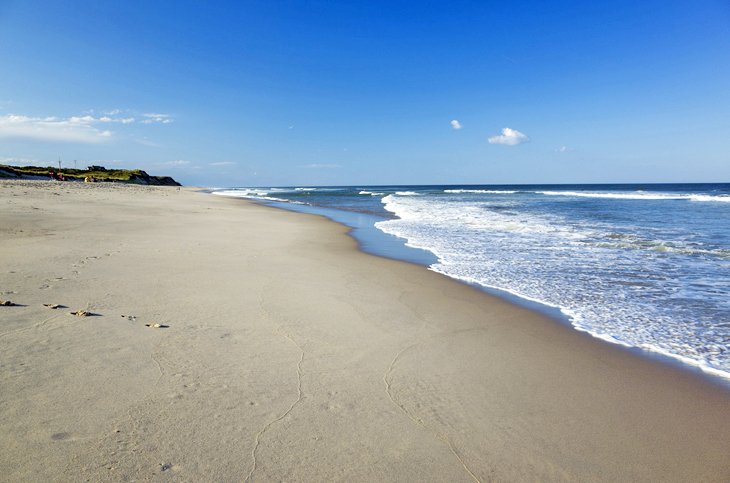 While there is no way to seriously rank one Cape Beach from another, there is little dispute from visitors that Coast Guard Beach in Eastham is simply take-your-breath-away gorgeous. Often recognized as one of the top 10 on various lists of America's best beaches, sun worshippers find it hard to disagree.
Large, dramatic dunes back the flat, sandy beach, which is regularly full of volleyball players, swimmers, and sunseekers who appreciate the beauty found on this top East Coast beach.
This is a very popular beach, with its expansive sand dunes, adjacent marshlands, and stunning sea views. The boardwalk runs right to the beach and is equipped for disabled access. The surf is large and attracts surfers. The younger crowd is engrossed in multiple beach activities, and the soft sand provides a cushioned landing pad for active volleyball and boogie board participants.
Watch for the curious seals, who although harmless, could be a bit startling. Sunset views make Coast Guard Beach a popular spot to close out the day.
There is limited parking here for residents only. Drop-off and pick up at the beach is prohibited and closely monitored. Visitors park at the Little Creek parking lot on Doane Road and take the free shuttle to the beach. The shuttles are very convenient and run every few minutes.
Facilities are somewhat limited and include lifeguards and restrooms. There is also a wheelchair ramp down to the beach.
Location: 1.5 miles East on Nauset and Doane Roads (on the beach access road from Salt Pond Visitor Center). Look for brown and white signs.
8. Head of the Meadow, Truro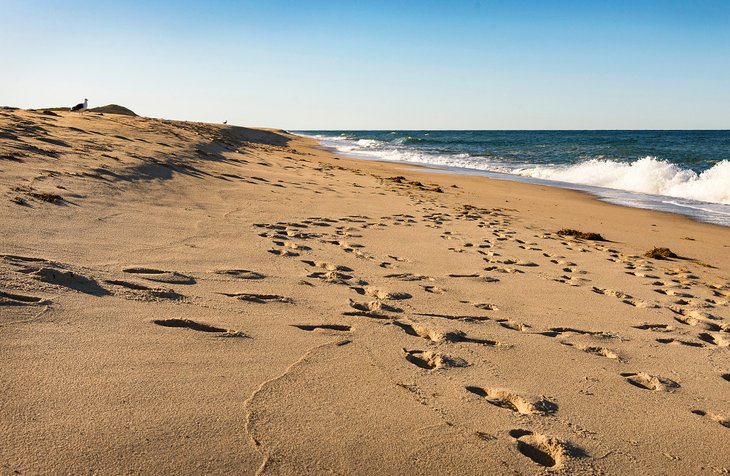 Among many superlatives, Head of the Meadow in Truro is truly a postcard-worthy destination. The sandy dune experience can be reached with a scenic walk through stretches of tall, deep, sea-green grass.
Visitors are rewarded with a relatively unpopulated area that presents 360-degree views of windswept sand dunes, blue rippling ponds, and rolling ocean waves. Tiny saltbox houses are perched like sentinels on the dunes facing the ocean vista. No wonder this has been dubbed one of the most beautiful beaches on Cape Cod.
For 40 miles, the Cape Cod coastline of the eastern elbow has limitless sand bars lining the shore. The peaceful scene on a calm and sunny day belies the fact that many ships and lives have been lost, when the ocean shows her teeth and the winds and storms drive the unlucky or unwise upon the sand.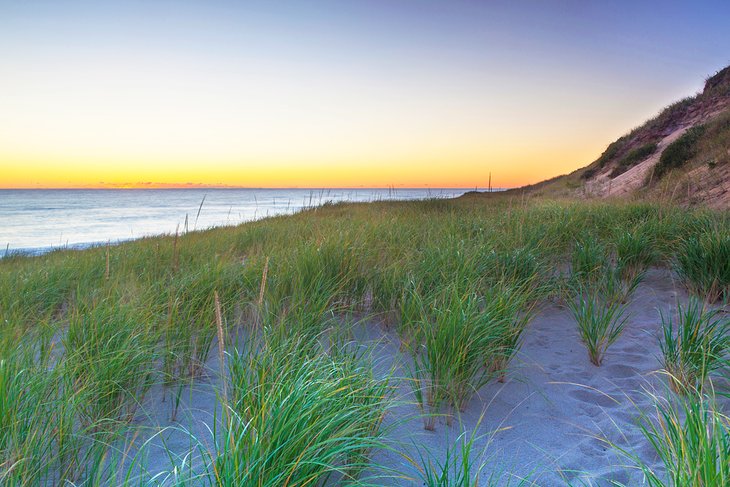 At low tide, you can often see the remains of the Frances, which was lost in an 1872 storm. Luckily, all aboard were rescued. Many others were not so fortunate, and shipwrecks dot the sea here.
On a typical sunny day, the Head of the Meadow provides two beach retreats: one is operated by the Town of Truro, the other by the Cape Cod National Seashore. In season, the seashore side has lifeguard protection.
Surfing is allowed outside the swim zone, and the sport is quite popular here. For those in need of additional exercise, a two-mile bicycle path provides a ride through dunes, sea grass, and an ocean view one can only call awesome.
Location: Off Rt. 6 in Truro, Massachusetts
9. Skaket Beach, Orleans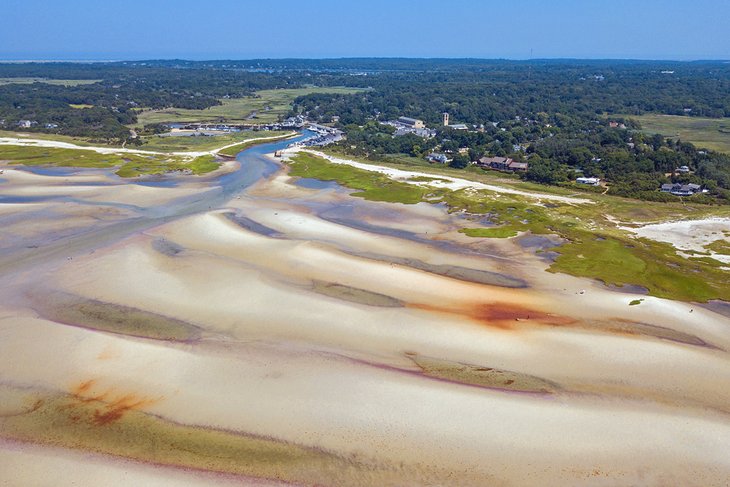 Kite flying and tide pool exploring are two of the most popular sports practiced at Skaket Beach in Orleans. Hugging the warmer waves of Cape Cod Bay, the soft sand of this vast beach extends far into the bay during low tide. Little ones will love walking far out from shore, peering at the remarkable creatures visible in tide pools revealed as the waves recede.
High tide provides a serene environment for playing in the waves, sand-castle building, or just lounging on the sand. A concession stand serves easy beach fare, and lifeguards are on duty during the busy summer months. There are also showers, restrooms, and a boardwalk on-site. Parking can fill up quickly on warm, sunny days, so arrive early to ensure you find a spot.
Tip: Visit during sunset for a spectacular sight — the sky's remarkable pink, orange, and purple hues are reflected in the tide pools, making for phenomenal photographs.
Location: West Road, Orleans, Massachusetts
10. Old Silver Beach, Falmouth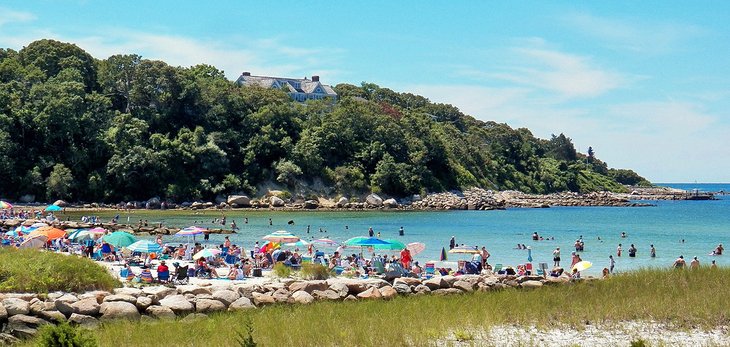 Falmouth offers a delightful stretch of beach much closer to Boston than the hook of the Cape. It's perfect for those looking for some sand and surf without having to endure a lengthy, traffic-ridden summer drive. Old Silver Beach, lies on the western shore of Falmouth and is blessed with warm sea waters coming up into Buzzards Bay from southerly climes.
The beach is best known for the dramatic views of the Cape Cod Canal, which opened to boat traffic more than a century ago. This is the route north to the New England states as well as Canada. Separated by a jetty, the area provides two beaches for swimming, sunbathing, and recreational beach activities.
Local Falmouth residents are given parking stickers and have access to one side. The other is for the general public. Make sure to park in the correct area for visitors, as the locals are very protective of their beach jewel. Go early, as this beach (like most of the public beaches in Massachusetts) fills early in the dog days of summer.
While the soft sand and gentle waves are a big attraction, tourists need to be careful, as the rolling tides and warm waters can create powerful currents. Be vigilant, especially if you have little ones in tow.
This classic New England beach has great amenities: a hamburger shack, an Italian ice cart, water toys, and even a t-shirt or two. Photo-worthy sunsets bring in extra tourists in the late afternoon to close out another summer day.
Location: Quaker Road, Falmouth, Massachusetts
11. Mayflower Beach, Dennis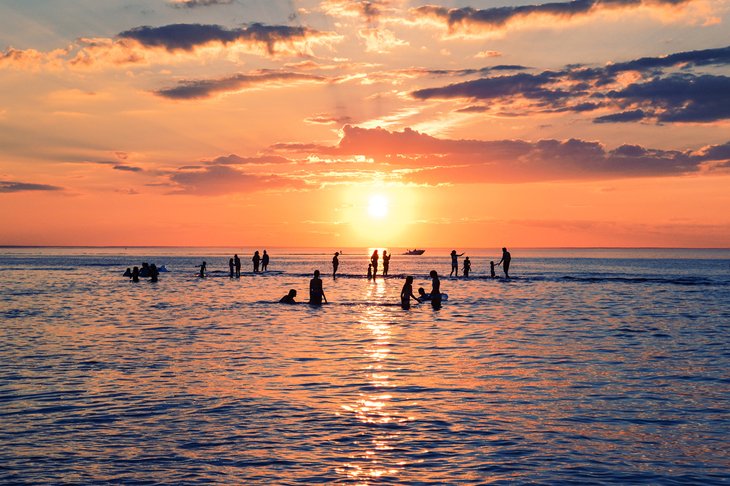 Mayflower Beach is an award-winning property, a prize belonging to the Cape Cod National Seashore. This is a spot that presents a wonderful landscape captured by artists from around the globe. The dunes, fine sand, marshlands, and breaking waves are all here, melding into a beach scene most have pictured in their mind's eye.
Tourists will find that, in season, the beach is very popular, but if you are willing to persevere, you can find a quiet spot to call your own. The waves make it a regular spot for surfers and boogie boarders. Parents will need to keep watch if they are traveling with little ones, as the undertow can be quite strong.
Three parking lots corresponding to the areas of the beach are available for a fee. Amenities include lifeguards, showers, and restrooms. The boardwalk is wheelchair accessible, and special wheelchairs are available for the beach.
Continue the oceanfront experience with the Corsair and Cross Rip Oceanfront, with balcony suites, a pool, and a private beach. The popular Sesuit Harbor House has a colonial New England charm. Loyal fans return year after year for their vacations.
Location: Dunes Road, Dennis, Massachusetts
12. Nauset Light Beach, Eastham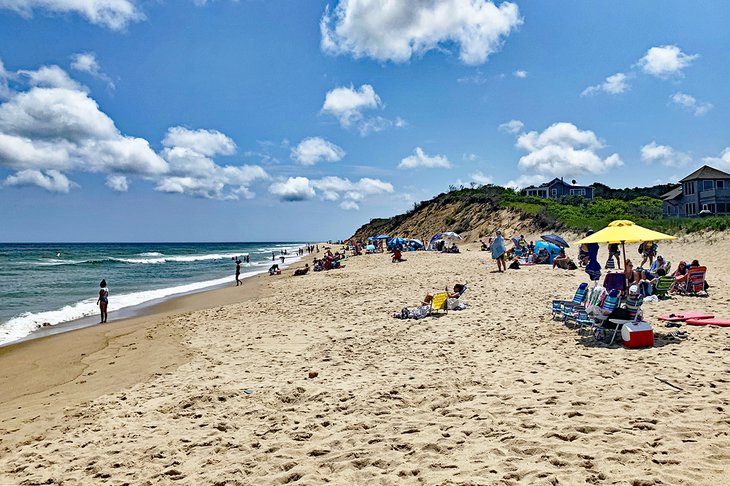 Take a minute to ogle the view from the parking lot above Nauset Light Beach. Below, you'll see the wide, golden beach splaying out towards the azure Atlantic Ocean. Look closely, and you may spot a seal or two (but beware: where there are seals, there are often sharks).
On the other side of the parking lot lies the beach's namesake, the Nauset Beach Light, which offers free tours and a chance to admire the spectacular view from an even higher vantage point. Wind your way down the wooden stairs from the escarpment to the beach to see why so many visitors flock to this outer Cape gem. Large waves attract surfers to this mile-long beach while other water lovers tend to favor swimming and body boarding.
Nauset Light Beach is part of the Cape Cod National Seashore, and offers restrooms and showers seasonally. Lifeguards are also on duty during the summer. There are no concessions on-site, so bring a picnic and plenty of refreshments to help you cool off on a hot day. The water is always on the cool side, so that can help break the heat as well.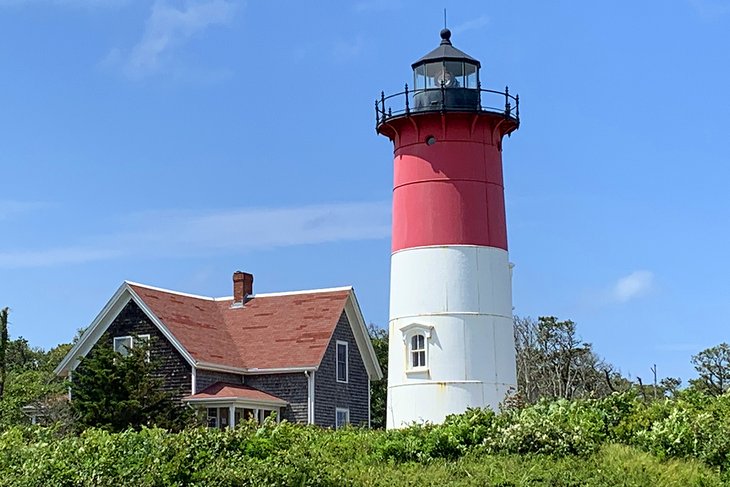 Arrive early, as the parking lot tends to fill up quickly. Tip: if the lot is packed during summer or on a weekend, head farther west on Cable Road and park at the Nauset Regional High School. You'll have a bit of a walk ahead of you (about 12 minutes), but the lot is free, and you'll have a chance to stop at the adorable, historic Three Sisters Lighthouses on your route.
Location: One mile north of Coast Guard Beach, Ocean View Drive, Eastham, Massachusetts
13. Chatham Lighthouse Beach, Chatham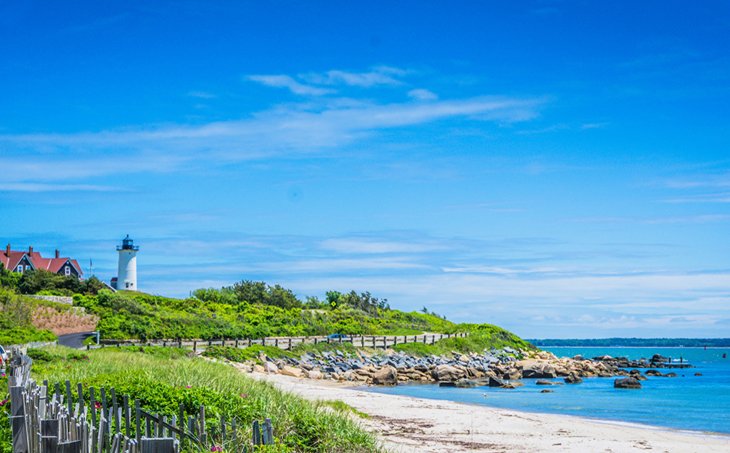 Although there are a handful of beaches with vistas of Nantucket Sound, few would argue that the most lovely is Chatham Lighthouse Beach. The beach is set below the guiding light of an active beacon, and this important landmark directs visiting boats and ships through what can be the treacherous Chatham waters.
Pay attention to different areas for swimming, as the current can be quite strong. Dangerous areas are closed for your own protection. The policy at this top beach in Cape Cod is swim at your own risk; no lifeguards are on duty, and boat patrols monitor the area for emergencies. A red flag flying means swimming is prohibited in all areas.
While the shore is certainly scenic, this area is also all about the wildlife. A large seal population is regularly seen having fun in the waters and surrounding shores. There is a popular nature walk out to Monomoy Island, where birds are found in abundance. Seal tours are offered from the beach as well.
Parking is restricted, and a beach pass is necessary to park along Bridge Street. The lighthouse is normally closed to visitors, but during the summer months, a few lucky tourists will climb the tower during one of the random openings. The walk to the beach from town is about half a mile.
Chatham has many options for places to stay. The Chatham Inn is popular for its fire pit and chocolate-covered cranberries. Chatham Bars Inn is a larger property with a well-known restaurant. The pool and beach are a big draw, as is the lovely spa. For a more boutique experience, the Chatham Tides has its own pool and beach, along with a selection of suites.
Address: 30 Main Street, Chatham, Massachusetts
14. Rock Harbor Beach, Orleans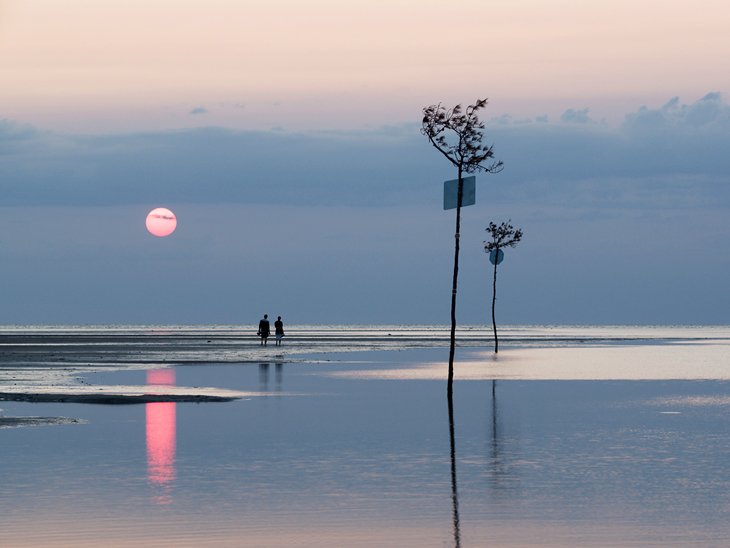 The high season on Cape Cod is starting to stretch further and further into the fall. Truthfully, September is one of the most beautiful months. That being said, visitors choose the same beautiful beaches no matter what time of year they visit.
Rock Harbor in Orleans is one such spot. As the Cape starts to turn to the north, this is a location that really stands out. The area is filled with nooks and crannies of bays and tidal pools. At low tide, the flats seem to stretch on forever.
Similar to other places on a narrow inlet, the magnificent Rock Harbor is split into two areas. Fishing and charter boats are found on the more popular western side. The small beach here can get very crowded, especially because there is no charge for parking.
The more secret side of Rock Harbor is located on the east side and is a wonderful place to watch the candy-colored sunsets. You'll find the entrance down Dyer Prince Road. A short walk to the beach through a sandy trail leads to a much less populated area.
The Knack is a must-visit for traditional seafood specialties.
Location: Rock Harbor Road, Orleans, Massachusetts.
15. Corporation Beach, Dennis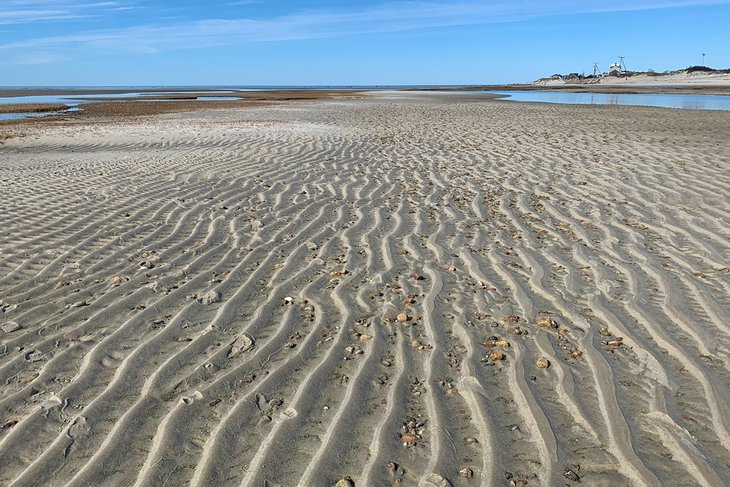 The scent of the rugged rosa rugosa fills the air when in bloom at this crescent-shaped beach, attracting families for generations. The shape of the beach creates tidal pools where kids love to explore and dig for sand crabs.
When low tide comes in, the flats provide even more space for long summer walks in the sand and excellent skimboarding. Reflections along the way provide a photographer's dream landscape.
A parade of pleasure boats going to and from Sesuit Harbor takes place in the distance, and sailboats cross the horizon. It's a busy place, full of visitors enjoying the simple pleasures of summer on the Cape. Many pack for the day and stay to enjoy the spectacular sunsets.
Early arrival is recommended, and parking is available for a fee. Lifeguards, restrooms, and a picnic area with snack bar complete the facilities. Wheelchairs are available.
Address: 250 Corporation Road, Dennis Massachusetts
16. Town Neck Beach, Sandwich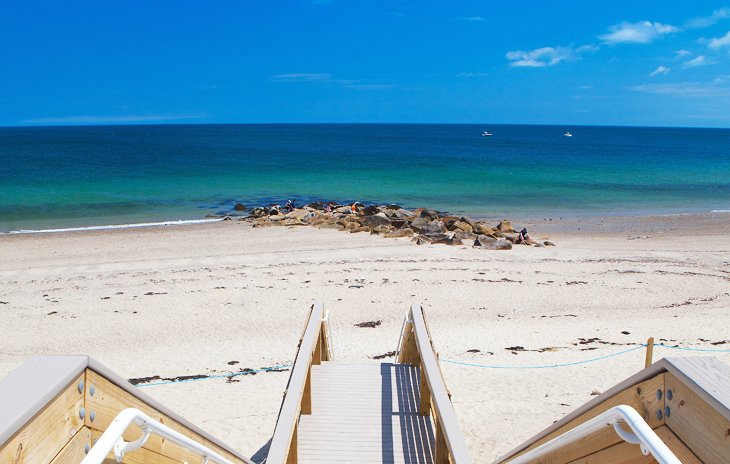 The north end of Cape Cod Canal provides yet another location for viewing boats entering and exiting this waterway. Town Neck beach in Sandwich is a pebbly shore bordered by expansive dunes on one side and intermittent rock jetties on the other.
The water is usually calm and fairly flat, making it a popular spot for young families, as well as distance swimmers and kayakers. The lengthy boardwalk acts as a jumping-off point for visitors into the water.
A large parking lot is a short walk to the beach, and this is one of the few areas that offer umbrellas and chairs for rent on the Cape. Lifeguards are on duty seasonally, and restrooms are available. Heritage Museums and Garden is a popular nearby attraction.
If you're looking for a place to stay in historic Sandwich, the Isaiah Jones Homestead Bed & Breakfast is a beautiful Victorian. Seven suites are decorated with period and reproduction-era antiques. The Earl of Sandwich Motel welcomes guests with lush grounds, a duck pond, and a pool area.
Location: Town Neck Road, Sandwich, Massachusetts
17. Crosby Landing Beach, Brewster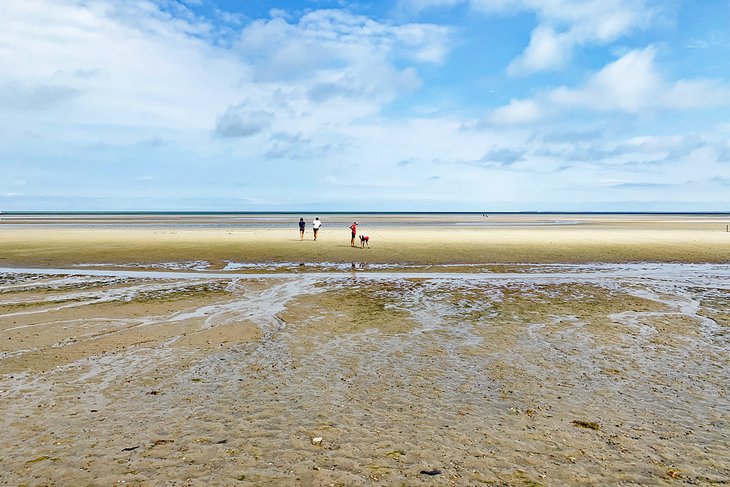 Crosby Landing Beach is one of the best beaches for families in Cape Cod. Located on the shore of Cape Cod Bay in Brewster, this long, golden beach is at its most remarkable during low tide. That's when the area's true beauty comes out to play, literally. Once the waves make their hasty retreat, the salty sea's magical creatures are left to frolic in tide pools that sparkle in the sun. Will you be lucky enough to spot them?
Kids will adore running through the packed wet sand to find these recently unveiled treasures. Whether they spy a hermit crab, sea snail, or starfish, visitors are in for a memorable treat while visiting this beach. But remember, look, don't take. These creatures may not mind being admired, but they need to be left in their natural environment to survive.
Tip: leave your shoes back on the soft, sandy shore, as the tidal flats tend to suck sandals right in. Plus, the base is so soft and soothing, you'd rather be barefoot. There are no lifeguards on duty nor concessions to be had, so pack snacks accordingly.
While the parking lot is large, it often fills early, especially during summer. Also, beware of the flies. They tend to lie in wait near the lot, especially near the port-a-potties, so be quick to your car.
Location: Crosby Lane, Brewster, Massachusetts
18. Veterans Park Beach, Hyannis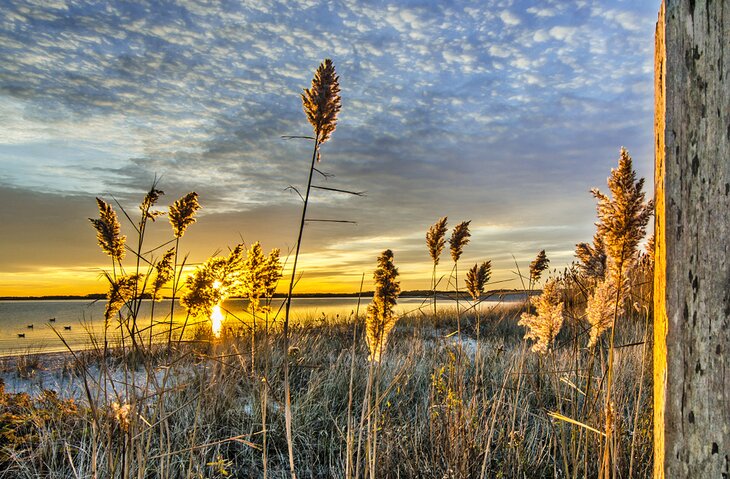 Veterans Park Beach consists of a quiet, sandy shore backed by a tranquil memorial park. This is the perfect beach for couples on Cape Cod who are looking for a more intimate and relaxing retreat. That said, this top Cape Cod beach is also a winner with families. It comes complete with a playground and boasts plenty of space for little ones to run around.
In addition to the requisite sandy base, Veterans Park Beach provides easy access to the beautiful John F. Kennedy Memorial and the Veterans Memorial Park we mentioned above. The tall pine trees provide welcome shade, especially in the picnic area, so be sure to pack a meal to enjoy while you're here.
Other amenities include a snack bar, grills, restrooms, and showers. Lifeguards are on duty during the busy, summer months. As for parking, expect to pay a daily fee (more on weekends). You can buy your pass at the beach.
Address: 480 Ocean Street, Hyannis, Massachusetts
Best Time to Visit Cape Cod's Beaches
Average minimum and maximum temperatures for Cape Cod, MA in °C
J
F
M
A
M
J
J
A
S
O
N
D

3

-5

3

-5

7

-2

11

3

17

9

22

13

26

17

25

17

21

13

16

7

11

3

6

-2

PlanetWare.com
Average monthly precipitation totals for Cape Cod, MA in mm.

98

77

103

90

76

80

70

79

95

92

111

97
Average minimum and maximum temperatures for Cape Cod, MA in °F
J
F
M
A
M
J
J
A
S
O
N
D

37

23

37

23

44

29

52

37

62

48

72

56

79

63

77

62

70

55

60

45

51

38

43

28

PlanetWare.com
Average monthly precipitation totals for Cape Cod, MA in inches.

3.8

3.0

4.0

3.5

3.0

3.1

2.8

3.1

3.7

3.6

4.4

3.8
Summer is the best time to visit the best beaches on Cape Cod. Between June and August, you can expect comfortable temperatures (in the low 70s in June and high 70s in July and August). The later in the season you visit, the warmer the water, which makes for a more enjoyable swimming experience.
The warmest water temperatures are in August, when the ocean averages a comfortable, yet still chilly, 69 degrees Fahrenheit. Don't worry, that's just the average, the highs can sometimes reach the mid-70s.
September and October are also pleasant months to visit the top beaches in Cape Cod. The air is still comfortable, the sea is far from freezing, and the hordes of summer visitors have disappeared.
Map of Top-Rated Beaches on Cape Cod