From Boston to New York City: 4 Best Ways to Get There
Both historical and fascinating in their own ways, the cities of Boston and New York are connected by several methods of transportation. From direct flights to express trains and low-cost buses, you have your choice when it comes to traveling from Beantown to the Big Apple.
Fly down for a whirlwind day to grab a delicious dinner and a Broadway show, hit the highway in your car or the bus for an overnight stay to catch a Yankees game, or take a scenic train ride to explore the city's world-famous cultural institutions and attractions. New York City is 216 miles southwest of Boston, and it takes three-and-a-half to six hours to reach, depending on your preferred mode of transportation.
Regardless of the season, you can start planning your trip to New York City with our list of travel options. Once you arrive, join the locals on the subway and commuter trains to make your way around Manhattan and the other boroughs to enjoy all that the city has to offer, from diverse cuisines and happening neighborhoods to sensational entertainment.
Here are four of the best ways to get from Boston to New York City, along with insider advice on what to keep in mind with each option.
1. From Boston to New York by Train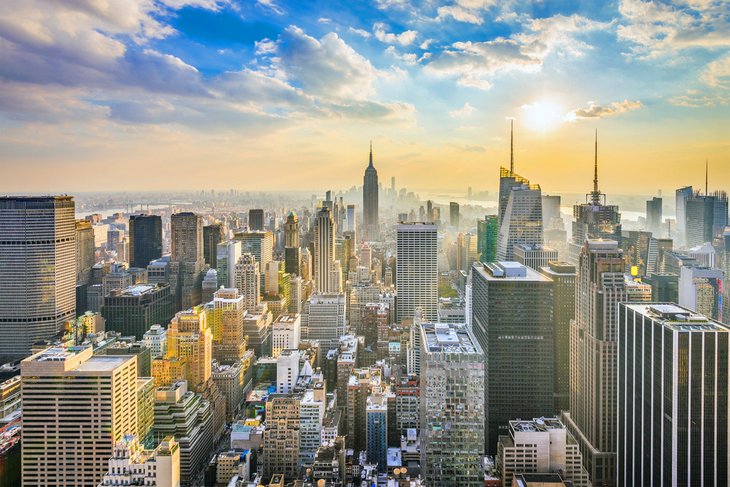 Highlights: Experience the fun efficiency of rail travel, a great choice for winter months
Amtrak's Acela Express train is by far the most efficient and comfortable way to get to New York from Boston. Leaving from South Station downtown or Boston Back Bay Station, it will take around four hours to get to Manhattan's Penn Station. The Acela exclusively has Business and First Class cars, and it comes with free basic Wi-Fi connectivity and a café and quiet car. The seats have decent legroom, foldout tables for working/dining, and individual power outlets.
Prices depend on class and departure times. The First Class seat comes with early boarding, a complimentary at-seat meal, and beverages; travelers will also have access to the stations' lounges. For the most scenic views, sit on the left side of the car.
On weekdays, Acela trains depart hourly during rush hour. Budget-conscious travelers can opt for a somewhat longer (by 30 mins), but still pleasant, ride on the Amtrak Northeast Regional train, which also comes with free basic Wi-Fi. The first train of the day leaves at 5:05am, and the last train departs from Boston at 9:30pm (the only train where you can check luggage). Otherwise, you can use the overhead storage on the other trains.
Often, Amtrak offers AAA discounts, but train tickets tend to be on the higher end, even more than flights. When traveling during the winter months, train travel is the best option to avoid flight delays or poor road conditions due to snow and ice.
2. From Boston to New York by Car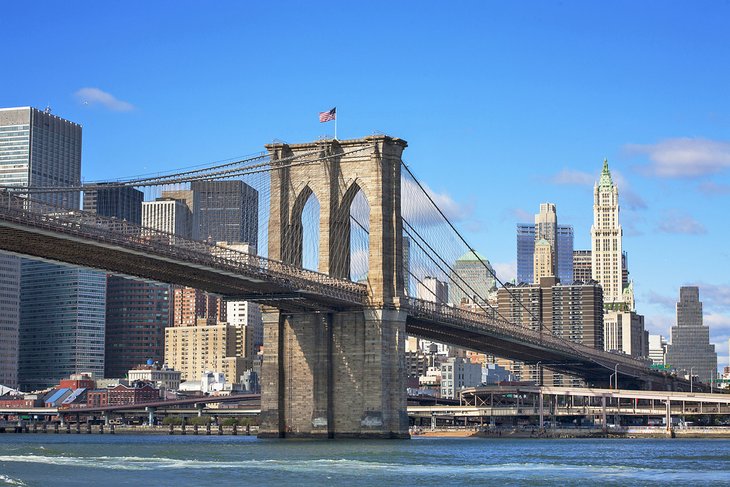 Highlights: Offers freedom and flexibility, and accommodates kids and pets
Travelers can opt to drive from Boston to New York for more flexibility and if you are bringing pets. If you are leaving from downtown Boston, make your way to I-93 South towards I-90 (Mass Pike) and connect to I-84. Consider staying on I-84 to I-684 instead of using I-95 to avoid traffic.
Apps like Waze and Google Maps will give you the best possible route based on real-time conditions. Leave after rush hour for a quicker ride, but allow additional time on weekends and holidays. Driving time takes anywhere between four to six hours, depending on traffic and weather conditions. Keep in mind that New York City street parking can be difficult to find, and garage fees are high, including at hotels. A car isn't needed once you're in Manhattan, so consider taking the bus or train instead of driving.
You can rent a car from a company like Budget, Avis, Hertz, or Enterprise to make the drive to The Big Apple. Keep in mind if you are flying into Boston, renting a car at the airport can be more expensive than doing it in the city.
E-ZPass is a cashless toll payment system and device used by 19 different northeastern states, including Massachusetts and New York. If you have one, make sure you bring it, and if you don't have one, consider buying one before the trip. The device is used to pay road, bridge, and tunnel tolls.
In New York, drivers can use tollsbymailny.com to pay any tolls incurred within 48 hours, avoiding rental car surcharges. Most rental cars come with an E-ZPass unit, but review the potential charges and costs carefully before starting your trip.
3. From Boston to New York by Bus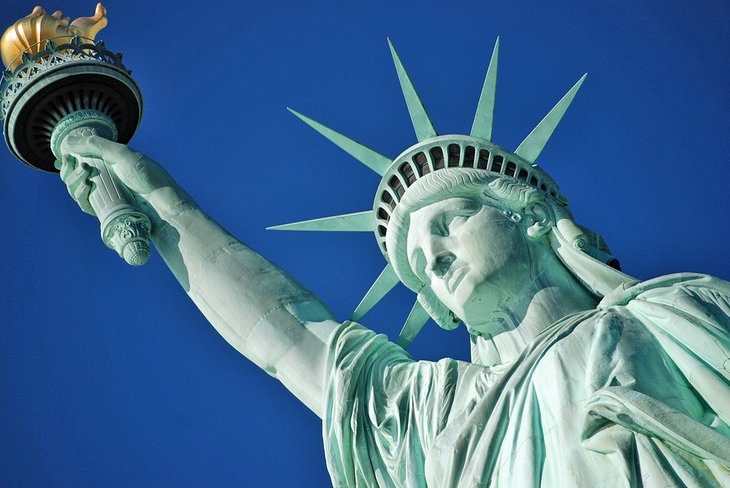 Highlights: Least expensive, easy travel that even has some availability to bring your bike
The cheapest way to get from Boston to New York is by bus. Although bus travel takes longer than the train, you can travel between the cities for a fraction of the price. Greyhound has buses leaving Boston's South Station to New York's Port Authority Bus Terminal daily, with hourly buses during rush hour. The vehicles come equipped with reclining seats, free Wi-Fi, power outlets, and onboard toilets. It takes anywhere from four-and-a-half to six hours to reach Manhattan, depending on traffic and the time of the week. Friday evenings often take the longest.
Megabus and FlixBus are two other options for those traveling from Boston by bus. Megabus offers reserved seating, toilets, and Wi-Fi, and drops off customers at 7th Avenue and 27th Street in Midtown Manhattan, within walking distance from Penn Station and many subway lines. FlixBus has over 10 buses per day running between the two cities. Their pickup stop is curbside in Boston's South End area, and drop-off is at 31st Street and 8th Avenue in Midtown, near Penn Station.
FlixBus is also a Greener way to travel from Boston to NYC. The buses emit less CO2 than a passenger car, and you can even buy carbon offset credits to make your journey carbon-neutral. The buses are also bike friendly if you want to bring yours.
4. From Boston to New York by Plane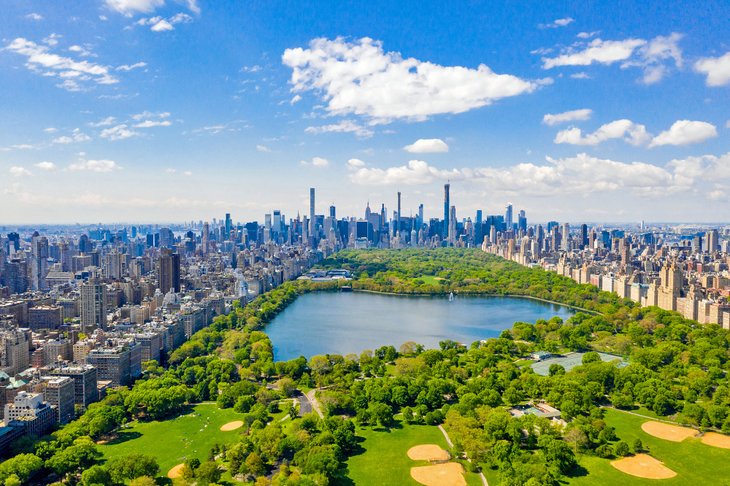 Highlights: Find an in-expensive airline ticket and arrive fast and fresh
Flights between Boston and New York run frequently, and getting on a plane is the fastest option between the two cities. Although long security lines and transfers to and from the airports take time, the actual flying time is just 35 minutes. The best part is that airfares are typically cheaper than train tickets. Airlines like JetBlue, American, Delta, and United operate flights from Boston Logan (BOS) to New York's John F. Kennedy (JFK), LaGuardia (LGA), and Newark (EWR) airports daily and have comparable fares.
If you are traveling to JFK, you can take the AirTrain and connect to the Long Island Rail Road (LIRR) or the subway in Queens to make your way to Manhattan or any other areas. LaGuardia Airport is just eight miles from midtown Manhattan; you can take the M60 bus from any of the terminals to 125th Street, connecting to the subway (free transfer) to your final destination.
From Newark International Airport (located 17 miles from Midtown), New Jersey Transit trains (referred to as the AirTrain) will bring you to Penn Station. For a private shuttle service from any of the NYC area airports, choose NYC Airporter or Go Airlink NYC (the official airport shuttle partner). Alternatively, you can take an Uber or Lyft ride to the heart of the city.
If you plan to pick up a rental car at EWR, you can take the AirTrain to P3, where most of the car rental companies are located. Payless, Sixt, Dollar, Thrifty, Alamo, and others are all at one central facility. At LGA, you need to take a free shuttle bus to the rental car center. Shuttles pick up at a specific area outside Terminal A.
At JFK, car rental companies have counters inside the terminal on the arrivals level near baggage claim. After receiving your keys, take the AirTrain to Federal Circle Station, where you pick up the car.