14 Top-Rated Day Trips from Boston
Boston's location in the heart of the northeast's New England region makes it a good base for day trips to some of America's most cherished historic sites and attractions. The Pilgrims landed just south of Boston in Plymouth, and the first shots of the Revolution were fired just a few miles to the west. Salem, on Boston's North Shore, was America's busiest China Trade port.
But there's more than just historic attractions for tourists to enjoy. Plan a day trip from Boston to the long beaches of Cape Cod, the islands, and the Maine and New Hampshire coasts. Also within easy reach are the dazzling mansions of Newport's Gilded Age high society.
Old Sturbridge Village is an open-air museum of restored homes, farms, and shops that bring the early-1800s New England to life. Whether you like historic houses, art museums, ships, whales, living history, or shopping, you'll find it in this list of the top day trips from Boston.
1. Lexington and Concord: First Shots of the Revolution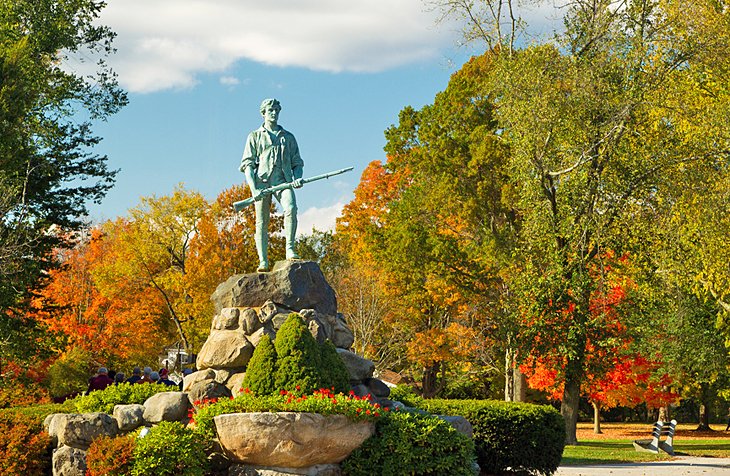 A well-loved statue of a Minuteman marks Lexington Green, where the first shots in America's War of Independence were fired on April 19, 1775. The first real battle of the Revolution took place in nearby Concord, where colonial militia members repulsed the British soldiers at North Bridge, foiling their attempted raid on colonial arms and munitions stored in Concord.
In Lexington, you can visit the restored 1710 Buckman Tavern, where the militia gathered, then follow Battle Road, the route of the British (who were harassed by Minutemen firing from behind stone walls) to North Bridge. The route and bridge are part of Minute Man National Historical Park, and you can ride or walk along the historic Battle Road between visits to Lexington Green and Concord's Old North Bridge.
Concord has more than its Revolutionary War history. It was home to some of the brightest lights in 19th-century American literature and philosophy, known as the transcendentalists. This remarkable group included Ralph Waldo Emerson, Louisa May Alcott, William Ellery Channing, and Henry David Thoreau, and you can visit their homes, as well as places connected with them, such as Alcott's Orchard House, Walden Pond, and Author's Ridge in the beautiful Sleepy Hollow Cemetery.
The literary and Revolutionary histories are explored in the collections and exhibits of Concord Museum, along with Native American artifacts and 17th- to 19th-century furniture. Walden Pond, where Henry David Thoreau lived in a cabin and wrote some of his best-known works, is now a park.
2. Salem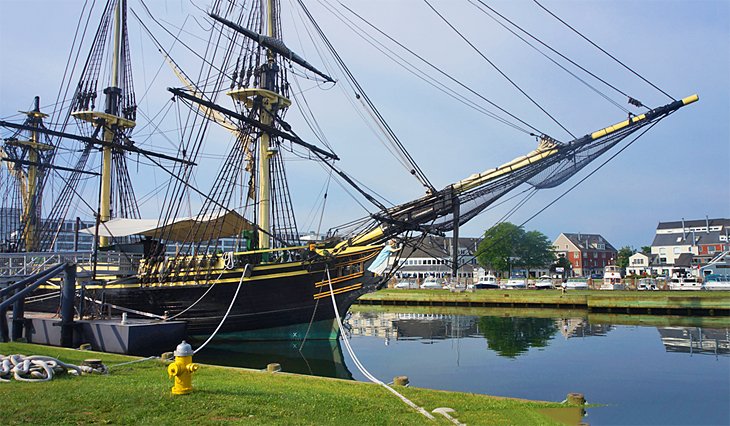 Once a more important port than Boston, and center of America' prosperous China Trade, Salem retains much of its 18th- and 19th-century architecture, with entire neighborhoods of imposing homes that were built for successful merchants and sea captains. Retained, too, are memories of its grimmer early history as the scene of the Salem Witch Trials.
Several of the finest homes are open to tour, furnished with generations of fine antiques and with decorative arts brought from the Far East. This is perhaps New England's finest assemblages of historic homes from this period.
The Phillips House preserves five generations of one family's heritage; the Hawkes House and Derby House are part of the Salem Maritime National Historic Site, and the interior of the 1804 Gardner-Pingree House shows the work of the famous builder Samuel McIntire.
The 1727 Crowninshield-Bentley House and the 1684 John Ward House are part of the outstanding Peabody Essex Museum, whose art and historical collections highlight maritime subjects, the China Trade, and Asian arts. Among its treasures is a fully furnished original 18th-century house from China's Huizhou region.
Perhaps Salem's best known historic home is the House of the Seven Gables, made famous by the novel by Nathaniel Hawthorne, whose Salem home you can also tour. The only building directly connected with the witch trials is the 1642 Witch House, home of the presiding Judge Jonathan Corwin.
The Salem Maritime National Historic Site includes the docks, a replica sailing ship, the Customs House, warehouses, exhibits, the historic Pickering Wharf, and two historic homes. The fastest and most convenient way to get to Salem from Boston is on the Boston to Salem High Speed Ferry, which departs Boston's Long Wharf and arrives in Salem within a few steps of the House of the Seven Gables.
3. Plimoth Patuxet Museums (formerly Plimoth Plantation)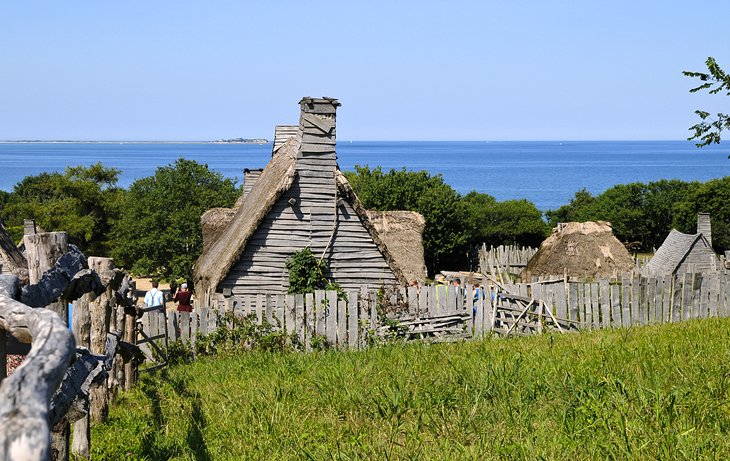 The landing of a group of English religious dissidents in December of 1620 made Plymouth the first permanent European settlement in New England. Today, a living history museum takes you back to that time in a painstakingly authentic recreation of their life, dress, beliefs, and even language.
In the 17th-Century English Village at Plimoth Patuxet Museums, costumed interpreters assume 17th-century persona to re-create the Pilgrims' daily experiences of raising food, building homes, cooking, and military training, using tools and methods authentic to the 17th century.
Historic Patuxet, a re-creation of a Wampanoag village, demonstrates the lives and culture of Native Americans at the time. Here, the interpreters do not assume a historic persona, but are all either Wampanoag or from other Native Nations and speak from a modern perspective about their peoples' history and culture.
While in Plymouth, stop to see Plymouth Rock and the 1640 Sparrow House, Plymouth's oldest surviving wooden house. At Pilgrim Hall Museum, you can see Pilgrim furniture and artifacts, including Myles Standish's sword, remains of a wooden ship that wrecked in 1626, and Governor Bradford's bible.
Visit the historic attractions of Plymouth on the Boston to Plymouth Small Group Day-Trip with Plimoth Patuxet & Mayflower II. The tour includes entrance fees to Plimoth Plantation and to Mayflower II, stops at Plymouth Rock and the imposing National Monument to the Forefathers, and free time to sightsee or shop in Plymouth.
Address: 137 Warren Avenue, Plymouth, Massachusetts
Official site: www.plimoth.org
4. Newport, Rhode Island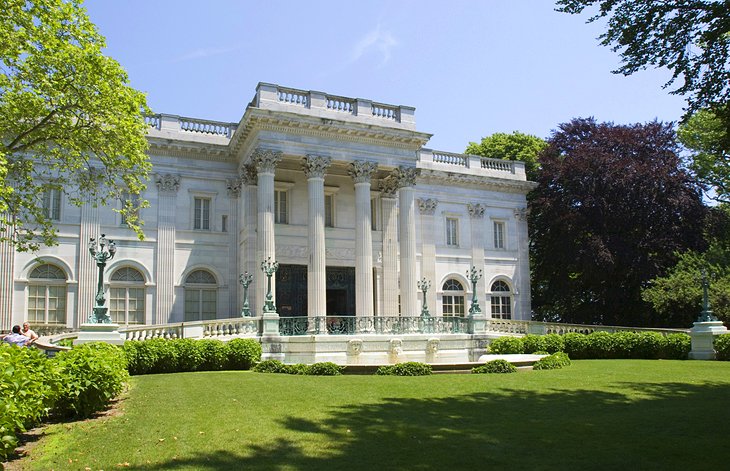 In the early 20th century, New York's super wealthy decamped for the summer to Newport, where they vied with one another to see who could build the biggest and most extravagant mansion. Many of those palatial summer residences are open today, either preserved or restored to their glittering glory.
Look for echoes of the Grand Trianon and other European royal palaces, which several used as inspiration for their own excesses. Don't plan to whiz through all of these in one day - they are huge, and two is the limit for most tourists; after that you're on visual overload.
The largest and showiest mansion is The Breakers, a 70-room Italian Renaissance pile with a three-story dining room; Mrs Vanderbilt took no chances of being outspent. The Elms, patterned after an 18th-century French château, is furnished in French antiques from the same period and has beautiful grounds featuring marble pavilions, fountains, and a sunken garden.
Marble House has an opulent salon, lined with pounds of gold leaf, and a fanciful Chinese Tea House. Less ostentatious and more livable, but no less grand, is Doris Duke's Rough Point, where her art collection is displayed. Follow Bellevue Avenue to see the public faces, then at least a part of the famous Cliff Walk to see these mansions from the shore side.
You can tour two of the most opulent of these - The Breakers and The Elms - on the Boston to Newport Small-Group Day Trip with Breakers & Elms Mansion, traveling by air-conditioned coach with a guide who will add perspectives about Newport's history, culture, and architecture. There is time to stroll along Newport's waterfront for shopping before returning to Boston.
5. Cape Cod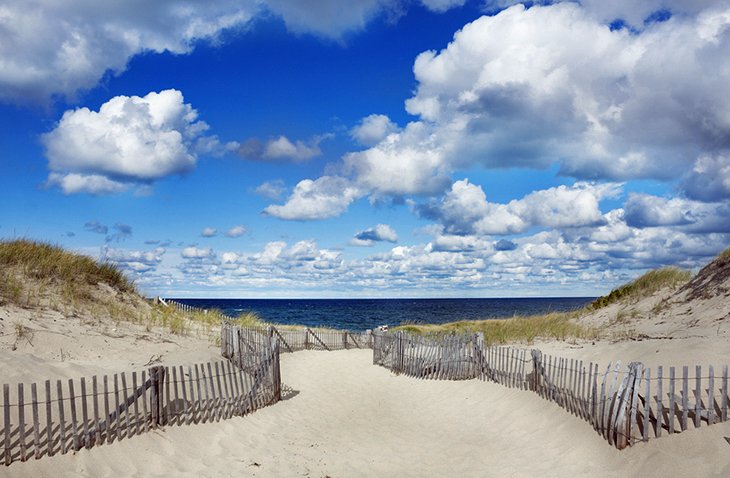 Southeast of Boston, Cape Cod reaches into the Atlantic in a long, thin crescent lined by white-sand beaches. The part nearest to the city is dotted with cozy villages like Sandwich, the cape's oldest, within easy reach of a long dune-backed beach. Here, you'll find historic sites like the three-centuries-old Dexter Grist Mill and the impressive collections of Sandwich Glass Museum, where you can watch a glassblowing demonstration.
In lively Hyannis Port, where you can visit a memorial to John F. Kennedy whose family summered here, take a scenic cruise on Lewis Bay for views of the south coast. Falmouth, also on the southern shore, is where you can catch a ferry to the island of Martha's Vineyard.
Although a day's driving tour of Cape Cod isn't long enough to reach lively Provincetown, at the far tip of the cape, you can go there directly from Boston on the Boston to Provincetown & Cape Cod High Speed Ferry, which leaves from Long Wharf and speeds you to MacMillan Pier, in the heart of Provincetown. The miles of dunes and long white beaches of the "Outer Cape," as this part is called, is protected as the Cape Cod National Seashore.
Read More: Top-Rated Tourist Attractions in Cape Cod & the Islands
6. Martha's Vineyard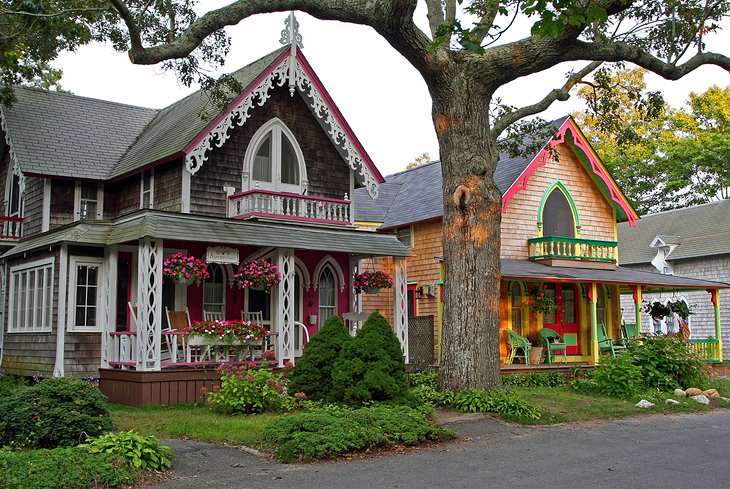 From Falmouth, on the south coast of Cape Cod, the Island Queen Ferry sails across Vineyard Sound to Oak Bluffs, on the island of Martha's Vineyard. You won't need a car to explore this beautiful island: just hop on and off the handy transit bus to see lighthouses, Aquinnah Cliffs, historic Edgartown's art galleries, the gingerbread cottages at Oak Bluffs, or to spend a day at the beach.
You probably won't be able to see all six of The Vineyard's towns in a day, but you can visit the two largest, and perhaps even take the cute little ferry to Chappaquiddick Island. Along with touring the interior of one of the Victorian cottages in Oak Bluffs, take a ride on the Flying Horses Carousel. For a glimpse of life through the island's 400-year history, visit the 1672 Vincent House in the former whaling port of Edgartown.
A Day Trip to Martha's Vineyard from Boston takes you by coach to the town of Falmouth, where you'll board the ferry to the island. Here, you'll have six hours to explore on your own, plenty of time to hop the transit bus and see the highlights, using the island discount card that's included with the tour.
Read More: From Boston to Martha's Vineyard: Best Ways to Get There
7. Newburyport and Plum Island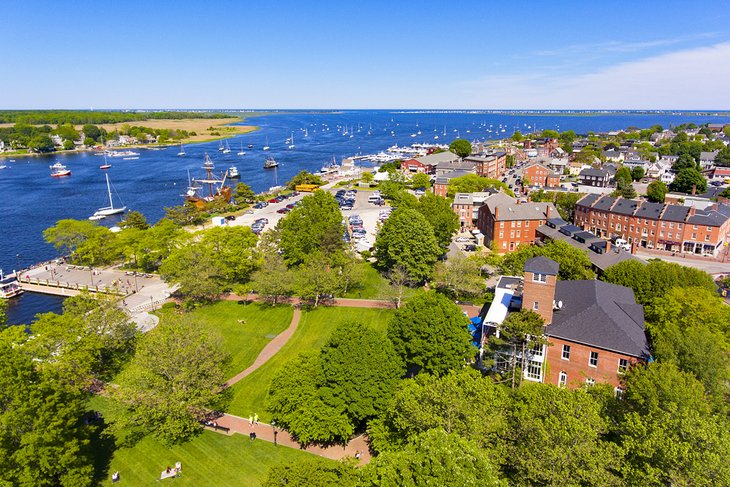 About 35 miles north of Boston, Newburyport's history as a prosperous maritime port shows in its beautiful Federal homes. See how people lived in that era on a tour of the Cushing House, now the Museum of Old Newbury, and its period gardens.
This and most of the downtown is part of the Newburyport Historic District, which includes 10 distinct listed neighborhoods. You could spend a day just admiring the architecture of these beautifully preserved buildings. To learn more about the seaport's history, stop at the Custom House Maritime Museum.
Stay into the evening to enjoy a performance at the Firehouse Center for the Arts or a film at The Screening Room, an arthouse theater. In the summer, spend a few hours at the beach on Newburyport's Plum Island. In any season it's a lovely place to walk along boardwalk trails through the dunes and seaside forest of the island's the Parker River National Wildlife Refuge.
8. New England Coast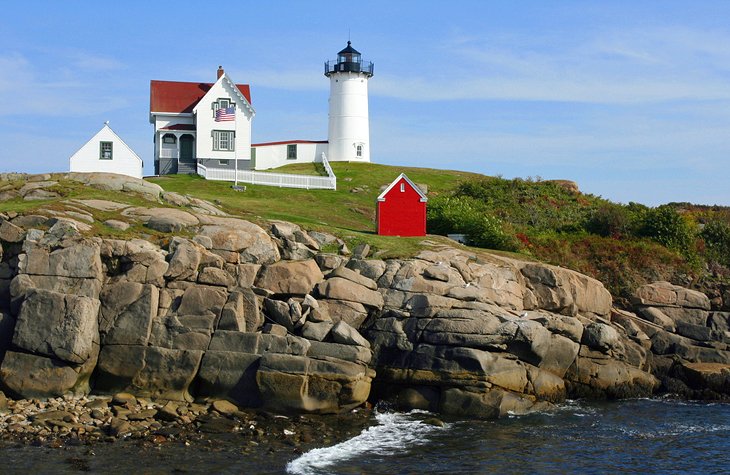 The beaches and rocky headlands of the New Hampshire and southern Maine coast are a scenic day trip from Boston. Depending on the number of stops, you can easily reach as far north as historic Kennebunkport or the classic old-time beach town of Old Orchard, both in Maine. On the way, you'll pass another of New England's classic resorts, Hampton Beach, New Hampshire, and pass through the historic seaport of Portsmouth.
Along the shore, which includes the Massachusetts beaches at Plum Island and Salisbury and wildlife-filled wetlands and tidal marshes, you can see stately turn-of-the-century summer "cottages." Maine's iconic Nubble Lighthouse at Cape Neddick is a highlight, as are the sea captains' homes in Kennebunkport, where you should spend some time in the boutiques and art galleries. Kennebunkport is a good place to visit to sample fresh Maine seafood at a waterside restaurant.
9. Shopping & Seafood in Portland, Maine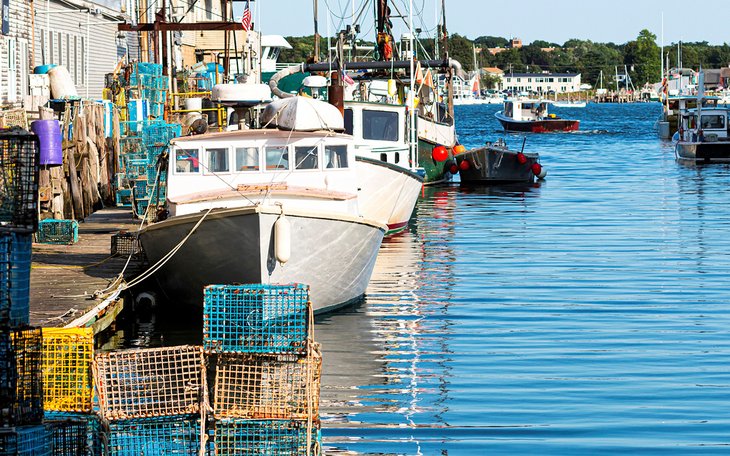 Portland is only a two-hour drive, or Amtrak's DownEaster schedule from Boston gives you seven hours to savor a seafood lunch or early dinner at a waterfront restaurant and an afternoon of browsing in the boutiques and galleries in Portland's historic downtown. Within a few steps of the busy fishing harbor, you'll find plenty of restaurants, and shops specializing in Maine products.
Edgecomb Potters create pottery inspired by the sea and mountains; Lisa-Marie's Made in Maine carries jewelry, art, and specialty foods; and Maine Craft Portland in the historic Mechanics Hall showcases local talent. At Sea Bags Factory Store on Custom House Wharf, you can watch as skilled artisans recycle sea-worn sails into smart totes and bags.
Or spend your time in this portside city visiting the excellent Portland Museum of Art or in the extraordinary rooms of the Victoria Mansion, one of America's most important 19th-century historic homes.
Read More: Top-Rated Attractions & Things to Do in Portland, Maine
10. Old Sturbridge Village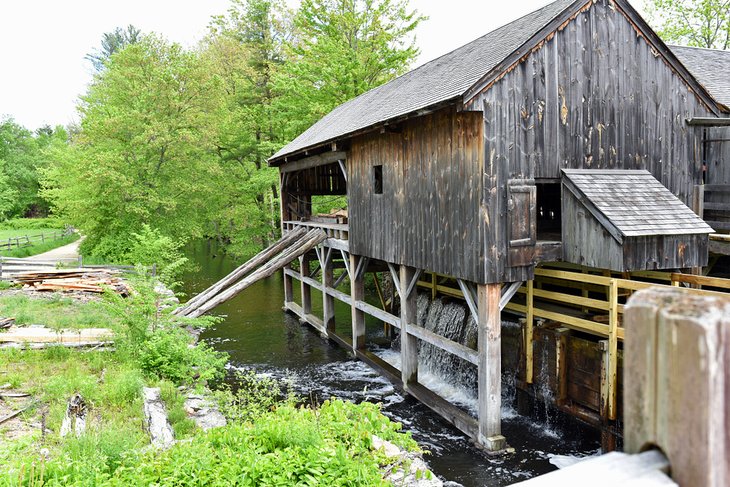 More than 40 historic buildings form the open-air museum at Old Sturbridge Village - gracious homes of the well-to-do, rustic farmhouses, a parsonage, village store, tavern, and workshops where tinsmiths, blacksmiths, printers, potters, and coopers demonstrate their crafts.
Along with touring the houses, where you'll find costumed interpreters cooking in fireplaces, tending their gardens, spinning, sewing, and doing needlework, you can watch logs become boards in a water-driven sawmill and take part in activities.
A working farm grows period vegetables and herbs, and the farmyard is alive with animals that have been back-bred for authenticity. The large herb garden is especially interesting as it grows many of the plants that were used in everyday life at the time, for flavoring, medicines, cosmetics, and dying wool.
Address: 1 Old Sturbridge Village Road, Sturbridge, Massachusetts
Official site: https://www.osv.org/
11. Whale Watch at Stellwagen Bank National Marine Sanctuary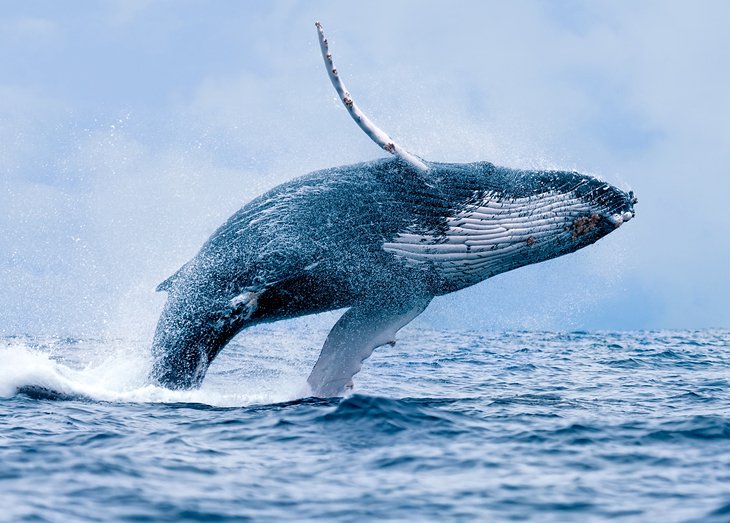 The Stellwagen Bank, an underwater plateau in the Atlantic off the Massachusetts coast, has one of the world's most biologically productive ocean environments, which makes it one of the best places to study and spot whales. Sightings are so frequent that some whale-watch cruises come with a guarantee of a free trip if no whales appear. Most commonly observed are female humpback whales that return to these waters, which are especially rich in food, to teach their young to hunt.
In addition to the humpback whales, there is a good chance of seeing other whale species, Atlantic white-sided dolphins, harbor porpoise, seals, and other marine life. Researchers from the Whale Center of New England accompany the three-hour Boston Whale Watching Cruise to explain the whales' habits and habitat and discuss their conservation status and scientific tracking methods.
Official site: https://stellwagen.noaa.gov/
12. Portsmouth Historic Houses and Strawbery Banke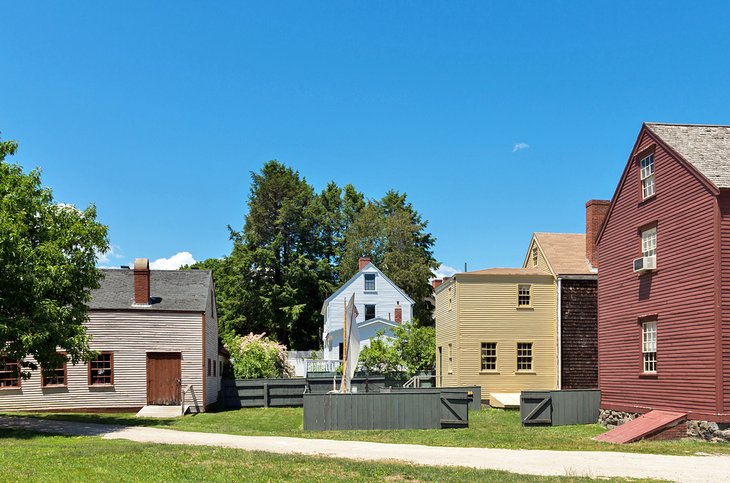 As one of New England's early settlements and later as a major colonial port, Portsmouth became prosperous from trade and shipping. The Portsmouth Harbor Trail will lead you past more than 70 historical sites and several fine colonial homes that are open to visitors. Each of these houses has a unique history, illustrated by its furnishings and collections, some of which are America's premier examples.
The 1716 Warner House has the first example of Queen Anne furniture known in America, and the 1785 Governor John Langdon House is best known for its ornate woodwork and period furniture. The 1758 John Paul Jones House is where the Revolutionary War captain lived while in Portsmouth.
The first settlers in 1623 called their new home Strawbery Banke, and today, the ten-acre Strawbery Banke Museum preserves houses from four centuries of the old Puddle Dock neighborhood beside the harbor. Some are preserved to show their construction and the process of restoration, others are furnished to represent a period in their history, others are "inhabited" by costumed interpreters who tell their stories through demonstrations and daily activities.
Together the houses show life at various periods and of the different ethnic groups who lived here. You can see a neighborhood market from the World War II era, watch as authentic Gundalow boats are built, stroll in period gardens, and tour the elegant home of a former governor.
Address: 454 Court Street, Portsmouth, New Hampshire
Official site: www.strawberybanke.org
13. Fall Foliage in New Hampshire's White Mountains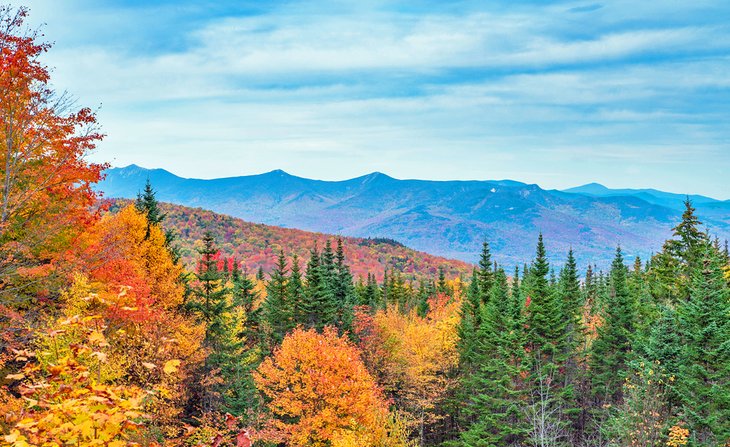 Thanks to Interstate-93, you can drive from the Boston area directly into the heart of New Hampshire's rugged White Mountains. Because much of New Hampshire's forest land - protected by the White Mountain National Forest, is hardwoods, the foliage is spectacular, with the bright reds and oranges of maple, yellow birch leaves, and all shades in between. And unlike many other foliage destinations, these are interspersed with dark green pine and fir trees, which set off the brilliant foliage with striking contrasts.
Several of the mountains, including Mt. Washington, the highest peak in the northeast, have tramways, gondolas, even a train to the summits for even more sweeping views. These mountaintop rides are the region's prime tourist attractions, as is the drive over the Kancamagus Pass on the Kancamagus Highway, a winding route that reaches the highest elevation of any public road in the northeast.
The ski town of North Conway is the region's commercial hub, with cute boutiques and renowned outlet stores, as well as restaurants and resorts, if you decide to stay longer.
To see the highlights, you can travel by air-conditioned coach on the Boston to New Hampshire Fall Foliage White Mountains Day Trip, with pickup at your hotel. The full-day tour travels over the Kancamagus Pass, with photo stops, and stops in North Conway, where you'll have time to enjoy shopping and lunch along the attractive main street.
14. Shopping at Wrentham Outlets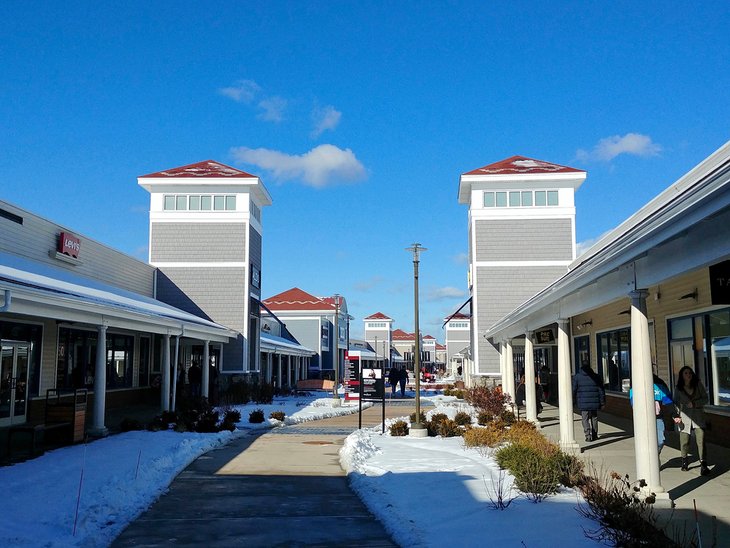 Ardent shoppers will find it hard to resist the lure of 170 outlet stores in one place. That's what you'll find at Wrentham Village Premium Outlets, about 45 minutes south of Boston. Nearly all the stores are outlets of major name brands, including high-end brands such as Salvatore Ferragamo, Brooks Brothers, and Burberry.
In the stores, shoppers find deeply discounted prices on brand-name clothing, housewares, shoes, electronics, jewelry, accessories, decor, and gifts. Look for Banana Republic, GUESS, Calvin Klein, DKNY, Aéropostale, American Eagle Outfitters, HugoBoss, Bloomingdale's, Le Creuset, Saks OFF Fifth, and more. Shoppers who arrive by tour bus usually get complimentary VIP coupon books for even greater discounts.
Address: 1 Premium Outlet Blvd, Wrentham, Massachusetts
Official site: http://premiumoutlets.com/outlet/wrentham-village
Map of Day Trips from Boston