18 Top-Rated Weekend Getaways in the Northeast
We may earn a commission from affiliate links ()
The Northeast is filled with picturesque, interesting, and exciting places to visit for a weekend getaway. Whether you're looking for the excitement of a big city or the serenity of mountains, you'll find it – and so much more – in the Northeast.
From the bright lights of New York City to the sandy beaches of Cape May to the quaint seaside town of Old Saybrook, you're in for a treat no matter where you head for your weekend getaway in the Northeast.
Hike through the White Mountains, ogle the old sailboats in Mystic, or head out on a seal-watching cruise in Newport. This spectacular region really does have something to please every type of traveler, so pack your bags and head to the Northeast coast, you'll be happy you did.
With such a wide variety of options, the hardest part of your weekend getaway will be deciding the best places to visit. Explore your options with our list of the top weekend getaways in the Northeast.
1. New York City, NY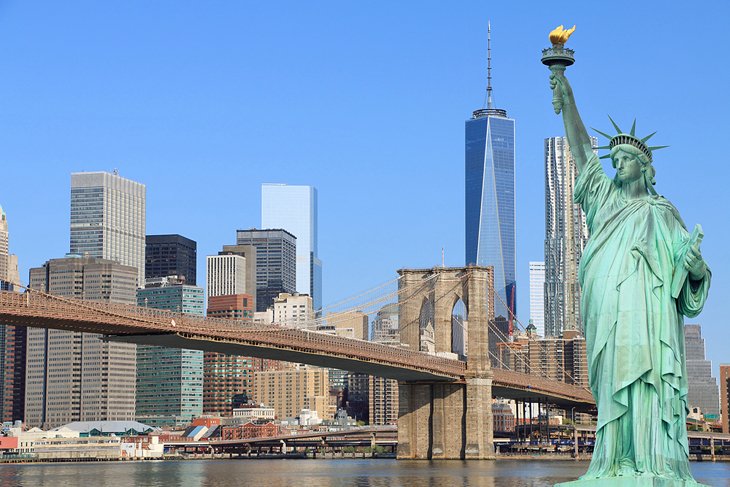 Visitors can go to New York City a hundred times and never see the same thing twice. This is the appeal of the City that Never Sleeps–there is something for everyone.
If arts and culture is what you desire, take in a Broadway play or head to the Metropolitan Museum of Art. Take a stroll through Central Park , which is an attraction of its own with more than 843 acres of nature, a lake, ice-skating rink, and cultural icons like Strawberry Fields and the Chess and Checkers House.
One World Trade Center is a moving memorial to 9/11 and a must see for all who visit. At the top, you'll find the One World Observatory, which offers an unbeatable view of the city from above.
Getting to New York City is easy with three airports (Laguardia, Newark, and JFK) serving this hub. There are also many regional rails and Amtrak.
2. Boston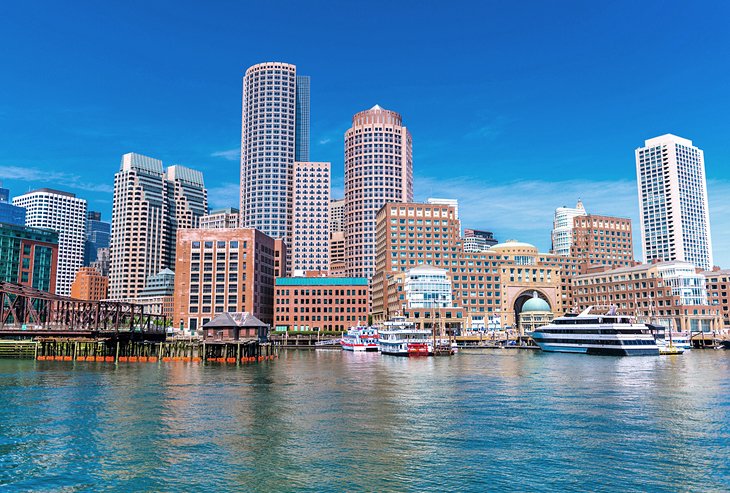 Boston is a great walking city, made up of historic, quirky, and charming neighborhoods, each with its own personality and offerings.
With the perfect blend of old and new, visitors will find a rich selection of activities for just about any interest. For those wanting to take a walk through the American Revolution, try the Freedom Trail. This two-and-a-half-mile promenade will take you through 16 historical sites, like the Paul Revere House and the Boston Commons. If arts and culture are what you crave, be sure to explore the Museum of Fine Art and the Boston Public Gardens.
Finally, depending on the season, no trip is complete without a stop at either a baseball, hockey, basketball, or football game. Boston fans are legendary, and a sporting event in the city is one not to be missed.
Copley Square is a central spot right in the middle of the city. In this location, enjoy Boston's only rooftop pool at the Colonnade Hotel. For a waterfront stay, the Seaport Boston Hotel is excellent and only a short walk from Boston's famous Italian North End, where a visit will transport you back to old time Italy.
Accommodation: Best Hotels in Boston
3. Cape Cod, MA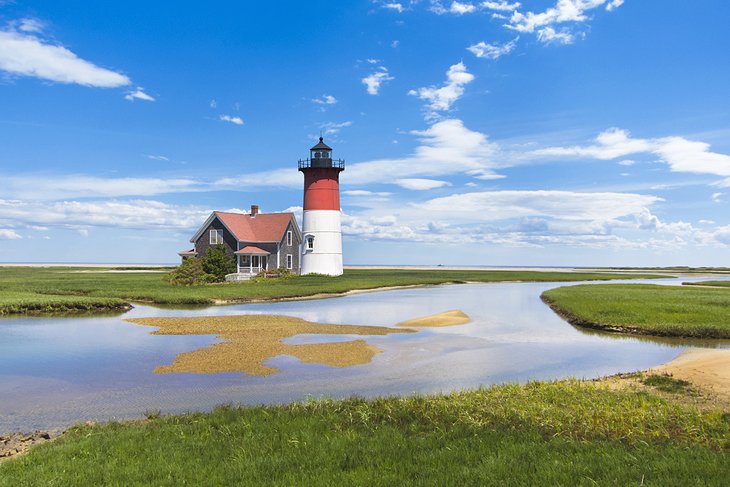 A favorite weekend getaway destination in the Northeast, Cape Cod has been a popular vacation spot for decades, especially during summer. This section of Massachusetts is filled with maritime charm, world-class restaurants, and one-of-a-kind shops sprinkled throughout the area. Separated from the mainland by the Cape Cod Canal, the entire landscape is edged with miles of beautiful coastline.
Although the main draw is the Cape Cod National Seashore and its impeccable beaches, there are many additional options for fun things to do in Cape Cod. Galleries filled with the work of local artists dot the adorable small towns.
You can step back in time and take in a movie at the Wellfleet Drive In, one of the last remaining drive in movie theaters in the US. Theater buffs rave about the summer performances at the Cape Playhouse, the oldest professional summer theater.
If you're looking for an eccentric experience filled with the best Cape Cod has to offer (i.e. shopping, beaches, art galleries, and a funky main street), head to Provincetown. When hunger pangs hit, it's time to dive into one of the main reasons people visit Cape Cod: its excellent fresh seafood.
While less than a two-hour drive from Boston, summer traffic can be heavy, so get an early start. Hyannis airport offers additional travel options.
4. Acadia National Park, ME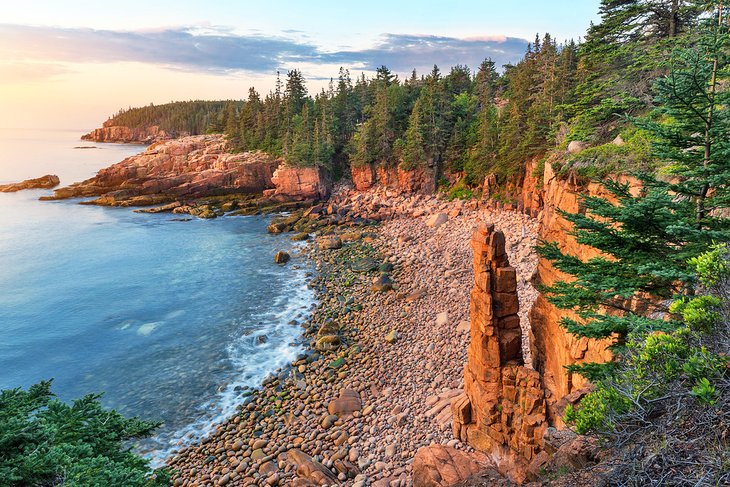 There are few spots on the Northeast coast that have the magical allure of Acadia National Park. New England's only national park, this natural wonderland spans over 47,000 acres of Maine's most majestic scenery. Featuring rocky headlands (the highest on the Atlantic coast), sparkling ponds, and verdant forests, this is the perfect place for nature lovers to enjoy a weekend getaway in the Northeast.
Strap on your hiking shoes to enjoy over 158 miles of hiking trails, or tour around 27 miles of the historic roads within the park. Another 45 miles of carriage roads also transport visitors from one incredible section to the next. Hike, bike, walk, lounge on the beach, or enjoy a dip in a pond – there's no end to the outdoor fun to be had in this iconic gem.
You won't have to look far to find a great place to stay. The park is home to multiple campsites, so you can zip in for the night after enjoying s'mores around a campfire.
Not a big fan of roughing it? The Bayview Hotel in nearby Bar Harbor – an adorable and highly romantic town you won't want to miss – offers guests a waterfront view easily enjoyed from a private balcony along with a made-to-order breakfast and free cookies. You had us at cookies!
5. Newport, RI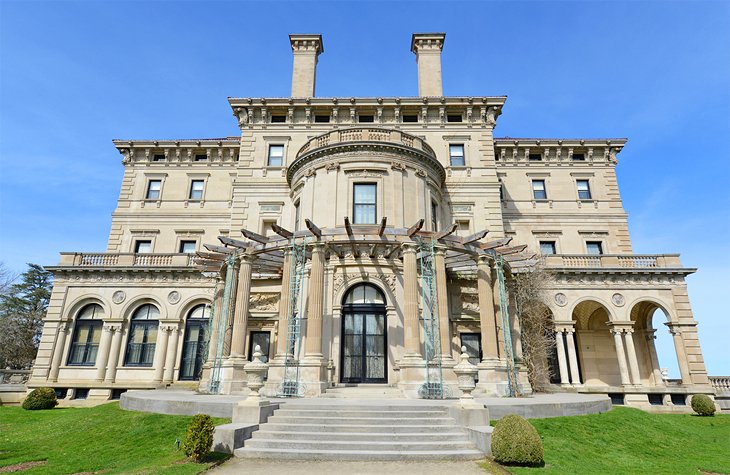 Travel back in time to the Gilded Age with a trip to Newport, Rhode Island. This town is filled with opulent hillside mansions, rugged shores, and eclectic shops. Make sure not to miss the Cliff Walk, an easy stroll along the coastal edge past the grand mansions and wealth of yesteryear. You'll want your camera to capture the beauty of this spot!
Newport also has a rich sailing history, evident in the bustling marina. The waterfront area is filled with an unusual selection of shops, restaurants, and many special events. Tickets are available for tours of many of the elegant mansions, like The Breakers, summer "cottage" to the Vanderbilts or Rosecliff, modeled after the Grand Trianon, the garden retreat of French royalty at Versailles. Getting there is a short drive from T.F. Green Airport in Providence or a two-hour drive from Boston.
6. Mystic, Connecticut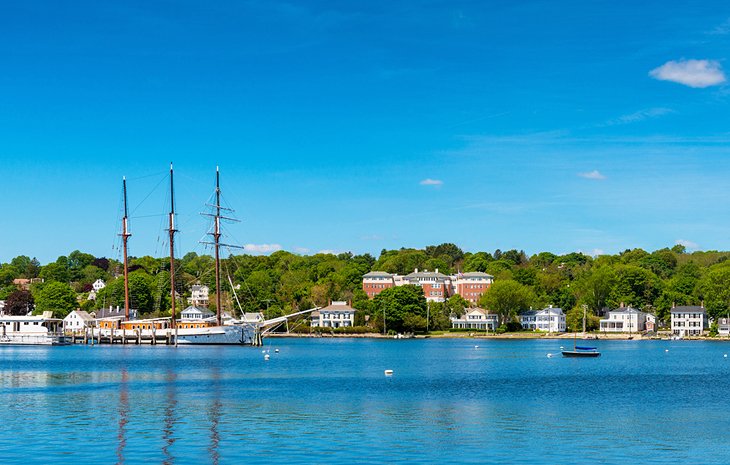 Oozing charm from every corner, Mystic is one of the most beautiful places to visit in Connecticut. A romantic maritime gem, this historic town has everything you look for in a quiet weekend getaway in the Northeast. Charming shops line the quaint streets, tasty restaurants tempt your taste buds, and world-class museums will intrigue your inner historian.
Life seems to slow down in Mystic, giving visitors a chance to soak up the nautical scenery while wandering around the town's downtown core. Don't miss a visit to the Mystic Seaport, an incredibly impressive look into the town's seafaring past, complete with a 19th-century village and the Charles W. Morgan wooden whaling ship.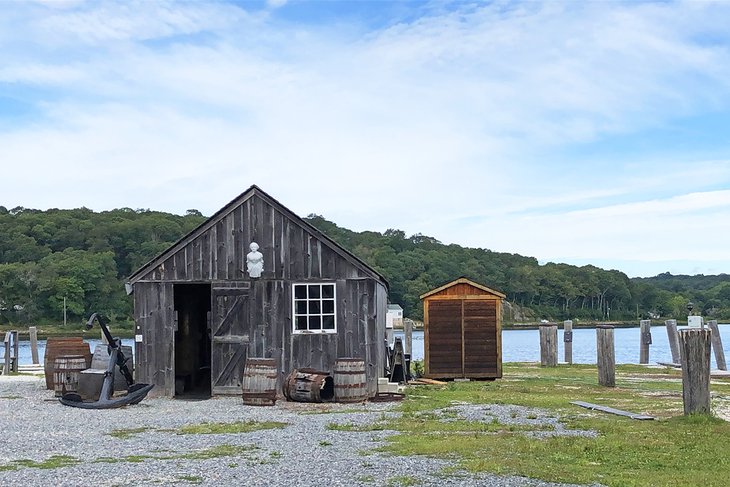 The Mystic Aquarium is another must-visit locale chock-full of fun that kids of all ages (from 1 to 100) will enjoy. Virtually across the street, you'll find Olde Mistick Village, a charming area boasting unique shops (don't miss the fudge or popcorn samples) and restaurants.
Speaking of food, Mystic Pizza (made famous by the movie that launched Julia Roberts' career) is just across the bridge. Why not head over for a slice (or four) of pie?
7. White Mountains, NH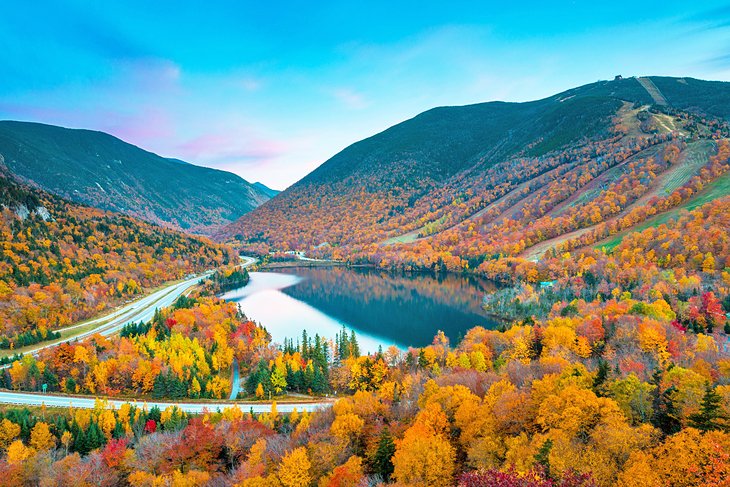 The White Mountains in New Hampshire are the perfect place to rest, relax, and reconnect with nature. It's also great for travelers with a penchant for adventure. Head to the Alpine Adventures zipline course for a treetop view or take the family to Clark's Trading Post for the water raft ride, The Anaconda Escape.
If you are looking for something less exciting, take a leisurely ride on one of the area's trains. Check out the Hobo Railroad, Conway Scenic Railroad, or the Mount Washington Cog Railway. The views are spectacular.
Perhaps the biggest (literally) draw to this area is Mount Washington. The rugged and unpredictable landscape lures adventurers. Not a fan of mountain climbing? Get in your car and take a thrilling drive to the top. If you make the drive, be sure to grab and proudly display one of the iconic "This Car Climbed Mount Washington" stickers. It's a badge of honor!
Although many people choose to make this a road-trip destination, you can also fly in to Mount Washington Regional Airport.
Look for stunning mountain views in a central North Conway location at The White Mountain Hotel & Resort, and the Hampton Inn & Suites North Conway is a great-value family favorite with an indoor waterpark.
8. Martha's Vineyard, MA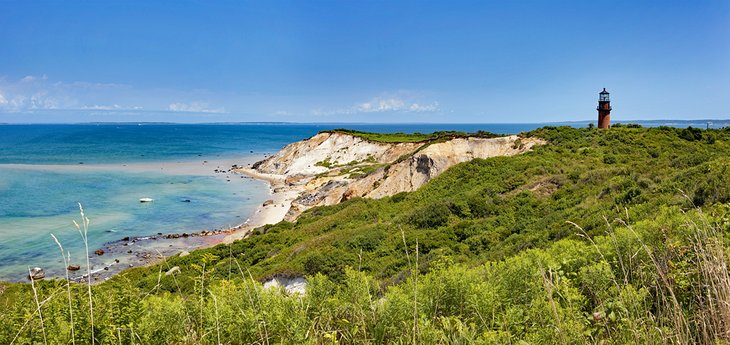 No weekend getaway in the Northeast is complete without a trip to the famed Martha's Vineyard. A top day trip destination from Boston, this is a haven for celebs, weekend warriors, and members of the upper echelons of society.
To truly fit in, you may want to pack a pair of critter shorts and a golf shirt (don't forget a sweater to tie around your shoulders to complete the look). Joking aside, this posh getaway is a wonderful place for couples and families alike to spend a relaxing weekend by the water.
Everything here is laid-back and quaint. There are no chain stores, restaurants, or cheesy motels on offer. Instead, you'll find adorable inns, farm-to-table eateries, and appealing attractions. A transit bus will take you to hot spots like Gay Head Lighthouse, Aquinnah Cliffs, the shops and galleries of Edgartown, and the sweet cottages at Oak Bluffs.
The Winnetu Oceanside Resort is a stellar spot to spend a weekend getaway in Martha's Vineyard. Voted one of the top 25 New England Resorts, this luxurious beauty sits on the shores of 11 acres of South Beach, in Edgartown.
9. Nantucket, MA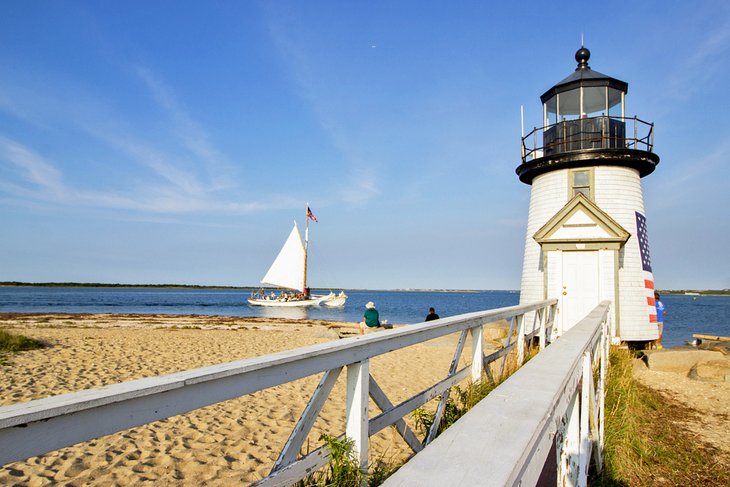 Nantucket is a dream destination for summer sun worshippers from across the eastern seaboard, especially those looking to escape big city hubs like Boston and New York for a weekend getaway in the Northeast.
Home to sparkling waters and a variety of gorgeous beaches, Nantucket appeals to travelers of all types. Whether you're looking for a secluded and romantic weekend getaway packed with charming inns and quaint towns or an action-packed, family-friendly beach getaway, you're in for a treat in Nantucket.
A stunning island set over 30 miles south of Cape Cod, Nantucket is a breeding ground for those with too much money to count. The well-to-do crowds flock to its pristine shores and sprawl their Gucci towels upon the sugar soft sand during the day, dining on five-star entrées at the area's top restaurants at night.
Don't let this dissuade you. Those of us without gold-rimmed pockets can enjoy a very enjoyable weekend getaway in this glitzy yet laid-back locale, exploring it's best tourist attractions like the Great Point Lighthouse, Whaling Museum, and Sanform Farm & Ram Pasture.
10. Stowe, VT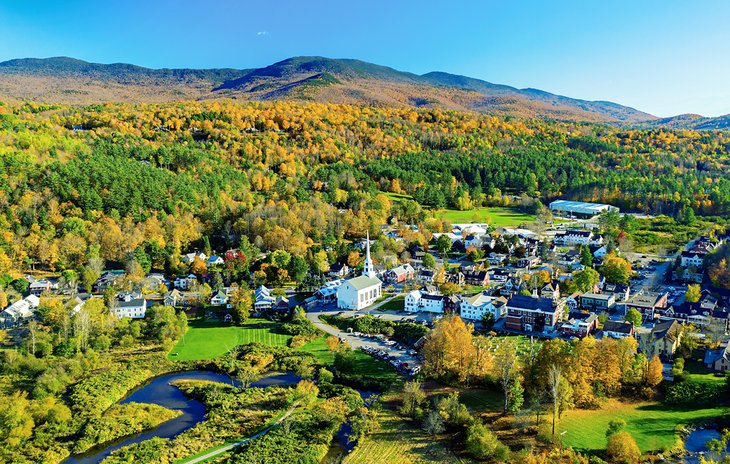 It's hard to think of Vermont without picturing its iconic weekend getaway, Stowe. This top-rated small town in Vermont is highlighted by the towering spire of a whitewashed church, rugged mountains, and a quaint town peppered with boutique shops and fine restaurants.
Stowe is most popular as a winter ski destination–Mt. Mansfield is the state's highest peak and home to Stowe Mountain Resort. In winter, guests can zip down its ski trails while the gondola will take sightseers high above the trees to enjoy fall foliage and summer flowers.
The most stellar place to stay here is the Trapp Family Lodge. Once lived in by the family made famous in The Sound of Music, you'll find a lovely inn as well as a farm and outdoor center with fabulous cross-country ski trails.
The Lodge at Spruce Peak is a must for those looking for a ski-in, ski-out luxury resort. Located at the base of Mount Mansfield, this glamorous spot boasts a golf course, pool, and fitness center as well as ski rentals.
The sweet and quaint Edson Hill hotel is about as romantic as they get, and filled with rustic charm. Picturesque views, wood-paneled walls, and fireplaces help set the mood.
11. Philadelphia, PA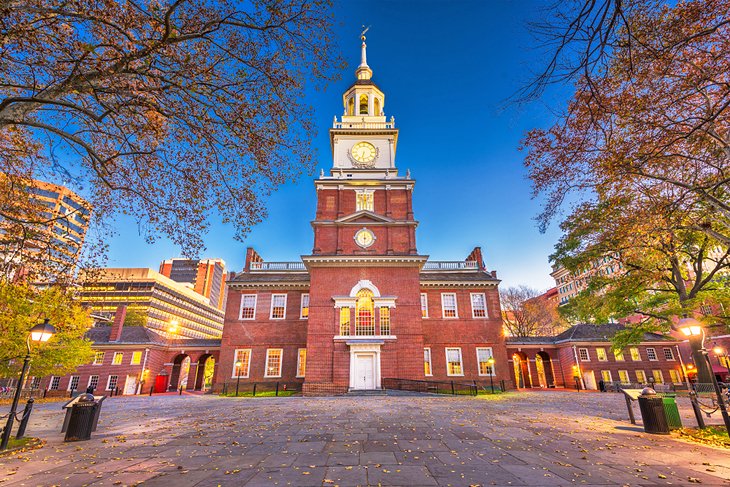 Philadelphia is a great weekend getaway destination for those who want to do it all. If you love history, culture, arts, or can appreciate a good cheesesteak, this is the place for you.
Philadelphia is one of the oldest cities in the country, and nowhere is it more evident than in Old City, where you can walk the cobblestone streets and view the area's top tourist attractions, like the liberty bell at the Liberty Bell Center in Independence National Historical Park.
Foodies will rejoice at the Reading Terminal Market, the oldest operational public market, which houses one-of-a-kind foods and gifts. It's a fantastic spot for lunch–don't miss the freshly made Pennsylvania Dutch pretzels.
Tourists can visit the Philadelphia Art Museum for amazing pieces from world-famous artists both past and present. If art isn't your thing, you can run up the steps of the museum and follow in the footsteps of one of Philadelphia's most famous fictitious residents, Rocky.
You can get to Philadelphia easily by plane directly into Philadelphia International Airport or rail through Amtrak.
12. Burlington, VT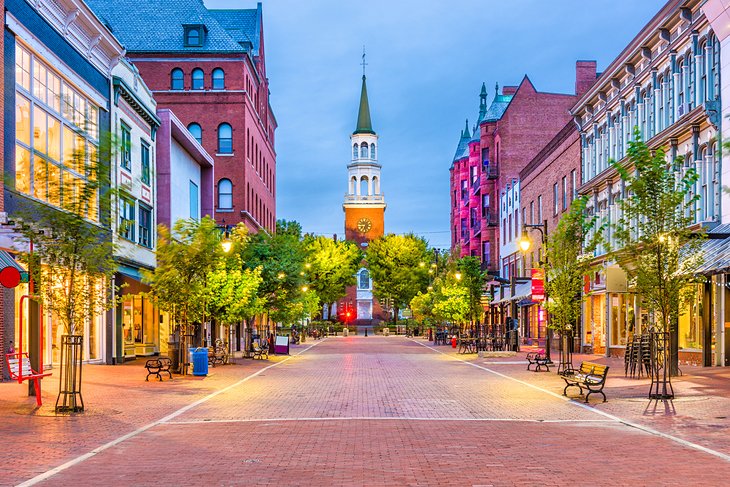 A small town vibe with big city amenities, Burlington, Vermont makes another splendid weekend getaway choice. About an hour drive from the Canadian border and located on the water, this town's eclectic vibe is the perfect fit for the hip couple or family and would also make a great girlfriends' getaway.
While you are here, hit the ECHO Lake Aquarium and Science Center, fun for kids and adults of all ages. History buffs will love the Ethan Allen Homestead, which houses an impressive collection of Revolutionary War memorabilia in a 1787 farmhouse.
You can also head to the waterfront or the Church Street Marketplace, where you can walk around, shop, and people watch. Getting there is easy, it's just a few miles from town to the Burlington International Airport.
13. Niagara Falls, NY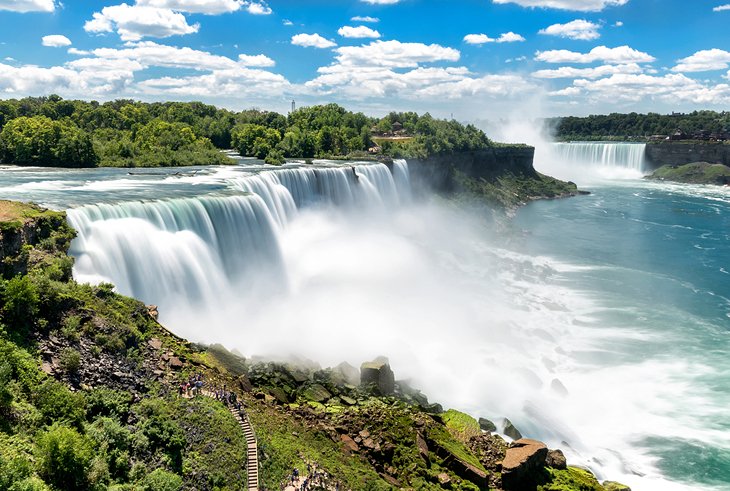 Niagara Falls is an interesting mix of nature and glitz. Hotels and attractions have popped up over the years, giving it a touristy vibe. Despite the commercial feel of the area, there is no denying the main draw: breathtaking views of Niagara Falls.
No trip to Niagara Falls is complete without a boat ride on the Maid of the Mist through the falls. If you would rather enjoy a more low-key adventure, check out Old Fort Niagara or Goat Island.
Cross the border into Canada to see Niagara Falls in Ontario. This is supposed to be the natural wonder's most spectacular side and it's just a quick jaunt across the river. From Ripley's Believe it or Not Museum to Madame Tussauds, there is a little something for everyone here. Visitors can get to Niagara Falls by plane through the Niagara Falls International Airport.
The Art Deco design of The Giacomo makes for a unique stay in a convenient Niagara Falls location. Across the street from the park, visitors will find good value at the Comfort Inn The Pointe. Ask for a room with a river view.
14. Cape May, New Jersey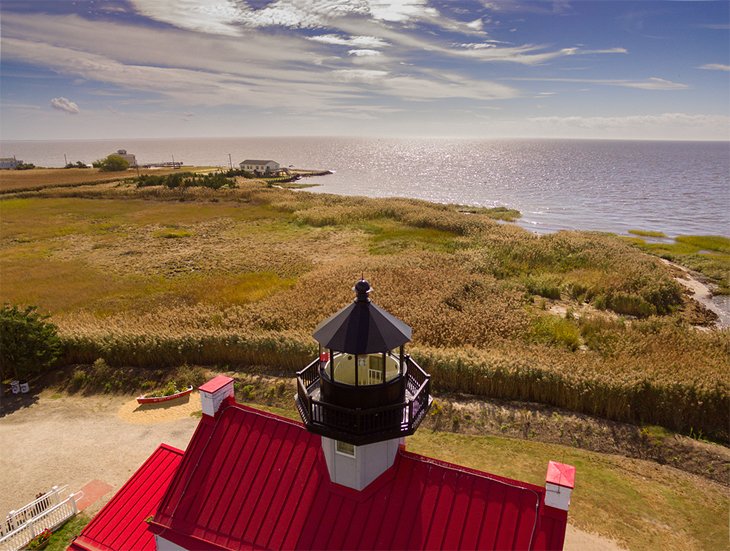 Cape May is arguably the most charming of the New Jersey beaches, and one of the best places for a weekend getaway in the Northeast. Dotted with Victorian houses and quaint bed-and-breakfasts along with a pristine Jersey Shore, Cape May is not only a great spot for a couples' getaway, but for families as well.
The beach is the main draw, as the area is known as the nation's oldest seaside resort, but if you want to beat the heat or enjoy a rainy day indoors, try one of Cape May's many attractions – like the Cape May County Park and Zoo, Fireman's Museum, and the Cape May Lighthouse, or relax in one of the many spas.
Cape May also has a plethora of water activities from parasailing to boating and wave runners for the more adventurous. After a busy day, stop in at Uncle Charley's for some homemade, hand-dipped ice-cream, an all-time favorite of those visiting the Jersey Shore (cash only).
15. Kennebunkport, ME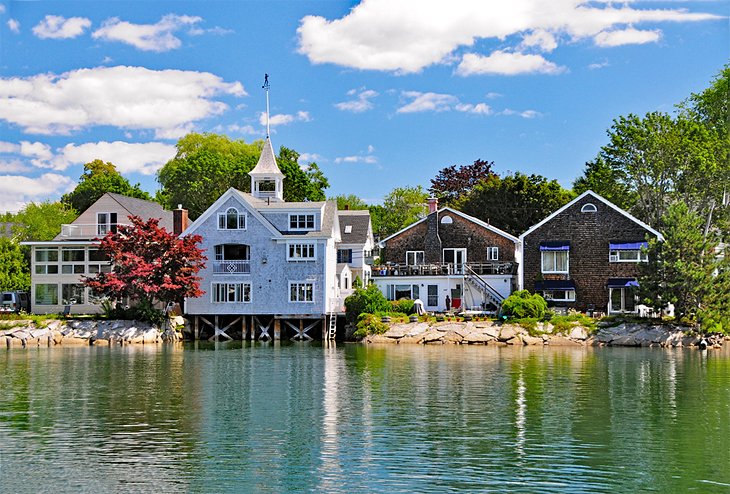 Kennebunkport has long been a vacation spot for Maine residents, as well as tourists. The summer home to the Bush compound, this has been favored by many for its beautiful sandy beaches and the opportunity to view a few of Maine's prized lighthouses.
Tourists flock here in the summer months, but don't overlook the opportunity to visit this area in other seasons, especially if you're a fan of fall foliage. There is always something going on for visitors. The draw to this weekend getaway is the beach, but one thing you should do while you are here is take a ride on the Intown Trolley Tour for a history lesson and to see some of the sights.
If you had too much sun, escape the heat and head down to Dock Square. Spend some time walking through some of the eclectic shops and grab a bite to eat at their restaurants, ranging from casual fare to seafood.
The Kennebunks are known for their wonderful bed-and-breakfast accommodations. A few favorites are the James Fairfield House, Nathaniel Lord Mansion, and William Jefferds House, three of four charming boutique inns that serve as part of the Kennebunkport Captains Collection. The adorable 1802 House Bed and Breakfast Inn is also worthy of a stay.
16. Old Saybrook, CT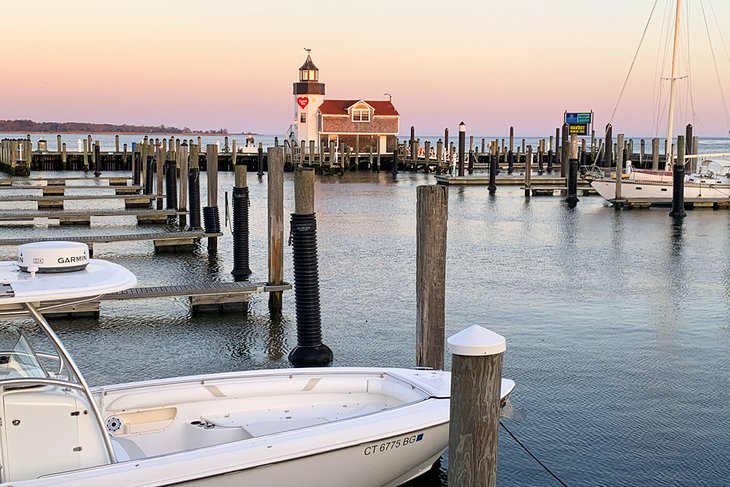 While it won't take long to wander through the downtown core of Old Saybrook, this small Connecticut town oozes so much quintessential New England charm, you'll wish you had a whole week to enjoy your visit.
An alluring seaside town, this pretty spot is home to adorable shops, tasty restaurants, and a village rich in colonial history. Its proximity to Harvey's Beach, one of the best beaches in Connecticut, is a big draw with summer visitors in particular.
Beat the heat at the magnificent Krieble Gallery, which lies just behind the impressive Florence Griswold Museum, and partake in a little retail therapy on Main Street.
17. Portland, ME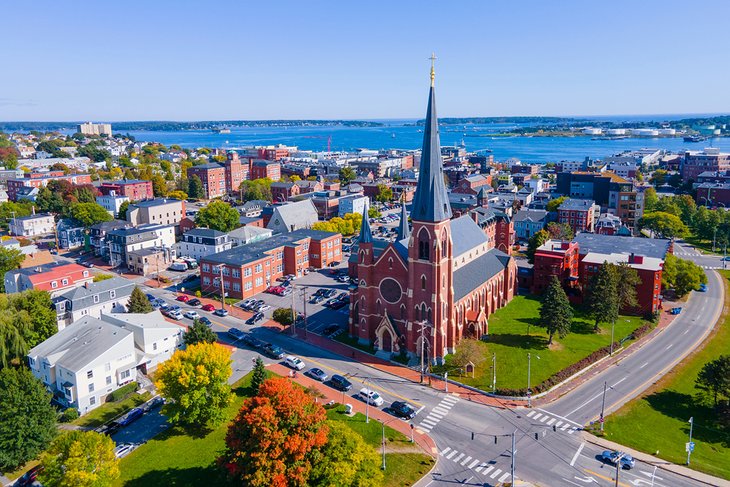 Though it's the largest city in Maine, Portland still manages to give off some serious vacation vibes. Casco Bay's salty scent lingers on the narrow, cobblestone streets of this historic port town.
Seagulls screech their hellos while the Old Port neighborhood bustles with tourists finding their way onto sightseeing cruises and charter tours to the spectacular Calendar Islands. The Old Port is also home to some of the city's best shops and restaurants, not to mention a few visit-worthy galleries.
Walk along the Eastern Promenade Trail on a sunny day. Bring a picnic so you can enjoy the water views for longer or, better yet, follow it to the city's only public beach, East End Beach. Don't miss a visit to the Portland Head Light while you're in town.
If you're looking for a more action-packed beach, head to one of the best beaches near Portland.
Looking for a chic boutique hotel experience? Check out The Press Hotel, a Marriott Autograph Collection property. Set in a historic building, this funky space highlights the field of journalism, featuring vintage writing desks and newsy artworks created by local artists and artisans.
18. New London, CT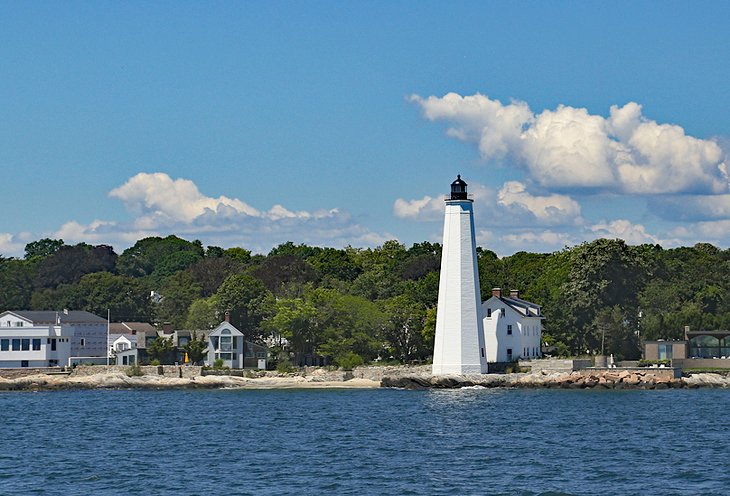 For those wanting to explore a quiet, New England Town, New London, Connecticut is a great pick. This small town is nestled on the water and filled with art, culture, and history and some really great seafood as well. It's best visited during the summer, when things are open and ready for customers. Those visiting off-season may feel as if they're walking through a ghost town.
While you are visiting, stop at the Custom House Maritime Museum. From here, you can organize a lighthouse tour or sightseeing boat trip to take in the area's prettiest attractions, including the New London Harbor Light and New London Ledge Light.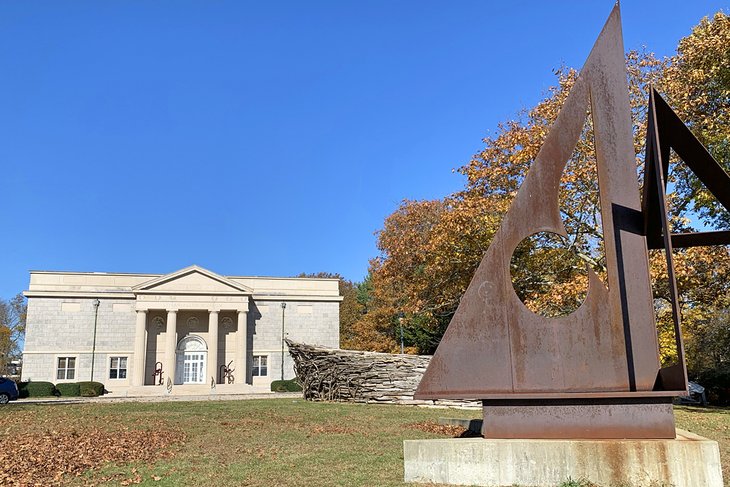 Next, you may want to stop and check out the Lyman Allyn Art Museum, which houses an impressive 15,000 paintings along with sculptures, furniture, and other decorative arts.
After exploring the town and its vibrant and fun Wall to Wall New London Mural Walk, head to the beach for food, games, and fun in the sun. Located midway between New York and Boston, New London also offers the advantage of a side trip to the tip of Long Island.
The Orient Point Ferry leaves from this area for a ride across Long Island Sound and a complete change of scenery. The Holiday Inn New London is a great starting point for exploring this area. Rooms are large, with a refrigerator and microwave, and the facility also has a pool.