Acadia National Park: 16 Top Things to Do
Barbara Radcliffe Rogers and her family have vacationed in Acadia National Park for many years and last explored the park in June, 2021.

The 46,000-acre Acadia National Park is among the most visited national parks in America, and it's easy to see why. The park's mountains, which include the highest on the US Atlantic coast, and its lakes, forests, and cliff-lined coast are filled with things to do. Picturesque little ports offer more attractions and give visitors a wide choice of places to visit.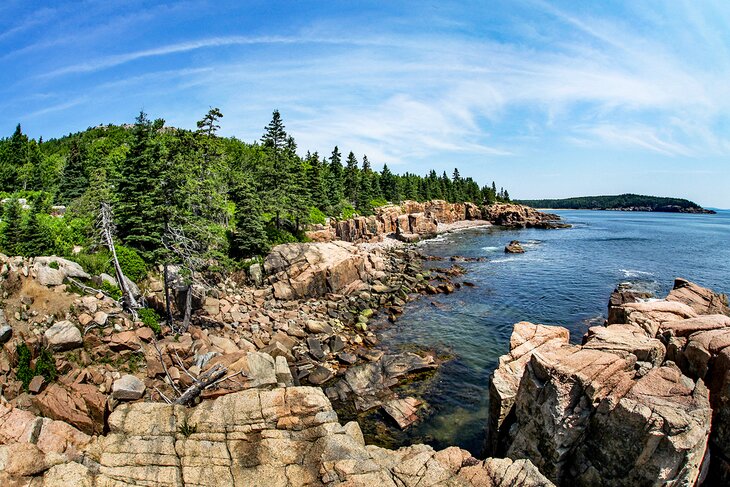 Bar Harbor is the main town, but Bass Harbor, Seal Harbor, Southwest Harbor, and several others are scattered along the shores of Mt. Desert Island. The park extends beyond this to include the Schoodic Peninsula, Isle au Haut, and other outer islands.
Among the things to do on a visit to Acadia are hiking, biking, camping, carriage rides, and seeing the park's many natural features on a car tour or on the handy Island Explorer buses. You'll find restaurants and lodging in hotels, resorts, vacation rental cottages, motels, and cabins in Bar Harbor and other towns outside the park, where you can also rent canoes, kayaks, sailboats, and motorboats and sign up for fishing trips, whale-watching, and nature cruises.
Most park facilities are open from mid-May through mid-October, with July and August seeing the heaviest use. Fall foliage is at its best from the end of September through mid-October.
Whether you're looking for a place to visit with your family or a romantic getaway in the outdoors, you can plan your trip with our list of the top things to do in Acadia National Park.
1. Drive the Park Loop Road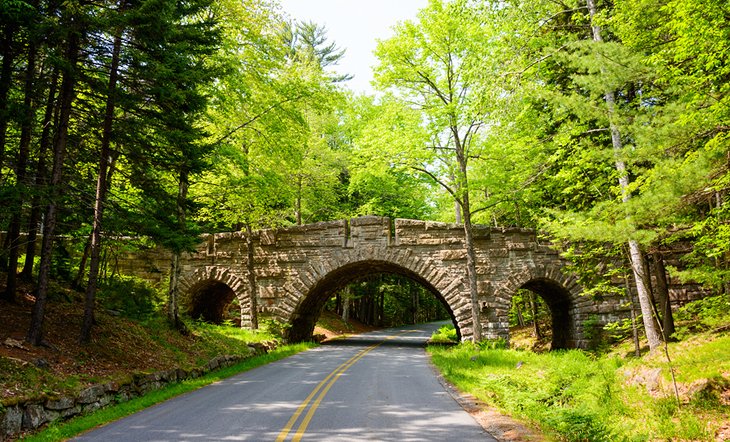 The main drive through the park is the best way to get a full tour of its scenery, attractions, and natural wonders. Plenty of pull-offs along the 27-mile route provide stopping points for photographs, although traffic in these will be heavy in the summer.
Highlights along the coastal part of the route are Great Head, Sand Beach, and Thunder Hole, along with Otter Point and Otter Cliffs, soaring 110 feet above the sea, one of the highest sea cliffs on the East Coast. This is a particularly good place to visit for spotting seabirds. The road is open from mid-April through November, and a small part is open all year. Parts of the route are one-way, so you should plan to do it in a clockwise direction.
Be aware that, to avoid overcrowding in the busiest seasons, the park may require reservations to drive some portions of the loop road. When planning a visit to the park, be sure to check the website for current visitor information, road closures, and other issues that may affect your plans.
2. Bike or Walk the Carriage Roads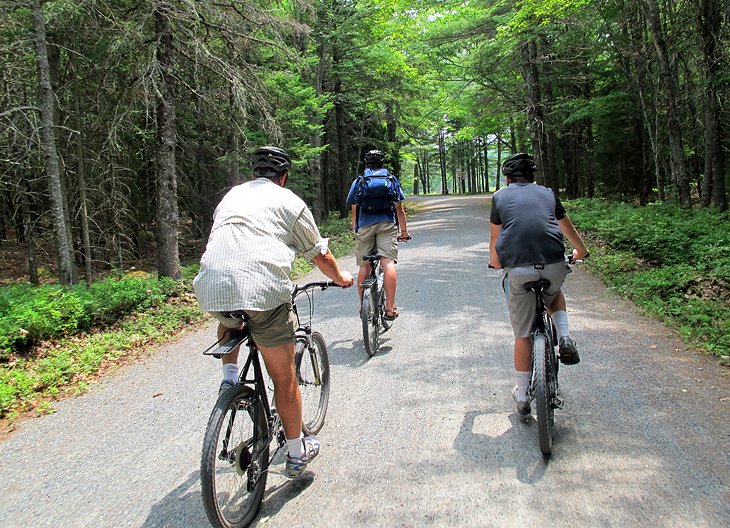 The 57-mile system of rustic vehicle-free carriage roads, 45 of which are inside the national park, were the gift of philanthropist John D. Rockefeller Jr. and his family. A series of beautiful stone arched bridges carry them over the park's automobile roads.
Built between 1913 and 1940, the carriage roads are popular today for walking, bicycling, horseback riding, and carriage rides that bring back the pre-air-conditioning era when Acadia was the summer getaway for wealthy families seeking a respite from the city's heat. The quiet, unpaved lanes are prime places for watching songbirds.
The roads form a series of loops, so you can choose almost any distance and end up where you began. Good access points are Eagle Lake, Jordan Pond, and Bubble Pond, but you may find other access points less crowded than these popular ones. You can rent bicycles in Bar Harbor, Northeast Harbor, or Southwest Harbor.
3. Go to the Summit of Cadillac Mountain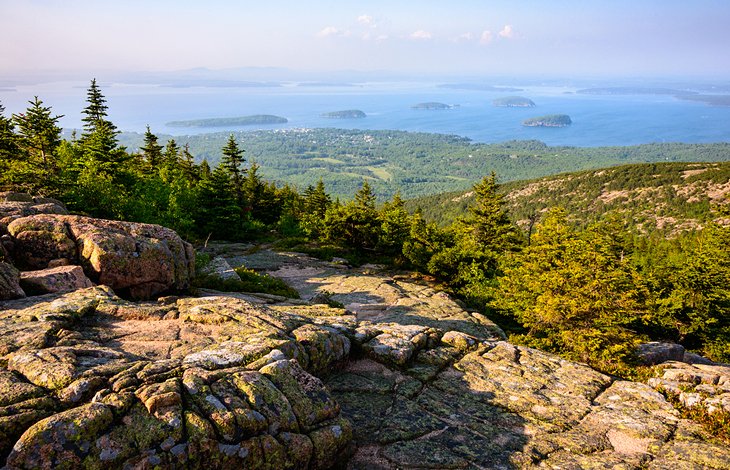 The park's tallest mountain, at 1,530 feet, Cadillac Mountain is also the highest altitude along the East Coast. From its round bald summit, you can see a panorama of Bar Harbor, Frenchman Bay, and a cluster of pine-spiked islands. You won't be alone here in the summer and fall, as the 3.5-mile road winds to the top, and a paved path encircles the summit.
Beginning in 2021, reservations are required to drive up Cadillac Mountain between late May and mid-October, and must be made at least 14 days in advance. Even on days when fewer tourists are visiting this attraction, you cannot show up and get a place. And you must arrive at your reserved time.
This is one place where getting an early start won't guarantee solitude, as it is known for its beautiful sunrises, and from late fall through early spring, it's the first point in the country to see the sun. Sunset is equally popular, and in the fall, the summit is known as a good place to watch hawks.
The road is open 24 hours, and the bald summit is an excellent place to watch for meteors in mid-August.
While you can walk up the road, it's narrow and winding, and the experience is diminished by the steady stream of traffic. Two trails reach the top via either the north or south ridge; the longer South Ridge Trail leaves from the entrance of Blackwoods Campground, a 3.5-mile hike with a succession of good views.
4. Photograph Bass Harbor Head Light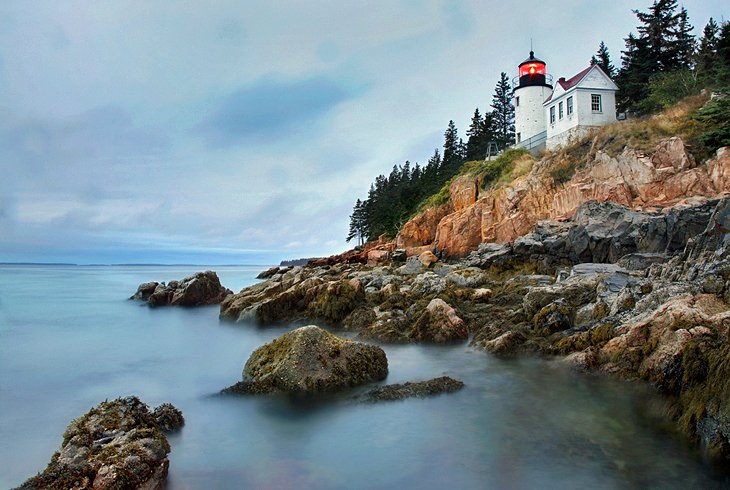 Mount Desert Island's only lighthouse, Bass Harbor Head is also one of Maine's most scenically located. From the end of Lighthouse Road, off Rte 102A, you can walk down the wooden steps for a view of the lighthouse, its 26-foot white tower standing out from the fir trees that surround it on its rocky perch.
You can't visit the lighthouse itself, as it is the residence for the local Coast Guard commander, but from the trails on either side, you get picture-worthy views of the tower and Blue Hills Bay.
5. Visit the Abbe Museum at Sieur de Monts Spring and Wild Gardens of Acadia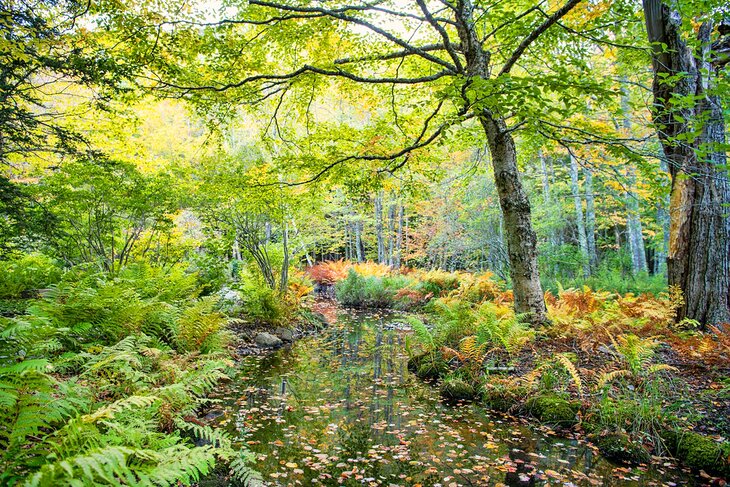 Just outside Bar Harbor at Sieur de Monts Spring, the Abbe Museum displays part of its immense collection of artifacts and art of the Wabanaki, introducing visitors to the Native Americans who have lived in this area for more than 12,000 years.
Exhibits here concentrate on the culture and history through multimedia and interactive displays, as well as objects. A larger part of the collection is displayed at the museum's other location in Bar Harbor, where you'll find outstanding collections of basketry and other ancient and contemporary Wabanaki artifacts and art.
Take time at Sieur de Monts Spring to stroll through the Wild Gardens of Acadia, where pine-needle and stone paths wind through a dozen small gardens, each filled with plants native to different local habitats. More than 400 plant species are represented in just under one acre of well-planned gardens. This is also a good place to see birds.
Address: 49 Seawater Circle, Acadia National Park, Maine
6. Explore the Schoodic Peninsula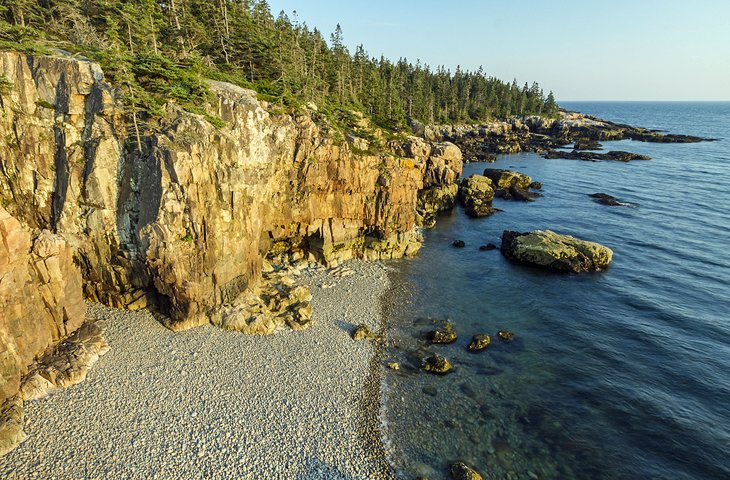 On a separate peninsula north of Mount Desert Island, the scenic Schoodic Peninsula offers coastal cliffs and scenery in a quieter setting than the main part of the park. A six-mile loop road tours the park here, leading past the cleft cliffs at Raven's Nest to rocky Schoodic Point, where the views overlook Mount Desert Island. From Schoodic Head, there are panoramic views towards the Bay of Fundy and the Mount Desert Mountains. RVs are permitted only as far as the small Schoodic Woods Campground.
In the summer, Island Explorer buses travel here and are equipped for bicycles. There are a number of hiking trails, including the moderate 3.2-mile Buck Cove Mountain Trail from Schoodic Woods to the summit of Buck Cove Mountain and on up the north face of Schoodic Head. The easy half-mile Alder Trail leads through some prime bird habitat, and the whole peninsula is a favorite for birders.
Local Tip: On the drive north from Mt. Desert Island to the Schoodic Peninsula, you'll pass close to the Tidal Falls Preserve in the town of Sullivan. It's worth a brief detour to see this "reversing falls," a set of rapids that change direction with the rise and fall of tide. Although not as dramatic as the famous Reversing Falls in Saint John, New Brunswick, this phenomenon is worth a few minutes' detour.
7. Stop at Thunder Hole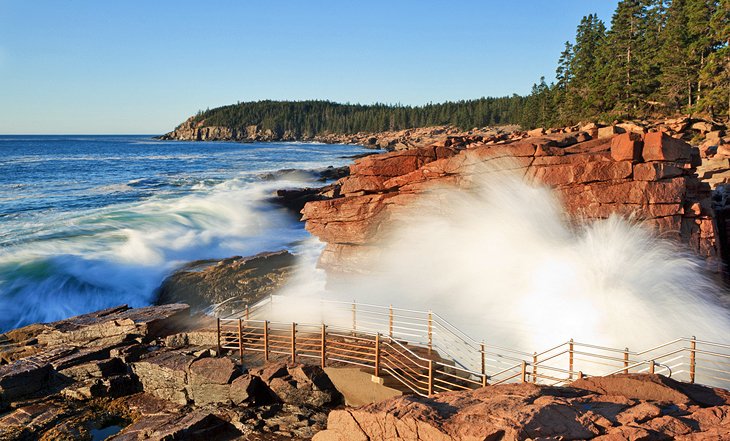 Possibly the most dramatic spot in Acadia National Park is the chasm of Thunder Hole, where a small cave has formed just under the surface of the water. As waves recede, they leave a space for air to enter the cave, so when the next wave crashes into the cleft it collides with the air, forcing it out with a thunderous roar.
When the surf is high, the spray may shoot as high as 40 feet into the air. Thunder Hole is between Great Head and Otter Cliffs, on the most scenic part of the Acadia Coast.
8. Jordan Pond House and Nature Trail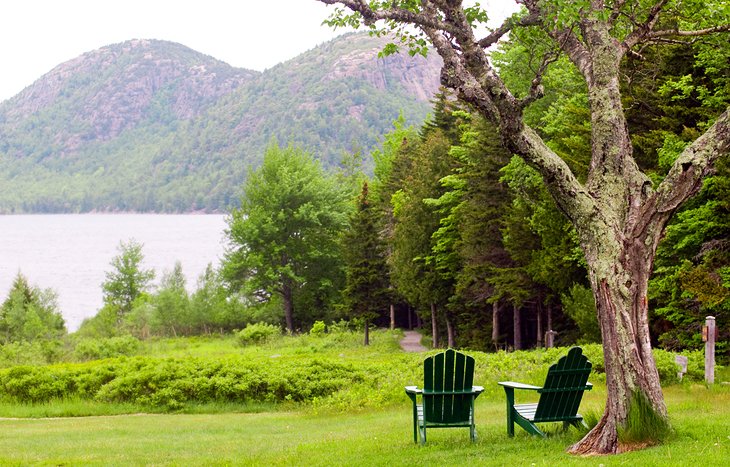 Since its opening in the late 1800s, when visitors arrived by carriage, Jordan Pond House has been serving afternoon tea and popovers on the lawn overlooking Jordan Pond and the rounded mountains known as The Bubbles.
A fire destroyed the original Jordan Pond House in 1979, and the new building that replaced it is a standard park visitor center run by a concessioner. Popovers are still served, but the lawn crowded with tables is not quite the genteel afternoon tea experience of old. But the view over the pond to The Bubbles is still quite lovely. Expect a long wait if you arrive between 11:30am and 4pm without a reservation.
To enjoy this long Acadia tradition, which began in 1893, in a less hectic and more elegant setting, stop at the Asticou Inn, just opposite the beautiful Ascitou Azalea Gardens in Northeast Harbor. The inn owns the Jordan Pond House's original popover recipe, and serves them with wild blueberry jam at well-spaced tables overlooking the gardens and harbor.
The easy Jordan Pond Nature Trail forms a one-mile loop that follows the rocky shoreline of the pond and returns through the woods. The 3.2-mile Jordan Pond Path skirts the shore of this small Maine lake. Both offer good views of the glacially formed pond and mountains.
Acadia's second-largest lake, Jordan Pond is also its deepest and clearest and home to a variety of wildlife, including beavers, frogs, and loons.
Address: Loop Road, Acadia National Park, Maine
Official site: http://acadiajordanpondhouse.com
9. Take a Cruise or Boat Tour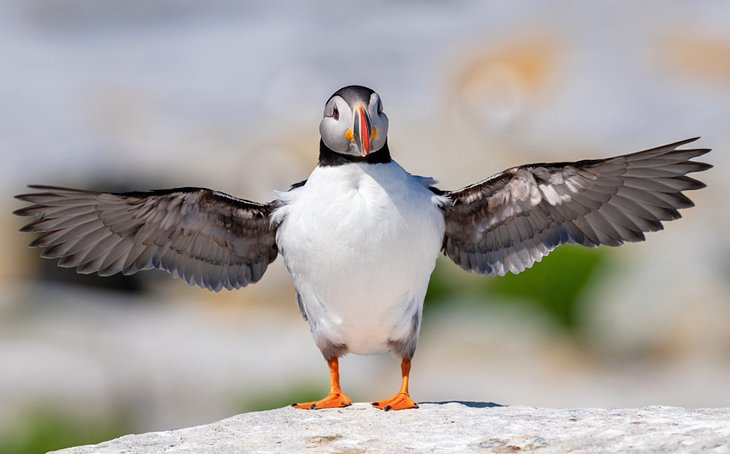 Surrounded by three bays and the Atlantic Ocean, Mt. Desert Island is a perfect base for all manner of sea adventures and boat excursions. Some of the islands that scatter offshore are connected by ferry, and others by day cruises. So there are lots of opportunities for viewing Acadia National Park from the water.
From Bar Harbor, you can board a whale watch (where you're likely to also see dolphins) or puffin cruise or take a nature tour on a motor launch or sail on a Windjammer.
Options from Bass Harbor include lunch cruises that wind through the islands of Blue Hill Bay to the offshore fishing village of Frenchboro, nature cruises with plenty of seal viewing, and ferries to both Frenchboro and Swans Island. You can go deep-sea fishing from Southwest Harbor, cruise to Cranberry Island from Northeast harbor, and sail on a Friendship sloop from either one.
Address: Island Cruises, Bass Harbor, Maine
10. Walk along Ocean Path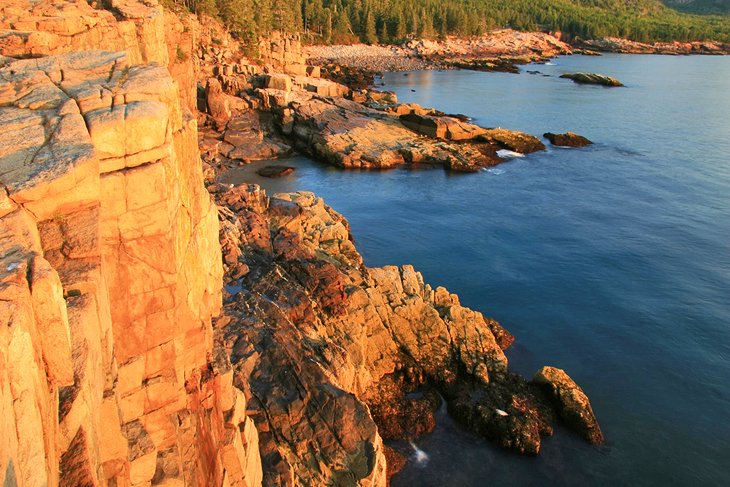 Although it's 4.4 miles long if you walk round-trip, the easy Ocean Path follows a fairly level course along the shore, with several opportunities to catch the free Island Explorer bus back to your starting point.
Beginning from the north, the trailhead is just above the long, white Sand Beach, one of Maine's best beaches, and the trail continues south to Thunder Hole, Monument Cove (named for the sea stack just off shore), and Otter Cliffs, ending at Otter Point.
The portion of the trail from Sand Beach to Thunder Hole is surfaced with packed gravel or concrete, but the rest of the route is a mix of uneven rock and gravel, with stairs where the trail climbs around a cliff. This is not a good trail for children, as it passes some steep drops to the ocean.
11. Moderate Hikes: Beech Mountain and Great Head Trail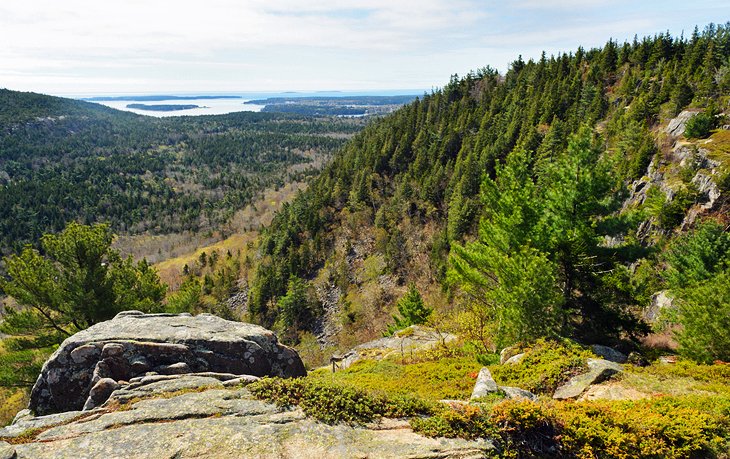 Great Head Trail seems the quintessence of the Maine coast, through an evergreen forest along sea cliffs. There are good views from that elevation, and in September this is a favorite hike for birders to see the migrating hawks and raptors.
The 1.5-mile loop begins at the eastern edge of Sand Beach. The Beech Mountain Trail starts and ends at the Beech Mountain parking lot, forming a 1.1-mile loop. It affords a beautiful view of Long Pond, another of the park's long, narrow glacial lakes.
Read More: Best Things to Do in Maine
12. Challenging Hikes: Beachcroft Path and Beehive Trail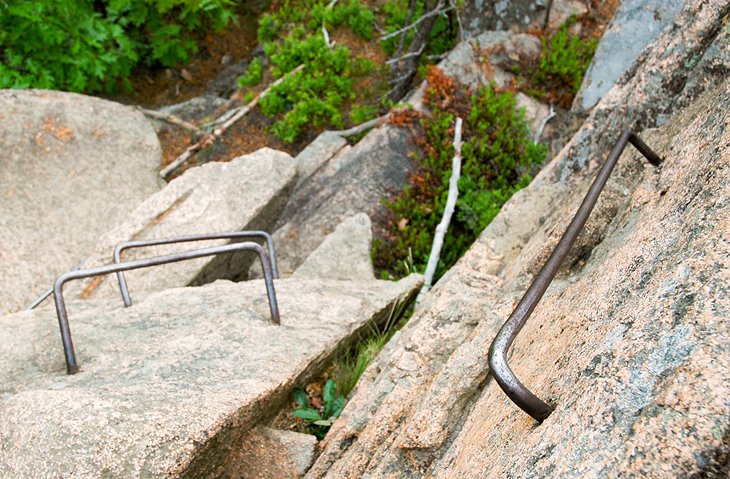 The strenuous Beachcroft Path begins near Sieur de Monts, on Route 3 south of Bar Harbor, and leads to Sand Beach. The rocky, open slopes give beautiful views of the coast, Frenchman Bay, and the outer islands. The path includes a long granite stairway that was built in 1915. The round-trip distance is 2.4 miles, or 4.4 miles if you take the Bear Brook Trail at the summit.
The most challenging is the Beehive Trail, which begins near Sand Beach and follows narrow ledges over sheer drops, requiring the use of iron ladders and rails in the most treacherous parts. This is not a trail for children, inexperienced climbers, or anyone with a fear of heights, and should be undertaken only in dry weather. Take this trail ascending only, as the descent is highly dangerous; descend via The Bowl, a lovely little glacial lake.
13. Go Kayaking, Canoeing, or Sailing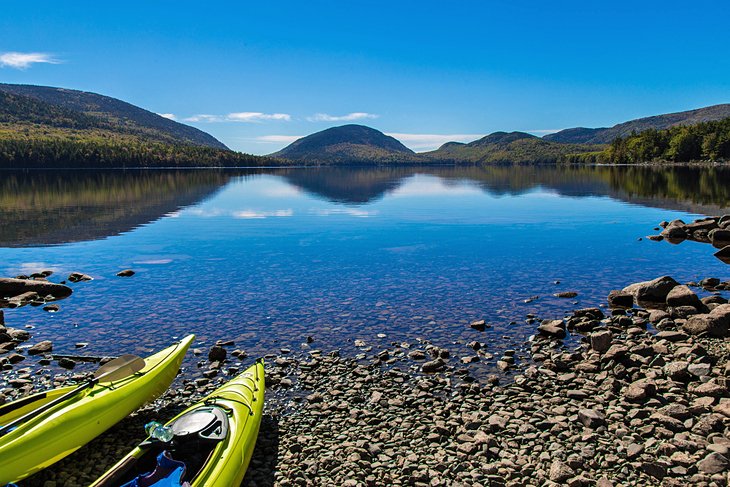 The waters in and around Acadia offer plenty of safe places for paddle sports and sailing. From Bar Harbor, you can take guided eco tours by kayak on the more remote western side of the island, where wildlife sightings are more frequent. All equipment is provided, along with transportation and instructions.
Four-hour guided wildlife excursions from Southwest Harbor take you into Western Bay, Blue Hill Bay, and Somes Sound, with a stop on a remote beach. Shorter cruises in very protected waters are designed for families with children as young as eight years old. For quiet freshwater paddling, you can rent canoes, kayaks, and paddleboards at Long Pond in Sommesville. You can find places to put in your own kayaks at several lakes throughout the park.
At the southern entrance to Somes Sound in Southwest Harbor, Mansell Boat Rentals offers sailboat and motorboat rentals, as well as sailing lessons.
14. Take a Tour to Baker Island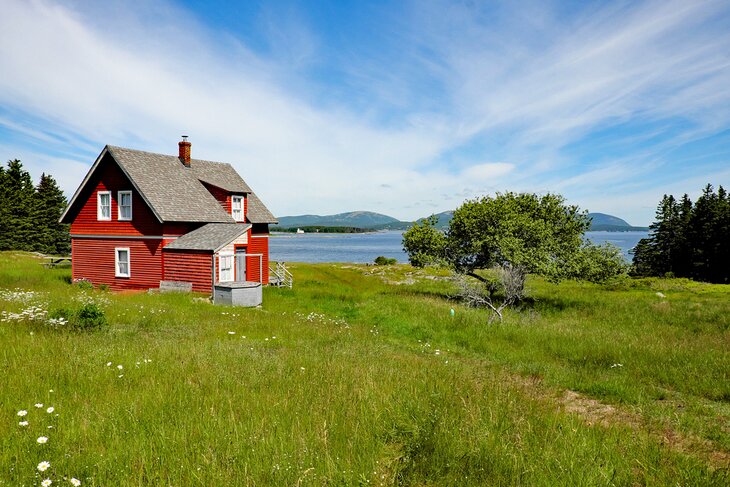 Baker Island, off the southeast shore at the entrance to Frenchman Bay, is part of the National Park and accessed by boat on tours guided by park rangers. The 43-foot-high Baker Island Lighthouse replaces one built in 1828 to warn boats of the dangerous Cranberry Island shoals.
The first keeper was William Gilley, who had moved to the uninhabited island with his family in 1812 and cleared it for a farm. The current lighthouse, which is not open for tours, was built in 1855 and reinforced in brick in 1905. Along with the lighthouse, you can see the remains of the Gilley's farm, which stayed in the family for 123 years.
15. Seawall Campground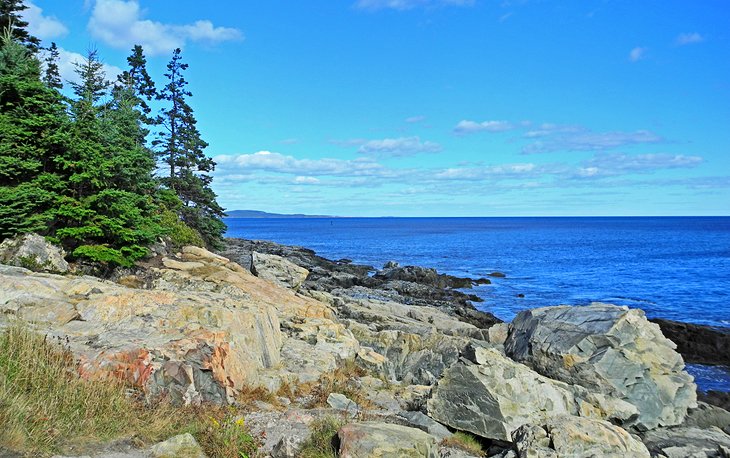 One of only two campgrounds in the national park, Seawall Campground is on the Loop Road just south of Southwest Harbor. It is ideal for families and those who enjoy camping itself, with spacious wooded sites suitable for tents, and a few that can take RVs up to 35 feet long. Each site has a picnic table and metal fire ring, and the campground has flush toilets, running water, and a dump station.
All the campsites are within a 10-minute walk of the shore, and this side of the island has a number of hiking trails. There is an amphitheater for the frequent ranger programs. Regularly scheduled Island Explorer shuttle buses stop at the campground. Some sites can be reserved ahead. To get a campsite without reservations, be in line early, by 8:30am, as campers begin to check out.
Address: Route 102A, Southwest Harbor, Maine
16. Camp at Blackwoods Campground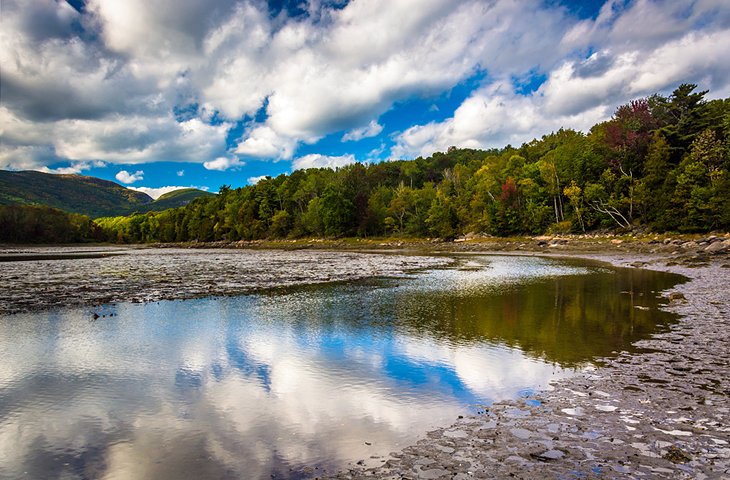 A few miles south of Bar Harbor near Otter Cove, Blackwoods Campground is larger than Seawall and tends to be busier. All of its campsites can be reserved up to six months in advance, so the chance of finding a campsite in high season without a reservation is slim.
All the campsites are in the woods, and most are well-separated. None is more than a 10-minute walk from the sea, and a few can accommodate RVs (but there are no hookups). Each site has a table and fire ring, and the campground has flush toilets, running water, and a dumping station.
Island Explorer shuttle buses stop at the campground. Unlike Seawall, Blackwater is open all year, with hike-in primitive camping available December through March, when the campground road is closed to motor vehicles. Camping is free then, but you must stop at park headquarters for a permit.
Address: Route 3, Seal Harbor, Maine
More Related Articles on PlanetWare.com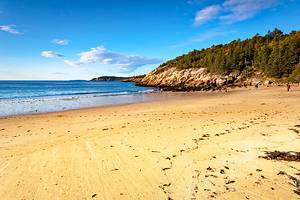 Where to Go in Maine: Acadia National Park is only one of the top places to go in Maine. Along with its picturesque rocky shore are Maine's beautiful sand beaches, and all along the coast, you'll find resorts in every price range.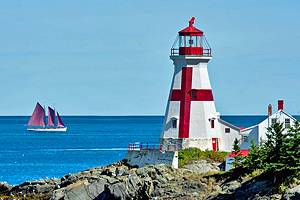 Exploring the Bay of Fundy: Not far north of Acadia, you can cross the border into Canada to see the tourist attractions of New Brunswick and marvel at the natural wonders of the Bay of Fundy.