14 Best Things to Do in Bangor, Maine
Once a rapidly expanding and wealthy center of commerce during the height of Maine's logging industry, Bangor saw some difficult years until it began to re-emerge during the last few decades as a center for the arts and a vibrant cultural hub. Much of this is thanks to the philanthropic efforts of its most famous residents, Tabitha and Stephen King, but the community itself put in the hard work to become the city it is today.
One of the best things about Bangor is that so many of the things to do are free, from the parks and natural attractions, like Mount Hope Cemetery and the Orono Bog Walk, to museums, like the Hose 5 Fire Museum, the Maine Forest and Logging Museum, and the Zillman Art Museum. There are also plenty of things to do for families, like the Cole Transportation Museum, where kids can visit free, and the Maine Discovery Museum.
Learn more about the best places to visit in the city center and beyond, with our list of the top things to do in Bangor, Maine.
1. Tour Stephen King's "Derry"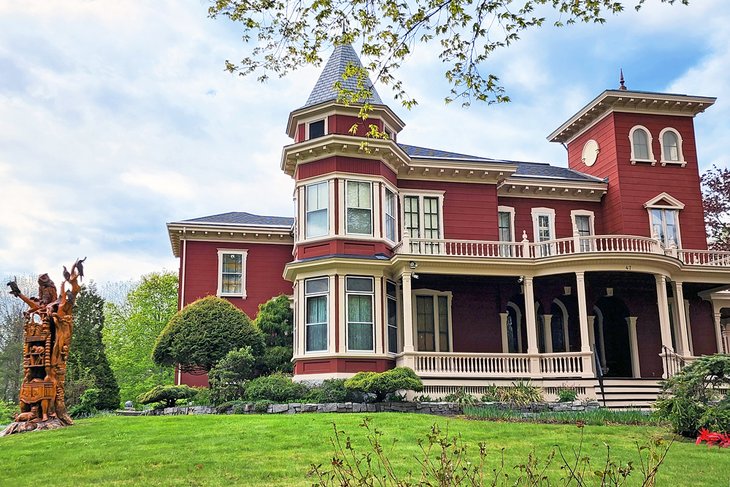 SK Tours is the authority on all things King, and even those not familiar with King's work will learn a great deal about the city and its history while seeing many of the area's top tourist attractions. In several of his books, the city of "Derry," Maine, is a fictionalized version of Bangor that is far more than just a background setting.
The standard group sightseeing tour lasts around three hours and includes visits to numerous King-related sites, including places that inspired characters and events, filming locations for many of his books' movie and television adaptations, as well as several places that are the product of Stephen and Tabitha's philanthropic contributions. Although a well-prepared fan could compile this list and visit each independently, they would be missing out on the most meaningful parts of the tour: the stories.
The tour company is a family-run business in the truest sense, and that family's history has been entwined with the Kings' for generations, adding depth and substance to the tour. In addition to sharing all his inside knowledge about the famous author's writing, inspiration, and the stories that come of it, the guide shares personal stories about Stephen and Tabitha King and how they have given back to their community in astounding ways.
Tour highlights include Mount Hope Cemetery, a constant inspiration for King and the film setting for the original Pet Sematary film, as well as the Thomas Hill Standpipe, the Paul Bunyan Statue, and the Kings' home, with opportunities to stop for photos at each of these sites.
Official site: https://sk-tours.com/
2. Cole Land Transportation Museum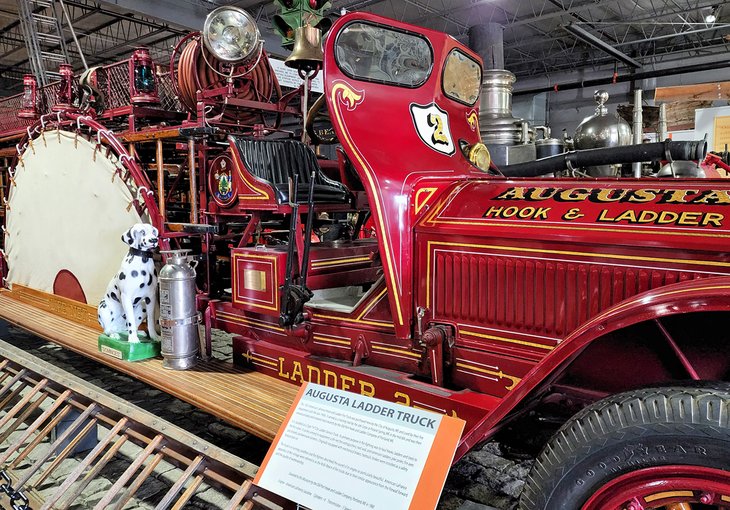 Occupying a full acre of indoor exhibit space, the Cole Land transport museum is the legacy of Albert "Allie" Cole, a Mainer who founded the trucking company Coles Express in 1917. Inside, visitors will find an immense collection of vehicles, as well as exhibits about the supporting industries, including blacksmithing, harness shops, train stations, and many other aspects.
One of the most impressive exhibits includes train cars donated by the Bangor and Aroostook Railroad and the Maine Central Railroad. Located along the rear of the building, the tracks were built and the cars were placed before the structure around them was erected.
Antique and classic car enthusiasts will appreciate the museum's collection of motor vehicles, which has dozens of mint examples, including a 1923 Packard Roadster, a 1931 REO Royale Coupe, and a 1938 Lincoln V-12 Model K. One of the collection's rarest vehicles is a 1913 Stanley Steamer bread truck, one of only two in existence.
Other items on display include early snow management vehicles, from a horse-pulled snow roller through the evolution of the modern plow, historic agricultural equipment, bicycles and tricycles, wagons, motorcycles, fire-fighting vehicles, and, of course, freight trucks from the Cole Express line. There is also a World War II memorial and a selection of military vehicles both indoors and on the grounds.
This museum is a big hit with kids for obvious reasons, but parents love it even more because all visitors age 18 and under enjoy free admission, making it an excellent outing for large families and groups. Volunteer guides are always on standby to give engaging tours, answer questions, and bring life to the exhibits.
Address: 405 Perry Road, Bangor, Maine
Official site: www.colemuseum.org
3. Bring the Kids to the Maine Discovery Museum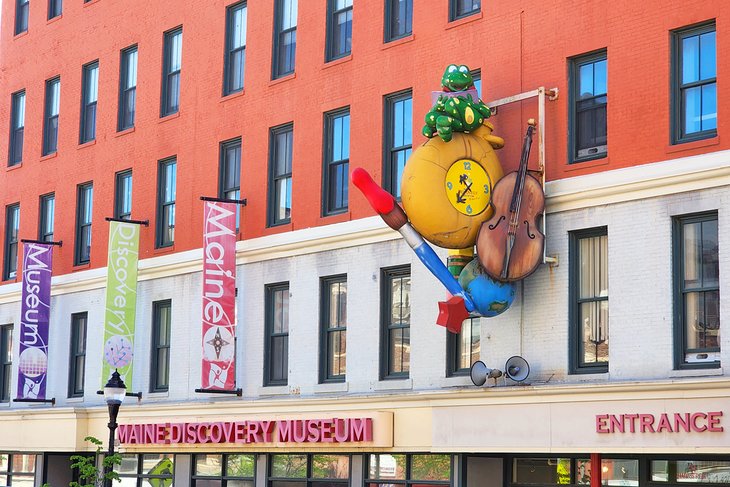 Formerly the Eastern Maine Children's Museum, the Maine Discovery Museum is conveniently located on Main Street in downtown Bangor. It's designed as a place to learn through play. Both kids and their adults will find plenty of things to do among its interactive exhibits and inspiring displays.
Booktown is one of the most popular exhibits, encouraging kids to not only read, but experience stories through costumes, props, and interaction. Artscape is another hub of creativity, featuring an oversized light-bright that's just as popular with parents for its nostalgic appeal. Other areas of the museum include a dinosaur fossil dig site, indoor nature trails, and exploration of the universe.
Address: 74 Main Street, Bangor, Maine
Official site: www.mainediscoverymuseum.org
4. Zillman Art Museum, University of Maine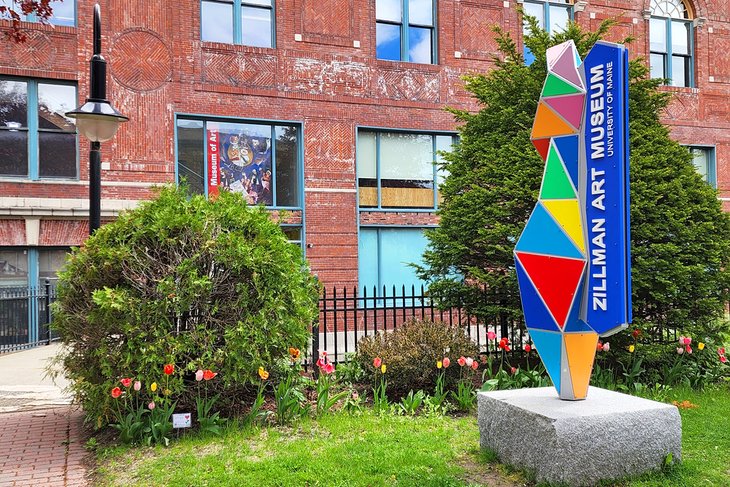 Operated by the University of Maine, the Zillman Museum is primarily focused on modern and contemporary art. The museum's permanent collection contains more than 4,000 pieces, from the early 20th century through present day. Works of art are presented on a rotating basis due to the size of the collection, but among the pieces are works by Pablo Picasso, Andy Warhol, and Winslow Homer.
Changing exhibits highlight the work of different artists, using various media to approach a wide range of topics. There is no admission charge to enjoy the exhibits.
Address: 40 Harlow Street, Bangor, Maine
Official site: zam.umaine.edu
5. The Maine Air Museum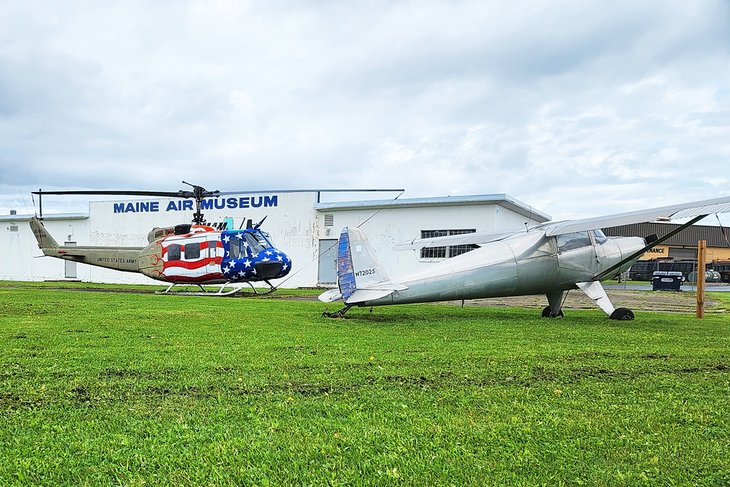 Operated by the Maine Aviation Historical Society, this museum contains a series of exhibits that walk visitors through Maine's contributions to aviation history. From record-breaking Maine aviators to a tour of military crash sites in the state, visitors can see artifacts, original documents, and photos among the collection of historical items.
The museum also offers special talks and events by experts and aviators, including both commercial and military. Located next to the runway at Bangor International Airport, this is a great place to sit and watch the planes thanks to a viewing platform that sits above the fence, giving visitors an unobstructed view.
Address: 98 Maine Avenue, Bangor, Maine
Official site: www.maineairmuseum.com
6. Take a Tour with the Bangor Historical Society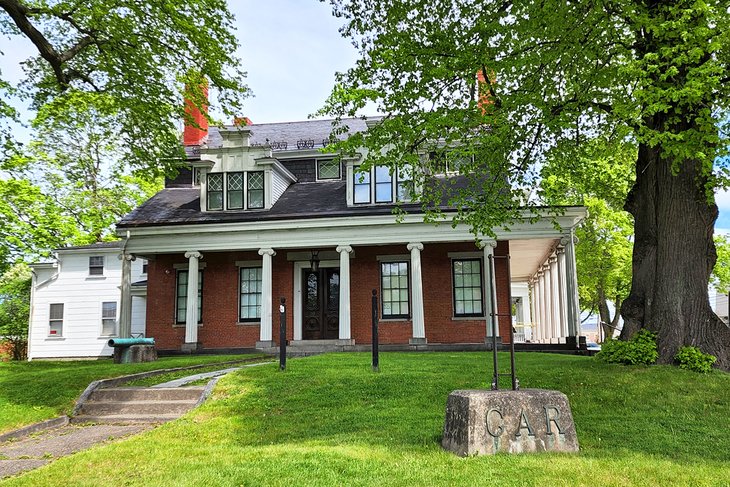 Bangor Historical Society resides in a historic Greek Revival home, built in 1836 for Thomas A. Hill and added to the National Register of Historic Places in 1972. Although the home itself is only open two days a week, the society leads regular walking tours of Bangor's historic sights.
The "Best of Bangor" tour explores the downtown area, visiting the city's most significant sites while the guide explains the history behind Bangor's rise as the heart of the lumber trade, and other major events like the fire of 1911. There is also a tour dedicated specifically to the fire, a devastating event that left a large portion of downtown completely destroyed.
One of the most popular outings is the guided walking tour of Mount Hope Cemetery. During the tour, visitors will learn about not just the cemetery's history, but also the lives and legacies of the cemetery's most famous residents. Each October, they offer after-dark tours of the cemetery that feature some surprising extras.
Address: 159 Union Street, Bangor, Maine
Official site: www.bangorhistoricalsociety.org
7. Explore Mount Hope Cemetery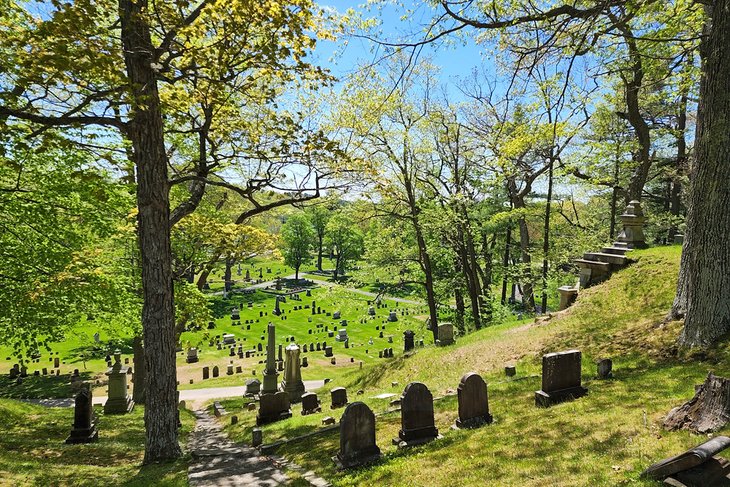 Mount Hope Cemetery is the second-oldest garden cemetery in the United States, designed in 1836 during a time when families would frequently visit the deceased and enjoy the green space as a park for the living. Its rolling hills, towering trees, stone stairways, ponds, and ornamental landscaping create a stunning backdrop for the headstones, from the most simple to the elaborate sculptures atop family plots.
It is also a popular place to visit for Stephen King fans, both as a former site of inspiration for the author, as well as a famous filming location for the writer's cameo in the original Pet Sematary. King once spent a great deal of time here, contemplating and writing, as well as finding inspiration for names and other details from the graves themselves. Visitors can take a self-guided walking tour, or arrange a tour with the Bangor Historical Society.
There are also several memorials throughout the cemetery, including two monuments and a special plot honoring Mainers killed in the Civil War, and a Korean War Memorial. The cemetery has wide, paved walkways that are wheelchair accessible; however, it does cover quite hilly ground; vehicles are allowed in many parts of the grounds.
Address: 1048 State Street, Bangor, Maine
8. Hose 5 Fire Museum
This small but fascinating museum is housed in the city's former fire station, which was built in 1897 and served as an active station for nearly 100 years. Among its most impressive vehicles on display are a 1930 McCann Pumper and a 1939 Seagrave Pumper. The museum has a good selection of historic fire-fighting tools as well, from hand tools to original ladders, brass poles, and hand-drawn hose carts.
Visitors can also look through old station log books and photos, as well as see how the firefighters bunked at the station while on duty.
Admission to the Hose 5 Fire Museum is free.
Address: 247 State Street, Bangor, Maine
9. Enjoy Bangor's Diverse Dining Scene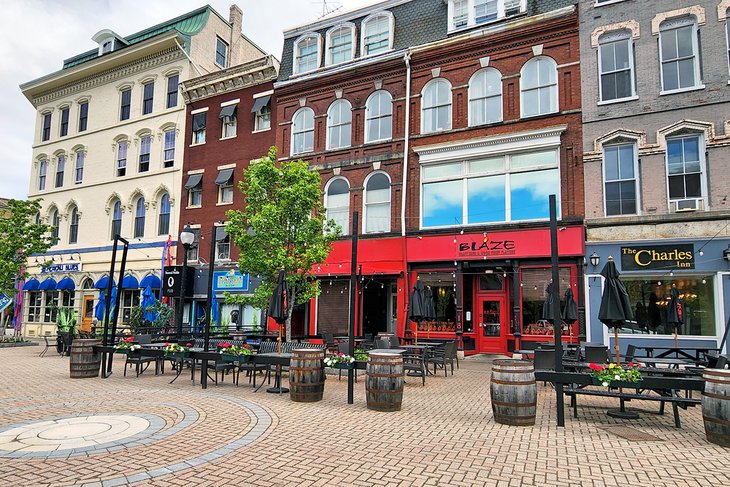 Bangor is home to an incredibly diverse selection of dining options that will please every palate. Just in downtown alone, there are well over a dozen choices for breakfast, lunch, dinner, and a quick meal or snack.
Downtown, tourists will find Blaze Bangor, which specializes in wood-fired pizzas and classic American fare, as well as love Umami Noodle Bar, a "build-your-own" ramen café that elevates this noodle dish to new heights. For a freshly made sandwich or a great latte, The Grind House at the corner of Hammond and Central streets is a perfect midday stop.
Next door to the luxurious The Tarratine Inn on French Street, The Tarratine restaurant offers fine dining in an intimate and upscale atmosphere, featuring a seasonal menu. Visitors will also find several ethnic options right Downtown on Main Street for supper, including Irish-American food, new and creative locally-sourced twists on traditional German dishes, and Thai cuisine.
10. Climb the Thomas Hill Standpipe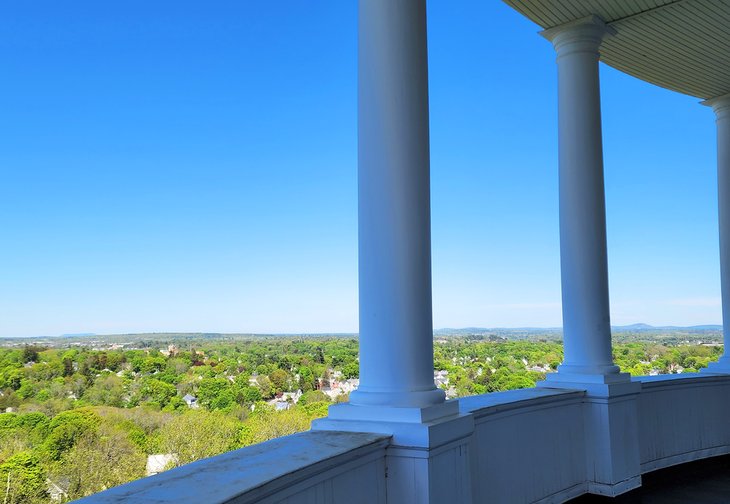 The Thomas Hill Standpipe is an impressive feat of engineering and an attractive historic landmark that still serves the city of Bangor, holding 1.5 million gallons of water. It is particularly unique because it is one of the only remaining water towers that is encompassed in a wooden exterior, a protective shell that surrounds the wrought iron tank and allows workers to access the top easily.
The standpipe is only open to the public four times a year, but if you are lucky enough to be in town when it is, it's well worth the walk up its 100 steps. A wide observation deck provides panoramic views, overlooking downtown Bangor to the south and Blackcap Mountain to the east, and on a clear day, you can see Mount Katahdin 75 miles away to the north.
The standpipe is also a spot associated with Stephen King, and it is said that he did quite a bit of writing while sitting on the bench just below it. The tower also appears in his novel IT.
Address: 41 Thomas Hill Road, Bangor, Maine
11. The Orono Bog Walk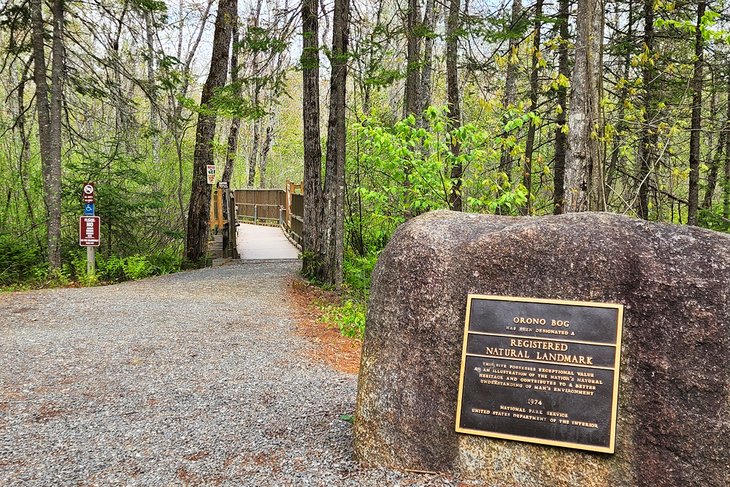 Located at the edge of the Bangor City Forest, the bog walk offers a one-mile accessible boardwalk that loops through a serene wetland forest and the open spaces of peat moss at its center. Visitors can explore on their own with the help of educational stations along the way which highlight the unique flora and fauna of the bog ecosystem. There are also guided tours available, which help visitors get a deeper understanding of the area's ecology.
Tourists can also enjoy the nine-plus miles of hiking trails at the City Forest, open year-round for walking, cycling, snowshoeing, and cross-country skiing. Dogs are permitted in the city forest, but not on the Bog Boardwalk.
Address: 54 Tripp Drive, Bangor, Maine
Official site: https://umaine.edu/oronobogwalk
12. Littlefield Garden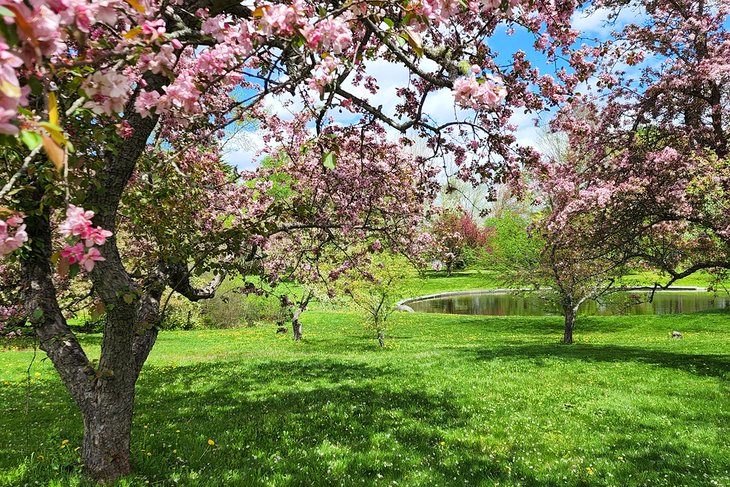 The Lyle E. Littlefield Ornamentals Trial Garden was established in the 1960s as a horticultural research garden by the University of Maine's agricultural department. Today, it is home to a variety of some of the loveliest ornamentals, including magnolias, rhododendrons, nearly 200 lilacs, and over 200 crabapple trees. The garden also features beds of various landscaping plants being tested for cold-hardiness, and there is plenty of wide-open space for settling on a grassy spot to admire the prolific blooms.
Visitors to the campus will need to make a brief stop at Campus Police near the entrance to get a free parking pass for day use, which can be used at lots near all the visitor attractions.
Address: University of Maine Campus, 168 College Avenue, Orono, Maine
Official site: https://umaine.edu/littlefieldgarden
13. Page Farm and Home Museum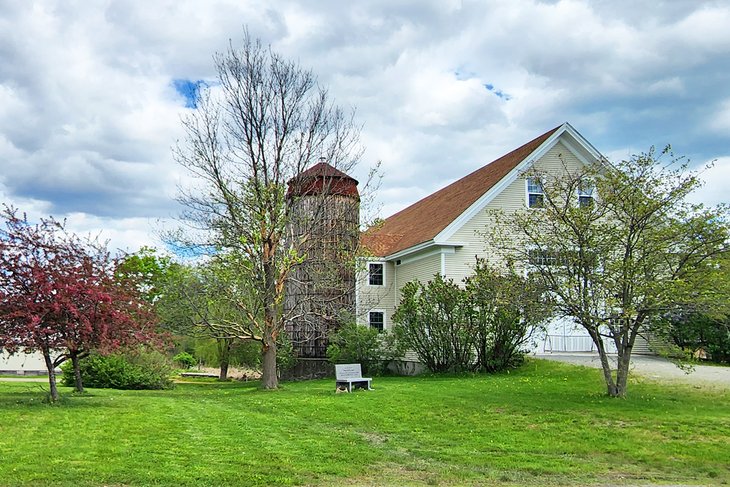 Located on the University of Maine campus in Orono, this museum is dedicated to preserving the history of Maine's farming industry. The museum consists of several buildings, including an 1833 post-and-beam barn that was once part of the school's original agricultural program. There is also a one-room schoolhouse, which was relocated from Holden, the Chute Schoolhouse, as well as a blacksmith shop and the Winston E. Pullen Carriage House.
The site also includes a heritage garden featuring heirloom varieties of vegetables and herbs that would have been grown on a Maine farm in the latter half of the 19th century and early 20th century. The museum also hosts special events throughout the year.
Address: University of Maine Campus, 168 College Avenue, Orono, Maine
Official site: https://umaine.edu/pagefarm
14. Maine Forest and Logging Museum, Leonard's Mills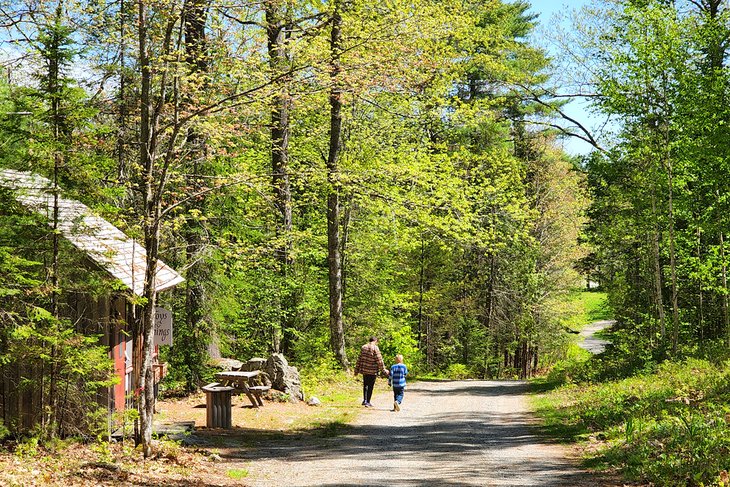 The Maine Forest and Logging Museum at Leonard's Mills is a short drive from Bangor, but well worth a visit for anyone interested in the early days of the state's logging industry. Visitors can stroll the property to see a water-powered sawmill; a blacksmith shop; and authentic equipment like steam-powered log haulers, cabins, a covered bridge, and many other historic structures.
The grounds are open to explore every day during daylight hours, and on Tuesdays there are volunteers demonstrating the equipment and answering questions. There are also many special events throughout the year where visitors can learn about daily life and other aspects of life in the 18th and 19th centuries.
Special events include Children's Days with wagon rides and hands-on activities for younger visitors, colonial re-enactment days, Log Hauler's Days, and Living History Days in the fall that feature fresh-pressed cider and other harvest time goodies. There are also designated "Alewife Days" in May each year to watch the fish swim upstream.
Address: 262 Government Road, Bradley, Maine
Official site: www.maineforestandloggingmuseum.org
Map of Things to Do in Bangor, Maine
Bangor, ME - Climate Chart
Average minimum and maximum temperatures for Bangor, ME in °C
J
F
M
A
M
J
J
A
S
O
N
D

-2

-13

-1

-11

4

-6

12

1

18

7

23

12

27

15

26

14

21

9

14

3

7

-2

1

-9

PlanetWare.com
Average monthly precipitation totals for Bangor, ME in mm.

85

65

87

84

86

87

82

76

86

88

94

85