8 Top-Rated Weekend Getaways in Maine
We may earn a commission from affiliate links ()
The northernmost state in the east, Maine is a magical place to visit. From the small fishing villages that speckle the thousands of miles of coastline to the dense, wooded forests that make up the heart of the state, Maine holds something special for each and every visitor. In between the rocky outcroppings, tourists can find close to 70 miles of sandy shores.
Hikers will be drawn to the peaks of Acadia National Park, where nature shines in all its glory. You'll also find some of the best seafood in the country, here. Start planning your next adventure in the Pine Tree state with our list of the top weekend getaways in Maine.
Note: Some businesses may be temporarily closed due to recent global health and safety issues.
1. Portland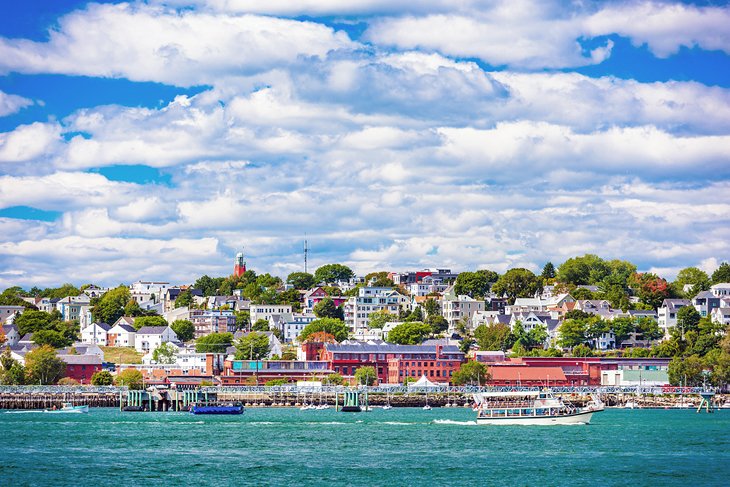 The most populated city in Maine, Portland is a great place to visit for a couples or girlfriends getaway. Depending on what you are interested in, Portland has a little something for everyone. Art lovers should head to the Portland Museum of Art, where an impressive number of artworks from both local and international artists is on display. Another must-see is the Victoria Mansion, an 1800s-era mansion with a remarkable period interior.
Take a walk down by the "Old Port," a neighborhood on the waterfront where there are plenty of shops and restaurants from which to choose. Portland's chefs have won numerous awards, and the city has become quite a destination for foodies. Restaurants reflect a global influence, making dishes from around the world available depending on your taste buds. One thing is certain, you won't go hungry in this seaside town.
Outside the city center, excursions to the Casco Bay Islands or Cape Elizabeth are worthy of additional time – ferries and tour cruises depart from the Maine State Pier located at the end of Franklin Street. The Hilton Garden Inn Portland Downtown Waterfront is located just steps from the pier, offering top-rate lodgings with a full range of amenities including a heated indoor pool, self-serve laundry, and an on-site convenience store. The Best Western Merry Manor Inn is an affordable option located in south Portland, convenient to Sunset Park and the Maine Turnpike.
2. Rockland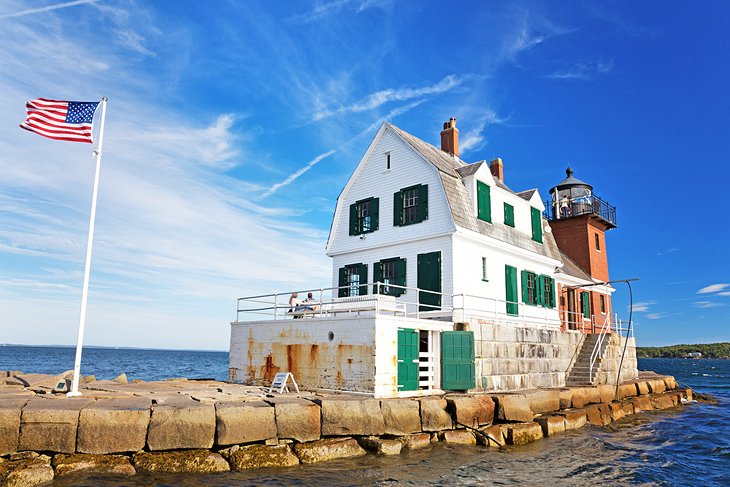 Craving a low-key art-oriented getaway? Rockland is a great choice. You will feel like a local traveling to this small, friendly seaside community. It boasts coastal views, historic architecture, and traditional New England charm. Rockland has long been a draw for artists, who are attracted to its scenic beauty and magical light. Local artists are featured in the many galleries. The Farnsworth Museum has a collection celebrating Maine's role in American art. Additionally, the Center for Maine Contemporary Art often hosts interactive exhibits, and the Coastal Children's Museum is super for families.
No trip to Maine is complete without a visit to a lighthouse, and Rockland doesn't disappoint. Many are now privately owned, but if you take a trip to the Maine Lighthouse Museum, you can get up close and personal and get a history of these amazing structures, which dot the Maine coast. For the best views in town a stay at 250 Main Hotel is a must. This boutique charmer has nautical accents and a rooftop with a killer panorama of the waterfront. Rockland is approximately a two-hour drive from Boston.
3. Bangor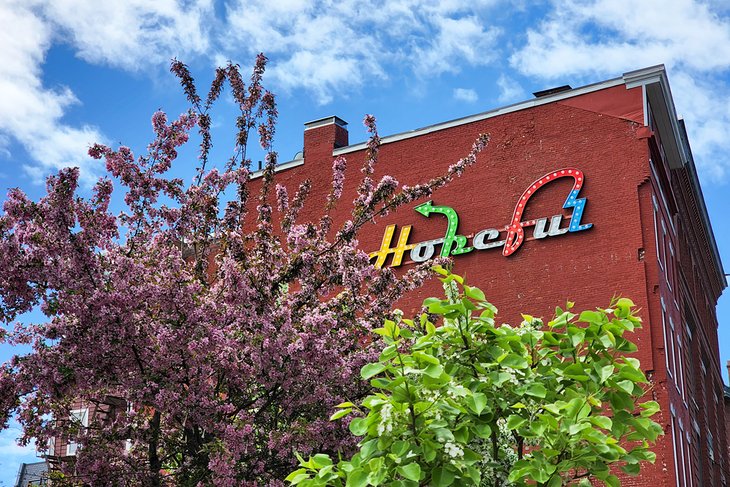 This quirky town is a popular tourist destination and makes for a unique weekend getaway for a hip couple or solo traveler. While you are here, visit the Cole Land Transportation Museum, with an interesting range of vehicles from Maine's history on display, from antique fire trucks to logging vehicles. Head down to the Orono Bog Boardwalk for a mile-long walk through the bogs, where you can get in some quality bird and wildlife watching in a beautiful, remote setting.
If you have a chance, catch a concert at the Darling's Waterfront Pavilion, a unique outdoor concert arena. To top off your stay, don't forget to grab a selfie with the 31-foot Paul Bunyan statue, a nod to Bangor's history in the lumber industry or get a ticket for a tour to see all of the Stephen King-related sites in Bangor.
Residence Inn Bangor is an excellent accommodation option for those who want to be centrally located and enjoy spacious rooms with fully equipped kitchenettes. The hotel is also pet friendly and offers an indoor heated pool. The Hampton Inn Bangor is an affordable mid-range option, which offers a complimentary shuttle to take guests to different spots in the city, as well as an indoor pool, hot tub, and fitness center.
4. Kennebunkport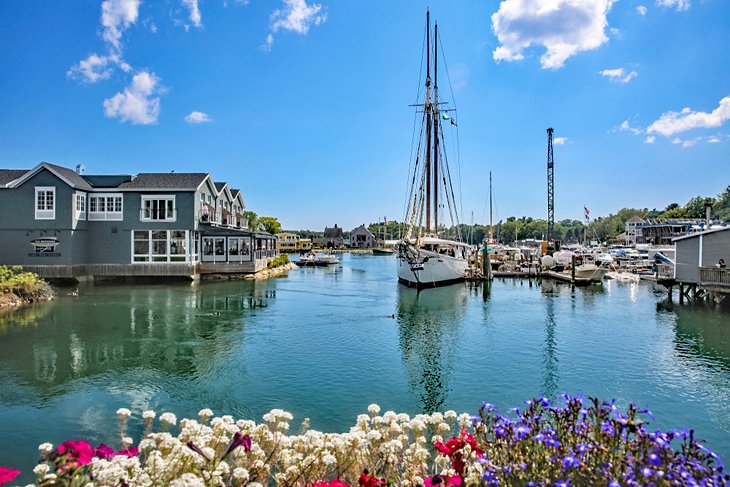 Kennebunkport has long been a vacation spot for both Maine residents, as well as visiting tourists. Made famous as the summer home to the Bush compound, this area is a favorite for its beautiful sandy beaches and the opportunity to view a few of Maine's prized lighthouses. The Kennebunks, as it is fondly called, is busy in the summer months, as tourists flock here from all over New England.
While the initial draw is the ocean, don't miss a ride on the Intown Trolley Tour for a history lesson and sightseeing. If you have too much sun, escape the heat and head down to Dock Square. Spend some time walking through some of the eclectic shops and grab a bite to eat at their restaurants, ranging from casual fare to tablecloth fancy, all featuring local seafood in one recipe or another. There are many events and festivals throughout the year, making this area a great destination year-round.
The Kennebunks are renowned for their fantastic bed-and-breakfast accommodations. Combining history and charm, the 1802 House Bed and Breakfast Inn is among the best. This adults-only lodging offers well-appointed guest rooms with private baths, some furnished with fireplaces or spa tubs. For a luxurious family getaway, try the Nonantum Resort, a full-service resort that offers a wide range of amenities, services, and activities, as well as fine dining and an excellent location near Dock Square.
5. Bar Harbor, Acadia National Park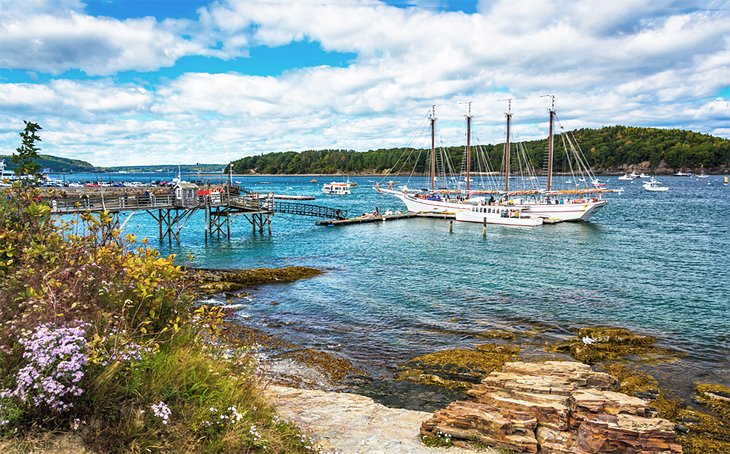 Bar Harbor is a beautiful destination on Mount Desert Island. Small-town charm shines in this gateway to Acadia National Park. The granite and spruce islands of the park make it a top selection for visitors who love the outdoors. In addition to amazing hiking trails, on a clear day scenic views can reach into Canada.
Bar Harbor itself is filled with a rich nautical history and colorful scenery. Artists settle here and have a myriad of options for inspiration. You'll also find a variety of good restaurants to suit all palates. Bar Harbor is a five-hour drive from Boston or a flight into Bangor International Airport 50 miles away.
The Holiday Inn Resort Bar Harbor offers a pool and free Wi-Fi along with a breakfast buffet and Frenchman's Bay views. Kimball Terrace Inn is good value for families, quietly removed from the crowds of Bar Harbor.
6. Camden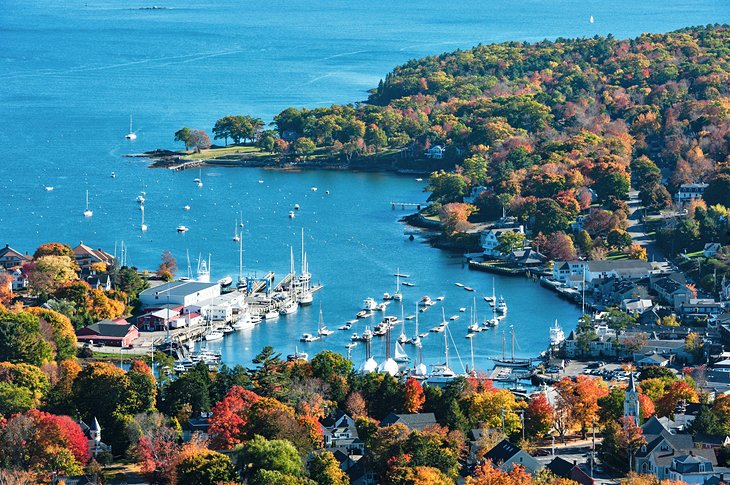 Outdoor enthusiasts will love a weekend getaway to Camden. This area offers year round entertainment and caters to those who love the mountains in combination with the sea. Small boutiques, antique shops, galleries and world-class restaurants are found in abundance downtown.
Just outside of town are attractions that connect with nature lovers like Camden Hills State Park. There you can hike over 30 miles of trails. Don't forget to hike to the top of Maiden's Cliff to get a picture-perfect Instagram shot of the Maine countryside and the lake. If watersports is more your speed, Camden has sailing and paddle boarding. The big draw to Camden is the beach. For those wanting an escape from the summer beach crowds, try sunbathing at Barrett's Cove, a freshwater beach on Megunticook Lake instead.
Tourists looking for an elegant high-end waterfront accommodation will enjoy the Grand Harbor Inn, a pet-friendly lodging located on Bay View Landing within just a few minutes' walk of several excellent restaurants, shops, and top attractions.
7. Boothbay Harbor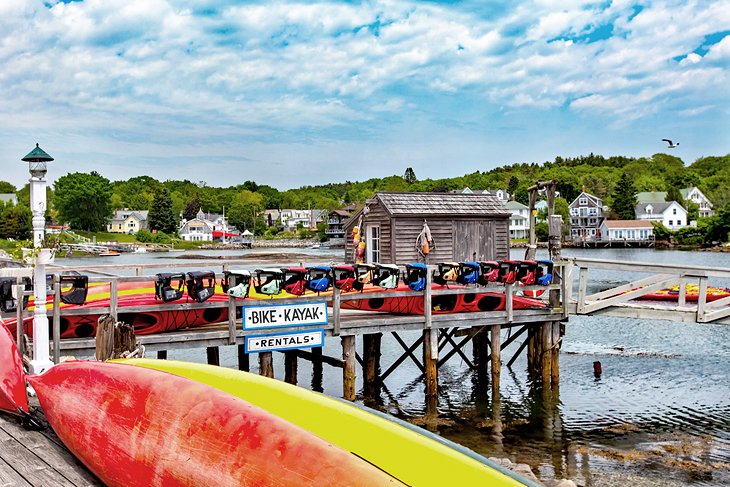 Boothbay Harbor is one of Maine's favorite destinations. You can easily get lost in its beauty and charm and want to stay more than just a weekend. Often called the boating capital of New England, this town revolves around water sports and a rich maritime history. Adventure seekers will appreciate some of the best sea kayaking in New England. From the harbor, more than twenty boat tours leave from the marina every day.
Families will have fun visiting the Coastal Maine Botanical Gardens or the Maine State Aquarium. Because this area is rich in history, there are a few historical sites to check out, like the Opera House or the Boothbay Railway Village, which houses antique cars and train memorabilia. While you are visiting, spend some time browsing the quaint shops. Try a dish from any one of the amazing seafood spots.
Stay at a classic New England Resort at the award-winning Spruce Point Inn Resort and Spa. A saltwater pool, hiking trails, and a multitude of games are all available for the outdoor enthusiast.
8. Eastport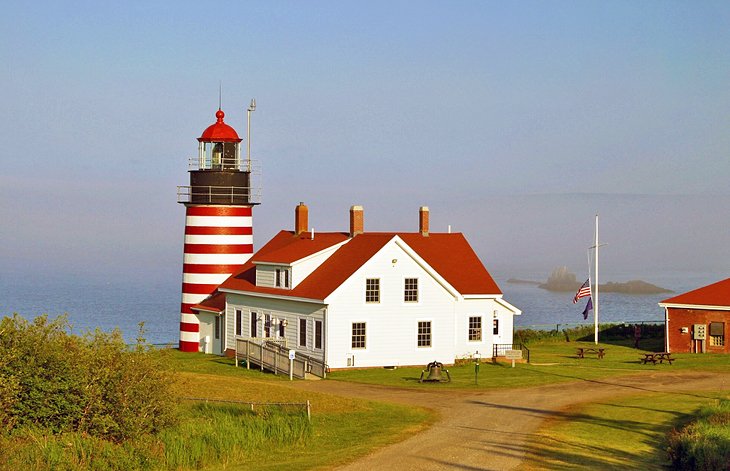 Eastport is the easternmost city in the United States and the perfect backdrop for a quiet, peaceful Maine getaway. This small town, with only 1,100 residents, is far less crowded than some of the other popular Maine destinations. What it lacks in people, it makes up for in charm. Take in the sights and relax at Passamaquoddy Bay. This picturesque bay is a great place to whale watch, birdwatch, and catch a glimpse of a dolphin or two as they swim by.
No Eastport getaway is complete without a trip to Quoddy Head State Park, where you can get a glimpse of the Quoddy Head Light, in existence since the early 1800s. The quiet downtown in Eastport is perfect for taking a leisurely stroll through the shops, restaurants, or just taking in the sights. Grab a fishing pole and join the many fishermen, who line the waterfront or just people watch. After a quiet weekend in Eastport, you will feel rested and recharged and wanting to come back for more.
Bring your passports and venture into New Brunswick, Canada to stay nearby at The Algonquin Resort St. Andrews by-the-Sea, a member of the Autograph Collection of hotels. This legendary historic resort is worthy of a trip to the Eastport area, with many luxury amenities for guests.