4 Top-Rated Ski Resorts in Maine, 2023
Maine's location at the northern tip of New England assures that there will be plenty of snow, but its distance from population centers has limited the number of ski resorts. Simply put, for many city dwellers, it's easier to get to the slopes of New Hampshire and Vermont.
Skiing in Maine makes up for quantity with quality: three world-class ski resorts and one of the sweetest small mountains in the east, with ocean views as a bonus.
Each mountain and its surrounding resort has its own personality and character, a combination of the mountain and its facilities and the clientele that frequents it. Of course, snow quality and grooming are paramount, along with the trails and terrain.
Some mountains appeal to experts for their challenging steeps and glades, others to families for their learning programs and beginner-friendly slopes. Off-slope and après-ski activities and nightlife are a draw for some skiers, those whose day doesn't end when the lifts close.
The ranking here is governed by all these factors and more, considering not only the skiing, but also the quality of the winter vacation experience for skiers in all skill ranges. Explore the possibilities for winter fun with our list of the best ski resorts in Maine.
1. Sugarloaf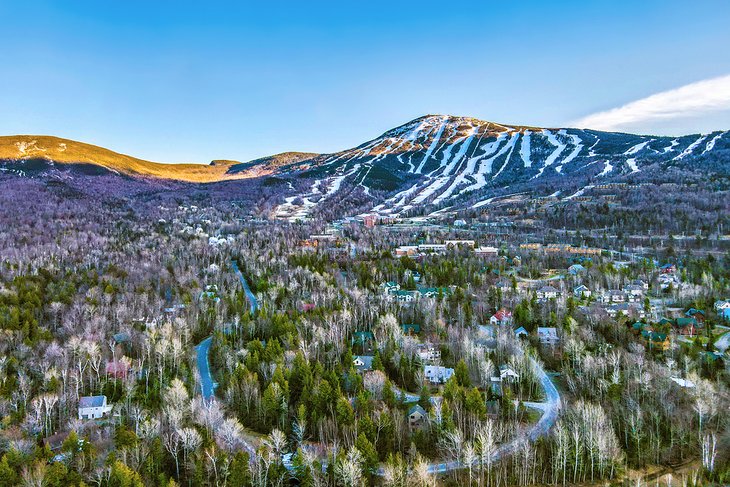 Sugarloaf's remote setting in northern Maine, a four-hour drive from either Boston or Montreal, doesn't deter avid skiers who are willing to travel in order to ski on the 200 feet of snow that falls annually - and lasts into May.
Once here, skiers have access to the second-largest ski area in the East, and its only mountain with lift-served snowfields above the tree line, a rare chance for experts to ski in high-open terrain above the timberline. With 1,240 skiable acres and nearly 3,000 feet of continuous vertical, you can expect a lot of diverse ski experiences.
About half the terrain is covered by snowmaking; the longest of the resort's 161 trails is a 3.5-mile cruiser from the summit. Experts can book private cat tours of the more remote Eastern Territory on weekends, and boarders will find six terrain parks.
The new West Mountain Express, a high-speed six-person detachable chairlift with a capacity of 2,400 skiers per hour, has been completed in time for this season. A new T-bar lift on the competition hill also increases capacity there to 800 per hour.
Despite its distance from any city – or perhaps because of it – Sugarloaf has an active off-slope life, with lodging, dining, shopping, and other resort facilities at the base, as well as an Outdoor Center with skating, snowshoeing, and cross-country skiing on 90 kilometers of trails, groomed for both classic and skate skiing.
In the heart of the base village and steps from the ski lifts, Sugarloaf Mountain Hotel has contemporary rooms and a 30-person outdoor hot tub with views of the mountains. Fifteen miles from the mountain, the Herbert Grand Hotel in the attractive town of Kingfield offers charming and budget-friendly rooms in a century-old inn that's on the National Register of Historic Places.
Address: 5092 Access Road, Carrabassett Valley, Maine
Official site: https://www.sugarloaf.com
2. Sunday River Resort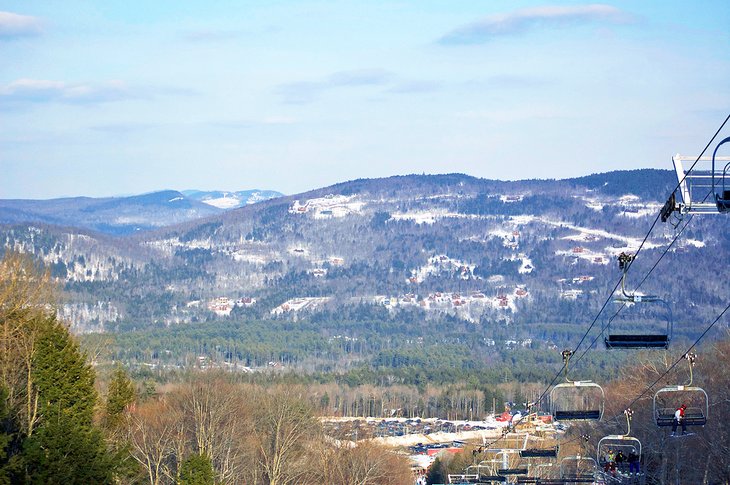 A total of eight separate peaks served by 18 lifts, and a vertical drop of 2,340 feet make Sunday River the sixth largest ski resort in New England and Maine's second largest. Its 135 trails and 300 acres of tree skiing spread over 870 skiable acres.
Trails on six of the eight peaks can be accessed from the Chondola, a hybrid lift that alternates enclosed gondola cars with six-pack open chairs, for the ride from South Ridge base to North Peak. Skiers have the choice of removing their skis to ride inside, and non-skiers can ride for views across the White Mountains or lunch at the Peak Lodge.
The Chondola is a good place for beginning skiers to get a feel for the mountain, as are the trails accessed from the South Ridge Express. North Peak also has the resort's terrain parks and superpipe. Jordan is also good for family skiing, with long cruisers, such as the green-rated Lollapalooza, and some glades for more experienced skiers.
Spruce Peak has eight cruising trails that are good for intermediates, as does Barker Mountain, the main central point of the resort. Barker offers something for everyone with a widely varied terrain, with Right Stuff for experts and the double-black Agony trail.
More tough challenges are on White Cap, whose 23 trails are served by three lifts. This is where you can drop straight down the fall-line on Sunday River's signature double-diamond White Heat. The eight peaks offer different experiences, although getting from one to the other is not always direct.
Scheduled to open for the 2022-2023 season, the Jordan 8 is one of the most technologically advanced chairlifts in North America. The Doppelmayr lift seats eight skiers who are protected by weather-blocking bubbles, and will access terrain on Jordan Bowl. The former Jordan Bowl Express will be refurbished and rebuilt on Barker Mountain, replacing the Barker Mountain Express for the 2023-2024 season.
Twilight skiing is offered on South Ridge and North Peak on weekends and holidays. Other winter activities at Sunday River include ice-skating, ski biking, Nordic skiing, and snow tubing.
For a break from ice and snow, there's a theater, bowling, a spa, and après-ski activities. Both the Jordan Hotel and Conference Center and the Grand Summit Hotel and Conference Center are right at the foot of the resort, with modern rooms and suites well designed for families.
Address: 15 South Ridge Road, Newry, Maine
Official site: https://www.sundayriver.com/
3. Saddleback Mountain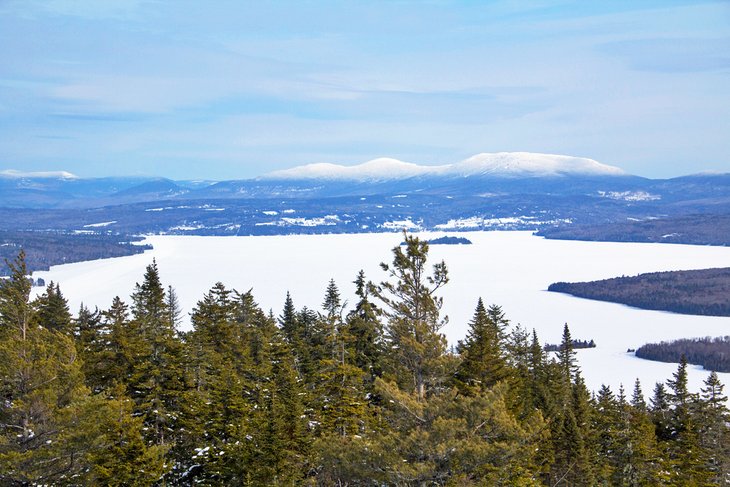 Following a five-year closure, Saddleback reopened in the winter of 2020/2021, with freshly renovated base lodge facilities and a new high-speed quad chairlift that takes only four minutes to reach the 4,120-foot summit. Longtime fans of this resort in Maine's Rangeley Lakes region were delighted to have their favorite mountain back and better than ever.
Saddleback's 2,000-foot vertical drop and steep terrain along the ridge make it a favorite for expert skiers, with an entire section devoted to advanced terrain; the Muleskinner trail and Casablanca glades are highlights for any expert skier.
Saddleback's capacity was improved again this season with the addition of the Sandy Quad, a 2,000-foot, four-person chairlift that transports 1,800 skiers per hour.
Saddleback has the highest base elevation of any ski area in New England, with 225 inches of annual snowfall. That elevation and snowpack, in concert with expert grooming and snowmaking that covers 85 percent of the terrain, keeps the steeps, chutes, and deep-powder glades in top condition for experts.
A second lodge, constructed in 2021, is located at the top of the Rangeley Quad, with sweeping views over frozen Rangeley Lake. The lodge, like every other improvement at the resort, is designed with concern for its environmental impact; a solar farm is designed to address the expanding resort's energy needs.
Several lodging options are available in the town of Rangeley, 15 miles from the mountain. The newly renovated Rangeley Saddleback Inn has family-sized rooms, an indoor pool, and a restaurant.
For a taste of Rangeley's past preeminence as a 19th-century summer resort, stay at the beautifully restored landmark, The Rangeley Inn. Several restaurants are less than five minutes' walk from the lakeside hotel.
Address: 976 Saddleback Mountain Road, Rangeley, Maine
Official site: https://www.saddlebackmaine.com
4. Camden Snow Bowl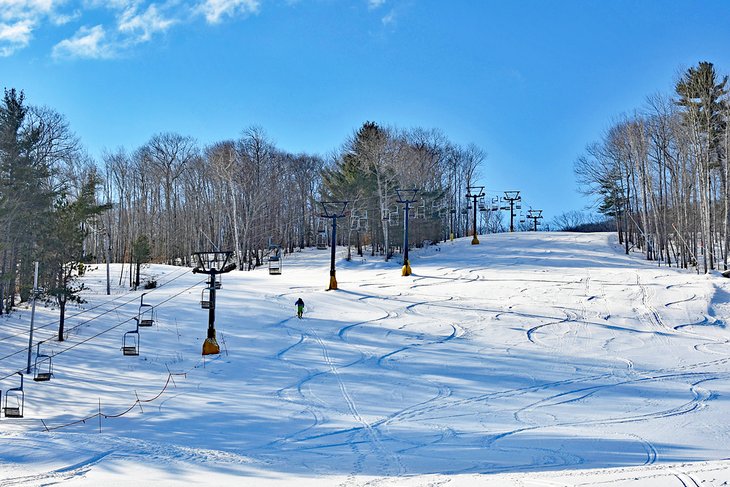 Of the dozens of small local ski mountains in Maine, one stands out for its hometown flavor and its two unusual attractions. What makes this mountain a landmark for New England skiers is its location, less than five miles from Penobscot Bay. Camden Snow Bowl is the only ski mountain in the East with ocean views from its trails.
Few winter sports enthusiasts can resist the second unusual feature of this mountain, a hair-raising ride down the 400-foot toboggan chute, which hosts the U.S. National Toboggan Championships each year. As much a winter carnival as a competitive event, the 2022 Championships are scheduled for February 11-13.
The toboggan chute, built in 1936 by volunteers and rebuilt in 1990, is a wooden trough, flooded and frozen, that ends with a long runoff across a pond at its base. The same 1936 volunteers built the lodge and ski runs, making this one of New England's earliest ski hills.
The Camden Snow Bowl is owned by the town, but it's larger and more up-to-date than most public-run mountains, with recent expansion to more than 20 runs for skiers and boarders, with terrain ranging from green to challenging blacks. Also on 1,300-feet Ragged Mountain are 45 acres of glades; experts can hike to more ungroomed terrain.
For families, Camden Snow Bowl has another attraction: its budget-friendly rates. Kids ski for $6 on weekdays, $10 on weekends, and adults are $35 and $45.
Sample the charms of this old seaport town by staying at the gracious Camden Maine Stay Inn, a beautifully restored home built in 1802 and listed on the National Register of Historic Places.
Although Camden is a popular tourist destination in the summer, with prices to match, you'll find bargain rates during ski season; even the luxurious rooms at the Relais & Chateaux Camden Harbour Inn are one third of their high-season rates.
Address: 20 Barnestown Road, Camden, Maine
Official site: https://www.camdensnowbowl.com
Map of Ski Resorts in Maine
Where to Go Cross-Country Skiing in Maine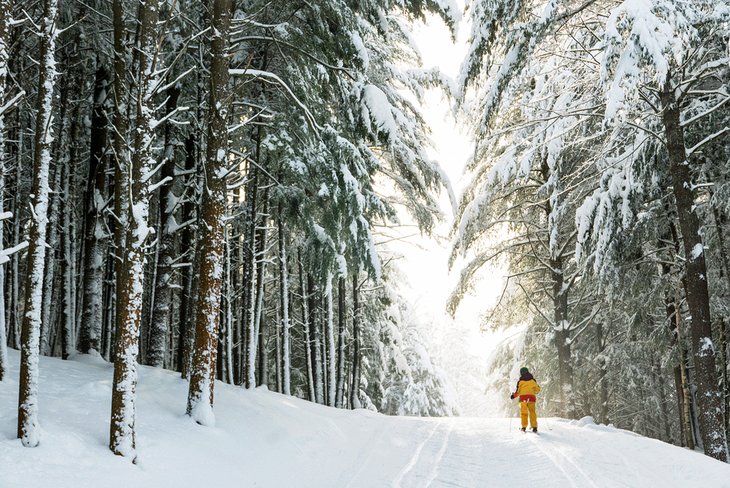 While Maine's downhill skiing is largely located in the northern mountains, cross-country skiing is widespread, from the southern Maine seacoast to the far north. Here are some of the largest of the dozens of Nordic skiing options in Maine:
1. Carter's X-C Ski Center, Bethel
With 55 kilometers of groomed trails for beginning through expert skiers, Carter's is close to Sunday River Ski Resort and Wildcat Mountain (one of the best ski resorts in New Hampshire).
Address: 786 Intervale Road, Bethel, Maine
Official site: https://www.cartersxcski.com
2. Carter's X-C Ski Center, Oxford
The 40 kilometers of groomed trails at Carter's center in Oxford, near Lewiston, are mostly suited to beginners and immediate skiers.
Address: 420 Main Street Oxford, Maine
3. Harris Farm
On a 600-acre dairy farm in southern Maine, Harris Farm's 40 trails across pastures and through woods are groomed for both classic (35 kilometers) and skate-skiing (30 kilometers). There's a sledding hill next to the lodge.
Address: 280 Buzzell Road, Dayton, Maine
Official site: http://www.harrisfarm.com/x-c-skiing.html
4. Pineland Farms
More than 30 kilometers of trails through pastures and forests near Lewiston are groomed for classic and skate skiers; the rental shop provides equipment for both.
Address: 15 Farm View Drive, New Gloucester, Maine
Official site: https://pinelandfarms.org
5. Smiling Hill Farm
The closest cross-country ski center to Portland, Smiling Hill Farm grooms more than 25 kilometers of trails, tracked for classic, but wide enough for skate skiing.
Address: 781 County Road, Westbrook, Maine
Official site: http://www.smilinghill.com