15 Best Lakes in Maine
With 3,500 miles of ocean coastline, counting all the bays and coves, you'd think Maine had more than enough water to play in. But it also has 6,000 lakes and big ponds, the largest of which has just under 200 square miles of surface.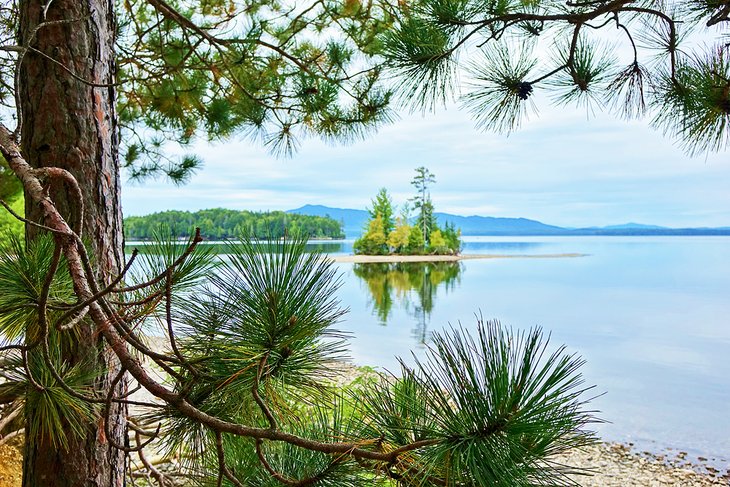 The opportunities for boating, fishing, kayaking, canoeing, sailing, and other water sports are never far away. Some of the lakes also have popular swimming beaches, while others are hidden away in remote wilderness areas without road access, rarely seen by tourists and enjoyed only by the loons and the moose.
The lakes on this list were selected for various attractions and things to do there, but all are rewarding places to visit. Some will have sandy beaches, some offer superlative fishing, some a wilderness kayaking experience, and some the convenience of easy access.
Don't worry about trying to pronounce lake names like Mooselookmeguntic and Cobbosseecontee. Maine has largely respected the names given the lakes by Native Americans, and they are nearly always spelled phonetically. Just break them into shorter sections, as in moose-look-meg-un-tic. Locals will know what you mean if you're even close.
Even if you're planning a vacation on the coast, you'll find reasons to extend your travels inland with this list of the best lakes in Maine.
1. Sebago Lake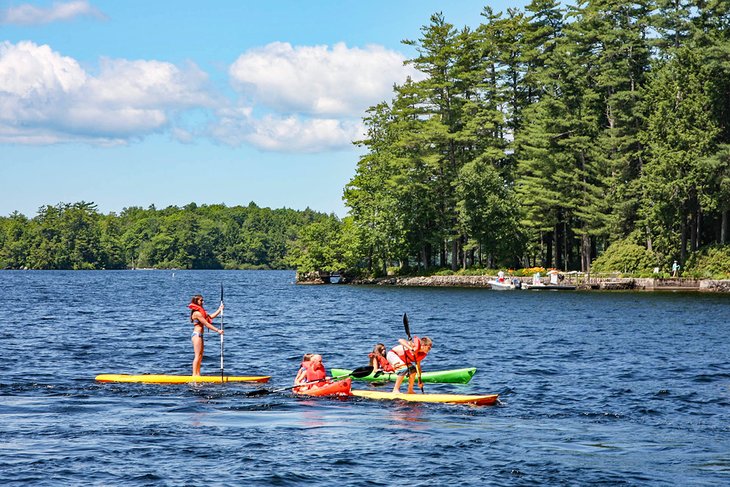 Considering its location near Portland (and within easy reach of Boston) with its nearly 50 square miles of water and 105 miles of shoreline, it's no wonder Sebago Lake is one of the most popular places to visit in Maine.
The state's second-largest lake seems ready-made for all kinds of water sports. Large enough to easily accommodate both motor and sailing craft, Sebago also has plenty of quiet water for kayaking and canoeing, with coves and wooded shoreline to explore. You can rent kayaks and paddleboards at several places around the lake, and most lakeside resorts have them for guests' use.
Resorts often have beaches of their own, and several town beaches are open to the public. Or you can swim at Sebago Lake State Park, where there are also boat launches, a fishing pier, and more than 250 campsites. For an old-fashioned lakeside vacation in traditional log cabins, but updated with modern amenities, try the family-friendly Migis Lodge in South Casco.
2. Moosehead Lake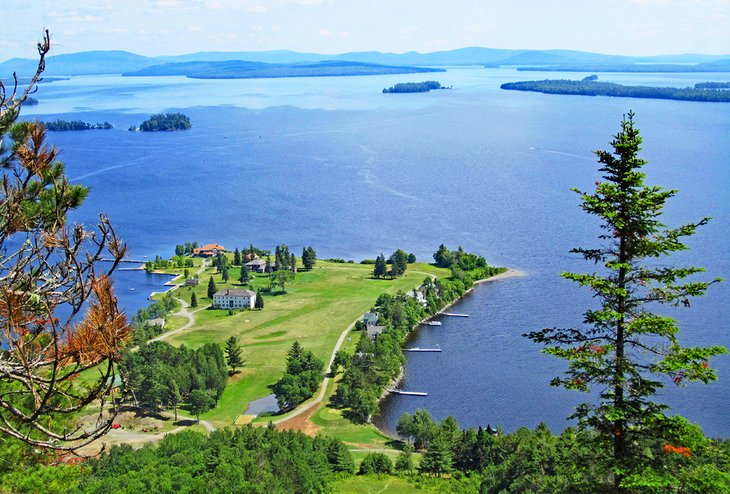 Moosehead Lake is the largest of all Maine lakes, the second-largest lake in New England, and the third-largest lake contained within the borders of any one state. Its surface is 199.7 square miles, and it's 39.77 miles long.
Its many bays and islands make it a favorite for kayakers and canoeists to explore.
Thinly populated and heavily forested, the region is an outdoor enthusiast's paradise. One of the best ways to see it is via a cruise on the Steamboat Katahdin, which has been cruising these waters for 104 years.
An alternative is a scenic flight over the lake, flying in seaplanes directly from the waterfront in Greenville. They are available through Jack's Air Service and Currier's Flying Service; Currier's also has an interesting museum of seaplane flight and boating on the lake.
Moosehead is very popular for fishing, with smallmouth bass, lake trout, land-locked salmon, and brook trout. Rent boats at Wild One Boats, Beaver Cove Marina, Northwoods Outfitters, or Moosehead Area Rentals, all in Greenville.
Moosehead Lake is in northwest Maine, about 70 miles north of Bangor. The lake and surrounding forests are popular destinations in both summer and winter, and there are many inns, cabins, campgrounds, and sporting camps in the area.
At Big Squaw Mountain on the west side of the lake are 10 kilometers of hiking trails and, in winter, downhill and cross-country skiing.
The Appalachian Mountain Club also maintains 70 kilometers of hiking and cross-country trails in the area.
3. Jordan Pond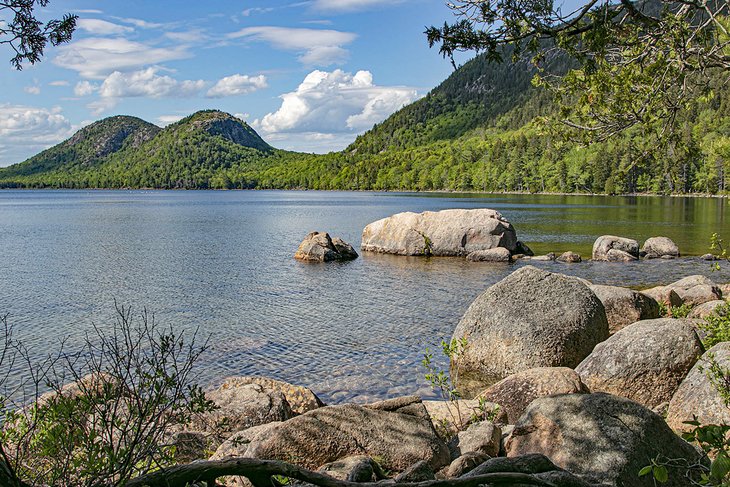 The smallest lake on this list, but possibly the most visited in Maine, Jordan Pond is in the heart of Acadia National Park, one of the nation's most visited parks. The lake has two compelling attractions for tourists visiting the park: the view and the popovers.
When the original Jordan Pond House opened in the late 1800s, travelers arrived by carriage to enjoy afternoon tea with fresh-from-the-oven popovers. Visitors sat at tables on the lawn, overlooking Jordan Pond and one of the park's iconic views.
Across the pond and reflected in its waters are The Bubbles, a pair of perfectly matched round-topped mountains.
The original Jordan Pond House burned in 1979 and has been replaced by a soulless modern visitor center, but the warm popovers and the view still make it one of the most popular things to do in the park.
You can walk around Jordan Pond on a level three-mile trail or take the easy Jordan Pond Nature Trail along the shore and through the woods.
4. Rangeley Lake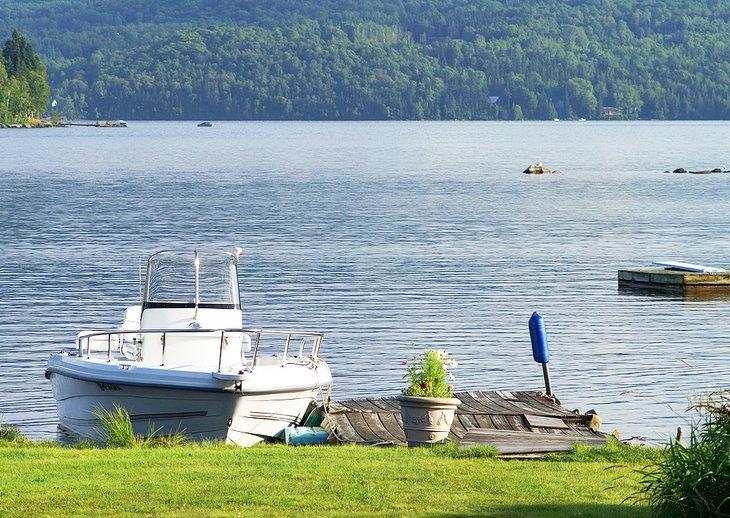 Maine's Rangeley Lakes Region includes more than the nearly 10-square-mile lake itself, extending to five other large lakes and hundreds of smaller lakes and ponds. Add rivers and streams, two mountains – Saddleback and The Horn –rising just east of the lake, and mile after mile of forests, and this is paradise for those who love the great outdoors.
Fishing, swimming, boating, kayaking, canoeing, hiking, climbing, camping, cycling, wildlife watching, or just lazing beside the lake and enjoying the views – whatever your summer bliss, you'll find it here.
Lakeside Park, on Main Street in Rangeley, has a free sandy beach with lifeguards, picnic tables, and changing rooms, while Rangeley Lake State Park, on the lake's south shore, has a beach with lifeguards and charges a small fee for day use. You can rent motor-powered boats for fishing or sightseeing from Dockside Sports Center & Marina on the south shore.
The 869-acre Rangeley Lake State Park has 50 wooded campsites, some with water access, and the Rangeley Lakes Heritage Trust has 65 sites in its waterfront campground in addition to remote and island sites.
5. Echo Lake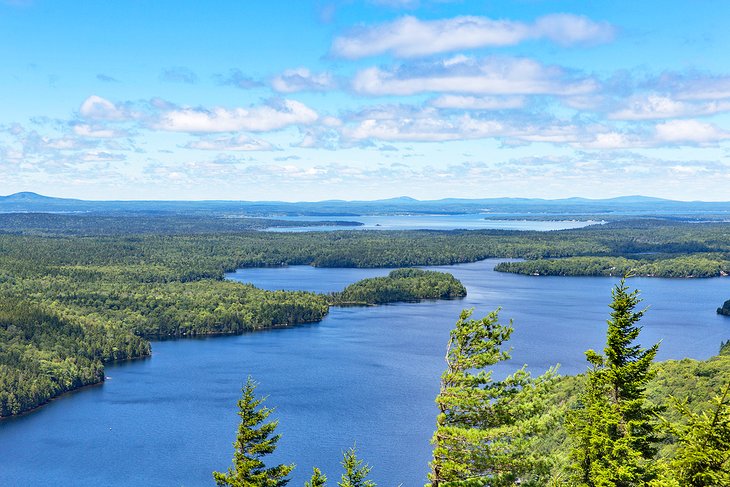 Those used to the frigid seawater that lap Maine's shores will be surprised to find the water at Echo Lake's beach nearing 70 degrees on a summer day. The 237-acre lake in Acadia National Park has a maximum depth of 65 feet, which accounts for the warmer water.
The sand beach slopes gently into the water, and there are lifeguards on duty in the summer. Because motorboats are limited to 10 horsepower, Echo Lake is more peaceful than some of the larger lakes, and a good one for kayaking. The 829-foot Beech Mountain borders the lake's west side, and from the beach, you can see hikers on the trail to its summit.
South of Somesville, Echo Lake is reached from Route 102 and Echo Lake Beach Road, and is a stop on the Island Explorer shuttle bus from Bar Harbor. It's a bit of a walk from the parking area to the beach, but there is a more gradual approach from the handicapped parking area.
6. Mooselookmeguntic Lake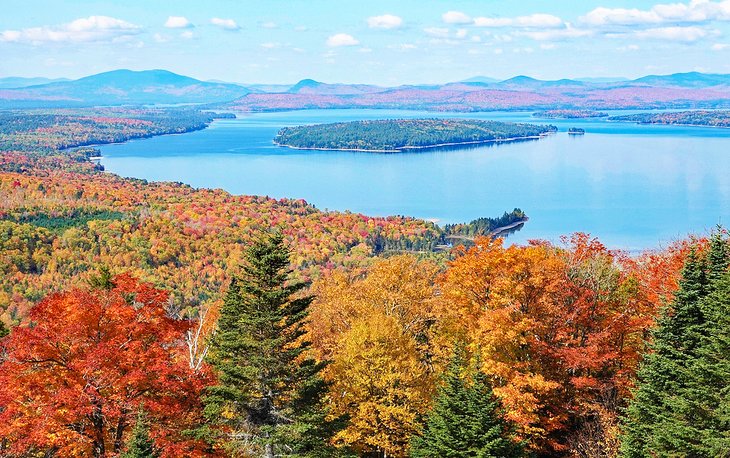 Part of the Androscoggin watershed, Mooselookmeguntic Lake is an immense lake of 25.47 square miles lying on the west side of Maine close to the border with New Hampshire. It is the largest of the Rangely chain of lakes (Rangeley, Mooselookmeguntic, and Upper and Lower Richardson Lakes).
Mooselookmeguntic is a wilderness area famed for its landlocked salmon and brown trout fishing. A true outdoorsman's treasure, it has two islands, Student Island and Toothaker Island, both of which are owned and operated as wilderness sport camps by the Steven Phillips Memorial Trust.
The Trust has additional campsites on other islands and along the shore of Lake Mooselookmeguntuc in the Western Shore Preserve. These are wilderness sites, with no electricity and no showers. The Trust does have canoes for rent; advance reservations are required for these and for campsites.
This is a very large wilderness to be explored, an expansive body of water with the added opportunity for a portage from Mooselookmeguntic across to Upper and Lower Richardson Lake, with a take-out at Richardson Arm.
7. Cobbosseecontee Lake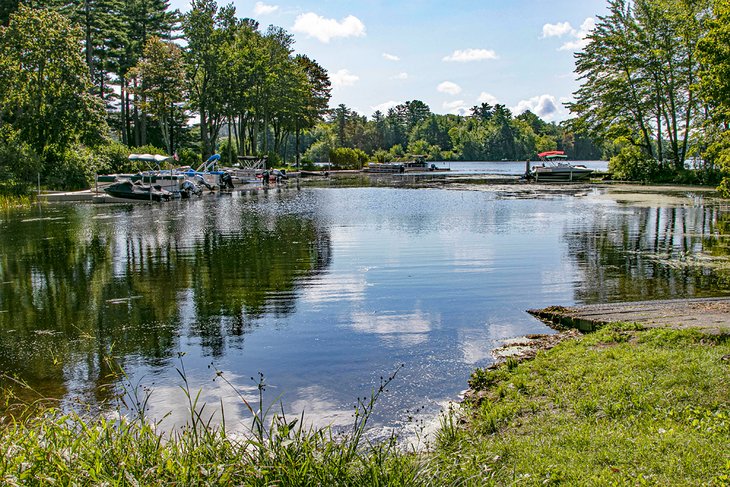 One of the largest lakes in central Maine, Cobbosseecontee is about two miles west of Maine's Capital of Augusta. A long, narrow lake, it starts in Manchester and runs southwest along an irregular shoreline for more than seven miles.
Near the northern end of the lake, the Ladies Delight Lighthouse stands on the island of the same name. The 25-foot beacon was built in 1908 to warn boats of the jagged submerged rocks surrounding the island. The only remaining of three lighthouses on the lake, Ladies Delight is maintained by one of the country's oldest yacht clubs, which also sponsors regattas and other sailing events. The lighthouse is on the National Register of Historic Places.
Boating access to the lake is from two boat ramps, one located near Manchester on Turtle Run Road (off Route 202) at the north end, and the other located at East Monmouth on the west side of the lake, near Camp Cobbossee Boy's Camp.
The lake is particularly well known for its largemouth and smallmouth bass fishing; many of the state's largest bass have come from this lake. It is also known for sizable northern pike.
There is a small beach area on Winthrop Beach Road, off Route 202 just west of Manchester.
8. Great Pond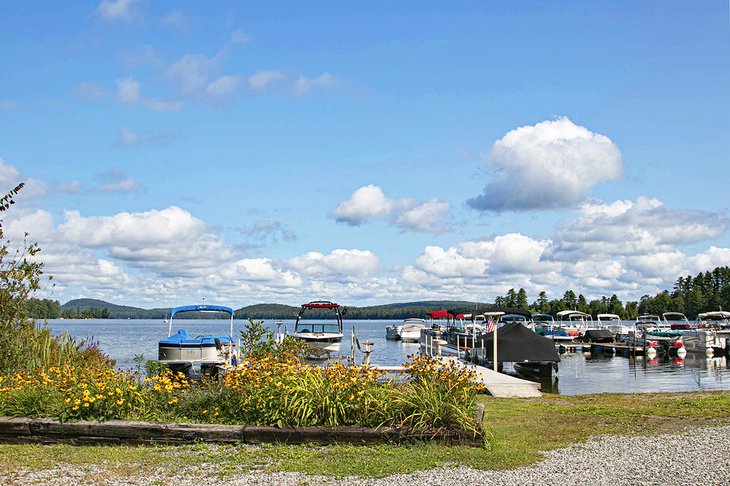 The largest of the Belgrade Lakes, Great Pond sprawls over an area of 8,239 acres in Kennebec County, north of Augusta. Although its maximum depth is 65 feet, much of the lake is much shallower, so the water is warmer than Maine's deeper lakes. But the shallow shorelines mean that it may be hard to find a put-in for kayaks and canoes.
There is a boat launch in the southwest corner of the lake. From Rte 27 in Belgrade, take Sahagian Road, then turn onto Boat Way Road to find the Great Pond Public Boat Launch.
Only one public beach is on Great Pond, at the northern end in Rome. The lake is better suited for fishing than swimming, with landlocked salmon, brown trout, brook trout, smallmouth and largemouth bass, and northern pike, among others.
9. Messalonskee Lake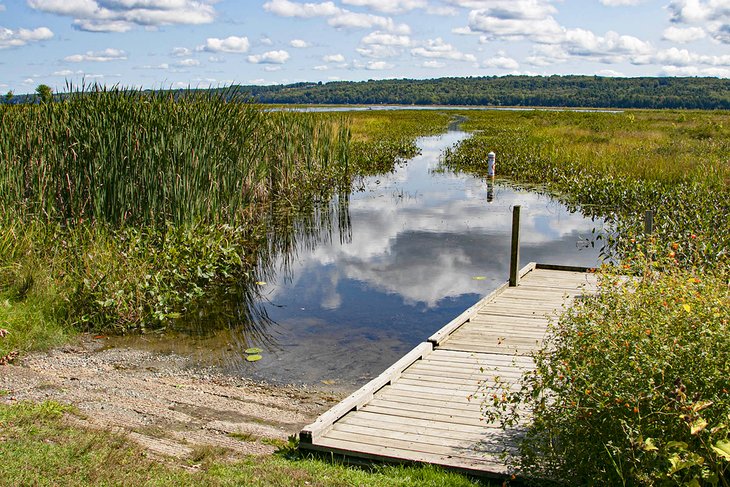 The second largest of the Belgrade Lakes, Messalonskee is also known as Snow Pond (named for an early settler) and Nine Mile Pond (in recognition of its length). Although, like neighboring Great Pond, much of its shore is devoted to private cottages, Messalonskee is better suited to canoeing and kayaking.
At the south end of the lake, the Public Boat Ramp is on the east side of Rte 27, and at the northern end of the lake, there's another in Oakland off the Old Belgrade Road.
The lake's only public beach is next to the Oakland boat landing. An easier way to see the lake is with Snow Pond Cruises.
The lake's maximum depth is 100 feet, so its temperatures remain cold enough to maintain populations of landlocked salmon, brook trout, smallmouth and largemouth bass, northern pike, and pickerel, as well as other species.
10. Damariscotta Lake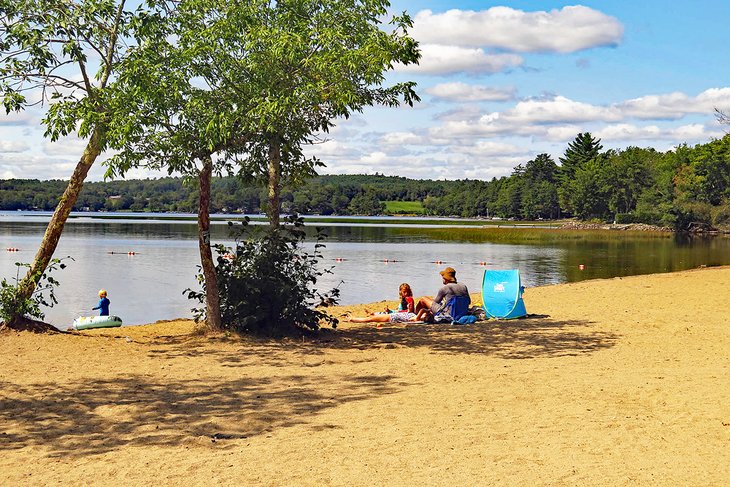 A long lake in three sections, Damariscotta Lake stretches 13 miles from Jefferson to Damariscotta, and despite being so close to the busy coastal route, it's a surprisingly quiet place to enjoy kayaking, sailing, or fishing. The waters are so clear, that the normal visibility is 10 feet or more.
At the northern end, Damariscotta Lake State Park covers 19 acres, featuring a long sandy beach with a gentle slope into a long area of shallow water. This and the lifeguards on duty here make it a favorite for families. Picnic tables with grills (some in wooded settings), a small play area for children, and lakeside trails add to the park's attractions.
The fishing is excellent, with land-locked salmon, smallmouth and largemouth bass, brown and rainbow trout, hornpout, and many other species, including a healthy run of alewife. You can also camp on the lake's Spectacle Islands.
11. Long Lake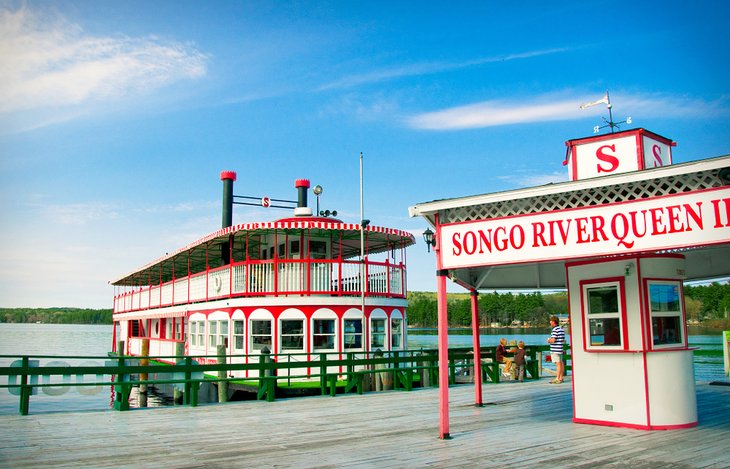 Like many of New England's lakes, Long Lake was carved by glaciers as they receded, creating an 11-mile body of water that was once reached from Portland harbor by a canal. There's still a canal lock at Songo Lock that now controls the water level to prevent floods from spring runoff.
You can get good views of the lake and mountains beyond it from the causeway across the Songo River, where there are benches and a bike path. For other perspectives on Long Lake, consider a floatplane ride with Naples Seaplane Adventures or a cruise on the Songo River Queen paddleboat.
A replica of the Mississippi River paddle wheelers, the Songo River Queen travels up one shore before crossing the lake and returning down the other shore, so the scenery is constantly changing. On the cruise, look for Drew's Castle; Long Lake is the setting for Stephen King's thriller The Mist.
12. Megunticook Lake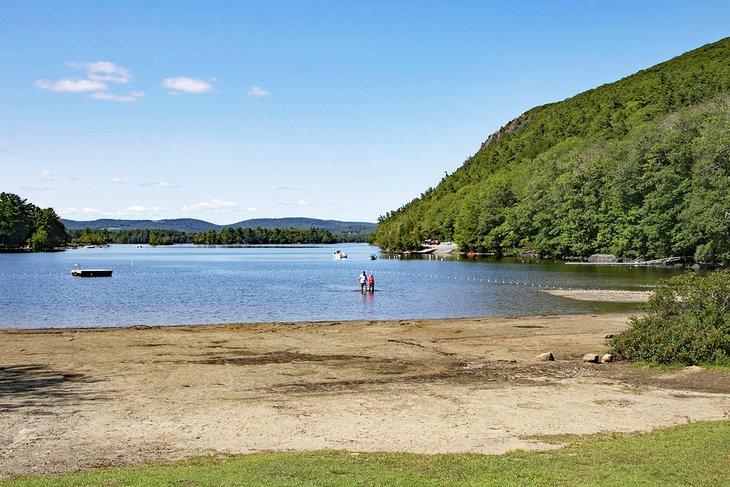 Close to the sea in Camden, Megunticook Lake is a freshwater option for swimmers and kayakers. It sits at the base of the 800-foot Maiden Cliffs of Mount Battie, in Camden Hills State Park, but Barrett's Cove Public Beach is a free town-owned park that's open to tourists.
The beach includes a shallow roped area for young children and a diving float well offshore, as well as changing rooms, picnic tables, and a playground. You can launch kayaks at the beach or at the public boat ramp a few yards up Route 52, or from the public ramp off Route 105 on the opposite side of the lake.
Almost an island, jutting into the middle of the lake, is Fernald's Neck Preserve, where easy walking trails lead to giant boulders that were dropped by receding glaciers, most likely scraped off Maiden Cliffs.
13. Millinocket Lake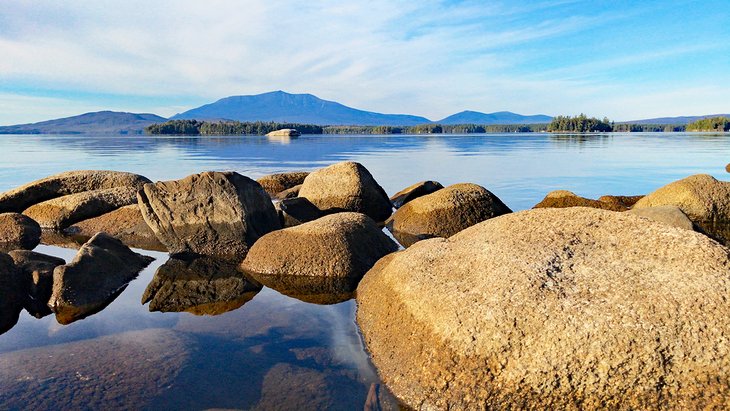 This pristine and isolated lake in northwest Maine is nine miles west of the small city of Millinocket. Relatively shallow, with a maximum depth of 52 feet, it covers 2,701 acres of territory. Summer water temperatures are frequently a mild 70 degrees.
Because of its remote location and difficulty to access by road, Millinocket is largely untrammeled, with little human disturbance. Seventeen species of fish are listed in its waters among which are landlocked salmon, brook trout, splake (a brook and lake trout hybrid), yellow perch, hornpout, and eel.
The New England Outdoor Center has access to the lake, as well as accommodations, a restaurant, and rental powerboats and kayaks. This is a lake for quiet paddling and exploring a wilderness environment.
On the northeast shore, look for two narrow sandbars on the shoreline, which make fine sunbathing and swimming spots.
14. Swan Lake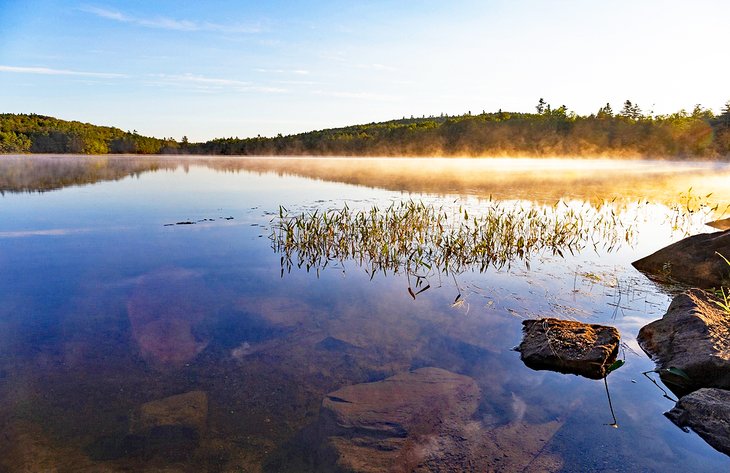 A few miles of back roads west of Bucksport, Swan Lake is also not far from Bangor. On the north shore off Frankfurt Road, you'll find Swan Lake State Park, with a sand beach, picnic tables, grills, and changing rooms.
In the summer, the beach has lifeguards, and the park includes walking trails along the shore and through the surrounding forest.
Another attraction of the mile-and-a half-long Swan Lake is the fishing, with 21 different species reported. Boat, canoe, and kayak launch sites are in the state park and in Swanville, at the south end of the lake on Rte. 141.
15. China Lake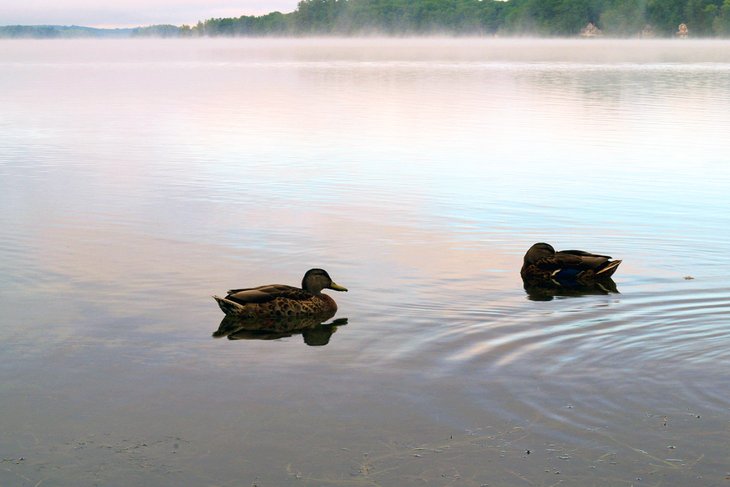 Southeast of Waterville and not far from Augusta, China Lake is made of two connected basins: one long, narrow body of water that runs alongside US Route 202, and the other, a broad crescent shape. They are connected by a narrow channel.
Although there are no swimming beaches at either part of the lake, it is very popular for kayaking and power boating, with public launches on both sections. The east basin access is in China village on Causeway Road, and the west access is on Route 32 Vassalboro.
The maximum depth of the east basin is 50 feet, so warmer water species are found here. The West basin has deeper waters, where land-locked salmon, brown and lake trout, and largemouth and smallmouth bass are the most frequent catches.
Map of Lakes in Maine