Island-Hopping on Maine's Casco Bay and Mid-Coast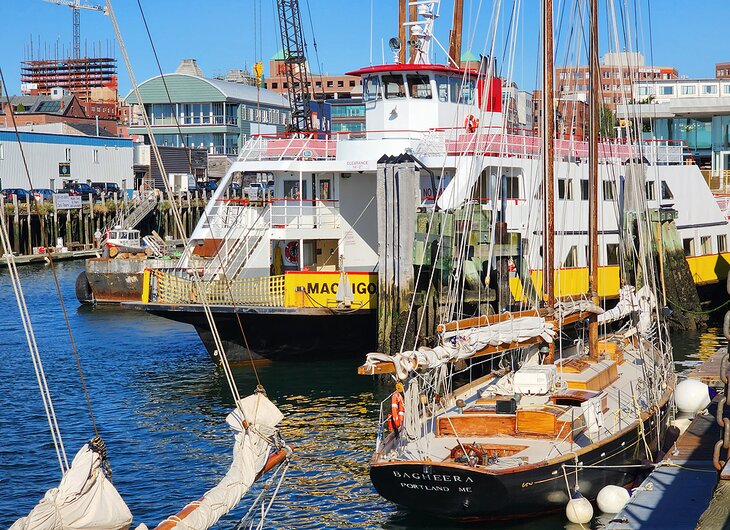 On This Page:
I've been traveling in Maine since I can remember, exploring its parks and beaches and enjoying everything my favorite cities like Bangor and Portland have to offer. But, until recently, I had never had the time to explore the beautiful islands that dot the Maine coastline. From Casco Bay to the Mid-Coast islands, I discovered a whole new side of Maine.
Unfortunately, unless you have your own boat or can afford to charter one, you'll have to make your way up the coast by car, but the ferry system makes getting to and from the mainland very easy, and the drive is always a nice one.
To beat some of the summer crowds, I started my journey on a Sunday and returned on a Friday. This meant that I was headed north while everyone else was stuck in southbound traffic, and not caught up in that same traffic on my way home. This also allowed me to stay at some places for a single night instead of the two-night minimum you find on the weekends.
Peaks Island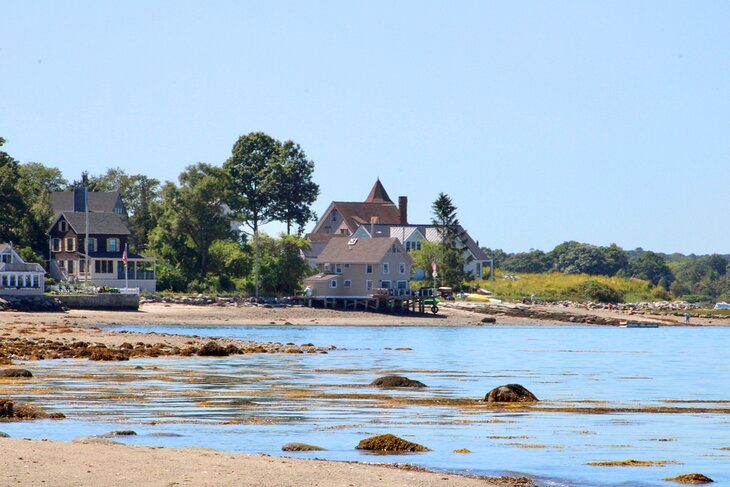 I started my island-hopping adventure on Peaks Island, the one offshore spot that I had already had a chance to explore, but couldn't resist going back to.
Parking Tip: The Newbury Street Garage is a good compromise between price and distance from the ferry terminal, at $18 a day. You can find cheaper multi-day parking if you're willing to walk a bit farther.
After a lovely ride past the eerie remains of Fort Gorges, I picked up my golf cart rental at Peaks Island Golf Carts and headed straight up Brackett Ave to Battery Steele to explore the WWII fortifications. This time, I brought a strong flashlight so I could make my way through the long, dark tunnels that connect the gun batteries with the central command structure.
After a quiet nature walk through the adjacent Peaks Island Land Preserve, I headed to my favorite spot at Cairn Beach. This isn't a swimming spot, but a pebble beach with stones of all shapes and sizes where tourists practice their balancing skills to make often-impressive rock piles.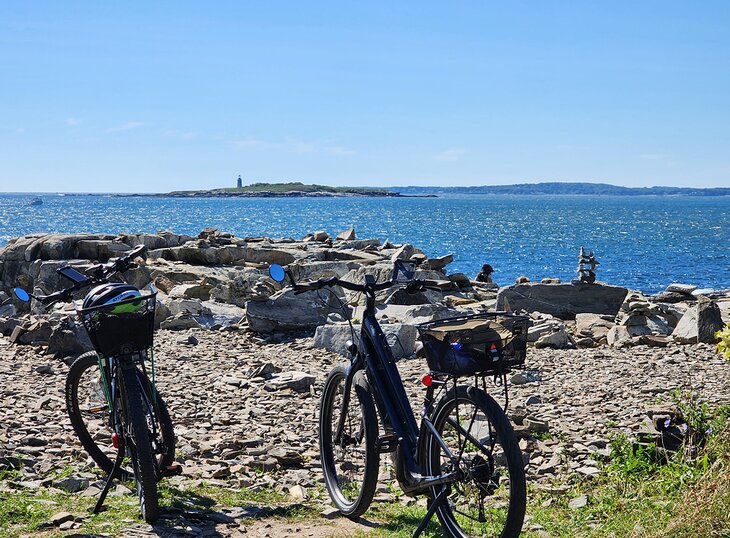 I skipped stops at the 5th and 8th Maine Regiment Museums (I visited last year) and opted to take the scenic route back to Island Avenue via Seashore Avenue, which skirts most of the eastern edge of the island. It's quite a ways if you're hoofing it, and there's no shade along this route, so I was really glad that I had rented the golf cart – this let me cover more ground in less time so I could stop and enjoy each new scene.
Once back near the ferry landing, I headed over to Jones Landing for a (very) late lunch so I could watch the boats glide in and out of the harbor, then I hopped back on the ferry so I could grab my bags in Portland and head to my little island paradise on neighboring Great Diamond Island.
Great Diamond Island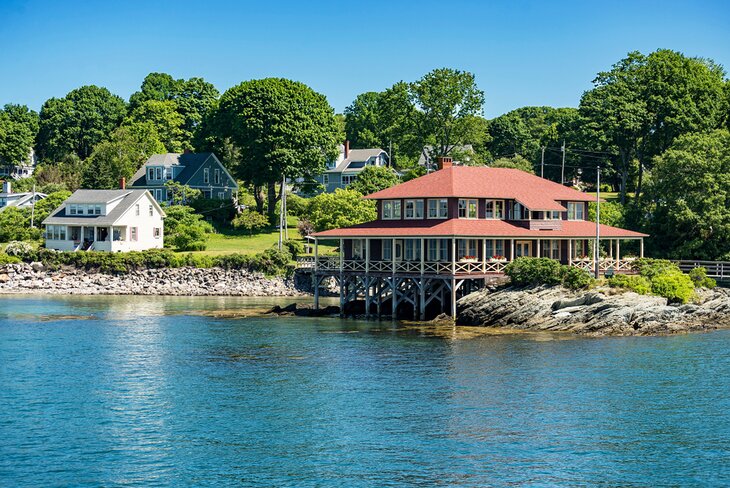 I took the ferry to the Diamond Cove terminal since I would be arriving with no car and my luggage, spending two nights at the Inn at Diamond Cove. After breakfast the next morning, I took advantage of their on-site kayak rentals and ventured over to see Crow and Cow Islands. I'm not very experienced at sea kayaking and was traveling solo, so I teamed up with a nice couple from Connecticut just in case.
It was a perfect day to be on the water, so I decided to hop on the Mailboat Run so I could see even more of Casco Bay. The tour was narrated since there were plenty of us on board for sightseeing, and it was neat to watch the locals going about the chores that we mainlanders don't even think about, loading and unloading mail, packages, and supplies for the residents and businesses on each island.
I was thinking about taking a sunset sail on one of the gorgeous schooners that sail out of Portland (I had my eye on Portland Schooner Company's Bagheera), but I ended up just enjoying the rest of the evening wandering the Diamond Cove and Diamond Point beaches – wrapping up, of course, with waterside dining at Diamond's Edge Restaurant right at the marina.
Monhegan Island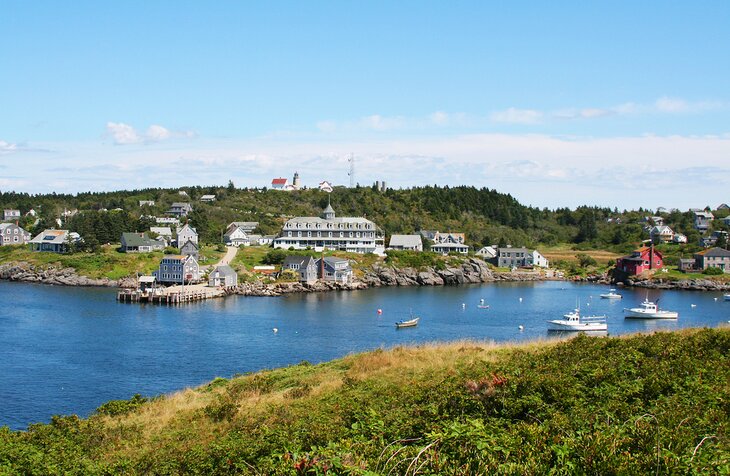 After a morning bike ride to explore, I hopped the ferry back to Portland and drove to my next stop in New Harbor. I left my car on the mainland and hopped the one-hour ferry to Monhegan Island, since you can get anywhere on the island by foot. I only had to roll my luggage a few yards to the Island Inn, but there were lots of other lodging options within only a few minutes' walk that I want to check out next time.
By then I was ready for an early dinner, so I spent the evening admiring the sunset over the ocean – a treat that we east-coast kids don't get as often. I got up early the next day to watch the sunrise, and took the Burnt Head Trail to the Norton Ledge, home of Gull Rock.
After a light early lunch at an adorable creperie, I was lucky enough to get my timing right for a visit to the Monhegan Museum (they're only open from 11:30 to 3:30 in July and August, with shorter hours in June and September) – unfortunately, I didn't get a chance to tour the lighthouse next door, which is only open on Thursdays and Sundays.
I was hoping for an afternoon dip at Pebble Beach on the north side of the island, but I hadn't done my homework, and found out that it's more rock than pebble – not much of a spot for swimming. It was worth the half-mile hike, though, because I caught some seals sunning themselves on rocky outcroppings just offshore.
One of the things I didn't have time for, but hope to see during my next visit, is the fairy houses in Cathedral Woods along Blackhead Trail. My innkeeper had told me about these whimsical tiny abodes made of sticks, moss, and other bits found on the floor of the spruce forest, constructed by island residents.
After an hour ferry ride back to the mainland and a one-hour drive to Rockland, I checked into my room and walked to one of my all-time favorite restaurants, Suzuki's Sushi Bar; if you're there solo and mid-week like me, you won't have an issue getting a table, but be sure to make reservations if you're there with a group or on a weekend.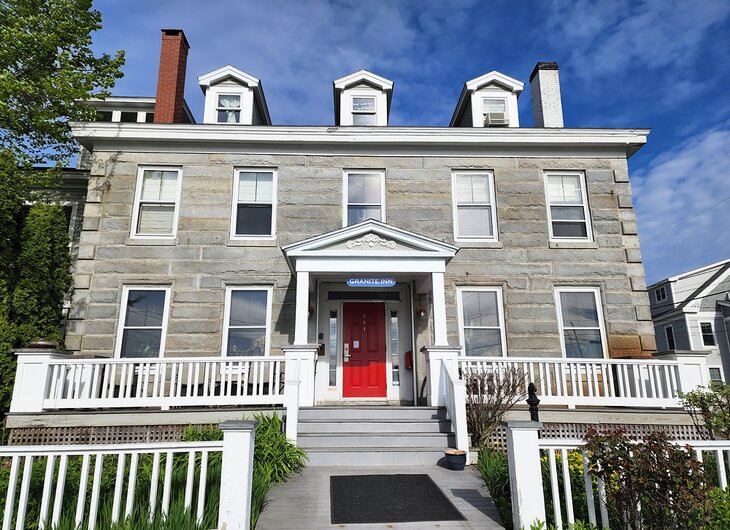 I love staying at the Old Granite Inn not only because of its historic charm, welcoming atmosphere, and phenomenal home-cooked breakfast spread, but also because of its prime location. It sits (literally) across the street from the ferry terminal, making it the ideal jumping-off point for exploring the surrounding islands of Penobscot Bay.
Vinalhaven Island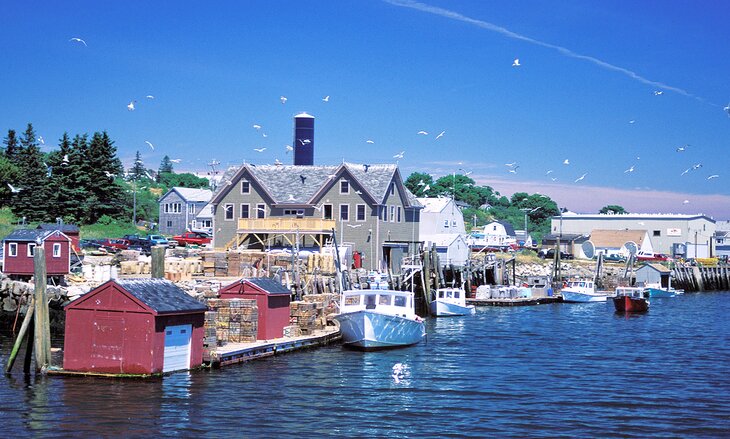 Since I was only heading over for the day, I decided to concentrate on the island of Vinalhaven, and I left my car behind since it's easier to explore it by bicycle and didn't need to bring much with me. The ferry ride took about an hour and a quarter, and I left early because the last ferry "home" leaves at 4:30pm, so I wanted to make the most of my time.
Tip: To save myself some time, I opted to rent my bicycle at Sidecountry Sports in Rockland, which is just up the street from the ferry terminal. It costs a little more to bring your bike on the ferry, but it left me more time to play on the island!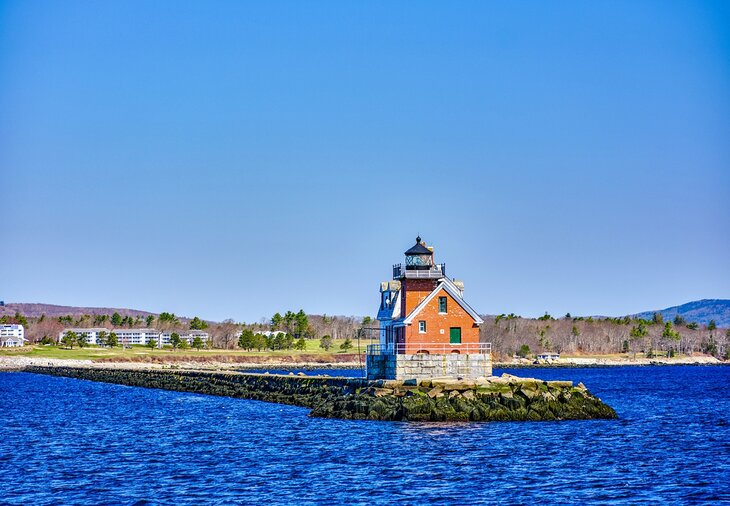 While you can see them on your way back, too, I suggest taking your photos of Rockland Breakwater Lighthouse and Owl's Head Lighthouse in the morning, while the sun highlights them perfectly. Alternately, you will want to wait until the return trip out of Carvers Harbor for well-lit shots of Vinalhaven and its dozens of little islands once the sun is in the west.
It was tough to pick only a day's worth of things to do on Vinalhaven, but this New Hampshire native wanted to check out the public swimming quarries since most of the ones in the "Granite State" are typically unsafe and off-limits. I was excited to check out some of the trails managed by the Vinalhaven Land Trust, so I rode up East Main Street towards Geary's Beach.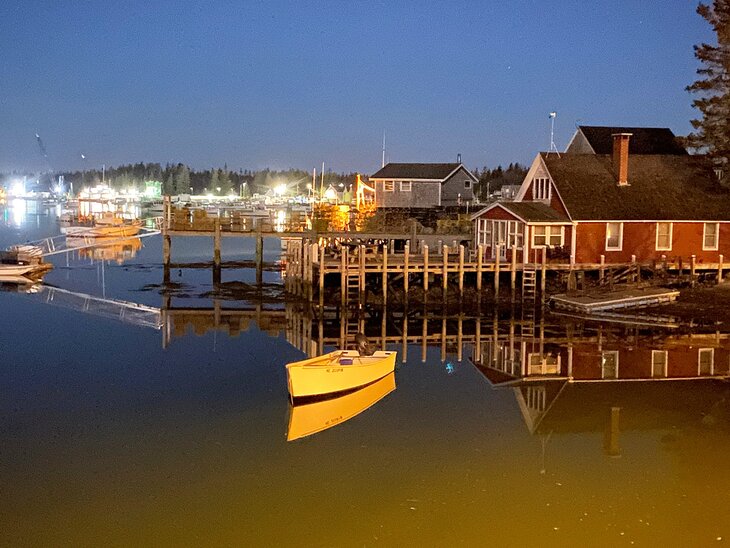 Booth's Quarry was right on the way, so I made a stop to check out the spring-water-filled granite quarry and the views of the bay and Mount Desert Island. I stopped for a few minutes at Geary's Beach, then headed farther north to Huber Preserve, which is managed by the Maine Coast Heritage Trust and known for its bird population.
After hiking (okay, more like meandering) the 1.9-mile coastal trail and soaking up the scenery, I decided I had enough time left to make a small circle via Round The Island Road and North Haven Road, which brought me past Lawson's Quarry before leading me back into town.
I got to the Vinalhaven Historical Society about a half hour before they closed, but it was enough time to learn more about how Vinalhaven became a year-round island community long before there was a regular ferry running multiple times a day. Although I didn't leave myself much time for shopping, I did make time to stop by Second Hand Prose, a pre-read book shop that supports the local public library.
I hopped the last ferry back at 4:30 (I set an alarm for myself since this is pretty early), and had a quick supper at Waterworks Restaurant, which is very close to the inn (I had more than enough walking for the day). Before I headed home the next morning, I took a walk over to the pier and spotted a beautiful Maine Windjammer in the harbor and decided that I would be back soon to head north to Islesboro and Deer Isle – perhaps on that very boat!