12 Best Things to Do in Maine in Winter
We may earn a commission from affiliate links ()
Maine is beloved as a top vacation destination, and winter is no exception. Visitors who aren't afraid of bundling up have a wide range of winter sports to choose from, like ice-skating, snowshoeing, and dogsledding. Although sometimes shadowed by the big resorts in neighboring Vermont and New Hampshire, Maine is also home to some of the best ski resorts on the East Coast. Tourists who aren't crazy about cool weather, or just want to take a break from it, will find plenty of things to do indoors as well, including museums, shopping, and dining.
No matter what you're looking for, there's something for everyone in our list of the best things to do in Maine in winter.
1. Cross-Country Skiing and Snowshoeing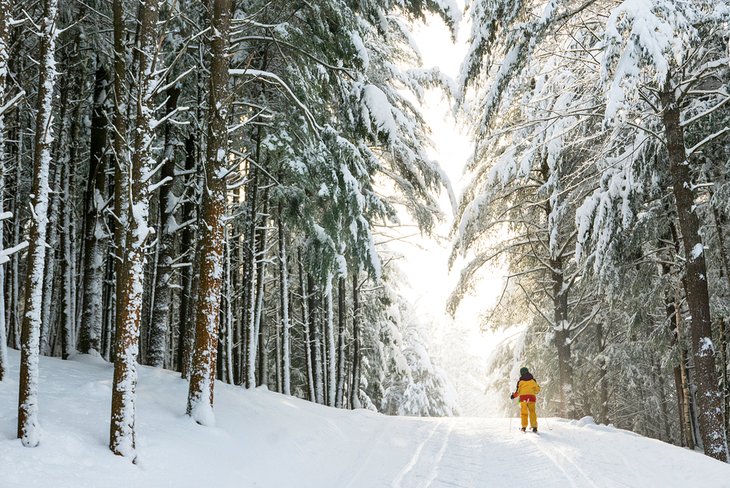 Unlike downhill ski resorts, which are limited to the mountains, dozens of cross-country skiing trails can be found throughout the state. Carter's X-C Ski Center in Bethel operates a network of groomed trails totaling 55 kilometers that is open to cross-country skiing and snowshoeing. Visitors can rent their ski and snowshoe equipment on-site, as well as alternative equipment including fat-tire bikes. They also offer pull sled and chariot rentals, so that parents can pull the little ones along behind, and dogs are allowed on the trails as well.
Harris Farm in Dayton offers 35 kilometers of classic and skate-skiing trails, as well as a sledding hill. Pineland Farms in New Gloucester offers 30 kilometers of trails for both types of skiing as well as an equipment rental shop, and Smiling Hill Farm in Westbrook has over 25 kilometers of trails.
Several of Maine's cross-country ski areas offer reciprocal discounts at other ski areas for season pass holders, including Carter's, Pineland Farms, Rangeley Lakes Trails Center, and Mahoosuc Pathways at Bethel Village.
2. Visit Portland's Museums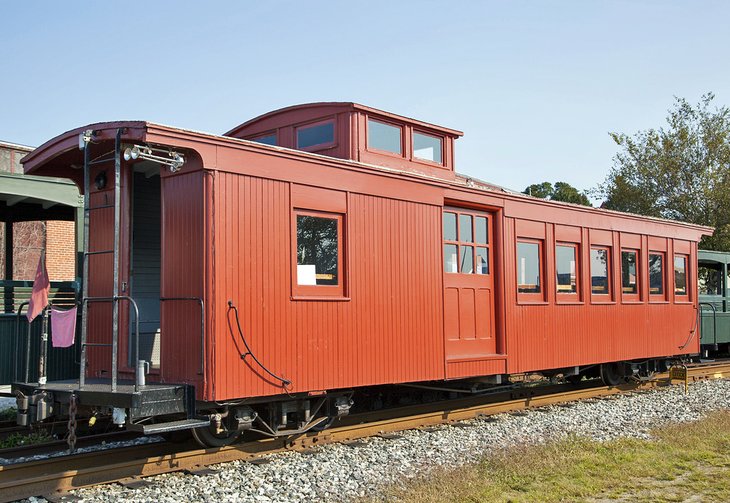 The city of Portland has a surprising number of museums and enough variety to ensure there is something for everyone, from art to science.
Art lovers will want to spend a day at the Portland Museum of Art, which has a collection of over 18,000 pieces of artwork, including paintings, sculpture, and other media. The museum also has a collection of over 600 paintings, watercolors, and etchings by celebrated Maine artist Winslow Homer.
Also operated by the art museum, the nearby Winslow Homer House can be toured, and it contains even more works of art, including those by Georgia O'Keefe and several classic European artists like Monet, Renoir, and Degas. History lovers will also want to stop by the Wadsworth Longfellow House, built in 1786 by the famous writer's grandfather, which was the author's childhood home.
Tourists with younger children will want to plan a day at Portland's Children's Museum and Theater of Maine, where learning through play and creativity is encouraged. This large museum is full of hands-on exhibits, including a kid-sized town where they can run the shops and try out professions, Discovery Woods where they learn about wildlife and nature, and even a huge mural that all visitors are encouraged to contribute to.
The museum also has science-based exploration including a space shuttle cockpit, an exhibit about light and lenses, a mini-planetarium, and a touch tank with ocean life. Kids can also watch performances in the theater, or play dress-up and make their own productions. Families will also enjoy the small but informative Maine Narrow Gauge Railroad Co and Museum, which is home to historic coaches and exhibits about the two-foot gauge railway.
For a more in-depth science experience, head over to the Southworth Planetarium located at the University of Southern Maine Portland. This 360-degree dome is the setting for a variety of shows exploring topics from astronomy and our solar system to dinosaurs and mythology.
If pseudo-science piques your curiosity, make time for a visit to the International Cryptozoology Museum. This is the only museum in the world dedicated to the study of hidden or unknown animals, and among its exhibits are samples of hair and other evidence left by creatures many believe are just legend. Exhibits also include documents, testimonials, and artistic renditions of various yet-unproved species like bigfoot, the Jersey Devil, and lake monsters, among others.
3. Go Dogsledding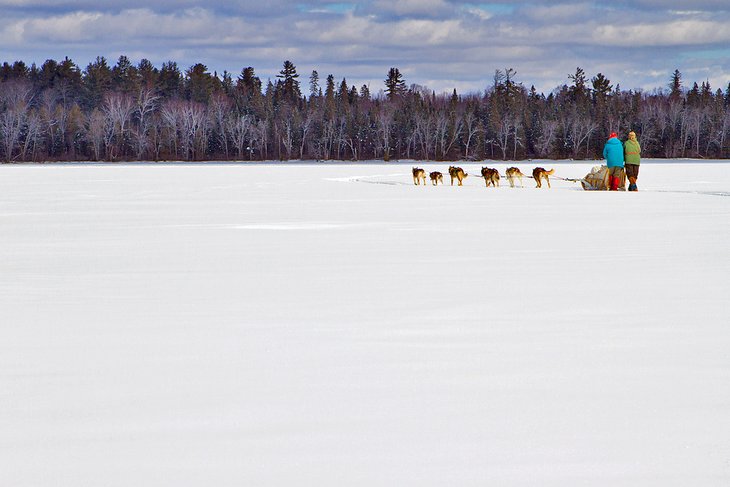 Exploring the trails of Maine's backcountry by dogsled is an experience like no other, and tourists have several excellent options to choose from. In Bethel, New England Dogsledding has a team of Alaskan Huskies that bring guests on a tour of local trails at the Umbagog National Wildlife Refuge, as well as operating tours at Sunday River Ski Area in Newry and in the nearby White Mountains of New Hampshire at the Balsams and North Conway. Ultimate Dogsledding Experience, which is headquartered in Oxford, also runs tours out of Bethel, as well as Hebron and Casco.
Mahoosuc Guide Service offers full-day dogsledding trips in the Mahoosuc Mountains and along the shores of Unbagog Lake, which include a campfire-cooked lunch and extra warm boots and outerwear. Those who are extra adventurous can book one of their two- or three-day trips that fully explore the area by dogsled, as well as snowshoe and cross-country ski. Multi-day trips include all sports equipment, food, and winter camping equipment along with the knowledgeable guides. Women's-only excursions are available for an adventurous girls' weekend.
4. Ski & Board with an Ocean View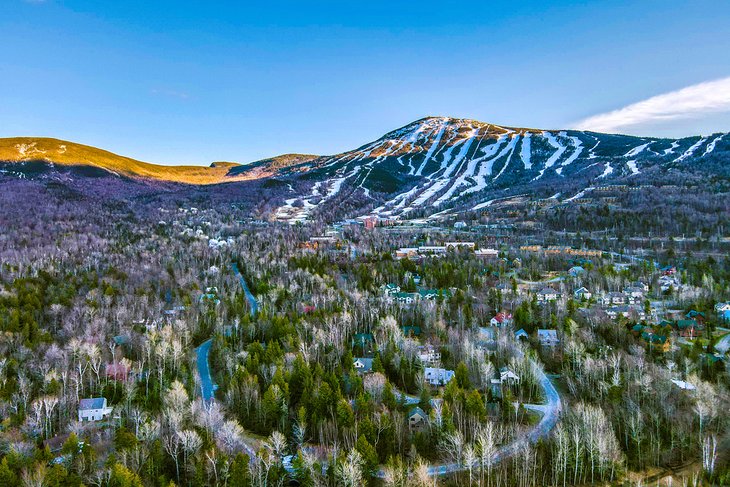 Camden Snow Bowl is the only ski area on the East Coast that offers slopes with a view of the ocean, providing a truly unique experience. Located only about five miles from Penobscot Bay, the resort offers over 20 trails for all skill levels. This smaller, locally-run ski area is a great option for families.
Maine offers several other ski resorts, and although they may not have views of the Atlantic they have plenty to offer. Many of these boast over 200 inches of snowfall annually, ensuring a long ski season and plenty of fresh flakes to keep the slopes covered in powder.
Among these is Sugarloaf Mountain, the East Coast's second-largest ski area, with 161 trails and six terrain parks. The longest trail is 3.5 miles, and this mountain boasts the only slopes that start well above the tree line. The resort offers plenty of other activities as well, including cross-country skiing, skate-skiing, snowshoeing, and ice-skating.
Sunday River Resort in Newry is the second-largest ski area in Maine, offering 135 trails served by 18 ski lifts. Another ski area located in the mega-snow zone is Saddelback Mountain in Rangeley, which gets an average of 225 inches of snow annually. This ski area is a favorite among expert skiers, with fewer beginner and intermediate slopes.
5. Sleigh Rides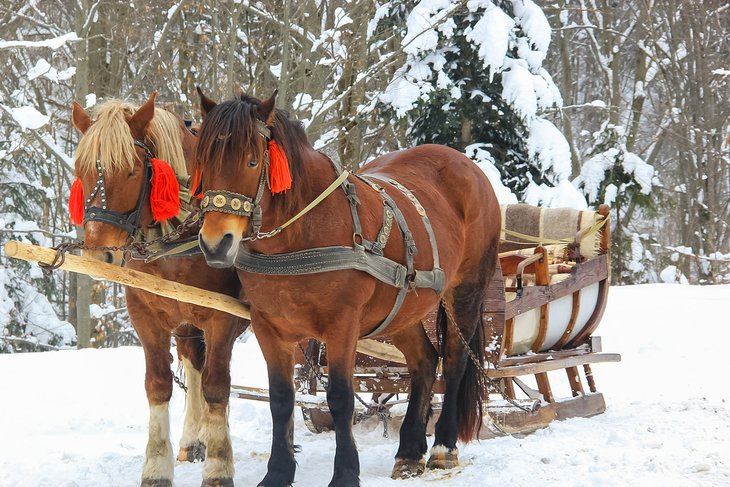 There is no better way to take in the beauty of the snow-covered north than from the comfort of a horse-pulled sleigh. Gorranson Farm in Dresden offers romantic one-horse sleigh rides that fit up to four passengers, and team-pulled rides that seat up to a dozen adults. Fifty-minute rides include warm blankets, jingling bells, and songs led by the driver.
Winterberry Farm in Belgrade offers a two-hour "ultimate comfort" sleigh ride tour of their farm pulled by their working horses, and includes hot cocoa, tea, and soup; there is also ice-skating on-site. High View Farm in Harrison offers 40-minute private rides with hot chocolate and marshmallows, with an optional campfire stop, and Carousel Horse Farm in Casco offers both sleigh rides and winter horseback riding.
6. Skijoring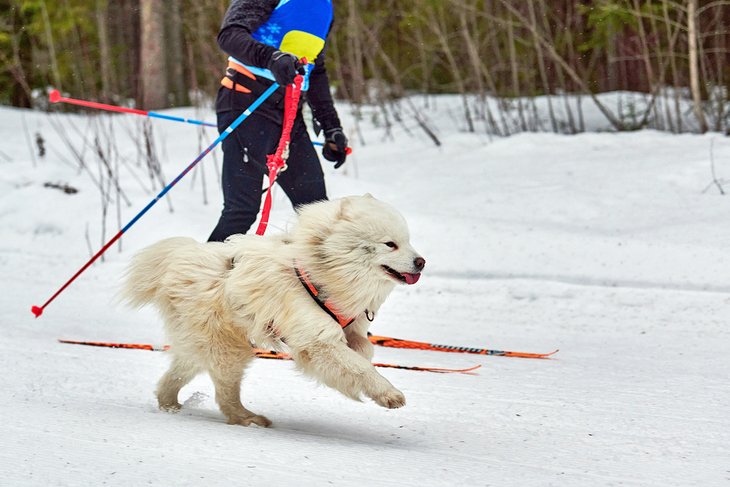 Outdoor enthusiasts can often have a hard time finding winter activities that include their four-footed friends, but in Maine, there's a way to keep everyone happy. The unique sport of skijoring has added a great option for medium-sized and large dogs who love to get exercise and team up with their humans by combining dog harnesses with cross-country skiing. Thanks to its emerging popularity, many ski outfitters sell and rent skijoring equipment, and Skijor Skowhegan specializes in equipment and information for both dog and horse-pulled skiing.
Newbies can give it a try at New England Dogsledding in Bethel where they provide both equipment and trained dogs, but those who already have some experience have plenty of options for trails, as well as rental equipment. All the trails at Carter's X-C Ski Center welcome skijoring, and the Harris Farm X-C Ski Center located in Dayton has 25 miles of skijoring trails. There are six miles of dog-friendly trails at Sugarloaf Outdoor Center in Carrabassett Valley, and additional skijoring trails at Five Fields Farm in Bridgton and at Waterville's Quarry Road Recreation Area.
7. Ice-Skating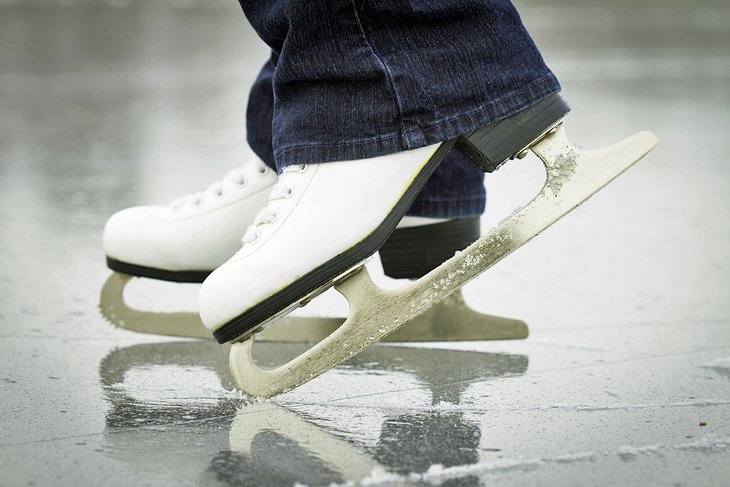 Winter in New England is never complete without at least one visit to the skating rink, and there is nothing quite like skating in the fresh open air. Portland's best spot is the Rink at Thompson's Point, where skaters will find rentals and plenty of hot cocoa to sip while taking a break in the warming huts.
Mill Creek Park in South Portland offers the full pond-skating experience, and Riverside Golf Course also has an outdoor rink. Goddard's Pond in Bath is another excellent pond skating spot, maintained by the town and free to the public with concessions and a warming hut.
Kennebunk is home to Waterhouse Pavilion, conveniently located downtown. This open-air rink has a covered top and is regularly groomed with a Zamboni to ensure smooth skating. There is no charge to use this rink, and it is open all day every day until 9pm in the winter.
Another great skating spot for those who want well-groomed ice is the Sugarloaf Outdoor Rink at Sugarloaf Ski Resort. Visitors can rent skates here, and concessions are available at the ski lodge.
8. Tobogganing and Tubing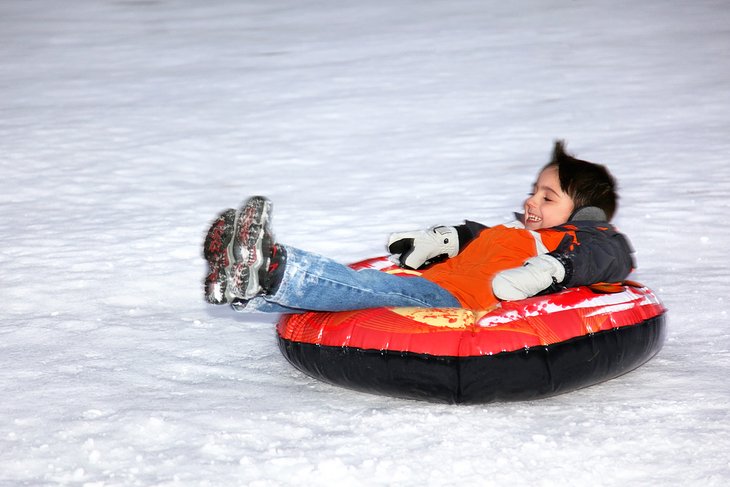 The nostalgic appeal of tobogganing is undeniable, but finding a good place to actually try it can be daunting at best. Thanks to the folks at Camden Snow Bowl, visitors have the chance to chute down a 400-foot slope built just for that purpose. Each February, the ski area hosts the U.S. National Toboggan Championships, which include a full winter carnival for the whole family.
Tourists can also find plenty of tubing hills throughout the state. In Auburn, Lost Valley Ski Area offers 600-foot tubing lanes serviced by a tow lift, and Windham's Seacoast Adventure has a dozen lanes open day and night. In Rumford, Black Mountain of Maine has tubing during school vacations and on weekends, and Sunday River Resort in Newry also offers tubing on a dedicated slope.
9. Shop at the Outlets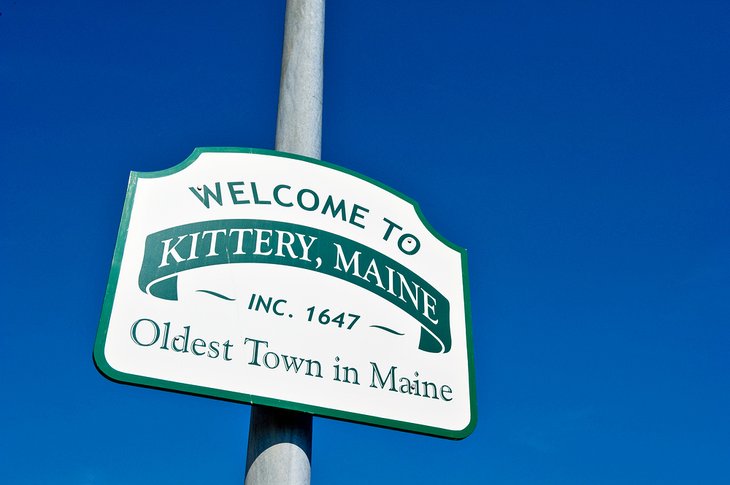 On the southern coastal border of Maine sits its oldest town, Kittery. For decades, shoppers have flocked here to visit the outlet stores at Kittery Outlets and Kittery Premium Outlets, home to all the high-end labels, like Calvin Klein, Brooks Brothers, and Eddie Bauer. No visit is complete, however, without a stop at Kittery Trading Post, a family-owned business and local institution that began as a sporting goods store and has grown to offer a huge range of practical and gift items.
Another Maine town known for its outlets is Freeport, home to L.L. Bean's flagship store, which started it all. Freeport is full of big-name outlet stores, as well as a good number of smaller specialty shops and galleries that will occupy even the most discerning shopper. Both towns also offer a good range of local eateries, but tourists will find that Freeport can be more friendly to those roaming on foot.
10. Storm Watching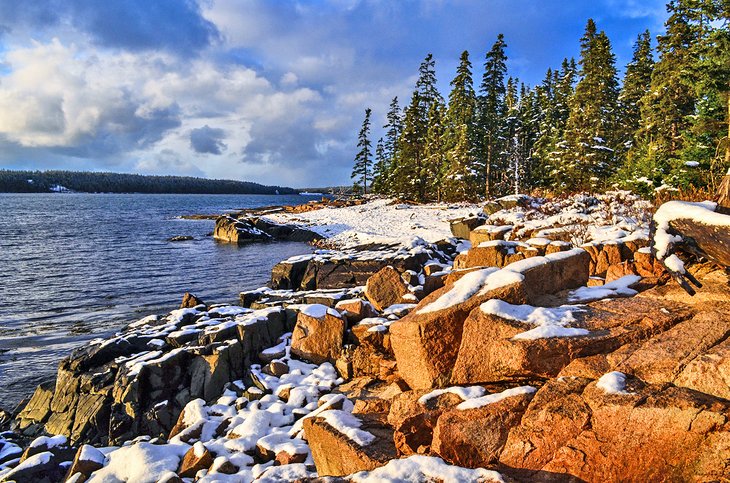 in Bar Harbor, The Saltair Inn overlooks the water, giving guests the perfect place to curl up with a hot "cuppa" and watch the snow fall on the Atlantic. Ocean-facing guest suites feature sitting rooms with giant windows, as well as gas fireplaces and all the comforts of home. Even the biggest storm won't bother guests, with plenty to do right at the inn and excellent food and beverages on-site, including a coffee shop and activity-filled common areas.
Unlike many other vacation destinations in the northeast, Mount Desert Island's Bar Harbor does not shut down after the summer tourists have left, with most of the shops and restaurants still open.
Acadia National Park remains open as well, offering 32 groomed miles plus 13 ungroomed miles of carriage roads for snowshoeing and cross-country skiing. Snowmobilers can utilize the 27-mile Park Loop Road, as well as the fire roads via Hulls Cove Visitor Center. Ice-skating and ice fishing are also popular activities on the nearby lakes.
11. Discover the Great Outdoors with L.L. Bean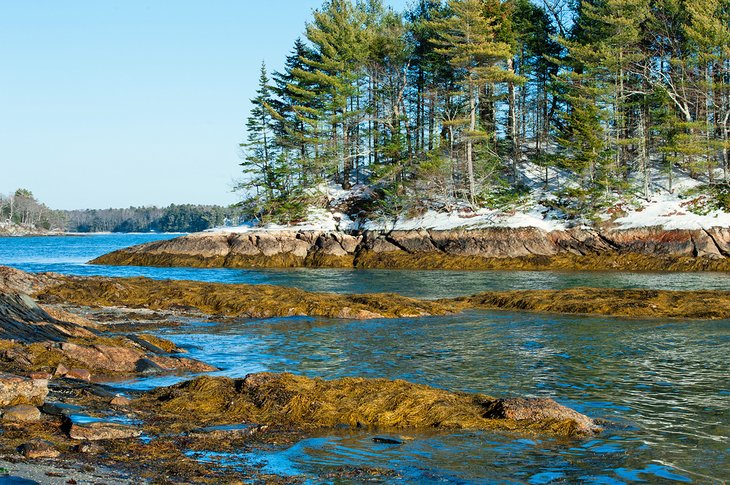 Freeport offers far more than shopping thanks to LL Bean's Outdoor Discovery Programs. Visitors new to winter outdoor sports can take beginner lessons in cross-country skiing or snowshoeing, and those with more experience can enjoy longer guided treks around Fogg Farm. The most ambitious tourists can book the guided three-day Northern Maine Winter Adventure Trip that includes all equipment, food, and guides. For a unique experience under the stars, try the moonlight or starlight tours.
The Discovery School also offers winter day camps for kids, a great option for families who want a little grown-up time for shopping or their own lessons. Full-day camps are offered during February vacation, and half-day winter adventure camps are offered the rest of the winter. Kids will burn off all their extra energy learning to snowshoe and cross-country ski, plus many other outdoor activities including sledding, geocaching, and outdoor skills.
Address: 95 Main Street, Freeport, Maine
12. Go Winter Camping
Maine is a top destination for camping in the summer, but few realize that vacationers can go camping year-round at Maine Forest Yurts in Durham. This unique glamping site provides visitors with comfortable, fully-furnished yurts that are warm and cozy even on the chilliest nights. Each yurt is equipped with a wood stove for heat, as well as a gas stove for cooking in the well-equipped kitchen area.
Glampers will also find each yurt equipped with bunk beds and a futon, leaving plenty of space for families. The campground is also dog-friendly, and guests can explore the 100-acre property in the winter via snowshoes or cross-country skis. Guests can also go ice-skating right on-site on Runaround Pond. The campground is conveniently located 15 minutes from Freeport's shopping and dining, and only a half hour drive from Portland.
Official site: www.maineforestyurts.com