Maine in Pictures: 25 Beautiful Places to Photograph
Maine is a masterpiece showcasing the best of New England topography. From remote islands to the resplendent (and vast) Acadia National Park to majestic lighthouses lining the rocky shore, there's so much for the eye (and lens) to love. The state also features thousands of pristine lakes and rivers, as well as miles of breathtaking coastline to inspire your inner Ansel Adams.
When you're not busy snapping pics of the region's most brilliant attributes, sit back, relax, and let Maine's laid-back vacation vibe take over your weary self. Once you've recharged, hit the slopes (in winter, of course), bob about on glittering Casco Bay, or wander through historic towns peppered with antique shops. No matter what you fancy – outdoor adventure, sun-kissed sandy beaches, or big city entertainment, you'll find it all and so much more in this wonderful East Coast gem.
Not sure where to start shooting? These 20 beautiful places will help you get started.
1. Acadia National Park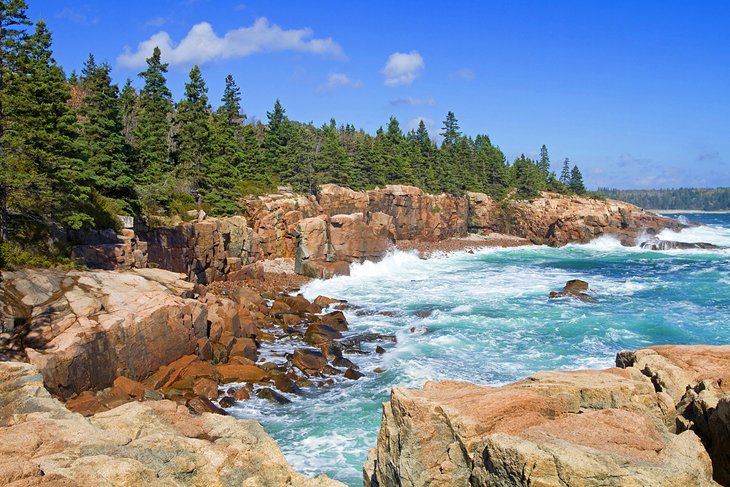 Talk about nature at its best; Acadia National Park is organically breathtaking. Its pristine lakes, rocky headlands, and dramatic coastline are awe-inspiring. Not only that, but every hike you take and pond you paddle is picture-perfect and soul cleansing. You'll want to spend at least three days in this utopia, which takes up nearly half of Mount Desert Island. You'll fall so deeply in love, you won't ever want to leave.
2. Portland Head Light, Cape Elizabeth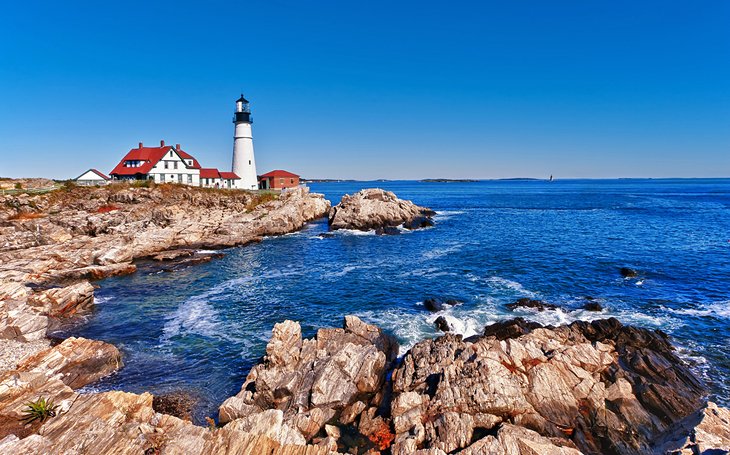 It doesn't get much more gorgeous than this coastal view of the Portland Head Light, especially during a sunset. Set upon the rustic shores of the 90-acre Fort Williams Park, this iconic beacon first shone its light on January 10, 1791. Over the years, additions (i.e. the Keepers' Quarters building) and reconstructions have helped maintain its splendor.
3. Rockland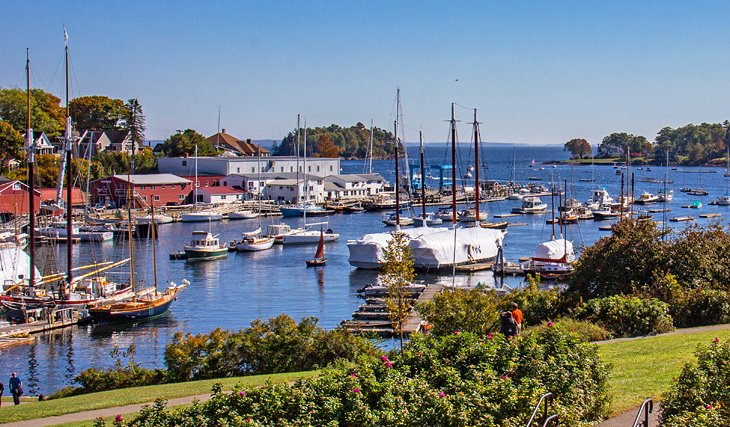 One of the best small towns in Maine, Pretty Rockland is the place where mountains meet the glistening sea, and jagged, rocky shores offer dramatic flare to the already beautiful coastline. It's also home to a thriving port (a.k.a. the inner harbor) filled with tall sailing ships bobbing in unison. Grab a bite in an eccentric café, stroll through an art gallery, or cruise the inviting waters.
Accommodation: Top-Rated Resorts in Maine
4. Rockland Harbor Breakwater Lighthouse, Rockland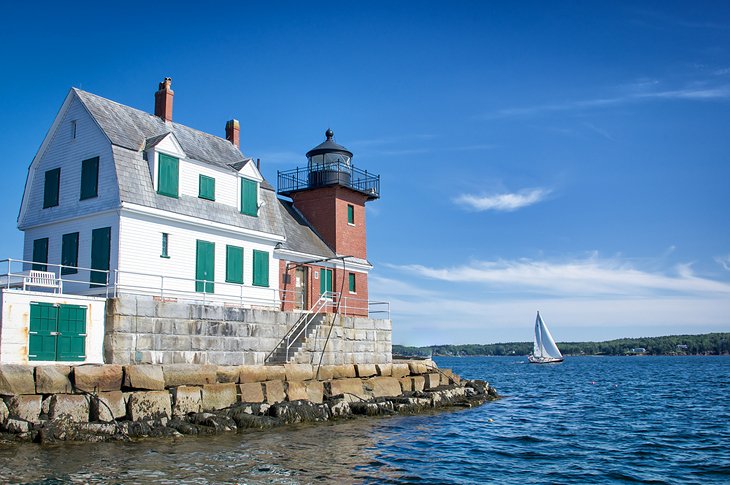 Lighthouses make a photograph. And this adorably unique structure is a fitting example of our point. Sitting at the end of the Rockland Harbor breakwater, this beacon was first lighted in 1902. To get out to it, you'll have to walk for about a mile each way, but the granite path offers immaculate views of the remarkable tree-lined harbor. It took 18 years to construct this masterpiece of a breakwater, so be sure to appreciate each stone.
5. Bar Harbor, Acadia National Park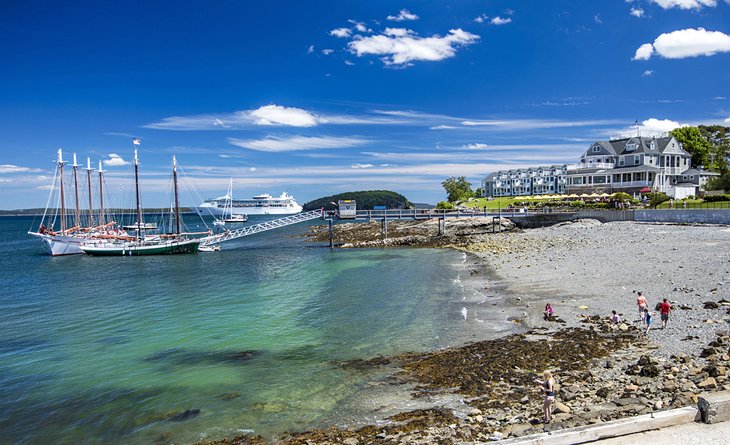 The gateway to exquisite Acadia National Park, Bar Harbor harkens to an era when the moneyed used it as a summer stomping ground. Today, the streets play homage to the average tourist, dotted with ice-cream shops, souvenir stores, and a boat load of accommodation options to please everyone. Bar Harbor is quaint, pretty, and worth a visit.
Read More: Top-Rated Attractions & Things to Do in Bar Harbor
6. Portland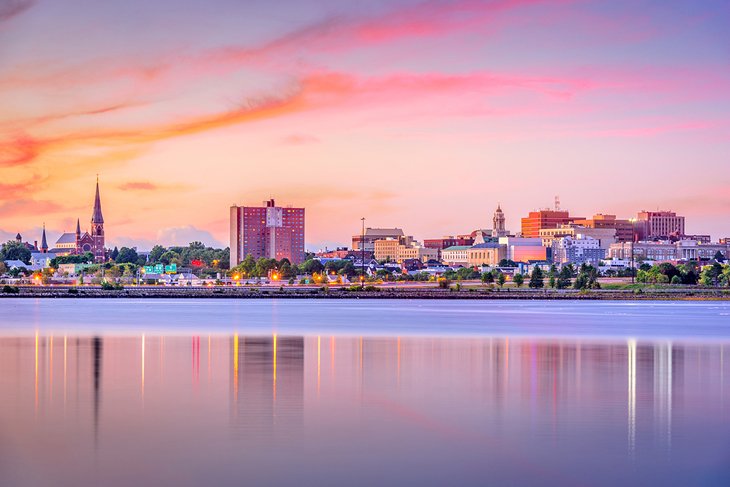 One of the best ways to appreciate this spectacular seaside town is from its main attribute: the water. Hop on the "mailboat" for a three-hour tour of Casco Bay. But don't spend all your time at sea. Portland's scenic downtown (complete with photo-worthy cobblestone streets, adorable shops, and impressive restaurants) will make anyone snap happy.
7. Portland Breakwater Light, South Portland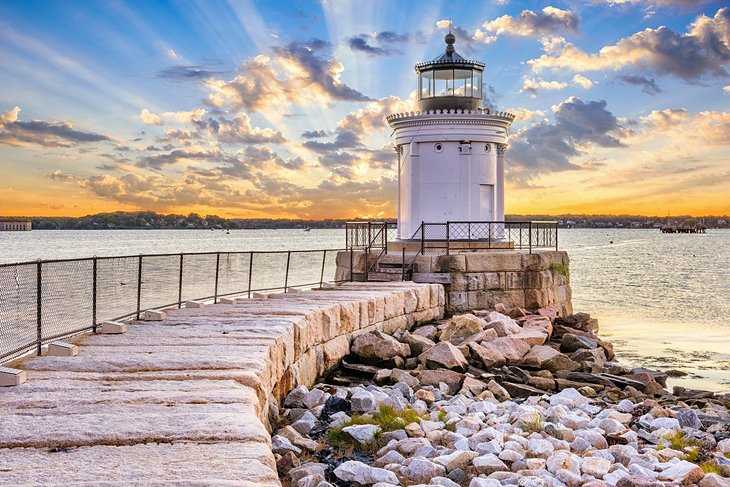 Lucky for those who love taking artsy photos, coastal Maine boasts a lot of lighthouses. The Portland Breakwater Light, with its elevated stone path, is small, sweet, and utterly photographable. Hit it during sunset, and you won't be able to take a bad shot. Lovingly referred to as "Bug Light" by locals (because of its diminutive stature), this adorable beacon was listed on the National Register of Historic Places in 1973.
8. Lewiston Falls, Lewiston and Auburn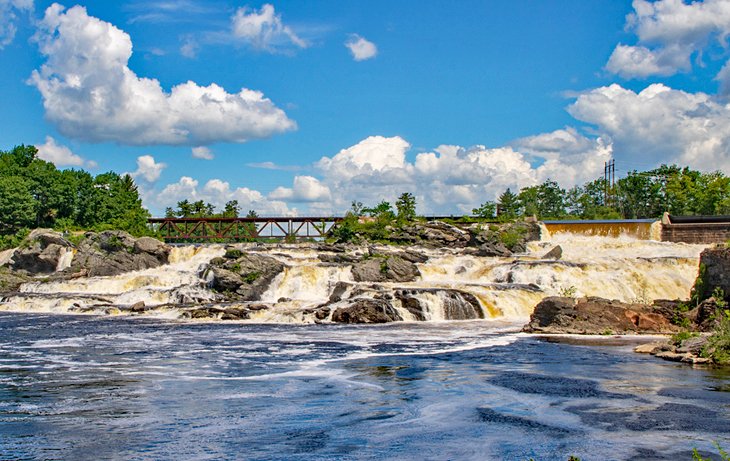 These thundering falls bridge the towns of Lewiston (the second largest of Maine's cities) and Auburn. Split by the Androscoggin River, these two towns are known locally as the "Twin Cities." The impressive falls, sometimes called "Great Falls" are a spectacular sight bursting from an urban setting, especially after a big rain storm.
9. Mount Cadillac, Acadia National Park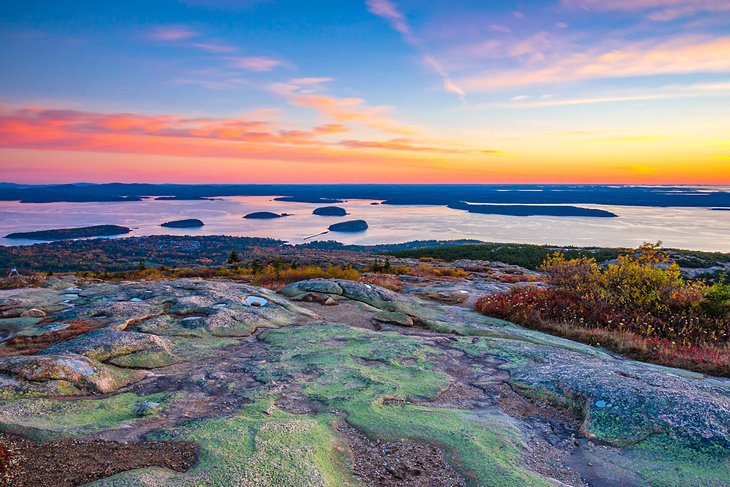 The Cadillac of Maine's mountains (sorry, we had to), Mount Cadillac offers visitors incredibly scenic vistas. All they have to do is climb to the top. At 1,530 feet, its summit is the highest point along the North Atlantic seabord. Head here at first light for the most incredible selfie backdrop. Don't worry, you can drive to the top in no time.
10. The Maine State House, Augusta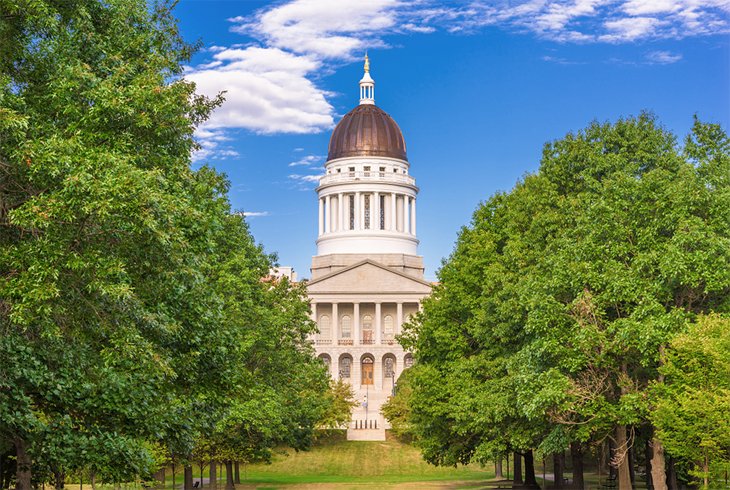 The ornate Maine State House peeks out serenely from lush trees. A vast expense of perfectly manicured lawn makes for an impressive entrance to this significant historic building. There's no mistaking this for anything but an important place. Serving as Maine's state capitol, the imposing edifice was built in 1832.
11. Kennebunkport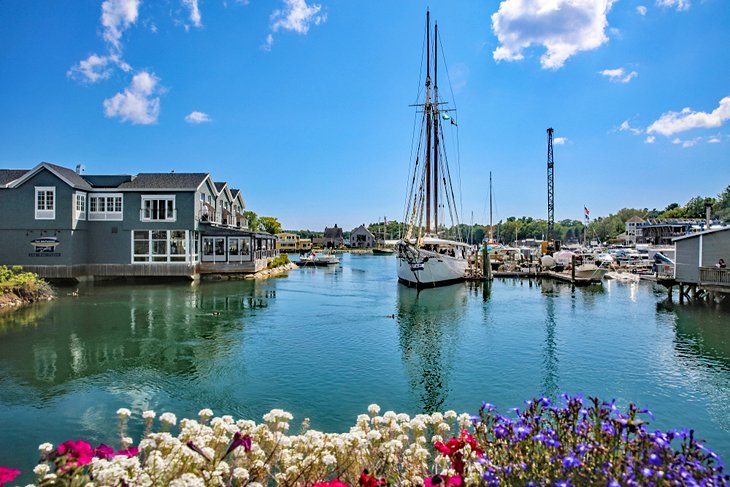 One of Maine's best weekend getaways, the tiny Kennebunkport is loaded with charm. Boutique shops, art galleries, restaurants, and fabulous beaches attract summer visitors like an ice-cream truck delights kids. In terms of innate beauty, you'll find pristine, golden-sand beaches; historic homes; and perfectly manicured gardens within its borders. The mirror-clear Kennebunk River divides the town from its popular (and just as attractive) neighbor, Kennebunk.
12. Camden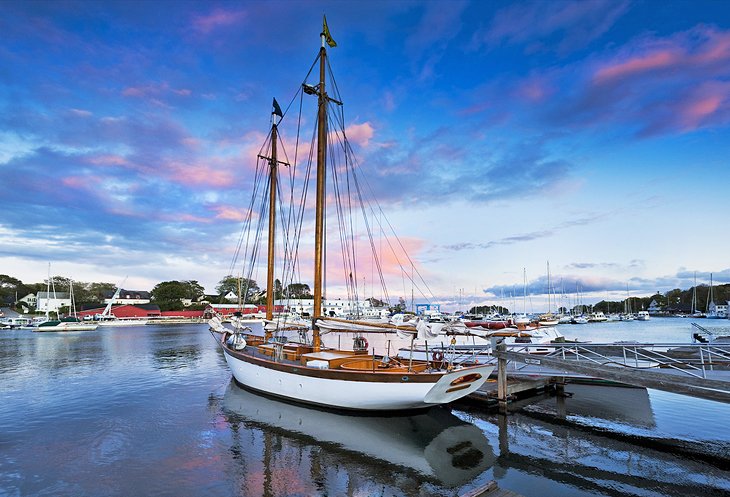 Yet another stunning Maine harbor town, Camden boasts a dazzling waterfront. Dipping sailboats pepper the harbor, creating an instantly perfect backdrop for any photo. Did we mention the majestic mountains and lush, mature trees framing the town? No wonder this has been deemed the "Jewel of the Coast."
13. Old Orchard Beach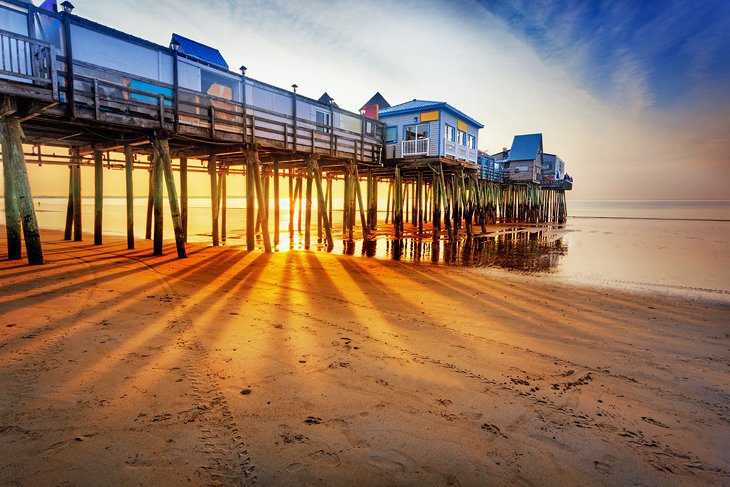 Maine's slightly more upscale answer to Coney Island, Old Orchard Beach is a fun, lively, and colorful summer destination. French Canadians see this as their summer playground, venturing south to enjoy the surf, try out a few carnival rides, and stuff their faces with treats. Known by locals as OOB, this enjoyable vacation destination is so popular in the warmer months, you'll be rubbing elbows with hundreds on the pretty boardwalk.
14. Bethel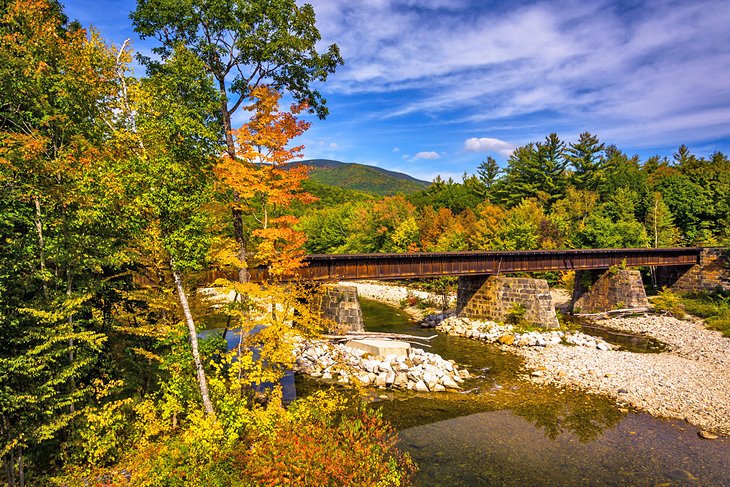 A small and charming resort town, Bethel consists of a perfect blend of nature's best elements. Thick woods; majestic mountains; and large, glistening lakes are a few of the area's more remarkable attributes. They beckon visitors to spend more time outside. When you're not hiking, skiing, or kayaking, enjoy a few shops or restaurants in the sweet town center.
15. Sunday River Bridge, Newry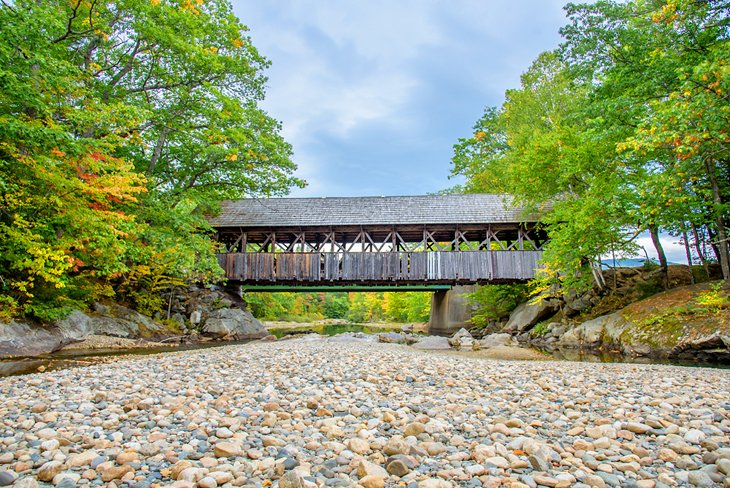 Bet your camera's never met a covered bridge it didn't like. Known locally as "Artist's Bridge," this splendid construction lies four miles northwest of Bethel in a tiny town called Newry. The area is best known for its spectacular outdoor beauty, most notably the popular Sunday River Ski Resort.
16. Grafton Notch State Park, Newry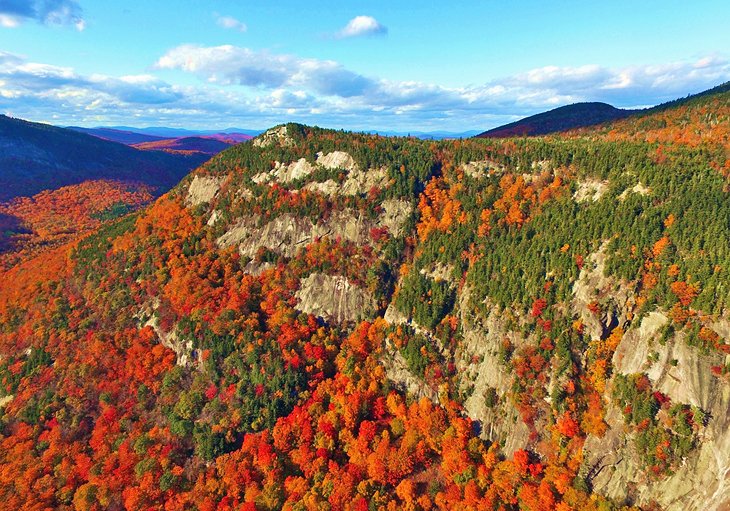 A flawless section of the famed Appalachian trail, Grafton Notch State Park lies just outside beautiful Bethel. People come here to unite with the natural wonderland. Adventurists strive to climb its highest peaks. Their reward: unbeatable views of the Mahoosuc Mountain Range. Don your hiking shoes and dust off your lens; this place is exquisite.
17. Boothbay Harbor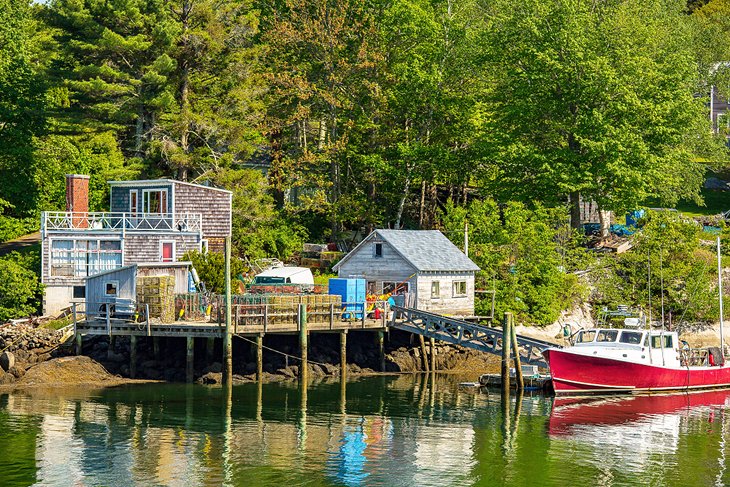 Yet another popular summer destination, Boothbay Harbor boasts the largest (and we'd say prettiest) boating harbor north of Boston. Its narrow, winding streets up the charm factor, as do the attractive Victorian homes, wooden footbridge (on the town's east side), and endearing boutique shops.
18. Monhegan Island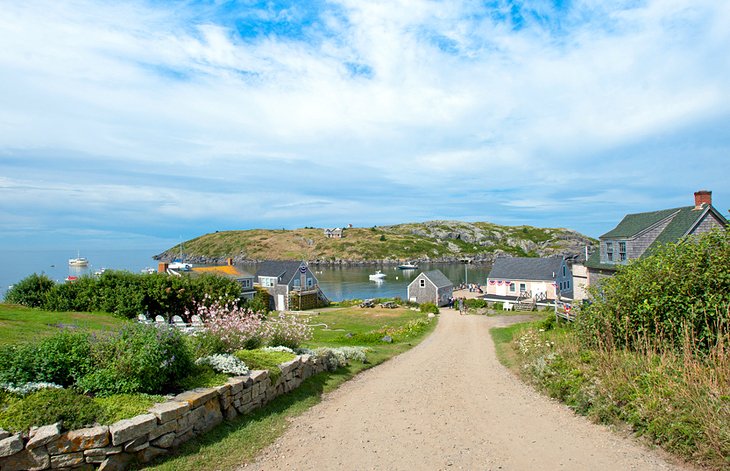 A remote, rocky isle, Monhegan Island is plopped 10 miles from the closest mainland shore. You'll have to board a boat from Boothbay Harbor to reach this mystical land. The isle boasts a captivating stone lighthouse (of course) and a tiny photo-worthy village. Its best selling feature, though, is something it lacks - technology (that includes cars). There aren't any restaurants or shops either. What a relaxing treat!
19. Old Fort Western, Augusta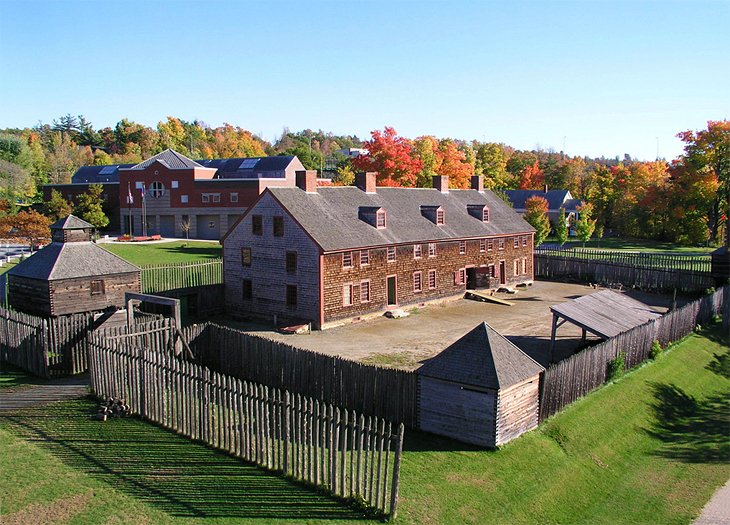 Built in 1754, this wooden stronghold is a National Historic Landmark (and the oldest surviving wooden fort in America). Butting up against the Kennebec River, this living museum reminds visitors of the trials and tribulations of life in the mid-18th century.
20. Cape Neddick Light Station (Nubble Lighthouse), York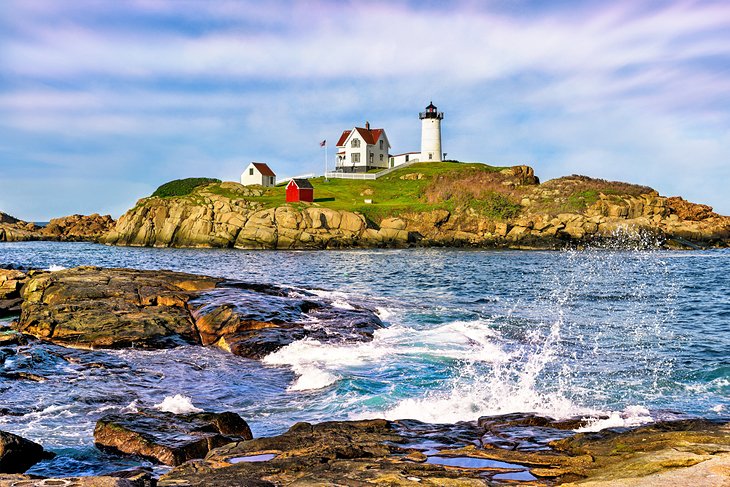 Built on a tiny "nub" off Maine's rocky coast, this enchanting beacon was originally known as the Nubble Lighthouse. Completed in 1879, it was officially renamed the Cape Neddick Light Station, although most still refer to it as the Nubble.
21. Baxter State Park, Piscataquis County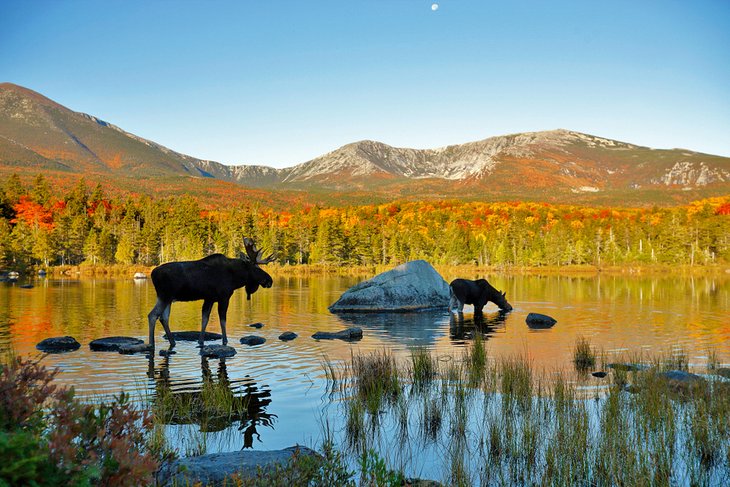 Be prepared to gape when you set eyes on the vistas provided in the 209,644-acre Baxter State Park. We're talking sparkling streams, majestic mountains, deep ponds, vast lakes, and rugged ridges surrounded by verdant forest. If ever there was a place to feel close to Mother Nature, this is it. Hit the hiking trails (there are over 215 miles of them), go rock climbing, fish, or paddle a canoe or kayak while you're here.
22. Screw Auger Falls, Grafton Notch State Park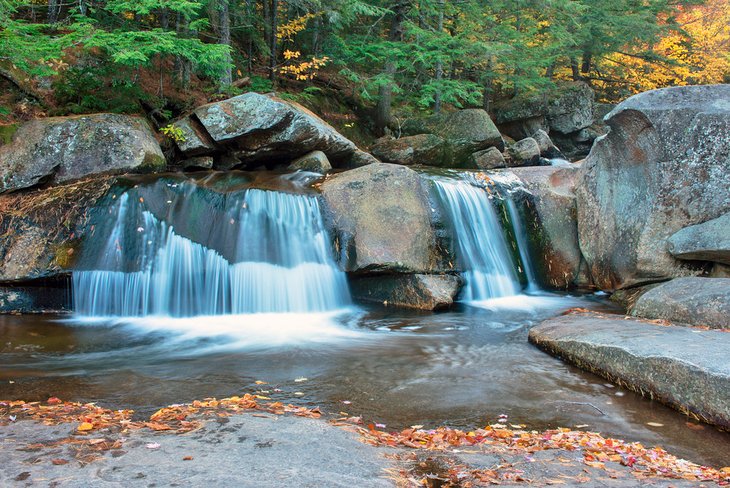 Grafton Notch State Park is a beauty in and of itself, but when you add the magnificent Screw Auger Falls, you're in for a picturesque treat. The upper cascade is easily viewed after a short, easy walk from the parking lot, and you'll likely hear the falls before you see them.
23. Camden Hills State Park, Camden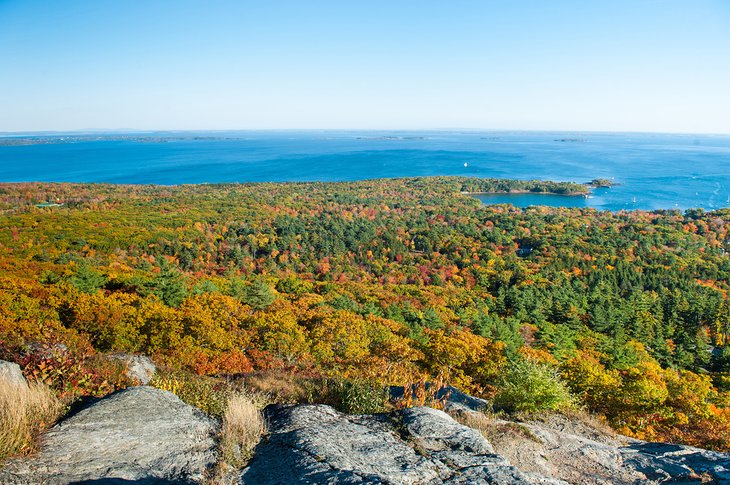 Charge your camera, pack a water bottle, and head out for a day-long adventure in the stunning Camden Hills State Park. It's home to Mount Battie, the summit of which can be reached by a 1.1-mile trail. Be prepared for a bit of a hike to reach the impressive stone tower and accompanying panoramic vistas. On a clear day, you'll be able to ogle Penobscott Bay and Camden Harbor.
24. Marshall Point Light, Port Clyde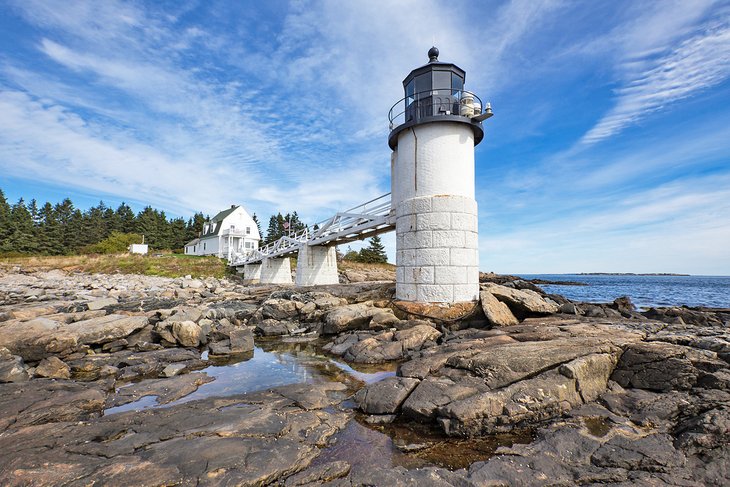 If you're looking for a romantic backdrop, head to the Marshall Point Light at sunset. A remarkable structure attached to the keeper's house by a wooden "arm," this stunning lighthouse is utterly charming. Built in 1832, you'll find this iconic structure at the entrance of Port Clyde Harbor on the St. George Peninsula. It is still in use by the U.S. Coast Guard today.
25. Penobscot Narrows Bridge and Observatory, Prospect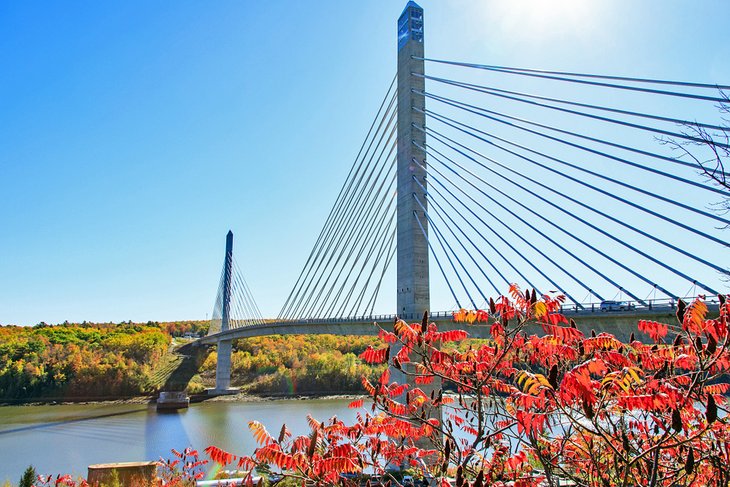 The Penobscot Narrows Bridge is a marvelous feat of engineering spanning the Penobscot River. While the bridge itself is captivating in its ingenious design, the views it provides of the Fort Knox Historic Site, Penobscot Bay, area mountains, and sprawling countryside are breathtaking. This is also home to the world's tallest public bridge observatory.