17 Top-Rated Things to Do in Camden, ME
One of Maine's most scenic coastal villages, Camden spreads around a harbor filled with pleasure craft and the tall masts of windjammers. Behind the town, Mt. Battie rises in wooded slopes to a rockbound summit. Between the mountain and the sea are streets of elegant 19th-century homes, and a photo-worthy downtown that's lined with classic brick mercantile buildings.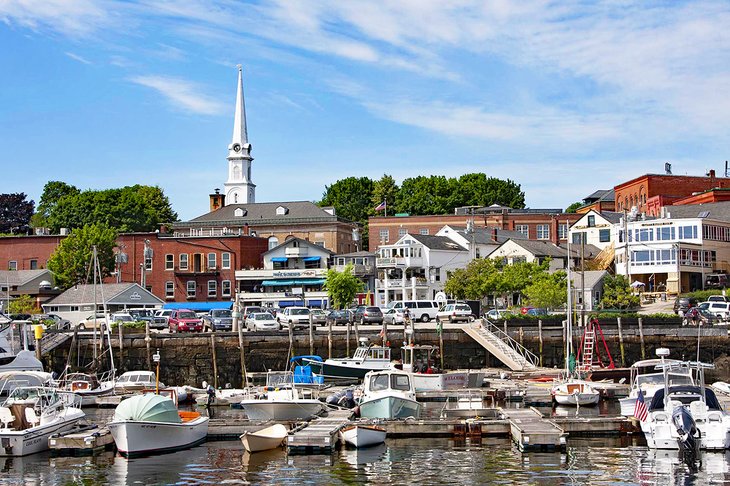 You can stroll along the harbor to find sailing cruises or kayak tours, or just to watch the tall ships and boat traffic; part of Maine's windjammer fleet is harbored here. The harbor and Penobscot Bay provide plenty of things to do, but they are not Camden's only attractions for tourists.
Shops and galleries provide hours of enjoyable browsing and shopping. Camden Hills State Park offers miles of hiking trails and a road to Mt. Battie's summit. You can admire the flowers at Merryspring Nature Center, and enjoy an ice-cream cone surrounded by the flowers on the Riverhouse Footbridge. In the winter, you can ski or ride a toboggan at Camden Snow Bowl.
You'll have no trouble planning your trip with this handy list of the best things to do in Camden, Maine.
1. Watch the Ships in Camden Harbor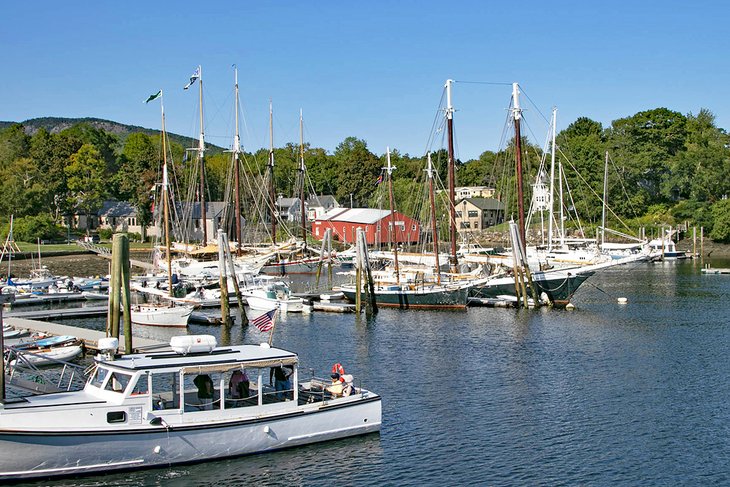 Of all the things to do in Camden, everybody's favorite is simply watching the boats come and go in the harbor. You'll find graceful windjammers with their swaying masts, as well as posh yachts, peppy little motorboats, fishing vessels, and the occasional kayak all sharing the scenic harbor.
Stroll along the docks or sit on a bench to watch the scene, or linger over a meal in one of the waterside restaurants as you enjoy the constant parade of colorful boats. For even closer views, step aboard one of them for a harbor cruise.
The classic wooden motor vessel, Lively Lady, cruises through the harbor and into beautiful Penobscot Bay to see lighthouses, rockbound islands, and beautiful views of Camden and Mt. Battie.
As you cruise the bay, you may also see porpoises, seals, osprey, and bald eagles.
2. Climb or Drive up Mt. Battie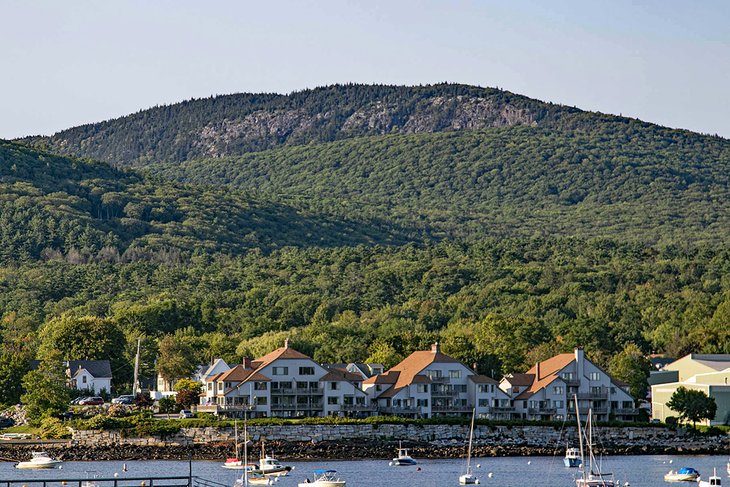 Mt. Battie's rounded silhouette of forested slopes and rocky summit rises as a backdrop for Camden, which is picturesquely set between the mountain and the iconic harbor. It's no wonder the town has been the filming location for several movies.
For views of the "three islands in a bay" that inspired Edna St. Vincent Millay to write her poem, Renascence, climb or take your car to the top of Mt. Battie. Here, along with the views of Penobscot Bay and the inland mountains, you'll find the poet's words on a bronze plaque.
You'll also find a stone tower, which you can climb for an even more sweeping vista that, on clear days, reaches to Mt. Cadillac in Acadia National Park. There is a fee to drive up the Mt. Battie Road, and a day-use fee for climbing; the trail is a short, but steady climb with rocky sections, so wear hiking boots.
Address: 280 Belfast Road, Camden, Maine
3. Stroll through Harbor Park and the Amphitheater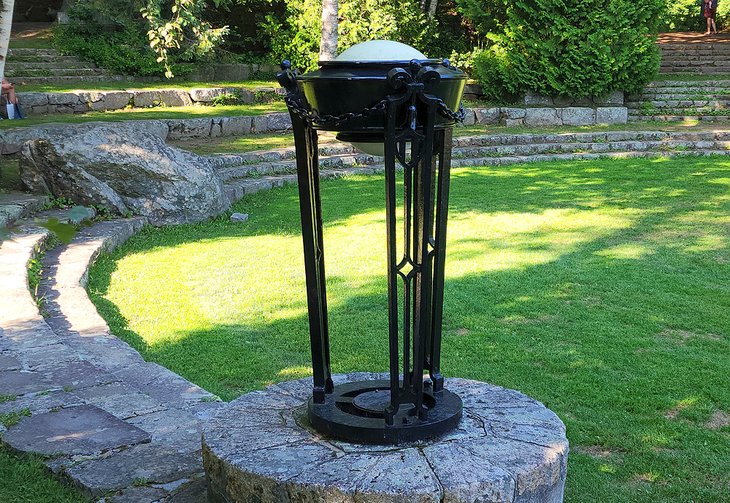 Behind the Camden Public Library and overlooking the harbor, the Camden Amphitheater and Harbor Park combine to create an outdoor public space where locals and tourists can stroll, picnic, and enjoy the views. The two also hold a place in architecture's hall of fame, as a collaboration by two of the most important 20th-century American landscape architects.
The outdoor amphitheater, constructed between 1928 and 1931, was one of the few public projects of landscape designer Fletcher Steele, and is considered the first public Modernist landscape, blending traditional Neoclassical elements with newer Art Deco design.
Preserving the grounds' native trees and adding only those trees and shrubs that grew within a five-mile radius, Steele used fieldstone for the tiers, with wrought-iron rails and elegant tripod light stands. The Amphitheater, now a National Historic Landmark, is used for concerts and events such as the Maine Outdoor Film Festival.
Working at the same time, across Atlantic Avenue, the famed Olmsted Brothers (designers of New York's Central Park) were creating the two-acre Harbor Park, with its meandering walkways and informal plantings. Benches invite visitors to stop and savor the harbor views. Camden Harbor Park is listed on the National Register of Historic Places.
4. Explore Camden Hills State Park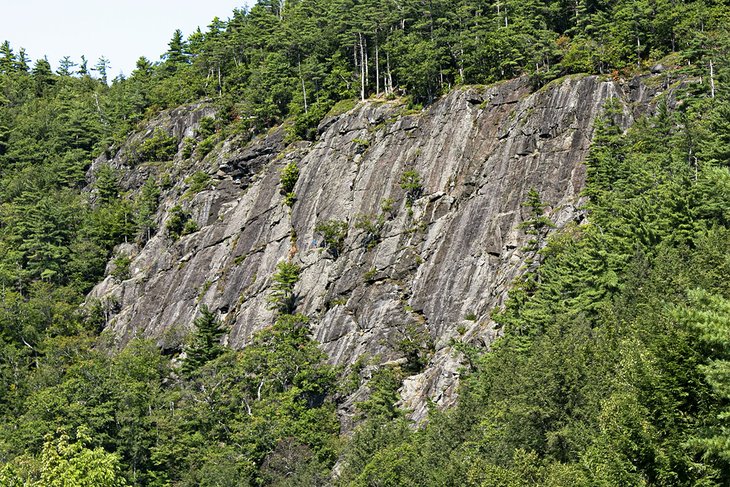 While Mt. Battie is the poster child for Camden Hills State Park, you'll find plenty more things to do in its 5,700 acres of wooded hills. Among its 30 miles of well-mapped hiking trails are gentle woodland rambles and the moderately difficult climb up Mt. Megunticook, the highest of the Camden Hills.
Perhaps Camden's top attraction for hikers is the mile-long trail to the top of Maiden's Cliff, an 800-foot sheer cliff with views overlooking Lake Megunticook. Scaling the cliff itself is a popular challenge for rock climbers. In the winter, the park's trails are open for cross-country skiing, snowshoeing, and snowmobiling.
Camden Hills State Park is one of the favorite places to go for campers, with 107 beautifully maintained campsites, some with hookups for RVs. The campground is open from April through early December, with rustic shelters available by reservation for winter camping.
Address: 280 Belfast Road, Camden, Maine
5. Admire the Architecture in the High Street Historic District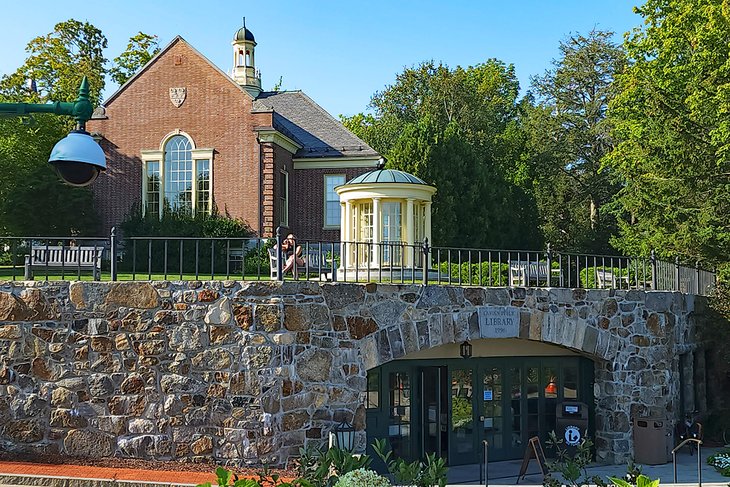 Camden's High Street, which is also Route 1, begins at the end of Main Street opposite the Camden Public Library; this is where the district's National Register of Historic Places listing begins. The district continues as far as Marine Avenue, its route lined by well-preserved 19th-century homes.
The Camden Public Library was designed in 1928 by architects Parker Morse Hooper and Charles Greely Loring, and enhanced in 1996 with a more accessible entrance, hidden from the front and facing Harbor Park. As you stroll along the sidewalks that line the entire Main Street route, look for different examples of 19th- and early 20th-century architecture.
You'll see former farmhouses, a couple of hip-roofed bungalows, and several fine example of prosperous Victorian-era and earlier homes, some of them now gracious B&Bs. You'll also pass the long, white porches of Whitehall, where the young Edna St. Vincent Millay first read her poetry to hotel guests.
Continue a few steps past Marine Avenue to see the impressive Norumbega, with its gables and pointed turret. A former summer estate, it is now a luxury inn.
As you walk, look for period details on the finer homes, such as wide doorways with fan windows, carved corbels, columned porches, dormers, an intricate iron fence, and adjacent carriage houses.
6. Swim at Megunticook Lake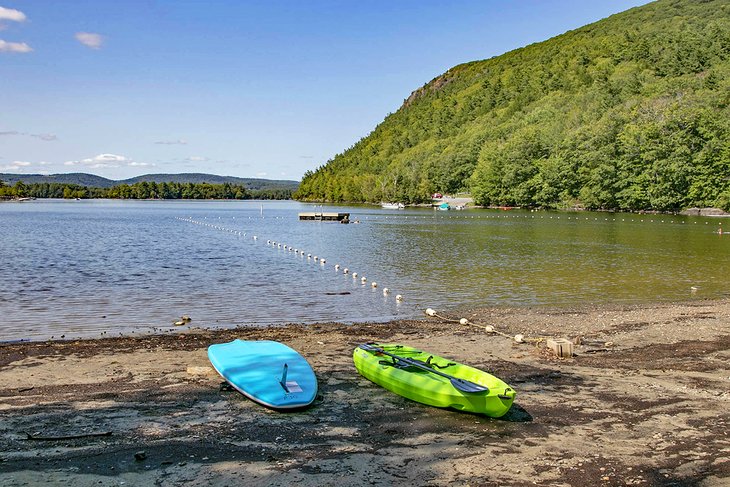 Although Camden does have a beach on Casco Bay, most locals prefer taking their families to swim in the warmer waters at Barrett's Cove on Megunticook Lake. The park, only a few minutes from downtown Camden, sits under the 800-foot Maiden's Cliff and spreads along the shore with a sand beach and grassy park.
The beach has a roped swimming area with a gently sloping shore, and a float outside the ropes in deeper water. You can put in kayaks at the beach or go to the launch across the water, on Route 52.
Picnic tables and grills, a bathhouse with showers, and a playground for children make this a good place to go for families.
7. Take a Sailing Tour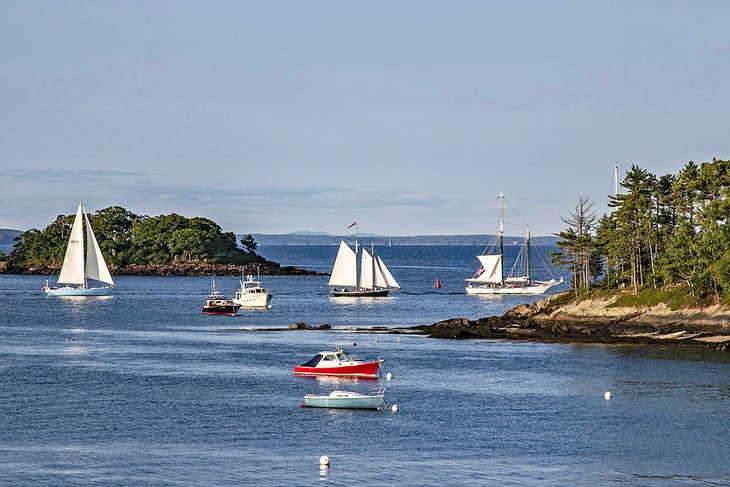 Among the world's top bays for sailing, Penobscot Bay is bordered by a rockbound shoreline capped with trees and speckled with islands. Some of the islands are just tiny rock lumps topped with spiky fir trees; others have lighthouses to warn ships of rocky hazards and aid in navigation; some are large enough to support entire island communities.
You have a choice of several sailing options that leave daily from Camden Harbor. Most of these are two-hour trips that sail around the nearby islands and past the picture-perfect Curtis Island Light, offering a relaxing change of views and a chance to see porpoises, eagles, seals, and other wildlife.
For a windjammer experience without signing on for a multi-day trip, sail on Appledore II, a traditional 86-foot wooden schooner, the largest in the fleet that regularly offers daily trips.
You can spend a whole day sailing on the classic wooden yacht Cimarron, skimming the waves to the beautiful island of North Haven. Sunset cruises are a lovely way to end a day of sightseeing in Camden.
8. Photograph Curtis Island Light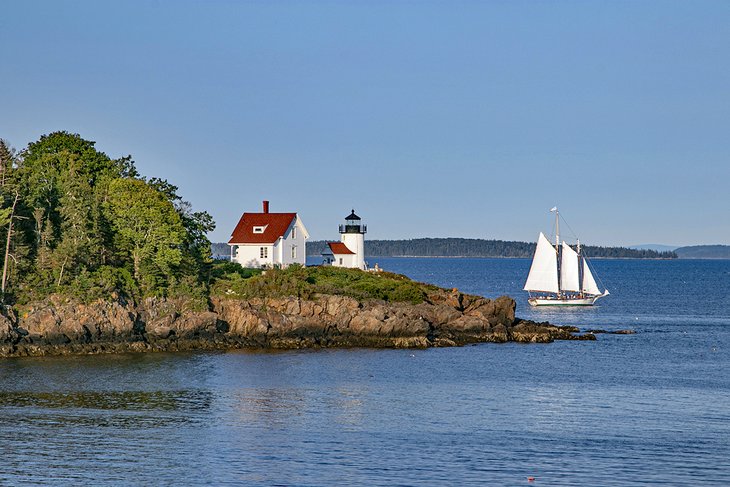 Lighthouses are always a favorite subject for photographers, and Curtis Island Light poses irresistibly close to Camden's shore. The island is a public park, but you can only get here by private boat; most cruises from Camden Harbor sail close to the island for good views of the lighthouse.
Curtis Island Light is an active U.S. Coast Guard navigation aid, built in 1896 to replace the original 1835 structure, and is now solar powered. The lighthouse is listed on the National Register of Historic Places.
For the best land-based views of the lighthouse and island, follow Bay View Street from downtown Camden to its intersection with Beacon Street. A trail to the viewpoint is almost hidden in the trees to the left. The best time of day for photography is mid- or late afternoon, when the sun bathes the Camden side of the lighthouse.
This is a romantic spot for couples to enjoy an evening picnic in the summer.
9. Go Gallery Hopping on Bay View Street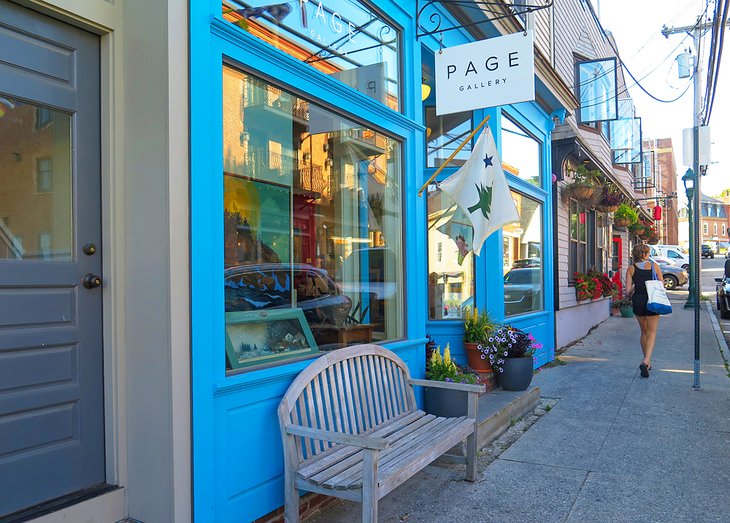 Running alongside the harbor, Bay View Street is lined with shops and galleries filled with the works of Maine artists and craftspeople.
Page Gallery exhibits a wide variety of paintings, drawings, and sculptures by contemporary artists. Along with paintings, many representing Maine coastal scenes, are works in glass and other media.
While Page Gallery exhibits more traditional paintings, at Carver Hill Gallery, you can expect to find larger abstract, often quirky artworks by Maine and other artists, including international ones.
In addition to fine art, Topo Gallery carries stationery, notebooks, and prints by independent artists. Look here for beautifully designed note cards and postcards.
The window displays in the large brick storefront of Ironbound Gallery will surely draw you in. Along with fine art, Ironbound is filled with the works of talented craftspeople working in glass, metal, wood, silver, ceramic, stone, and other media. You'll also find small items, such as the beautifully crafted glass birds that make good gifts and souvenirs of your trip to Maine.
You could easily spend an afternoon browsing and shopping on Bay View, and if you need to sit down for a few minutes, stop at the cheery Owl & Turtle Bookshop Café.
To find more art and craft galleries in the area, pick up a copy of the free Maine Gallery & Studio Guide.
10. Tour the Harbor in a Kayak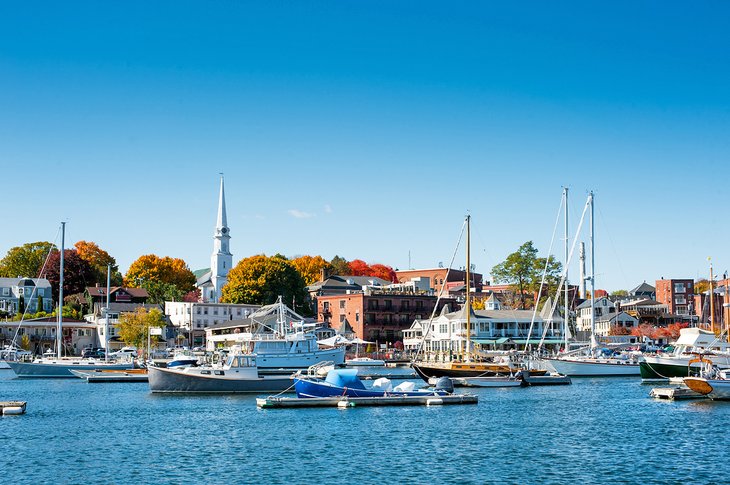 There's no better way to get up close and personal with the myriad of watercraft in Camden Harbor than by kayak. From the harbor, you can paddle around Curtis Island for close-up views of the lighthouse, and explore the islands of Penobscot Bay, the most scenic boating waters in Maine.
On a two-hour kayak tour, your guide will relate local history and bay ecology, pointing out wildlife as you paddle along the shore and islands. Kayaks, paddles, and safety equipment is provided.
Longer seven-hour trips with a guide can take you farther into the bay, to the beautiful and remote Muscle Ridge archipelago. In this group of rugged islands, you'll explore tidal lagoons and stop for lunch and a swim at a remote sandy beach. You are likely to see porpoises, harbor seals, bald eagles, osprey, and other wildlife as you paddle.
11. Admire the Gardens at Merryspring Nature Center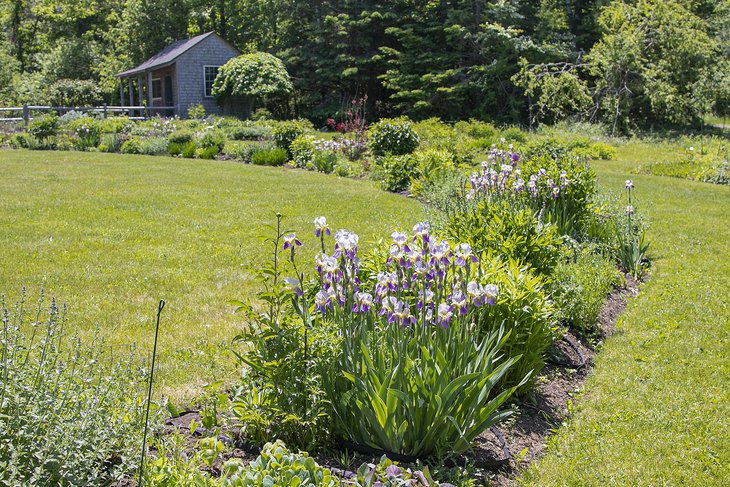 The 66 acres of gardens and woodlands at Merryspring Nature Center are a pleasant place to visit year-round, from the first flowering bulbs in spring to the Winter Color Garden. Bright red poppies and blue delphinium bloom in the perennial border in early summer, followed by the spectacular display in the Day Lily Garden.
You'll find a Rose Garden, a Hosta Garden, plantings especially for birds and bees, a breeding orchard for the rare American Chestnut, an herb garden, and one especially for children.
You can also walk the four miles of woodland trails, which include an Interpretive Trail.
Address: 30 Conway Road, Camden, Maine
12. Megunticook Falls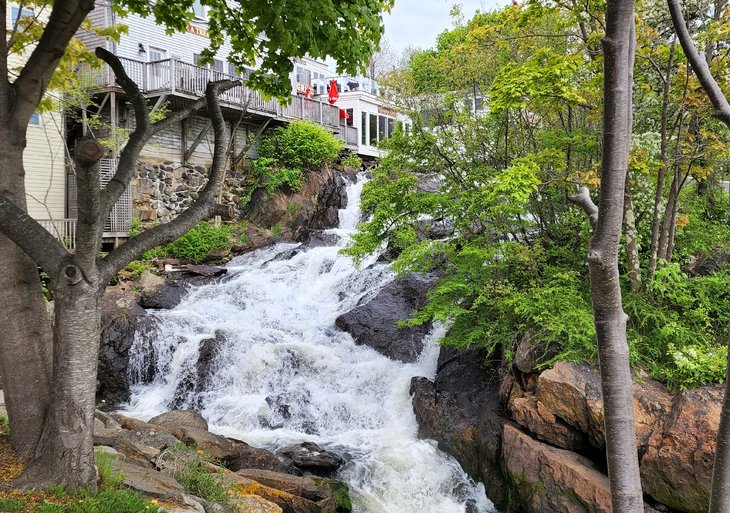 Most of the waterfalls in Maine require a hike or a drive to more remote forest regions, but Megunticook Falls is right in the heart of Camden. In fact, you can sit on a bench in Harbor Park and enjoy watching the Megunticook River cascade over ragged rock ledges into the harbor.
For a more lofty view, you can eat breakfast or lunch over the falls, on the deck of the Marriner's Restaurant (yes, it is spelled that way). The restaurant and several downtown shops sit directly over the river, which flows from nearby Megunticook Lake.
Although the river flows in all seasons, the best time to see the falls is in the spring and early summer; after rainy weather; or in the winter, when the water builds up layer after layer of ice, completely covering the rocks.
13. Ski or Toboggan at Camden Snow Bowl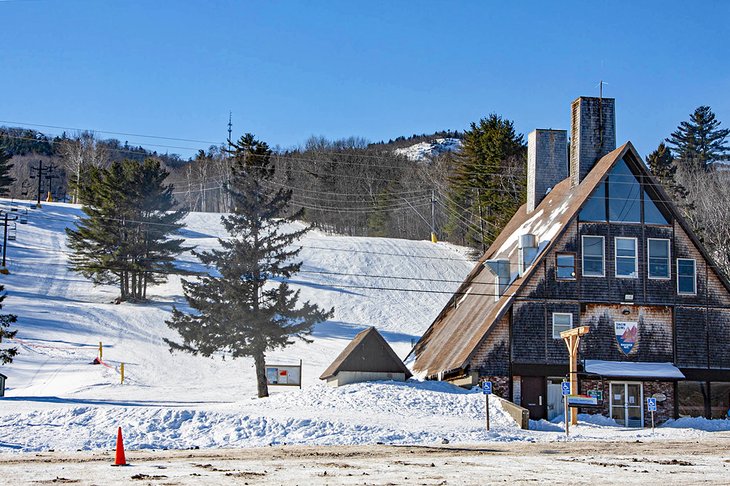 The only ski mountain in the East where you get ocean views from the trails, Camden Snow Bowl is a friendly hometown ski area with enough challenge to keep experienced skiers interested. Skiers and boarders can choose from more than 20 runs rated from green to black, or from 45 acres of glades and more ungroomed terrain for experts.
Camden Snow Bowl is a good place to go for families, with budget-friendly rates, especially for children. Thrill-seekers will want to take a run on the 400-foot toboggan chute, a steep ice-covered track that hosts the annual U.S. National Toboggan Championships.
Address: 20 Barnestown Road, Camden, Maine
14. Cross the Riverhouse Footbridge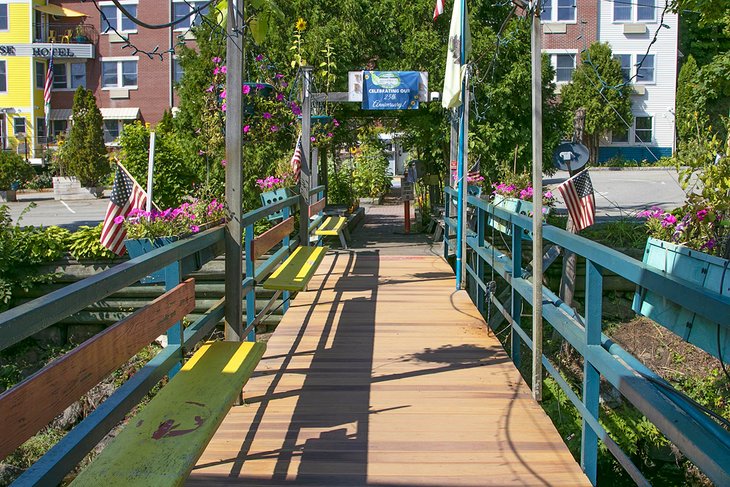 Spanning the Megunticook River between Mechanic Street and Tannery Lane is a flower-decked footbridge that's a magnet for tourists and locals. The river narrows here before flowing under Camden's Main Street and over the falls into the harbor, and the footbridge connects the luxury Riverhouse Inn to its additional buildings on Tannery Lane.
Throughout the spring, summer, and fall, the bridge becomes an exuberant garden, its railings and overhead arches almost hidden in flowers and vines. Petunias and nasturtiums drape from overhead and tumble down the sides to frame river views, while pots of bright flowers line its railings.
Among the flowers, you may find fruits and vegetable, too – ripening tomatoes, bunches of grapes, or big pumpkins in the fall.
Under this tunnel of greenery and blossoms, wooden chairs and benches provide a place to stop and enjoy the flowers and river below. Few people can resist stopping for a cone at the colorful little River Ducks Ice Cream stand at the start of the bridge.
15. Enjoy a Show at the Camden Opera House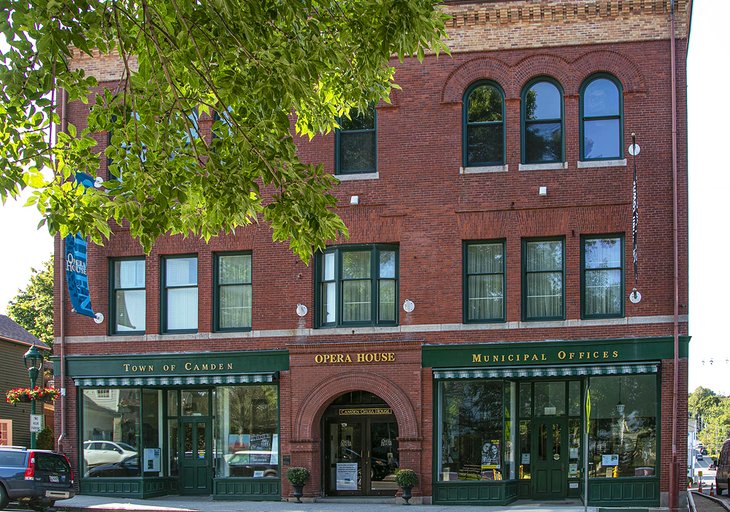 The impressive brick Opera House on Elm Street was built in 1893, after a fire destroyed the previous one and much of this entire section of downtown Camden. The Opera House is the centerpiece of the Camden Great Fire Historic District, which includes those buildings constructed after the fire, when town ordinance required commercial buildings to be brick instead of wood.
The auditorium, which is on the top floor, reflects its Victorian origins even after several renovations, featuring curving balconies, loge boxes, and restored stenciling on the cornice and proscenium arch.
As Mid-Coast Maine's premier performance venue, the Opera House hosts a regular schedule of concerts, films, theater, dance, and other performances. It is one of the host venues of the Camden International Film Festival.
The entire Camden Great Fire Historic District, including the Opera House, is on the National Register of Historic Places.
Address: 29 Elm Street, Camden, Maine
16. Swim at Laite Memorial Beach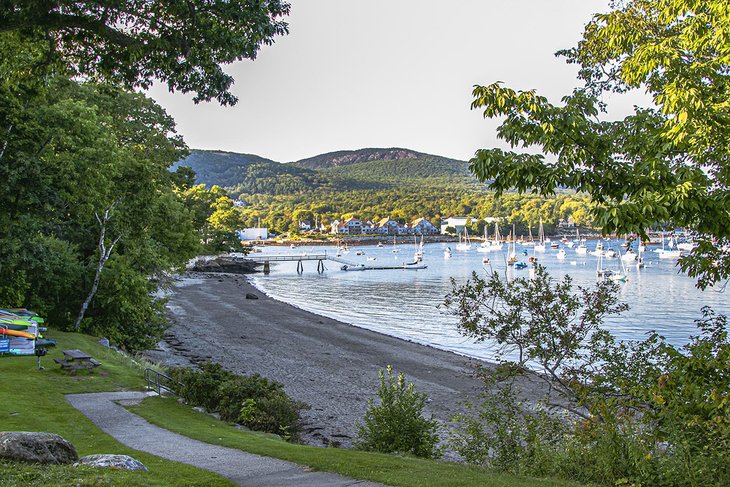 Below a grassy knoll with picnic tables and a play area for children hides the small Laite Memorial Beach. The long crescent of sand-and-pebble beach will not rival the southern Maine beaches at Ogunquit and Old Orchard, but for a refreshing dip into the bay, it's handy to downtown and has lovely views of Camden and Mt. Battie.
The park above the beach is a good place for a picnic or for the children to have fun on the playground equipment.
Address: Bay View Street, Camden, Maine
17. Visit the Striped Cows at Aldermere Farm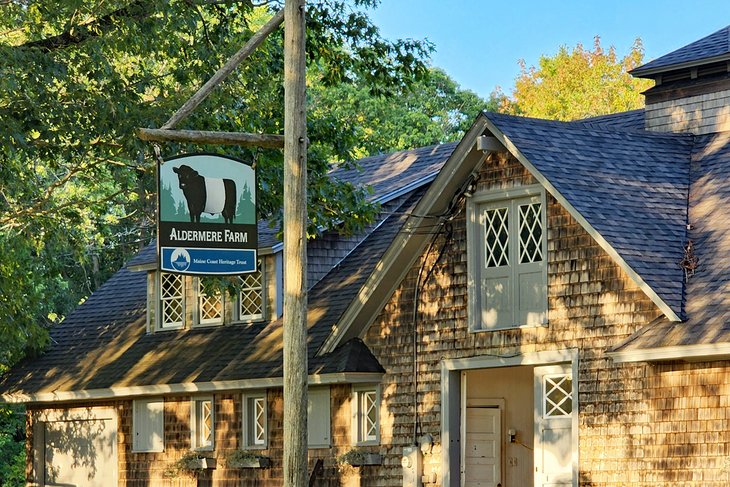 The Maine Coast Heritage Trust's Aldermere Farm Preserve is a working farm raising Belted Galloway cattle, known to kids as Oreo Cookie Cows for the white stripe or belt around their midsection. You can often see them grazing or catching some afternoon shade under the trees as you pass the farm, just over the town line into Rockport.
Or you can visit the farm on scheduled tours or attend programs there, such as guided nature walks, nature photography, and sketching workshops, or moonlight cross-country ski tours in the winter. The preserve has several walking trails.
To get there from downtown Camden, follow Chestnut Street south; it becomes Russell Avenue at the Rockport town line.
Address: 20 Russell Ave, Rockport, Maine
Best Time to Visit Camden, ME - Historical Climate Averages
Average minimum and maximum temperatures for Camden, ME in °C
J
F
M
A
M
J
J
A
S
O
N
D

-2

-12

-1

-11

4

-5

10

1

17

7

22

12

24

15

24

14

19

11

13

4

7

-1

2

-8

PlanetWare.com
Average monthly precipitation totals for Camden, ME in mm.

121

87

120

120

111

97

81

74

110

122

133

127