16 Top-Rated Things to Do in Boothbay Harbor, ME
Authors Lura R. Seavey and Barbara Rogers travel to Maine regularly throughout the year, with their most recent visit to Boothbay Harbor in September, 2022.
Named for its well-protected waterway, the town of Boothbay Harbor is one of mid-coast Maine's most beautiful places to visit, offering a range of things to do for all ages and interests.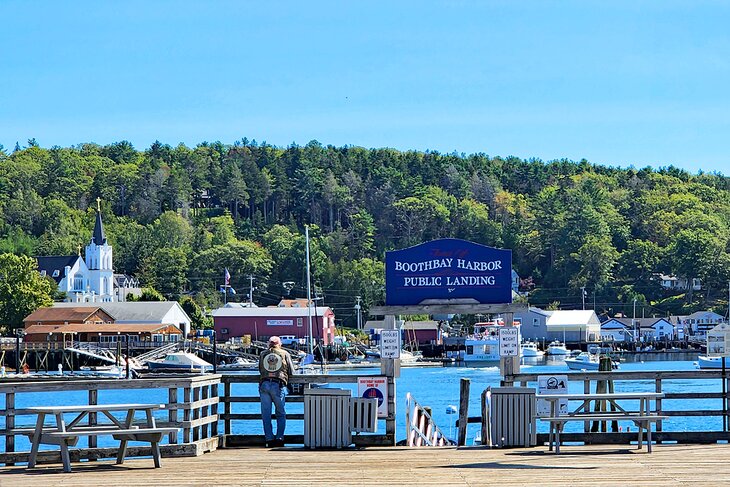 Whether you're into maritime history, active boating, or both, there are plenty of attractions and activities to keep you happy. You can learn about the important role this small town had in supporting the nation during wartime at the Historical Society, see models and parts of famous ships for free at the Windjammer Emporium, or hop aboard a historic boat for a sightseeing sail.
Nature lovers can take a cruise to see puffins, whales, and seals, then explore island nature preserves before heading inland to stroll through the lovely Coastal Maine Botanical Gardens. If the arts are among your interests, keep an eye out for the numerous sculptures around town and be sure to check out the live shows at Carousel Theater and the Boothbay Opera House.
From museums and music to sailing and seafood, plan your visit with our list of the best things to do in Boothbay Harbor, Maine.
1. Walk across the Boothbay Harbor Footbridge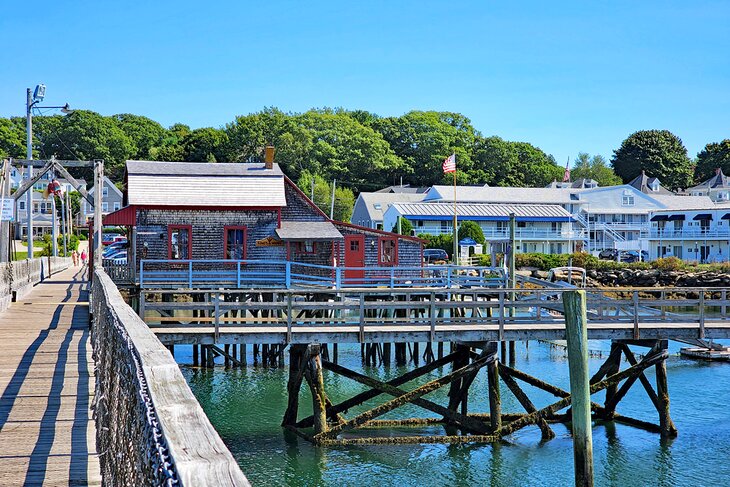 One of the greatest joys of a visit to Boothbay Harbor is simply spending time strolling the waterfront and marina. A great place to start is a walk across the Boothbay Harbor Footbridge, a 1,000-foot-long wooden walkway that spans the harbor.
The original bridge was built in 1901 and included a 75-foot swinging draw to allow boats through; however, today's bridge is fixed. At its midpoint, you will find a bridge house that was built in 1902 by a local businessman named William Foster. His operation was shut down only a few years later after it was discovered that he was using the discreet spot for smuggling, and today it is a privately owned home.
From the bridge, you can get excellent views of the boats, from local fishing rigs to tour boats to mega-yachts, and it's a great place to visit to photograph the bustling waterfront. Once you've gotten your fill, stroll back over to the wharf and pick a waterside restaurant where you can sample the local fish and chips and plan the rest of your day.
Accommodation: Top-Rated Resorts in Maine
2. Admire the Coastal Maine Botanical Gardens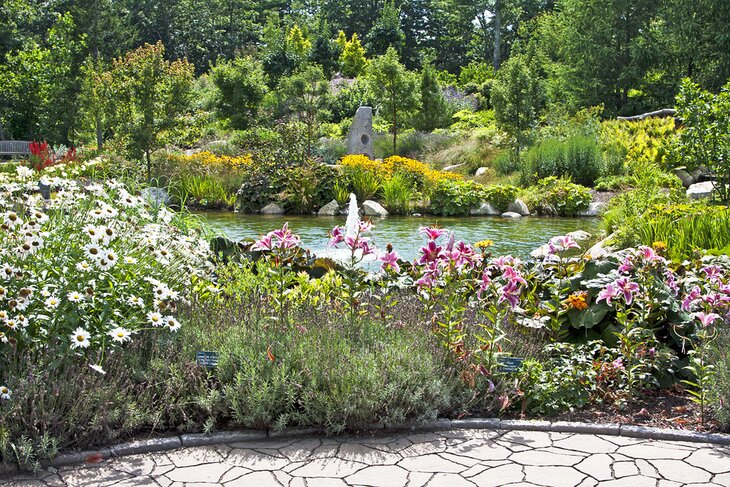 Flowers, trees, and art blend seamlessly across nearly 300 acres that drop steeply to 3,600 feet of frontage on a tidal river. Flower-lined paths connect gardens with various themes, including a water garden filled with irises and other aquatic plants. Beyond is a woodland garden with its own pool surrounded by shade-loving plants.
Above the Rose Garden (at its height in June) and overlooking beds of perennials is the long Rose Arbor, where visitors can sit in the shade of fragrant wisteria, clematis, and honeysuckle vines.
Near the entrance, a garden for the five senses features plants known for their fragrances, flavors, and tactile qualities. Plants are identified by braille signs and planted in raised and hanging beds for easy wheelchair access.
Placed throughout the gardens, original outdoor sculptures provide visual accents and give the gardens an added interest. About 20 of these are permanent features, commissioned especially for the garden. You'll find them throughout the garden, but the most prominent is George Sherwood's stainless-steel Wind Orchid, a kinetic sculpture above a lawn and meadow of wild grasses and blooming perennials.
An entire section is devoted to a Children's Garden, where the sculptures are inspired by children's books written by Maine authors. Children delight in the grass-roofed garden cottage, the tunnel of leafy vines and flowers, and the fanciful fairy house. Bright colored watering cans invite children to become gardeners themselves.
Address: 132 Botanical Gardens Drive, Boothbay, Maine
Official site: www.mainegardens.org
3. Take a Ride at the Railway Village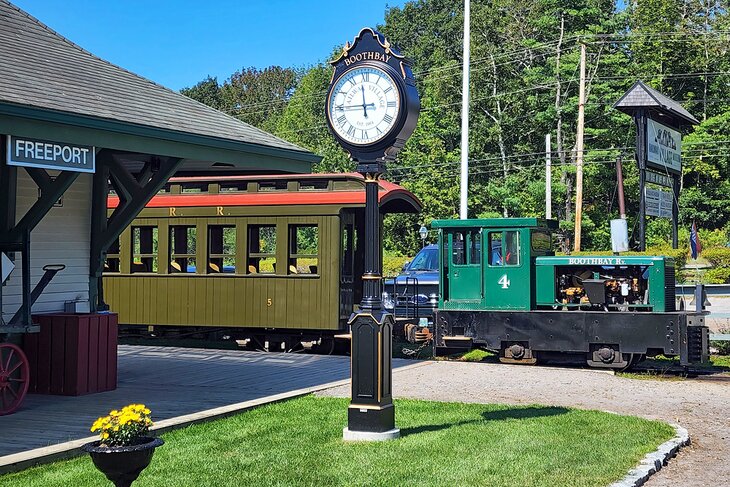 The Railway Village in Boothbay brings out the kid in everyone, with full-sized antique trains and detailed models that spark the imagination.
Set on 35 acres, the village is home to dozens of historic buildings that have been relocated to the spot and preserved, so that guests can see what life was like for Mainers in centuries past. Among these include a chapel, hardware store, fire station, blacksmith shop, one-room schoolhouse, and a farmhouse.
Visitors will see a range of exhibits throughout the village, including rotating displays and permanent collections like the Antique Auto Museum and two narrow-gauge railroad exhibits.
One of the most popular things to see here is the HO-scale model railroad, which was originally built by the late Ron Spinney in 2006 to demonstrate the railways of mid-20th-century Maine in great detail.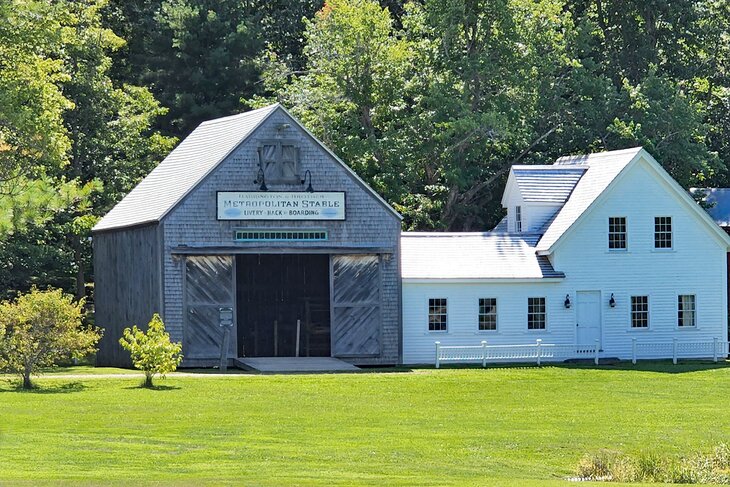 Visitors can also take a ride on the steam-powered vintage locomotive, which is included in your entrance fee. During December, the train transforms into the "North Pole Express" train ride, which visits Santa in a magical ride; the Christmas train runs eight trips daily on Saturdays and Sundays, and tickets must be purchased in advance online.
Address: 586 Wiscasset Road, Route 27, Boothbay, Maine
Official site: https://railwayvillage.org
4. Go Whale Watching & Puffin Spotting with Cap'n Fish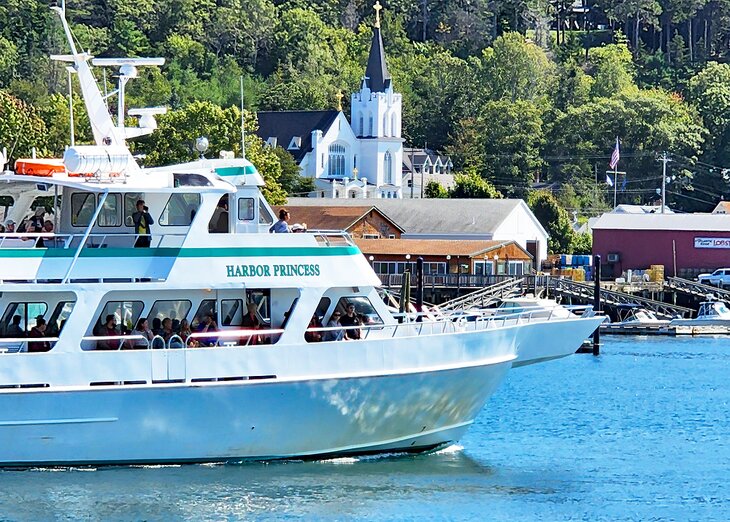 Taking a sightseeing cruise in and around Boothbay Harbor is an absolute must, and Cap'n Fish provides plenty of options for every interest. The most popular of these, of course, are the whale-watching cruises, which are led by marine biologists who know all the best spots to find these massive ocean animals.
If you've ever wanted to see puffins up close, this is a great opportunity thanks to the National Audubon Society's efforts at Eastern Egg Rock. With Audubon staff narrating the tour, puffin cruise passengers get to see a colony of these adorable birds.
There are also combination tours available, which offer chances to see whales, puffins, seals, and a variety of other coastal wildlife.
Tourists can also choose from a long list of specialty cruises, including sunset sails, lighthouse tours, Pemaquid Point, bird-watching cruises, and more.
Afraid that you might not spot a whale or puffin during your trip? Don't worry, because the Cap'n has you covered—if you don't get to see the star animal on your cruise, you get a complimentary stand-by ticket for another cruise.
Address: 42 Commercial Street, Boothbay Harbor, Maine
Official site: www.boothbayboattrips.com
5. Go Shopping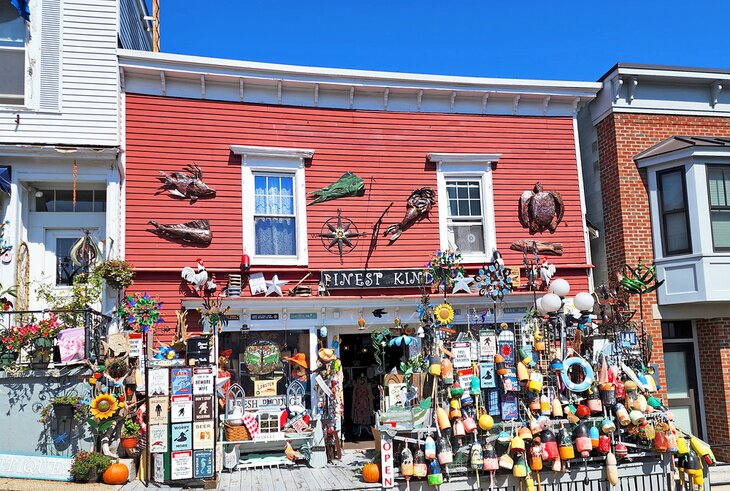 One of the joys of Boothbay Harbor is its distinct shortage of tacky souvenir shops, with local retailers opting to sell locally made and higher-quality wares that you're proud to bring home for friends and family.
Shoppers will find the majority of stores between McKown Street and the water, with even more up Route 27 (Townsend Avenue), including Mung Bean, a local store specializing in handcrafted items. Commercial and Wharf Streets are lined with gift shops, clothing stores, and galleries.
Located right on the wharf, the Windjammer Emporium offers not only a great selection of Maine goods but also a free museum. At the back of the store, shoppers can admire an impressive collection of model ships, seafaring artifacts, and even pieces of famous ships.
If you want to bring some of the coast's sweeter flavors back home, be sure to stop by Duffy Taffy and Fudge Factory. Tucked away in a little shop on By-Way, you will find an impressive selection of flavors of freshly made saltwater taffy, and, of course, pounds of fudge just waiting to tempt you.
6. Kayak to Burnt Island Lighthouse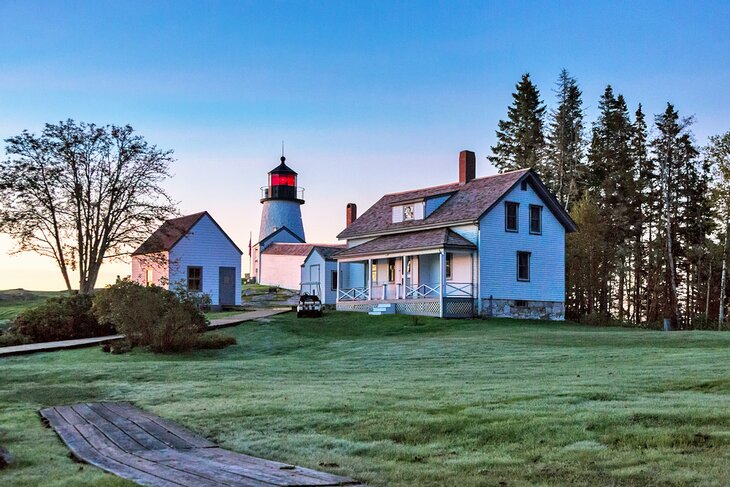 Since 1821, Burnt Island has been home to the lighthouse that provided a safety beacon to ships entering and leaving Boothbay Harbor. It sent out a signal via firelight and a 1,029-pound bell until electricity was installed in 1961, and a total of 30 men served as keepers during its 167 years of manual operation.
On Monday and Thursday afternoons, former lighthouse keepers provide a "living history" tour of the lighthouse, complete with period costumes. Visitors can explore this five-acre island on their own between 10am and 5pm any day of the week from June through October.
The only way to get to the island is by private craft, and renting a kayak is an affordable and fun option that many tourists opt for. The trip takes about one hour each way, and brings you through the harbor past McFarland Island, Tumbler Island, and Mouse Island.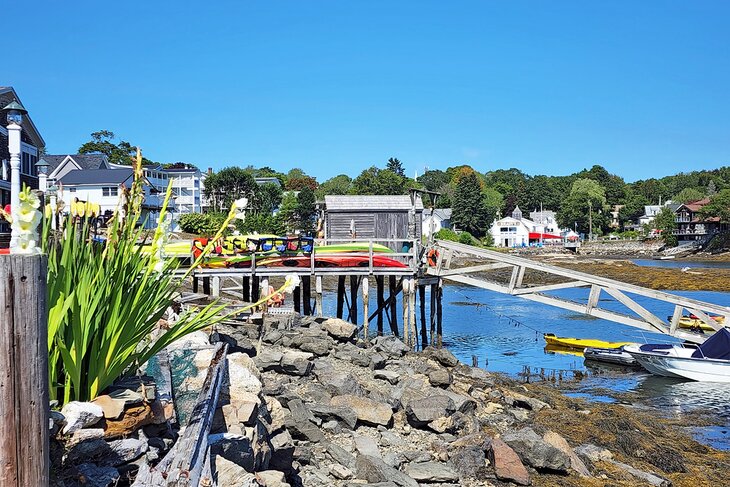 If you're staying right in town, the most convenient place to rent is Tidal Transit Kayak Co, located just off Granary Way near the Footbridge. Rentals include safety equipment and basic instruction, and tandem kayaks are a great money-saving option. The shop also rents SUPs and carries a full range of kayaking supplies, and allows the public to launch their own craft from their waterfront spot at no charge.
If you're not up for paddling, several local boat operators offer service to and from Burnt Island.
7. Sail on a Sloop, Windjammer, or Schooner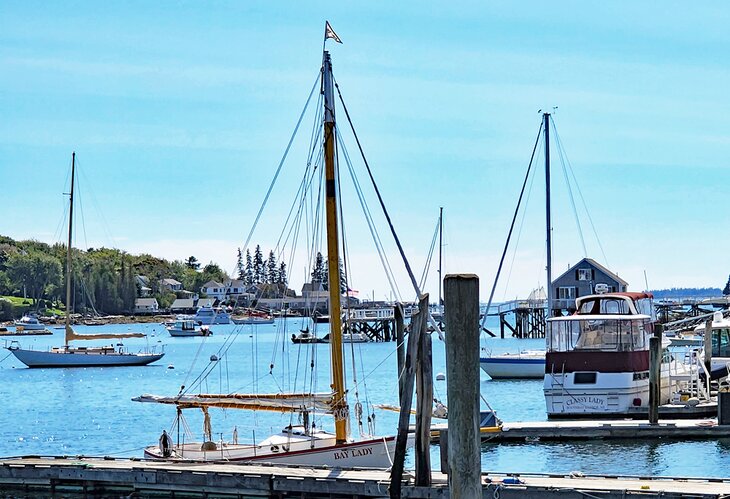 There is nothing quite like the feeling of setting sail on a tall ship, sliding out to sea on the power of wind alone. Boothbay Harbor has several great options to choose from, most of which depart from the main wharf area.
Windjammer and other sailing cruises typically last at least two hours and include a sail past Burnt Island Lighthouse and Ram Island Lighthouse. Some allow passengers to help rig the sails or even take the helm, and most are available for special charters in addition to daily sail schedules.
If you really love windjammers, plan your visit to Boothbay Harbor for the end of June, when it hosts the week-long Windjammer Days festival. Festivities include the impressive Gathering of the Fleet, an antique boat parade, a street parade, fireworks, and plenty of kids' activities.
8. Walk the Sculpture Trail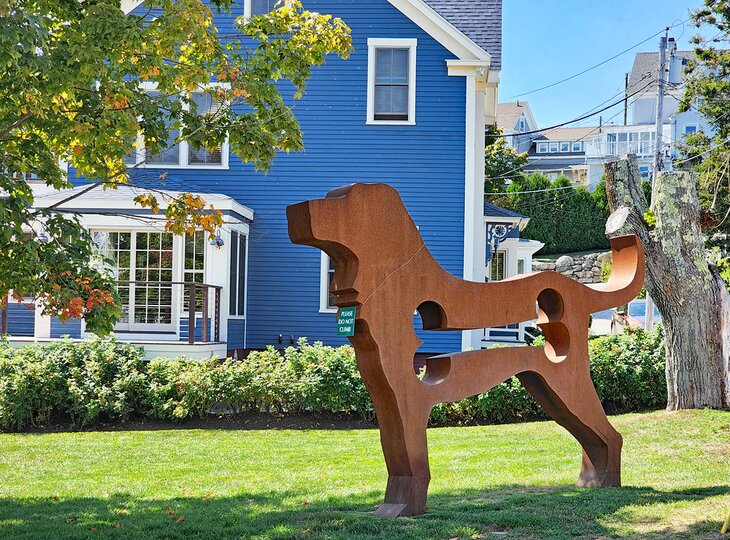 Inspired by a successful sculpture walk in Meredith, New Hampshire, Booth Bay Harbor's Sculpture Trail started in 2017 with a group of artists at the Maine Coast Stone Symposium. These sculptures formed the first round of public art, and currently there are nearly three dozen sculptures on display.
The trail features the work of artists from Maine and the rest of New England, with each piece in place for approximately two years before being sold at auction and replaced with a new work. Tourists can view most of these while exploring the waterfront area, and you can get a map with more details from the Chamber of Commerce (192 Townsend Avenue).
9. Visit Boothbay Harbor's Museum in the Streets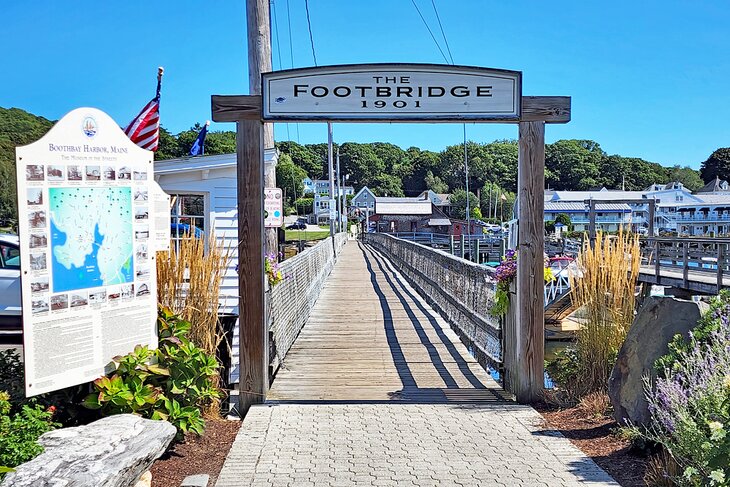 Boothbay Harbor's Museum in the Streets features two dozen informational plaques that provide fascinating facts and photos from the town's history. You can pick up a map at the tourist office, or find one of the large signs on Howard Street or at either end of the Footbridge.
You will find that about half of the historic sites are located in the area surrounding the wharf, and nearly all the rest are located on Atlantic Avenue, easily reached via the footbridge.
Highlights include some of the town's oldest homes and businesses, including shipyards that were instrumental in the Harbor's success as a center of fishing and trade.
Official site: https://boothbayharbor.org/museum-in-the-streets
10. Visit the Boothbay Region Historical Society Museum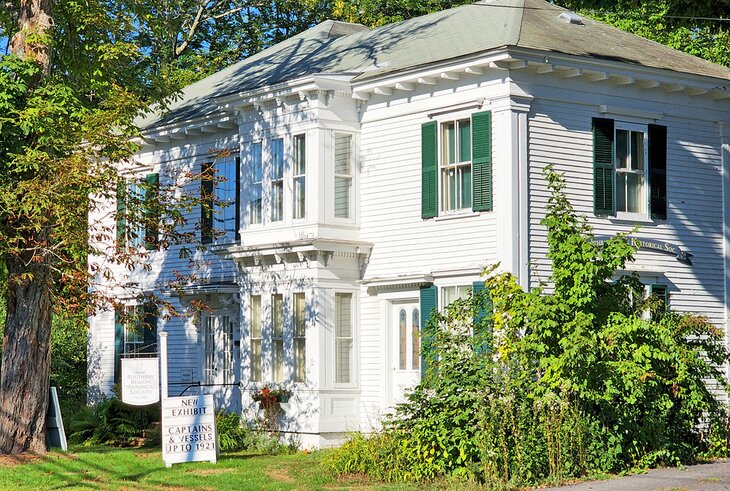 Housed in an 1874 home, the Boothbay Region Historical Society holds a wide assortment of artifacts and documents that provide a closer look at the town's history, both before and after European settlers arrived. Collections include clothing, tools, and models, as well as documents like maps, photographs, and newspapers.
The museum's main exhibit looks at the important role that ships and their crews played in the growth of Boothbay Harbor. Items on display include shipbuilding tools, nautical instruments, and a Fresnel lens that once lit the way for mariners from atop the light on Ram Island.
The Historical Society Museum is open year-round Thursday, Friday, and Saturday from 10am to 2pm, and there is no charge for entry.
Address: 72 Oak Street, Boothbay Harbor, Maine
Official site: https://boothbayhistorical.org
11. See a Performance at the Boothbay Opera House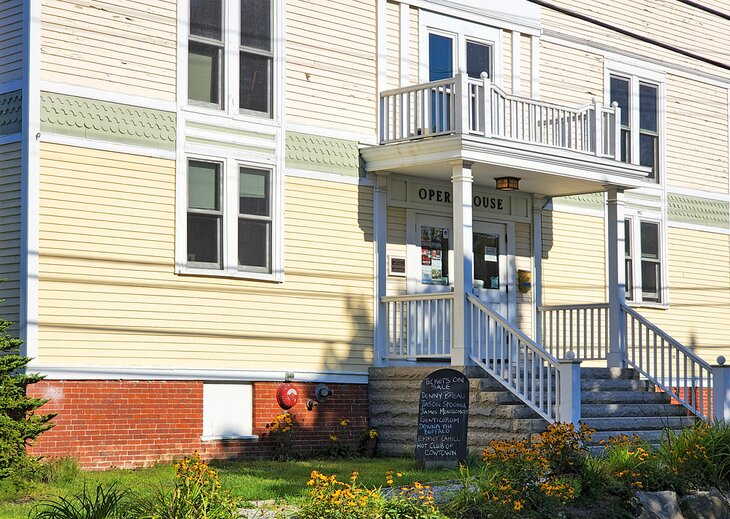 During its lifetime, the Boothbay Opera House has served as many things: a fraternal lodge, a restaurant, a home, and even a shopping center. Built in 1894 and added to the National Register of Historic Places in 2009, it has become a local performance venue in recent decades, hosting a wide variety of entertainment.
The venue is open year-round, presenting live music, theater, and lectures for the community. It also hosts numerous special events throughout the year, including a gingerbread house competition and caroling at the annual Christmas potluck.
Address: 86 Townsend Ave, Boothbay Harbor, Maine
Official site: https://boothbayoperahouse.com/
12. Enjoy Nature at Oak Point Farm and Damariscove Island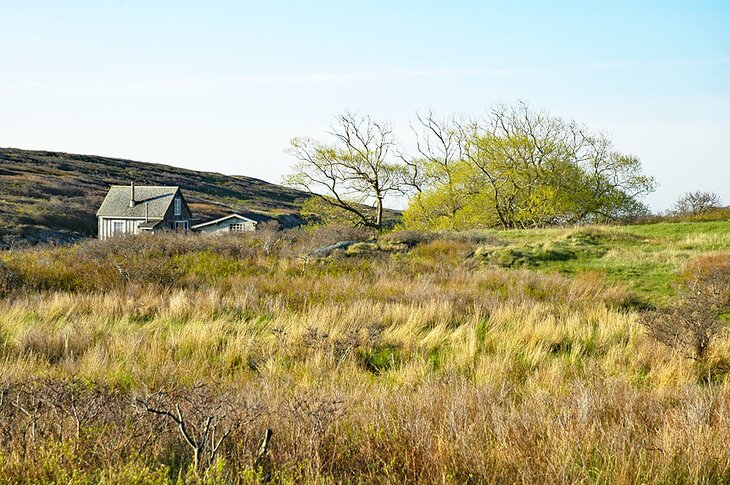 The Boothbay Region Land Trust is caretaker for some of the region's most beautiful natural areas, offering a visitor center at its historic Oak Point Farm headquarters.
This lovely waterfront space offers a one-mile loop trail and a half-mile trail to both the ocean and a freshwater pond.
Nature lovers also love to visit for bird-watching, and guests can utilize their dock and moorings for kayaks and small craft.
Although you will need your own boat to get here, you can also enjoy the unspoiled nature of the 210-acre Damariscove Island. This is truly a birder's paradise, and the entire northern half of the island is devoid of trails to help protect their habitat.
There is a small museum and nature center at the harbor, and plenty of walking trails with ocean vistas. Visitors should be aware that dogs are not allowed on Damariscove Island.
Address: 60 Samoset Road, Boothbay Harbor, Maine
13. Catch a Show at the Carousel Music Theater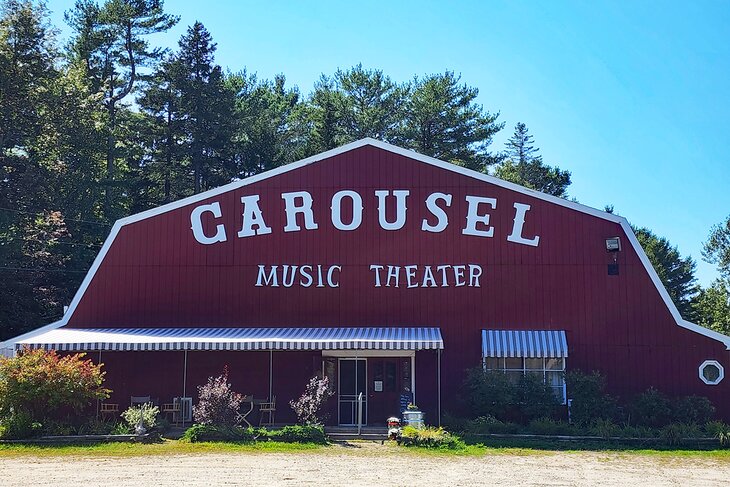 Founded in 1982, the Carousel Music Theater provides a classic dinner-and-a-show experience, offering a three-course meal prior to the performance. Cast members include well-established musical theater performers from around the world, as well as emerging professionals with contagious enthusiasm.
Recent shows have included performances of Gilligan's Island the Musical, The Shoes Have Left the Building, and The Marvelous Wonderettes.
Address: 196 Townsend Avenue, Boothbay Harbor, Maine
Official site: www.carouselmusictheater.org
14. Learn about Marine Life at the Gulf of Maine Learning Lab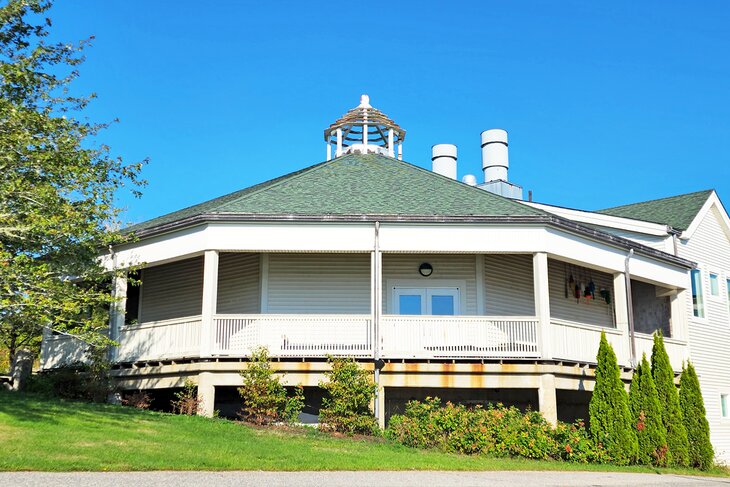 Although you can't visit the Maine State Aquarium during its renovations, tourists who want to learn more about marine life on the coast can still check out the Gulf of Maine Learning Lab, located right next door.
One of the best things about the learning lab is that it truly is a working laboratory, where Department of Marine Resources scientists conduct real-time research. Visitors of all ages can participate in hands-on learning, and there are special programs offered during the summer months.
The Maine State Aquarium is slated to re-open with a fully updated facility in 2023, although a specific date has not been set.
Address: 194 McKown Point Road, West Boothbay Harbor, Maine
15. Visit the Historic Swing Bridge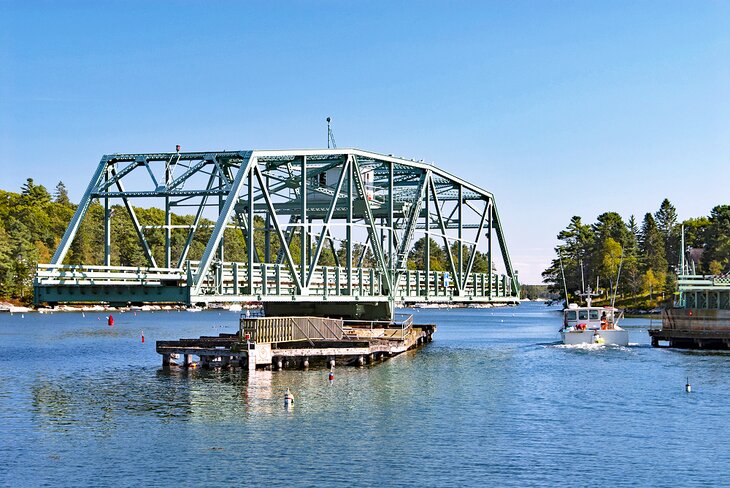 Built in 1939, the swing bridge connecting the island of Southport to Boothbay Harbor is unusual because the entire bridge swings on an axis to make way for boats entering the harbor itself.
It's the last truss-swing bridge left in the state, and it qualifies for listing on the National Register of Historic Places. Building the bridge was especially difficult because sections had to be floated in by barge, which was made more challenging because of tide fluctuations.
A pair of osprey nest at the top of its swing span, and have become minor local celebrities for their unique perch.
16. Get Lunch at Bet's Fish Fry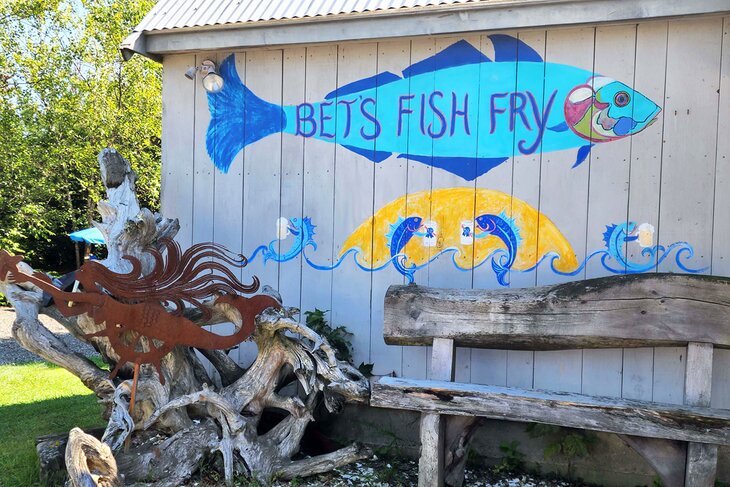 Even if you're just passing through Boothbay for a quick day visit, be sure to plan around lunch at Bet's Fish Fry.
Truly a local institution, this small takeout-only, roadside fish-and-chips joint is as no-frills as it gets. Want a soda? There's a vending machine next door. Need a restroom? There's a very nice public one just a two-minute walk away. Want to sit down? Well, here they have you covered, even with nice shade umbrellas.
So, why do we insist you stop? Because Bet (and her mom) serve up the freshest, biggest servings of fried fish fillets that you've even seen, done the right way, without the thick fried coating that leaves you feeling ill. You can get them with or without fries, and that's it.
If you're here on a Thursday, take a stroll over to Boothbay Common for the farmers market.
Location: Highway 27 at the junction of Wiscasset Road and Common Drive
Boothbay Harbor, ME - Climate Chart
Average minimum and maximum temperatures for Boothbay Harbor, ME in °C
J
F
M
A
M
J
J
A
S
O
N
D

-1

-11

1

-9

5

-4

12

1

18

7

23

12

26

14

25

14

20

10

14

4

7

-1

1

-8

PlanetWare.com
Average monthly precipitation totals for Boothbay Harbor, ME in mm.

111

82

112

108

102

91

79

70

97

104

119

118

Average monthly snowfall totals for Boothbay Harbor, ME in cm.

55

43

31

9

0

0

0

0

0

2

9

44
Average minimum and maximum temperatures for Boothbay Harbor, ME in °F
J
F
M
A
M
J
J
A
S
O
N
D

30

12

33

16

41

25

53

34

65

44

73

53

79

58

77

57

68

50

57

39

45

31

34

18

PlanetWare.com
Average monthly precipitation totals for Boothbay Harbor, ME in inches.

4.4

3.2

4.4

4.2

4.0

3.6

3.1

2.8

3.8

4.1

4.7

4.6

Average monthly snowfall totals for Boothbay Harbor, ME in inches.

22

17

12

3.7

0.1

0

0

0

0

0.6

3.5

18