15 Top-Rated Things to Do in York, ME
This pretty coastal town is an incredibly popular tourist destination thanks to its ideal location along a wide stretch of coastline that sits close to the New Hampshire border and within a quick drive from Massachusetts.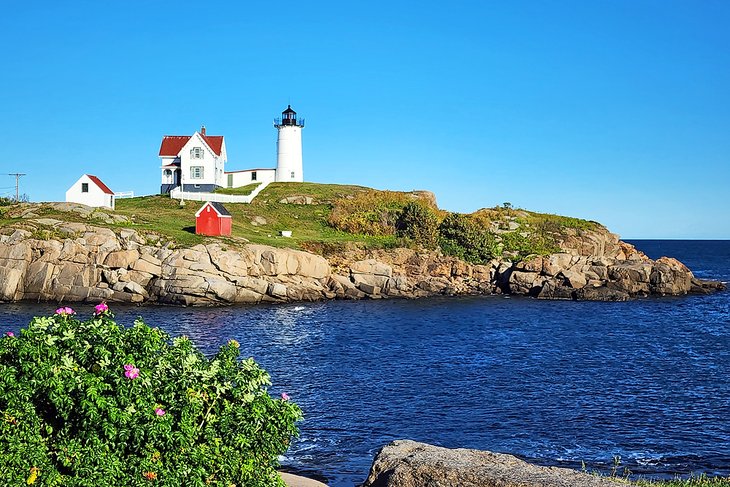 Unlike many coastal towns where most of the things to do are concentrated around one beach, York enjoys a sprawl with a choice of several beaches and varying atmospheres, including an old historic district, a long stretch of sandy beach, and a cozy beach town that feels like a miniature boardwalk.
Add stunning lighthouse views from Cape Neddick, vantage points from the Cliff Walk and Fisherman's Walk, and a family-friendly zoo with amusements, and you have the ideal Maine getaway.
Plan your next adventure with our list of the best things to do in York, Maine.
1. Take the Family to Short Sands Beach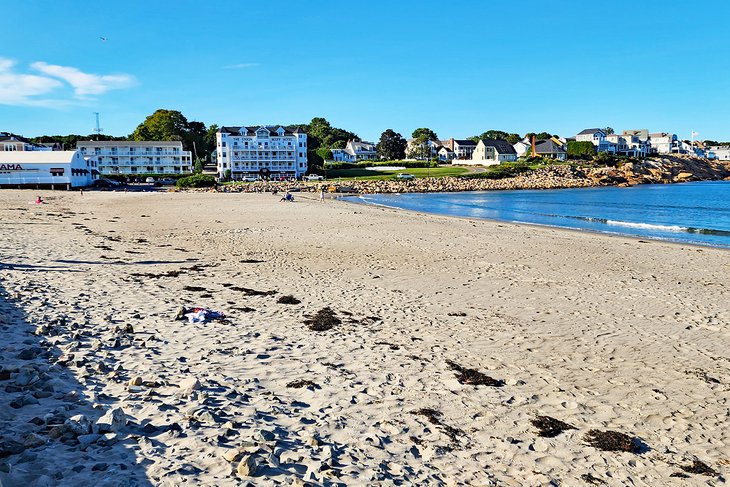 There will always be debate as to which beach is "best" in York, but after years of heading to this little stretch of coast on hot summer days, we are confident in saying that Short Sands is the best beach for families with kids of all ages.
As its name suggests, the shoreline isn't very long here (only a quarter-mile), but there is plenty of room between the sidewalk and the water for families to spread out, even at high tide. The beach is tucked in a little bay between Cape Neddick and the outcropping that holds Nubble Lighthouse, and it tends to have water much warmer than you would expect from the Maine coast.
Although parking can be difficult on the hottest days and holiday weekends, there is a good-sized lot that couldn't get any closer to the sand, making the trek with your cooler and chairs and umbrellas a very short one. Just next to the lot is an excellent playground that's fenced in for safety, as well as a wide expanse of grassy lawn for sand-free sunbathing, frisbee games, or kite-flying.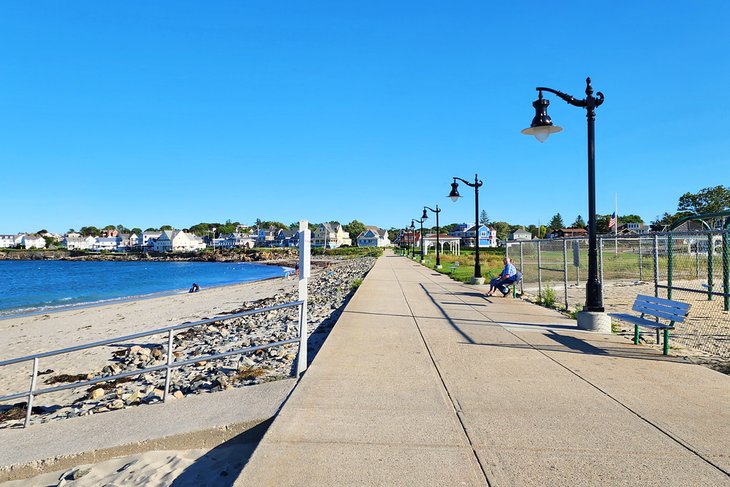 Another big hit with the kids, Fun-O-Rama sits at the northern edge of the sand, providing bowling and plenty of coin-op games to give the day a real seaside park feel. There is a large and well-maintained restroom and shower facility right on-site as well, and just steps from the beach, you will find shopping, restaurants, ice cream, and, of course, beach supplies and souvenirs.
2. Admire Nubble Light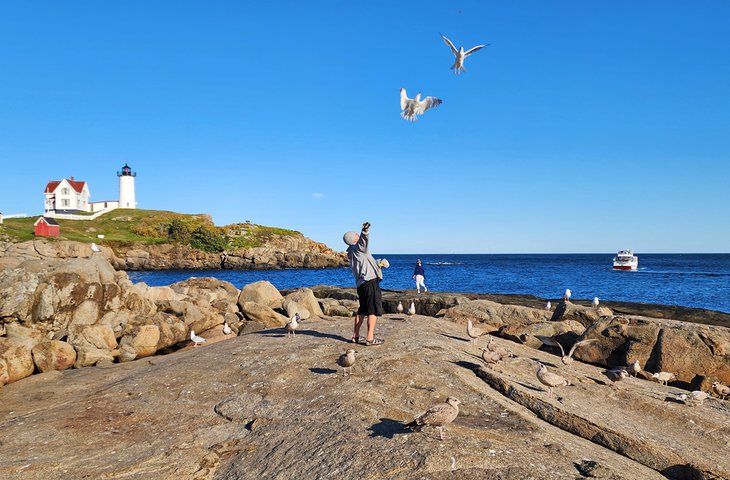 Located on a small island just off the tip of Cape Neddick, Nubble lighthouse is one of the most popular places to visit on the Maine coast. This iconic light, with its red-roofed keeper's house, white picket fence, and little red shed, are perched atop the rocks with green grass contrasting the bright blue of the sky.
The small but lovely Sohier Park has a welcome center and a fair amount of parking (which is free), and there are granite benches all along the edge of the point for enjoying the view. If you're adventurous, you can also easily climb out onto the rocks to get different perspectives or to sit and have a seaside picnic.
There are plenty of vantage points to get excellent photographs; don't visit too early in the day, or you will likely encounter a fair amount of fog, but the lighthouse is close enough to the shore that it's visible for sightseeing on all but the foggiest days.
3. Meet the Animals at York's Wild Kingdom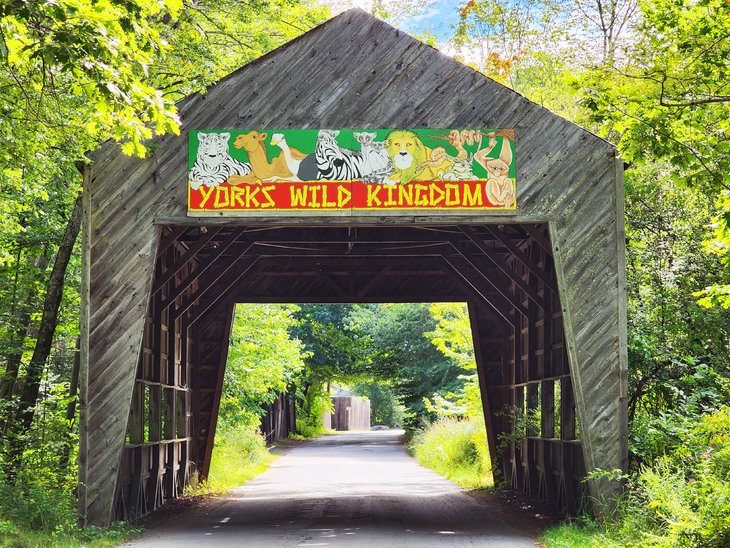 Both a zoo and amusement park, York's Wild Kingdom is a popular destination for local families and tourists alike. Given its location in Maine, visitors might be surprised to find that there is a broad selection of animals in residence at the zoo.
One of the most popular animals here is the fan-favorite two-toed sloth, and you'll also find exotics like an African lion, red kangaroo, alpaca, camels, zebra, and two types of lemurs. There are also primates, like a golden-headed lion tamarin, white-handed gibbon, marmosets, and several species of monkeys.
You'll also get to see a selection of birds big and small, and there is a 5,500-square-foot butterfly house that features a wide variety of Central and South American species. For an extra fee, kids can also take a pony ride, and all ages can try riding a camel.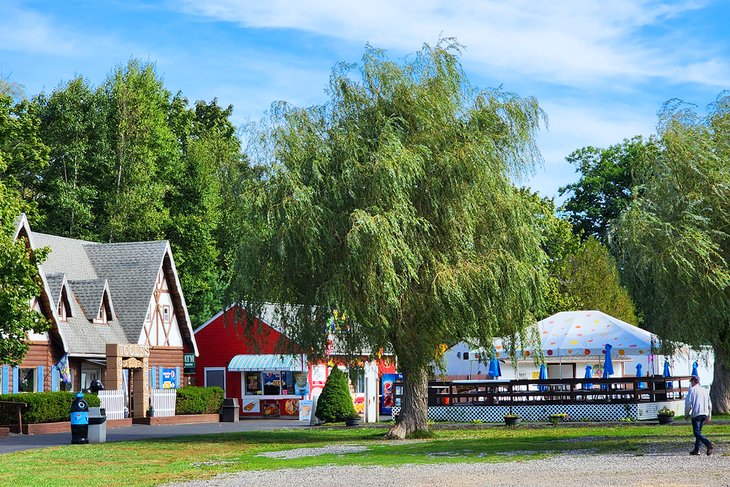 The park has several rides, with plenty of options for younger kids like the merry-go-round, train, and scrambler, as well as a bounce-house and big slide. There are options for older kids and adults, too, including go karts, bumper cars, and the Scrambler, and there is also a mini-golf course on-site.
One thing that parents really like is the way admission is set up: Families pay a flat fee to visit the animals and all zoo exhibits ($10 to $16), and the rides are operated carnival-style, each requiring tokens to ride. This means that you're able to spend your money on only what interests you, without paying a hefty theme park admission.
Address: 1 Animal Park Road, York, Maine
Official site: www.yorkswildkingdom.com
4. Get Saltwater Taffy at The Goldenrod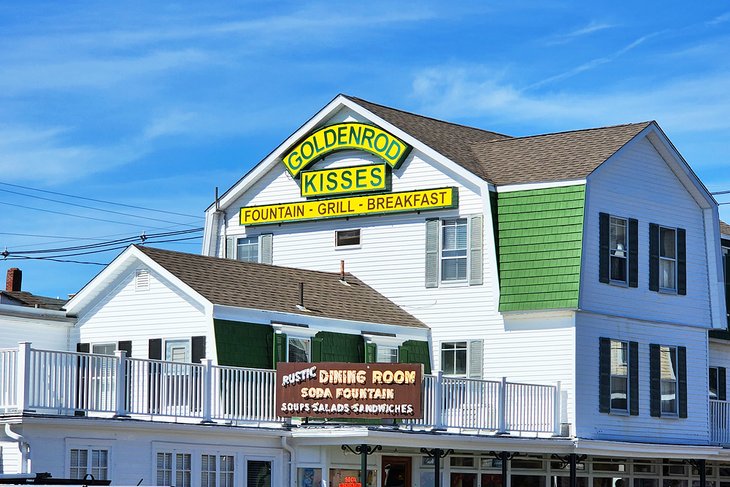 Whether you're just coming from the beach or just want to do a little exploring, be sure to make time to visit the shops and restaurants close to Short Sands Beach. Offering a classic boardwalk atmosphere, there are several must-stop spots in this small area located around the junction of Main Street and Ocean Avenue.
The Goldenrod is the most important stop, where you can watch through the window as the huge machines stretch and fold massive ribbons of taffy over and over. Then, head inside and take a seat in the restaurant, pull up a stool at the soda fountain, or just go straight for the candy counter to get a pound (or three) of your favorite saltwater taffy.
If The Goldenrod is too busy, you will find plenty of other places to eat just steps away, from little breakfast spots to burritos to seafood restaurants. If you haven't satisfied that sweet tooth yet, head up Railroad Ave until you see the red and yellow awning at The Kettle Boys Popcorn Shop–trust us when we say to buy an extra bag, because the one you got to bring back to your friends will not make it home.
There are also several gift shops that sell souvenirs, high-end specialty shops, and an excellent toy and game shop called The Beach Funatic.
Although this is not a fully pedestrianized area, you will find that the one-way streets and ample crosswalks definitely make it feel safer to bring kids here.
5. Go Surfing at Long Sands Beach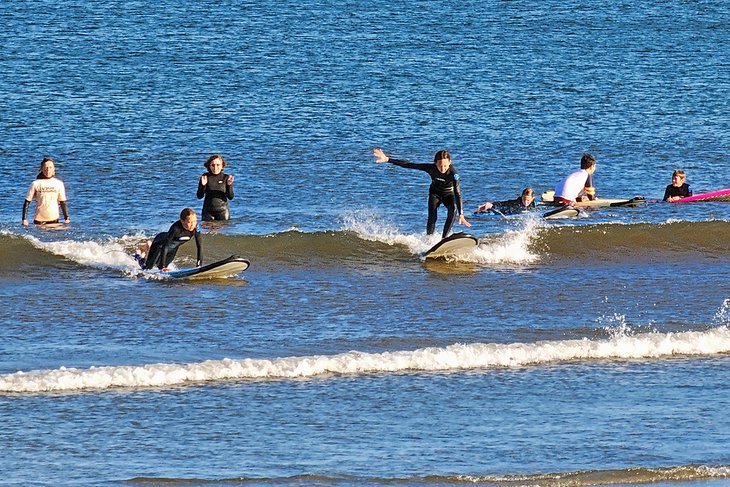 As you might expect, Long Sands Beach is an expansive stretch of golden-sand beachfront. It faces the open Atlantic Ocean, giving it stronger waves (and currents) than the more protected coves. Because of this, it has become a popular spot for surfing and boogie boarding. There's even a surf shop right by the beach where you can get supplies or take lessons.
This incredibly popular beach has plenty of space, even at high tide, and even features attractive stone steps along the edge for sitting when you don't want to be in the sand. Unless you're lucky and find on-street parking, plan on a little bit of a walk from one of the impromptu lots that spring up during the summer.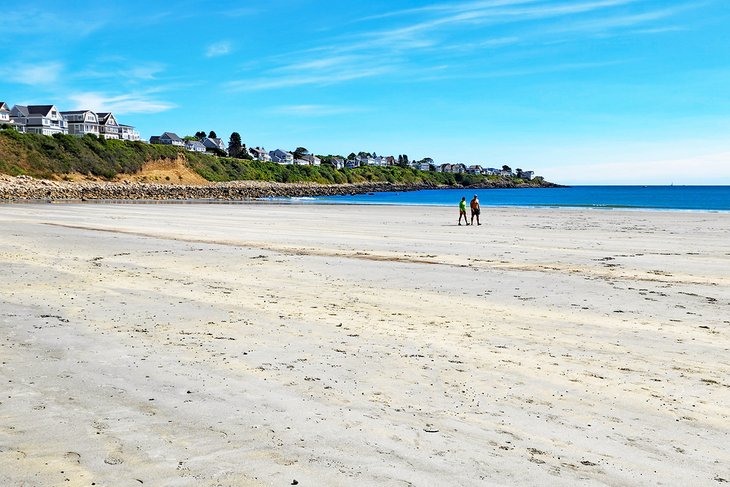 Long Sands does have restrooms and changing facilities, but there aren't a lot of shops or other things to do here, so be sure you come prepared–especially with that umbrella, because there is no shade here.
6. Stroll the Cliff Walk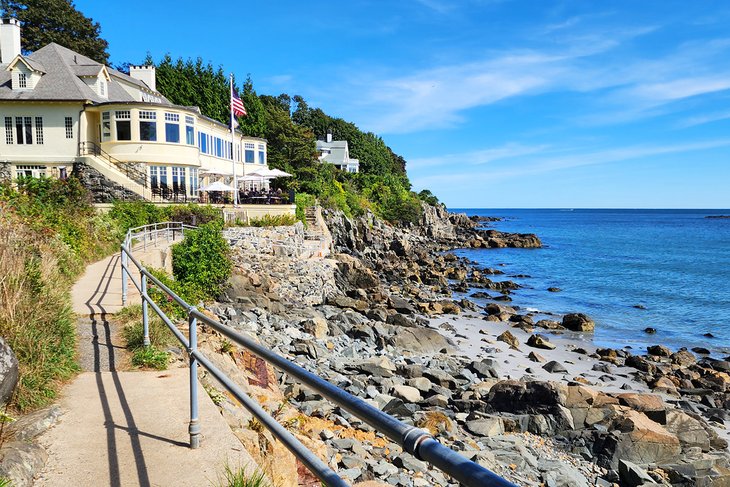 If you love ocean views and dramatic vistas, be sure to go for a stroll along York's Cliff Walk. This scenic path begins at York Harbor Beach and proceeds along the shore to the east, ending at Millbury Lane. It can be accessed via several points along the way, but the most convenient way to get to the Cliff Walk is to park at the beach or along York Street and then walk through the Hartley Mason Reserve.
Views look out over York Harbor and its crescent beach, and even though the path does skirt the top edge of the cliffs, it's set back enough to make you feel safe. The path is not paved, and although it is well-maintained, by its nature it is not accessible to wheelchairs due to narrow spots and uneven ground.
7. Visit Harbor Beach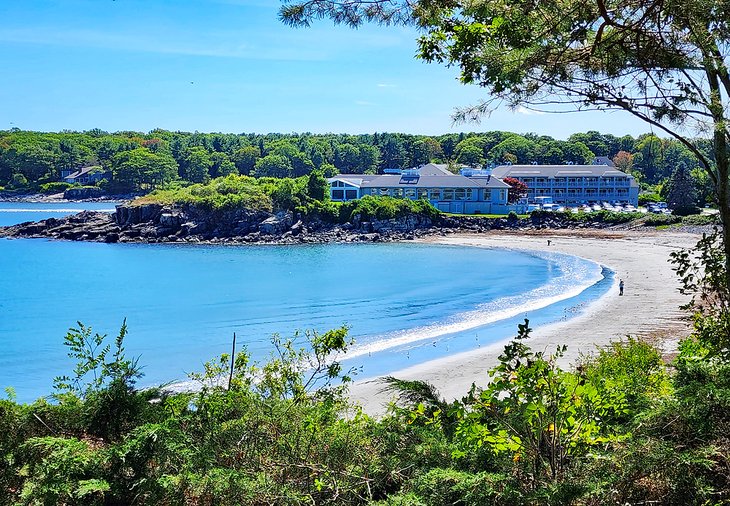 If you ask any tourist, they will argue over Long Sands and Short Sands, but most locals will tell you that their favorite place to enjoy the water is Harbor Beach. Due to its location and size, it doesn't get nearly as crowded as the other area beaches, making it a great option if you aren't in the mood to jockey for a square of sand on a hot day.
York Harbor Beach is actually larger than Short Sands, but tends to attract fewer people because there aren't many amenities close by, and parking is limited. It's by far the prettiest of York's beaches, though, set in a gracefully curving cove with jagged cliffs towering over its northern half and the grand Stage Neck Inn patiently watching from the opposite side.
Read More: Best Resorts in Maine
8. Visit the Hartley Mason Reserve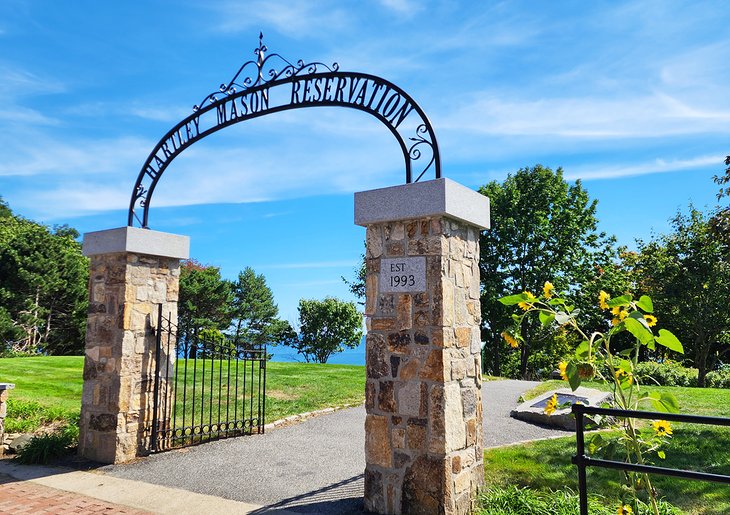 Located just across the street from the York Harbor Inn, the Hartley Mason Reserve is a beautiful greenspace that sits just above the Cliff Walk by York Harbor Beach. One of its best-known features is the sculpture "Pleasure Ground," created by local artist Sumner Winebaum. The sculptures of people relaxing and playing are fixed to a three-ton stone that the sculptor chose for its gentle slope, which mimics the slope of the park.
There are several nice spots to sit and enjoy the view over York Harbor, as well as the beautiful granite York Fisherman's Memorial, which honors those lost at sea. This is also a great place to access the Cliff Walk.
9. Explore the York Historic Complex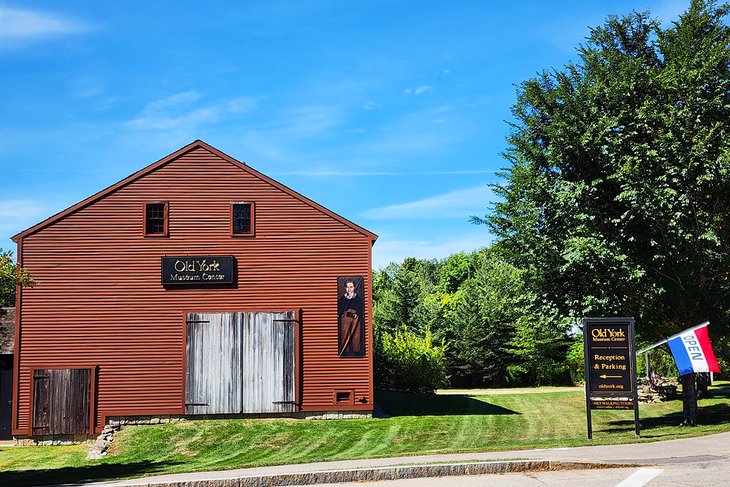 The Old York Historical Society maintains several historic buildings, including Jefferds Tavern, the York Corner Schoolhouse, and the Old Gaol Museum; unfortunately, the Emerson-Wilcox House Museum is currently closed for restoration.
The historical society also conducts walking tours of the historic district, as well as guided tours of the Perkins House Museum for an extra fee.
Just a block east where York Street and Long Sands Road diverge, you will find the Soldiers' Monument, which is the subject of erroneous lore that has given it the misnomer of the "Confederate Statue."
It's not known exactly when the tale began, but at some point after the statue was erected in 1906, a story emerged that the man depicted in the statue was dressed in a Confederate uniform, purportedly the result of a shipping mix-up. Alas, the soldier depicted is a Yankee through and through.
Address: 3 Lindsay Road, York, Maine
Official site: https://oldyork.org
10. Soak Up the Lore at the Old Parish Cemetery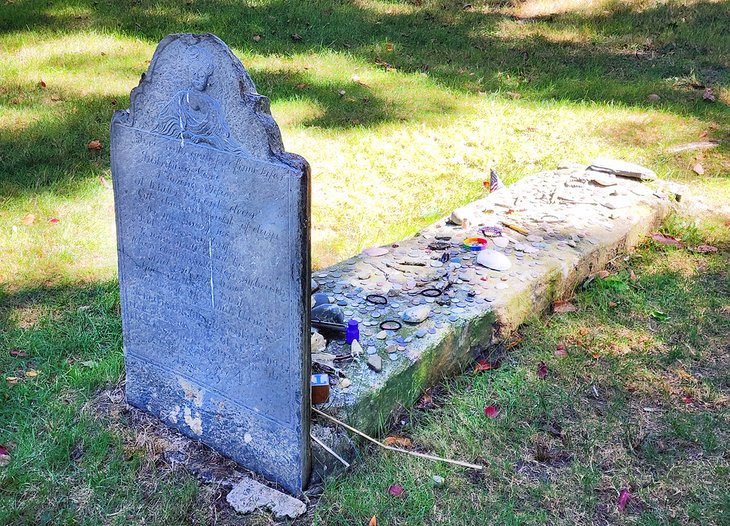 Located in the heart of York's historic district across the street from Jefferds Tavern, Old Parish Cemetery is home to some of the town's oldest graves. If you explore the cemetery, you will find one curious gravestone that has a large stone laid atop the burial spot, which is covered in trinkets and offerings.
Like the "Confederate" statue nearby, one of the cemetery's residents got a reputation she would likely not enjoy, with a misnomer of the "York Witch Grave," often wrongly attributed.
Although Mary Nasson was never accused of witchcraft during her lifetime, the presence of a large piece of granite atop her coffin led later generations to believe that it had been placed there to keep her from rising from the grave. In reality, early graves were protected by large stones so that livestock wouldn't disturb the bodies–but that story isn't nearly as much fun, and the mistake has led modern-day occultists to leave behind tokens in honor of the witch who wasn't.
11. Walk across the Wiggly Bridge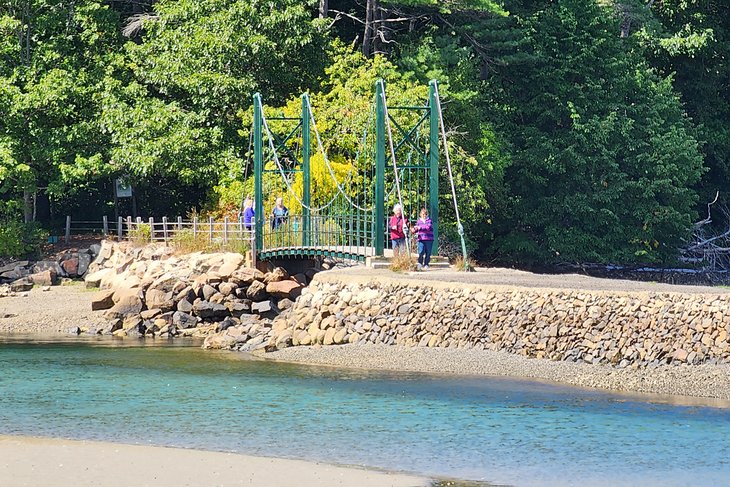 Like so many other sites, there are several stories about how the Wiggly Bridge got its adorable name, but one of the most widely spread is that it was named by a Girl Scout troupe because of the suspension bridge's unsteady nature.
Originally built in the 1930s, the small bridge connects the two sides of the low dam that separates Barrell Mill Pond from the York River. The walk to the bridge itself is lovely, curving under the road and then along the water with a well-maintained wooden boardwalk. Visitors can walk all the way across, even at high tide.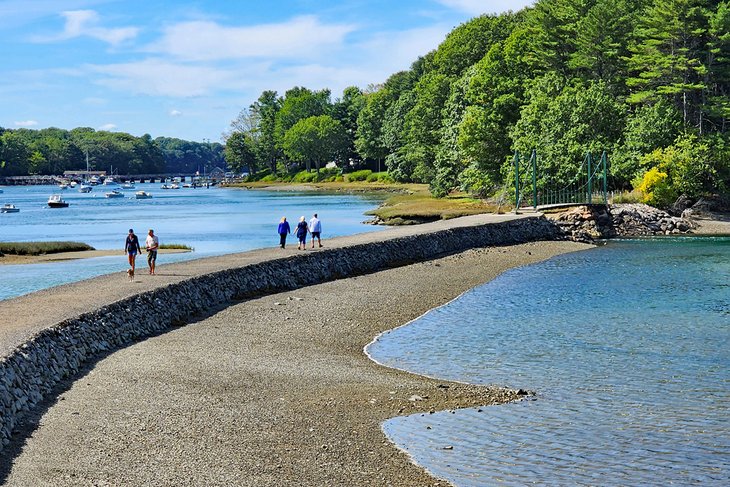 If you cross the bridge and keep walking, you will find Steadman Woods, a small nature preserve with some easy-level hiking trails. As you are headed back, you will see the Sayward-Wheeler House and the beginning of the Fisherman's Walk to your right.
12. Go on the Fisherman's Walk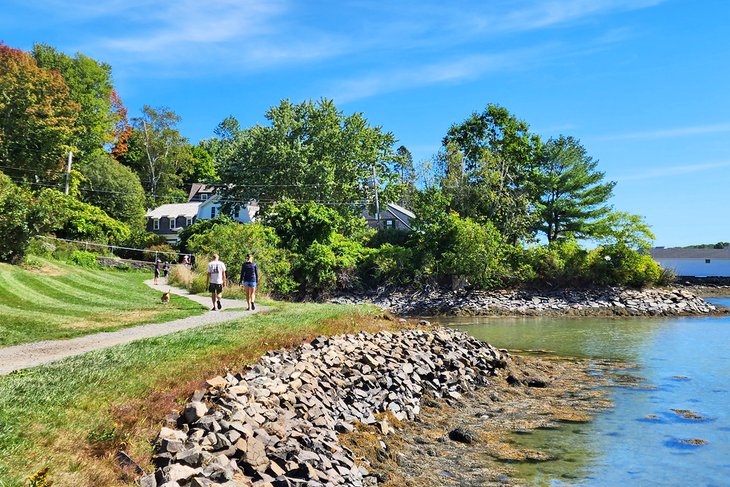 The Fisherman's Walk is a lovely half-mile trail that edges the York River until it meets Stage Neck Road (one-mile round trip). This is a great place for a water-side stroll, and a source of inspiration for many an artist.
It's also a great place to visit if you want to watch both fishing and recreational boats come and go from the North Basin, a tidal section of the York River where many boats call home.
If you take a right from the eastern end at Stage Neck road, you can follow Harbor Beach Road to pick up the Cliff Walk just behind the beach beyond; some consider this, as well as a trek across the Wiggly Bridge at the western end, to be part of the Fisherman's Walk as well.
Address: 21 Clark's Lane, York, Maine
13. Go Deep Sea Fishing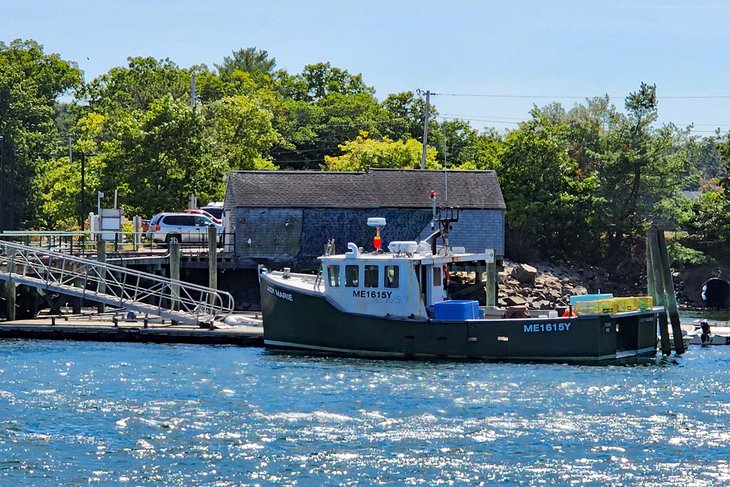 Even if you don't normally consider fishing to be one of your preferred things to do, we strongly suggest that you give deep sea fishing a try at least once. There is nothing quite like watching the sun rise over the water as your boat departs the dock, the chilly morning mist tickling your nose as you head out to sea.
There are several excellent deep sea charters that leave from York, and many other options that depart from nearby towns like Ogunquit and Kittery. Most of these include your day license and all fishing gear–you just need to bring the cooler for your haul. Many of these tour operators also provide sightseeing and specialty cruises.
If you're not up for a trip out onto the open Atlantic, there are plenty of other spots to cast a line. As long as your license is in order, you can fish from bridges, the shore, or even from a kayak. You can get supplies locally at Eldredge Bros. Fly Shop, located at 1480 US-1 on Cape Neddick.
14. Visit the Marshall Store and Hancock Warehouse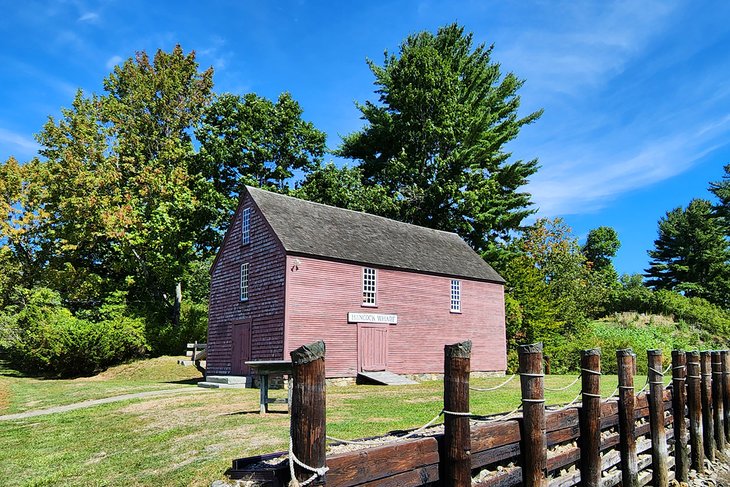 Also known as the Donnell-Hancock Warehouse, this historic building was constructed in the mid-18th century by John Donnell as a commercial warehouse. Its location not far up the easily-accessible York River and along a major coastal road made it an ideal trading spot–so much so, that John Hancock himself obtained partial ownership in 1787.
The warehouse is located just behind the George Marshall Store Gallery, built by George Marshall in 1867 when he purchased the warehouse. He used the building as a general store, selling everything from everyday necessities to building materials. Today, it is home to a lovely art gallery that features emerging local artists.
Official site: www.georgemarshallstoregallery.com
15. Tour the Sayward-Wheeler House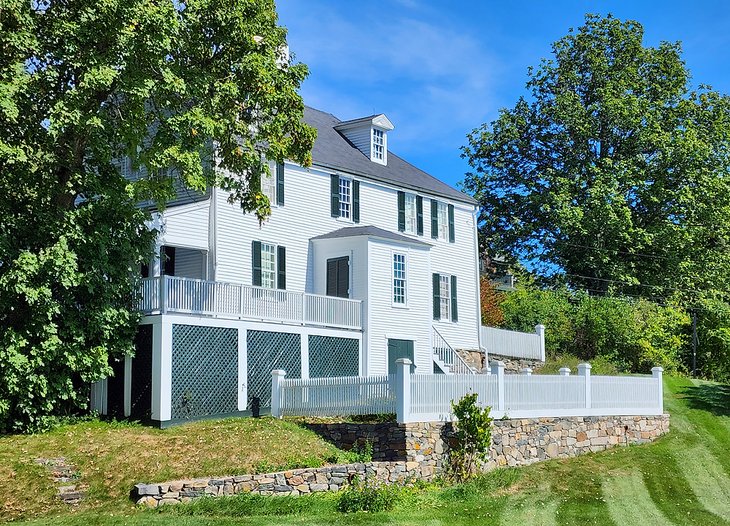 This historic home of Jonathan Sayward was completed in 1719, overlooking the York River, and has been owned by that family for nearly its entire life. Much of the interior and its contents are just are they were in the late 18th century, giving visitors a glimpse into the everyday life of a wealthy family during Revolutionary times.
It has been a museum home for more than a century, and is now maintained by Historic New England. They offer tours on the hour from 11am to 3pm on the first and third Saturdays of each month from June through October 15. This museum home is located right near the Wiggly Bridge and Fisherman's Walk, so you can get quite a bit of sightseeing in one stop.
Address: 9 Barrell Lane Ex., York, Maine
Map of Things to Do in York, ME
York, ME - Climate Chart
Average minimum and maximum temperatures for York, ME in °C
J
F
M
A
M
J
J
A
S
O
N
D

1

-9

3

-8

8

-3

13

1

20

7

25

12

28

15

27

14

22

10

16

4

10

0

4

-6

PlanetWare.com
Average monthly precipitation totals for York, ME in mm.

107

86

111

110

92

93

87

88

100

112

123

114