15 Top-Rated Things to Do on Peaks Island, ME
Peaks Island may be small, but it is one of those little slices of paradise that ends up being a favorite for anyone who visits. Although it was once known as the "Coney Island of Maine," this quiet spot is not brimming with action and a plethora of attractions and things to do. It is, however, an idyllic spot that is well worth a visit for its spectacular views and charming atmosphere.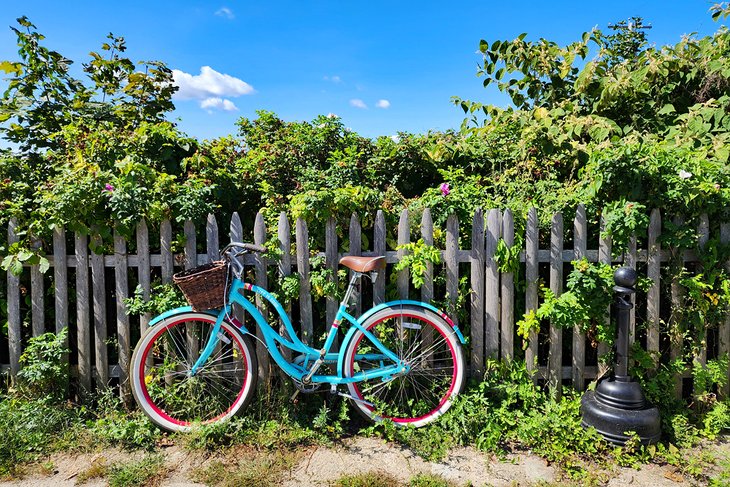 Since it's part of the city of Portland and not a privately-owned island, tourists can easily (and inexpensively) get to and from Peaks Island via the ferry operated by Casco Bay Lines. Give yourself at least two hours to explore, and if you're on foot, you will want the whole day to get to top sightseeing spots like Battery Steele and Cairn Beach.
We recommend that you bring a printed map with you, since there is sparse cell service to guide your excursions once you leave the ferry port area. It's also a good idea to leave your car behind in Portland–you will find it's an expensive hassle to take on the ferry, and won't be particularly useful to you once you get here.
Plan your next Casco Bay excursion with our list of the best things to do on Peaks Island, Maine.
1. Tour the Island in a Golf Cart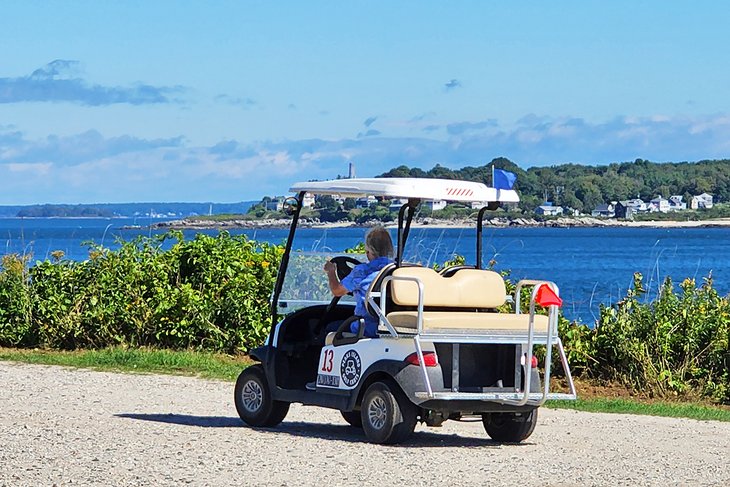 Not everyone is up to cycling or walking, and golf cart rentals are an excellent way to get the most out of your island visit, especially if you are pinched for time. If you're visiting in the summer high season, be sure to reserve yours well in advance, since they go quickly.
It is far more expensive and a much greater hassle to bring your own vehicle to Peaks Island. Once you get here, finding parking is also daunting because of the limited space.
If you want to simply drive the perimeter of the island, an hour might be enough time, but we recommend at least two hours for anyone who wants to do a little exploring and also stop to take photos–both of which you will definitely want to do!
At Peaks Island Golf Carts, you can rent by the hour or by the week, and they also offer customized picnic baskets featuring fresh sandwiches and baked goods from Baba's Café.
If they are booked, try Mike's Carts; they have a two-hour minimum and also have daily and weekly packages.
If you're looking for a more passive way to see the top tourist attractions on the island, Peaks Island Tours offers guided excursions for up to six passengers in their extra-long electric carts. They offer general tours, as well as a World War II military tour via golf cart, and they also offer walking tours.
2. Cycle the Island's Paths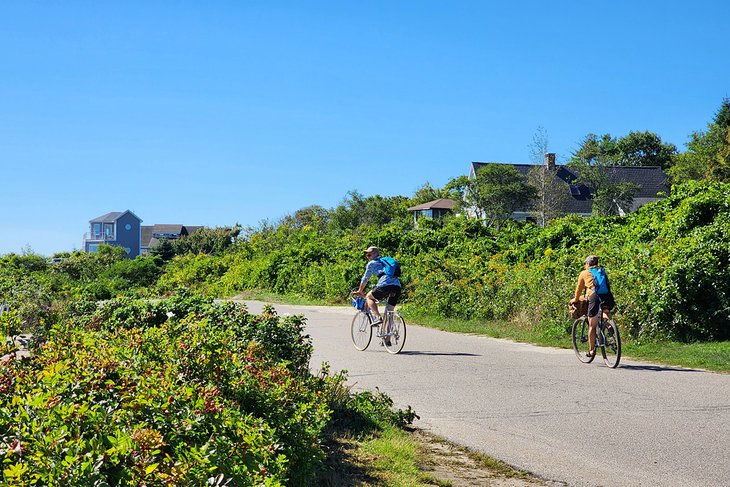 Cycling is another excellent way to explore the island, and although bicycle rates for the ferry are not too steep, tourists may find that it is far simpler to rent one there rather than bring their own.
While golf carts are very convenient, cycling allows you to reach more secluded spots that golf carts aren't allowed on, including several of the walking paths within Peaks Island Land Preserve and trails around Battery Steele. Those off-roading should be prepared to walk their bikes through these areas.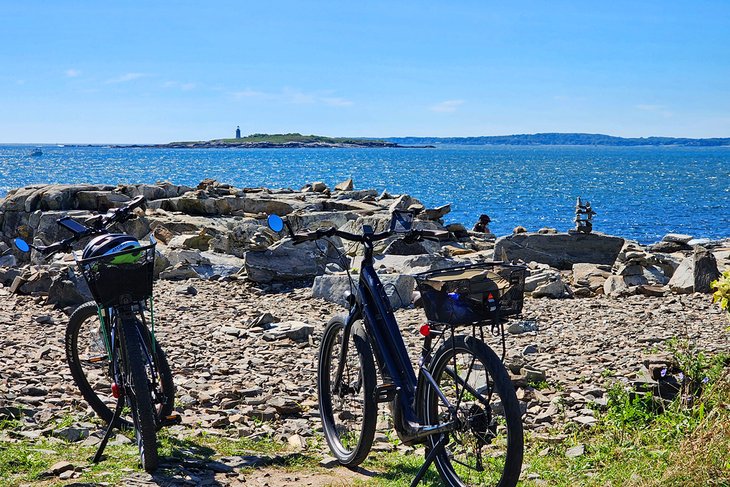 Brad's Island Bike Rentals & Repairs is the go-to place for your cycling needs, both for rentals and any service you might need if you brought your own. Rentals are affordable, starting at around $20, and safety gear is included.
If you want a guided tour via bicycle, Summer Feet Cycling offers packages departing from the mainland that include all equipment, the ferry ride, and a tour led by a local expert. Since there is no return ticket needed for the ferry, you can always stay behind to enjoy a meal before heading back into the city.
3. Explore Battery Steele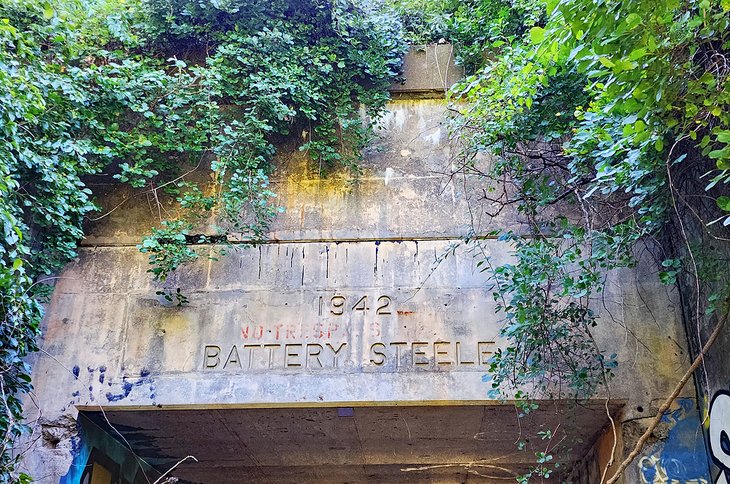 Portland Harbor was a vital staging point for navy ships during World War II, and its islands were heavily fortified to protect the steady stream of ships transporting goods and equipment. Some of the defenses had protected the harbor in previous conflicts, but the gun batteries and weapons bunkers of Battery Steele were new, completed in 1942. Inside were the largest land-based guns in the history of American coastal defenses.
This was one of over 50 military structures on the island (you'll see more as you explore) and the largest, with structures spread across 14 acres that are now networked with trails. Signs indicate some of the remaining military features.
The main structure is in three enormous sections: the two end ones were gun batteries; the center was the command center and munitions storage. The walls are 18 inches of reinforced concrete.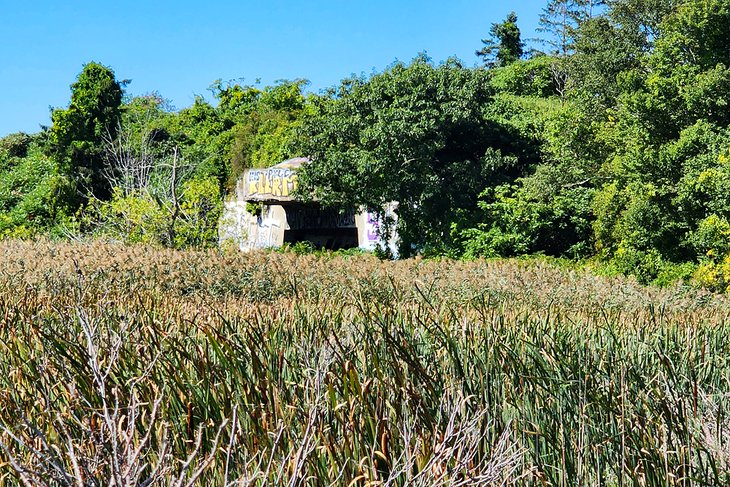 The cavernous bunkers, one side of whose gaping entrance can be seen from the shore road, are open to explore. Bring flashlights and wear waterproof shoes, as the floors tend to be wet.
Many of the vivid paintings on the walls and across the entrance are from a street art festival that used the battery's walls as canvases.
Address: Florida Avenue, Peaks Island, Maine
4. Visit the Umbrella Cover Museum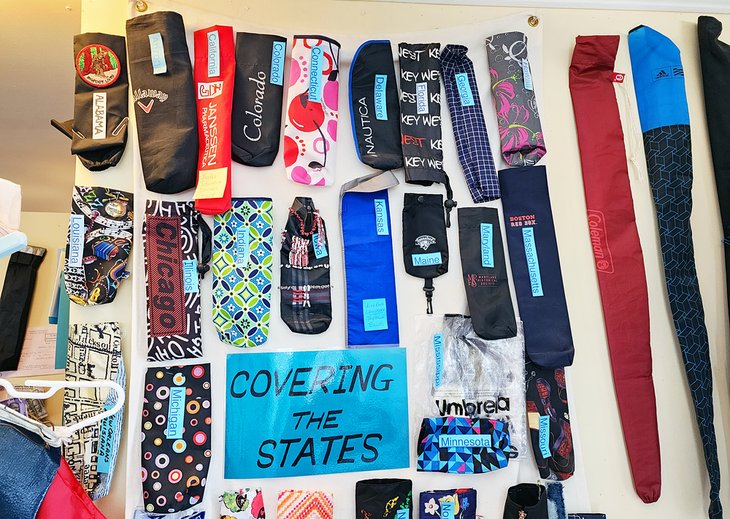 This tiny museum is humble in its origins and modest in size, but well worth a visit for its unique collection and the curator's entertaining presentation.
Home to the world's largest collection of umbrella covers (admittedly, it's the only one), owner Nancy 3. Hoffman opened the museum with 80 pieces. Today, it is home to 2,180 cataloged umbrella covers hailing from 72 countries, including covers from PGA tour umbrellas and a variety of repurposed covers that have been given a new life.
Exhibits are simple but fascinating, but the best part of the visit is Nancy's guided tour, which dives into topics including the weather and the ecological impact of so many superfluous items that most of us toss away.
The tour ends with her performance of Let a Smile be Your Umbrella, accompanied by Nancy's accordion.
Address: 62-B Island Avenue, Peaks Island, Portland, Maine
Official site: www.umbrellacovermuseum.org
5. Bird-Watching and Hiking at Peaks Island Land Preserve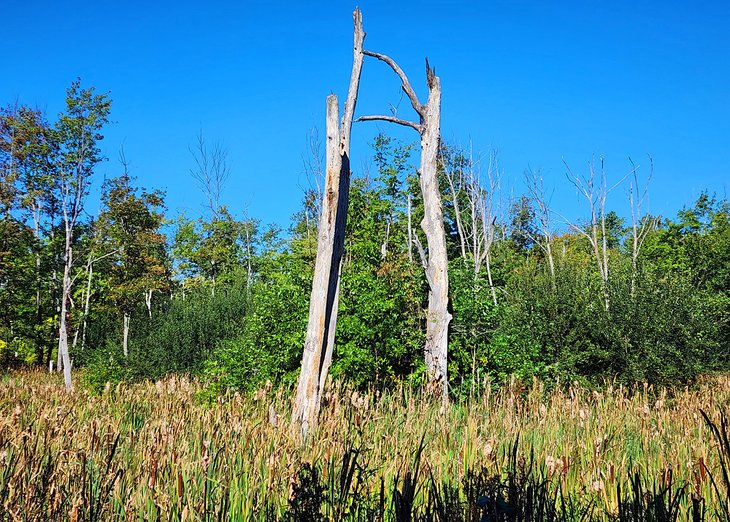 The Peaks Island Land Preserve is the result of generous donations of land by residents who wanted to ensure that the island's ecology and natural beauty would be there for generations to come. It occupies 750 acres, which include wetlands and wooded areas where birdlife is abundant.
Throughout its trails, eagle-eyed birders have spotted over 100 different types of birds, including over two dozen varieties of geese and ducks. The preserve is also home to several species of woodpecker, both the common and red-throated loon, pheasants, nuthatches, and kingfishers. There are also birds of prey, including several varieties of hawks and even bald eagles.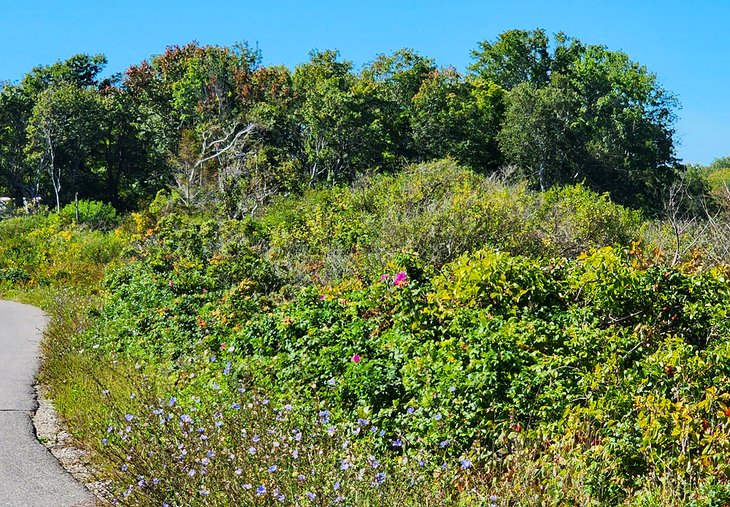 While exploring this gorgeous area, take some time to smell the roses–literally. They are abundant throughout the preserve. May and June are the best time to catch the scent, but they continue to bloom well into September, providing many an attractive background for your photos.
If you're here late in the season, you can also enjoy the colors of other wildflowers, including goldenrod, blue chicory, delicate Queen Anne's Lace, wild asters, and saucer-sized heads of Joe Pye Weed.
6. Visit the 5th Maine Regiment Museum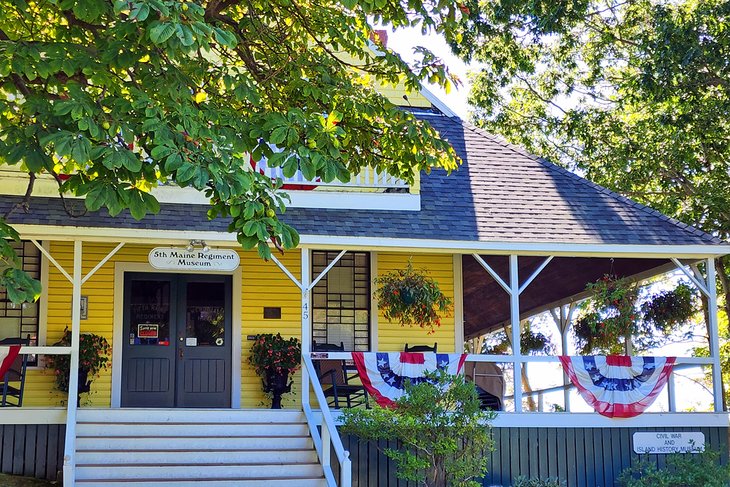 While many people associate the island's military importance with the World War II fortifications, those interested in military history will find other places to visit here, as well. After the Civil War, veterans of the Fifth Maine Regiment, which fought with distinction in the battles at Bull Run, Antietam, Fredericksburg, and Gettysburg, chose Peak's Island as their reunion site.
This Queen Anne-style meeting place was built by Fifth Maine Regiment veterans in 1888, located on the island's southern shore overlooking East Ryefield Cove. The stained-glass windows commemorate members of the regiment.
The collections include Civil War artifacts that once belonged to members of the Fifth, as well as items from Confederate soldiers. Highlights are mid-19th century firearms, hand combat weapons and projectiles, as well as uniforms and personal items.
This building is also home to the Peaks Island History Museum, a small but informative collection that gives visitors a look at life on the island during its heyday as a summer playground. It also covers more general information about the island's importance during wartime, including the Civil War and both World Wars, as well as information about the Wabanaki people who lived on the island for millennia before it was taken over by Europeans.
Address: 45 Seashore Avenue, Peaks Island, Portland, Maine
Official site: www.fifthmainemuseum.org
7. Go Shopping at Island Galleries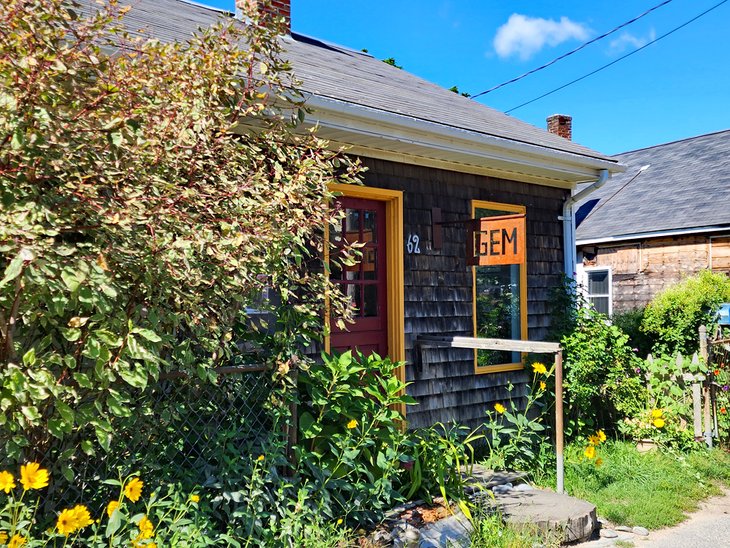 Peaks Island is home to several artists, and to galleries exhibiting their works and those of other Maine artists. Gem Gallery, near the ferry landing and next to the Umbrella Museum, is a collective displaying jewelry, pottery, fiber arts, paintings, and three-dimensional works by island-based artists who live or work in Maine.
Also near the landing, Richard Boyd Art Gallery represents local artists and those with a connection to Maine. Paintings represent multiple genres, from landscapes and seascapes and other realist works to abstract subjects. Three-dimensional works include pottery and bronze sculpture; exhibitions change monthly.
Farther from the center, but within easy walking distance, is Featherstone Fibers, a fabric arts boutique. Along with the owner's wearable creations made from recycled cashmere, merino, lambs' wool, alpaca, and mohair, the shop carries the handwoven towels and tote and shoulder bags created through a Fair Trade weaving program in southern India.
8. Eighth Maine Regiment Memorial and Museum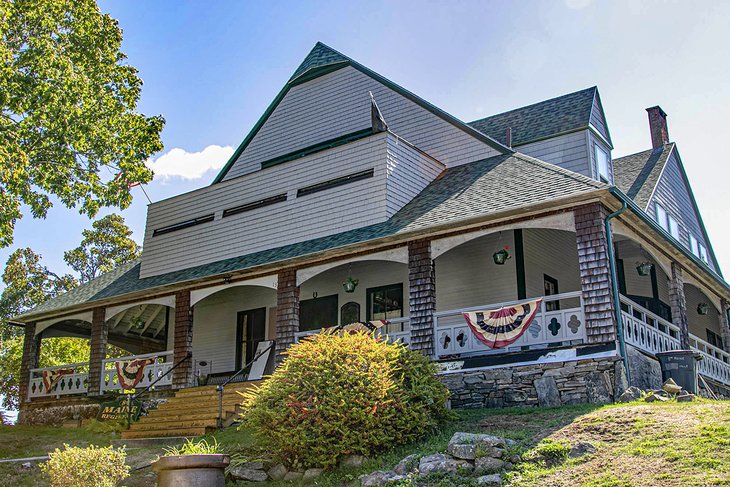 The large Queen Anne Shingle-style cottage was built in 1891 by the Civil War veterans who served in the Eighth Maine Regiment. After the war, the veterans met in annual reunions in various locations. Sixteen years after their discharge, they decided to build a permanent lodge for their meetings and chose this location overlooking the water.
The nicely detailed building, with a traditional wraparound porch, is on the National Register of Historic Places and still owned by the descendants of the regiment's veterans. It serves as a memorial to the veterans and their comrades who lost their lives in the war, and inside are displayed some historical photos and memorabilia. Fifteen simple guest rooms are available for rent.
Address: 13 Eighth Main Ave., Peaks Island, Maine
9. Play with the Rocks on Cairn Beach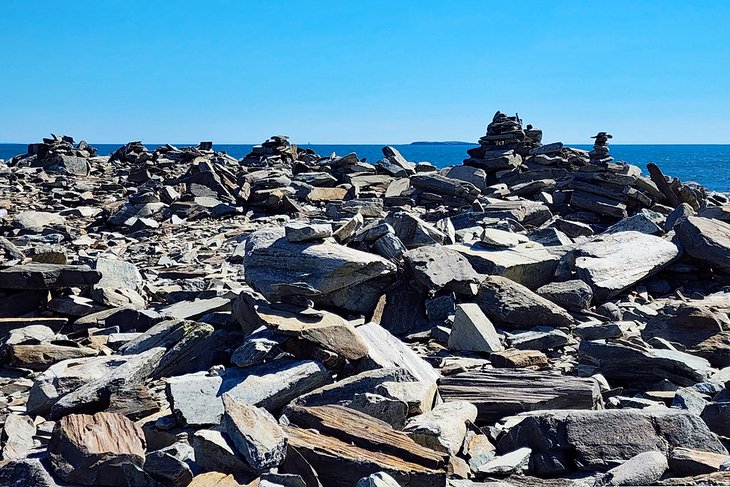 Also known as Prayer Point, this "beach" is not a swimming spot but rather an expansive rocky shelf that has become known for its many rock-pile creations. Truly, it is a spot that lends itself to the meditative patience required to stack uneven ocean-tossed stones, and the appearance of these small mounds against the background of the open ocean gives the space a spiritual feel.
Cairn Beach is also a great place to visit for a good look at the fortifications and dramatic cliffs on neighboring Cushing Island.
10. Visit Whaleback Ledge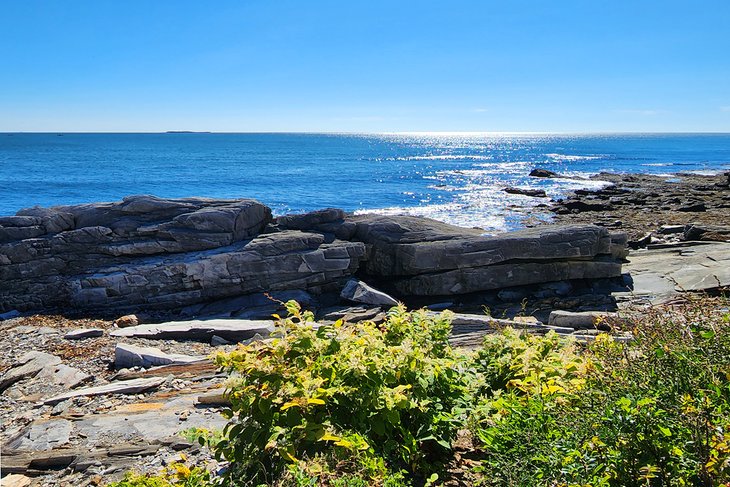 One of the eastern shore's most popular tourist attractions, Whaleback Ledge is named for the profile of the ledge that sits just above the shoreline. It's easy to find and often the first stop for tourists who are making the shorter circuit around the southern end of the island.
The most direct route from the ferry landing is via Brackett Avenue, but it can also be reached via Island Avenue on a full perimeter tour that connects with Seashore Avenue. With plenty of space to park your bicycle or golf cart, it's easy to spend a long time here even after you've snapped those photos.
11. Go Kayaking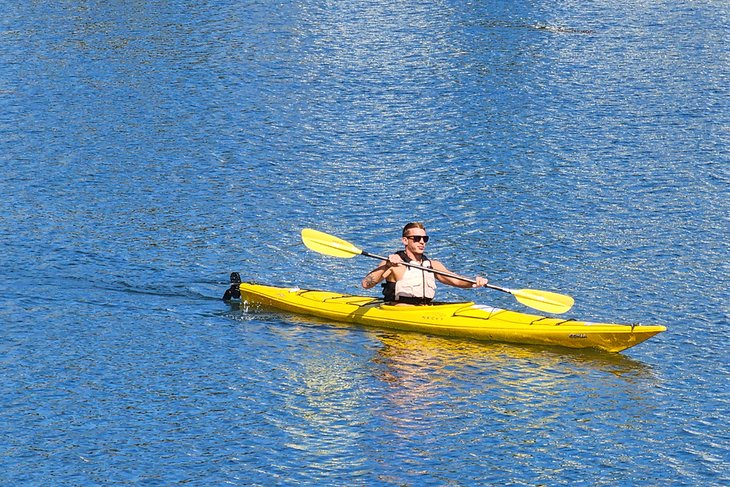 Kayaking in Casco Bay is one of the top things to do in the Portland area, and if you've got the time, departing from Peaks Island is an excellent way to explore the waters around the outer islands.
Maine Island Kayak is based right on Peaks Island and offers rentals, tours, and classes, as well as resources for those interested in learning more about the region's marine life and sports. Tours include sunset tours (two hours), half-day excursions (three hours), and full-day trips with lunch (five to seven hours).
If you're on your own, be sure to stay on the inland side of the island–don't meander into the open water where conditions can change quickly.
12. Have a Picnic on Torrington Point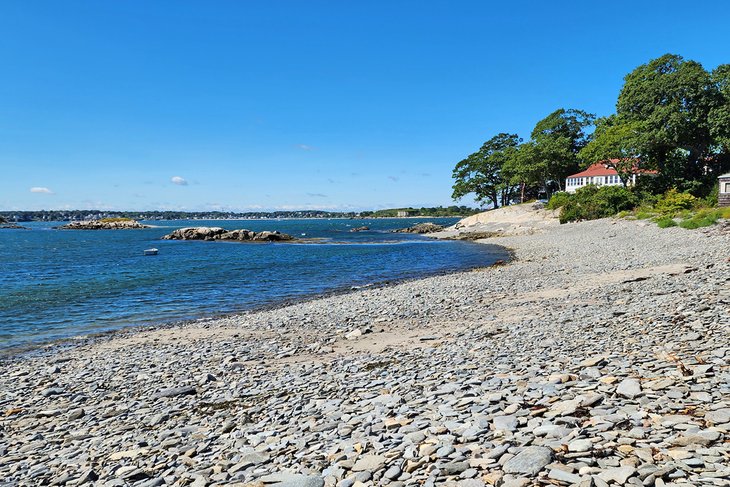 Locally known as Picnic Point, this shingle beach isn't great for sunbathing, but is ideal for spending some time enjoying the scenery. It's accessible via a short trail just down the street from the Fifth Maine Museum; golf carts will need to park at the top, while cyclists can easily walk their bikes down.
The views from this pebble-covered point are beautiful, providing waterfront perspectives of some of the island's loveliest homes over East Ryefield Cove. It's also a good spot to view Cushing Island's dramatic cliffs and abandoned military fortifications.
Visitors should be aware that this is not a public beach; however, respectful tourists should have no problem enjoying the spot.
13. Relax on the Sand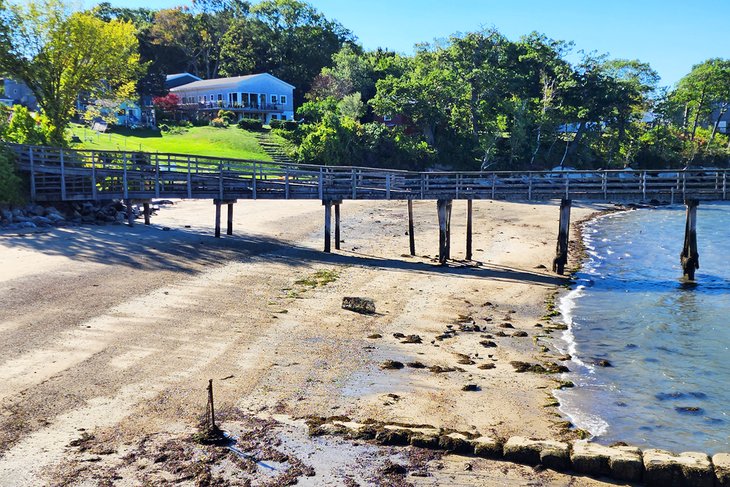 The only public swimming beach on Peaks Island, Sandy Beach is located in a small, protected cove on the southwest corner of the island off Brackett Point. While there are no amenities here, it is close to the "Down Front" area, where there are public restrooms and a general shop that carries beach necessities.
This is a popular spot for families, and visitors can also use this as a put-in for kayaks, often as an easy starting point for visiting Catnip Island, which lies not far offshore.
If you aren't up for swimming but want to feel the sand between your toes, there is also a small beach located just next to the ferry terminal. Centennial Beach is a great place to sit and watch for your return ferry, and so close that you won't even have to hustle to make your departure.
14. Dine with a View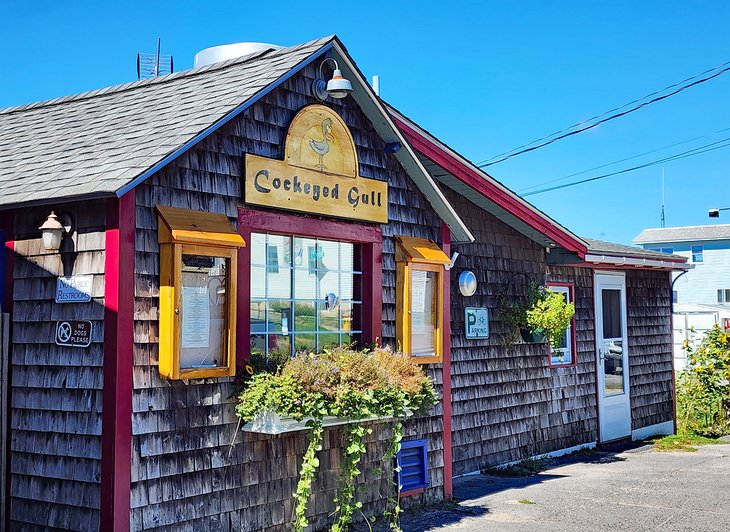 Despite its small size, Peaks Island has several restaurants to choose from, many of which offer excellent views of Casco Bay. As you might have guessed, most restaurants on the island offer fresh seafood, but there is enough variety to satisfy even the pickiest diner.
Some of the best views are found at The Cockeyed Gull Restaurant, an adorable spot that offers casual patio dining overlooking the water and the island's private marina.
If you're looking for a full-service sit-down dining experience, The Inn on Peaks Island offers both indoor and patio seating. They serve breakfast, and for lunch and dinner offer a selection of locally caught seafood dishes.
Located just steps from the ferry port, Jones Landing is another great option that offers waterside dining, and they also run Milly's Skillet Food Truck, which is conveniently located right at the ferry landing.
For lighter fare, try Peaks Café (also right by the landing), or walk 100 feet up Island Avenue to try fresh artisanal sandwiches at Baba's.
If you're in the mood for something Mediterranean, The Greeks of Peaks is another alternative, located just a minute's walk from the ferry.
Insider's tip: The eateries closest to the ferry port say their busiest times are right after the ferry drops off passengers, so consider exploring Down Front for a bit and timing your meal for between ferries so you won't have to wait. Tourists should also be aware that many Peaks Island restaurants either close or operate at reduced hours between Labor Day and Memorial Day.
15. Take a Ferry Ride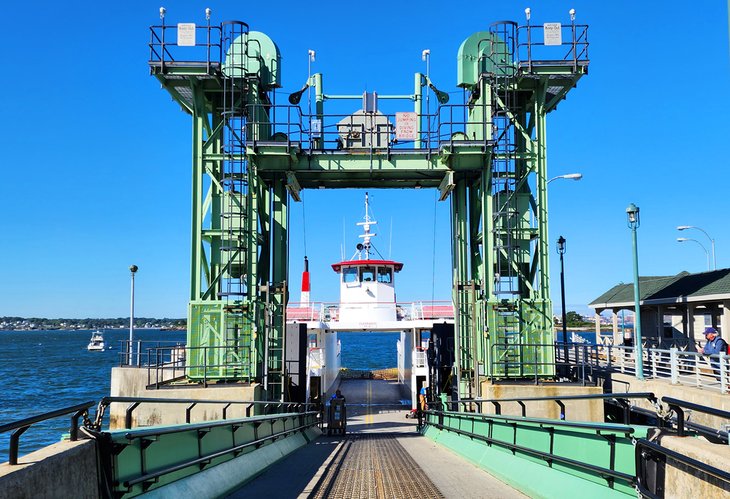 This may seem like an obvious thing to do, but it's truly part of the Peaks Island experience, and also the most affordable and dependable way to get to and from the island. This 17-minute boat ride brings you to the same dock that has welcomed tourists since Peaks Island first caught the attention of vacationers.
Taking the ferry is especially fun for kids, who love to watch the cars and cargo get on and off the boat. Unfortunately, you can't buy tickets in advance, so be sure to arrive at the ferry terminal well ahead of your ideal departure time to get your spot if you are visiting during the summer season.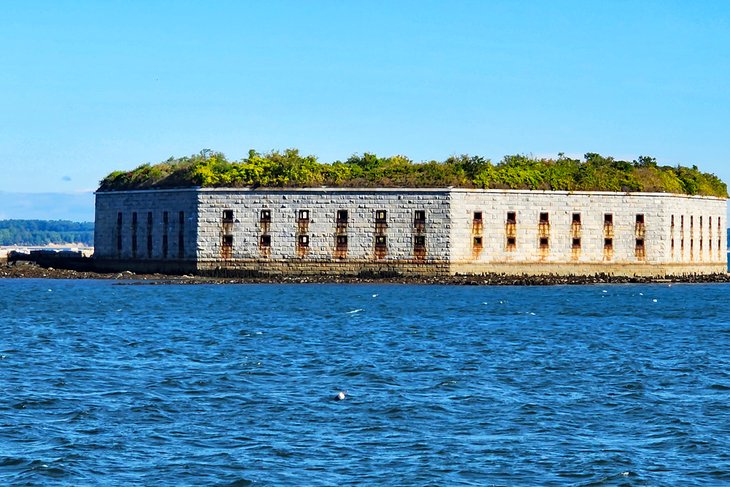 Pro tip: If you don't have time to explore the island, or want to get out on the water for great views of Casco Bay and its other islands without paying a premium for a sightseeing cruise, book a ferry ride instead. Locals recommend the Mailboat Run for the best value, for a 2.5- to 3.5-hour cruise that stops at the Chebeague Islands, Long Island, Little Diamond, and Great Diamond. When there are 10 or more passengers, the cruise is also narrated!
Casco Bay Lines also offers a variety of sightseeing and special event cruises.
Mainland Port Address: 56 Commercial Street, Portland, Maine
Official site: www.cascobaylines.com
Map of Things to Do on Peaks Island, ME
Peaks Island, ME - Climate Chart
Average minimum and maximum temperatures for Peaks Island, ME in °C
J
F
M
A
M
J
J
A
S
O
N
D

-1

-11

1

-9

6

-4

12

2

17

7

23

12

26

15

25

14

21

9

14

3

8

-1

2

-7

PlanetWare.com
Average monthly precipitation totals for Peaks Island, ME in mm.

104

80

105

108

97

83

84

78

86

112

120

108

Average monthly snowfall totals for Peaks Island, ME in cm.

49

42

29

9

0

0

0

0

0

1

8

42
Average minimum and maximum temperatures for Peaks Island, ME in °F
J
F
M
A
M
J
J
A
S
O
N
D

31

12

34

16

42

25

53

35

63

44

73

53

79

59

77

57

69

49

58

37

47

30

36

19

PlanetWare.com
Average monthly precipitation totals for Peaks Island, ME in inches.

4.1

3.1

4.1

4.3

3.8

3.3

3.3

3.1

3.4

4.4

4.7

4.2

Average monthly snowfall totals for Peaks Island, ME in inches.

19

17

12

3.4

0.1

0

0

0

0

0.4

3.2

16