15 Top-Rated Things to Do in Freeport, ME
Author Lura Seavey travels to Maine regularly throughout the year, with her most recent visit to Freeport in September, 2022.
Located on Casco Bay between Portland and Brunswick, Freeport offers visitors a wide array of things to do and beautiful places to visit. Home to the LL Bean flagship store, Freeport gained popularity as the home of the quintessential outlet shopping experience and has continued to draw crowds as the shopping mecca of the northeast with its ever-growing number of outlet stores.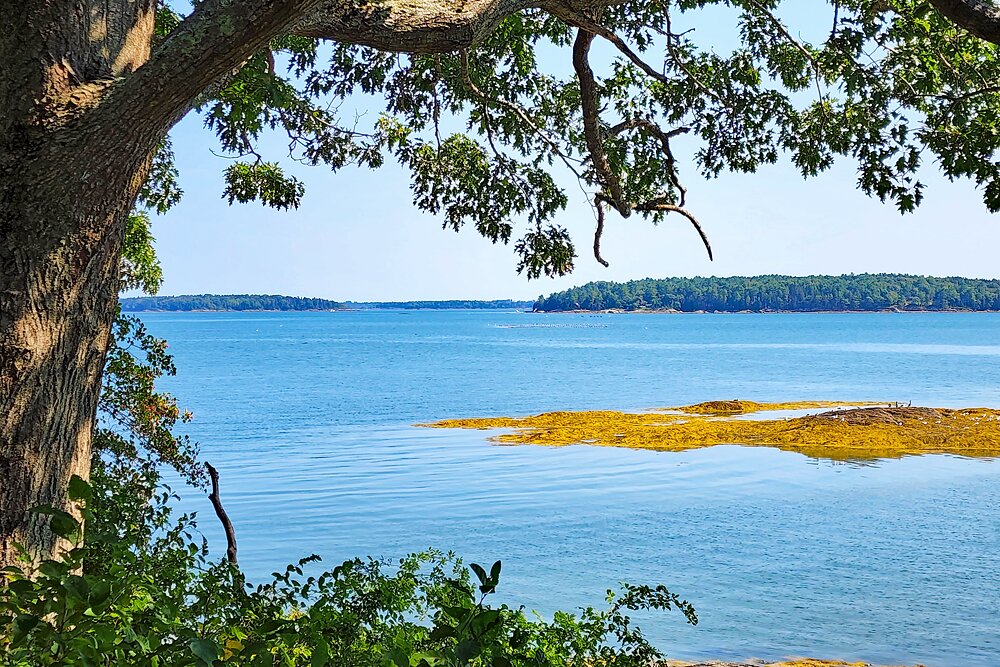 While shopping is certainly a top thing to do in Freeport, it's far from the only game in town, and not just because of LL Bean's outdoor activity centers that help get people outdoors and on the water. The Desert of Maine and Blueberry Pond Observatory are top family attractions, as are the state parks at Bradbury Mountain and Wolfe's Neck Woods.
Find out what activities interest you most with our list of the best things to do in Freeport, Maine.
1. Explore the Desert of Maine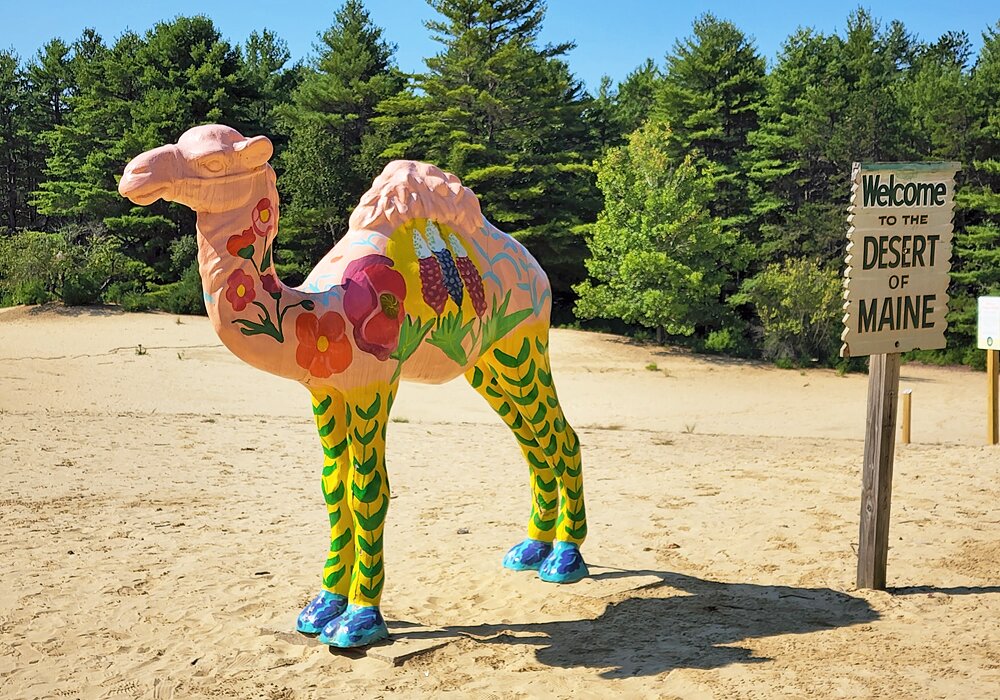 Once upon a time, the Desert of Maine was a rather tacky roadside attraction, but since it was taken over by Freeport natives Mela and Doug Heestand in 2018, it has become a fun and educational destination for all ages. Created by a sand deposit left more than 12,000 years ago by a glacier, the desert was exposed after farming in the 1800s eroded the small amount of topsoil that had collected over millennia.
Teaching visitors about ecology is a major focus here, and throughout the property you will find informative signage that talks about how this desert ended up in Maine, the use of the land over the centuries, and ways that nature is starting to reclaim the dunes.
When you enter the desert, you'll be greeted by a colorful camel that loves being in selfies—she may be fiberglass, but that's far better than the live one that used to spit on tourists in the 1950s! You can explore the dunes, visit the Spring House, and take photos at the Model T.
There is also a restored 1800s farmhouse museum and the Tuttle Barn, the last structure left from the farm's original owners.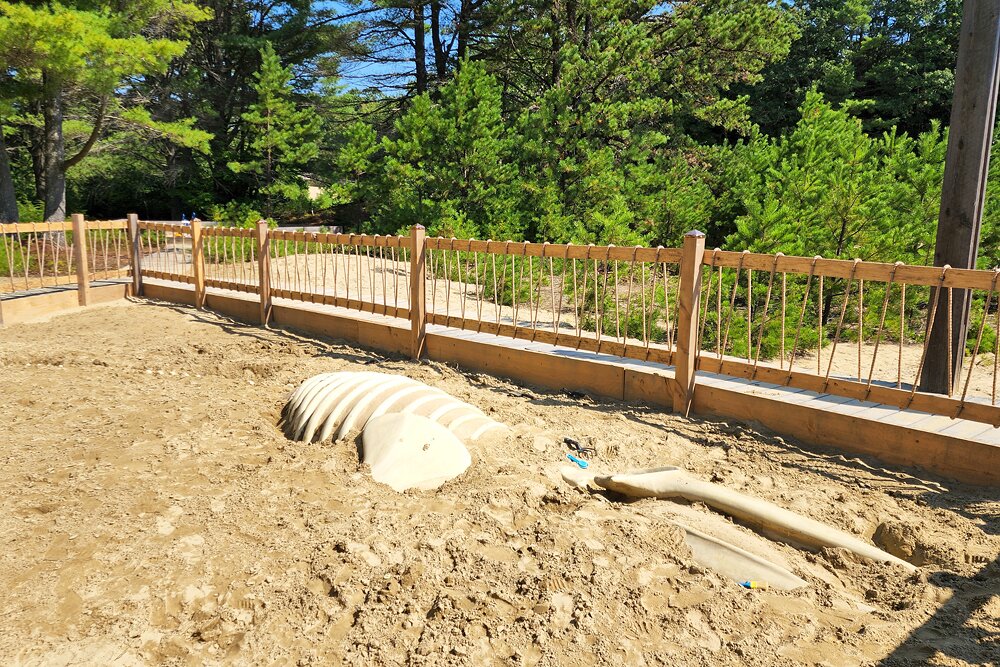 For families, one of the best parts is the Gemstone Village. Kids love it for its mysterious labyrinth and the gemstone dig sites, while parents love the fact that the kiddos can keep three gems each without having to shell out extra cash for a bag of sand. There's even more digging to be done at the Fossil Dig and the Secret Sandbox, which are full of authentic and reproduction artifacts.
The kids will probably want to stick around for a round of mini golf on the new course, and there is a great playground as well. If you're looking for yummy and reasonably priced food, they have a great concession stand and shaded picnic area.
There are also campsites with A-frame cabins right on the property. The Desert of Maine is open from May through October for the summer holiday season.
Address: 95 Desert Road, Freeport, Maine
2. See the Boot at the L.L. Bean Flagship Store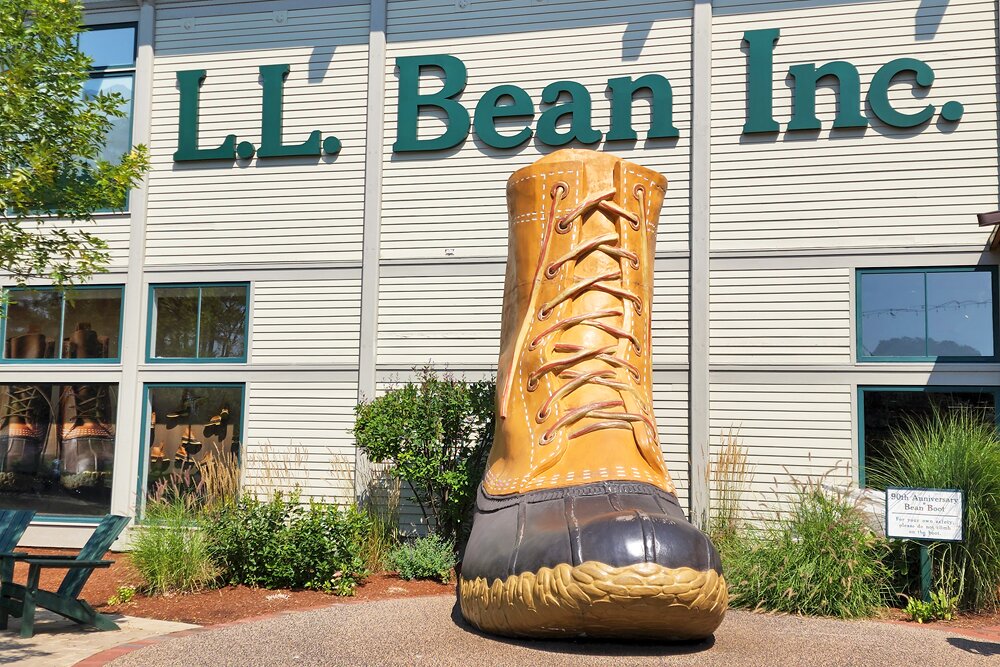 This is the place that started it all: L.L. Bean's flagship outlet store. Now more like a complex, LL Bean's presence is still dominant, with its sprawling campus and three buildings sitting on a hill above the rest of the shopping district.
Even if you're not into shopping for active wear and outdoor gear, you'll want to head over to the main entrance and get a selfie with the L.L. Bean Boot. This 16-foot-tall rubber-soled boot has become an iconic Freeport landmark, and if you're lucky, you can get a look at their Bootmobile that's nearly as big.
In front of the store, the Discovery Park offers a nice green space for visitors to hang out, and the spot often hosts outdoor activities and music in the summer. The campus is very dog-friendly, as is the store itself.
The L.L.Bean Flagship Campus is open 24 hours a day, seven days a week, so you can spend all the time you want there before heading in to shop.
Address: 95 Main Street, Freeport, Maine
3. Shop 'til You Drop at the Freeport Village Station Outlets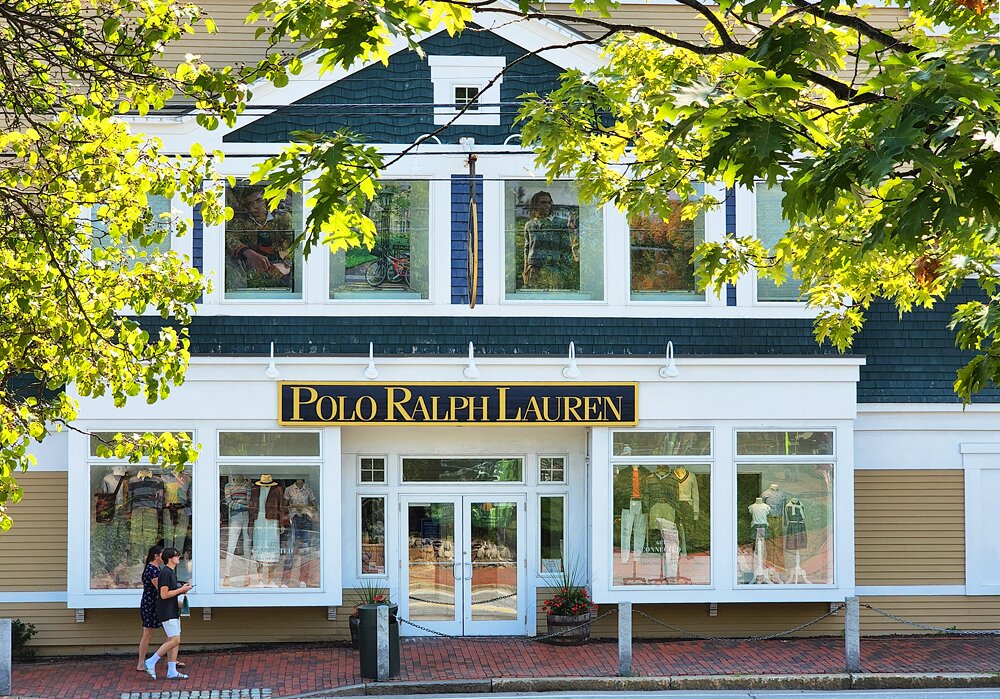 While Freeport offers plenty of things to do, let's face it—most people head here for the shopping. Browsing the outlet stores is also one of the best things to do in Maine in winter, when the weather is not cooperating with your favorite outdoor activities.
Best known as the mecca of brand-name outlets, shoppers will find most of Freeport's stores huddled around the L.L Bean complex. Freeport Village Station is the most concentrated area, home to stores including an Old Navy Outlet, Carter's, Orvis, Coach, Francesca's, J Crew, Talbots, and more stores (including, of course, another L.L. Bean shop).
There are plenty more shops nearby on Main Street, including American Eagle, LOFT, Patagonia, Jockey, North Face, and Sea Bags, and nearly as many restaurants to keep shoppers' energy up.
If you're looking for something a little different, you can also visit Freeport Antiques and Heirlooms Showcase next to the AE store, or walk another block south to find a nice quilt shop and the When Pigs Fly bakery.
Head a few steps north from L.L. Bean on Main Street to find upscale resale clothing at the Haberdashery, British Goods gift shop, and an excellent independent book store.
If you need a quick boost to keep going, there's a Ben & Jerry's between two of the L.L. Bean stores, and a Starbucks across the street. All public parking in Freeport is free.
4. Picnic with a View at Winslow Memorial Park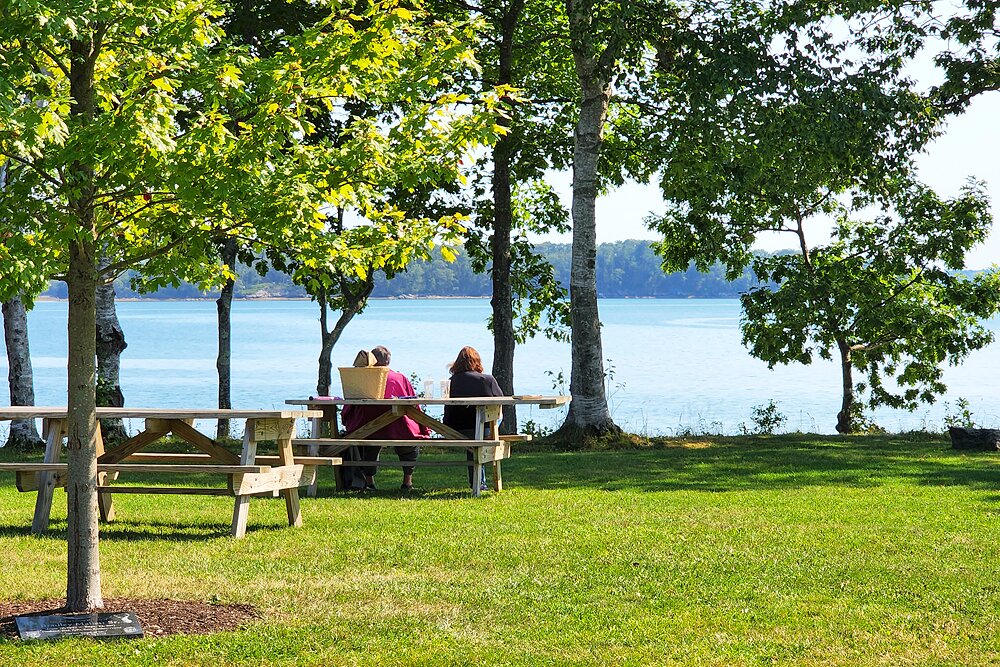 Operated by the town of Freeport, the Delia B. Powers Winslow Memorial Park and Campground offers over one hundred coastal campsites, as well as group recreation areas and one furnished rental cottage with four bedrooms.
The park, which is located on a narrow point that separates Staples Cove from Casco Bay, features several scenic nature trails overlooking the water. There is a large, shaded playground, as well as an extensive ocean-view picnic area and a beach.
The park is also open to day-use visitors for a small fee. You can utilize the grill and picnic areas, use the boat launch (both personal and trailered craft allowed), and attend the summer concerts series, which features regular live music.
RV campers should be aware that there are no hookups at any of the sites, and there is a maximum consecutive-night stay of 14 nights. The park is open for camping from the end of May through October 1st.
Address: 10 Winslow Park Way, Freeport, Maine
5. Learn to Kayak at the L.L. Bean Flying Point Paddling Center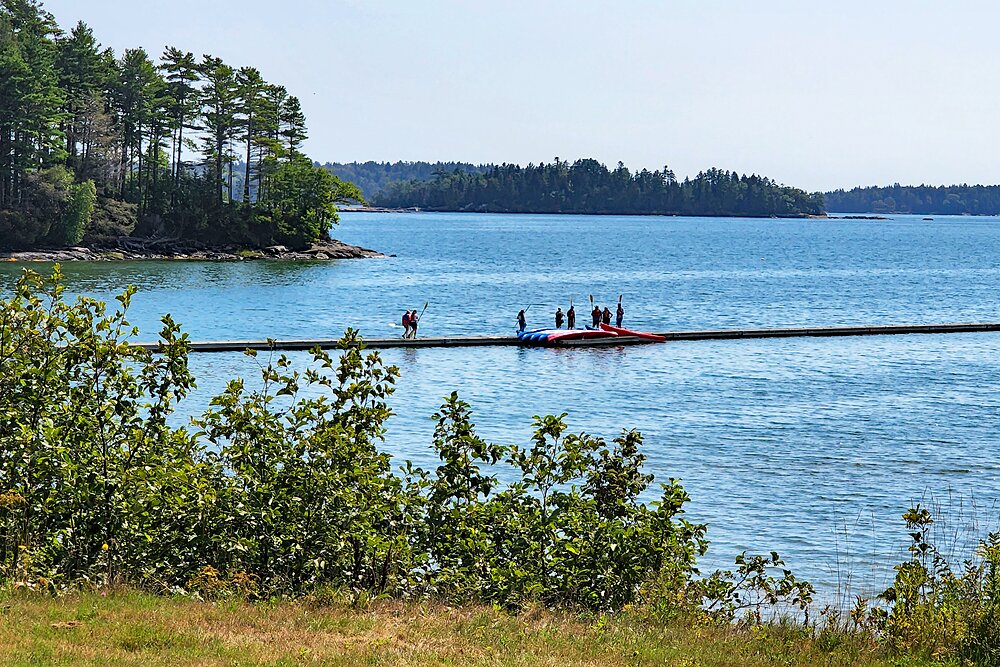 If you've always wanted to try out sea kayaking but have been nervous to set out on your own, the L.L. Bean Flying Point Paddling Center is an ideal spot to get first-rate lessons from the experts so that you can explore the coastal waters with confidence.
They offer a wide range of lessons, from the basics for beginners to specialized skills like advanced-level paddling techniques and nautical navigation. You can choose from private or group tours that last anywhere from a couple of hours to all day.
The center offers a variety of guided sightseeing tours as well, including private and group tours of Casco Bay and the islands. You can also embark on a full-fledged adventure with an overnight camping tour, with multi-day women's-only options.
There are also autumn foliage kayak tours, sunset tours, and full-moon tours at night throughout the summer. Most kayak lessons and tours operate from June through September, with some available into October.
Sea kayaking can be quite different from paddling on Maine's lakes and rivers. When in doubt, always hire a local guide to go sea kayaking, especially if you will be venturing out into open water.
Address: 14 Marietta Lane, Freeport, Maine
6. Mast Landing Audubon Sanctuary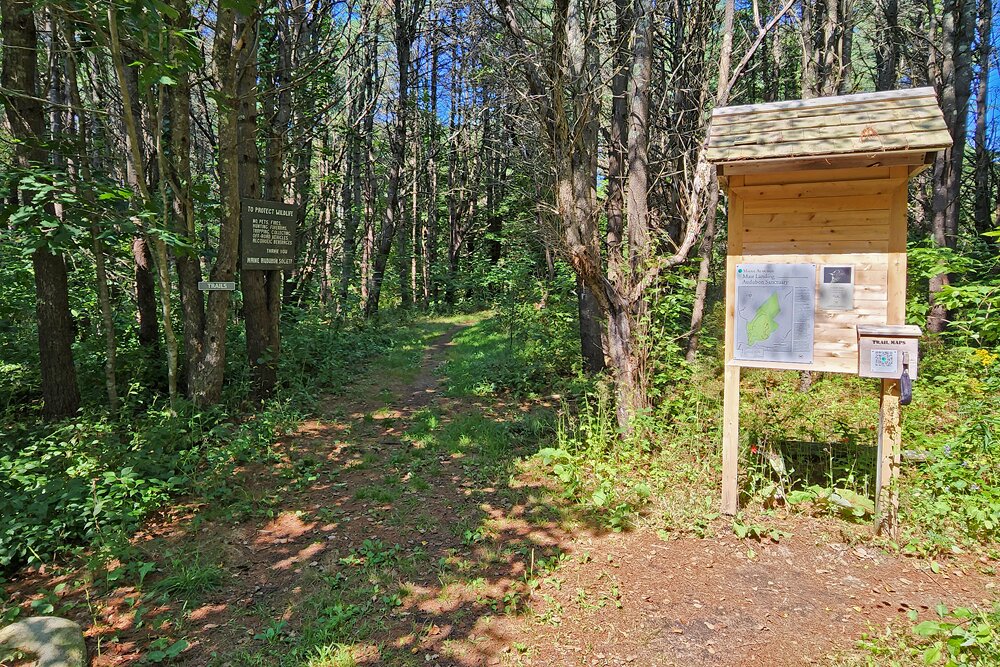 One of the top free things to do in Freeport, a visit to the Mast Landing Audubon Sanctuary offers tourists the opportunity to enjoy a variety of natural habitats in a peaceful setting.
This 145-acre area was once a major logging site, named for the vast number of ships' masts that were created from the trees felled here in the 1700s. A saw mill and several other mills once stood along Mill Stream, which runs through the property; they were razed in a fire in the mid-19th century, but the foundations can still be seen today. The mill master's home, however, still stands and is in use as the caretaker's residence.
The sanctuary offers several trails that are easy hikes. The Ridge Trail is the longest, at 1.6 miles, starting at the parking lot and leading through forest and fields past the remains of the old mills. The remaining trails are much shorter, ranging between 0.3 and 0.5 miles, and branch off from the Ridge Trail to explore other areas of the preserve.
Wildlife lovers may spot white-tailed deer and American mink, and bird-watchers will see a variety of migrant shore birds.
Address: 65 Upper Mast Landing Road, Freeport, Maine
7. Learn New Skills at the L.L. Bean Outdoor Discovery School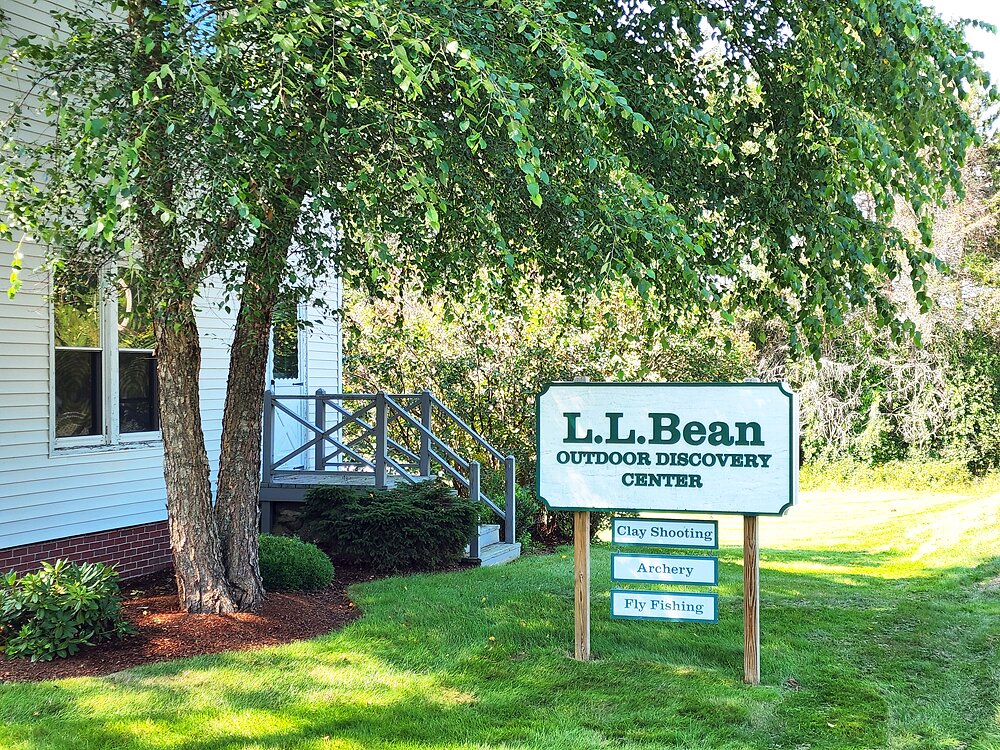 Fogg Farm is home to an expansive recreation area, the L.L. Bean Outdoor Discovery School. Whatever your interests, there is something for everyone here at this year-round sporting facility. Classes and guided tours are offered for all skill levels and ages, ranging from short sessions to multi-day adventure trips that include all tents, gear, and food.
In addition to traditional activities like hiking, mountain biking, stand up paddleboarding (SUP), kayaking, snowshoeing, and cross-country skiing, you can also learn fun new skills like archery and clay-shooting. There are also specialized bird-watching sessions, fly casting and fishing classes, and outdoor first-aid and safety training.
Families will love the kids' camps, which give younger travelers a chance to make new friends and get active while the gown-ups do their boring adult stuff. They are available as weekly or by-the-day camps, with summer sessions that welcome ages seven to 13 and winter camps that are for ages nine to 13.
There is also a dedicated week-long teen adventure camp for ages 13 to 16, operating weekly from June through August. Several women's-only activities are available as well, from shooting lessons to multi-day group adventure treks.
In addition to a wide variety of paid lessons and tours, they also offer a selection of free guided tours, most of which last between one and two hours. Warm-weather activities include mountain-biking treks, SUP sessions on the Androscoggin River, and sea kayaking tours of Casco Bay. When there's snow on the ground, you can take a guided cross-country ski or snowshoe tour at Fogg Farm.
Address: 11 Desert Road, Freeport, Maine
8. Learn about Nature at the Wolfe's Neck Center for Agriculture & the Environment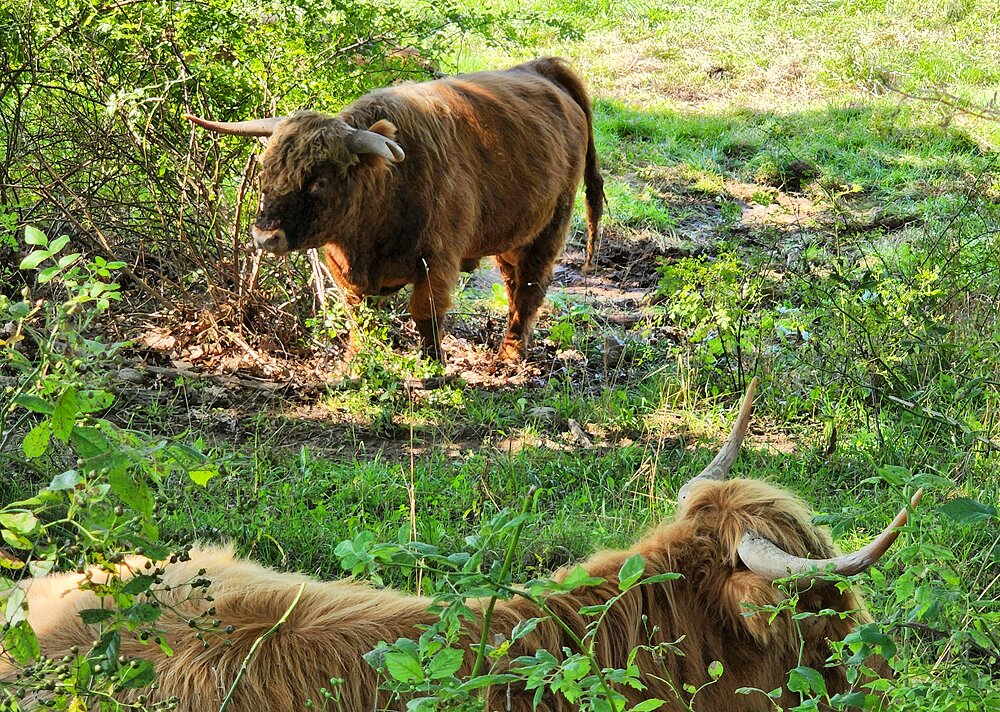 Located near (but not to be confused with) Wolfe's Neck State Park, this 600-acre working farm is open to the public from dawn to dusk as an educational center. While you can explore its trails on your own, the best part about the Wolfe's Neck Center for Agriculture & the Environment is its excellent programs.
With a focus on teaching the younger generations about the important role farming holds, the center offers a wide variety of seasonal educational tours and programs. The littlest visitors can play farmer with the laying hens, take a nature walk to find salamanders, and cozy up for story time in the barn.
All ages can go on the guided goat hike, explore the tide pools with a naturalist, and take a historic hay wagon ride. The milking parlor is open daily for viewing between 4 and 5pm, and the farm also offers bike, kayak, and canoe rentals.
They also offer a variety of workshops on topics like herbal salve-making, canning, pickling, winter gardening, beekeeping, composting, and much more.
If you really love it here, there are 150 campsites along the property's extensive shoreline, including those for tents and RVs. The farm also operates a café that specializes in farm-fresh foods.
Address: 184 Burnett Road, Freeport, Maine
9. Visit the Freeport Historical Society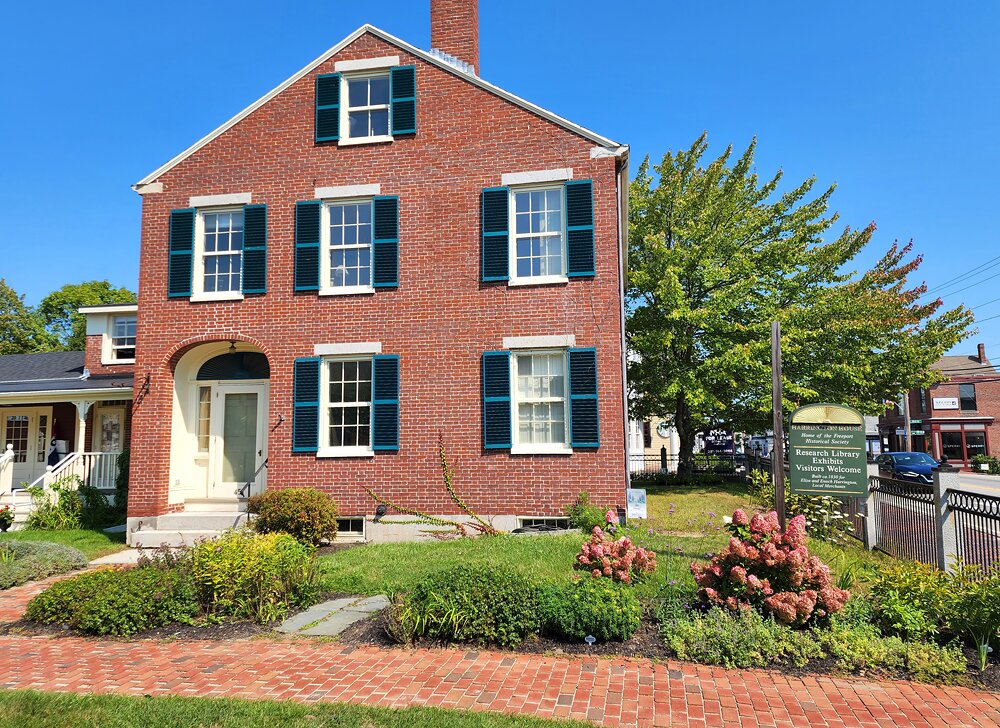 The Freeport Historical Society is located right on Main Street, just a block over from the L. L. Bean flagship store. Its collections, exhibits, and offices are at the Harrington House, a Greek Revival brick home built around 1830.
The main exhibit within changes annually, focusing on specific periods and places that are historically significant. Past exhibits have explored the history of Mast Landing, the progression of local commerce, and specific trades from cobbling to ironwork.
There is also a large collection of artifacts, as well as an extensive research library on-site.
Address: 45 Main Street, Freeport, Maine
10. See the Ospreys at Wolfe's Neck Woods State Park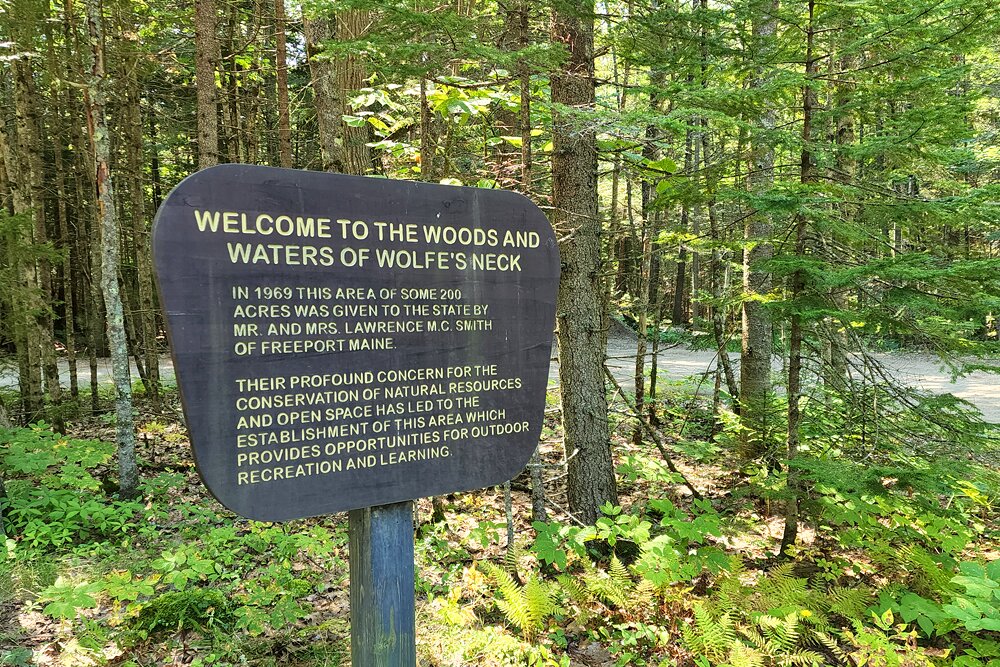 Wolfe's Neck Woods State Park covers more than 200 coastal acres, providing miles of trails to explore. The Casco Bay trail is the most popular, offering excellent ocean and island views. It's on one of these islands, Googins Island, where osprey settle in each summer to nest and enjoy their prime real estate.
You can participate in a guided nature walk to find out exactly where to look or scope it out for yourself, but just be sure not to forget the binoculars. From the observation points along the trail, you can easily spot baby osprey in their nests.
If you're interested in learning more about the osprey and other native and migratory birds, check out the Feathers Over Freeport events that are organized by the park.
Address: 426 Wolfe's Neck Road, Freeport, Maine
11. Go Hiking on Hedgehog Mountain Trail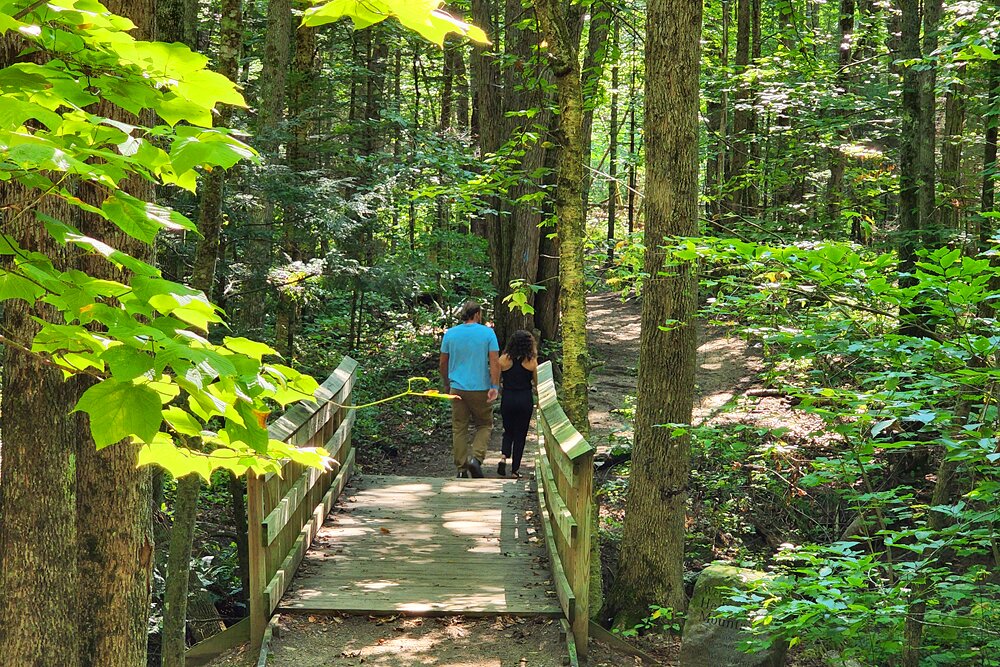 Maintained by the Freeport Conservation Trust, this 196-acre preserve is home to a 2.9-mile loop trail that offers an easy-level hike to Freeport's highest spot. It's only an elevation of 301 feet, but the views really are lovely—on the clearest of days, you can even spot the frozen tip of New Hampshire's Mount Washington from here.
If you're not up for the full loop, you can forego the southern slope and head straight up the summit trail. This is a family-friendly hike (leashed pups, too) that is also popular with cross-country skiers and snowshoers in the winter.
Address: 100 Hedgehog Mountain Road, Freeport, Maine
12. Explore Bradbury Mountain State Park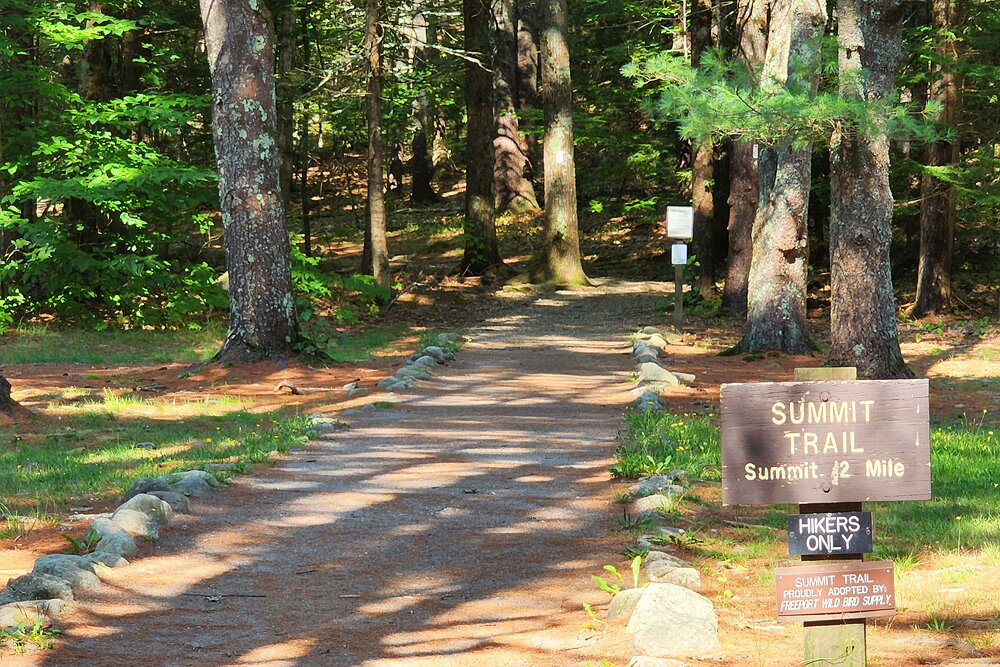 Located just outside the Freeport town lines, this lovely Maine State Park offers hiking trails, day-use facilities, and campsites. While there is a small fee to use the park, even overnight camping rates for non-residents are very reasonable ($18 a night).
Visitors can get a very good trail map at the gate that includes details about each route. These are multi-use trails that are open year-round, including several options for cross-country skiing and snowmobiling. The longest trail is 1.5 miles long, and they are well-marked along each route.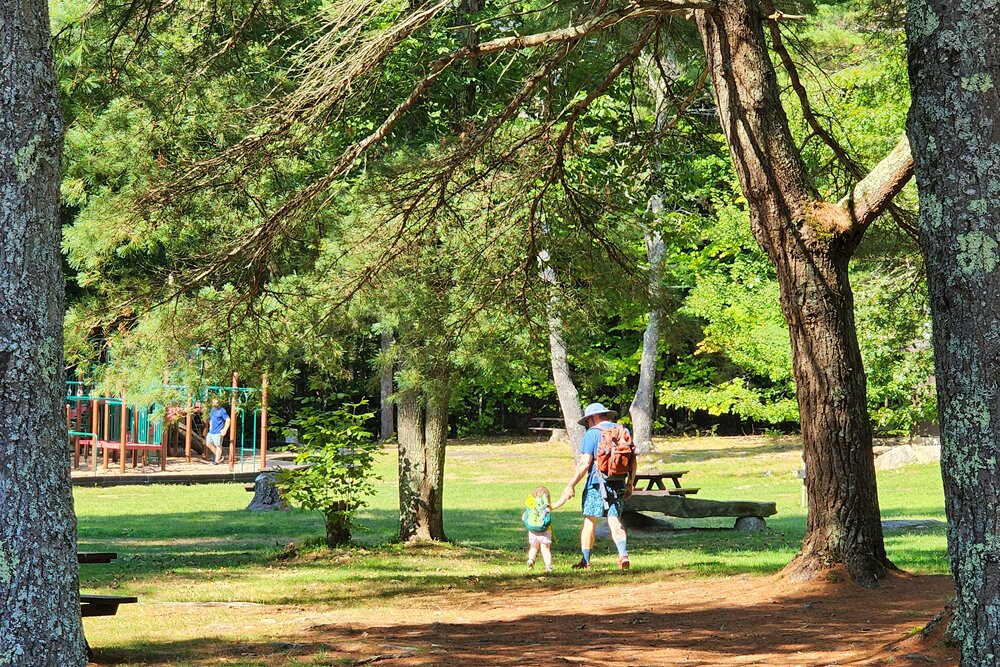 If you're looking for a peaceful place for a picnic or a good space for the kids to run about, the park offers a large shaded area with restrooms and a playground. The park is both dog- and horse-friendly, provided that they remain on trails and have responsible humans on cleanup duty should nature call.
Address: 528 Hallowell Road, Pownal, Maine
13. See Stars at the Blueberry Pond Observatory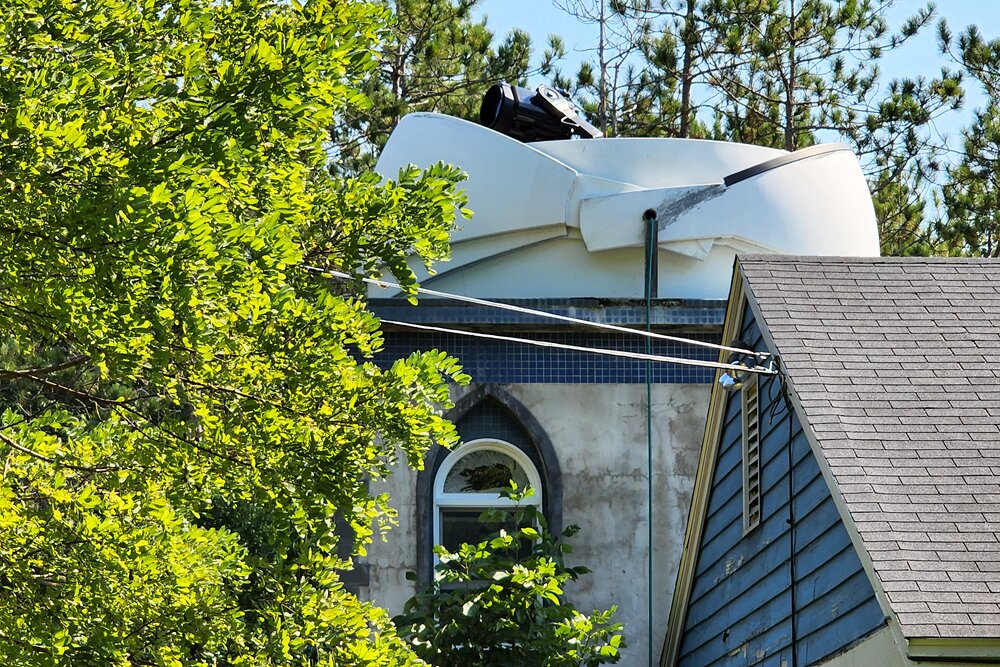 Tucked away from the lights and noise of civilization, Blueberry Pond Observatory offers a unique opportunity to learn about astronomy while using their high-powered telescope and an ultra-powerful digital camera.
Instead of a one-size-fits-all approach, each session is tailored to the interests and knowledge level of those attending, ensuring that you'll always learn something new. Questions are encouraged, whether it's about their stellar equipment or the mysteries of the galaxy.
After your session, you can even keep some of the photos you took of the night sky. Sessions are by appointment only.
Address: 355 Libby Road, Pownal, Maine
14. Explore Pettengill Farm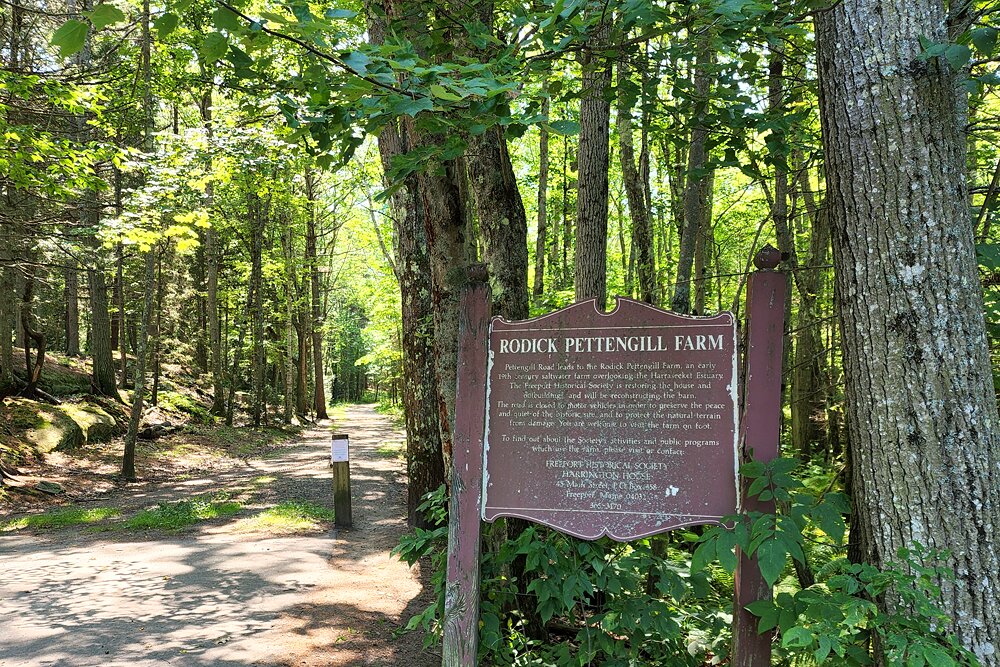 Owned and operated by the Freeport Historical Society, Pettengill Farm contains many notable historic elements that date back to relics of Indigenous peoples. Visitors can explore the property on a self-guided tour of its trails and historic landmarks.
Highlights include a large bowl-shaped stone that was purportedly used by native Americans as a grinding spot, the original dug well made by the Pettengill family, and the remains of a wharf and brickyard that date to the beginning of the 19th century.
While the farmhouse itself is not open daily, it is open by appointment and during special events, including an annual festival each October.
Pettengill Farm Address: 31 Pettengill Road, Freeport, Maine
15. Watch the World Turn at the Eartha Globe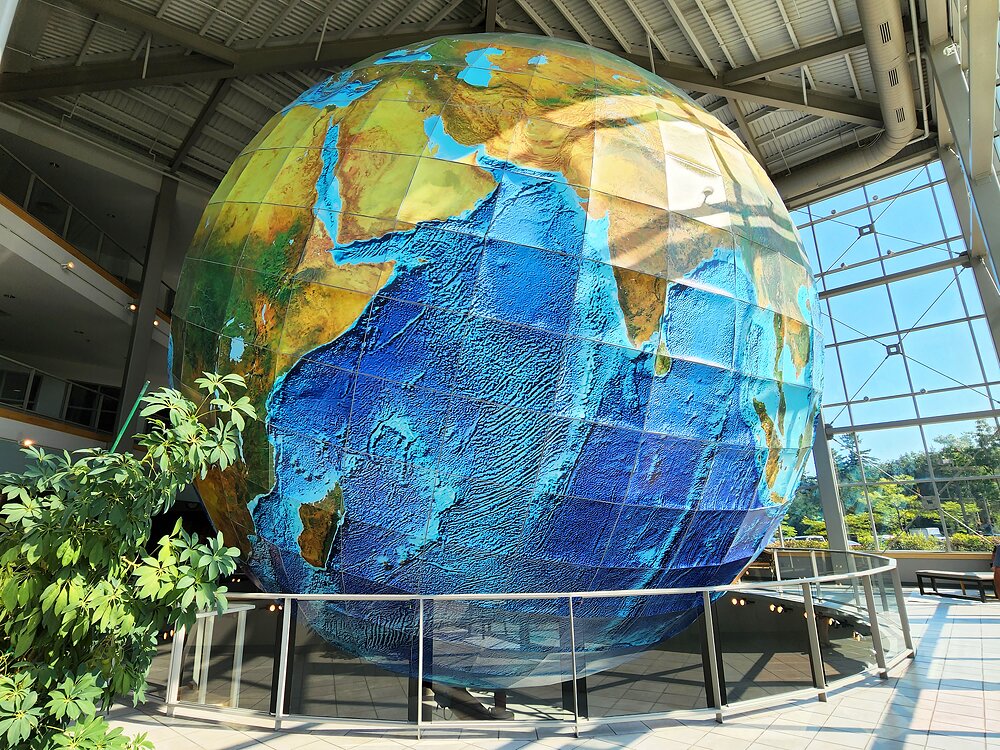 Although it's not technically in Freeport, this unique attraction is not to be missed. Located inside the lobby at the Garmin headquarters in Yarmouth, this massive globe was originally made by the map-making company DeLorme in 1998.
Tourists can get up close during business hours to admire the three-story globe as it rotates on its axis at an angle of 23.5 degrees. If you are passing by any other time, don't worry—it is lit up all through the night, with easy viewing through the glass wall.