15 Top-Rated Things to Do in Augusta, ME
Tourists may be surprised to find that Maine's capital city isn't particularly large. The location was chosen two centuries ago for both the stately position of Weston's Hill (now home to the State House) and its up-river position, safely set back from the coast where it would be more vulnerable to attack.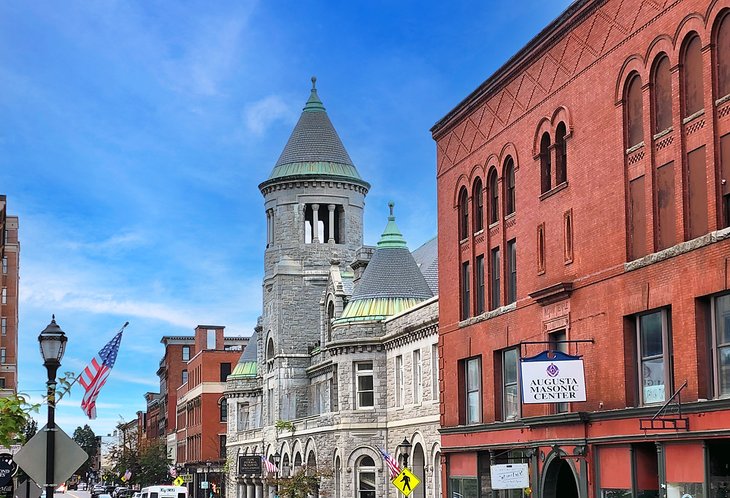 Families will find fun things to do with kids, like visiting Old Fort Western or spotting downtown's colorful whales, while those interested in history have plenty of interesting places to visit, including historic mansions and an expansive Museum in the Streets.
If you're looking to get active in and around Augusta, there are plenty of things to do outdoors, like walking or cycling the Kennebec River Trail, exploring Vaughan Woods or the Viles Arboretum, or going fishing on Lake Cobb.
No matter what your interests, plan your visit with our list of the best things to do in Augusta, Maine.
1. Visit the Maine State Capitol Building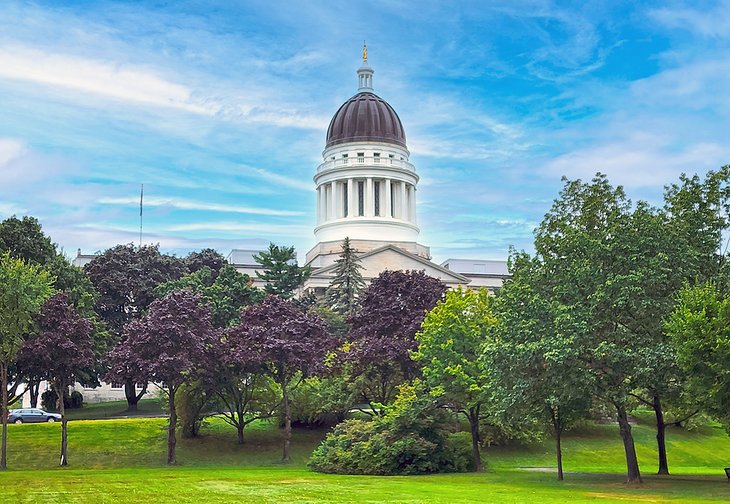 Perched atop Weston's Hill, overlooking Capitol Park, sits Maine's domed State House. Surrounded by lovely manicured grounds, this building was finished in 1832, just a year after the city was declared the new home of the state government. It is made of Maine granite, and the design emulates the Massachusetts State Capitol Building.
Tourists who are interested in seeing the interior can take a free guided tour Mondays through Fridays, on the hour from 9am to noon (no reservation needed). If you would like a group or private tour, these can be arranged through the Maine State Museum located next door.
The museum itself is undergoing major renovations, so unfortunately tourists cannot see the exhibits at this time, but it continues to provide activities and events for visitors.
Address: State and Capitol Streets, Augusta, Maine
2. Spot the Museum in the Streets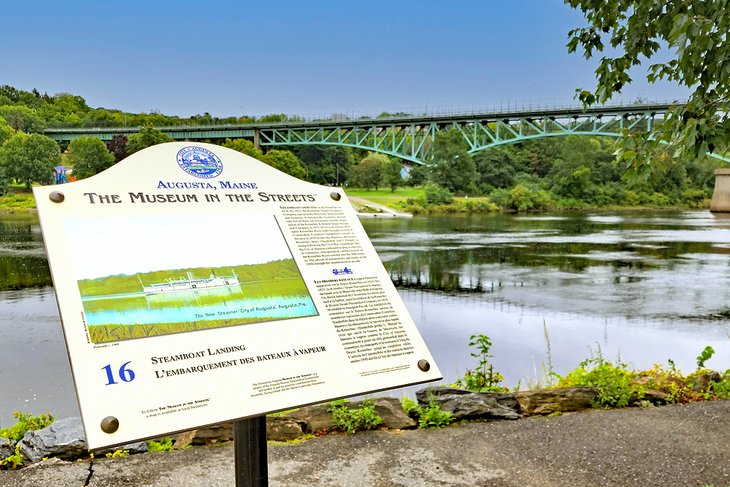 From early spring through late autumn, Augusta has several Museum in the Streets stations where tourists can learn more about significant historic places and events. Almost half of these are located along Water and Commercial Streets in downtown Augusta, covering topics like early shops, the Great Fire of 1865, an infamous bank robbery, and even the spectacle of elephants walking down Water street in 1829.
There is another group of signs along Canal Street that focuses on the city's industrial history and the dam, which held back the river at the spot between 1837 and 1999. Across the river, there are several signs at and near Old Fort Western.
3. Visit Old Fort Western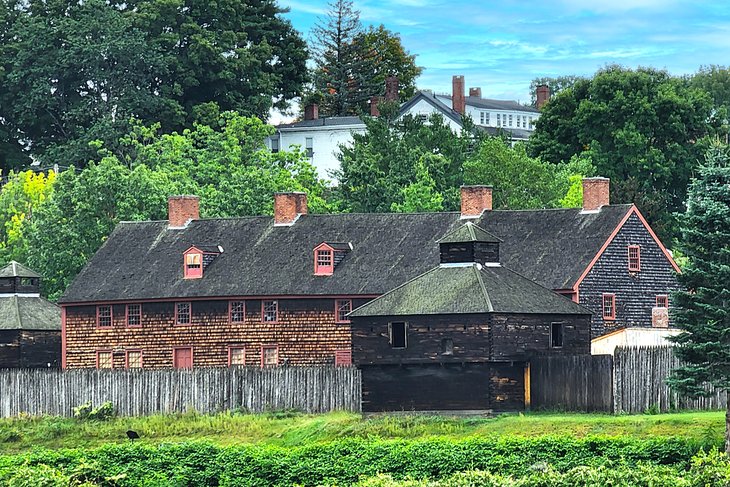 Visiting living history museums is a great thing to do with kids, allowing them to learn while having fun imaging what it was like to be a pioneer.
Built in 1754, Old Fort Western purports to be the oldest wooden garrison that dates back to the French & Indian War. After a period of disuse and several years service as a tenement, the remaining central building was restored in the early 20th century, and the former stockade fence was recreated.
Today, the restored main building represents the building's first use as a trading post. There is a good museum about the site's history, as well as a gift shop. Old Fort Western is open 10am to 4pm from late May through early October, Friday through Sunday in the shoulder seasons, and daily during July and August.
Address: 8 Cony Street, Augusta, Maine
4. Explore Vaughan Woods & Historic Homestead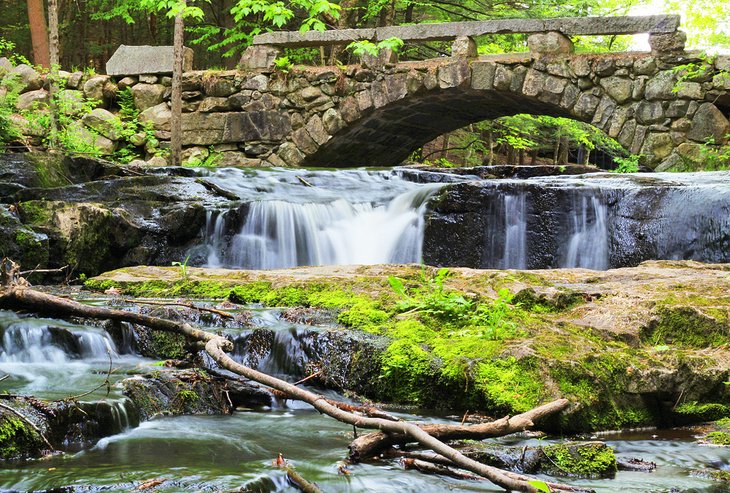 This 197-acre nature preserve offers forested areas, pastures, and a lovely brook adorned with stone bridges, as well as the historic Vaughan Homestead, which was built in the late 18th century.
Although local kids and parents often refer to Vaughn Woods as "Hobbitland," tourists should not expect to see Hobbit holes or any other evidence of diminutive inhabitants–but you are welcome to use your imagination while touring this land of extraordinary beauty!
Group sightseeing tours of the Homestead house itself are offered during July and August for a fee, and group or private tours can be arranged in advance for four people or more for the same price. Specialty tours, including guided trail walks, are also offered throughout the year.
There is also a self-guided walking tour of the trails, which notes several points of interest, including the remains of many old structures.
Trails are most easily accessed from the Homestead property or via the Trailhead South, which starts next to the tennis courts at the Hill-Dale Middle & High School (parking not allowed during school hours). The trails are open to human and leashed canine foot traffic only, ensuring that the trails and surroundings remain as close to their natural state as possible.
Address: 2 Litchfield Road, Hallowell, Maine
5. Tour the Blaine House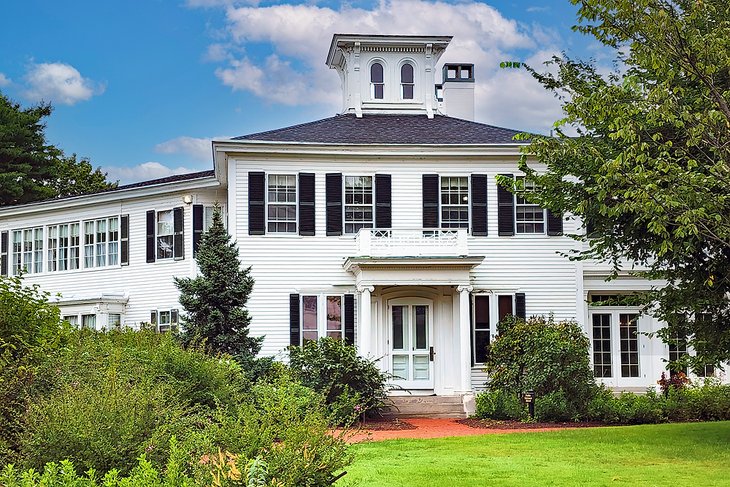 The official home of the governor of Maine conveniently sits adjacent to the Capitol Building, but it was not actually built for that purpose. Originally built in 1833, it was donated to the state by Harriet Blaine Beale in 1919 after her son's death.
The home underwent a full restoration that started in 1989, and today it is both the governor's residence and a public building. Visitors hoping to see the interior of the Blaine House can arrange tours through the Maine State Museum, which is continuing to provide tour services during its own renovations.
You can also see a former official residence, the Governor Hill Mansion, located nearby at 136 State Street. This impressive building was finished in 1902 after being commissioned by then-governor John Freemont Hill to serve as the gubernatorial home. It is a fine example of Colonial Revival architecture, and today serves as an event venue.
Address: 193 State Street, Augusta, Maine
6. Admire the Trees and Plants at Viles Arboretum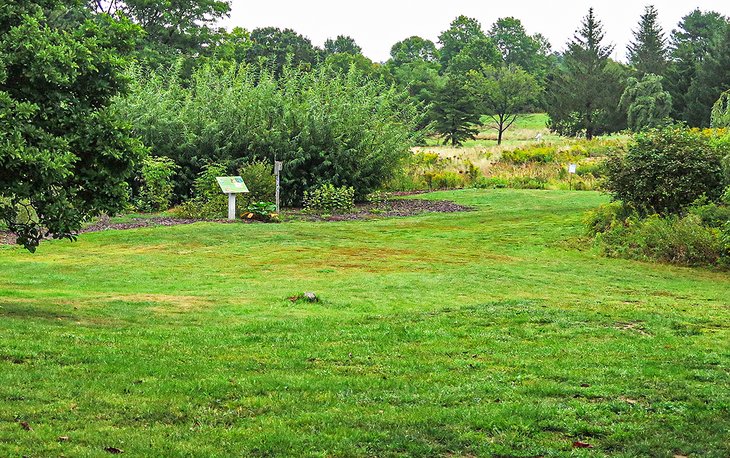 Nature lovers will want to spend at least an hour or two exploring the grounds of the Viles Arboretum, which is home to not only a wide assortment of trees but also botanical exhibits and sculptures. It offers six miles of walking trails within its 224 acres.
Admission to this attraction is free, and leashed dogs are welcome; motorized vehicles are not permitted, but cycling is allowed, and visitors can use the trails for snowshoeing and cross-country skiing in the winter. There is a nice gift shop on-site as well, which includes exhibits, as well as snacks and restrooms.
Address: 153 Hospital Street, Augusta, Maine
7. Walk the Kennebec River Rail Trail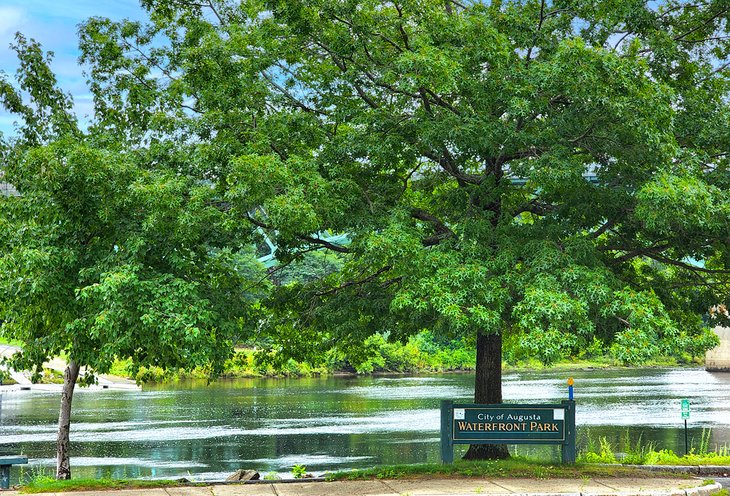 This lovely recreational path extends 6.5 miles along the now-inactive railway from downtown Augusta to Gardiner. The majority of the trail sits between the tracks and the Kennebec River, providing lovely views along the way. This multi-use trail welcomes casual visitors, runners, and cyclists, and hosts annual events including an IronMan competition and a women's cycle ride.
If you're starting your excursion from Augusta, there is convenient parking located at Waterfront Park near the northern end of the trail. There is also a dedicated Rail Trail parking lot just off Water Street (behind the Maine Department of Inland Fisheries & Wildlife), and you can also park at the Kennebec Valley YMCA, which is located on Union Street near Capitol Park or the midpoint of the trail in Hallowell, at Granite City Park (94 Water Street).
The trail disappears for about a half-mile through downtown Hallowell and then picks up again on the southern end, branching off Route 201 at the "Great Wall," and heading south along the tracks and river to end in the adorable little town of Gardiner.
8. Shop for Antiques in Hallowell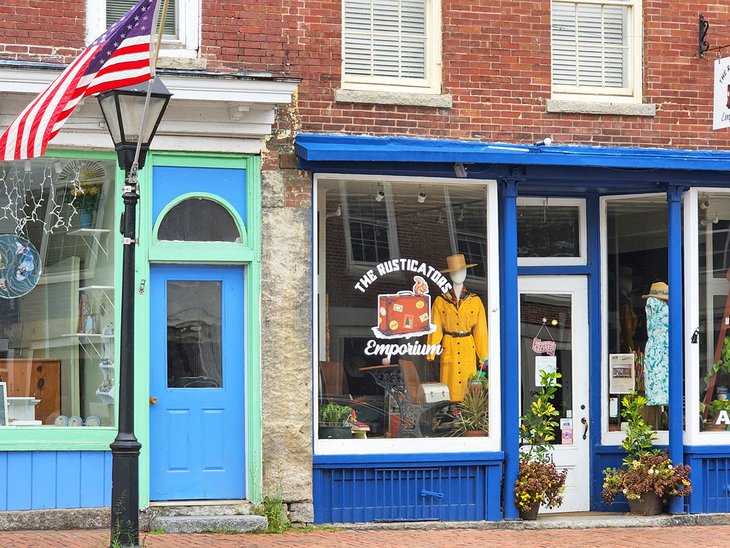 Sitting on Augusta's southern end, Hallowell is just a two-minute drive from downtown along route 201. This cute riverside town is home to several excellent antique shops, most within walking distance of one another on or close to the main drag–and also home to many excellent restaurants to grab a scrumptious lunch or dinner.
Hallowell Antique Mall (191 Water Street) is the best place to start, occupying over 6,000 square feet in two neighboring buildings. Over 60 dealers' wares are for sale here, offering everything from nostalgic knickknacks to vintage book sets to antique and vintage furniture. Prices are reasonable, and the owners are friendly, making this a great place for the casual antique-seeker to wander.
The Rusticators Emporium is another top-notch antique shop (151 Water Street), which offers an eclectic mix of vintage and antique clothing, décor, furniture, and oddities that will please treasure hunters of all ages.
If you're in the market for fine arts, picture frames, and upscale antiques, head over to Susquehanna Antique Company (163 2nd Street). Their collection includes an impressive amount of 18th- and 19th-century furniture and art.
Just another minute south down Rte 201, Another Mans Treasure (715 Maine Avenue, Farmingdale) is a multi-vendor shop that has a good mixed selection of antiques and collectibles, as well as locally handmade crafts.
If you need a pick-me-up after a long day of antiquing, stop by The Local Scoop for some homemade ice cream or Traverse Coffee Company for super-friendly service and an exquisite coffee and espresso menu.
9. Old Federal Building & Downtown Architecture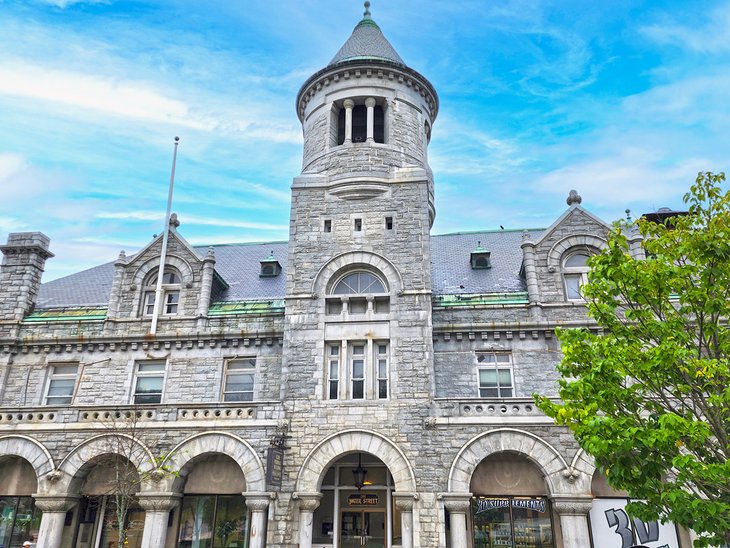 You will feel like you're walking through a time capsule as you stroll past the buildings that line Water Street in downtown Augusta. Its shining star is the Old Federal Building, also often referred to as the Old Post Office. Although today it is used as an office building, the granite edifice is still lovely to behold, featuring stately archways, ornate columns, and conical turrets.
Art Deco fans will love snapping shots of the nine-story Key Bank building just across the street, and several of the surrounding brick buildings also feature lovely elements on the street level and around windows.
Continuing up Water Street, you will find a mixture of styles and a surprising number of colorful facades that somehow work together to create an air of timelessness.
Photo Tip: The best spot to get unobscured photos of the Old Federal Building (and park for your stroll through town) is from the top floor of the Dickman Street Parking Garage. While you're taking photos, be sure to get shots of the colorful whale sculptures that line the main street!
10. Go Fishing on Cobbosseecontee Lake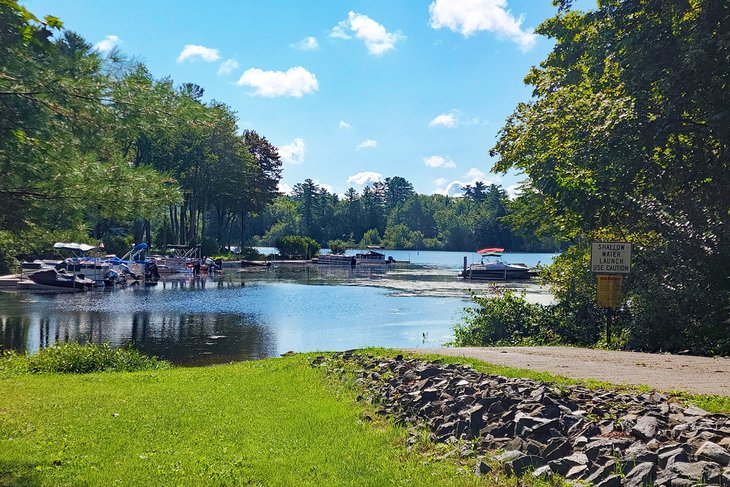 Located only about two miles from Augusta, Lake Cobbosseecontee (locally known simply as Lake Cobb) offers a range of activities and water sports. Fishing is the most popular thing to do, thanks to the lake's population of both smallmouth and largemouth bass, as well as a good number of northern pike.
There are two public boat launches: One is located on Launch Drive in Monmouth near the southern end of the lake, and the other on Turtle Run Road in Winthrop, at the northern tip of the lake.
Lake Cobb is also home to the Ladies Delight Lighthouse, which used to warn boats of rocks hiding beneath the water. The lighthouse is the only remaining one on the lake and is listed on the National Register of Historic Places.
11. Holocaust and Human Rights Center of Maine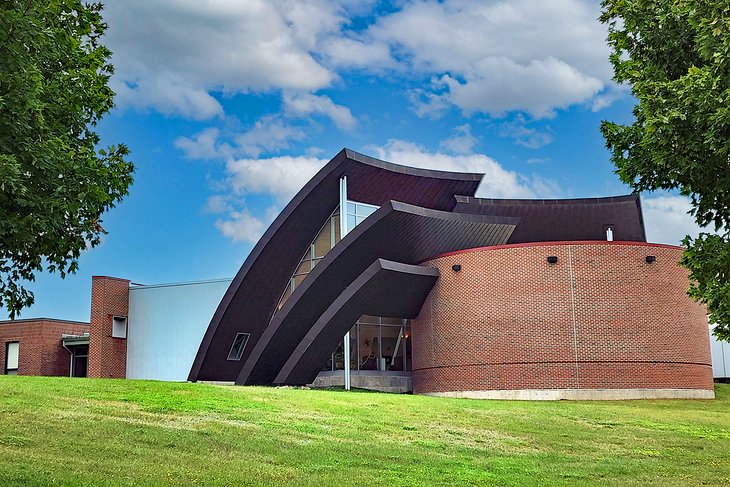 Founded in 1985 by Gerda Haas, the Holocaust and Human Rights Center of Maine has been housed in the Michael Klahr Center on the University of Maine Augusta campus since 2008. It contains permanent exhibits, as well as artwork and reflections donated by the public, many of which have been contributions made by Maine school kids and university students.
The center also provides resources that individuals and groups can utilize to help further their own understanding of bias and human rights issues. The center also hosts a number of special events and presentations throughout the year.
Address: 46 University Drive, Augusta, Maine
12. First Amendment Museum at the Gannett House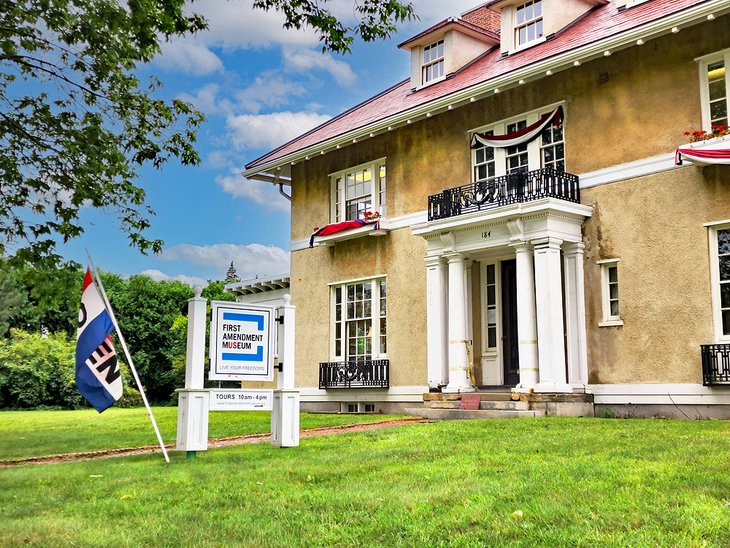 The First Amendment Museum is a non-profit organization dedicated to helping Americans understand and utilize their rights under the first amendment of the Constitution, which ensures freedom of religion, speech, press, assembly, and petition.
Free 45-minute tours are held regularly throughout the day, Mondays through Fridays from 10am to 4pm. Exhibits include original political cartoons by Ben Brown, a first amendment activist; an exhibit that explores the deprivation of first amendment rights for incarcerated individuals; and items related to high-profile free speech court cases.
Address: 184 State Street, Augusta, Maine
Official site: https://firstamendmentmuseum.org/
13. Stroll through Capitol Park & Visit the Samantha Smith Statue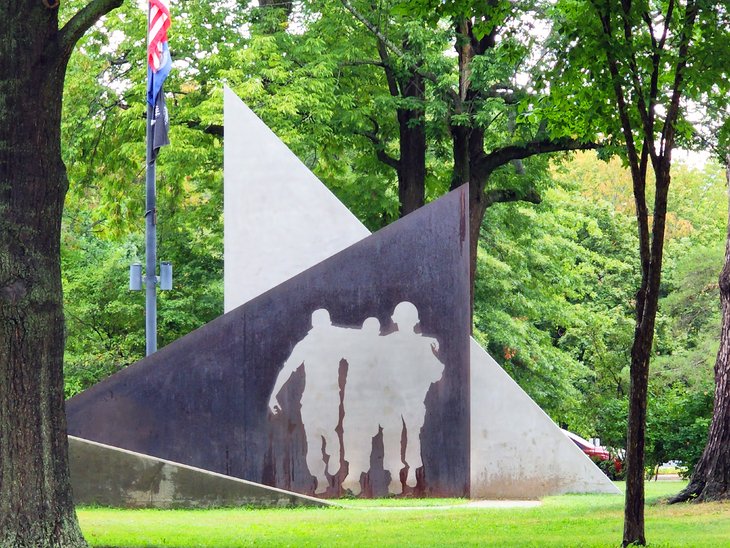 Capitol Park occupies approximately 20 acres between the State House and the Kennebec River, featuring a crushed stone walkway lined by rows of trees. Today, it is the perfect place for an afternoon stroll or a picnic, with plenty of shaded areas for ducking out of the sun, and benches to rest on.
The park is home to an impressive and somber Vietnam Memorial that is surrounded by a paved area for accessibility (park along Capitol Street for direct access).
Just up the hill on State Street, visitors can also pay their respects at the Maine Law Enforcement Officer's Memorial. From here, proceed across the parking lot to the Samantha Smith Statue, which sits in front of the Maine State Museum & Archives.
14. Visit Sonny's Museum & Rock Shop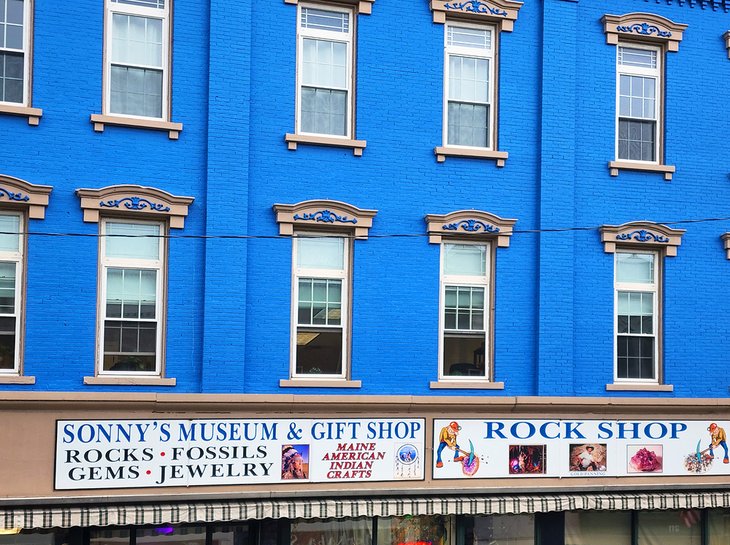 Located right in downtown Augusta, Sonny's is a big hit with kids and visitors who enjoy the mystical things in life. Inside, you will find a combination museum and shop, featuring a large collection of semi-precious stones, crystals, and minerals both on display and for sale. You can get your rough-hewn specimens and also find plenty of jewelry and decorative items featuring the stones.
The shop also has a good selection of books that focus on natural and spiritual approaches; a variety of incense, including real myrrh; and essential oils.
While you're here, check the cage in the window by the door–you may get to meet one of the owner's pet birds!
Address: 228 Water Street, Augusta, Maine
15. Catch a Show at the Augusta Civic Center
Although it's not a tourist attraction in the traditional sense, the Augusta Civic Center is a major reason visitors head to the riverside city. In addition to housing many events and special-interest conventions, the main stage hosts live performances year-round.
Past events include live music by artists like Travis Tritt and Matchbox Twenty, WWE Live events, and family-friendly performances like the Harlem Globetrotters. It also serves as a basketball arena that hosts championship games from around the state.
Address: 76 Community Drive, Augusta, Maine
Map of Things to Do in Augusta, ME
Augusta, ME - Climate Chart
Average minimum and maximum temperatures for Augusta, ME in °C
J
F
M
A
M
J
J
A
S
O
N
D

-2

-12

0

-10

5

-4

12

1

19

7

24

12

27

16

26

14

21

10

14

4

8

-1

1

-8

PlanetWare.com
Average monthly precipitation totals for Augusta, ME in mm.

83

65

93

96

99

91

87

83

91

103

97

89