13 Best Small Towns in Maine
One of the joys of exploring Maine is finding the hidden treasures that are tucked away in its small towns. Whether you are enjoying the scenery of the expansive coast or making your way through the richly forested mountains, you will find communities that welcome tourists.
Small towns along the coast attract tourists for their rich maritime history and beauty, and many artists live or summer in these communities. Craft shops and galleries are abundant.
Inland, visitors will find seemingly limitless opportunities for outdoor adventure. Some of the smaller ski towns are an excellent option for families with kids just learning, and there are even more places to find cross-country ski trails and snowshoeing. Small towns also provide access to some of the best hiking trails, including the Appalachian Trail.
For ideas on the places to visit in this scenic state, see our list of the best small towns in Maine.
1. Rockland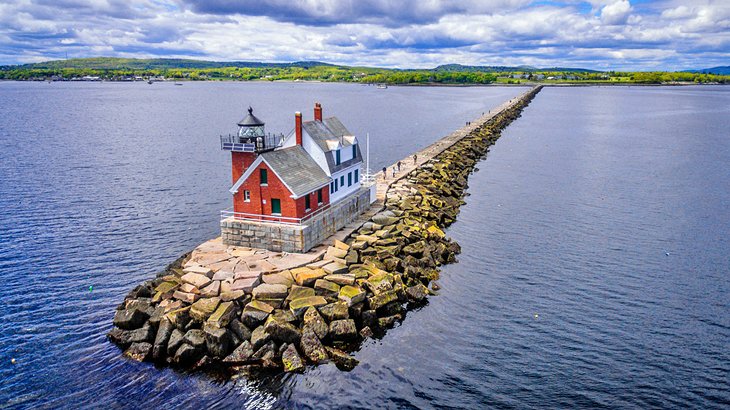 The seaside town of Rockland is located almost halfway up Maine's coast, about 80 miles north of Portland and a two-hour drive from Boston. Historic downtown Rockland has a great Main Street with shops, restaurants, and galleries that feature local artists and artisans.
Anyone visiting Rockland should allow time to see the Maine Windjammer Fleet, a collection of historic sailing ships that call this port home. In addition to sightseeing cruises and multi-day sailing trips, the fleet gathers each July for a grand parade as the fleet sails along the Rockland Breakwater.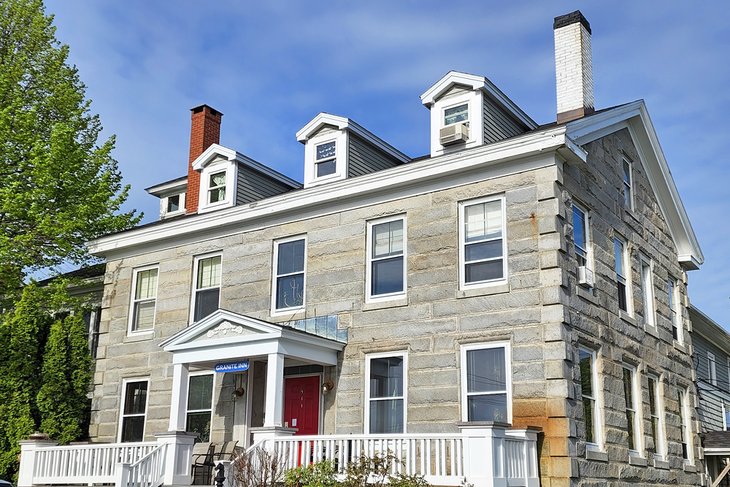 One of Rockland's top attractions is the Farnsworth Art Museum, located downtown in a historic 19th-century building. It is home to over 10,000 works of art, including a large number of works by Jamie, Andrew, and N.C. Wyeth. Collections include paintings, sculpture, and a variety of other media.
Another good museum in Rockland is the Maine Lighthouse Museum, which has a collection of artifacts from a variety of New England lighthouses including an impressive number of Fresnel lenses. Adjacent to this museum is the Maine Discovery Center, which has more exhibits and information about the area. The Coastal Children's Museum is a great place for families to visit.
Families and couples looking for a historic but laid-back experience in one of Maine's historic coastal inns will love Old Granite Inn. It's centrally located by the ferry port with great views of the harbor, and is within a short walk to plenty of dining and shopping downtown. Those looking for a modern place to stay in Rockland will enjoy the 250 Main Hotel, a boutique luxury experience. Family rooms and suites are available, as are rooms with private balconies and ocean views.
2. Camden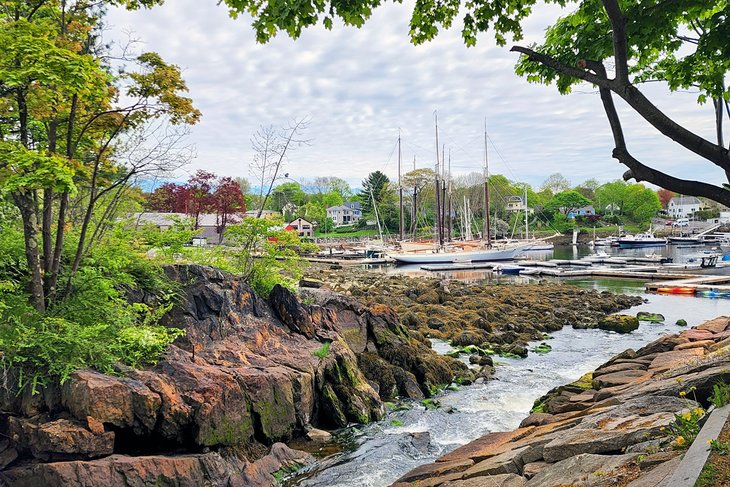 Camden is a postcard-worthy coastal town located on Penobscot Bay, a little over two hours from Boston by car. Its picturesque harbor is particularly lovely thanks to the Maine Windjammer Fleet whose beautiful sailing ships dock here when they are not sailing or in port at neighboring Rockland.
Camden's upscale downtown area is full of restaurants, galleries, and shops, making this an ideal place to spend an afternoon exploring and shopping. During the summer months, there are also frequent cultural events and performances.
Camden has a beautiful beach, but its best-known natural attraction is Camden Hills State Park. The park has more than 30 miles of hiking trails, including the trail to Maiden's Cliff, which has stunning views of Megunticook Lake below. To get an excellent view without the hiking, there is also an auto road that goes to the top of Mount Battie, with views of Penobscot Bay and the surrounding mountains.
The park also has a family-friendly campground, picnic areas, and a nice freshwater beach at Barrett's Cove on Megunticook Lake.
3. Boothbay Harbor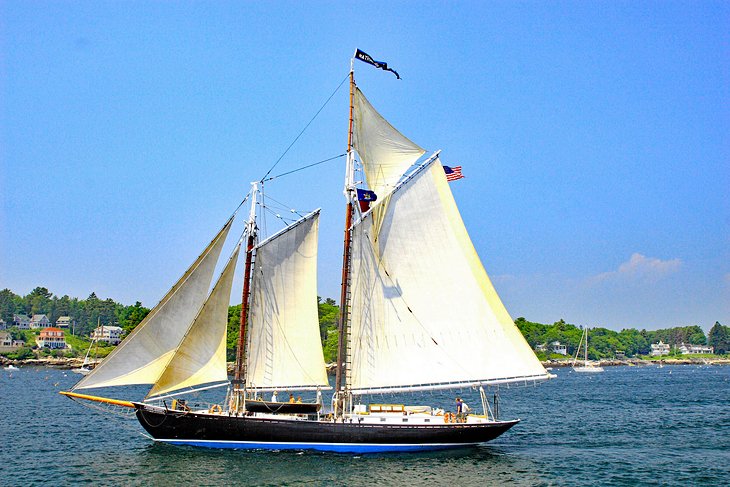 In addition to being home to some of Maine's top tourist attractions, Boothbay Harbor has been known for two centuries as a gathering place for artists and craftspeople, attracting both residents and visitors who have an appreciation for the arts. As a result, the town is home to numerous galleries, as well as the Carousel Music Theater and an Opera House, and you will find a variety of cultural events happening all summer long. With this comes a variety of good restaurants and an assortment of unique shops.
Boothbay Harbor is equally well-known for its maritime history and continued use as a harbor for lobster boats, commercial vessels, and a large number of private yachts. There are dozens of excursions to choose from, including sightseeing cruises, whale watching, deep-sea fishing, and even the opportunity to watch a working lobster boat in action. There are also boat and yacht rentals available, as well as excellent conditions for sea kayaking.
Local family attractions include the Boothbay Railway Village and the Maine State Aquarium, both good options for those traveling with kids. There is also a children's garden at the Coastal Maine Botanical Garden, as well as a magical fairy village with miniature houses. This astounding 270 acres of carefully tended flora is home to both native and exotic plants, featuring themed gardens that highlight various environments, as well as a kitchen garden. The gardens are also home to a collection of sculptures which appear throughout.
4. Bar Harbor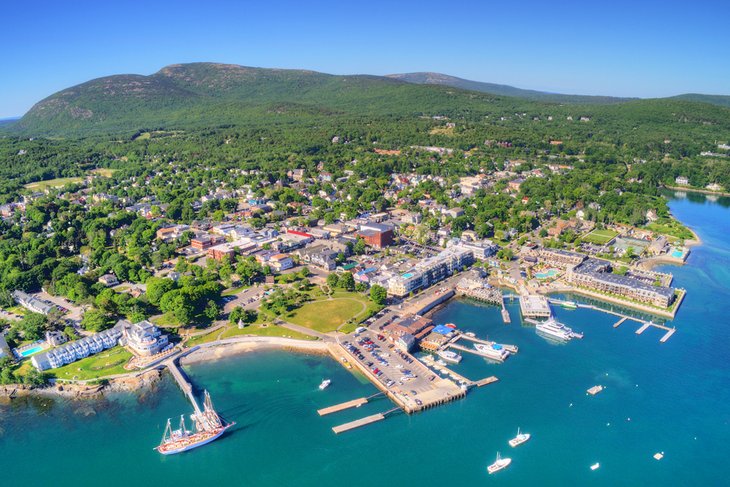 Located on Mount Desert Island off the coast of Maine, Bar Harbor is known for its lively arts scene, excellent shopping, and particularly good dining choices. Like most coastal towns, this is an idea place to find sightseeing cruises, and there are many tour companies in town that also offer land-based activities like ghost tours and foodie tours.
For nature lovers, Bar Harbor is most closely associated with the nearby Acadia National Park, and there are numerous guides available for those who would like to learn more about the area.
Bar Harbor's most significant cultural attraction is the Abbe Museum, proud to be Maine's only Smithsonian affiliate museum. The Abbe began as a trailside museum within Acadia National Park, a site which is still in operation, and grew to include the space in downtown Bar Harbor. Here, visitors can learn about the People of the First Light, the Wabanaki peoples who occupied the land long before European settlers arrived. Exhibits explore the culture through artifacts and multimedia presentations.
To learn about more recent local history, visit the Bar Harbor Historical Society, which is located in a former convent, a historic building in its own right. The small museum houses an eclectic collection of local artifacts, from relics of long-gone grand hotels to a comprehensive local milk bottle collection.
5. Ogunquit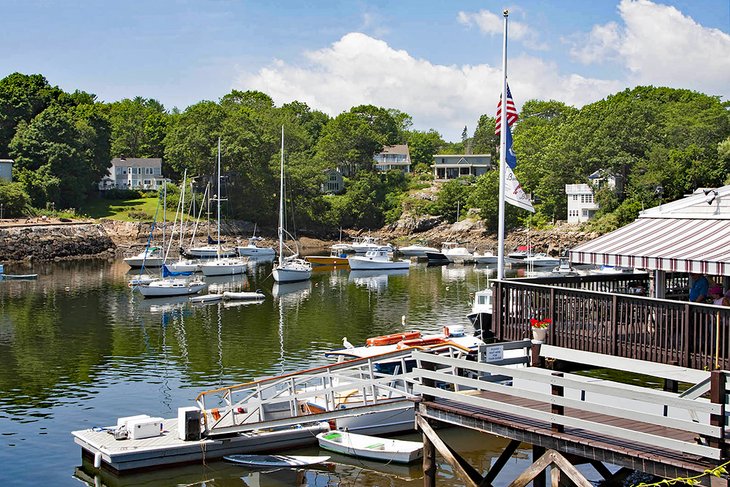 Ogunquit sits on the southern shore of the Maine coast, well-known as home to one of Maine's top beaches, which offers calm, warm water thanks to a gradual slope. The town itself is a lovely destination in its own right, however, offering a range of things to do within the main village, as well as Perkins Cove, a small fishing village located just over a mile form the center of town.
Both village centers are home to boutiques, galleries, and gift shops, as well as restaurants, creameries, and sweet shops. The center of Ogunquit and Perkins Cove are linked by a scenic seaside pedestrian-only walking path named Marginal Way, paved for easy access. Those traveling by bicycle or motorized vehicle can alternately use Shore Road, and the town open-air Trolley also links the two - particularly convenient after an afternoon of shopping.
Ogunquit is also known for its arts scene, from galleries and local craftspeople to live entertainment and the well-known Ogunquit Playhouse. It is also home to the Ogunquit Museum of American Art, which hosts annually changing exhibits, as well as a permanent collection featuring prominent artists including Marsden Hartley, Peggy Bacon, and Carl Walters. Other popular things to do in Ogunquit include kayaking on the Ogunquit River, cycling, and a variety of scenic boat tours.
6. Kennebunkport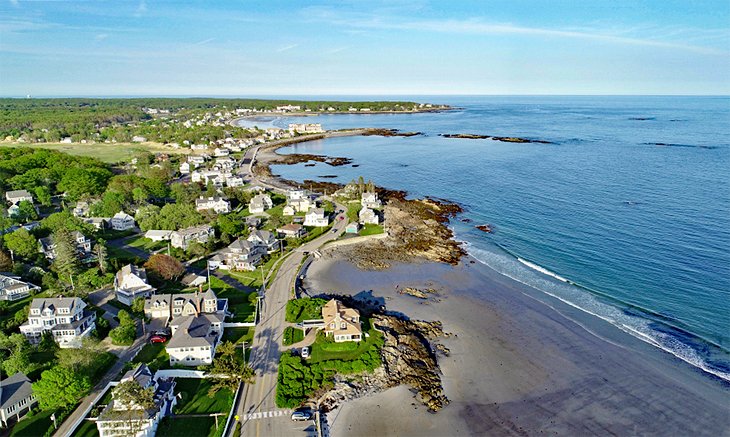 Although it is a popular tourist destination in the summer months, Kennebunkport has remained a small town, retaining all of the charm of its maritime past. It was once the home town of many wealthy ships' captains and merchants, and visitors can find several former 19th-century mansions that can be appreciated via a self-guided walking tour. To learn even more about the town's history, tourists can visit the First Families Kennebunkport Museum, which is located in a historic home as well.
Dock Square and the surrounding area is Kennebunkport's center of activity, home to restaurants, boutiques, local artisans' shops, and numerous art galleries. There is also a sightseeing trolley tour that operates during the summer season, providing a 45-minute tour of the town's highlights. Tourists can learn more about this trolley and others at the Seashore Trolley Museum.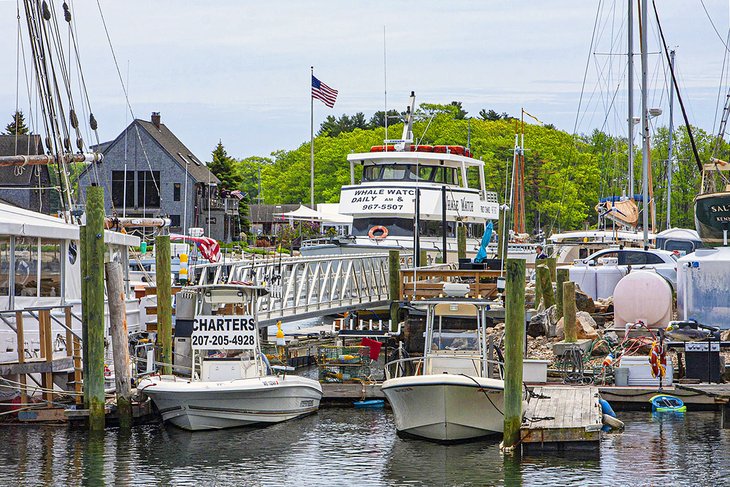 Located on the coast, Kennebunkport naturally has beaches and marine activities including deep sea fishing and lobster tours. Visitors can also find rentals for bicycles, boats, kayaks, and surfing equipment for use on the main beach, locally known as "Mother's" Beach. This is one of the best beaches in Maine thanks to its ultra-soft sand.
7. Old Orchard Beach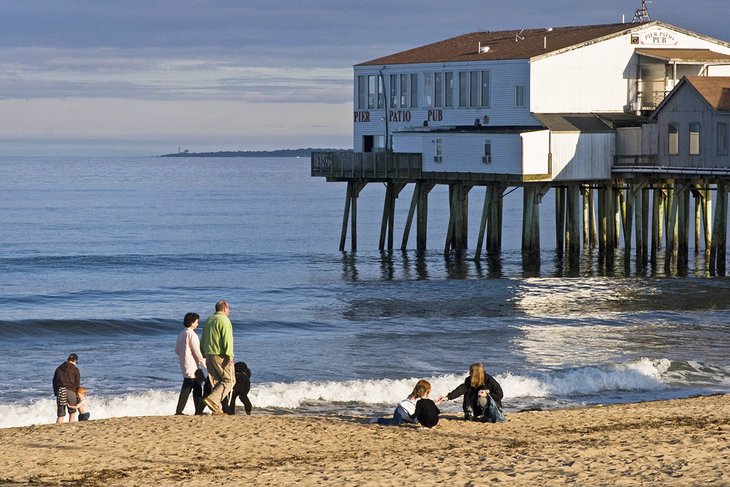 For all of its popularity as the spot for family summer fun, Old Orchard Beach is a small-town at heart. This is evidenced in the perpetual nostalgia that seems to linger in every corner of the town's attractions, from the traditional ocean-view Ferris wheel to the old-fashioned carousel.
While Old Orchard Beach doesn't have the typical wooden boardwalk, it does have Old Orchard Beach Pier. The pier, which was originally built in 1898, is like a boardwalk on stilts with its restaurants and shops.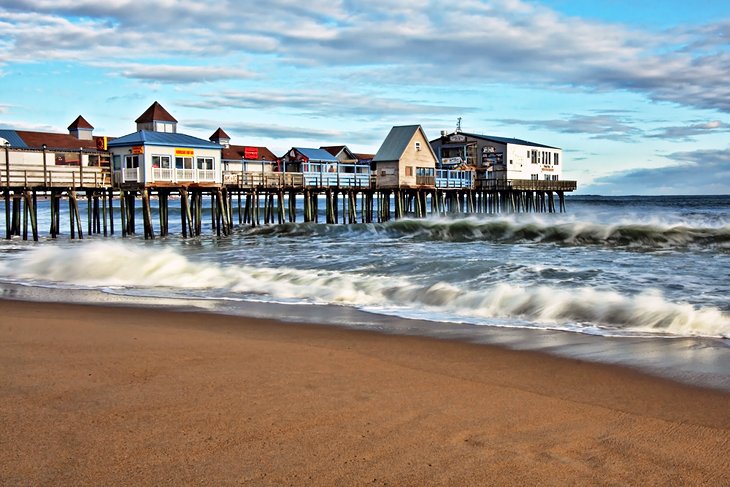 Palace Playland, the main amusement park, is located right next to the pier. Here, you can find a variety of family fun, including bumper cars, a roller coaster, kiddie rides, and carnival games. All of this is of course in addition to the seven miles of sand and surf that is considered one of New England's best beaches thanks to its cleanliness and accessibility.
Visitors who are looking for a slower pace can enjoy taking one of the local whale watching tours, or play a round of golf at the nearby Dunegrass Club.
8. Castine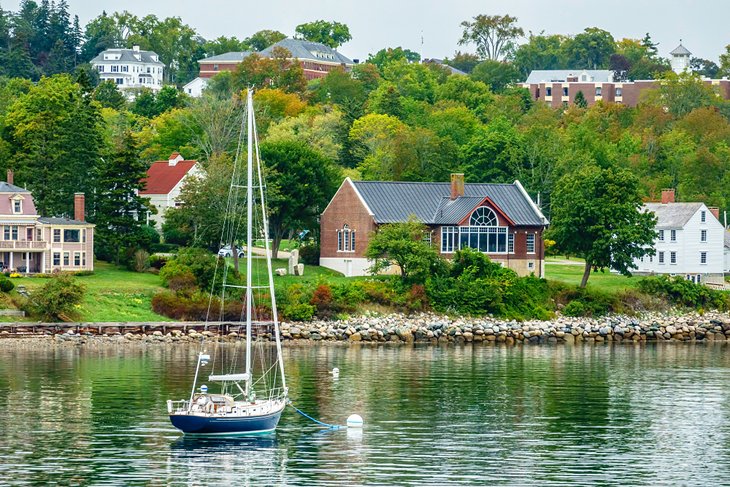 The town of Castine is located on a peninsula in Penobscot Bay, about one hour south of Bangor. One of the state's earliest settled towns, it is full of history, with its own designation on the National Register of Historic Places.
Among its major historic sites are three military forts, including the 18th-century Fort George, which was the final British fort surrendered in the Revolutionary War, and Fort Knox, a 19th-century fort that is well-preserved and open for tours during the summer.
The Castine Scientific Society operates the Wilson Museum, which features a surprising selection of items from throughout history and from cultures around the world. Exhibits include pre-historic tools from the Americas, Europe, and Africa, a series of six detailed dioramas of early human civilization, and other international cultural displays. There are also collections of local artifacts, including early farming equipment, weapons, and maritime memorabilia.
During July and August, visitors can watch demonstrations in the Blacksmith Shop and tour the John Perkins House, both of which are on the museum property.
9. Eastport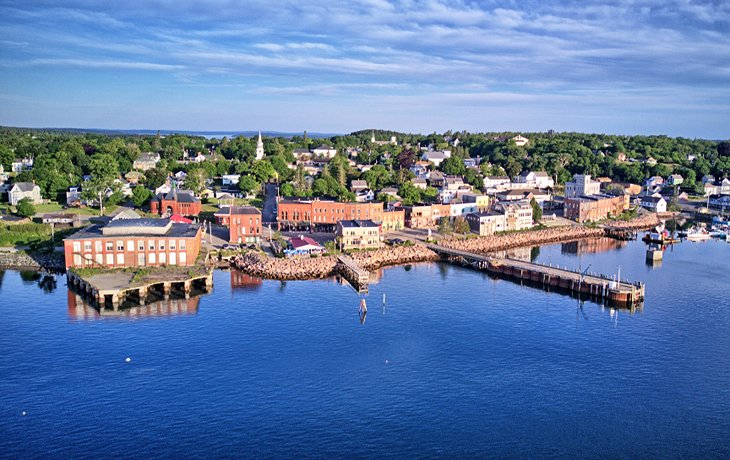 Truly one of the smallest towns in Maine and certainly one of its most remote coastal towns, Eastport is aptly named for its position as the easternmost point in the United States. This modest town may not seem like much when you first arrive, but part of its beauty is in its simplicity.
This is one of the best places to catch a sightseeing cruise or deep-sea fishing boat, and even land-lovers can catch supper from the dock. Although there is not a great deal of shopping in downtown Eastport, visitors can enjoy ice-cream and plenty of other treats at Sweeties Downeast, and peruse the fine art at Eastport Breakwater Gallery.
Despite its size, Eastport boasts having the largest 4th of July festival in the state. Those visiting the area at the end of summer, however, will not want to miss the Eastport Pirate Festival, an annual event that spans several days. The festival begins with a pirate "invasion" by sea and includes shopping at the Theives' Market, performances, kids' games, pirate king and queen awards, themed boat tours, treasure hunts for kids, and the pirate parade with cutlass demonstrations and prizes for the best floats.
While in the area, be sure to plan some time to visit the nearby town of Lubec, home to the small but fascinating Smokehouse Museum. Once the site of a herring processing plant, this important landmark is now on the National Register of Historic Places for its significance in the area's history.
Another nearby attraction is Quoddy Head State Park, and visitors to the area often hop across the border into New Brunswick via ferry across Passamaquoddy Bay.
10. Bethel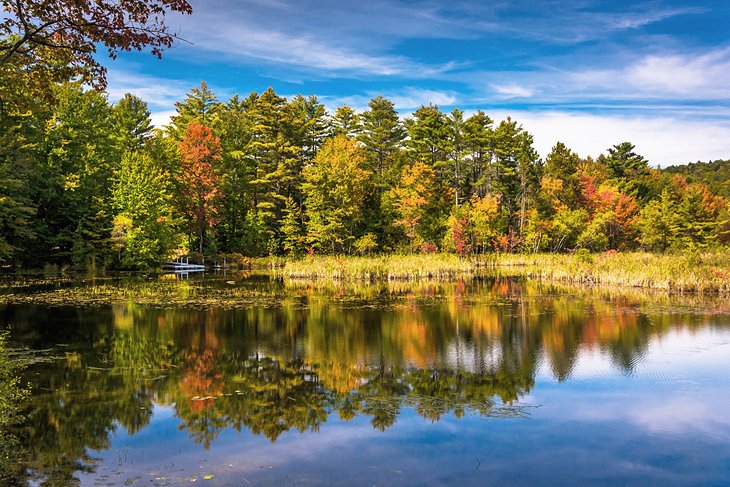 Bethel is located in western Maine, around one hour by car from North Conway, New Hampshire or 1.5 hours from Portland. Bethel's crowning jewel is the Maine Mineral and Gem Museum, home to a variety of specimens from throughout the state, as well as pieces of extra-terrestrial rocks from meteorites.
The museum is also home to the Arthur M. Hussey Memorial Rock Garden, a series of 22 large specimens that show the wide range of Maine's geological history. The museum shop sells specimens of rocks and stones, as well as jewelry crafted from Maine gemstones.
The Bethel Historical Society operates two museum homes, as well as an education center, with its main exhibits and research library residing in the O'Neil Robinson House. Exhibits here change periodically and cover topics including important local historical figures, local artwork, and natural history. The society also operates tours of the Mason House, now fully restored to its appearance as it was in the early and mid 19th century; of note are the impressive murals in the front hall.
Bethel also offers a wide range of outdoor activities, including access points to the Appalachian Trail within Grafton Notch State Park. Moose tours and scenic drives, especially during foliage season, are also popular activities.
11. Kingfield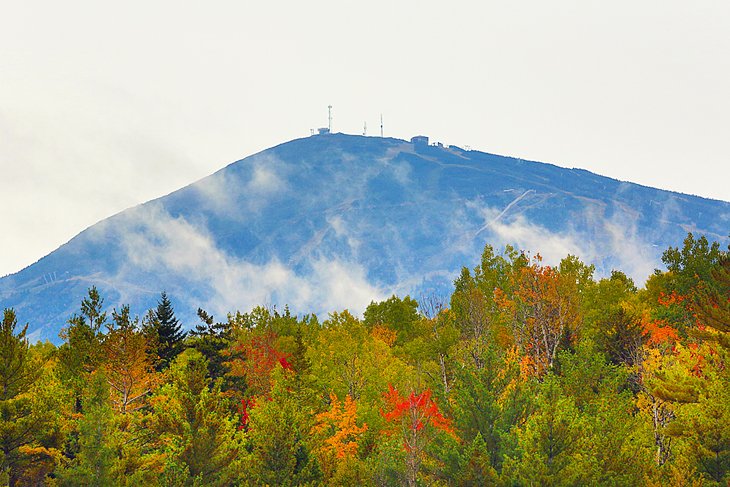 Kingfield is nestled in the mountains of western Maine, a half hour north of Farmington, and is home to both natural and cultural attractions.
Skiers who are in the area to enjoy Sugarloaf Mountain in neighboring Carrabassett Valley will want to make a stop at the Ski Museum of Maine in Kingfield. Dedicated to preserving the history of Maine's contributions to the sport, the museum includes exhibits about early ski equipment, memorabilia, ski areas past and present, and more.
Kingsfield is also home to The Stanley Museum, which explores the lives and work of the inventors of the "Stanley Steamer," the first steam-powered automobile.
Outdoor enthusiasts will find plenty of things to do year-round in Kingfield. The six-mile Narrow Gauge Pathway trail runs along the Carrabassett River for cross-country skiing in the winter and scenic walks and bike rides in the summer; the trail also provides easy access to the river for fly fishing.
Kingfield is also home of the first trailhead of the Maine Huts and Trails, a hospitable network with 80 miles of paths that are open all year; the "huts" along the trail are actually European-style lodges, where adventurers can stop for a rest and a meal, or stay for the night.
12. Farmington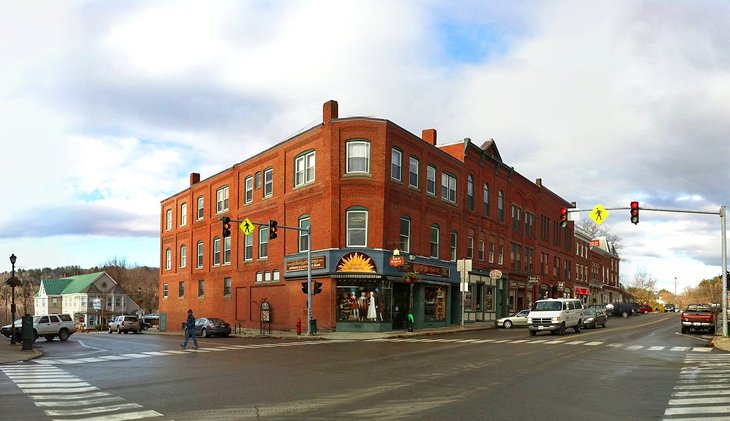 Farmington, once an agricultural center, is now home to the University of Maine Farmington, a source of many cultural activities and events throughout the year. Downtown Farmington is a friendly place with a good assortment of independent shops, galleries, and restaurants, which are kept fresh and lively thanks to the university. Here, you will also find several events throughout the year, including Chester Greenwood Day festivities celebrating the town native who invented earmuffs.
Farmington also has several excellent trails, including the Village Woods and Flint Woods walking trails, as well as the Whistle Stop Trail, a 14-mile stretch that was once the bed of the Androscoggin Railroad. This trail is also open to cyclists and horseback riding, as well as motorized sports including snowmobiling and ATVs. In the winter, you may even see dogsleds.
13. Belfast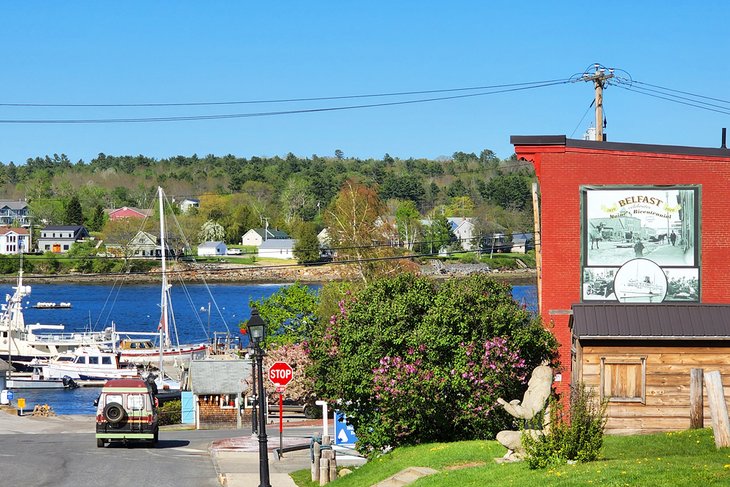 Belfast is one of Maine's most picturesque mid-coast towns, situated about two hours north of Portland. First settled by Europeans in 1770, it began to grow a commercial district in the early 19th century. The original brick buildings in the downtown area are still in use, and Colburn Shoe Store on Main Street has been in continuous operation since it first opened in 1832, boasting the title of oldest shoe store in America.
Tourists will also find fascinating "Museum in the Streets" stops throughout town, a series of over two dozen panels that provide maps, photographs, and background information about local sights and history. Visitors can take a self-guided tour, with maps available at the Belfast Historical Society & Museum on Church Street or the Chamber of Commerce on Maion Street near the public boat landing.
Once a busy port and shipbuilding center, the harbor area is one of the town's most culturally significant. Its last ship, the Jennie Flood Kreger, was an 1844-ton five-masted schooner completed in 1919. While visitors can easily drive from downtown Belfast to the rest of the area's attractions to the east, there is also a footbridge spanning the Passagassawakeag River that affords beautiful views of Belfast Harbor and the shorelines on each side.
Map of Small Towns in Maine
More Related Articles on PlanetWare.com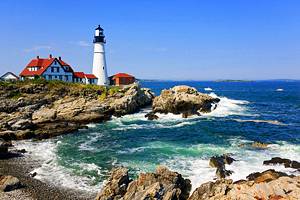 Exploring Maine: The picture-perfect small towns and fishing villages are some of the state's true gems, but if you want a taste of a larger center, check out the attractions of Portland. For a more complete look at things to see and do, have a read through our guide to the top tourist attractions in Maine.