15 Top-Rated Attractions & Things to Do in Bar Harbor, ME
We may earn a commission from affiliate links ()
An adorable blip on Mount Desert Island, Bar Harbor is the resort town of choice for those visiting Acadia National Park. A hot spot for summer tourism, this seasonally bustling metropolis features tourist shops, ice-cream vendors, and packed roads and sidewalks. But you'll also find charming historic homes, artsy shops, upscale restaurants, and its main attraction: the sparkling Frenchman Bay.
If you're hoping to enjoy the area in a more peaceful setting, time your visit for just after Labor Day. The good weather's still hanging on at this point, and shops and restaurants are still open, while the masses of tourists have headed home.
With multiple attractions on offer - from museums to lighthouses to Acadia's unsurpassable beauty - there's no shortage of things to do in this captivating destination.
For ideas on the best places to visit, see our list of the top things to do in Bar Harbor.
Note: Some businesses may be temporarily closed due to recent global health and safety issues.
1. Acadia National Park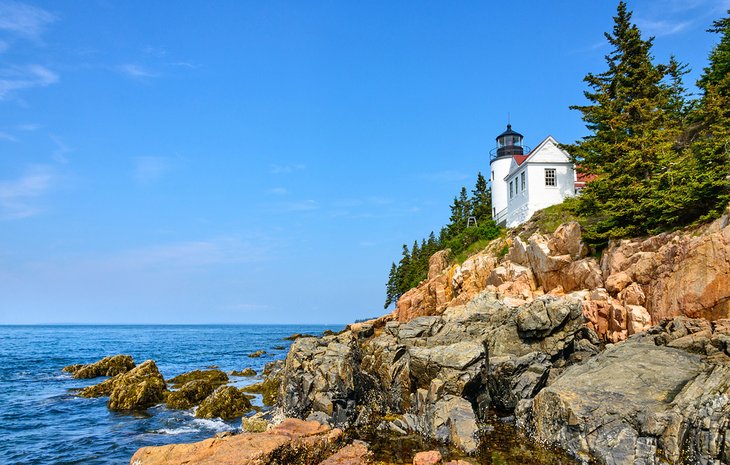 The vast majority of travelers use Bar Harbor as a jumping-off point for visiting Acadia National Park. By far the best place to visit in Maine, this exceptional park showcases nature at its absolute finest. Featuring lush forests; rugged, rocky coastlines; sparkling ponds; and majestic mountains; Acadia offers some of the most breathtaking scenery in the North East.
The best things to do here include biking, hiking, and driving along the scenic old carriage roads. Swimming, fishing, and boating are also popular activities. The park is teeming with wildlife begging to be appreciated. We bet you can't stop yourself from taking photographs.
Insider's tip: Pack a picnic, as you'll be hard-pressed to find concessions within the park, and plan at least two days (or better yet four) to enjoy all the park has to offer.
Official site: https://www.acadianationalpark.com/
2. Frenchman Bay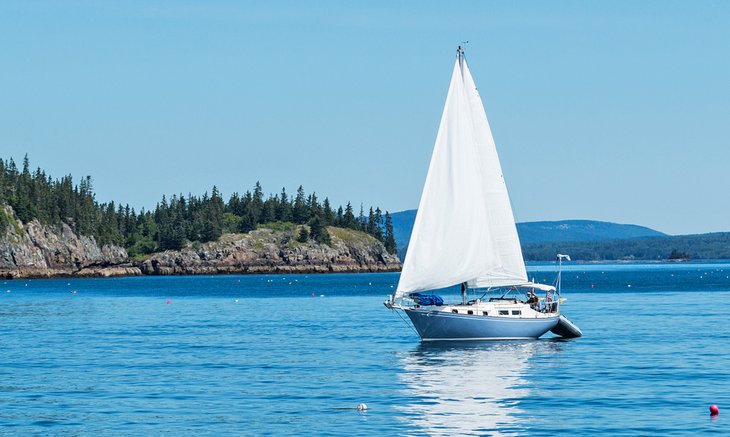 Sparkling Frenchman Bay is an easy place to fall in love. Couples stroll along its banks, cruise in boats along its water, and dine in restaurants boasting floor-to-ceiling windows created to highlight the views.
Families are big fans, too. Head out on a boat tour, try your hand at fishing, jump in for a swim, or try waterskiing or SUPing.
For the best views, walk along the Bar Harbor Pier, wander the Shore Path, relax in Agamont Park, or hike (or drive) to the top of Cadillac Mountain. No matter where you choose, the picturesque reward is more than worthy of your journey.
3. Cadillac Mountain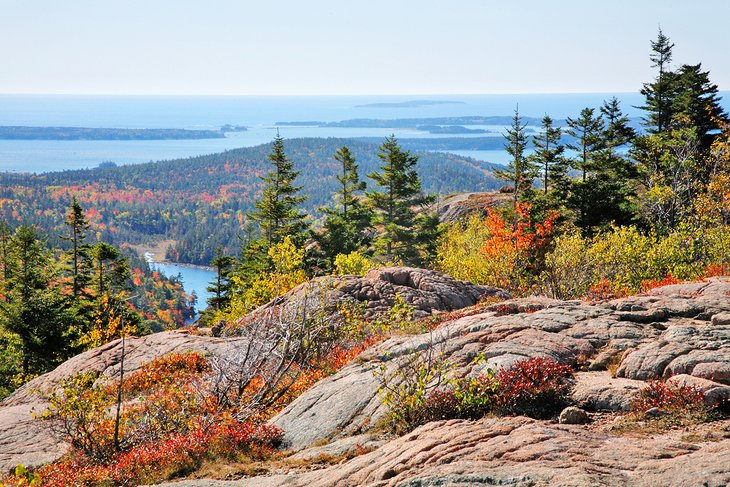 The high you feel from summiting Cadillac Mountain is hard to beat. This 1,530-foot masterpiece offers the most incredible views of Acadia National Park and Frenchman Bay. From early October through the beginning of March, this is the first place in the entire nation to witness the sunrise. On a clear day, you can see across to Mount Kathadin.
Insider's tip: The phenomenal vistas are famous, so the top of the mountain can get quite crowded, even in the wee hours of the morning. The earlier you arrive, the better, as the parking lot gets packed. Also, it gets cold up here, so be sure to pack warm layers.
4. Land Bridge to Bar Island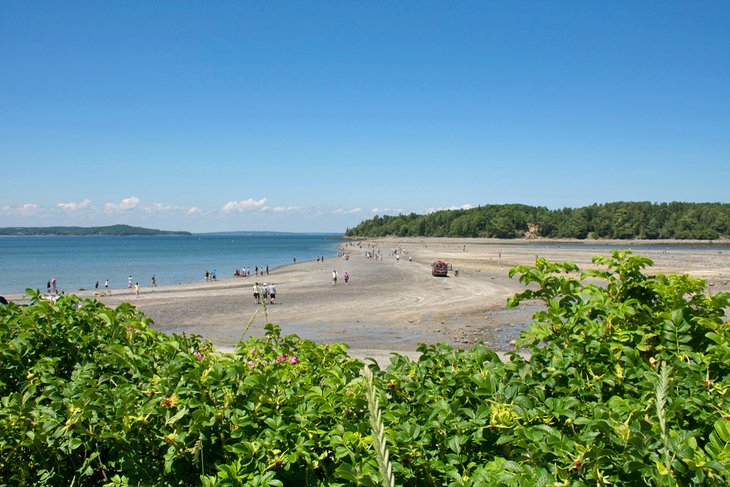 You'll have to time your visit perfectly to see the land bridge to Bar Island. A rocky land "bridge" connecting Bar Harbor (at Bridge Street) to the western edge of Bar Island, this natural connector appears at low tide and disappears about three hours later.
When the bridge is unveiled, visitors can easily bike, walk, or even drive across it to reach the rugged and forested beauty. A mile of trail awaits hikers hoping to trek to the island's highest point for a spectacular view of Bar Harbor and Frenchman Bay.
Insider's tip: Unless you're willing to wait on the island for the next low tide, remember to plan your trip back in time. And pack a cell phone in case you get stuck.
5. Abbe Museum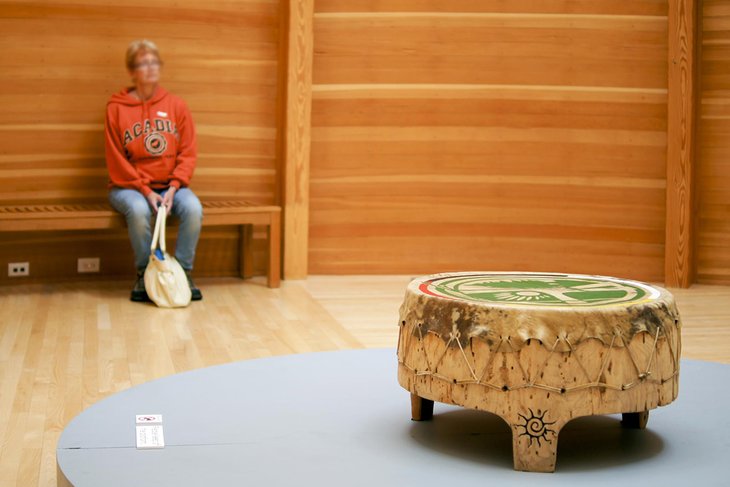 Built to celebrate the Wabanki people, the original Abbe Museum (named Sieur de Monts Spring) opened its doors in 1928. Still located at the side of a trail within Acadia National Park, the museum features interesting and interactive exhibits and educational programs that showcase the art, history, and culture of the area's native people.
The museum's second, more contemporary location was opened in 2013 in downtown Bar Harbor. This more dynamic locale is much larger than the original building and features multiple special events and workshops devoted to honoring the Wabakani's culture. They even offer archeology classes. This downtown locale is open year-round, unlike its smaller counterpart, which closes from October to May.
Insider's Tip: Don't miss the Indian Market, which is held over one weekend in mid-May. You'll find custom jewelry, delectable foods, and fantastic pieces of art for sale. July plays host to the museum's Native American Festival, which showcases more native art, music, and food.
Abbe Museum:
Address: 26 Mount Desert Street, Maine
Sieur de Monts Spring:
Address: 49 Seawater Circle, Acadia National Park, Maine
6. Bar Harbor Town Pier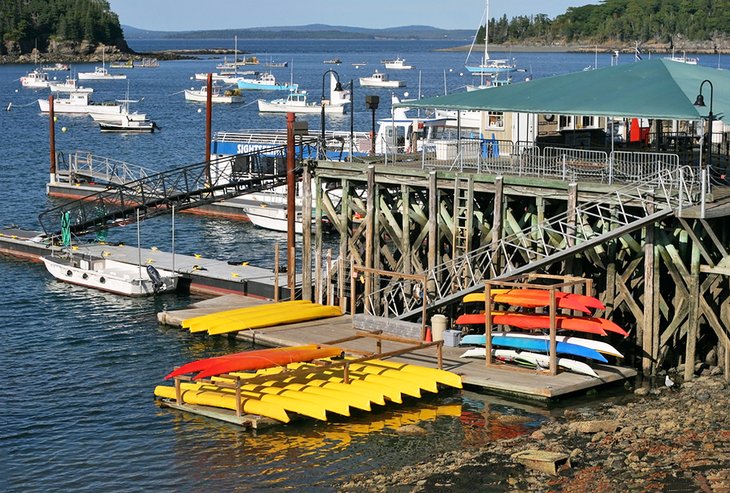 Bar Harbor's pier serves as the town's thriving center. It's also the backdrop for thousands of tourist photos. Whether you're taking them from a wobbly boat or have your feet planted on firm ground, the quaint buildings and bobbing vessels make every picture a winner.
Multiple paths lead from this pier, beckoning cruise ship patrons to explore the beautiful shoreline via the Shore Path, head towards the town's main shops and restaurants on a track that leads towards Main Street, or relax in Agamont Park.
Whether you're hoping to buy a cheesy t-shirt, grab a bite to eat, or merely enjoy the water views, you'll find it all near this important jetty.
7. Agamont Park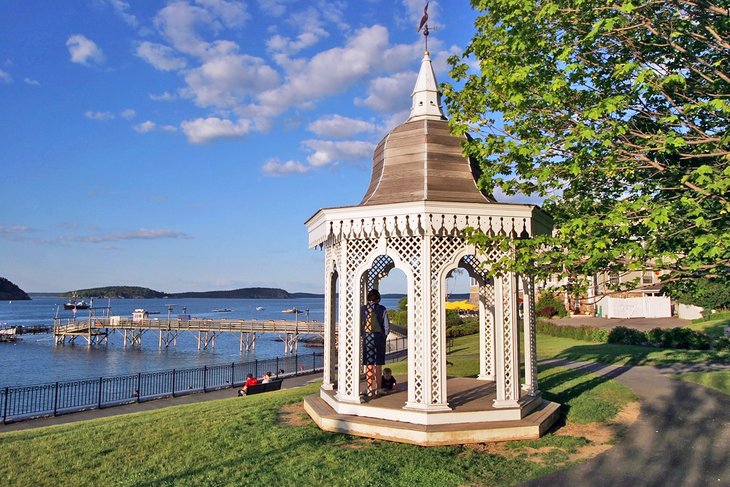 The main reason to visit Agamont Park is for its phenomenal view. Frenchman Bay seems to stretch out forever, beckoning your camera to start snapping. On a clear day, you can see straight to Bar Island and the Porcupine Islands.
People-watching is easy from this grassy hilltop location. You've got the Town Pier straight ahead, which is constantly filling with and emptying of cruise ship passengers.
Looking to destress? Grab coffee at a nearby café and hunker down on one of the park's benches or right on the lawn itself. This is a fabulous spot to relax, watching the sailing and fishing boats slowly come and go.
Insider's tip: The park offers easy access to the half-mile Shore Path, which hugs the ragged shoreline and offers unbeatable views of the Sheep Porcupine Island.
Address: Main Street and Water Street, Bar Harbor, Maine
8. Village Green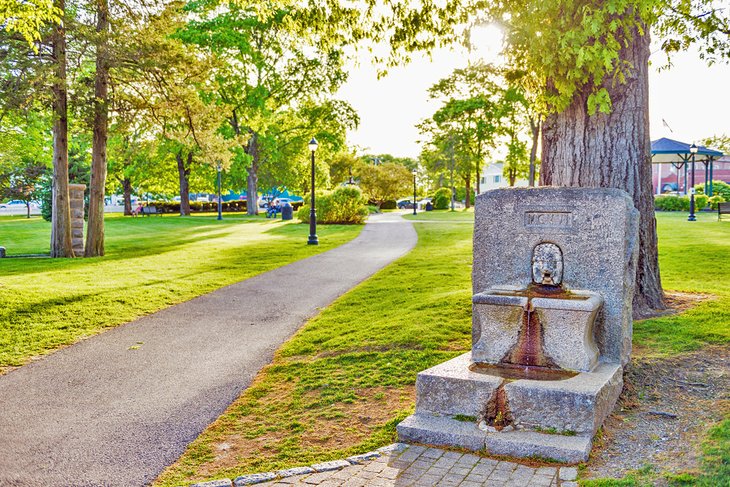 The verdant Village Green acts as the heart of Bar Harbor. Home to the historic town clock and host to many of the town's open-air concerts and festivals (i.e. the Art Festival), the Green is the place to be if you're hoping to connect with an interesting mix of locals and visitors.
Park benches are available for longer visits, or there's always the lush grass, which is perfect for an impromptu picnic furnished by a nearby restaurant or café. Have some work to catch up on? It's easy to do so in this beautiful spot, which boasts a free Wi-Fi hot spot.
Insider's tip: The Bar Harbor Town Band performs free concerts here every Monday and Thursday night from 8 to 9 throughout July and most of August. During bad weather, they move to the Bar Harbor Congregational Church.
Address: Main Street and Mount Desert Street, Bar Harbor, Maine
9. Jordan Pond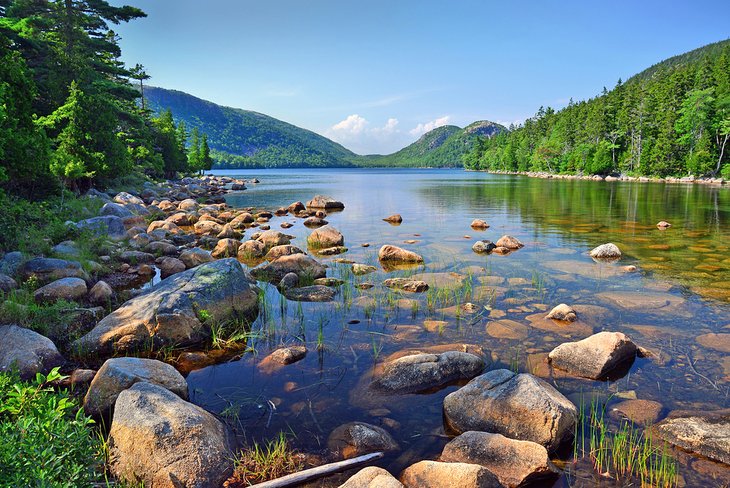 Summer is the best time to visit Jordan Pond in Acadia National Park. The clear, translucent water of this glacier-formed tarn (a.k.a. small mountain lake) is as beautiful as it is clean.
You won't be able to swim here, although you'll be itching to jump in! Instead, hop in a canoe or kayak to enjoy a little time on the water. Or on land, a nearly three-mile, sometimes challenging trail leads you around the pond. There are some seriously rocky bits, so don appropriate footwear.
Insider's tip: Schedule an eating break at Jordan Pond House - you'll be glad you did. Be sure to order tea with a popover, the famous treat first served by Nellie McIntire, the restaurant's first owner in 1893. Eating at this unique lakeside retreat is a popular pastime, so be sure to make a reservation before you go.
10. George B. Dorr Museum of Natural History
The George B. Door Museum of Natural History is one of the best places to visit for families. A palatable size, this unique museum celebrates the natural life found in Maine. From a hands-on tide pool tank featuring live hermit crabs and sea stars to captivating dioramas, there's a lot to see (and appreciate) in this small space.
The museum is run mostly by students of the College of the Atlantic, who create the intricate dioramas and send visitors on scavenger hunts. Children and adults are also invited to touch various whale bones, furs, and skulls on display. Some may even be asked to assemble the skeleton of a minke whale.
Address: 10 Eden Street, Bar Harbor, Maine
Official site: https://www.coa.edu/dorr-museum/
11. Schoodic Peninsula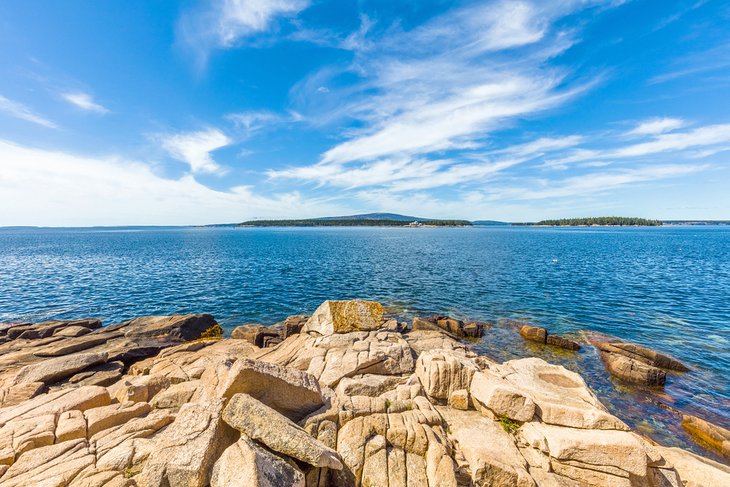 One of the most majestic spots in Acadia National Park, the scenic Schoodic Peninsula is home to stunning granite headlands, picturesque lighthouses, and thick forested sections teeming with wildlife. Rent a bike in town or don your hiking boots to truly enjoy this natural wonder.
There are plenty of trails to choose from, including the easy Alder Trail (just over half a mile), moderate East Trail (half a mile), and moderate Schoodic Head Trail (0.6 miles). All of these offer spectacular views and a truly serene experience.
Insider's tip: Ditch the car and hop on a free Island Explorer bus (they run from June through Columbus Day) for a tour around the peninsula. These come complete with bike racks, providing an easy way to make the trek to the park.
Official site: https://www.nps.gov/acad/planyourvisit/schoodic.htm
12. Egg Rock Light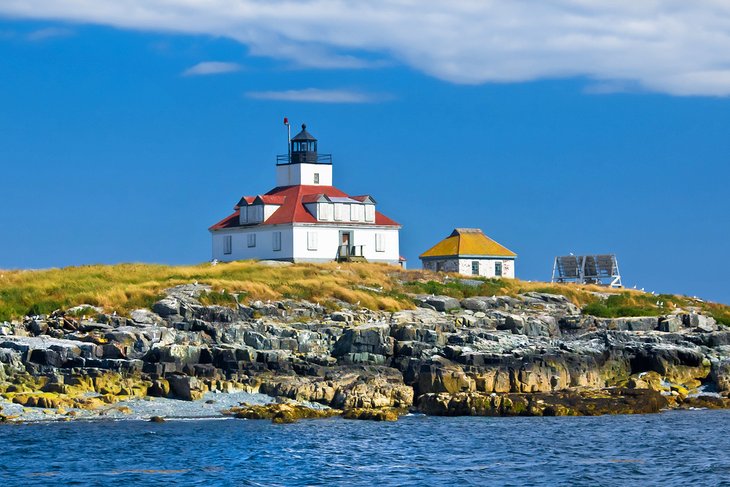 The beautiful Egg Rock Light lies a mere six miles south of Bar Harbor, near Winter Harbor. Plopped on the 12.5-acre Egg Rock, at the southern entrance to Frenchman Bay, this iconic site is best viewed from the water.
Egg Rock Light, which was constructed in 1875, is perched upon a hill set slightly back from the rocky shore. Its close neighbor is a wooden house built at the same time to house the lighthouse keeper. In later years, other additions were made, including a fog signal house, boathouse, generator house, and oil house.
The only way to reach this lovely structure is by boat, but it's not open to the public, so don't expect to explore the inside. If you're not a fan of boats, hike or drive to the top of Cadillac Mountain for an impressive view.
13. Criterion Theater
Step back in time at the extraordinary Criterion Theater. The doors to this Art Deco masterpiece first opened in 1932, beckoning visitors to enjoy music so wonderful it made them forget their worries. Since then, the criterion, which labels itself a "non-profit performing arts venue, cinema, and community gathering space," has undergone extensive renovations to preserve its remarkable history and inspiring architecture.
Today, this impressive venue welcomes those of all ages to enjoy its varied programs and spectacular shows. From concerts by famous musicians like David Crosby to showings of the Star Wars films on the big screen, there's something for everyone to enjoy.
Address: 35 Cottage Street, Bar Harbor, Maine
Official site: https://www.criteriontheatre.org/
14. Thunder Hole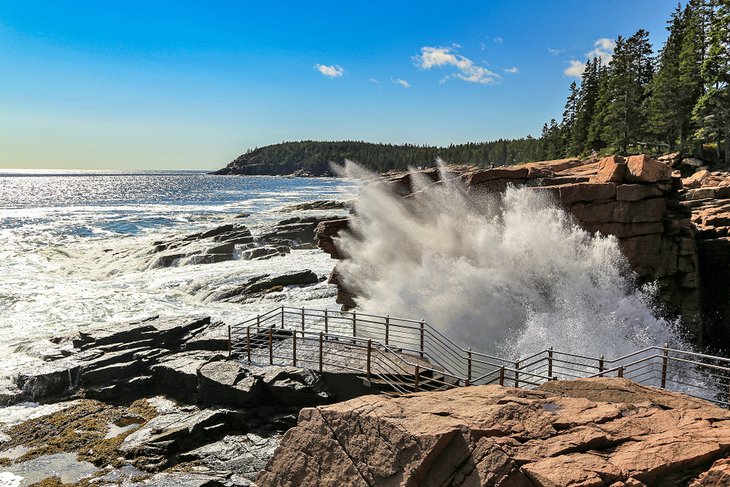 You'll likely hear Thunder Hole before you see it. The roar of water as it smashes its way through the hole's small cavern is definitely "thunderous." At times, the water can spout up to 40 feet high. Be prepared to get wet, especially if you're adventurous enough to walk along the path to the cavern's head. If you do venture out, be sure to hold the handrails, as the ground here can get pretty slippery.
In addition to the unbeatable beauty of this unique "hole," visitors are rewarded with some of the most impressive views in the region. On a clear day, you'll see across to the gorgeous Schoodic Peninsula, while closer beauties include Otter Cliff and Sand Beach.
To get the most out of this area of outstanding natural beauty, take the three-mile (round-trip) Ocean Path, which begins in the upper Sand Beach parking lot. You'll pass Thunder Hole on your way to Otter Cliff. You can also reach it via Park Loop Road.
Location: Acadia National Park
15. St. Saviour's Church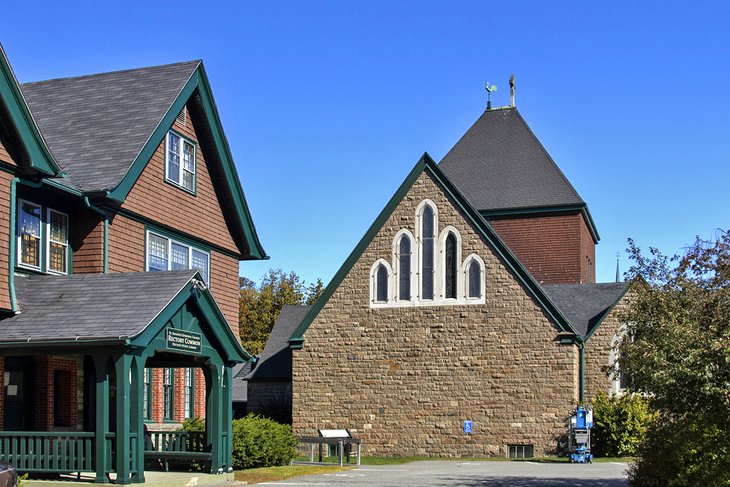 A Gothic reminder of Bar Harbor's storied past, the Episcopal St. Saviour's Church is worth a visit. A short walk from the bustling Main Street, the church's most famous attributes are its spectacular Tiffany stained-glass windows, which were added during the early 20th century. Construction on the church itself began in 1876 and ended (after multiple breaks) in 1938.
Inside, the church is quite dark, the only natural source of light coming from those famed Tiffany windows. Large, wooden beams support the angled roof, and the floor and pews consist of dark wood as well. Outside, you'll find a historic cemetery (the Burying Ground).
Insider's tip: Guided tours are offered at 11:15 on Sundays throughout tourist season (June through October). Otherwise, their doors are almost always open for those who'd like to either worship, reflect, or enjoy their own self-guided tour.
Address: 41 Mount Desert Street, Bar Harbor, Maine
Where to Stay in Bar Harbor for Sightseeing
Luxury Hotels:
Bar Harbor doesn't have any 5-star resorts, but it has some nice boutique luxury properties like the AAA Four Diamond Balance Rock

Inn

. In a central location just a few minutes' walk from downtown's restaurants and shops, it features 26 rooms and suites. These are decorated in old-world style and feature private balconies and fireplaces. Amenities include a complimentary hot breakfast; a small workout room; a heated swimming pool; outdoor fire-pit; and a AAA Four Diamond restaurant, The Veranda.
One of the newest hotels in town, the Bar Harbor Grand

Hotel

is modeled after the elegant 1800s Bar Harbor landmark Rodick House. It has a great location right downtown and offers comfortable, spacious rooms with seating areas, fridges, and Jacuzzi bathtubs. Breakfast is included in the rate, and the hotel is family-friendly. Babysitting can be arranged, and guests can borrow books and DVDs for children. Other amenities include a swimming pool, hot tub, and workout room.
Harborside Hotel, Spa and

Marina

is another 4-star property with beautiful views of Frenchman's Bay. The hotel features cozy country elegant rooms with double or king beds. They come with balconies, and many have direct ocean views. On-site amenities include a restaurant, swimming pool, fitness room, and tennis courts.
Mid-Range Hotels:
One of the best mid-range properties is the Bar Harbor

Motel

. Set on 14 acres of leafy grounds, it has rooms of various sizes all on ground level. If you're traveling with the kids, book one of the two-bedroom family units, which can accommodate up to six people. Amenities include direct trail access to Acadia National Park, a swimming pool, kids' playground, and a free morning breakfast.
The Bayview

Hotel

is in a quiet waterfront location with gorgeous views. Choose from rooms with ocean or mountain views from private balconies. These feature modern furnishings and art on creamy white walls. Perks include a free made-to-order breakfast, fresh baked cookies, a swimming pool, free parking, and shuttle service. It is also a pet-friendly property.
In the heart of town, Bar Harbor Villager

Motel

is within walking distance of the town's shops and restaurants. The family-friendly motel (kids stay free) features newly renovated rooms with king or extra long double beds. These come with crisp white linens and light wood bed frames and side tables. There is an outdoor swimming pool, board games to borrow, and free parking on-site.
Budget Hotels:
Belle Isle

Motel

is a good budget option. Rooms are simple but tidy and come with fridges. There is no restaurant on-site, but the hotel is near dining options. There is a heated outdoor swimming pool, vending machine, and self-service laundry facilities. If you are traveling with a dog, it is also pet friendly.
Another budget-friendly choice is the Acadia Pines

Motel

. The family-owned and operated motel has 22 clean and comfy rooms set on six acres just two miles from the Acadia National Park's Hulls Cove Visitor Center. Some of the rooms have kitchens. There is an outdoor swimming pool, free parking, and a vending machine on-site.