14 Top-Rated Beaches in New England
Author Barbara Radcliffe Rogers lives in New Hampshire.
Coastal New England is legendary. The lighthouses, dramatic vistas, and tidal pools have been setting the scene in artistic creations for hundreds of years. Beachside seafood shacks serving local specialties to please any palate are a draw of their own.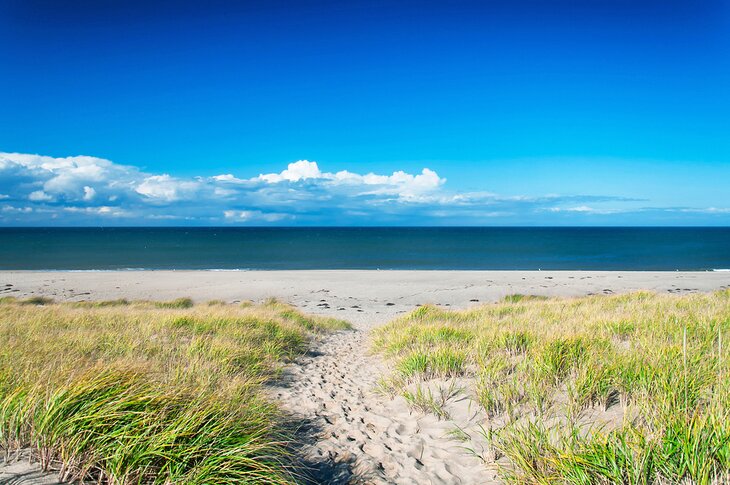 Far north are the rocky shoreline and dramatic cliffs of Maine. At the opposite end, the calm and sandy beaches in Connecticut border Long Island Sound. From end to end, more than 1,000 miles of coast borders these five states (Vermont, the sixth in New England, has no ocean frontage), offering a selection sure to please the sun worshiper in every visitor. Additional tourist attractions add further interest in these top spots.
With so many excellent choices available in New England, it's best to start your planning before the warm weather arrives. Find the perfect place for your day by the sea with our list of the top beaches in New England.
1. Crane Beach, Massachusetts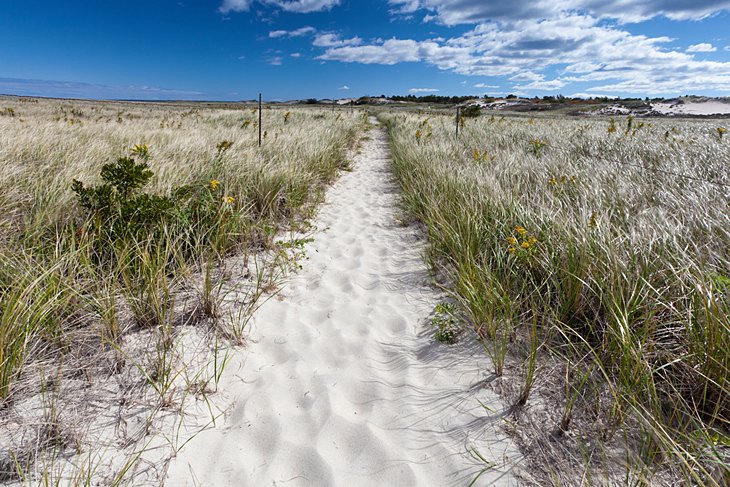 One of the Northeast's most scenic beaches, with alluring views across the water, is Crane Beach in Ipswich. The cold water of the north shore is lovingly referred to as "refreshing." If you're going to take a plunge, the crisp, clean ocean here is a great place to take a dip.
This area is owned and maintained by Trustees of Reservations. This Massachusetts member-supported organization, with properties all over the state, preserves land, nature, and historic places for the public, forever.
With that in mind, tourists will be glad to know that sun and surf is not the only game in town. More than five miles of trails and boardwalks make their way through dunes and pitch pine forest as part of the Bay Circuit Trail.
The beach is also an important nesting site for the piping plovers, and has been recognized for its shorebird protection program. The beach sits on property of the Crane Estate; visitors can also enjoy the grandeur of the mansion, gardens, and magical undulating lawn leading down to the water.
In season, lifeguards and rangers are on duty; there is a bathhouse, outdoor showers, and picnic tables. A small kiosk sells refreshments and merchandise. Transportation is also provided for mobility-impaired visitors.
Address: 310 Argilla Road, Ipswich, Massachusetts
Read More: Top-Rated Beaches in Massachusetts
2. Race Point Beach, Massachusetts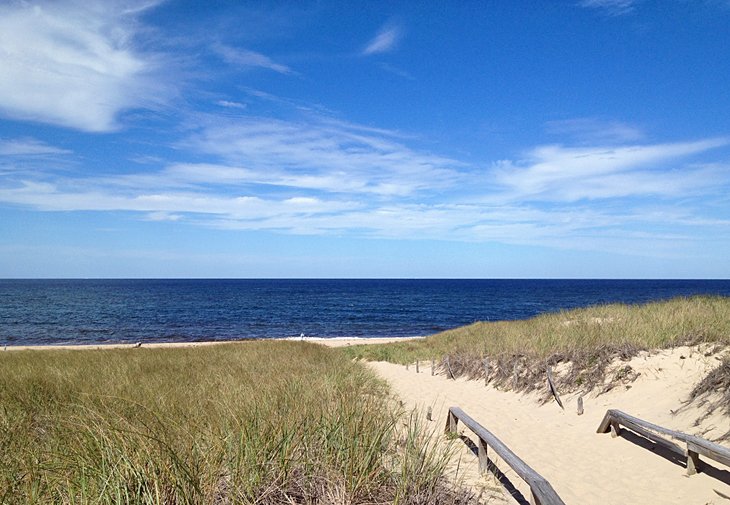 The tip of Cape Cod really has it all if you're looking for a top beach location in New England. As part of the Cape Cod National Seashore, this well-maintained section has stunning sunsets, a vibrant restaurant scene, and plenty of activity on the social calendar stretching well into the shoulder seasons.
The nearby Province Lands Bike Trail is a paved way through the beach forest and up and over dunes with stunning water views.
The addition of a seasonal fast ferry from Boston transports day visitors to the area in a quick 90 minutes. Whatever your means of transportation to the end of the Cape, all will be pleasantly rewarded when you arrive at Race Point Beach.
The expanse of beach is wide and lengthy. Due to its location at the confluence of Cape Cod Bay and the Atlantic Ocean, the strip of sand is known for rougher waters and some dangerous tides. There are still plenty of shallow areas for less experienced swimmers and children. The beach provides seasonal restrooms, showers, and changing rooms.
Where to Stay: If your stay in Provincetown is more than a day trip, The Seaglass Inn & Spa sits atop a scenic hilltop location with the accompanying spectacular sea view. For those not comfortable in the ocean and seeking a cooling swim, the inn has an outdoor pool for an enjoyable dip.
Also offering budget-friendly Provincetown accommodations is the Cape Colony Inn, with an above-ground pool among its many amenities.
Location: Race Point Road, Provincetown, Massachusetts
Read More:
3. Chatham Lighthouse Beach, Massachusetts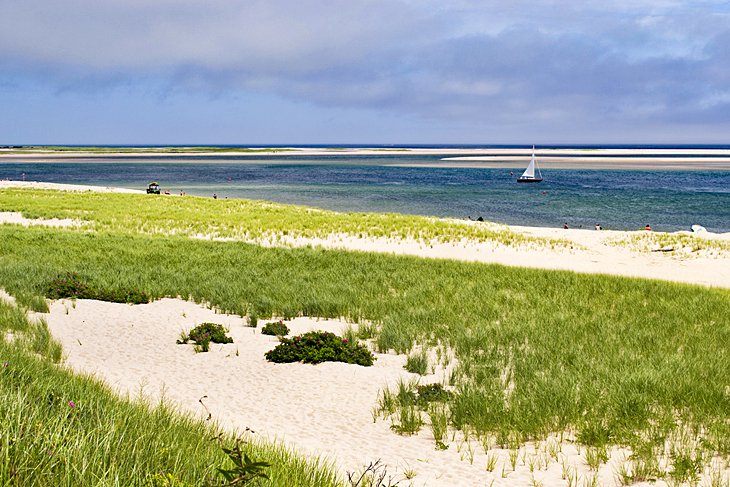 Although there are a handful of beaches with vistas into Nantucket Sound, few would argue that the most lovely is Chatham Lighthouse Beach. The beach is set below the guiding light of an active beacon, and this important landmark directs visiting boats and ships through what can be the treacherous Chatham waters.
Pay attention to different areas for swimming, as the current can be quite strong. Dangerous areas are closed for your own protection. The policy here is swim at your own risk — no lifeguards are on duty, and boat patrols monitor the area for emergencies. A red flag flying means swimming is prohibited in all areas.
While the shore is certainly scenic, this area is also all about the wildlife. A large seal population is regularly seen having fun in the waters and surrounding shores. There is a popular nature walk out to Monomoy Island, where birds are found in abundance. Seal tours are offered from the beach as well.
Parking is restricted, and a beach pass is necessary to park along Bridge Street. The lighthouse is normally closed to visitors, but during the summer months, a few lucky tourists will climb the tower during one of the random openings. The walk to the beach from town is about a half mile.
Where to Stay: Chatham has many options for places to stay. The Chatham Inn at 359 Main and Chatham Bars Inn Resort & Spa are popular options. For a more boutique experience, the Captain's House Inn, a member of the prestigious Distinctive Inns of New England, is especially known for the sumptuous breakfasts and afternoon tea.
Address: 30 Main Street, Chatham, Massachusetts
4. Coast Guard Beach, Massachusetts
While there is no way to seriously rank one Cape Beach from another, there is little dispute from visitors that Coast Guard Beach in Eastham is simply take-your-breath-away gorgeous.
Often recognized as one of the top 10 on various lists of America's Best Beaches, sun worshippers find it hard to disagree. Large, dramatic dunes back the flat, sandy beach, which is regularly full of volleyball games, boogie boarders, surfers, and sunseekers.
Parking and Access: There is limited parking here for residents only. Drop-off and pickup at the beach is prohibited and closely monitored. Visitors park at the Little Creek parking lot on Doane Road and take the free shuttle to the beach. The shuttles are very convenient and run every few minutes.
This is a very appealing destination, with its expansive sand dunes, adjacent marshlands, and stunning sea views. The boardwalk runs right to the beach, and it is equipped for disabled access.
The surf is large and attracts surfers and adventurous boogie boarders. Watch for the curious seals, who, although harmless, could be a bit startling. Sunset views make Coast Guard Beach a popular spot to close out the day.
Facilities are somewhat limited and include lifeguards and restrooms. There is also a wheelchair ramp down to the beach.
Where to Stay: Most of the hotels available in this area are of the motel style. A couple of good options are the Midway Motel or, for a great pool and morning muffins, try the Eagle Wing Inn - Cape Cod.
Location: 1.5 miles East on Nauset and Doane Roads (on road to beach from Salt Pond Visitor Center). Look for brown and white signs.
5. Singing Beach, Massachusetts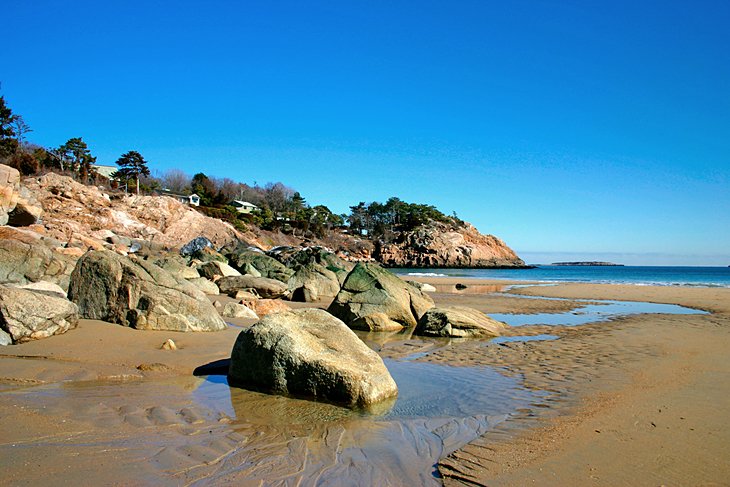 There will always be debate among Bay state residents as to their favorite place to have fun in the sun, but Singing Beach more often than not ranks close to the top. Located in the quintessential New England town of Manchester-by-the-Sea, this half-mile stretch can be reached by public transportation from Boston.
The name comes from the sound the sand makes when, under the right conditions, visitors swear they can hear it singing as they make their way to the water. In any event, you'll find a spot surrounded by a historic bathhouse and stately mansions high atop the rocky coastline.
Amenities include public restrooms, a small snack bar, and changing rooms. In season, lifeguards keep watch in a designated swimming area. Picnicking is popular in an upper area, where trees provide shade from the sun.
During weekends, the parking can be a challenge.
Where to Stay: Nearby Gloucester has accommodations to guarantee an early start: The Atlantis Oceanfront Inn has water views of the rocky shoreline enjoyed from your private balcony, while sweeping views of the ocean are the main event at Ocean House Hotel at Bass Rocks. A lovely pool with a hot tub, a fire pit, and homemade cookies keep guests happy at this four-star destination.
Address: 119 Beach Street, Manchester, Massachusetts
6. Old Orchard Beach, Maine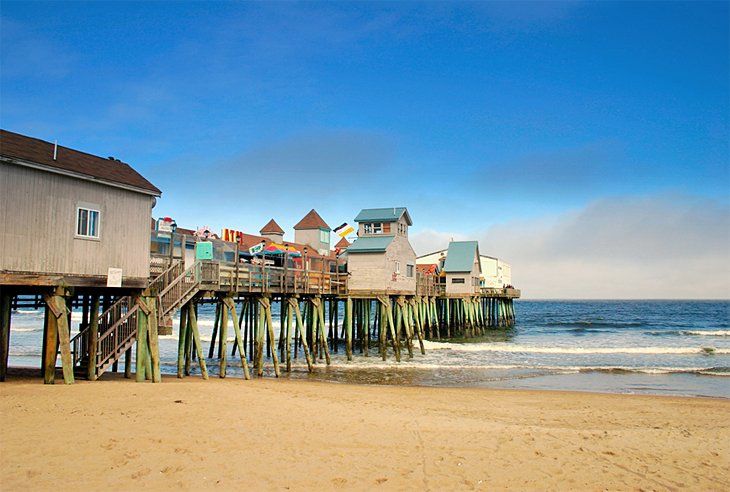 History and tradition mark the nostalgic vibe at Maine's Old Orchard Beach.
Welcoming visitors for more than 170 years, the seven-mile stretch offers beachgoers the only beachfront amusement park in New England. Sitting on four acres of prime property, Palace Playland Park features a Ferris wheel, a vintage carousel, a huge arcade, and more than 20 rides for both children and the young at heart. This is the only remaining ocean-view Ferris wheel in New England.
While Mother Nature has taken her toll on the different restored versions of the park, the rebuilt pier stretches out 500 feet into the Atlantic Ocean and is the center of family fun. Fireworks light the sky at least once a week (check the calendar). Lifeguards are on duty during the season. The miles of dune-backed beach are among the cleanest in the east, thanks to a nightly team of sweepers during the entire summer.
Activities: Nearby are whale watching or bird-watching tours. Golf is available at the Dunegrass Club, and Amtrak offers the convenient Downeaster to avoid traffic and deliver you within steps of the beach after a relaxing journey.
Where to Stay: The shoreline of Old Orchard Beach is literally lined with options for hotel stays. At the quieter northern end of the beach, Ocean Walk Hotel has an indoor pool, and its modern one-and two-room efficiencies have kitchenettes. Right on the beach, The Edgewater is a three-generation family hotel with comfortable rooms perfect for vacationing families. Located right in the center, it is a short walk from the pier and amusement park.
Read More: Best Beaches in Maine
7. Crescent Beach, Maine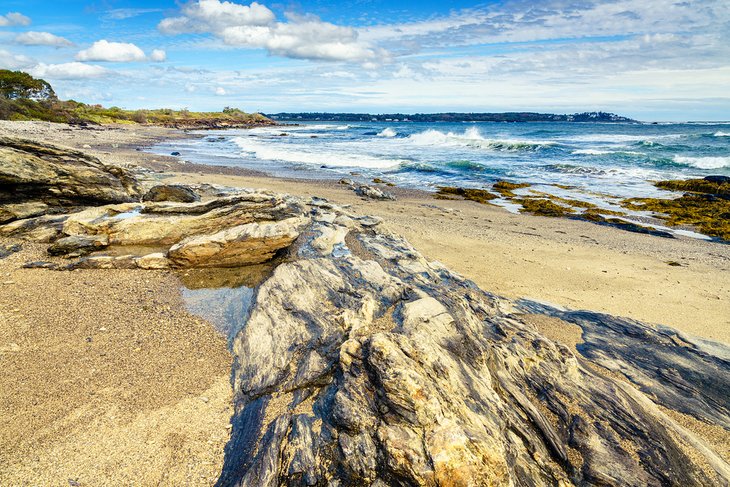 On Cape Elizabeth, not far south of Portland, Crescent Beach has something for everyone who loves being by the sea. The mile-long curving beach has golden sand with occasional rock outcrops, backed in places by dunes and cut by small coves.
Beach Activities: A loop trail that leads along the beach and into Kettle Cove, also part of the Crescent Beach State Park, is popular with bird and wildlife watchers, and there is plenty of space for fishing and water sports. Rent paddleboards or join a kayak tour at the park, where you'll find a snack bar and rest rooms.
Where to Stay: Above a stretch of the beach is the environmentally responsible Inn by the Sea, whose entire front "lawn" overlooking the shore is devoted to native grasses and plants as a habitat for wildlife.
Address: 109 Bowery Beach Road, Cape Elizabeth, Maine
8. Silver Sand State Park Beach, Milford, Connecticut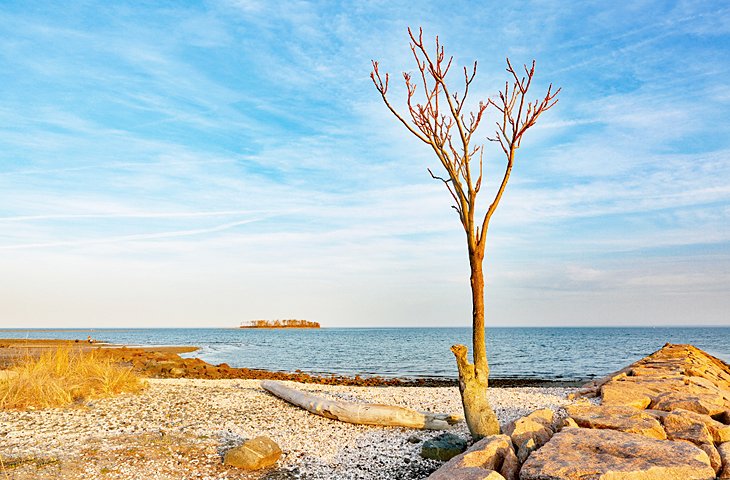 When you decide that the icy waters of the North Atlantic are just too cold, head to the warmer shores that slope into Long Island Sound. The shallow waters of Silver Sands State Park are a bit off the beaten path, insuring visitors more privacy than many of the other parks and private town beaches in Connecticut.
The park lies adjacent to Walnut beach and consists of 297 acres of a variety of habitats. Visitors will find dunes, beach, woods, and salt marsh, all offering different opportunities for exploration.
Activities: Across the water, Charles Island is a bird habitat and additional area for walking. Perhaps the kids can treasure hunt, as local lore has Captain Kidd using it as a stop in the late 1700s. Just take note to cross at the proper low tide, and make sure to get back before high tide arrives, so you're not stranded with new-feathered friends.
Swimming, picnicking, trails, and a boardwalk provide a full day of activities. Lifeguards are on duty Wednesday through Sunday, and parking is free.
Where to Stay: This area of Connecticut offers an old guard of reliable names for hotels. The Residence Inn Milford, Hyatt Place Milford/New Haven, and Hilton Garden Inn all offer good value.
Location: Silver Sands Parkway, Milford, Connecticut
9. Kennebunk Beach, Maine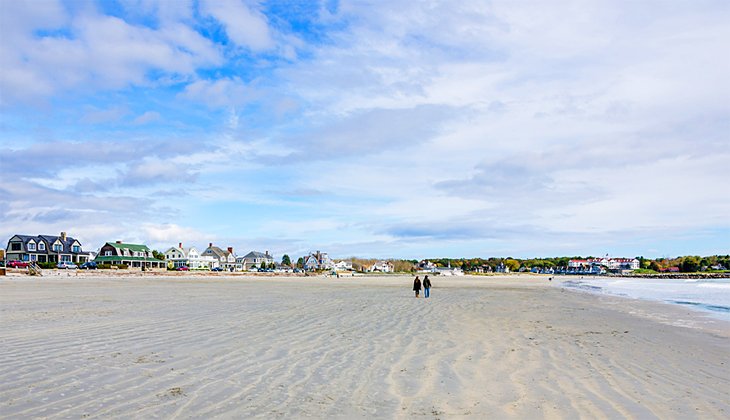 With more than 5,000 miles of shoreline, visitors can rest assured that they will be able to find a wide variety of beach experiences on the southern coast of Maine. While the Kennebunks might be well known for their shopping, this area also attracts tourists with some beautiful beaches.
Kennebunk Beach, aka "Mother's," is a short and sandy section with protected waters and a gentle slope that's safe for children. The sand here is a good example of the concept of sand as talcum powder, soft and gentle on the feet.
The ribbon of beaches all connect to one another, and stickers are required from June thru September. They can be obtained at the town hall. Amenities are few, but there are portable toilets and seasonal lifeguards.
Activities: Children will enjoy the new playground. Dogs are welcome on the beach off-season before 9am and after 5pm and must be under the control of their owners. Make sure to check the calendar for different activities and festivals taking place throughout the year.
Where to Stay: The Kennebunks are renowned for their fantastic bed-and-breakfast accommodations. Combining history and charm, 1802 House Bed & Breakfast Inn offers sumptuous breakfasts, keeping guests returning year after year. The waterside Nonantum Resort offers large rooms suitable for families, and plenty of additional activities and free shuttle rides to the beaches; there's even a lighthouse on its spacious grounds.
Location: Beach Ave., Near Routes 9 & 35, Kennebunk, Maine
10. Misquamicut State Beach, Rhode Island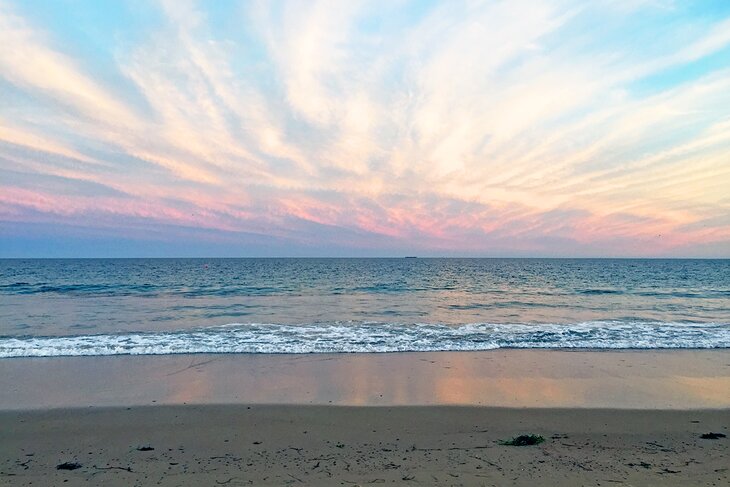 One of Rhode Island's largest beaches, Misquamicut State Beach is also one of the favorites for families. While there is enough surf to make playing in the waves fun, it is gentle enough to be safe for children, and the drop-off is gradual. Lifeguards are on duty in the summer.
The beach faces the Atlantic side of a narrow strip of land between Winnapaug Pond and the ocean. The long expanse of soft sand is wide enough to easily accommodate the families that flock here in the summer, and tourist facilities that include changing rooms, a pavilion, food kiosks, and a large shaded picnic area.
Activities: Also attractive to families are the evening activities, which may be fireworks, concerts, and shows, as well as the Bayview Fun Park across the road.
Location: Westerly, Rhode Island
Read More: Top-Rated Beaches in Rhode Island
11. Sherwood Island, Connecticut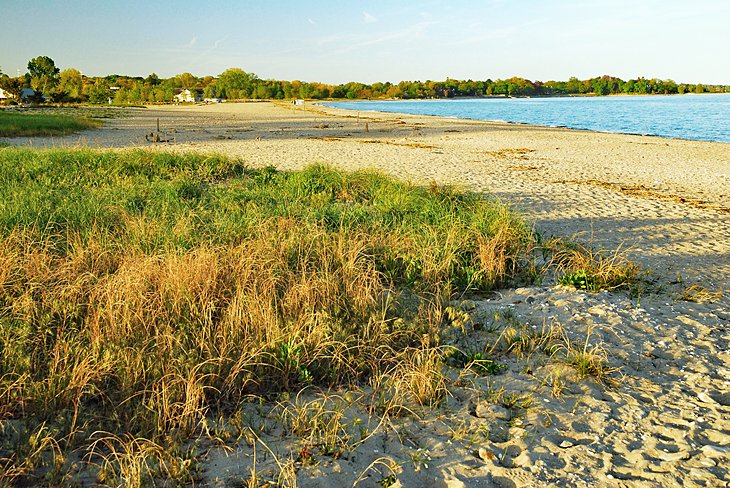 Connecticut's first state park offers public recreation on 238 acres overlooking Long Island Sound and Sherwood Mill Pond. Small bodies of water separate the island from the mainland, which can be accessed via paths and walks.
The beach has interesting sand patterns, as the waves separate red, black, and white undulating lines along the watermark. Each represents a different mineral contained within.
Activities: An impressive range of activities are on tap, including swimming, fishing, scuba diving, field sports and a nature center.
The Nature Center is open during summer months and incorporates opportunities for environmental learning with live animal experiences and local nature specimens. In addition, the park was chosen to be the site of Connecticut's September 11 Memorial. On a clear day, New York City can be seen off in the distance, and the park pays tribute to the 149 residents of the area lost in the attack.
Facilities include bathhouses, concessions, a first aid station and drinking fountains.
Where to Stay: The Inn at Fairfield Beach has a private beach with sun loungers and beach chairs. Guest rooms have kitchenettes. Not right at the beach, but with free parking and bicycle rentals, Best Western Plus Fairfield Hotel also includes breakfast.
Location: 0.25 miles south of Exit 18 from I-95 (CT Turnpike)
12. Hampton Beach, New Hampshire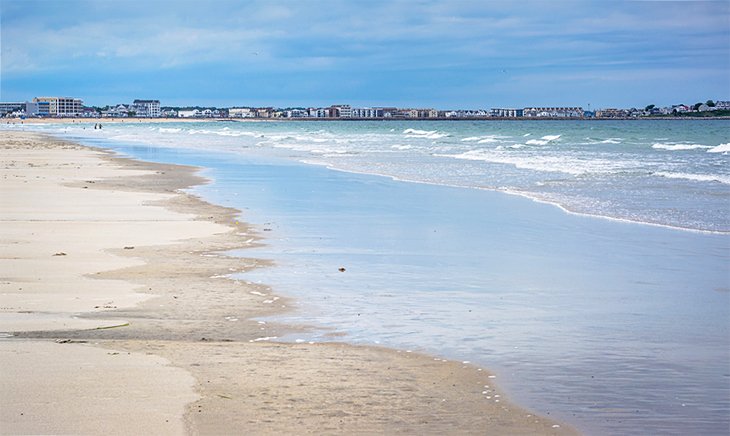 Tourists looking for a nostalgic Coney Island-type beach experience will be in heaven at New Hampshire's Hampton Beach. A deep thumping base plays along with popular tunes in the cars that parade along the strip.
Central to the area is the waterfront Seashell Stage, reminiscent of a huge barn with silos at either end. The pavilion, which seats 750, attracts a wide variety of performers all summer long and makes this true blue favorite even more attractive to Hampton Beach devotees.
Activities: Families will see the value in a destination that offers an active calendar of summer activities and additional attractions. A sand-sculpting contest, beauty pageant, talent show, and food festivals all make an appearance on the calendar. Midweek fireworks light up the sky, and family-oriented concerts keep everyone happy with a full roster of community events.
Although there is no boardwalk per se, an extra wide sidewalk leaves plenty of room for strolling or strutting depending on your mood.
What's Nearby?: Across the boulevard, tattoo parlors, arcades, cotton candy, ice-cream, and restaurants make up the retail space should you need a break from the expanse of beach umbrellas lining the sand. After all, who doesn't love a bit of guilty pleasure alongside their saltwater taffy at least once a summer?
Where to Stay: One thing you'll find in abundance is lodging to fit everyone's wallet. Staying a few blocks from the water will be desirable for those wanting to get away from the busy and hectic "scene."
From family-friendly venues to the luxurious and traditional, there's a property to fit every budget. Ashworth by the Sea, one of the most historic hotels in the area, offers a luxurious boutique experience. Lamie's Inn and the Old Salt Restaurant is a few miles from the ocean and represents the traditional New England experience at its best.
Location: Ocean Blvd. Hampton, New Hampshire
Read More: Top-Rated Beaches in New Hampshire
13. Mohegan Bluffs, Rhode Island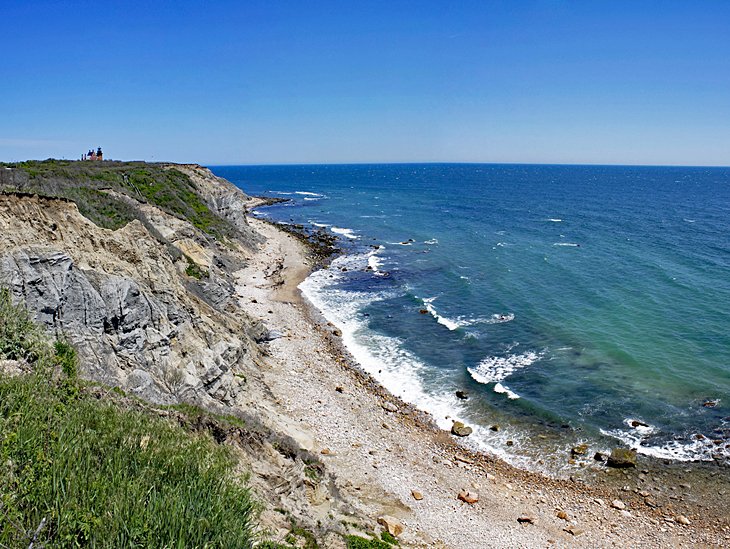 While the nearby islands of Nantucket and Martha's Vineyard get most of the attention, Rhode Island's Block Island tends to fly under the radar. Lucky visitors will find an island with picturesque vistas, towering cliffs, and historic lighthouses.
One of the prettiest beaches is Mohegan Bluffs. The 141 stairs down can look a bit daunting, but the thigh burn is completely worth every single step. Rocks smoothed by the ocean waves line the sand, and many visitors have left stacked cairns along the shore. They create quite a vista when seen as a mass sculpture.
The shore is without any facilities, but the bluffs surround a beautiful spot for a walk or swim while overlooking the waters that stretch all the way to the tip of Long Island.
Where to Stay: Ocean vistas and beautiful sunsets await at both the National Hotel and the Spring House Hotel. These seaside structures are reminiscent of the Victorian Era and are wonderfully romantic. The Rose Farm Inn is a picturesque bed-and-breakfast.
Location: Mohegan Trail, Block Island, Rhode Island
14. Watch Hill, Rhode Island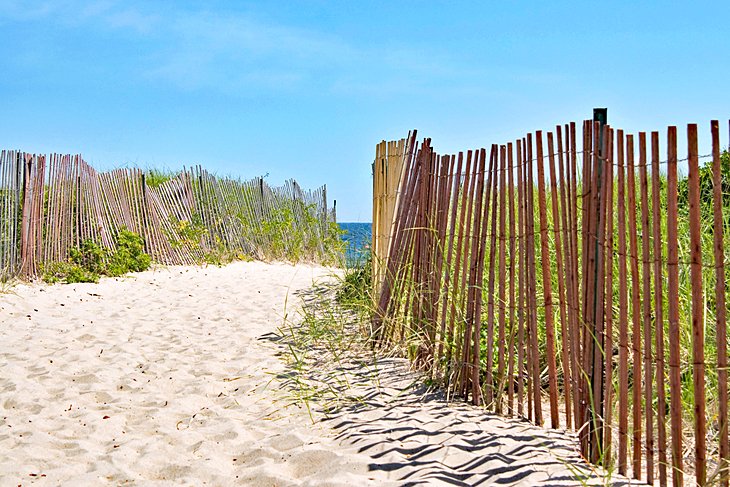 The historic destination of Watch Hill oozes Yankee aristocracy and hugs Narragansett Bay. On the point, you'll find the town has its very own lighthouse, which has guided nautical vessels since 1745. The affluent Watch Hill community manages their summer visitor crowds by restricting parking. Once you get past that obstacle by parking in town, head to the main beach, also known as Carousel because of the antique carousel in the village center.
Amenities for this lovely spot, included in the daily beach fee, give visitors access to the changing rooms, showers, and toilets. Lockers are available for an additional fee, as are beach umbrellas, chairs, and boogie boards.
If you're prepared to walk a little distance from the available parking in Watch Hill, you can find solitude, soft sand and good swimming at Napatree Point Beach. Not officially a beach and with no facilities, Napatree Point Conservation Area is a protected area for the birds that nest in the dunes and rest among the wild rose bushes during their seasonal migrations.
Westerly is often on Top 10 lists of best beach towns and has lodging, restaurants, and ice-cream parlors to justify that listing.
Where to Stay: For a balconied room overlooking the water, Pleasant View Inn is a great option with a pool. The family-run Blue Whale Inn is at the long Misquamicut Beach in Westerly, only a mile from Watch Hill, and within an easy walk of restaurants.
Address: 151 Bay Street, Westerly, Rhode Island