14 Best Things to Do in Maine
With all its natural wonders and pockets of historic and cultural attractions, Maine offers nearly limitless things to do for families, couples, friends, and solo travelers. From the beaches and lighthouses on the coast to peaceful lakes and wandering moose, there are plenty of things to do no matter where you go in Maine.
Hikers and nature lovers flock to Acadia National Park's mountainous hiking trails and stunning seaside scenery. Tourists seeking an authentic maritime experience can set sail on a windjammer, or explore at their own pace while sea kayaking around the hundreds of tiny islands that dot the coast. Stephen King fans flock to Bangor and find a culturally rich city, and visitors to Portland enjoy a variety of museums, as well as picturesque lighthouses and lovely parks.
From the beaches of the southern coast to the woods of the Maine Highlands, find your next adventure in our list of the best things to do in Maine.
1. Go Hiking in Acadia National Park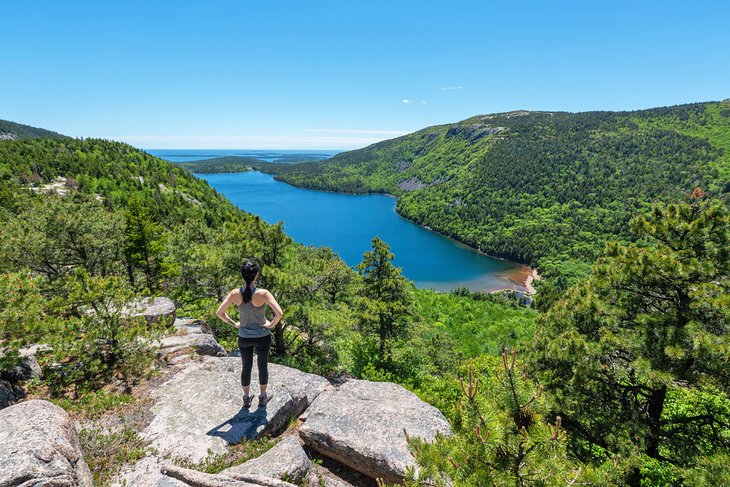 This 46,000-acre park is one of the most popular places to visit in Maine, thanks to its wide variety of natural attractions. Acadia National Park is located on Mouth Desert Island, which is also home to Bar Harbor, one of the Maine Coast's most popular tourist towns.
With more than 150 miles of hiking trails, there is a wide variety of terrain fit for every skill level and interest. In the same day, visitors can hike up wooded trails that lead to rocky peaks, take a lakeside trek weaving in and out of shady forest, or explore coastal paths flanked by cliffs and the ocean.
Climbing Cadillac Mountain is one of the most popular things to do, offering hikers views of Bar Harbor and the bay from its 1,530-foot-tall peak. One of the park's easier but rewarding hikes is the 4.4-mile Ocean Path, a particularly good choice for beginners because the island's free Explorer bus stops along the path to give tired feet an opportunity to ride back to the starting point.
Great Head Trail is another good coastal hike, suited for moderate fitness levels. The most challenging trails include Beehive Trail and Beachcroft Path, both of which should only be attempted by skilled hikers with some climbing experience.
Hikers should always be sure to check on the latest conditions and pay attention to skill ratings, as some trails require the use of ladders and rungs to traverse steep and rocky terrain. Those who want to play it safe or just aren't sure can always enjoy the motor-free carriage roads that are reserved for walking, running, and cycling.
Official site: https://www.nps.gov/acad
2. Take a Tour of Stephen King's Bangor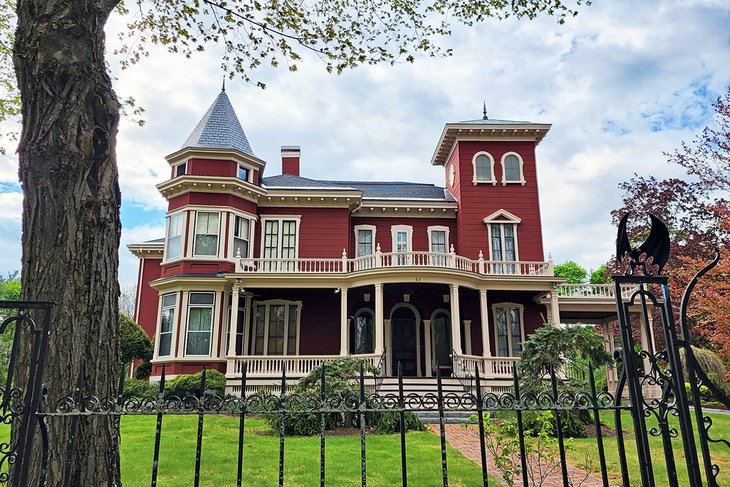 You don't have to be a Stephen King fan to enjoy Bangor, but if you are, taking the SK Tour is an absolute imperative. Tourists will also learn a great deal about the city's history, as well as which aspects of its past and present have made it into King's books time and again as the fictional "Derry" Maine.
The typical group tour is about three hours long, featuring a combination of site visits and commentary. There are several stops that give tourists the opportunity to get out and explore, taking photos at some of the most significant landmarks. These include many associated with his novel IT, like the Paul Bunyan statue, Thomas Hill Standpipe, and even the sewer grate that King first envisioned Pennywise emerging from.
The tour also visits spots used during filming of television and film adaptations, most notably Mount Hope Cemetery where the author's own cameo took place in the original Pet Sematary. It ends, of course, with a stop at Stephen King's home, with plenty of opportunities to take photos and admire the large but modest home that sits just a few blocks from downtown Bangor.
The true highlight of the tour, however, is the personal connection that the guide's family has with the author and his family. Throughout the tour, the guide shares details about the real man behind the pages, with anecdotes of interactions and lots of little-known facts. The guide also shares stories about how Stephen and his wife Tabitha have contributed to the community.
While in Bangor, be sure to save some time to explore downtown's shops, restaurants, and cafés. In the true spirit of Stephen King, be sure to visit The Briar Patch, an independent bookstore on Central Street, as well as take a peek in the display windows of Gerald Winters and Son books, the local King specialty book shop.
Tourists should also leave at least an hour to visit Bangor's Cole Land Transportation Museum, a fascinating and nostalgic collection of historic vehicles.
Official site: https://sk-tours.com/
Read More: Top Things to Do in Bangor, Maine
3. Island-Hopping from Rockland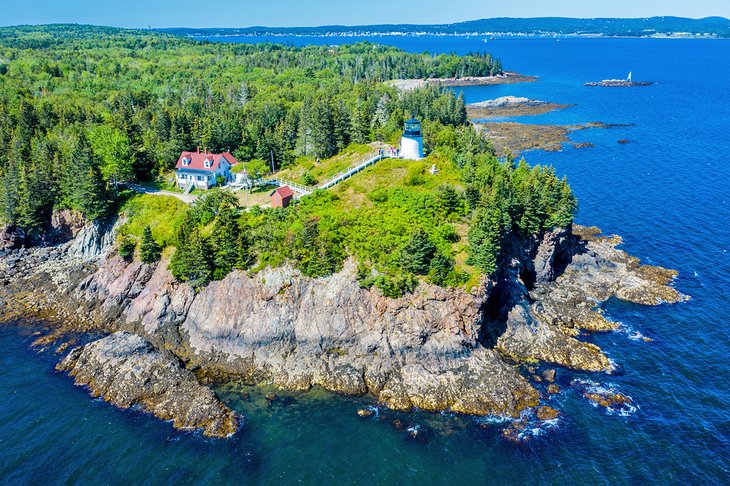 Rockland is one of the Maine coast's loveliest small towns, renowned for its dining and arts scenes. Located on Penobscot Bay, it's also a major hub for the mid-coast's sailing and sightseeing vessels. Penobscot Bay is home to hundreds of islands of all sizes, providing a virtually endless playground for exploration.
The town of Rockland is also home to the Maine State Ferry Service port which operates daily year-round, serving the islands of North Haven, Vinalhaven, and Matinicus, allowing visitors to explore these islands in their own vehicles. For those who would prefer to let others do the navigating, there are several good tour operators out of Rockland who offer a variety of specialty cruises around the islands, including eco-tours, seal-spotting, birding, lighthouse tours, and charters.
The Old Granite Inn is the ideal place to stay while island-hopping from Rockland, for many reasons. It is conveniently located right across the street from the ferry port, and is within a five-minute walk of shopping and dining downtown. It's also a family-friendly accommodation where pets are welcome, combining the style and grace of a historic inn with the comfort and welcoming atmosphere of a friend's home.
4. Enjoy Maine's Beaches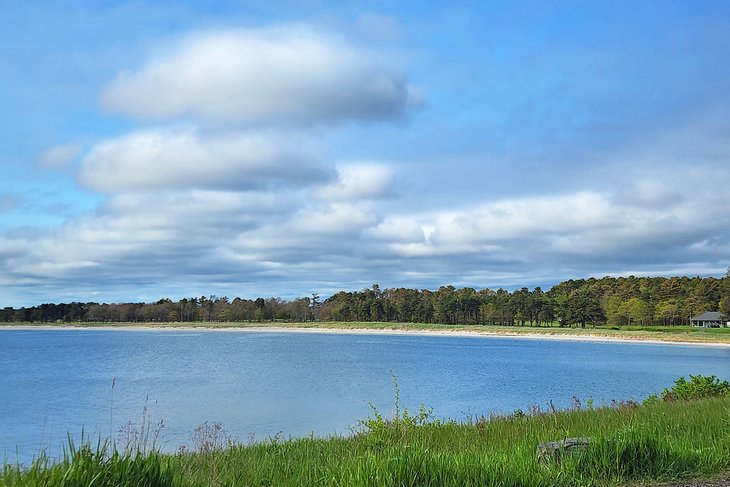 Watching the waves from the Atlantic splash ashore is great any time of year, but during the summer, Maine's beaches are full of locals and tourists alike as they escape the heat and enjoy the fresh sea air. The most popular beaches are located on the southern end of Maine's shoreline, where they are easier to access, although lovely sandy beaches can be found all the way up the coast.
Kennebunk Beach (also known as Mother's Beach) is well-loved for its superfine sand, and Wells Beach offers a mile and a half of beachfront, as well as an arcade, snack bar, and other amenities. Nature lovers will appreciate Sand Beach in Acadia National Park, while those who want plenty of space to roam will love the 3.5-mile-long stretch of Ogunquit Beach.
The best beaches near Portland are often crowded in hot weather, but offer plentiful amenities and are close to other southern Maine attractions. Old Orchard Beach is a family favorite for its festive seaside resort vibe; picturesque pier; and the excitement of New England's only beachfront amusement park, Palace Playland Park.
Another popular beach in the area is Crescent Beach on Cape Elizabeth, which offers a variety of terrain, with plenty of sandy beach, as well as wooded spots for shade, picturesque dunes, and craggy rocks.
5. Go Lighthouse Spotting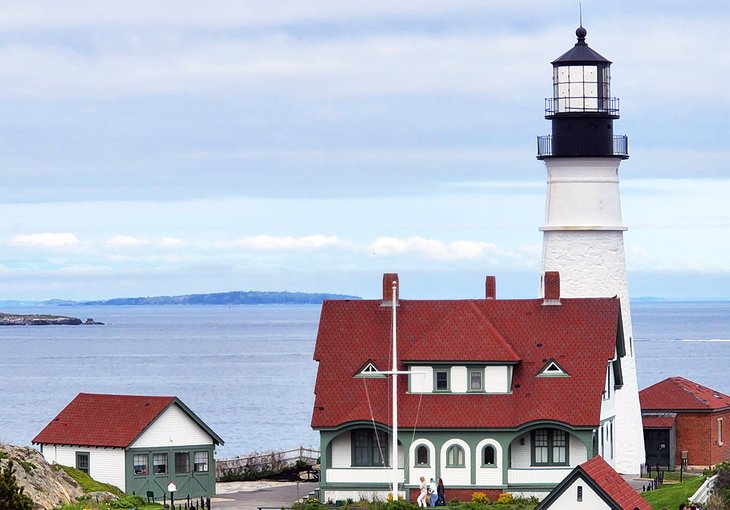 With over 60 lighthouses dotting the Atlantic-facing shores of Maine, visitors to any coastal town will find at least a few nearby to admire. A good place to start is at the Maine Lighthouse Museum in Rockland. Here, you can find exhibits on the history of lighthouses and Maine's maritime heritage, as well as plenty of information about individual lighthouses. Owl's Head Lighthouse and the Rockland Breakwater Lighthouse can be visited nearby, and Indian Head Lighthouse can be viewed from the shore.
Portland Head Lighthouse on Cape Elizabeth is one of the most photogenic of Maine's many lighthouses, and also one of the easiest to visit. Adjacent to the lovely 90-acre Fort Williams Park, it is home to a lighthouse museum and a gift shop.
One of the state's most recognizable lighthouses is the Pemaquid Point Light in Bristol. Visitors can climb the lighthouse tower and explore the Fishermen's Museum, Learning Center, and Art Gallery on-site.
If you want to see Maine's lighthouses from a mariner's perspective, there are several cruise operators that offer lighthouse boat tours. The Maine Maritime Museum in Bath is also a great place to learn more about lighthouses.
6. Visit Portland's Museums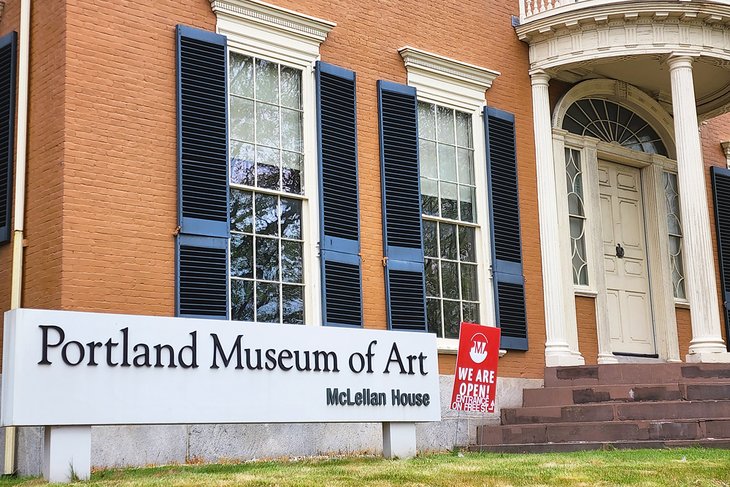 Portland is a beautiful city filled with historic buildings and plenty of things to see and do, from sightseeing cruises to shopping and dining in the Old Port district. It is also home to a diverse selection of museums, from traditional art and history exhibits to some truly unique encounters.
The Victoria Mansion is an excellent place to start; the building was built in the mid-19th century and has been open to the public as a museum since 1941, displaying its elaborate accoutrements and contents. The Wadsworth-Longfellow House is another historic home worth touring, located downtown next to the Maine Historical Society, which also offers a series of fascinating exhibits about the state's past.
The Portland Museum of Art is another top destination, featuring decorative and fine arts with an emphasis on the works of Winslow Homer. It also displays works by Monet, Renoir, Picasso, and other famous artists, and hosts changing exhibits of Maine artists' work.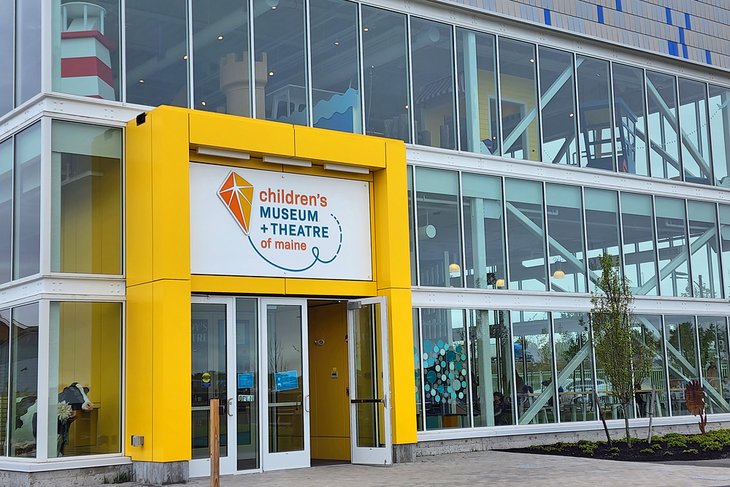 Families visiting Portland will want to set aside time for a visit to the Children's Museum and Theater of Maine, which has three floors of interactive exhibits that get kids to learn while playing. Exhibits include a dress-up theater, kid-scale settings like a farmer's market and a doctor's office, and even a lighthouse.
While in the neighborhood, check out the one-of-a-kind International Cryptozoology Museum, where visitors can learn about the science of investigating unknown animals, and get a selfie with Bigfoot.
7. Go Sea Kayaking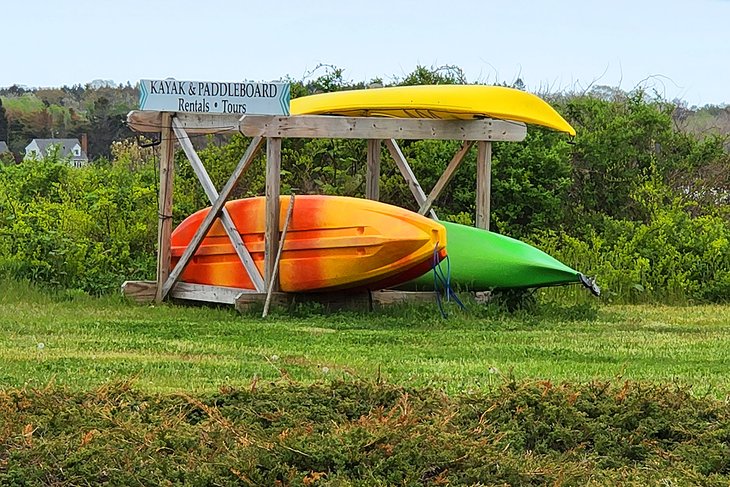 The Maine coast has over 3,500 miles of shoreline, thanks to its many inlets and outcroppings, and there are a wide variety of outfitters who provide lessons, rentals, and guide services to tourists who are looking for a new way to explore.
Maine's mid-coast islands are an excellent place for beginners to sea kayak, providing more protected waters and stunning scenery at every turn. There are many outfitters who also provide guided kayak tours, including specialty tours to view lighthouses and the mid-coast's picturesque waterside towns like Camden, Belfast, and Rockland.
The Portland area along Casco Bay is relatively busy with commercial boats, but it is popular for its easy access and views of the historic city.
8. Windjammer Cruises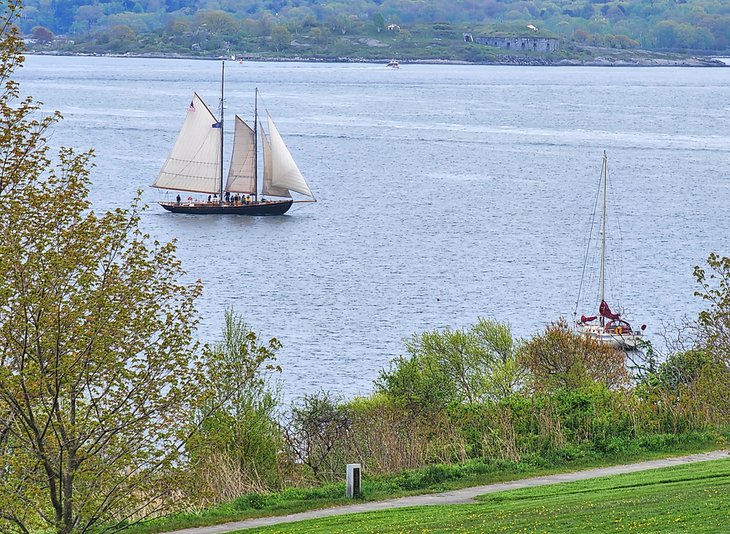 Boat rides and cruises are fun, but there is nothing like sailing in style on a windjammer — a ship propelled only by the wind catching in its iconic white sails. The Maine Windjammer Association is a group of cruise operators who offer multi-night all-inclusive cruises, with an entire fleet of windjammers to choose from.
Tourists will find that the majority of schooners depart from Rockland or Camden, both lovely small towns worth a visit as well. If you want to get out on the water but don't have time for a multi-night cruise, there are plenty of boat sightseeing day tours that depart from various ports along the entire coast, from Portland to Bar Harbor.
Official site: www.sailmainecoast.com
9. Take a Moose Safari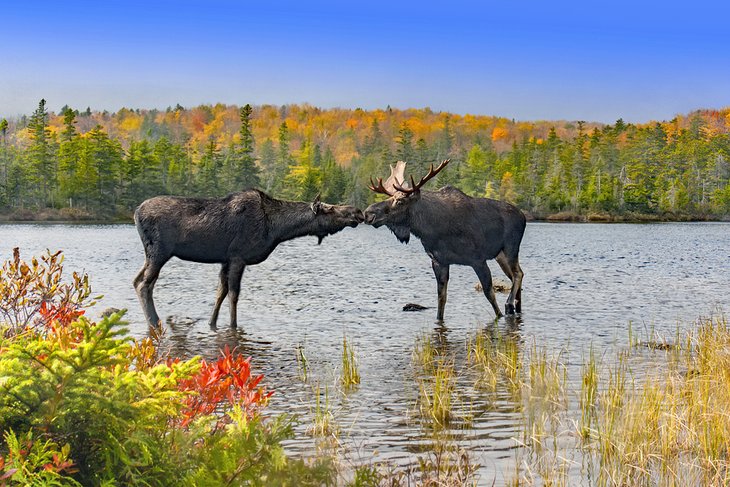 Any tourist driving in Maine will notice the "Moose Crossing" signs on the highways, but this is by far the ideal way to spot these large, fascinating creatures. Although it's possible you may spot one wandering about, the best way to ensure you will get a good photo-op is to take a Moose Safari led by a local guide who knows the best spots.
In general, the best moose spotting in Maine is in Aroostook County, the Maine Highlands, and the Western Lakes and Mountains regions. The best time of year to see them is from mid-May through July or in the autumn during mating season.
Among the top moose tour operators in Maine are Northwoods Outfitters in Greenville and Northeast Whitewater in Shirley Mills. If you do encounter a moose while exploring or hiking on your own, do not approach them, especially if there is a mother with a calf.
10. Coastal Maine Botanical Gardens, Boothbay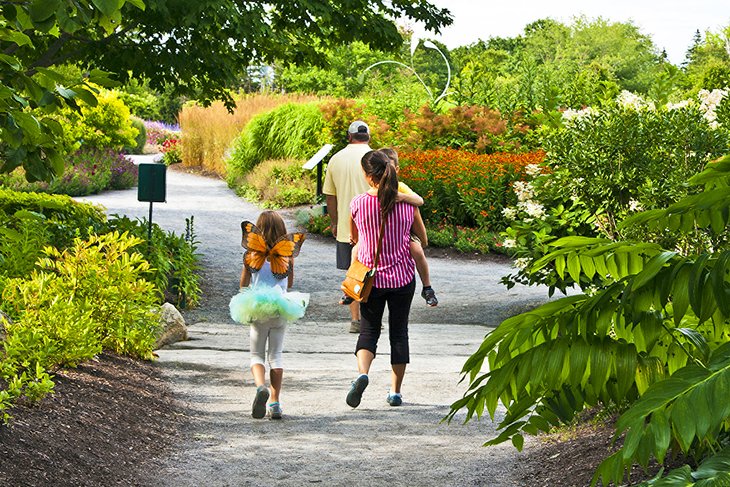 Located near Boothbay Harbor on Maine's mid-coast, the Coastal Maine Botanical Gardens cover more than 300 acres of carefully-tended flora. Its many gardens include a rhododendron garden, a dahlia garden, a meditation garden, a kitchen garden, and a sensory garden, among many more.
This isn't just a place for adults, either — a large children's garden features adorable fairy houses that will delight kids and get them interested in the little sprites' gardens.
Kids will also love visiting the Native Butterfly and Moth House and learning about the busy pollinators at the Bee Exhibit.
Official site: www.mainegardens.org
11. Relax on Sebago Lake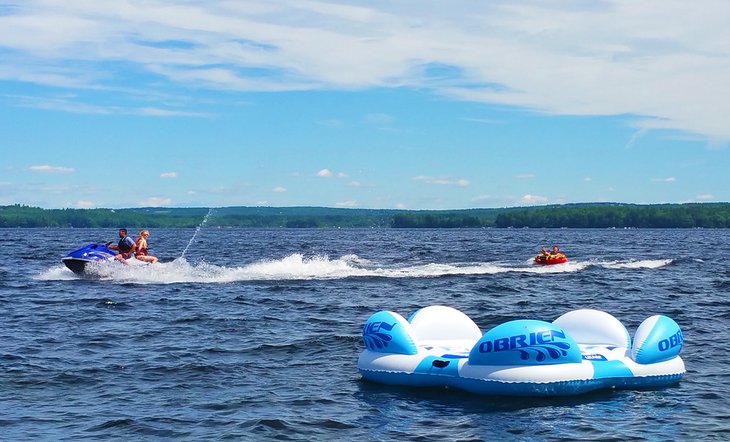 Sebago Lake is the state's second-largest body of fresh water and its deepest lake, popular with vacationers from Maine and surrounding states. Nearly all the lakeside towns have small public beaches, but the best way to enjoy the lake is by booking a cabin or room that has its own beach, since the others get very crowded quickly.
Sebago is excellent for swimming, fishing, and kayaking, as well as motorized water sports, and in the height of summer, it is full of Jet Skis and boats. Travelers who like to rough it can also opt to go camping at Sebago Lake State Park, where there are over 250 sites, as well as a nice family-friendly freshwater beach and plenty of hiking trails.
For something a bit less rustic, try Point Sebago Resort in Casco, which offers a variety of accommodation options and a private beach.
12. Go Skiing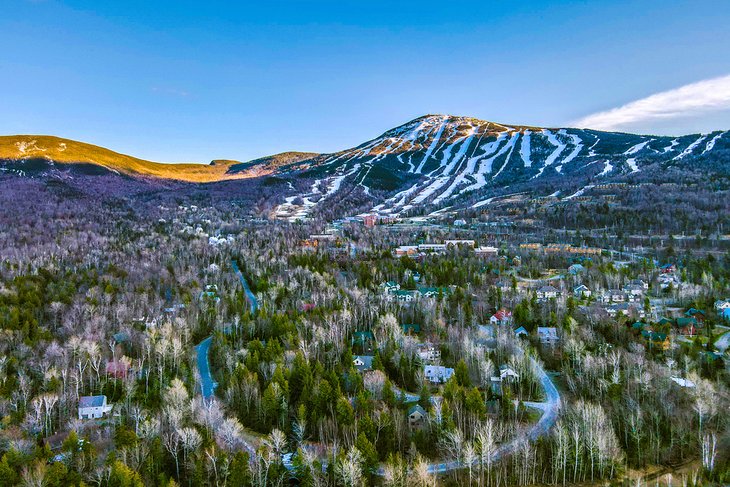 Maine offers a vast landscape with plenty of room for cross-country skiing and snowshoe trails, and is also home to several good ski and snowboard resorts.
Among its downhill skiing resorts, Sugarloaf in Carrabassett Valley is an excellent choice for skiers who want plenty of variety in terrain. The second-largest ski area in the East, it boasts 1,240 acres of skiable trails, including many that start above the timberline.
In Newry, Sunday River Resort encompasses eight peaks serviced by 18 lifts, with a total of 135 trails.
There's even more opportunity for cross-country skiing and snowshoeing, with many state and local parks' hiking trails open for winter use. Among the established cross-country ski areas, Carter's X-C Ski Center in Bethel offers some of the most extensive groomed trails, 55 kilometers total, as well as rentals, lessons, and dog-friendly areas for skijoring.
Read More: Best Things to Do in Maine in Winter
13. Try Glamping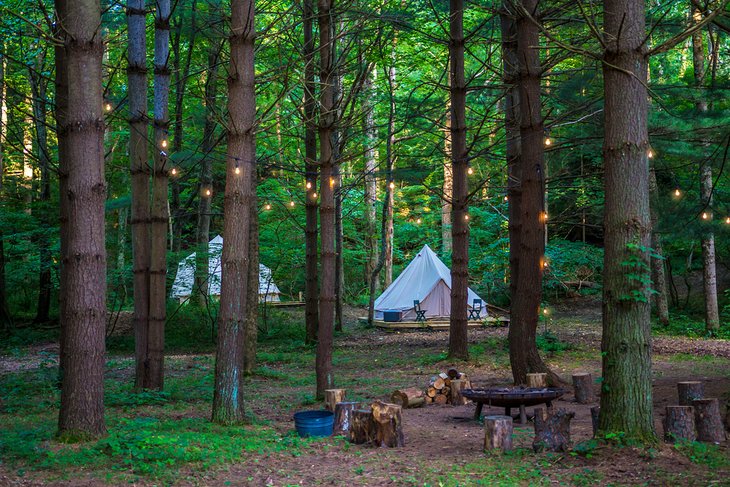 Tourists who want to get connected to the outdoors without the hassle of setting up a tent and sleeping on the ground have a newer option: glamping. At these specialty campgrounds, campers can enjoy some of the luxuries of home while retaining their closeness with nature, making the experience even more enjoyable for many. The majority of Maine's glamping resorts are located south of Bangor, extending up the mid-coast to Bar Harbor.
The Terramor Outdoor Resort on Mount Desert Island offers a variety of tents that house up to five people and feature options with shared or private baths. Under Canvas Acadia is another great option near Acadia National Park, with waterfront facilities that offer gorgeous views; it is a pet-friendly park that offers on-site dining and activities.
Located in Sanford and convenient to Wells and the Kennebunks, Huttopia Southern Maine offers a range of options, from the raised Trappeur tent to more cabin-style lodgings that can accommodate families and larger groups. Amenities include a pool, restaurant, game areas, and access to kayaking and swimming at Sand Pond.
14. Take a Seaplane Tour of the Maine Coast and Lakes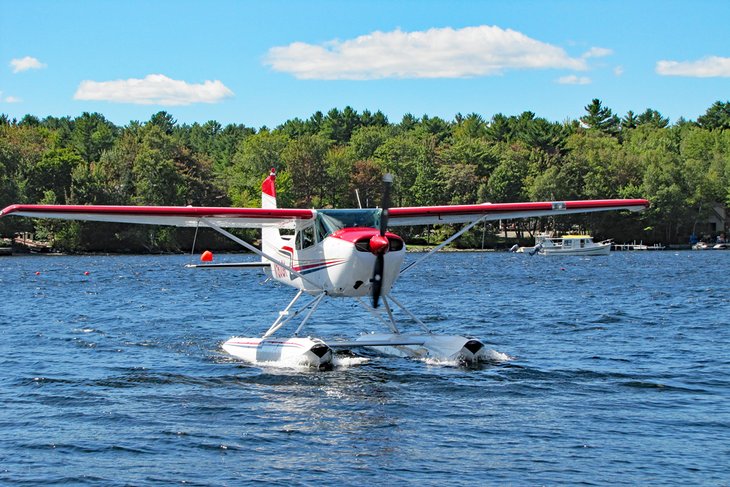 One of the few companies to offer seaplane tours of the Maine coast is Penobscot Island Air, offering service out of Owls Head near Rockland and Camden. They offer 30-, 45-, and 60-minute sightseeing tours that give tourists a truly new perspective of the shoreline's ports, beaches, cliffs, and islands. Passengers can also book a customized specialty lighthouse tour to see some of the coast's most iconic landmarks from the air.
In addition to the sightseeing tours, passengers can do their island-hopping by seaplane, visiting many of Maine's coastal islands, as well as destinations inland and in Canada. There are also several tour operators near Moosehead Lake who offer seaplane sightseeing inland, especially popular during foliage season.
Official site: www.penobscotislandair.net
Map of Things to Do in Maine