16 Top-Rated Tourist Attractions in Maine
We may earn a commission from affiliate links ()
Few states can claim as many iconic images as Maine. Think of that northern New England state, and immediately springing to mind are fully rigged Windjammers, waves breaking against a rocky coast, fishing harbors filled with colorful boats, lighthouses, and tall pine trees. The miles and miles of backwoods inhabited by moose hold their own mystique, conjuring images of a lone canoe barely riffling the mirror-like surface of a forest-encircled lake, or rainbow trout jumping from crystal waters.
The remarkable thing about Maine is that it doesn't disappoint tourists who arrive with these romantic images in mind. Lighthouses do crown points from York to Quoddy Head, and between them lie dozens of snug little fishing harbors and mile after mile of rocky wave-beaten shore. Windjammers weave between the fir-clad islands just offshore, and bright-painted lobster buoys bob in the water, with lobster boats scuttling between them to haul traps.
But Maine's attractions aren't all in iconic images, and between its museums, breathtaking gardens, art heritage, historic attractions, outdoor activities, and natural wonders, you're spoiled for choice of things to do on a Maine vacation. Discover the best places to visit using our list of the top attractions in Maine as your guide.
Note: Some businesses may be temporarily closed due to recent global health and safety issues.
1. Acadia National Park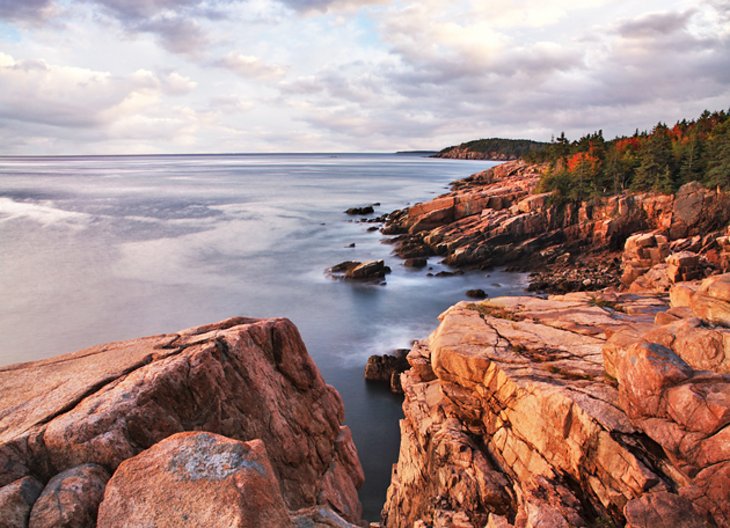 The rugged and beautiful stretch of coastline that is set aside as Acadia National Park also surrounds a large inland region of lakes, streams, and forests. It provides a playground for locals and visitors who enjoy the outdoors. The scenic Park Loop Road winds its way through the park past the main attractions and is the best way to tour the park by car.
The handy Island Explorer buses also connect the various attractions, while cyclists and walkers can follow the network of unpaved carriage roads, part of the more than 100 miles of hiking trails for all levels of ability. These include trails to the summit of 1,530-foot Cadillac Mountain, the park's highest point, from which there are views of the coast and islands.
Other highlights in the park are Bass Harbor Head Lighthouse and the dramatic chasm of Thunder Hole. A second and little-visited portion of Acadia National park is farther north, on the Schoodic Peninsula, where there are more hiking trails, coastal views, and opportunities for kayaking. There are two large campgrounds in the park and a number of picnic areas.
Accommodation: Where to Stay near Acadia National Park
2. The Old Port and Portland Head Lighthouse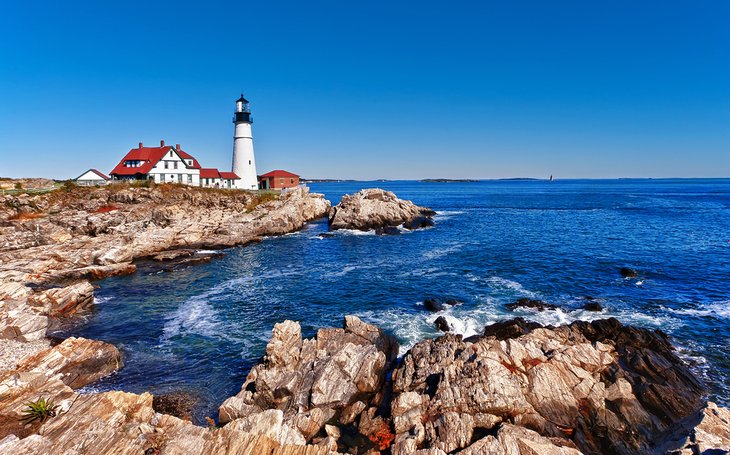 Tourists arriving at Maine's largest city, Portland, invariably head straight for its harbor district, the Old Port. There, along with fishing boats, busy docks, and seafood restaurants, they may find a cruise ship or see the tall masts of a sailing ship, for Portland is still an active port. The narrow streets that climb from the dockside Commercial Street are lined by the brick and stone buildings that supported one of the East Coast's busiest ports from colonial times through the 19th century.
Shop for maritime souvenirs in a ships' chandlery, eat seafood on the wharf, and if you're there early enough, watch the fishing boats unload and local chefs choose the menu at the city's restaurants. Fore Street, which parallels Commercial, is where you'll find several of these. At the docks, you can board a cruise of Casco Bay or a ferry to visit its islands.
A landmark of Casco Bay and the Portsmouth harbor is Portland Head Lighthouse, which marks the entrance to the harbor. It is one of the most beautiful along the coast, and from its promontory, you can see the city and Old Port, as well as the passing ships and boats.
The museum in the former Keeper's Quarters illustrates the lighthouses and their keepers, showing how these bastions of maritime safety have changed over the years with advances in technology. Along with historic photos, artifacts on display include Fresnel lenses and exhibits on how they work.
Address: 1000 Shore Road, Cape Elizabeth, Maine
Official site: www.portlandheadlight.com
3. Marginal Way and Ogunquit Beaches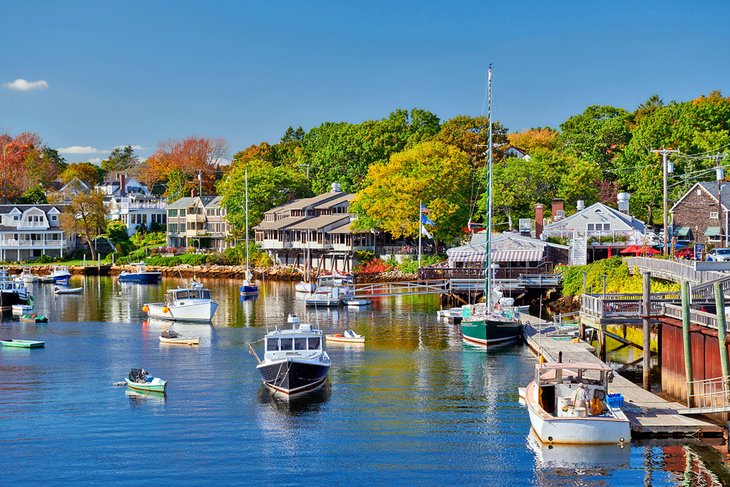 The paved walking path along the shore from Ogunquit's long sandy beach to Perkins Cove is a beautiful way to see the rocky coast and its crashing surf. Among the rocky cliffs are a series of small sandy coves that offer a more intimate beach experience than Ogunquit Beach. The path is for walkers only (no bikes, no dogs from April to October) and runs about a mile and a half from the end of the village to the scenic wharfs of Perkins Cove.
Here, a slender peninsula shelters a small bay, creating a safe haven for small craft. Originally a small fishing port, today the harbor is overlooked by restaurants and small shops, but you'll still see plenty of fishing boats.
All along the path there are benches conveniently placed, both on the path and on overlooks above the sea. You can return to town on the Marginal Way, walk back along the shady Shore Road or take the trolley.
Ogunquit Beach has a gentle slope to the sea and comparatively warm water, which makes it popular with families. The town's shops and restaurants are busy in the summer, and the thriving arts scene brings more tourists to the nationally known Ogunquit Playhouse and the Ogunquit Museum of American Art.
4. Pemaquid Point Light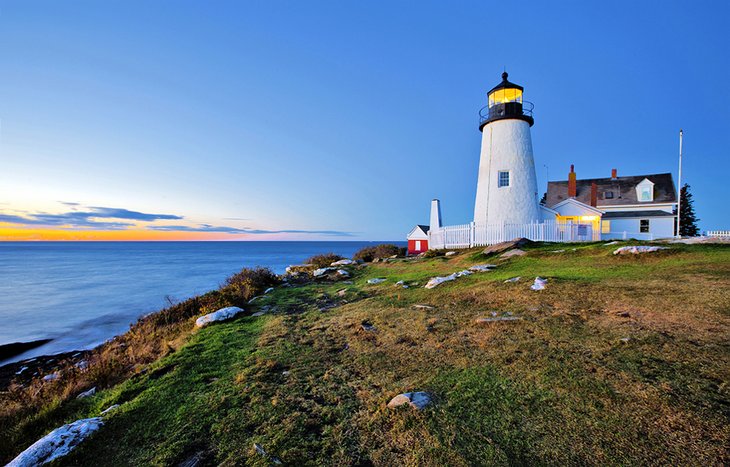 One of Maine's most iconic lighthouses stands at the end of the long Pemaquid Point in Mid-Coast Maine and is such a landmark that it was chosen as the image on the Maine quarter coin. It was built in 1835, and along with the light tower, the keeper's cottage and the brick sound signal house have been preserved. The setting is made even more dramatic by the unusual formations of striped metamorphic rock in the ledges below.
The keeper's cottage houses the Fisherman's Museum that preserves the region's strong fishing heritage, with captains' logs, models, dioramas, photos, and artifacts, including information on the shipwrecks off this point. The scenic point is a favorite site for picnics.
To the north, in New Harbor, Colonial Pemaquid State Historic Site preserves the foundations of a colonial settlement and the reconstructed Fort William Henry. The museum and excellent sign boards explain the importance of this fort in the conflicts involving English and French settlers and the local Native Americans. The archaeological site has been designated a National Historic Landmark.
5. Old Orchard Beach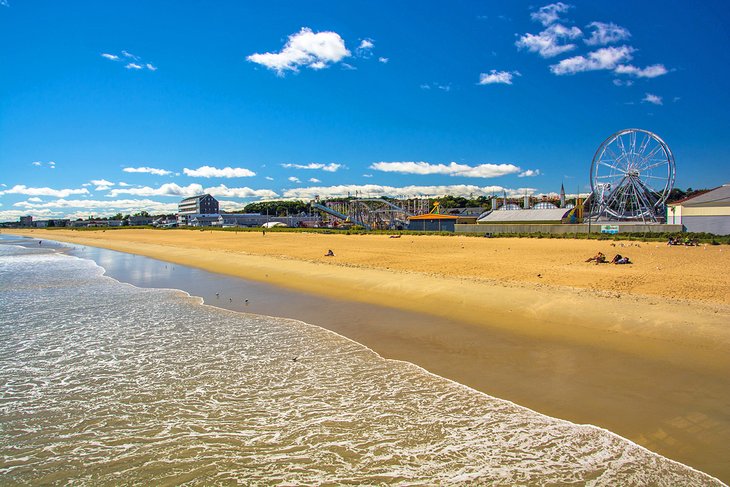 An unabashed old-fashioned beach resort, Old Orchard Beach revels in the somewhat tacky honky-tonk atmosphere of its pier and thrill rides at New England's only remaining full-scale amusement park on a beach. So kick off your shoes, step back into mid-century summer fun, and indulge in a little nostalgia.
Palace Playland has all the expected rides: a Ferris wheel right over the waves, a roller coaster, an old-fashioned carousel, bumper cars, and a dozen or so other kid-pleasers. Pier stands and street-side windows sell fries, soft ice-cream, saltwater taffy, and fried dough.
The highlight of all this is a full seven miles of golden sand beach with free public access. The sands are scoured each night by volunteers, so you won't find a cleaner beach anywhere, and separating most of the seven miles of beach from the line of low hotels and shops is a barrier of grassy dunes.
Old Orchard is also the only Maine beach where you can arrive directly by train; the Amtrak station is opposite the pier and amusement park.
Accommodation: Where to Stay in Old Orchard Beach
6. Farnsworth Art Museum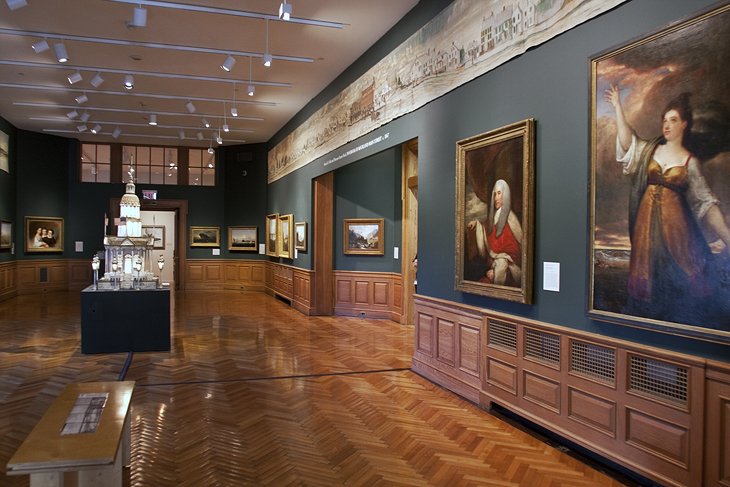 No other museum has such a complete collection of works by artists connected with Maine, and its Wyeth Center is one of only two in the country dedicated to the work of the three generations of Wyeths — N.C., Andrew, and James.
The museum's collections include some of America's most prominent late 19th- and early 20th-century landscape painters. Along with the earliest known work by Thomas Cole, you can see paintings by George Bellows, Rockwell Kent, John La Farge, George Inness, Childe Hassam, and maritime artist Fitz Henry Lane.
A separate building, a former church on Union Street, exhibits works of James Wyeth and N.C. Wyeth. The Farnsworth also arranges tours of the Olson House, made famous in several works by Andrew Wyeth, the best-known of which is his 1948 painting Christina's World.
The museum is in Rockland's historic downtown, lined with nicely maintained 19th-century brick mercantile buildings. This old seaport town is worth a stop for several other attractions, including Owl's Head Light and the Owl's Head Transportation Museum; Rockland is one of the home ports for the Maine Windjammer Fleet, whose historic sailing ships you can often see moored here.
Address: 6 Museum Street, Rockland, Maine
Official site: http://www.farnsworthmuseum.org
Accommodation: Where to Stay in Rockland
7. Nubble Lighthouse (Cape Neddick Light)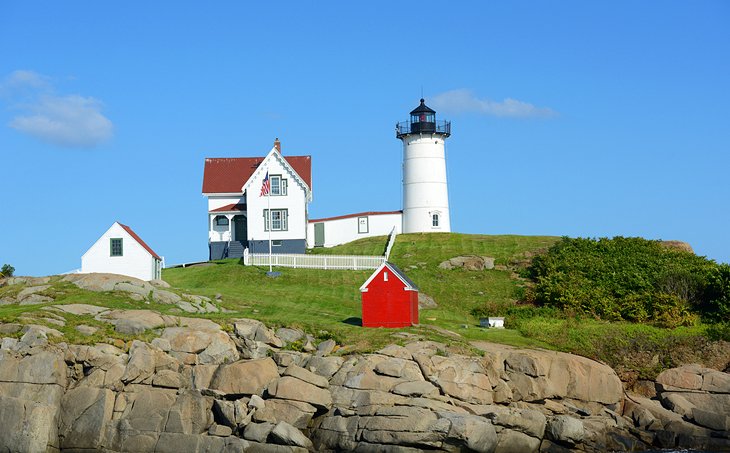 Perhaps New England's most photographed lighthouse, and certainly one of the easiest to get to, Nubble Light poses on its own islet just off the rocky point of Cape Neddick. Especially on a rising tide, the surf usually obliges photographers with a few waves breaking into froth against the rocks.
In late November, the lighthouse and keeper cottage are outlined in lights for the holiday season, and the annual lighting is celebrated with music, hot chocolate, and a visit from Santa. You can take a cruise from Ogunquit to see the lighthouse from the water.
The point bounds one end of Long Sands, the largest of two popular beaches in York. In another of the four villages that make up the town, the Old York Historical Society museum complex includes Jefferds Tavern and the 1745 York Corner Schoolhouse, one of the oldest surviving in New England.
8. Coastal Maine Botanical Gardens and Boothbay Harbor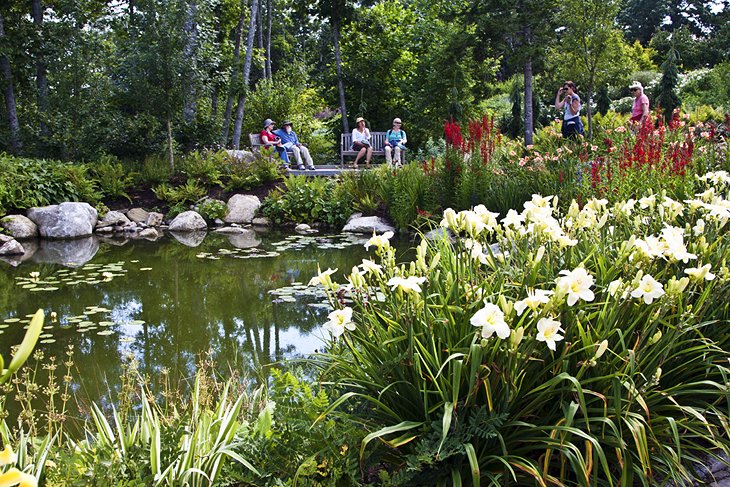 Strolling the paths through this 270-acre garden, it's almost impossible to believe that it opened as recently as 2007. The profusion of bloom and the size of the well-manicured and creatively designed gardens achieve the sense that they have been pampered by generations of devoted horticulturalists.
The paths wind among the various themed gardens, showing native and exotic plants that thrive in woodland, water, and other environments. There is a kitchen garden, and a garden for the five senses spotlights plants for their fragrances, flavors, and textures, in raised beds for wheelchair access. The large children's garden will charm any age, as will the woodland village of fairy houses.
Walking trails traverse the grounds, which slope down to the shore and include various shore environments. Daily tours point out highlights and follow themes such as rare and native plants. A large collection of original sculpture by regional artists highlights the gardens, and art exhibitions are held in the visitor center throughout the spring, summer, and fall.
Boothbay Harbor was once a shipping port, but today it is primarily a popular summer resort, with the largest boating harbor north of Boston. The downtown area is packed with waterfront seafood restaurants, antique shops, and art galleries, reflecting the more than 200 artists and craftspeople who live and summer in the area. It has been a haven for the arts since the early 1800s, and along with studios and galleries, the little town has an Opera House and Carousel Music Theater, as well as a community band. You'll also find the Maine State Aquarium and Boothbay Railway Village here.
Address: 132 Botanical Gardens Drive, Boothbay, Maine
Official site: www.mainegardens.org
Accommodation: Where to Stay in Boothbay Harbor
9. Maine Maritime Museum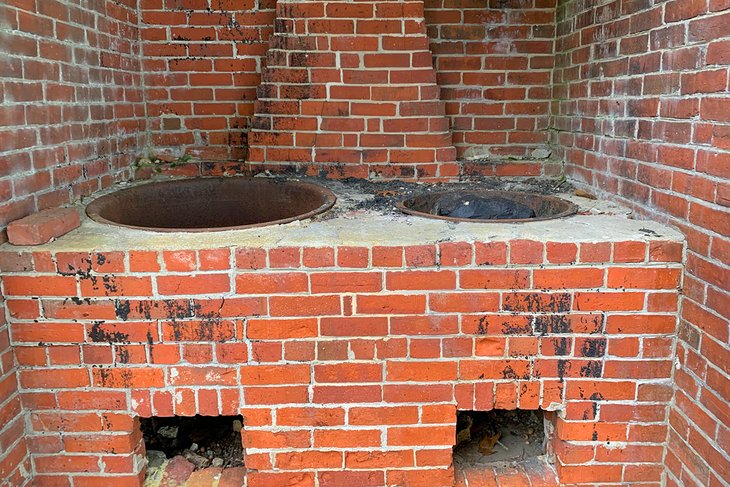 On the site of a 19th-century shipyard, the Maine Maritime Museum preserves and interprets Maine's seafaring, shipbuilding, and lobstering heritage. Along with the extensive collection of artifacts and materials that make up exhibits on everything from the clipper ships and lighthouses to maritime art, the 20-acre campus includes a blacksmith shop, a hands-on lobster exhibit, and more than 140 Maine-built or Maine-related boats. Among these is an antique birchbark canoe.
The Mary E, the oldest fishing schooner built in Maine, is part of the floating collections.
Address: 243 Washington Street, Bath, Maine
Official site: www.mainemaritimemuseum.org
10. West Quoddy Head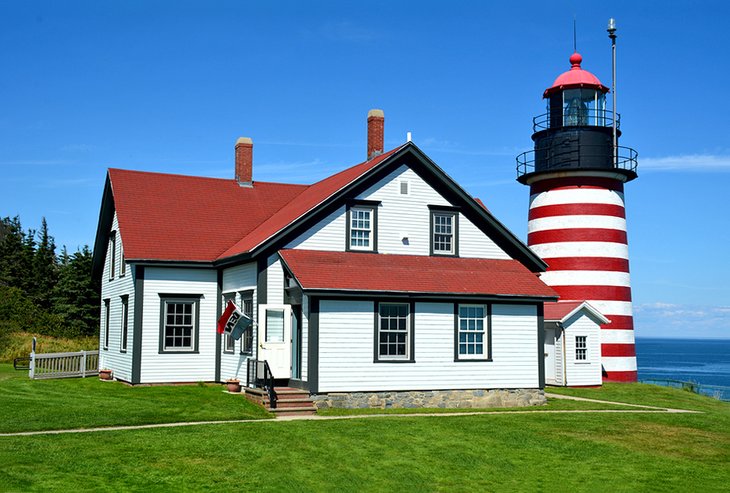 The dramatic red-and-white stripes of its lighthouse, plus the thrill of standing at the easternmost point in the United States, make West Quoddy Head one of the most popular places to visit on the northeast coast of Maine. The brick lighthouse was opened in 1858, but there has been one here since 1808, when President Thomas Jefferson ordered it built to guide ships through the Quoddy Narrows. The current lighthouse is 49 feet tall, and the lantern rises 83 feet above the sea.
Learn more about the lighthouse and its history at the Quoddy Head State Park Visitor Center in the former Keeper's Cottage and take a tour of the light tower itself on Saturday afternoons in July and August. The lighthouse is on the National Register of Historic Places.
Five miles of hiking trails explore the point, which is a prime spot for viewing sea birds, especially during the spring and fall migrations. You might also spot humpback, minke, and finback whales in the narrows, which is bounded on the opposite side by the tall red cliffs of Grand Manan Island in New Brunswick. An easy one-mile trail in the park leads to a coastal plateau bog, where you can see subarctic and arctic plants rarely seen this far south.
Address: South Lubec Road, Lubec, Maine
Official site: https://westquoddy.com/the-lighthouse
11. Portland Museum of Art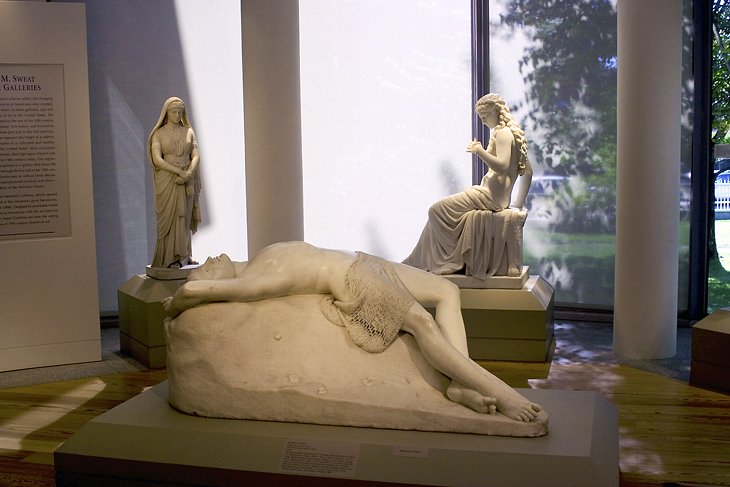 The superb collections of the Portland Museum of Art go far beyond the expected works of those artists who lived and painted here - artists such as Winslow Homer, Rockwell Kent, and the Wyeths. Among the more than 18,000 pieces of fine and decorative art, dating from the 1700s onwards, are works by Monet, Degas, Picasso, Warhol, Sargent, Whistler, Mary Cassatt, Gilbert Stuart, Joshua Reynolds, Alexander Calder, George Bellows, and Edward Hopper.
The museum also features traveling and temporary exhibits throughout the year. Attached to the museum is a historic house, formerly home to a prominent Portland family, with outstanding examples of period furniture, art, and decorative details.
Separate from the Portland facility, and accessible only by tours that originate here, is the studio of artist Winslow Homer, overlooking the sea on Prouts Neck, a point of land in nearby Scarborough, Maine.
Address: 7 Congress Square, Portland, Maine
Official site: http://www.portlandmuseum.org
12. Cruising the Maine Coast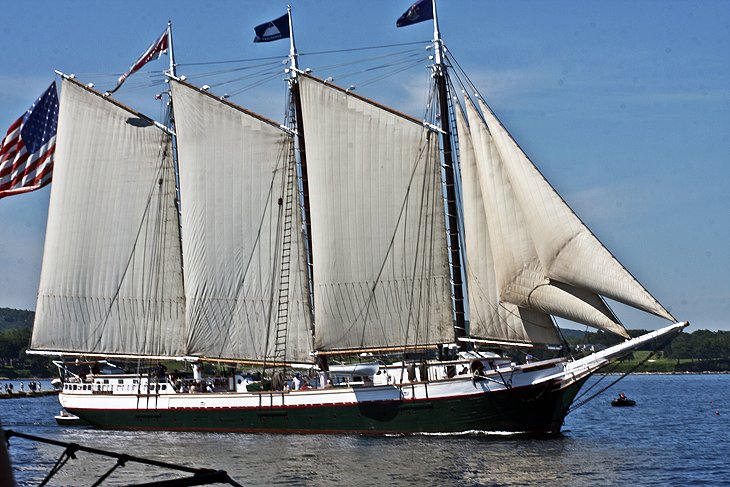 Don't miss the chance to see the craggy, irregular Maine coast and its rock-bound islands from the water. Not only will you get a new perspective on the lighthouses and granite cliffs, but you'll have a chance to be part of the busy harbor life of Maine's seaport towns. The options are many. You can join a whale watching tour from Bar Harbor, go deep sea fishing from Eastport, take a Puffin Tour to Machias Seal Island from Jonesport or Stonington, join a lobster boat out of Portland to haul traps, or take a seal cruise from there to Eagle Island.
From Boothbay Harbor, you can go deep-sea fishing, take a day sailing cruise along the coast, go whale watching, or even join a local lobsterman hauling traps. From Ogunquit, you can take a breakfast sightseeing tour or cruise to see York's Nubble Lighthouse from the water.
Boat experiences can be as short as the 15-mile ferry ride from Rockland to Vinalhaven or a week-long cruise under sail on a Maine Windjammer out of Rockland or Camden. Windjammer cruises are informal, with the itinerary determined by winds and tides, and passengers can help with the lines and sails if they wish. Special theme cruises may feature lighthouses, music, star gazing or boat races.
Official site: https://sailmainecoast.com
13. Victoria Mansion, Portland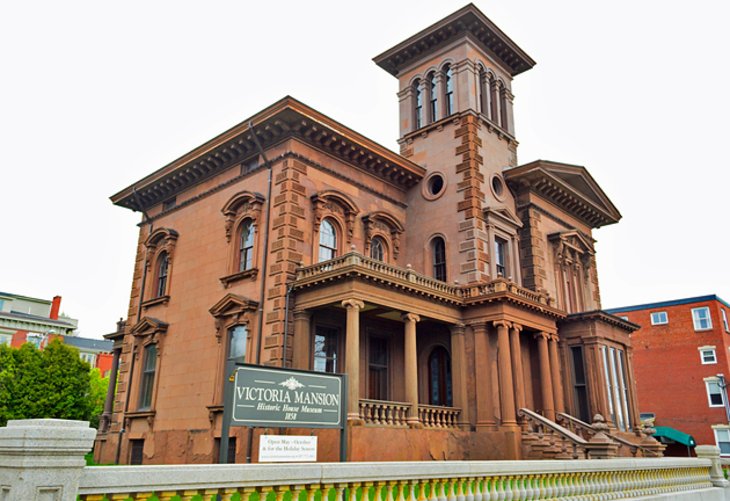 Victoria Mansion is an extraordinary Italian style villa built in the mid-19th century. The architecture and the interior details are exquisite, and it's one of the most lavishly decorated mid-Victorian homes in the country, with painted walls and ceilings and ornately carved woodwork. Most of the furnishings are original, and along with the house itself, they provide a glimpse into how Portland's wealthy lived during the pre-civil war era.
While Maine has many historic homes you can visit, representing all eras and lifestyles from the colonial era forward, Victoria Mansion offers an example of Victorian art and culture that is unparalleled.
Official site: http://victoriamansion.org/
Accommodation: Where to Stay in Portland
14. Monhegan Island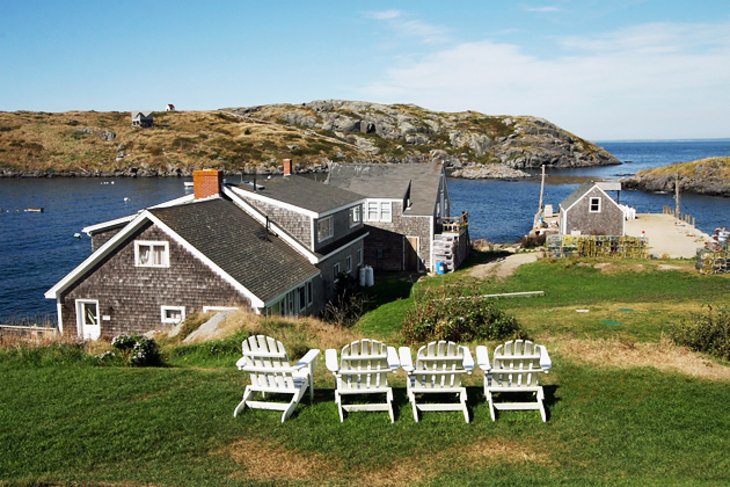 Monhegan is a small island that lies 10 miles off the coast of Maine, and although it's one of many inhabited coastal islands, it has achieved iconic status over the years. This is in large part due to its long history as an artists' colony, coupled with the many tales of its hardy population and their lives on this storm-swept outpost.
There are no cars or paved roads on the island, and its 75 year-round residents are mainly engaged in fishing and lobstering. During the summer, visitors can take day trips to the island from Boothbay Harbor, New Harbor, and Port Clyde, but will have only three or four hours ashore.
Monhegan's combination of rugged granite cliffs (the highest ocean cliffs in Maine), crashing waves, and unique light, coupled with its air of an untouched fishing village, has made it a destination for artists since the middle of the 1800s. Because of this long-term art colony and the several dozen artists who currently work there, you'll find an abundance of studios and galleries.
Birders also love Monhegan, and its 12 miles of trails lead to remote corners and soaring headlands. Be very careful on the shore-line rocks anywhere along the southern or back side of the island, where rogue waves and a fierce undertow are constant dangers.
15. Kennebunkport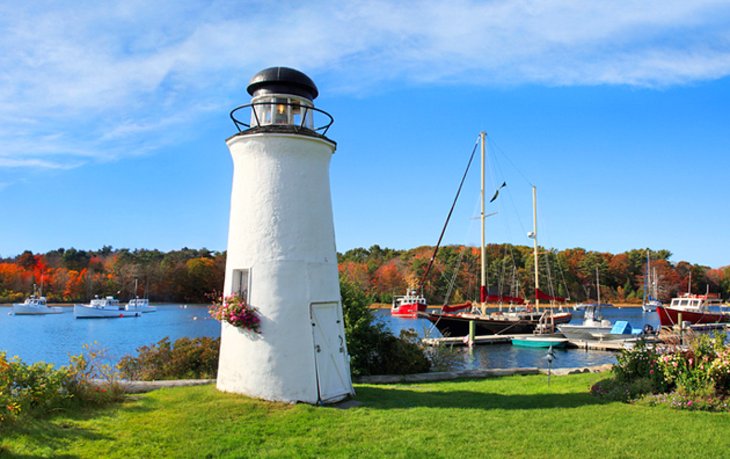 The little coastal town of Kennebunkport, 12.5 miles south of Portland, is very popular in summer. Stately homes of former ship captains and owners, some of which have been carefully restored as bed-and-breakfasts, line its quiet streets, and you can learn about these on a self-guided walking tour, or at the Historical Society's First Families Kennebunkport Museum, in an 1853 Greek Revival home.
Shopping and gallery-hopping are favorite pastimes in the small commercial area of restored dockside buildings around Dock Square, which is lined with shops, studios, boutiques, and restaurants. Parsons Way, a scenic path, begins from the square and leads along the shore to Walker's Point. At the other side of the Kennebunk River, a series of sandy beaches line the shore.
Two miles east of Dock Square is the still-active fishing village of Cape Porpoise, with more shops and galleries, along with working lobster boats. Also of interest is the Seashore Trolley Museum. In nearby Kennebunk, look for the outstanding Brick Store Museum and drive past the fanciful Wedding Cake House on Summer Street.
Official site: http://kennebunkport.org/
Accommodation: Where to Stay in Kennebunkport
16. Bowdoin College Museum of Art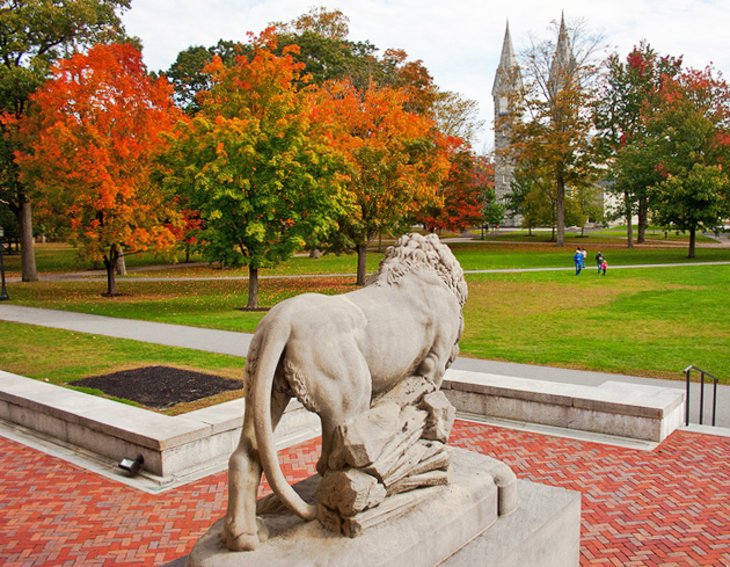 The Bowdoin College Museum of Art, on the college campus in Brunswick, features a permanent collection of more than 20,000 pieces, ranging from ancient Greek ceramics and a 15th-century painting by Florentine artist Fra Angelico to 17th-century New England furniture and mid-century modern furniture by Charles Eames.
Multiple works by Winslow Homer, Rockwell Kent, Gilbert Stuart, John Singleton Copley, and Maurice Prendergast highlight the collections, along with those of Bierstadt, Inness, Eakins, and Corot. Rotating temporary exhibits, gallery talks, tours, and lectures throughout the year make this an active cultural center.
Address: 245 Maine Street, Brunswick, Maine
Official site: http://www.bowdoin.edu/art-museum/
Accommodation: Where to Stay in Brunswick
More Related Articles on PlanetWare.com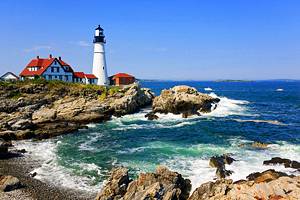 Exploring Maine: You can delve deeper into the tourist attractions of Portland and Acadia National Park with our articles describing the hightlights and things to do. If you are visiting in summer, you can find more information here on the best beaches and the best resorts in Maine.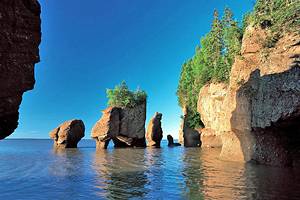 Where to Go from Maine: The largest of the six New England states, Maine is bordered on the south and west by New Hampshire, whose White Mountains are the highest in the Northeast, known for their hiking trails and for skiing in the winter. The historic port of Portsmouth lies just across the harbor from Kittery, Maine. Or you could head north to discover the Canadian province of New Brunswick and explore the Bay of Fundy.