12 Top-Rated Things to Do in Manchester, NH
Manchester is best known as a former mill town, and many of the original brick mill buildings still line the Merrimack river, now fully restored. Tourists can learn about the history of the Amoskeag Millyard at the Millyard Museum, and see a complete 1:55 scale Lego® model of the mills as it was in 1900 just upstairs in the See Science Center. Art and history lovers will also find plenty of things to see and do at the Currier Museum, which features New Hampshire artists, as well as tours of local Frank Lloyd Wright homes.
Downtown Manchester has a range of restaurants, cafés, and treat shops, including Queen City Cupcakes and a Ben & Jerry's scoop shop. There is also a lovely park downtown, as well as several green spaces throughout the city, including nature areas like the Manchester Cedar Swamp and the conservation area around Massabesic Lake.
Plan your next visit with our list of the best attractions and things to do in Manchester, New Hampshire.
1. See Science Center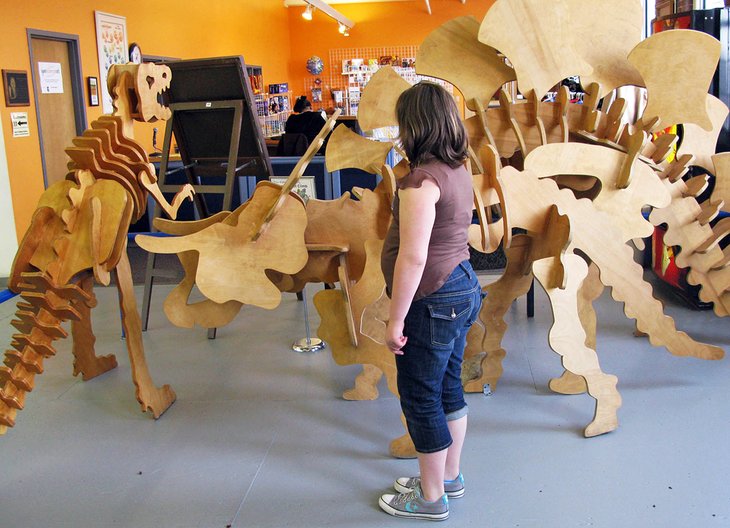 A visit to the See Science Center is a fun and educational thing to do with kids and tweens. It's filled with interactive exhibits that explore the world of science. Among the most popular exhibits is the electricity and magnetism area, which also has demonstrations that are literally hair-raising.
Visitors can also learn about DNA and how it works in not only human biology but every living thing. The See Science Center also hosts NASA's Sun, Earth, Universe exhibit, which gives visitors a chance to explore the other planets in our solar system and find out more about current NASA projects and research.
Both adults and kids will love the museum's crown jewel, a re-creation of the Amoskeag Millyard made entirely of LEGO® bricks. Constructed using no custom-made pieces, this massive undertaking took over 10,000 people-hours of work to assemble. Built in the mini figure 1:55 scale, it took over three million LEGO® bricks to complete – enough to reach the Boston Museum of Science and back again if lined up end to end.
The model represents the mill buildings on the east side of the river, including the building that it is in, and is designed to emulate what it looked like around 1900. Over 8,000 mini figures inhabit the model, shown working and going about day to day life.
Saturday visitors can get a dual pass for both this museum and the Millyard Museum located on the 1st floor of the same building.
Address: 200 Bedford Street, Manchester, New Hampshire
Official site: see-sciencecenter.org
2. Millyard Musuem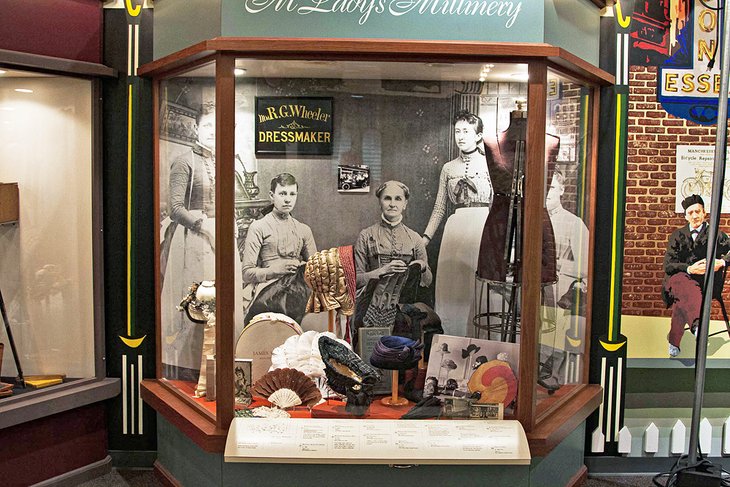 Operated by the Manchester Historic Association, the Millyard Museum is located in one of the former Amoskeag mill buildings on the east side of the Merrimack River. The museum's central exhibit starts with an exploration of the lives of native peoples who lived here and fished at Amoskeag Falls over 10,000 years ago. The exhibit shifts to describe early colonial life, and then focuses on the museum's main topic, the growth of the Amoskeag Manufacturing Company.
In addition to the permanent exhibits, the museum also hosts a variety of changing exhibits sponsored by local businesses. Visitors with kids will want to ask for a "Gallery Games" sheet at the front desk, a game that helps get kids interested and engaged.
The museum also hosts special events throughout the year, including walking tours and kids' events. Saturday visitors can get a dual pass for both this museum and the See Science Center located on the 4th floor of the same building.
Address: 200 Bedford Street, Manchester, New Hampshire
Official site: www.manchesterhistoric.org/millyard-museum
3. Currier Museum of Art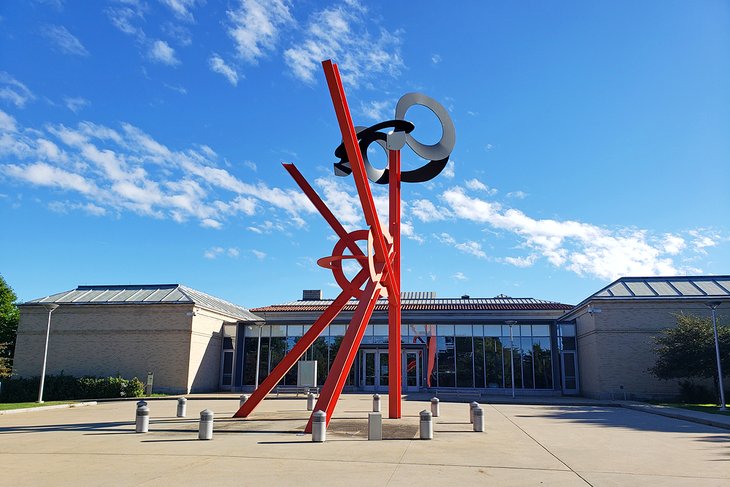 The Currier Museum is home to more than 11,000 works, including drawings, paintings, sculpture, and even furniture. Among the museum's most famous pieces are works by Matisse, Picasso, and Georgia O'Keefe. The Currier places special emphasis on New Hampshire artists, including the White Mountain School of Artists.
In addition to its galleries, the museum operates tours to two local homes designed by renowned architect Frank Lloyd Wright:
The Zimmerman House was commissioned in 1949 and is a wonderful example of his Usonian homes, constructed of Georgia cypress and brick. The home features the original furniture and gardens, also designed by Wright, including the extensive built-in bookshelves and a lovely rear patio.
The Kalil House is one of seven Usonian Automatics, a style of home designed for easy construction with concrete blocks. The home features mahogany walls and furniture and walls filled with grids of windows for plenty of natural light. The homes are open for self-guided tours, which are facilitated by the museum and take about two hours to complete.
Address: 150 Ash Street, Manchester, New Hampshire
Official site: www.currier.org
4. Boards and Brews
This unique hangout is a board-game lover's paradise, offering a library of over 1,700 games to play. Guests pay a low table fee and can stay as long as they like to try out new games, get nostalgic with the classics, and even discover rare and hard-to-find games.
The establishment offers a light café menu with appetizers, sandwiches, and desserts, as well as a full range of beverage options including fresh-brewed coffee and espresso specialty drinks. Guests are also welcome to bring their own games, and even have a chance at getting the table fee waived if it's something the staff has never seen before.
Address: 941 Elm Street, Manchester New Hampshire
Official site: www.boardsandbrewsnh.com
5. Aviation Museum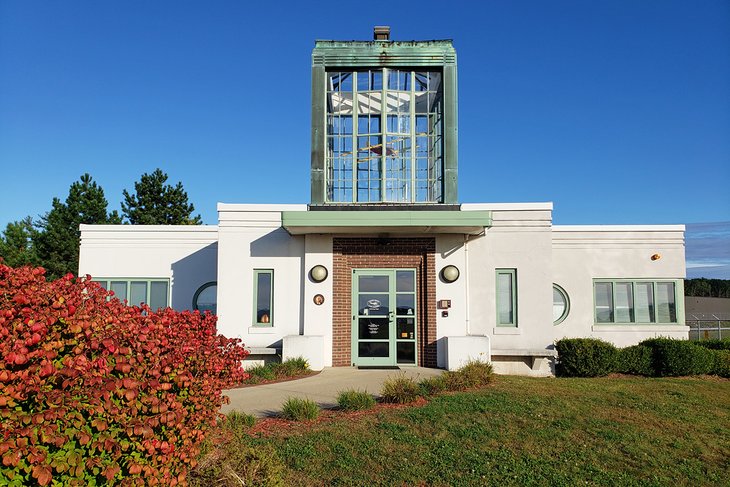 The Aviation Museum is housed in the Manchester Airport's former terminal, originally built in 1937. This Art Deco building was moved in the 1990s and carried across two active runways to sit in its current spot where it has been fully restored.
The museum focuses on New Hampshire's aviation history, and features an exhibit showing how it served as a primary staging area for army planes headed for Europe during World War II. The museum also displays New Hampshire-made aircraft, including the biplane "Doodle Bug," manufactured in Loudon, and a home-built biplane from Brookline, which took nearly six years to build.
Visitors can get hands-on exploring an actual cockpit, or really get the feel of flying using the multi-screen 3D flight simulator. Other exhibits include Tuskegee Airman model planes, an airplane engine with its inner workings exposed, and other aviation artifacts.
The museum hosts various events throughout the year and is open extended hours during New Hampshire school vacation weeks.
Address: 27 Navigator Road, Londonderry, New Hampshire (next to the Manchester International Airport)
Official site: www.nhahs.org
6. Manchester Cedar Swamp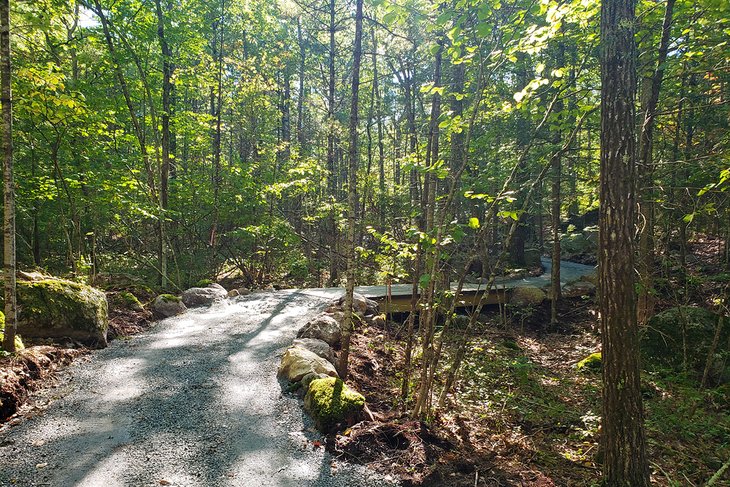 The Manchester Cedar Swamp is the city's largest conservation area, encompassing 640 acres that are home to numerous species of unique and beautiful flora.
An extensive trail system allows visitors to explore the Atlantic White Cedar swamps and the surrounding forest that is home to white pine, red oak, and black gum trees – some as old as 450 years. Three loops totaling 1.8 miles explore the wooded areas and wetlands around Milestone Brook, home to great blue heron, mink, beaver, and deer. Those visiting in June will want to keep an eye out for large patches of blooming rhododendrons; winter visitors can explore on snowshoe.
The most recent project at the preserve is the creation of the "All Persons Trail," a trail that is accessible for all visitors.
Address: Country Side Boulevard, Manchester, New Hampshire
7. Massabesic Lake/NH Audubon Massabesic Center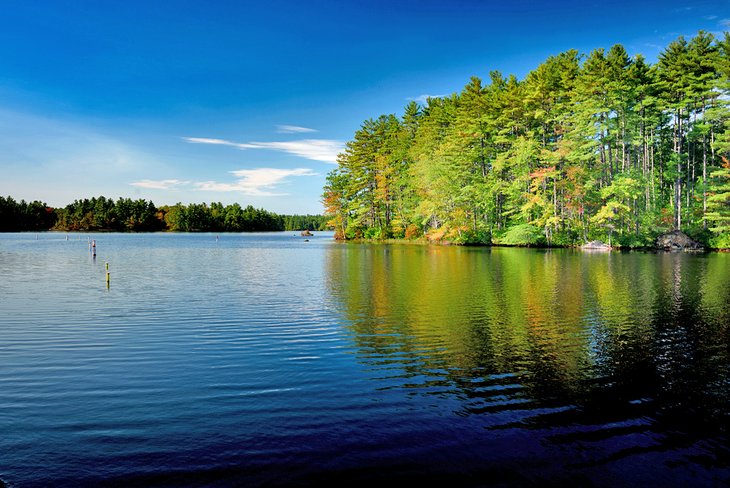 Massabesic Lake offers a range of recreational activities, including kayaking, canoeing, and boating. Because the lake is a drinking water source for the city of Manchester, swimming is not allowed, but it is a favorite spot for anglers. The lake is stocked with trout by NH Fish and Game, and it is home to native populations of white and yellow perch, smallmouth and largemouth bass, and pickerel. There are three public boat launches.
The Audubon Massabesic Center is located just outside Manchester in Auburn, featuring 49 acres of conservation land plus another 80 acres of city-owned watershed land. Volunteers at the center provide information and education, and the trails are free and open to the public.
Trails include the one-mile Red Trail Loop and the Battery Point Loop, which is 3.7 miles total, plus several more branching trails. This is a popular bird-watching area, offering an osprey-viewing blind, as well as grassland nesting boxes for eastern bluebirds and tree swallows.
Address: 26 Audubon Way, Auburn, New Hampshire
Official site: www.nhaudubon.org
8. Derryfield Park and Weston Observatory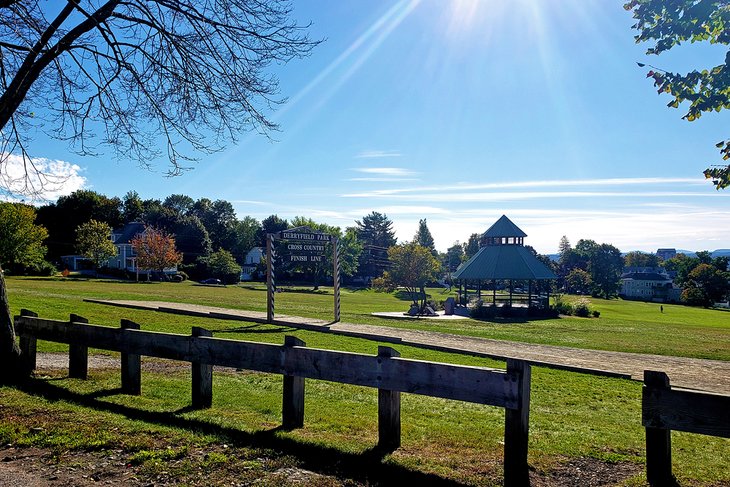 Derryfield Park is home to one of Manchester's iconic landmarks, the 66-foot-tall Weston Observatory. Listed on the UN National Register of Historic Places, the observatory was finished in 1897 and quickly became a popular destination for local families. It served as a lookout tower during the Second World War, and although it cannot be climbed today, it is a lovely backdrop for photos and picnics.
The rest of the park offers 76 acres of recreation areas including open green space, a playground, outdoor exercise stations, a gazebo, tennis courts, and wooded walking paths.
Address: Bridge and Highland Streets, Manchester, New Hampshire
9. Charmingfare Farm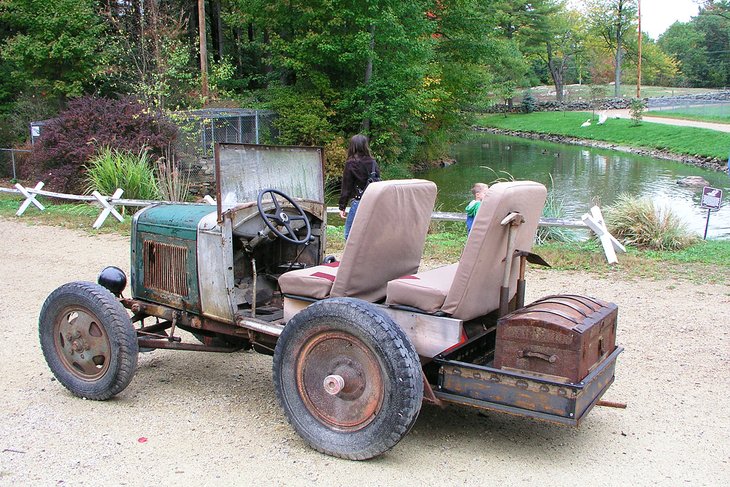 Charmingfare Farm is located just outside the city in Candia, just a few minutes' drive from downtown Manchester. It is not a zoo but an actual working farm that is home to a wide range of animals, including farm animals and wildlife in residence.
Farm animals include beef and dairy cows, pigs, goats, chickens, and turkeys, and wildlife includes camels, black bear, deer, fox, and more. The farm is also home to ponies, miniature horses, draft horses, and saddle horses.
Guided horseback trail rides are available for visitors of all skill levels. After an introductory period to get to know the horse, the ride is around 45 minutes and travels through wooded trails and across grazing pastures filled with the farm's livestock.
The farm also hosts seasonal events and activities, including hay rides, sleigh rides, teddy bear picnics, magic shows, and live music. Parents with younger kids can rent a wagon fitted with seats, so families with little ones can explore the farm without getting tired.
Address: 774 High Street, Candia, New Hampshire
Official site: www.visitthefarm.com
10. Catch a Show at the Palace Theatre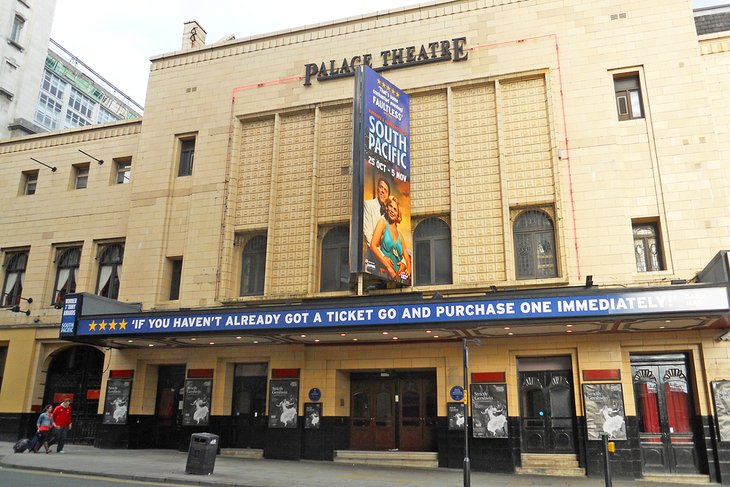 Completed in 1915 to emulate its New York City namesake, the Palace Theatre is a stunning historic performance venue located in downtown Manchester. In its first two decades, the theater was host to vaudeville greats including Bob Hope, the Mark Brothers, and Harry Houdini, and then began to show films as the medium gained popularity.
After a closure in the late 1960s, the theater was revived and restored in 1974 and has seen a wide variety of performances including plays, musicals, bands and solo artists, comedians, and more.
The SNHU Arena is another popular venue for live entertainment located in downtown, hosting a wide variety of shows for big crowds. Shows include annual Disney on Ice performances, circuses, the Harlem Globetrotters, concerts, and more.
Address: 80 Hanover Street, Manchester, New Hampshire
Official site: www.palacetheatre.org
11. Lawrence L Lee Scouting Museum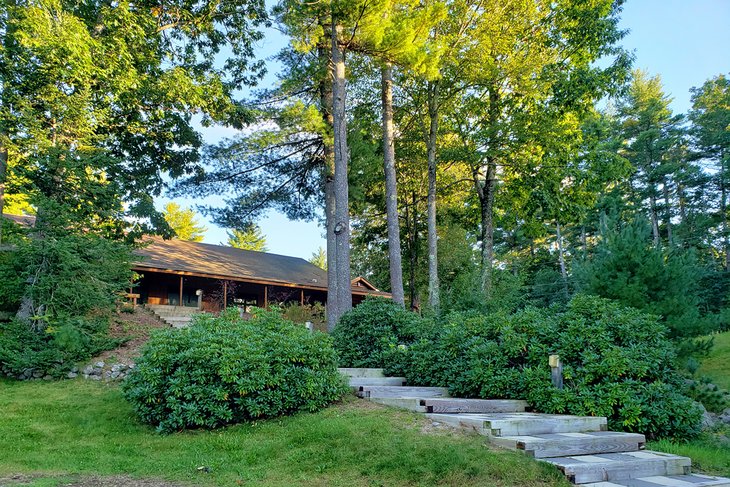 Located at Camp Carpenter, Manchester's Boy Scout Camp, the Lawrence L. Lee Scouting Museum is dedicated to sharing the history of scouting from its inception in 1907. The museum has drawings made by the founder, Lord Robert Baden-Powell, and is home to one of the country's largest collections of scouting memorabilia.
The museum's displays include memorabilia from National and World Jamborees; unique patches, including ones that went to the moon with NH Boy Scout Alan Shepard; and exhibits on Air and Sea Scouting. There is also an exhibit on the Girl Scouts, as well as an extensive library that includes historic scouting books, reference books, and more literature related to the history of scouting.
Address: 395 Blondin Road, Manchester, New Hampshire
12. McIntyre Ski Area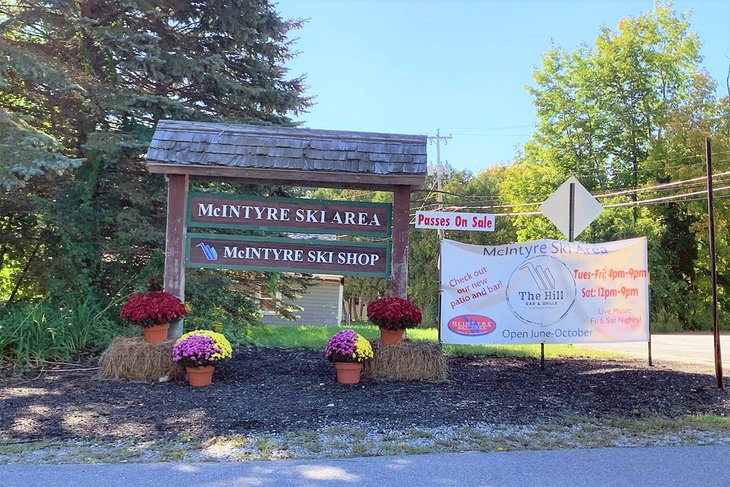 Unlike most ski areas, this one is located right in the city of Manchester, convenient to locals and visitors alike. This ski area is very popular with families who have younger kids, and is far less intimidating than the huge ski resorts farther north. The ski area has a full-service retail and rental shop, and is best known for its ski school. There are two conveyor-style lifts on the "Wonder Carpet," the ski area's beginner slope.
There are also nine trails serviced by two double chair lifts, as well as a recently renovated terrain park with rails, jumps, and a huge bowl. There is also a 400-foot tubing area with 10 lanes and its own lift. In addition to the lodge, there is an on-site restaurant that offers outdoor seating. The restaurant is also open during the summer, hosting game nights like trivia and corn hole, as well as live music Friday and Saturday nights, weather permitting.
Address: 50 Chalet Way, Manchester, New Hampshire
Official site: www.mcintyreskiarea.com