12 Top-Rated Attractions & Things to Do in Saint John, NB
The first thing you should know about New Brunswick's major port and industrial center is that its name is always written in full as "Saint John" and that it does not end in "s." This distinguishes it from St. John's, in Newfoundland.
The city stands on a rocky point where the Saint John River enters the Bay of Fundy, and one of its most interesting features is that twice each day, that process reverses, and the bay seems to empty into the river. The combination of the Bay of Fundy's unusually high tides and a narrow gorge at the end of the estuary gives the city its famous Reversing Falls, one of New Brunswick's top tourist attractions.
But there's a lot more to see and do in Saint John. Its historic streets, museums, and art galleries make it one of Atlantic Canada's favorite cruise ports, and throughout the cruising season, you're likely to see ships moored at the foot of its busy uptown.
The city was founded in 1783 by Loyalists fleeing the American Revolution, and you'll still see a few buildings from their time. But more than half the town was destroyed in a catastrophic fire in 1877, so many of the distinctive brick and stone buildings date to the Victorian era.
Discover the best places to visit in the city with our list of the top attractions in Saint John.
1. Reversing Falls, Skywalk, and Stonehammer Geopark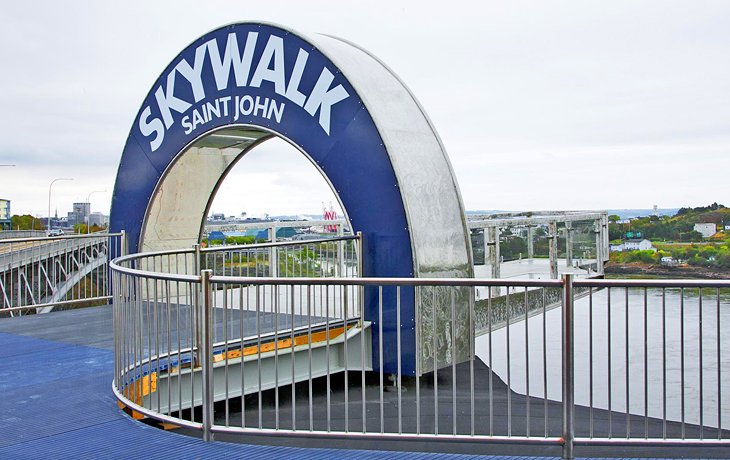 One of the best places to fully appreciate the tremendous force of the Bay of Fundy tides is at the narrow gorge at the head of the harbor, where the incoming tide is forced over a ridge of rock, creating a waterfall that flows upstream. The eight-meter difference between sea levels at high and low tide actually makes the Saint John River flow backwards here, forming a turbulent mass of whirlpools as it forces its way against the natural outward flow. Twelve hours later, the river resumes its natural course, and the falls flow over the stone ridge in the other direction.
You can see this phenomenon best at Reversing Falls Bridge, which crosses above the narrowest point of the gorge, and at the new Skywalk Saint John, at the end of the bridge. Here an observation platform extends out from the cliff by more than eight meters, and glass floor panels show a clear view of the falls and whirlpools 30 meters below. Interactive displays explain the tidal action of the falls and the geology of the cliffs at either side.
You can also watch the intense rush of water at nearby Fallsview Park, where Stonehammer Geopark–the only UNESCO-listed global geopark in North America–features information on the tides and the geology of the cliffs. You can get even closer by taking a boat ride into the gorge or riding a zipline above the rushing waters.
Address: 200 Bridge Road, Saint John, New Brunswick
Official site: https://stonehammergeopark.com/
2. Prince William Street and Historic Saint John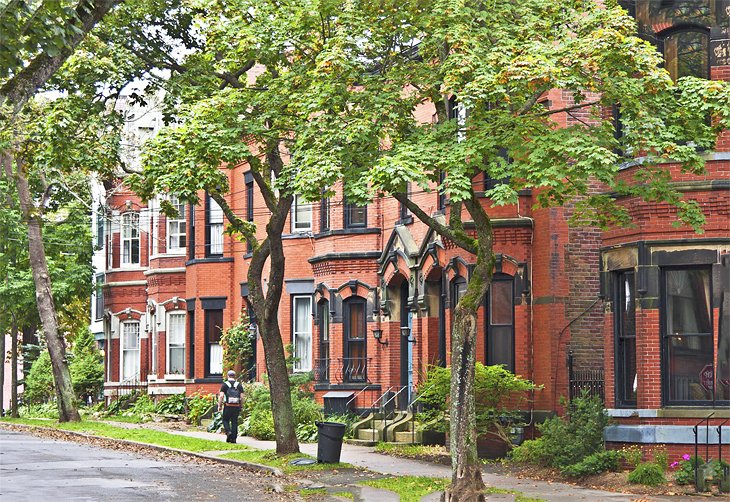 The early settlers of Saint John were families who supported the British Crown during the American Revolution and escaped on two fleets of ships from Massachusetts. Although they shaped the early architecture and atmosphere of the city, its present character was more determined by the disastrous Great Fire of 1877 that destroyed more than 20 entire streets.
The new buildings that replaced these reflected the current styles popular at the time, giving Saint John a legacy of some of Canada's best Victorian architecture. The streets of brick townhouses also reflect the influence of the Boston architects who came here to help rebuild the city; they are reminiscent of Boston's Back Bay.
Prince William Street is a designated National Historic Site for its concentration of distinguished buildings designed and decorated in the styles of a single period. You can explore these historic neighborhoods with downloadable maps and apps detailing the Loyalist Trail, the Victorian Stroll, and the Prince William Walk. Be sure to look inside the beautiful St. John's Anglican Church, built in 1825 and a National Historic Site. It's one of the few original buildings in this area to have escaped the fire.
At the foot of King Street, near the waterfront, is Market Square, filled with sidewalk cafes and enlivened by the colorful sculptures by John Hooper. The 1867 Barbour's General Store has displays of early shop goods, as well as a combination barbershop and dental office, typical of that period.
At the top of sloping King Street is King's Square, a large park laid out in the shape of the United Kingdom flag. Amid its trees and flower beds is a two-story iron bandstand; nearby is an old Loyalist Burial Ground. A good way to see the highlights of the historic uptown is on the Shore Excursion Saint John Walking Tour, especially designed for cruise passengers who want to make the most of their one day in Saint John.
3. Irving Nature Park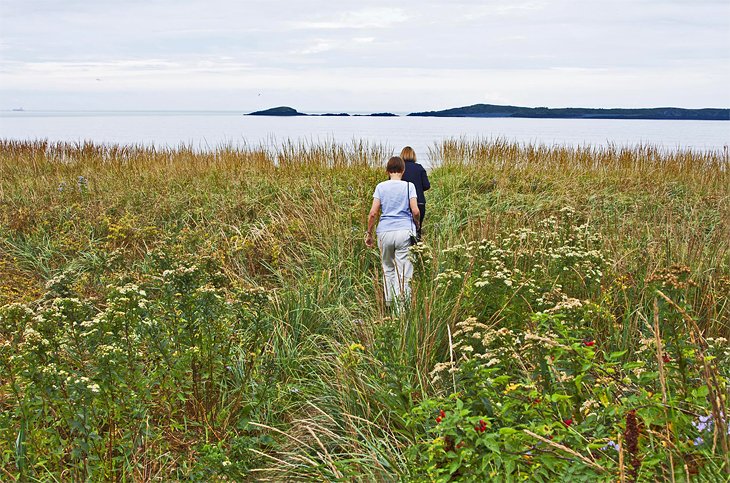 Established to protect 11 kilometers of Bay of Fundy shoreline, the 600-acre Irving Nature Park sits on a narrow peninsula that represents six different ecosystems. The park features forests, mud flats, salt marsh, volcanic rock, and a long sandy beach, landscapes that change by the hour as the Fundy tides ebb and flow. In its marine clay, formed in pre-glacial times when it was the outlet of the Saint John River, are 13,000-year-old clam shells. Eight walking trails of various lengths access the various features, and the park staff often leads free guided tours.
More than 250 species of migratory and marine birds have been sighted here, and the boardwalk through the marsh is an especially good vantage point for birders. You can watch the harbor seals from the Seal Observation Deck. Along with picnic areas, there is a newly added children's park with a playground and two cedar hedge mazes.
Address: Sand Cove Road, Saint John, New Brunswick
4. New Brunswick Museum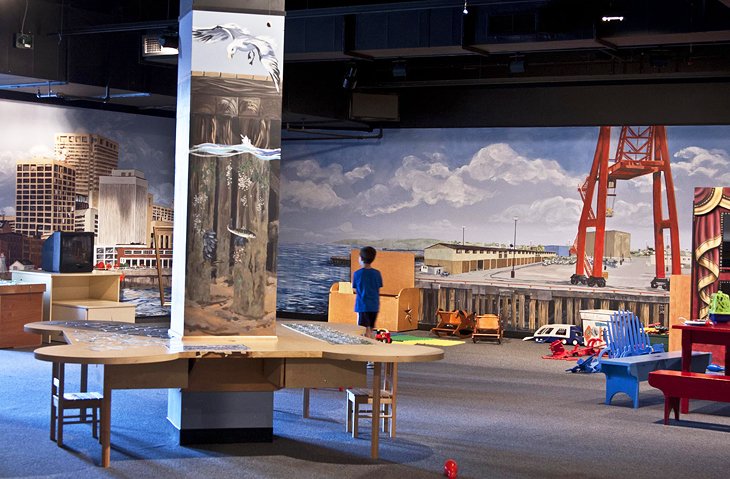 Set in a modern facility right on the waterfront, the New Brunswick Museum is filled with engaging exhibits that explore the province's natural history, culture, art, and history. There is something for all ages–kids love the Great Hall of Whales and the excellent exhibits on the province's unique geology in Our Changing Earth, as well as the bright interactive area for younger children.
New Brunswick's 19th-century golden age of shipbuilding and sailing is beautifully represented, with artifacts and informative displays that give a sense of shipboard life and the places New Brunswick ships traveled.
Native Americans and their culture and arts are well covered; antiques and art all have a major presence in this excellent museum, where the emphasis is on interpreting and understanding rather than just looking at collections.
Address: 1 Market Square, Saint John, New Brunswick
Official site: http://www.nbm-mnb.ca/
5. Saint John City Market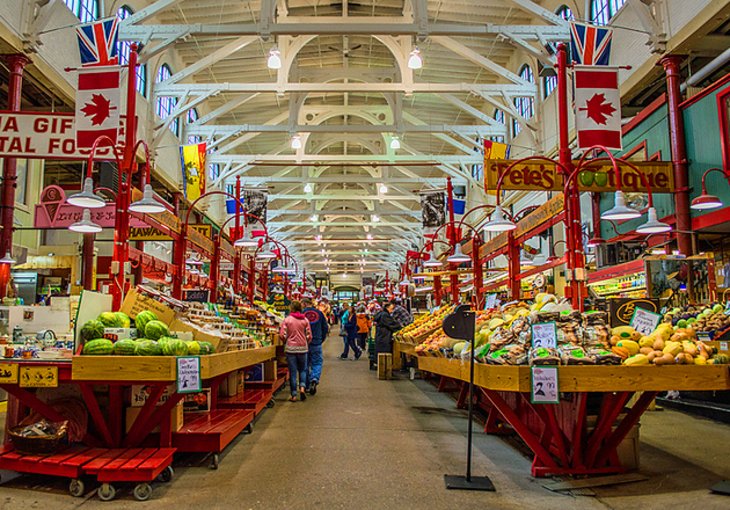 The classic old market hall is one of the few buildings to have escaped the Great Fire that swept through the city just a year after the market opened in 1876. It is thought to be the oldest continuing farmer's market in Canada, built as a year-round home to the several local open-air markets. Today a bell still rings each market day, Monday through Saturday, to signal the opening and closing of trade.
The block-long building is filled with local vendors selling everything from farm-fresh produce and the day's catch, to bread, fudge, maple syrup, and handcrafts. It's a good place to pick up souvenirs of your visit to New Brunswick.
Address: 47 Charlotte Street, Saint John, New Brunswick
Official site: http://www.sjcitymarket.ca/main.html
6. Rockwood Park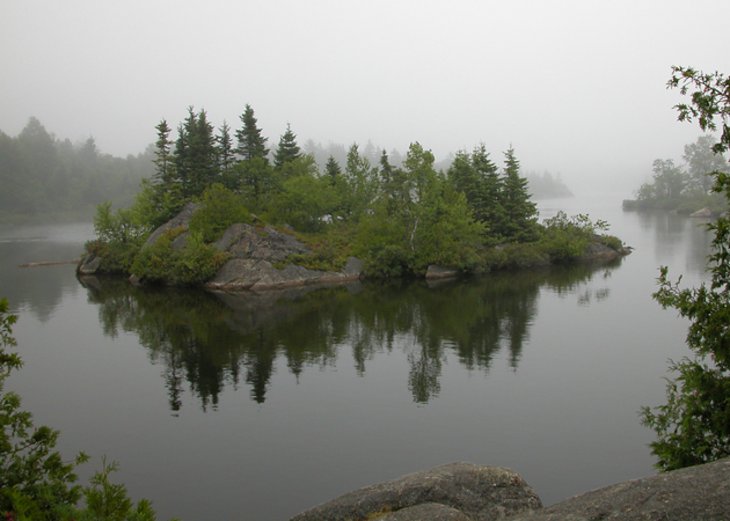 Rockwood Park is where local residents and tourists gather year-round to enjoy the outdoors. This large park covers 2,200 acres, laced with more than 55 paths and trails for hiking and biking. The park is also home to 10 lakes, including a large freshwater lake for swimming, boating, and fishing. Families with kids will appreciate the large playground, while those with four-footed friends can relax at the Bark Park.
The Inside Out Nature Center offers a variety of outdoor equipment rentals, including one-and-two-person kayaks, paddleboards, hydro-bikes, and pedal boats, as well as bicycles. The center also facilitates rock climbing on the natural terrain, geocaching, and offers guided nature hikes. Visitors can camp right at the park in tents or RVs.
In the winter, the lake becomes a skating rink, and cross-country skiing or snowshoeing on the trails is one of the favorite things to do in Saint John in the winter. This is another site for the multi-faceted Stonehammer Geopark, where the park's billion years of history show in caves, waterfalls, and its unique rock formations. The park is also home to an 18-hole public golf course that is popular with locals and tourists alike.
Address: 901 Foster Thurston Drive, Saint John, New Brunswick
Official site: www.rockwoodpark.ca
7. Carleton Martello Tower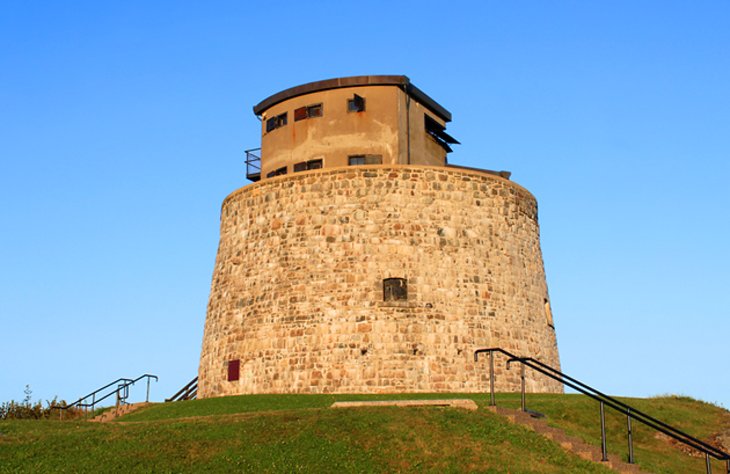 Now a National Historic Site, the Carleton Martello Tower was built in 1813 to protect the port against possible United States attack. It is typical of the round defensive forts built throughout the British empire in the first half of the 19th century and is one of only nine of the original 14 Canadian towers to survive.
Although made obsolete by later advances in fire power, the towers were often put to other uses; the Carleton Tower served as area headquarters for the anti-aircraft defense and fire-fighting services in World War II, and currently serves as a museum of military life in the 18th century.
Because of its height and hilltop setting, the tower is a great vantage point for views over the town, the harbor, and the Bay of Fundy. Note that ongoing restoration work may make it impossible to tour the tower.
Address: 454 Whipple Street, Saint John, New Brunswick
Official site: https://www.pc.gc.ca/en/lhn-nhs/nb/carleton
8. Loyalist House
The oldest building in Saint John, and one of few to survive the Great Fire, Loyalist House was begun in 1817 by David Merrit, a Loyalist who fled New York with his family. The plain façade of the white wooden house conceals a spacious and elegant Georgian interior. The house remained in the Merrit family for six generations and has not been altered structurally since it was built.
The front entrance retains the original brass knocker and fan light, and inside the well-preserved mansion are unusual curved doors and other elegant architectural features. Furnishings are fine examples of several styles popular in the early 19th century, and the kitchen retains the original fireplace fittings and implements, which were discovered when the fireplace was uncovered.
Address: Germain and Union Streets, Saint John, New Brunswick
9. Art Galleries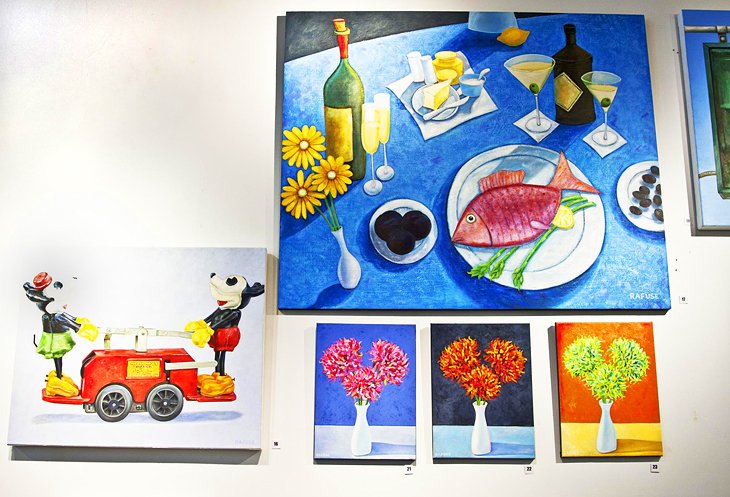 Art and fine craftsmanship are highly valued in New Brunswick, and browsing in the many art galleries, studios, and crafts marketplaces is one of the favorite things to do in Saint John. You'll find these scattered throughout the historic uptown area, along King and adjacent streets. They range from the studios of individual artists, such as the Jones Gallery on Charlotte Street, to large galleries showing both fine and decorative arts.
Foremost among these are the Buckland Merrifield Gallery on Canterbury Street, which represents Canadian artists and fine craftsmen, with special attention to those from this region, and Handworks Gallery on King Street, showcasing beautifully handcrafted wooden furniture, pottery, glass, sculpture, and fine art by local artists and craftsmen.
Trinity Galleries, on Germain Street, represents artists from the Maritimes, Canada, and elsewhere. You can pick up a map showing these and many other galleries from the visitors center at Market Square.
10. Imperial Theatre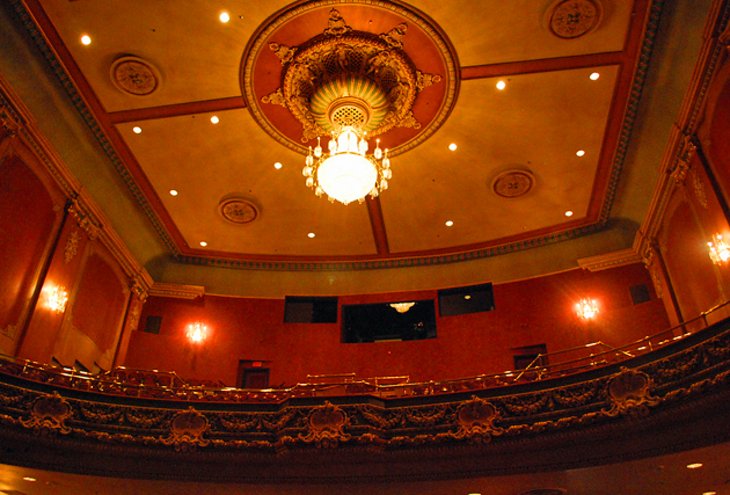 One of the most popular things to do at night in Saint John is attend a performance or film showing in the beautiful Imperial Theatre. This century-old theater, built in 1913 as a vaudeville house, is one of the grandest buildings in the city.
The Imperial Theatre has been a venue for theatrical shows, movies, and church services over the years, and now hosts a varied schedule that ranges from concerts and stage plays to classic films, comedy shows, dance, opera, and burlesque revivals.
An extensive reconstruction was completed 1994. Visitors can take a guided tour of this lovely attraction in downtown Saint John.
Address: 24 Kings Square South, Saint John, New Brunswick
11. Fort Howe National Historic Site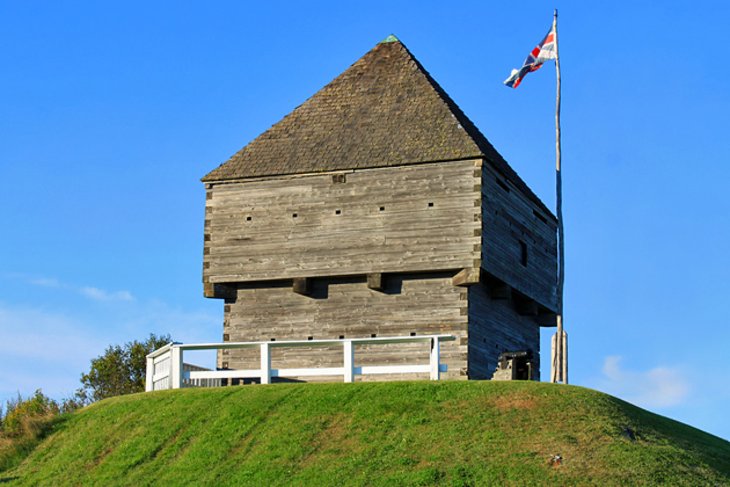 On a fine clear day, Fort Howe National Historic Site provides a magnificent panorama that unfolds over the shipyards, harbor, river, and town. A wooden blockhouse is a replica of one built in 1777, when the ridge was fortified and armed to guard the settlement from attack by American privateers and any other possible attacks.
After the American Revolution, the fort fell into decay until the War of 1812, when it was again manned and armed until 1821. The blockhouse is a replica. The fort, perched high on a rocky cliff, is reached from Main Street via Metcalfe Street and Magazine Street.
Address: Magazine Street, Saint John, New Brunswick
12. Cherry Brook Zoo & Vanished Kingdom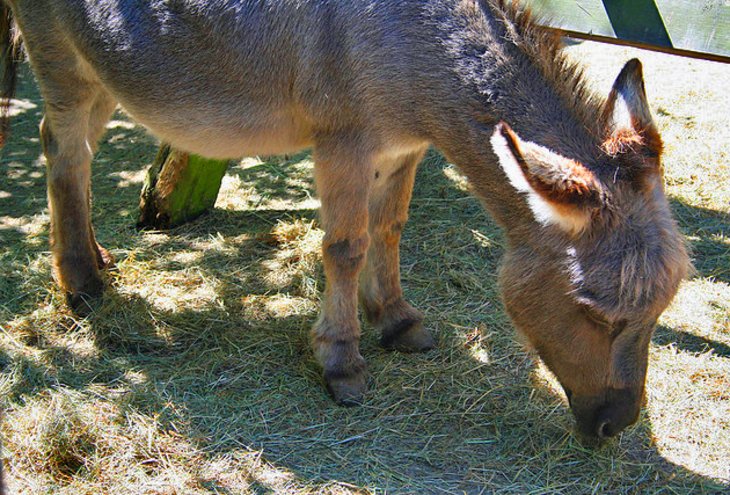 Cherry Brook Zoo is inside Rockwood Park, where the animals have plenty of room to roam, and visitors can see them in a natural setting. While it's not as large a tourist attraction as major zoos elsewhere, it has a surprising variety of animals, including some rare and endangered species. The more than 87 inhabitants represent 37 different species and range from lions and zebras to turtles and tree frogs. Highlights are the snow leopard and Siberian tiger.
The size of the zoo makes it especially approachable to children, who also enjoy the affiliated Vanished Kingdom, where visitors can step back in time with life-size replicas of extinct and endangered animals. Cherry Brook Zoo hosts a variety of seasonal events, including special features at Halloween and Christmas.
Address: 901 Foster Thurston Drive, Saint John, New Brunswick
Official site: http://www.cherrybrookzoo.com/
Saint John, NB - Climate Chart
Average minimum and maximum temperatures for Saint John, NB in °C
J
F
M
A
M
J
J
A
S
O
N
D

-3

-14

-2

-13

2

-8

8

-2

14

4

19

8

22

12

22

12

18

8

12

3

6

-2

0

-10

PlanetWare.com
Average monthly precipitation totals for Saint John, NB in mm.

130

102

109

109

125

104

104

104

112

122

147

168

Average monthly snowfall totals for Saint John, NB in cm.

72

56

48

23

2

0

0

0

0

2

15

64
Average minimum and maximum temperatures for Saint John, NB in °F
J
F
M
A
M
J
J
A
S
O
N
D

27

7

27

8

35

18

46

29

57

38

66

47

71

52

71

52

63

45

53

37

42

28

31

14

PlanetWare.com
Average monthly precipitation totals for Saint John, NB in inches.

5.1

4.0

4.3

4.3

4.9

4.1

4.1

4.1

4.4

4.8

5.8

6.6

Average monthly snowfall totals for Saint John, NB in inches.

28

22

19

9.1

0.9

0

0

0

0

0.9

5.9

25
Day Trips from Saint John
St. Martins and Fundy Trail Parkway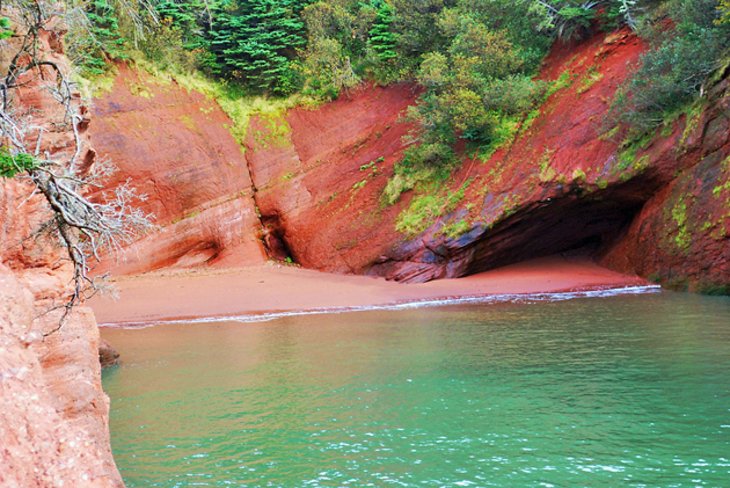 The Fundy Trail Parkway is a scenic coastal drive northeast of Saint John, starting near the historic shipbuilding community of St. Martins. The paved route runs high above the coast, with lofty viewpoints, hiking trails, and cobble-strewn cove beaches along the way. The area once supported logging operations, including a thriving village at Big Salmon River.
An excellent interpretive center explores life in this village, of which very little remains today, apart from the old lumbering equipment displayed at the Heritage Sawmill. An 84-meter suspension foot bridge crosses the river. A 10-kilometer pedestrian and bicycle trail parallels the drive, and some of the overlooks have trails to secluded coves. On summer weekends, a shuttle stops at the parking areas at the lookouts to return walkers to their cars.
St. Martins is a pretty little town with twin covered bridges and a former lighthouse that is now the visitors' center. Small craft and gift shops sit by the water, and the red sandstone cliffs nearby are carved by the Fundy tides into massive sea caves. You can explore these from the beach at low tide.
The village is a good place to see the effects of the famous tides–if you arrive when the tide is out, the fishing boats moored at the wharves are sitting in the mud of the ocean floor. You can visit St. Martins and enjoy the coastal scenery on a Fundy Coast to Fundy Shore Tour from Saint John, allowing time to visit the attractions and explore the sea caves.
Official site: http://www.fundytrailparkway.com/
The Cable Ferries Route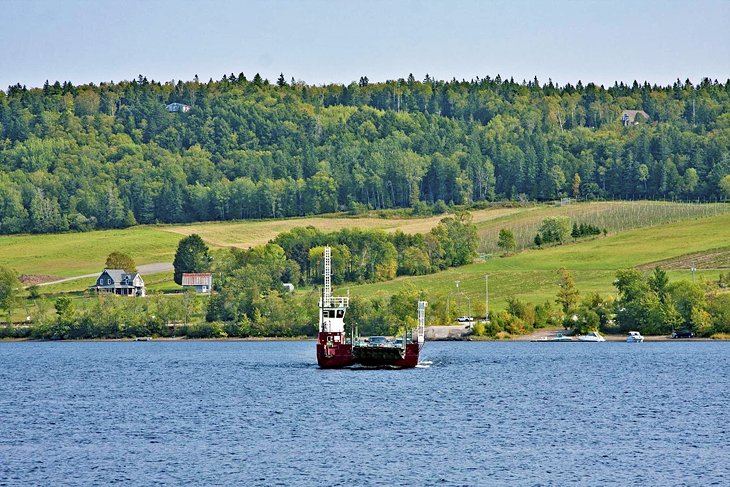 A circular driving route from Saint John combines beautiful river valley scenery with a series of charming cable ferries that connect villages on either side of the Saint John River and the long narrow fingers of water that form its several bays. Six of these ferry crossings survive from a time when ferries were the only means of crossing the river, and they still provide a quick and efficient part of New Brunswick's highway system.
Today, they are free, and as these are secondary roads, there is rarely a wait before you can drive onto the floating platforms. Except for the Summerville-Millidgeville Ferry, which is propeller-driven, they are pulled across the river on underwater cables. Combined, they form a loop that provides tourists with a leisurely day's exploration of the beautiful river valley and its farms and orchards.
You can pick up a brochure with a map and descriptions of the ferries from any tourist office. The first three of these, at Westfield, Kennebecasis Island, and from Summerville to Millidgeville are quite close to Saint John.
Map of Attractions & Things to Do in Saint John, NB
More Related Articles on PlanetWare.com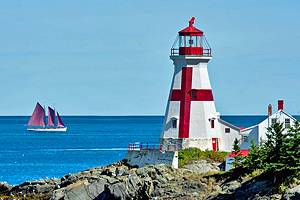 Places to Visit near Saint John: After you have seen the results of its tremendous tides at Reversing Falls and St. Martins, you'll want to explore more of the Bay of Fundy and its attractions. You can learn about other top tourist attractions of New Brunswick on our pages about the cities of Moncton and Fredericton.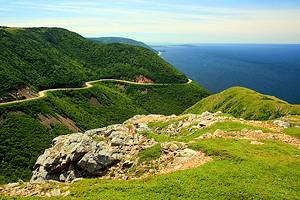 Where to Go in Atlantic Canada: Cross over the Confederation Bridge to Prince Edward Island to explore its lively capital of Charlottetown, known as the Birthplace of Canada. Or drive across the narrow isthmus near the Confederation Bridge to the province of Nova Scotia, where you will find plenty of things to see and do in the lovely Annapolis Valley and the capital city of Halifax. Or drive farther to explore the beautiful landscape of Cape Breton Island.