12 Top-Rated Hiking Trails in Nova Scotia
Despite begin Canada's second smallest province, there are plenty of things to see and do in Nova Scotia. From the Bay of Fundy to Cape Breton, Nova Scotia is home to some of the most beautiful places in Canada.
One of the best ways to experience the province's beauty is by foot. Tackling Nova Scotia's best trails will take you to hidden places you just can't get to by car. Plus, the view is always better when you work a little for it.
Though summer is the most popular time to hit the trails in Nova Scotia, it can be just as much fun to explore in the autumn, winter, or spring – as long as you're dressed appropriately. Many of the hikes on this list are close to the ocean, where conditions can change quickly and dramatically, especially in the winter. On the plus side, hiking in the off-season means fewer crowds and no pesky bugs.
To find short walks just outside the province's capital of Halifax, scenic seaside rambles, and multi-day wilderness treks, use our list of the best hikes in Nova Scotia.
1. Polly's Cove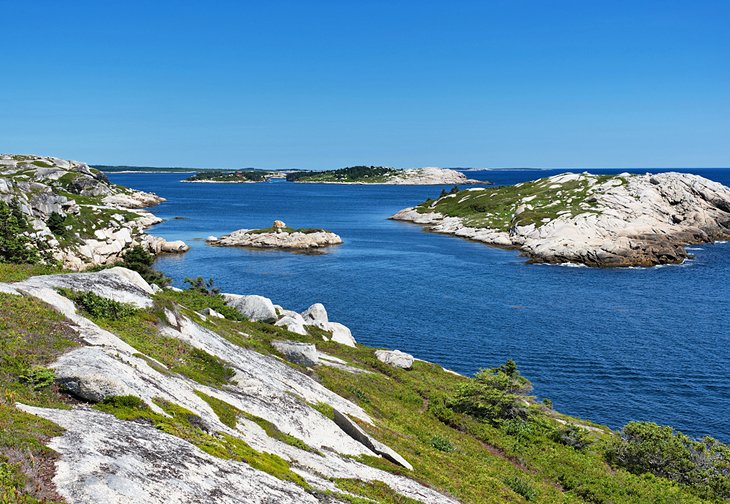 Only two kilometers from Nova Scotia's famous Peggy's Cove is the vastly underrated Polly's Cove: a beautiful expanse of granite overlooking the ocean and webbed with narrow, unmarked trails just begging to be explored. While Peggy's Cove is more touristy, Polly's Cove is geared to the more adventurous explorer.
The main trail loop on Polly's Cove is about four kilometers long, but you could easily spend two or three hours exploring the smaller side trails and taking in the views of the rugged coast. You'll also catch a glimpse of Peggy's Cove in the distance – it's certainly a unique vantage point that many tourists miss.
The main trails are easy to follow, as they've been worn down by traffic over time, but keep your eye out for secondary trails that split off the main paths. However, you'll have to resist the temptation to veer off and establish your own trails, as this can damage the sensitive ecology.
Polly's Cove really comes alive in the summer months, but it can be just as interesting to explore on a moody, grey winter day. Be sure to use extra caution if you choose to hike on a rainy day, as the wet rocks can be slippery.
2. Skyline Trail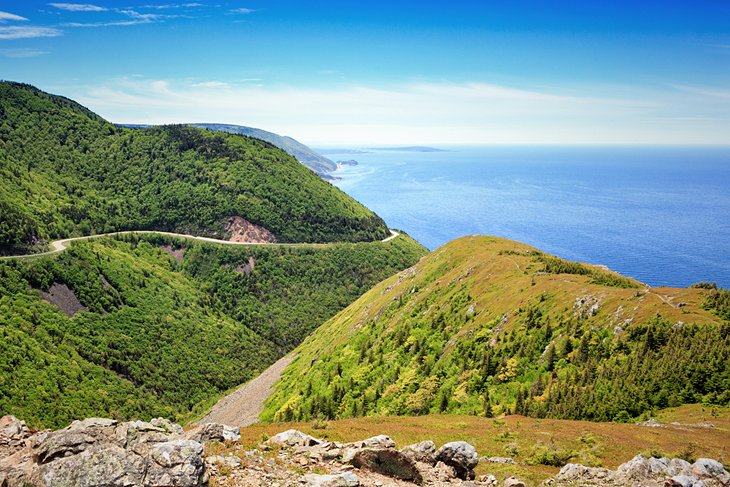 Cape Breton Highlands National Park is arguably one of the most scenic national parks in all of Canada – and for those who know Canada's rugged and natural beauty, that's saying a lot.
Most people will tell you that their favorite trail to hike in the entire park is the iconic Skyline Trail. This is an easier trail that still packs plenty of punch, with views of the Cabot Trail winding through the park, panoramic views of the ocean, and plenty of opportunities for wildlife sightings. Hike quietly and keep a close eye on your surroundings, and you just might catch a rare glimpse of a majestic moose.
Although much of the hike takes place on mellow trails and boardwalks, there are some stairs to contend with as you make your way toward the lookout. Overall, this hike is considered relatively easy and family-friendly. You can either do a shorter out-and-back, 6.5-kilometer hike, or you can opt to extend your hike and take the 8.2-kilometer loop.
The things that make the Skyline Trail so awesome are also its downfall: on a weekend in the summer, this trail can get busy. If you'd rather not face crowds, you're better off checking out another hike in the park or saving this one for the off season.
3. Port Joli Head Trail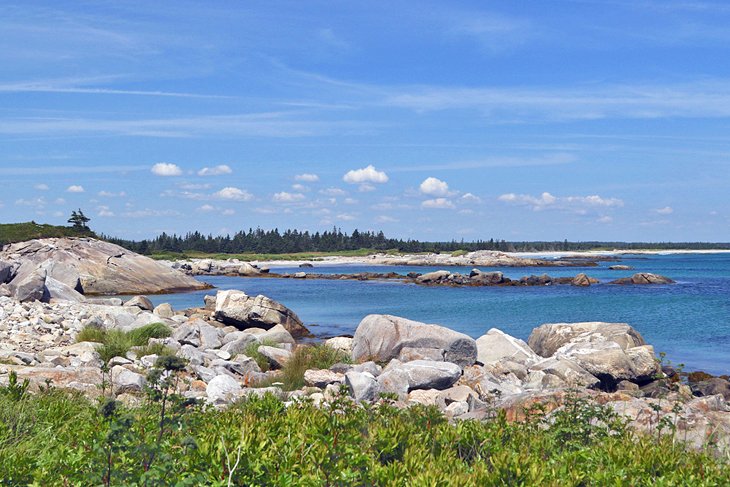 While Cape Breton Highlands National Park gets a lot of glory, it isn't the only national park that Nova Scotia has to offer. Kejimkujik National Park and National Historic Site is well worth a visit to learn more about Mi'kmaw culture and to experience Nova Scotia's only Dark Sky Preserve.
Of course, you can't visit the park without taking in a hike or two. One of the best hike's in Kejimkujik National Park is the 8.7-kilometer Port Joli Head trail. Wooden platforms take hikers through a large bog and past the craggy trees of the coastal forest right to the edge of the Atlantic, following the coast for a few kilometers before looping back. Once you get to the water, you'll be greeted by sandy beaches and a rocky shoreline. Leave plenty of time to explore the seaside.
With only about 72 meters of elevation gain, this hike is on the easier side, although it is worth noting that some sections of the trail are quite rocky. Sturdy hiking shoes will make the trek more enjoyable, so dress accordingly.
The setting is just about as tranquil as it gets: wildflowers bloom brightly in the summer months, the sound of crashing waves gets louder as you approach the ocean, and seals can be spotted bobbing in the ocean. You might even sneak a peek of a white-tailed deer or a bear! This is one of those perfect hikes that truly seems to have it all.
4. The Trails of Point Pleasant Park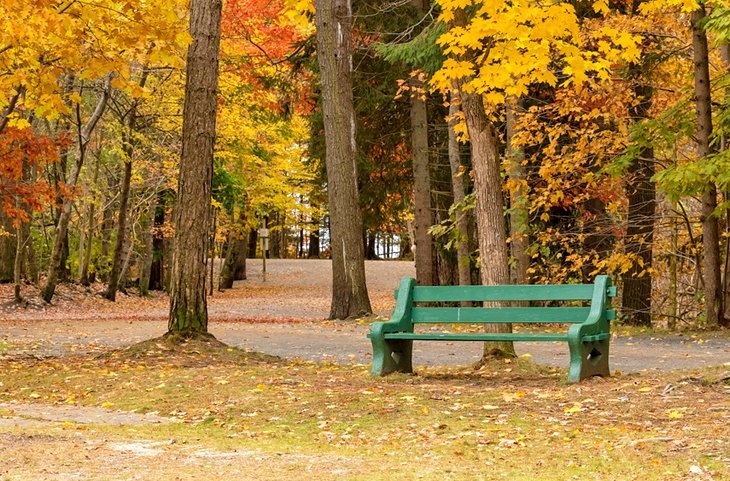 There's no need to wander too far into the wilderness to experience some of Nova Scotia's most beautiful trails. If you want to immerse yourself in nature without straying too far from the city, just head to Point Pleasant Park at the south end of Halifax.
Point Pleasant Park boasts a network of trails spanning 39 kilometers, which loop back and forth through the park, so you can make the trip as short or as long as you'd like. One popular option is the Birch, Shore, Arm, and Cable Road Loop, which totals about 3.4 kilometers and takes you for a tour around the park's perimeter.
These trails are well-maintained and very accessible, with several points of interest along the way. You can even download an audio guide, which will narrate the sites before you as you make your way through some of the historical and cultural attractions, like the Prince of Wales Tower, the Sailor's Memorial, and the Point Pleasant Battery.
5. Cape Chignecto Coastal Trail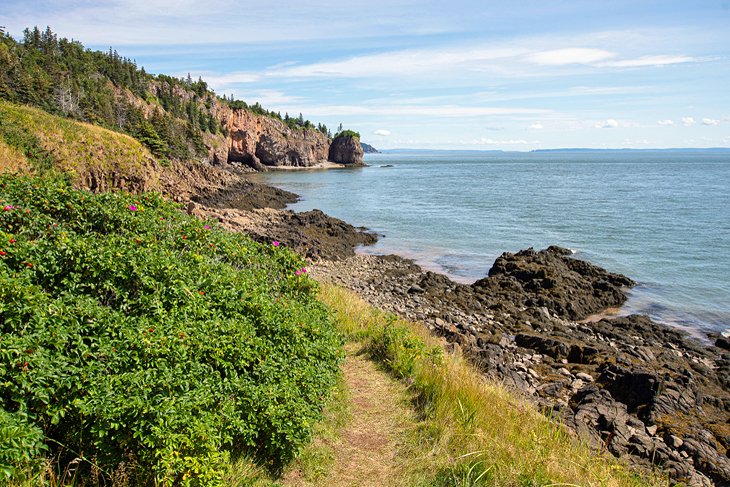 You've probably heard about the Bay of Fundy, home of the world's highest tides. If you want to explore these wild tides from Nova Scotia, the best place to do it is from Cape Chignecto Provincial Park.
Though the park offers a wide range of hikes, the Cape Chignecto Loop Trail is one of its best-known trails. This trail is just over 50 kilometers and takes most people three full days to hike, though you can stretch it out a little longer if you prefer less intense days or want to allow extra time for enjoying your surroundings.
Hikers can camp overnight at campsites along the trail or book into wilderness cabins along the way for a more comfortable sleep. All accommodations are pretty rustic – there is no running water, so bring supplies to treat your water along the way.
Some sections of the trail peek out to the coast – look out for side trails that take you out to beaches and lookouts over rugged cliffs. Other sections have you hiking through the dense forest, which can be buggy at times.
Trail conditions vary depending on the weather; for instance, you can expect some mud if there's been recent rain. There is a considerable amount of climbing and descending, with some especially steep sections. There is a total elevation gain of nearly 2,000 meters spread throughout the trail. Some parts are technical, with roots and rocks requiring you to watch your step carefully.
The Cape Chignecto Coastal Trail is lightly trafficked, so you probably won't see too many other people out on the trail. In other words, it's the perfect choice for those seeking to escape to the woods for a little peace and quiet.
6. Cape Split Trail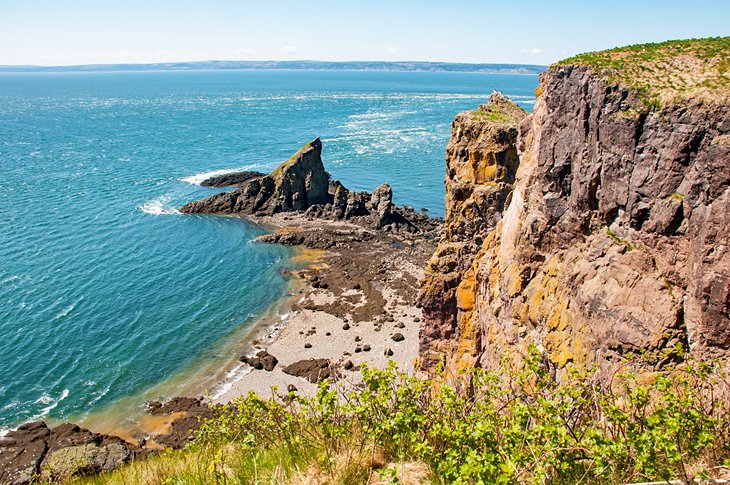 The Cape Split Trail is an out-and-back trail totaling 13 kilometers, situated in the beautiful Cape Split Provincial Park Reserve.
The footpath takes hikers inland through some pretty, but relatively uneventful forests, until they're spit out on the tip of the headland. That's when the views get seriously impressive. Standing at the top of 60-meter cliffs and overlooking the Atlantic, you'll get to see The Spires, an awe-inspiring rock formation, and ocean views that just don't quit.
Take in the views, but don't get too close to the edge – the cliffs are constantly eroding, and the risk of a fatal fall simply isn't worth it. Instead, pack a picnic lunch and enjoy the scenery while you feast. This is a day hike that is well worth adding to your list, but be warned that it can get busy midday in high season.
7. Balancing Rock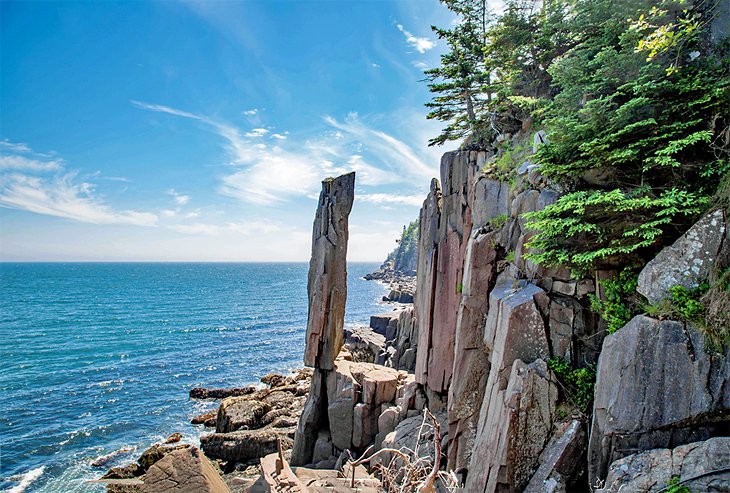 Some of Mother Nature's creations simply leave you scratching your head, thinking "How is that even possible?" One such creation: Nova Scotia's Balancing Rock. As the name suggests, it's a tall, narrow basalt rock curiously perched atop another rock that looks like it could blow over with the slightest hint of wind. And yet, it doesn't – it says there, steadily, through the many gusty storms that hit the coast.
Sounds pretty cool, right? It's even better in the flesh – and there happens to be a 2.5-kilometer trail that leads you to a spectacular lookout so you can see it for yourself.
There's nothing technical about this trail, but there are plenty of stairs (235 to be precise), so you'll have to work to earn those views over St. Mary's Bay. Not to worry – there are a few benches located along the trail, so you can pull over to catch your breath and take in the beauty of your surroundings.
8. The Mabou Highlands Trails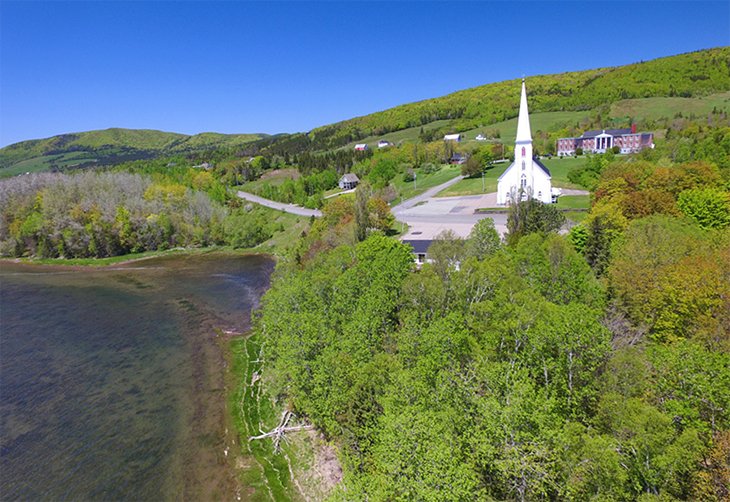 When it comes to hiking on Cape Breton, the Cape Breton Highlands National Park often gets all the attention. If you're looking for an option that's just as scenic but a little less touristy, consider checking out the Mabou Highlands.
There's a network of trails here that wind up and down through the Mabou Highlands (total elevation: 335 meters), offering breathtaking views overlooking the coast. While there are a few short, easy trails to explore, some of the best trails are more advanced, hugging ridges and vertigo-inducing cliffs. There are three different access points for the Mabou Highlands Trails. Pack some bug spray, bring your sense of adventure, and enjoy a day of exploring off the beaten track.
9. Gaff Point Trail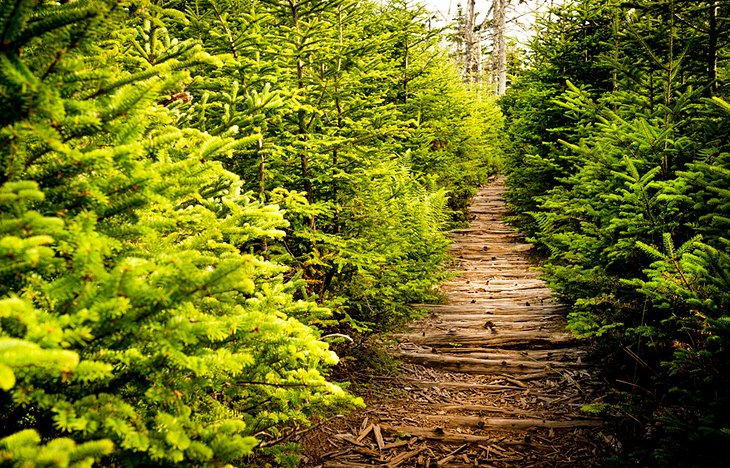 Head to Hirtles Beach – a worthy destination in its own right – to get to the trailhead for the Gaff Point Trail, a scenic, 6.5-kilometer trail that will take you out to the peninsula, where you'll be surrounded by an endless expanse of ocean.
The first section of the hike follows the pebbled beach before dipping into the forest, which leads to a loop. Depending on the direction you choose to take, you'll either pop out to the water and follow the exposed coast for a while, or continue in the woods before reaching the water.
The trail is well-maintained, well-marked, and generally considered easy to moderate, though sturdy footwear with ankle support is helpful when navigating the rocky section of the beach. In wet conditions, certain sections of the trail are prone to getting muddy. Long pants are a good idea as there are ticks in the area – be sure to give yourself a good once over at the end of the day.
10. Franey Trail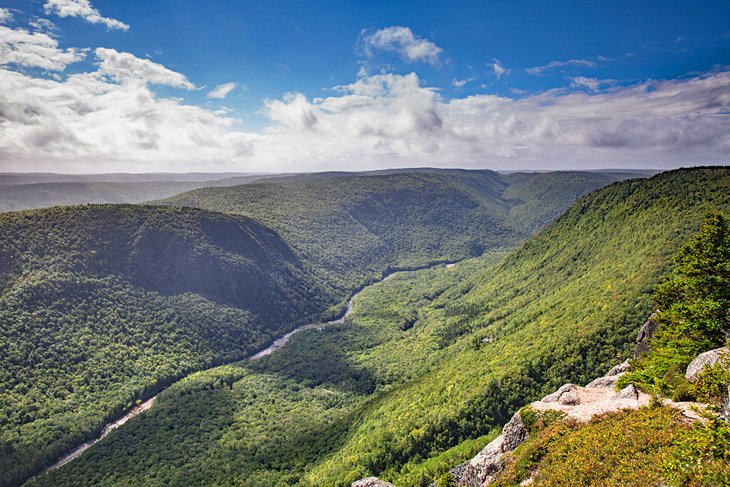 It's hard to compete with the beauty of the ocean, which is why most of the hikes on this list feature some sort of coastal element. But there are some lovely trails inland that are well worth exploring, like Franey Trail in Cape Breton Highlands National Park.
This 7.5-kilometer trail features valley views that are absolutely stunning in the fall as the leaves change color. The hike is on the challenging side, with a relentless climb and numerous sets of stairs to tackle.
At the top of the climb, be sure to snap a picture in the iconic Parks Canada red Muskoka-style chairs – this will also give you the chance to rest your legs before continuing the trip down. You can either continue the trail down a fairly uneventful fire road, or you can retrace your steps and turn back the way you came.
11. Brier Island Coastal Trail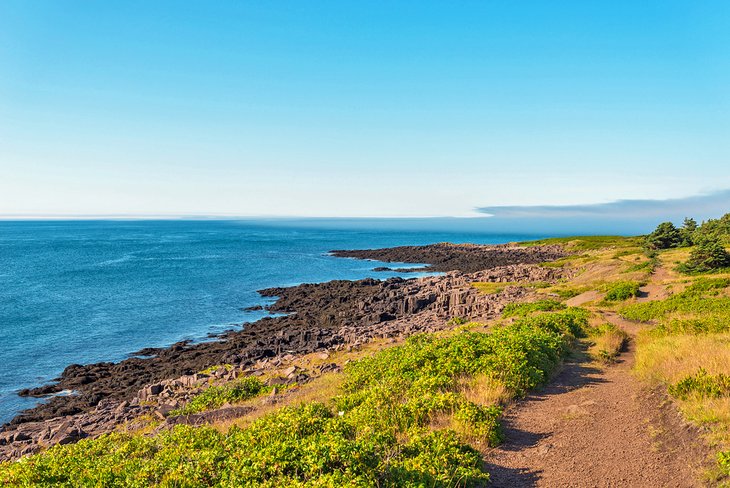 A nature lover's paradise, Brier island lies off the end of Digby Neck, reached by two ferries. Whether your interests are in birds, geology, or rare wildflowers, you'll be happy on the four kilometers of trails that lead along the shore and across the meadows of Brier Island Nature Reserve.
The trail passes Seal Cove and Pea Jack Cove, a popular spot for rockhounds to collect minerals, as is the area around Brier Island Light. Seals are a common sight, and you may see whales spouting in the Bay of Fundy.
Brier Island's coast is marked by outcrops of large hexagonal columns of basalt crystals that look like the relics of a Gothic cathedral. Although smaller, these are similar to those at Giant's Causeway in Ireland. You can climb around them on the ledges of Green Head.
12. Five Islands Provincial Park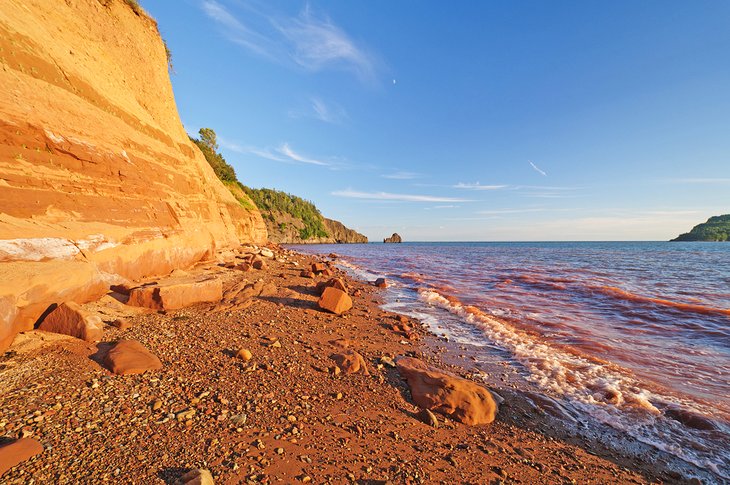 On the north shore of the Minas Basin, Five Islands Provincial Park has a spectacular setting atop a 90-meter (300-foot) cliff of red fossil-bearing sandstone. Three trails in the park offer a varied terrain with mixed forests of spruce, balsam fir, red maple, and white birch; you could hike all three in a day.
The three-mile Red Head Trail leads to a point with views of the islands, then along the top of the high bluff to the lookout point at Red Head. The 2.5-mile Estuary Trail follows the shoreline of the East River. The three trails link together, so you can hike them in any combination.
Map of Hiking Trails in Nova Scotia