13 Top-Rated Attractions & Things to Do in Fredericton
Lying along the banks of the Saint John River, Fredericton is the amiable and relaxed capital of New Brunswick, in eastern Canada. You won't find a more pleasant small city for a family vacation. The river defines it in ways beyond its geography – walking and biking trails lead along its banks to within a block of the main street, and many hotel rooms have views across its waters.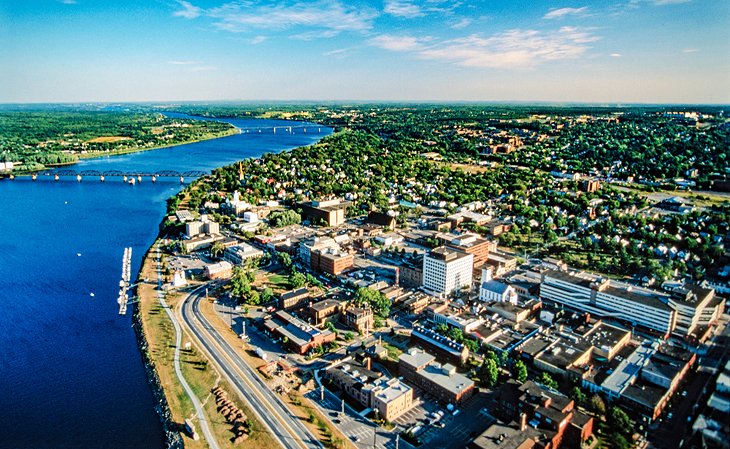 The charming complex of historic brick buildings between the river and the main street date from 1784 to 1869, when a British garrison was stationed at Fredericton. Although founded by French-speaking Acadians around 1732, Fredericton seems far more English today, with its Gothic-style cathedral and street names like "Prince" and "Queen." This is thanks to the Loyalists, those loyal to King George, who settled in the region after fleeing the American Revolution. You will learn more about these refugees at nearby Kings Landing, an especially good place to go for families.
There are plenty of things to do in Fredericton, and high among its tourist attractions are the cultural and arts offerings: a fine art museum, playhouse, frequent music festivals, and a creative community attracted by a prestigious craft and design school in the heart of downtown. Cafés, restaurants, and ample parks and green space provide places to visit for relaxing and socializing.
Discover the best things to do during your visit with our list of the top tourist attractions in Fredericton.
1. Officers' Square and the Garrison District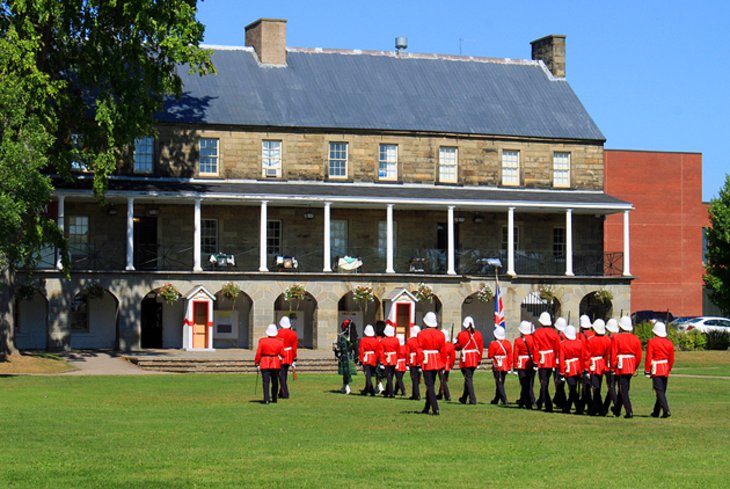 The complex of stately brick buildings that lines the river side of Queen Street was a British garrison, manned from 1784 until 1869. At the center of this Garrison District is Officers' Square, scene of popular daily Changing of the Guard ceremonies, as well as frequent outdoor summer concerts and free theater performances by the Calithumpians.
These Fredericton Outdoor Summer Theatre performances have been a favorite attraction for tourists and locals for more than 30 years; you're welcome to picnic as you watch the performance. The Calithumpians also lead light-hearted historical walking tours that are one of the top things to do in Fredericton for families.
Also in this Garrison District is the Fredericton Region Museum, located in the former officers' quarters (be sure to see the 42-pound Coleman Frog, a local landmark), and the New Brunswick Sports Hall of Fame. New Brunswick College of Craft and Design is in the district, and from June to September, local artists craft and sell their wares at the Barracks Fine Craft Shops in the lower level of a three-story stone and wooden structure built by the British Army in 1827.
On Thursdays in the summer, Carleton Street in the Garrison District is also a great place for shopping, as the street is lined with kiosks for the Garrison Night Market.
Address: Queen Street, Fredericton
2. Boyce Farmers Market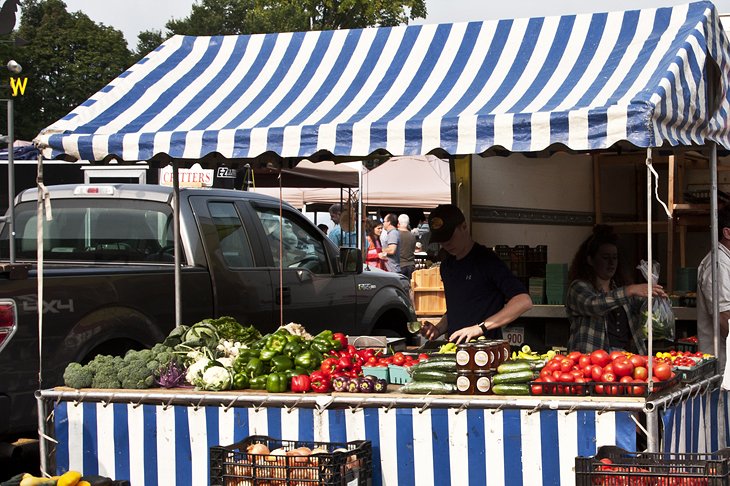 Named one of Canada's top 10 community markets, Boyce Farmers Market is a Saturday morning tradition for locals shopping for food, as well as a must for tourists shopping for fine local crafts and regional food products, like wild berry jams, honey, maple candies, and dulse (a traditional local seaweed snack).
Two large market halls and the surrounding outside area are filled with vendors of fresh-picked vegetables, farm cheeses, cured meats, hand-knit woolens, wood crafts, goat-milk soaps, herbs, art, jewelry, metalwork, and baked goods – from grainy breads to hot pretzels. Breakfasts are served inside at a small, crowded café, and food trucks sell grilled sausages and other lunches to eat at the outdoor picnic tables.
The Boyce Farmers Market is one of the top tourist attractions in New Brunswick.
Address: Brunswick Street, Fredericton, New Brunswick
Official site: http://frederictonfarmersmarket.ca/
3. Beaverbrook Art Gallery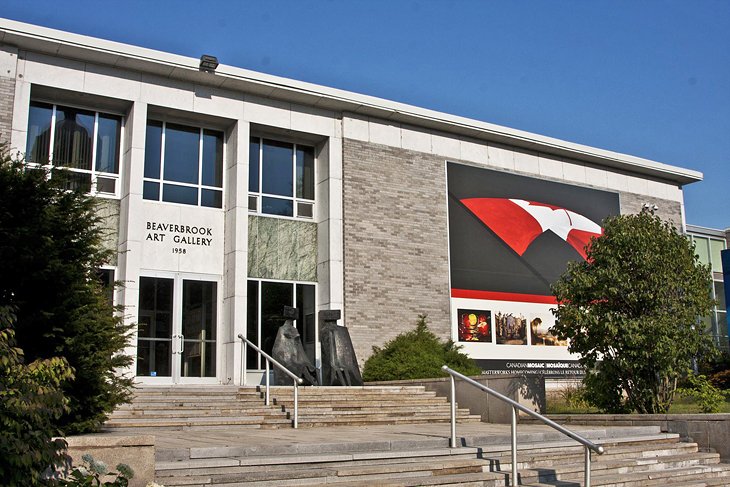 The Beaverbrook Art Gallery's collection began with the gift of 300 works of art from Sir Max Aitken (Lord Beaverbrook), an influential member of Sir Winston Churchill's cabinet during World War II. Subsequent gifts and acquisitions have grown the collection to more than 3,000 works.
The British collection, one of Canada's most comprehensive, covers Elizabethan through 20th-century artists, with works by Gainsborough, Hogarth, Reynolds, and Turner, as well as Pre-Raphaelite and modern paintings.
The Canadian Collection includes 18th- through 21st-century paintings, drawings, prints, photographs, and sculpture, with special attention to artists of the Atlantic Region. It also includes folk art, fine crafts, Inuit prints, and First Nations art. The New Brunswick Collection is especially strong in local Acadian, Maliseet, and Mi'kmaq artists.
The International Collection features Italian, French, Spanish, Dutch, and American works of the 14th to the 20th century, and includes paintings, miniatures, porcelain, tapestries, and furniture.
A newly expanded wing provides more exhibit space, and the highlight of the museum: Salvador Dali's monumental painting, Santiago el Grande. An adjacent sculpture garden has large-scale outdoor sculptures.
Address: 703 Queen Street, Fredericton, New Brunswick
Official site: https://beaverbrookartgallery.org
4. Kings Landing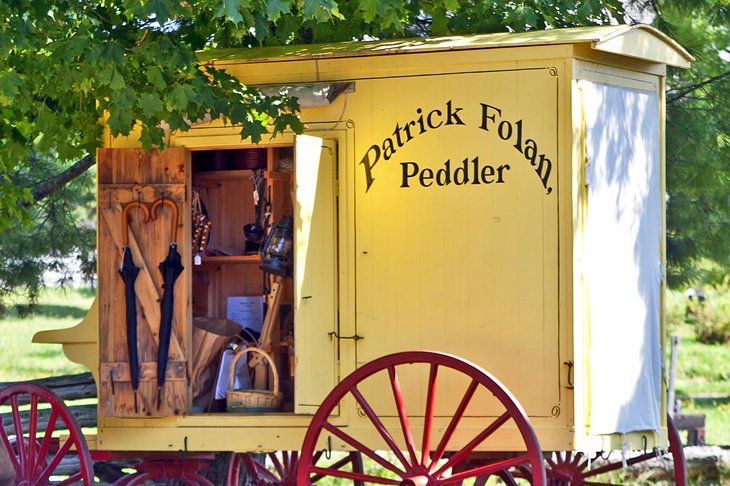 Twenty minutes north of the city is the museum village of Kings Landing, where you and your family can experience life as it was for the Loyalists who settled the river valley after leaving the 13 American colonies at the time of the Revolution. In addition to that era of history, it illustrates life in a rural community well into the 20th century, with home and farm skills such as candle-making, flax spinning, and gardening.
Free interactive programs draw tourists into the daily routines, perhaps offering a chance to play an old-style musical instrument or try their hand at spinning or candle-making. You can watch early tradesmen, including a printer and a blacksmith, and tour houses of people at all levels, from farmers to the local gentry. Kids especially love riding a horse-drawn wagon to visit the working sawmill.
Address: 5804 Route 102, Prince William, New Brunswick
Official site: http://kingslanding.nb.ca
5. Arts and Culture Scene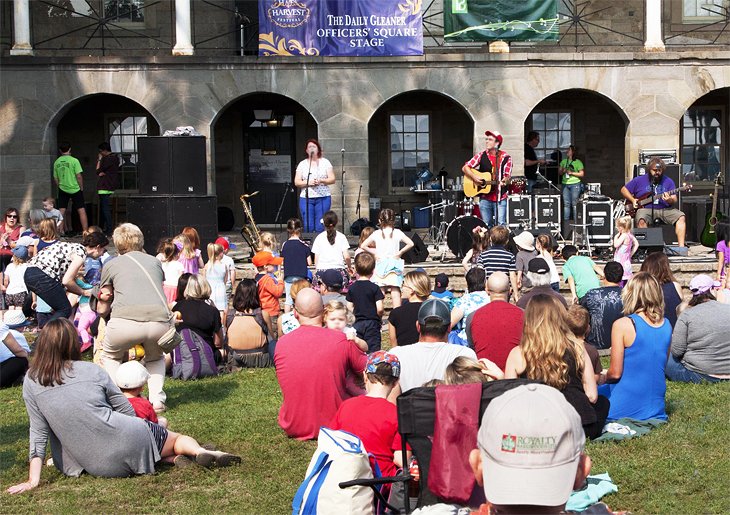 Its hyperactive arts climate attracts musicians, artists, and craftspeople to Fredericton, where some of Canada's finest craftspeople make their home. The varied venues, festivals, and the New Brunswick College of Craft and Design make it a popular tourist destination for shoppers, collectors, and music lovers. The festival schedule is a year-round one, highlighted by the two-week New Brunswick Summer Music Festival in August and the Harvest Jazz & Blues Festival in mid-September.
The former includes free community concerts, as well as ticketed concerts of chamber music played by Canada's most talented classical musicians. The week-long Harvest Jazz & Blues Festival draws more than 400 artists to 150 performances. Three city blocks and the Garrison District become the festival grounds for eastern Canada's best celebration of jazz, blues, and world music.
Late July brings the Notable Acts Summer Theatre Festival and the New Brunswick Highland Games Festival, with piping and drumming, highland dancing, and traditional athletics on the grounds of Government House. The Fredericton FROSTival is Atlantic Canada's largest winter celebration, and fall and Christmas craft shows are goldmines for shoppers, featuring handcrafted products from all over the Maritimes.
In the center of town, The Playhouse is another legacy of Lord Beaverbrook, who also financed New Brunswick's first theater troupe. The 700-seat Playhouse offers theater, dance, and music performances and is a regular stop for touring acts, local and Canadian performers, and international stars. With all these cultural and entertainment options, there are always plenty of things to do in Fredericton at night.
6. Government House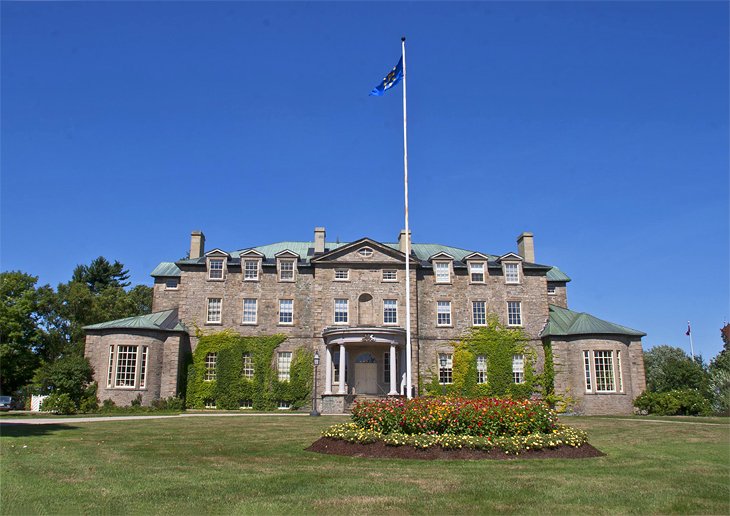 The official residence of the Lieutenant Governor of New Brunswick, Government House was the setting for discussions between representatives of New Brunswick and Nova Scotia and pro-confederation advocates leading up to those provinces joining the Canadian Federation. Now a National and Provincial Historic Site, the sandstone Georgian-style building was completed in 1828, and until 1893 was the home of the representative of the British monarch in New Brunswick.
Today it is where members of the royal family and foreign dignitaries are greeted and often stay while in the province, and the grounds are used for patriotic holiday celebrations and festivals, such as the summer Highland Games. From June through August the house is open for tours, where you can see the drawing room, dining room, music room, library, two conservatories, and the lieutenant governor's office.
Address: Woodstock Road, Fredericton, New Brunswick
7. Odell Park and Fredericton Botanic Gardens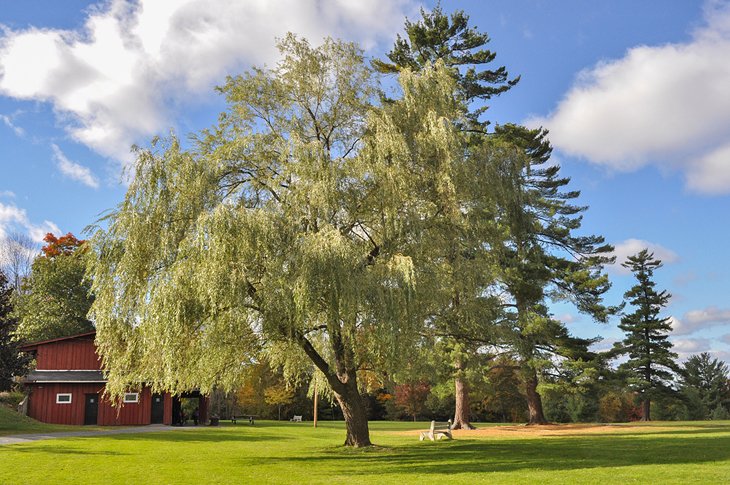 The 175-hectare (432-acre) Odell Park is in the heart of Fredericton, providing a green oasis of old-growth forest webbed with 16 kilometers of shaded trails and walking paths. Some of the trees are more than 400 years old, and the Odell Arboretum and New Brunswick Species Collection feature examples of every tree species native to New Brunswick.
At the upper end of the park are the Fredericton Botanic Gardens, a work in progress with several perennial beds, a collection of rhododendrons and azaleas, woodland trails, and outdoor sculptures, with activities that include garden talks and artists in residence. There are playgrounds, picnic tables and a waterfowl pond, and in the winter the park is popular for skating, sledding, and cross-country skiing on its groomed trails.
Address: 694 Prospect Street, Fredericton, New Brunswick
Official site: www.frederictonbotanicgarden.com
8. Christ Church Cathedral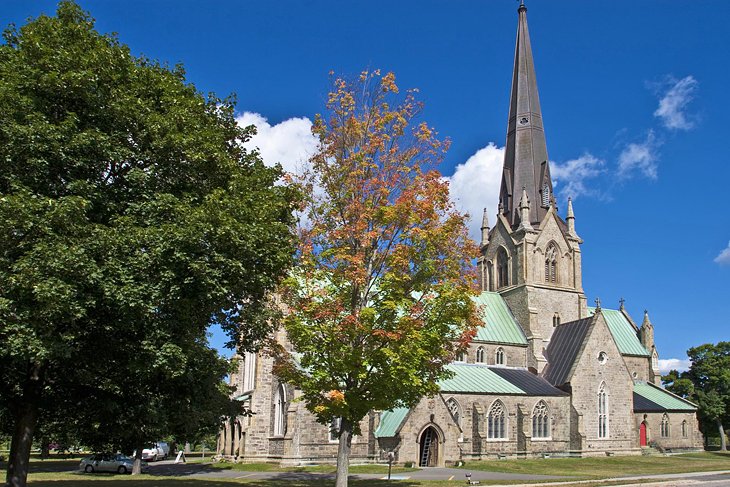 Fredericton's Anglican diocesan church, Christ Church Cathedral is an elegant building in the Neo-Gothic style, completed in the middle of the 19th century. It is surprising to see such a grand example of English Gothic Revival architecture in a relatively small city so far from England, but Bishop John Medley, who arrived in Fredericton from England in 1845, brought in English architect Frank Wills, who modeled the new cathedral on the 14th-century St. Mary's Church at Snettisham in Norfolk.
Highlights of the interior are the East Window, whose stained glass is best seen as the morning sun sets it aglow; the high altar; the carved stone pulpit and baptismal font; and the brass lectern in the form of an eagle. A marble carved effigy memorial, unusual in North America, depicts Bishop Medley in his episcopal robes and mitre. His tomb is on the cathedral grounds below the East Window.
Address: 168 Church Street, Fredericton, New Brunswick
Official site: https://cccath.ca/
9. Legislative Assembly Building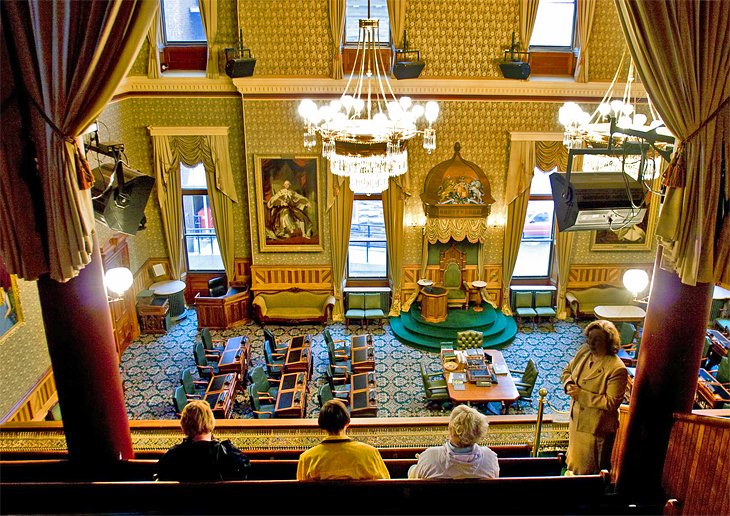 Opposite the Beaverbrook Art Gallery and worth a stop to see the portraits of King George III and Queen Charlotte by the British artist Joshua Reynolds, the Legislative Assembly Building has housed the New Brunswick legislature since 1882. Highlights are the spiral staircase and the legislative chamber, with its brass chandelier and Speaker's Chair on a dais beneath a canopy with the Royal Coat of Arms.
In the parliamentary library is a complete set of copperplate engravings from the famous Birds of America by the American artist John James Audubon (1785-1851). Free guided tours are given daily in the summer, weekdays the rest of the year.
Address: 706 Queen Street, Fredericton, New Brunswick
10. Kayaking on the Saint John River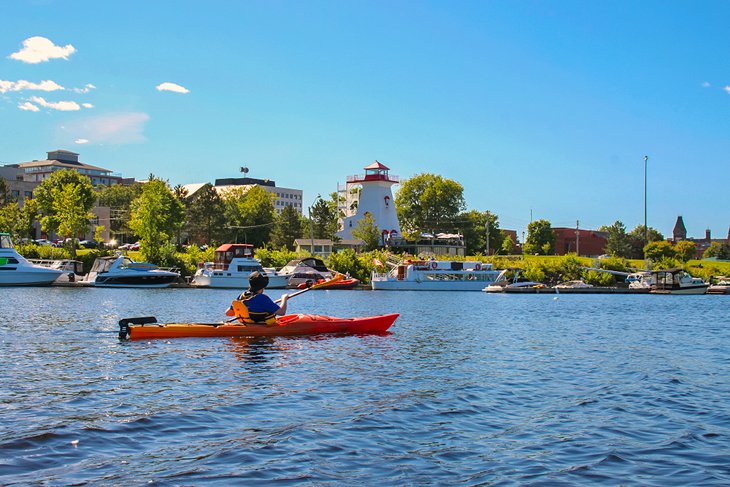 The wide Saint John River provides a watery backdrop to the city, and its waters and riverbanks provide a major source of recreation. The heart of Fredericton lies in a bend of the river, which flows within a few yards of the Garrison District and Queen Street shops. Colorful kayaks are a common sight, and at both sides of the city center, islands create narrower channels for kayakers and canoeists to explore.
You can rent kayaks on the shore at Oromocto, just south of downtown Fredericton, or join Second Nature Outdoors for a sundown paddle to explore the waters around nearby Thatch Island. Early birds can join a sunrise tour at Hartt Island Resort to paddle among the islands west of the city.
Second Nature Outdoors also rents single and double kayaks, stand up paddleboards, and canoes from its base in Oromocto. Farther downstream, the Gagetown Marina, just off Front Street, also rents kayaks and canoes. There is a public boat launch at the northern end of Front Street.
Below Fredericton, at Gagetown, Evandale, and farther south, cable-driven car ferries cross the river to connect scenic, rural roads through farms and marshlands. These ferries are part of the New Brunswick highway system and are free.
11. Bicycling in Fredericton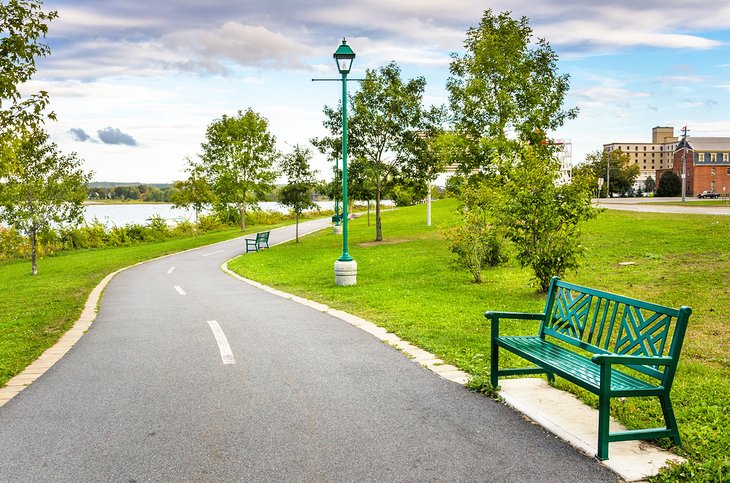 The St. John River is not only a playground for water sports enthusiasts but provides miles of scenic cycling routes as well. The Bill Thorpe Walking Bridge, which crosses the river near downtown, is a converted railway bridge that's only open to pedestrians and bicycles. It is part of both the provincial and Trans-Canada trail systems.
The Fredericton trail system has more than 120 kilometers of year-round multi-use trails, over 21 kilometers of which are paved. Ten of these are major trails, leading through city parks and along both shores of the river, which are joined by the Bill Thorpe Walking Bridge.
Park trails popular with cyclists include those in Odell and Angelview parks and the Hyla Park Nature Preserve, as well as Morell Par's riverside trails. You can rent bicycles at Savage's Bicycle Center on King Street, Canada's oldest bike shop, opened in 1897.
Official site: www.frederictontrailscoalition.com
12. Science East Science Centre
More than 150 hands-on exhibits and activities bring science to life for kids, exploring animals, energy, dinosaurs, technology, insects, space, and more. They can step inside a gyroscope, be amazed by optical illusions, defy gravity on a climbing wall, and take part in daily science shows in the summer.
The building itself-the former county jail-suggests explorations of how forensic science helps solve crimes today. The historical/science displays and exhibits are in its basement museum, located in the former cells.
Address: 668 Brunswick Street, Fredericton, New Brunswick
Official site: https://scienceeast.nb.ca/
13. Gagetown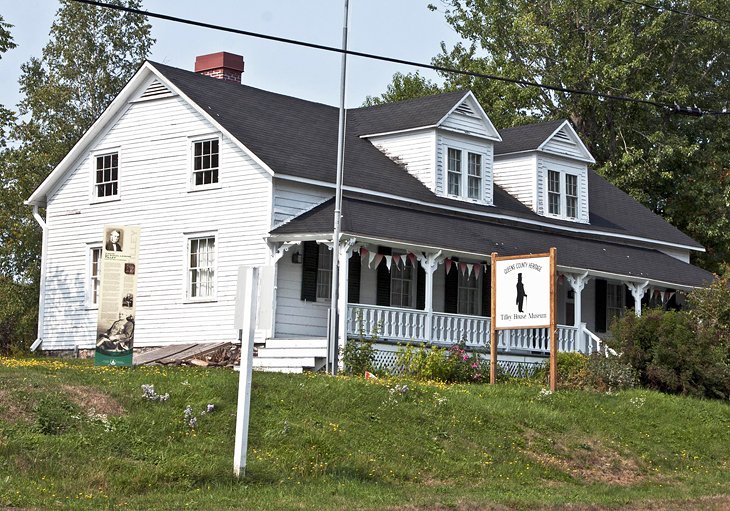 Follow the Saint John River south from Fredericton on Route 102 to Gagetown for lovely valley scenery. The town itself lies along the river, its picturesque Main Street lined with small homes and shops showing works of the many craftspeople and artists who have been drawn to the town. Pleasure boats line the active little marina, and restaurants have small terraces overlooking the river.
Queen's County Museum is at the Tilley House National Historic Site, boyhood home of Sir Leonard Tilley, one of the Fathers of Canadian Confederation. Those interested in military history should stop in Oromocto, between Gagetown and Fredericton, at the military museum in the Canadian army base.
Fredericton - Climate Chart
Average minimum and maximum temperatures for Fredericton, Canada in °C
J
F
M
A
M
J
J
A
S
O
N
D

-5

-15

-3

-14

3

-8

9

-1

17

4

23

10

25

13

24

12

19

8

13

3

6

-3

-2

-11

PlanetWare.com
Average monthly precipitation totals for Fredericton, Canada in mm.

86

74

79

79

97

86

84

94

94

94

112

114

Average monthly snowfall totals for Fredericton, Canada in cm.

58

45

40

17

1

0

0

0

0

1

19

60
Average minimum and maximum temperatures for Fredericton, Canada in °F
J
F
M
A
M
J
J
A
S
O
N
D

24

5

27

7

37

18

49

30

63

40

73

49

77

55

76

54

66

46

55

37

42

28

29

12

PlanetWare.com
Average monthly precipitation totals for Fredericton, Canada in inches.

3.4

2.9

3.1

3.1

3.8

3.4

3.3

3.7

3.7

3.7

4.4

4.5

Average monthly snowfall totals for Fredericton, Canada in inches.

23

18

16

6.7

0.4

0

0

0

0

0.4

7.4

24
More Related Articles on PlanetWare.com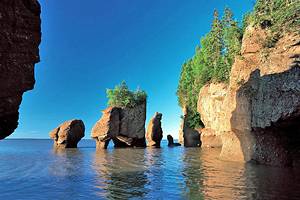 Places to Visit in New Brunswick: There is no shortage of great places to visit in this province. To see more of the tourist attractions in New Brunswick, use the handy lists in our pages on the cities of Saint John and Moncton. But be sure to explore beyond its cities to discover the natural wonders of the Bay of Fundy.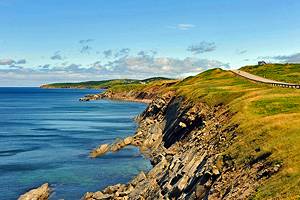 Where to Go in Atlantic Canada: New Brunswick borders the province of Nova Scotia, where you can visit its lively capital city of Halifax and the lovely Annapolis Valley. Some of the top tourist sites in Nova Scotia, Historic Lunenburg and Mahoney Bay are on its southern coast, or you can cross over the Confederation Bridge to Prince Edward Island to explore its lively capital of Charlottetown.