12 Top-Rated Tourist Attractions in Charlottetown
The capital of Prince Edward Island has the feel of a quiet small town; Charlottetown is in fact the smallest of the country's provincial capitals. You can explore the Victorian-era streets and harbor area easily on foot, and the tourist attractions are centrally located. Board cruises from the busy waterfront, where you'll also find many other things to do in Charlottetown, including shopping, dining, and live music.
Charlottetown is close to the hearts of Canadians as the scene of the famous conference in September of 1864 that led to the unification of Canada, and you'll find references to that momentous event at several of the city's attractions.
The annual Charlottetown Festival continues all summer, bringing theater productions, art exhibitions, and free daily concerts; a highlight is the musical rendition of Anne of Green Gables, based on the books set in nearby Cavendish on the island's northern shore.
You can be sure not to miss any of the highlights if you plan your vacation using this handy list of the top tourist attractions in Charlottetown.
1. Confederation Centre of the Arts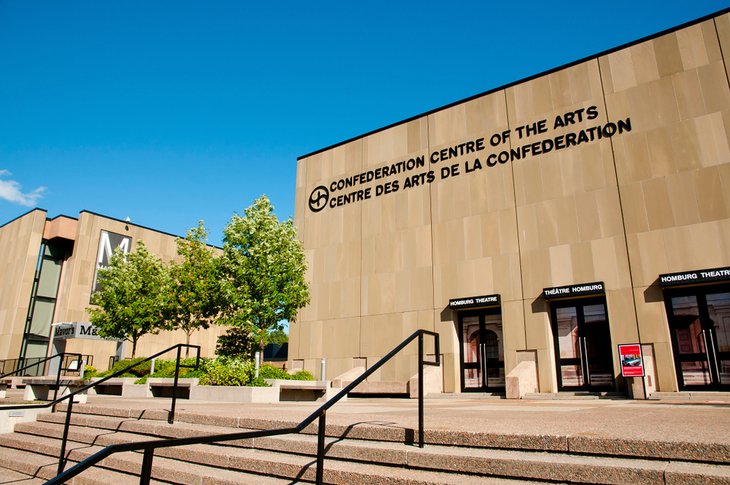 One of the first places to visit should be the ultra-modern Confederation Centre of the Arts, which covers an entire city block and opened in 1964 as Canada's national monument to Confederation. It houses a museum, art gallery, provincial library, two theaters, and a restaurant. The venue is perhaps best known for the annual summer production of Anne of Green Gables - the Musical as part of the annual Charlottetown Festival held from June to September.
The third-floor art gallery exhibits some magnificent works by modern Canadian artists, and an entire room is devoted to Charlottetown-raised artist Robert Harris, one of Canada's most renowned painters from the turn of the century. Painter Ronald Bloore created the custom mural White on White for the Entrance Gallery of the newly built center in 1967, and it has been freshly conserved so that its textured planes again interact with the light and surrounding architecture.
Other major works here are Eleanor King's mural Emerald and Paul Griffin's sculpture Leviathan.
Address: 145 Richmond Street, Charlottetown
Official site: http://www.confederationcentre.com/en/
2. St. Dunstan's Basilica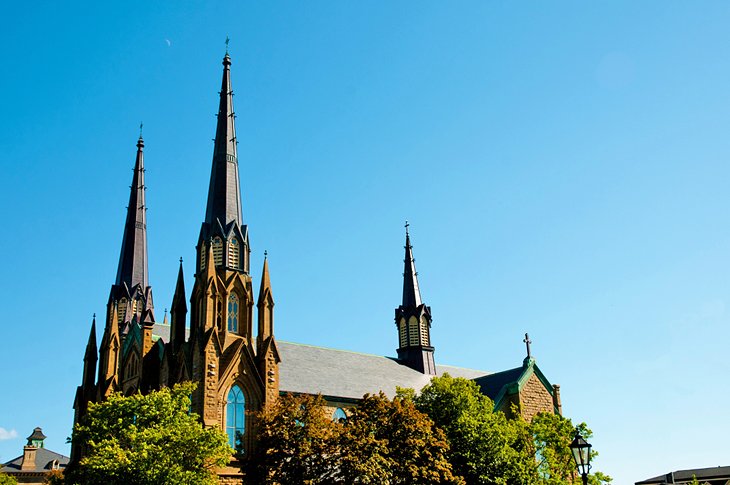 The red sandstone spires of St. Dunstan's Basilica are an elegant feature of the city skyline and a reminder of Charlottetown's Victorian heritage. The seat of the province's Roman Catholic diocese was built at the end of the 19th century in the French neo-Gothic style, and rebuilt after a fire in 1915. At that time, its interior was redesigned in a somewhat more English Gothic style.
The ornate basilica, designated as a National Historic Site, is one of the largest buildings of its kind in eastern Canada, and is famed for its altar, with its beautiful Italian carving and a superb rose window.
Across Great George Street from the Basilica, look for the historical statue of the two John Hamilton Grays who attended the Charlottetown Conference in 1864.
Address: 45 Great George Street, Charlottetown, Prince Edward Island
3. Beaconsfield Historic House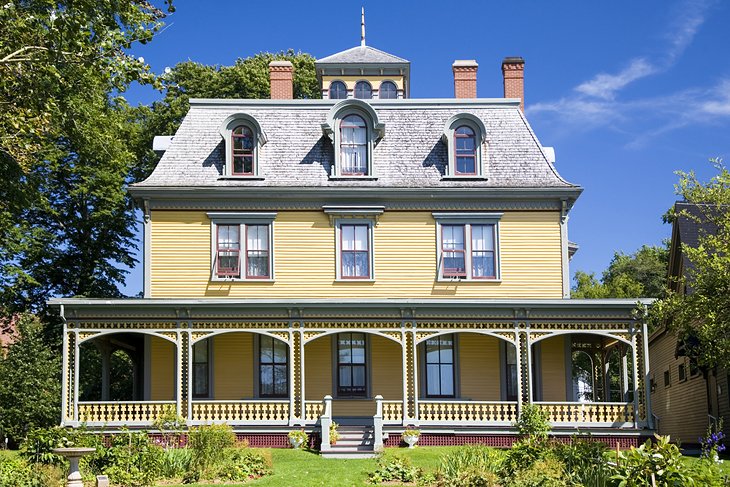 The elegant villa of Beaconsfield was designed by W. C. Harris and built in 1877 with lace-like wooden decoration, a mansard roof, and a graceful dome. The mustard-yellow building is a prime example of Victorian architecture, and the interior design and furnishings of this lovely old house make a tour well worthwhile.
It now houses the Prince Edward Island Museum and Heritage Foundation and a bookshop, which specializes in publications relating to the island. From time to time, exhibitions of local history, lectures, and concerts are held here.
Address: 2 Kent Street, Charlottetown
Official site: https://www.peimuseum.ca/visit/beaconsfield-historic-house
4. Walking Tours of Charlottetown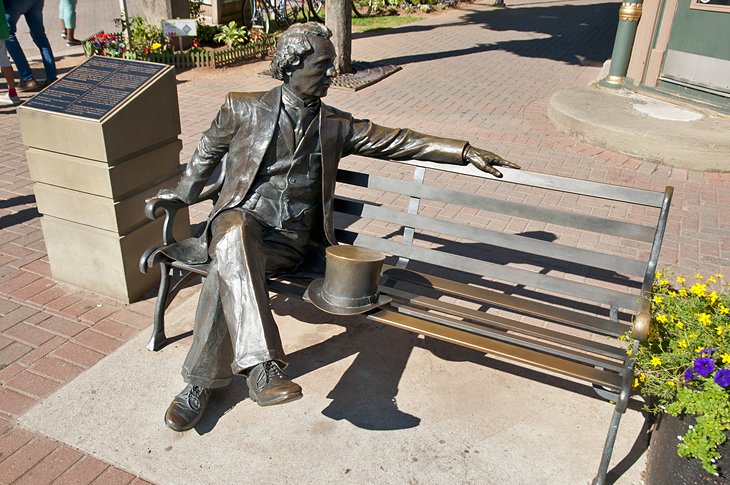 The city's Victorian neighborhoods are a perfect place for strolling, and taking a walking tour-with a guide or self-guided-is one of the most popular things to do in Charlottetown. Walks along Richmond, Grafton, and Kent streets take visitors through a neighborhood of gabled houses with extensive parks and gardens, providing an impressive reminder of Charlottetown's Victorian heritage.
Kings Square and Hillsborough Square are leafy parks, and on Grafton Street, you might stop to admire the pulpit and beautiful Casevant Frères organ inside the Gothic Revival St. Paul's Anglican Church. Some of the most beautiful old wooden homes are found in the Great George Street Historic District, a National Historic Site.
For a self-guided historic tour, pick up a map at the Welcome Center in Founders Hall at the waterfront. The Confederation Players, in authentic Victorian costumes, play the roles of delegates to the 1864 Charlottetown Conference, and The Secrets of Charlottetown tour also brings the history to life with stories of Old Charlottetown.
As you stroll through the downtown area, look for the lifelike statues of historical figures, including the first prime minister, Sir John A. Macdonald, and Fathers of the Confederation.
5. Prince Edward Battery and Victoria Park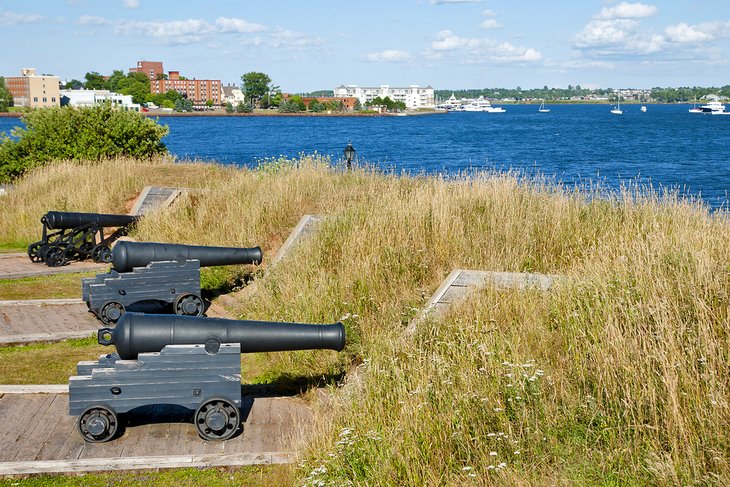 With its wide views, Prince Edward Battery is also in a strategic position on the harbor. A waterfront boardwalk leads from the city center out to Victoria Park and the battery, where visitors can see a row of cannons and small barracks. In 1805, the battery was moved from Great George Street to this fortification point. It was later named Fort Edward, though the firepower never saw action.
Victoria Park is the largest of Charlottetown's many public parks and is a popular summer attraction for families, with its grassy lawns, playground, swimming pool, and tennis courts.
Address: 45 Park Roadway, Charlottetown, Prince Edward Island
6. Victoria Row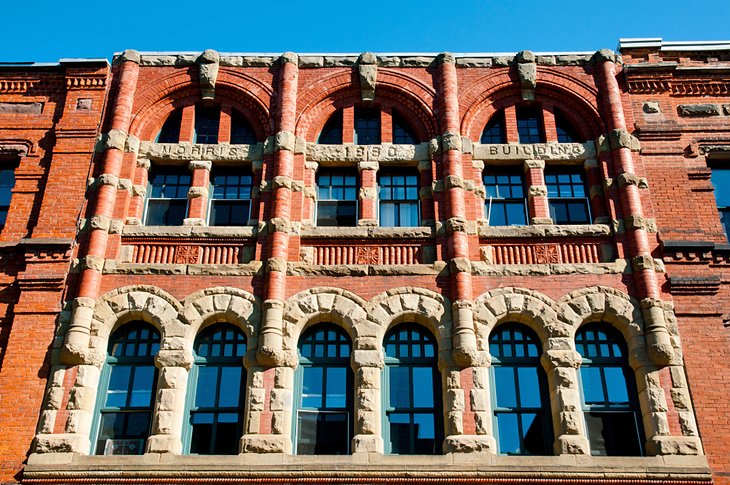 In the daytime, the traffic-free Victoria Row is popular for shopping, a highlight for many tourists being the Anne of Green Gables Shop. In the summer, sitting in its sidewalk cafés and restaurants and listening to the live music from its open stage is one of the favorite things to do at night. People play chess and checkers at the picnic tables along one side of the street.
Be sure to look up and admire the fine Victorian architecture of the brick commercial buildings. Their facades show some of the fine details of stone carving and brickwork in the window frames, cornices, pilasters, and doorways
7. Peakes Wharf and Confederation Landing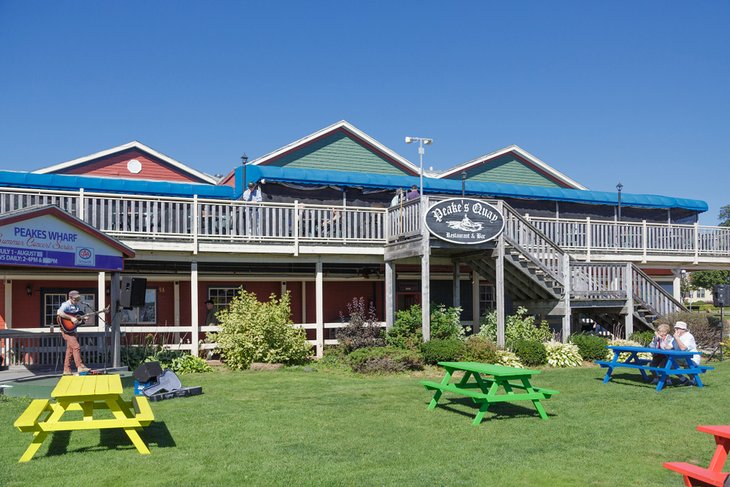 For souvenir shopping, waterfront lunches, ice-cream, boat tours, and views of the harbor, tourists and locals head to the harbor, especially Peakes Wharf and its row of shops and boutiques. The adjacent Confederation Landing is a waterside park with a boardwalk, gazebos, shady benches, and an inline skate park. It is especially beautiful in June when the roses are in bloom. There is often free live music at Peakes Wharf, and in July and August there are free daily and evening concerts.
Harbor tours and sightseeing cruises are among the favorite things to do for tourists in Charlottetown, and this is the place to find them. You can choose from a variety of boats that include sailing ships, Zodiacs, and even a Chinese junk.
Founders' Hall, known as Canada's Birthplace Pavilion, now stands near where delegates for the Charlottetown Conference arrived by boat in 1864. Exhibits in the hall focus on this key meeting of the Fathers of Confederation. A tourist information center provides local bookings and brochures on popular attractions.
Address: 6 Prince Street, Charlottetown
8. Government House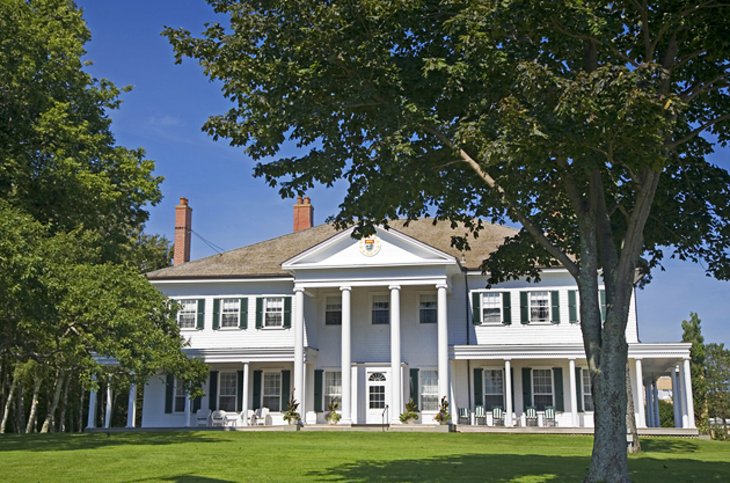 The elegant white Government House in Charlottetown, also called Fanningbank, is set amid formal gardens in the grounds of Victoria Park. Built in a Georgian style, the building became the official seat of the Governor of the island after 1835. It is now the official residence for the Lieutenant Governor of PEI, who represents Queen Elizabeth II in the Province.
Royalty and dignitaries visit the house when on the island; Queen Elizabeth II and Prince Phillip visited the house in 1959. Government House is open to the public, free, during July and August only.
9. Province House National Historic Site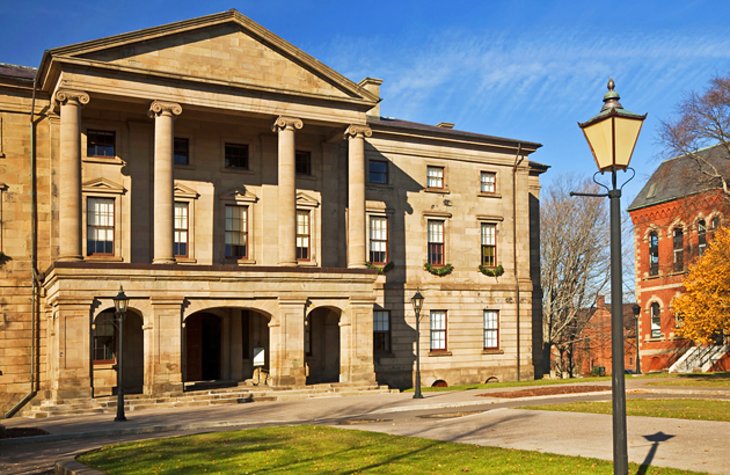 Near the Confederation Centre stands Province House, the "Birthplace of Canada." This three-story sandstone building was constructed between 1843 and 1847 as the colonial government building. Today, Province House is the seat of the Parliament of Prince Edward Island, and parliamentary rooms are open to visitors.
The Confederation Chamber, where in 1864 representatives met to launch the modern state of Canada, is currently undergoing conservation work, and during this time, you can visit the Story of Confederation exhibit at Confederation Centre of the Arts next door. Here, you can see a replica of Confederation Chamber and watch the film, A Building of Destiny, about the history of Province House and the Charlottetown Conference.
Address: 165 Richmond Street, Charlottetown
Official site: https://www.pc.gc.ca/en/lhn-nhs/pe/provincehouse
10. Charlottetown Farmers Market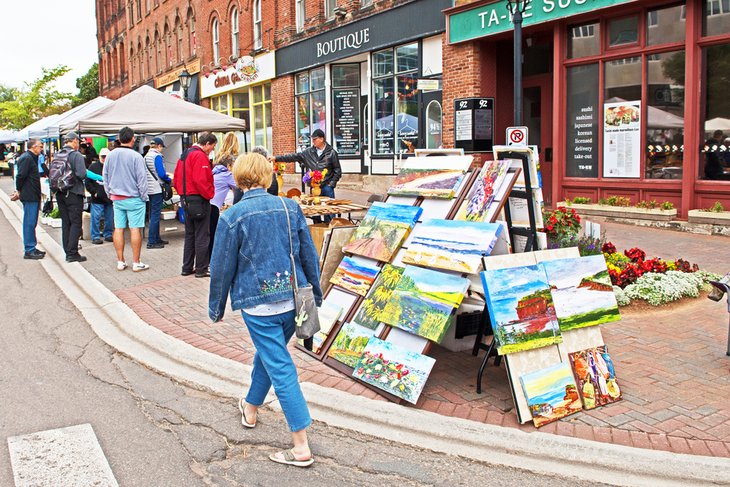 Every Saturday morning year-round, and Wednesday mornings in the summer, local farmers, craftspeople, and food producers gather at the Charlottetown Farmers Market. Browsing here is a great way to mingle with locals and shop for locally made souvenirs. You may find whimsical handcrafted birdhouses, dog raincoats, sheepskin rugs, knit scarves, hand crocheted slippers, leather hand bags, pottery, silver jewelry, lavender sachets, or hand-made soaps to take home.
And, of course, there are foods of all sorts, from fresh-made waffles and donuts to pierogis and whole-grain breads, ready-to-eat sushi, tacos, sugarplums, and blueberry pies. There's no excuse to leave hungry.
Address: 100 Belvedere Avenue, Charlottetown, Prince Edward Island
11. Day Trip to Prince Edward Island National Park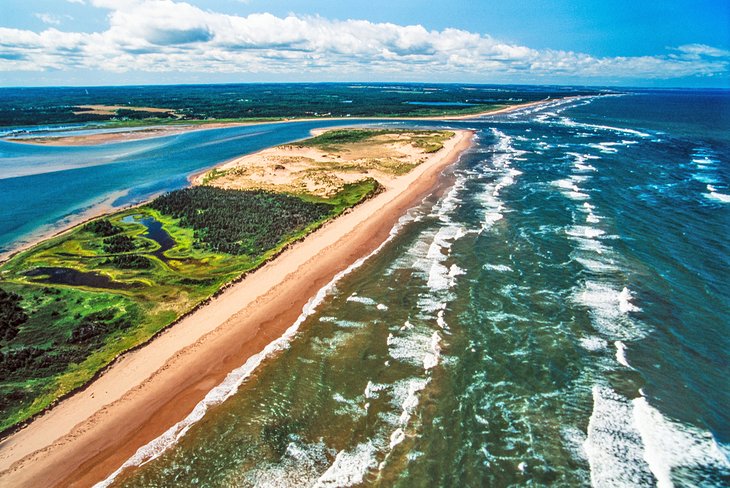 Less than a half hour's drive from Charlottetown is one of eastern Canada's loveliest parks, a long stretch of shoreline with red-sand beaches, warm water for swimming, and a good choice of other things to do. Gentle surf and long sloping gradients make the water safe for children, and there are good changing facilities, most with showers.
Inside the park, and one of the province's most popular tourist attractions, is Green Gables, the farmhouse and land made famous by Lucy Maud Montgomery in her book Anne of Green Gables. Now a National Historic Site, Green Gables is open for visitors, as is Montgomery's childhood home.
12. Port-la-Joye/Fort Amherst National Historic Site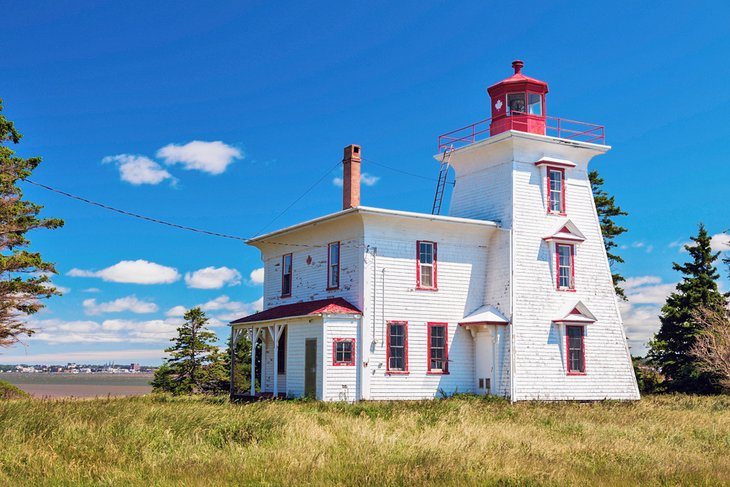 Only grassy ruins remain from what was once the first permanent European settlement on Prince Edward Island. Jacques Cartier took possession of the island for the French in 1534, calling it Île-St-Jean. An Acadian settlement, Port la Joye, grew steadily on this point of land until the British took possession of the island and deported the Acadian settlers in 1758. With British rule came the name Fort Amherst.
Just south of the historic site, Blockhouse Point Lighthouse has been positioned at the harbor mouth since 1851. The wooden structure is a key navigational aid and the island's second oldest lighthouse.
Address: 191 Hache Gallant Lane, Rocky Point
Official site: http://www.pc.gc.ca/eng/lhn-nhs/pe/amherst/index.aspx
Charlottetown - Climate Chart
Average minimum and maximum temperatures for Charlottetown, Canada in °C
J
F
M
A
M
J
J
A
S
O
N
D

-3

-11

-3

-12

1

-7

7

-1

14

5

19

10

23

14

23

14

18

10

12

5

6

0

0

-7

PlanetWare.com
Average monthly precipitation totals for Charlottetown, Canada in mm.

97

81

84

89

94

86

79

91

91

112

114

117

Average monthly snowfall totals for Charlottetown, Canada in cm.

67

56

48

28

4

0

0

0

0

3

18

61
Average minimum and maximum temperatures for Charlottetown, Canada in °F
J
F
M
A
M
J
J
A
S
O
N
D

26

11

25

10

33

19

43

30

56

40

66

50

73

57

72

57

64

49

54

41

43

32

31

19

PlanetWare.com
Average monthly precipitation totals for Charlottetown, Canada in inches.

3.8

3.2

3.3

3.5

3.7

3.4

3.1

3.6

3.6

4.4

4.5

4.6

Average monthly snowfall totals for Charlottetown, Canada in inches.

27

22

19

11

1.4

0

0

0

0

1.1

7.2

24
More Related Articles on PlanetWare.com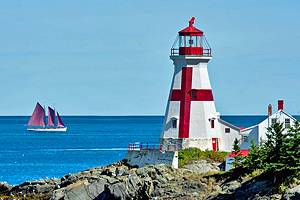 Where to Go in New Brunswick: After you've explored the rest of Prince Edward Island, cross the Confederation Bridge to explore the tourist attractions in New Brunswick. Many of these are natural wonders on the Bay of Fundy, or you can discover more things to do by referring to our handy pages on Saint John and Moncton.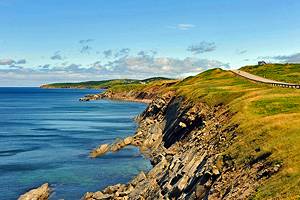 Where to Go in Nova Scotia: Turn east from the Confederation Bridge to find more attractions in Nova Scotia, including its capital city of Halifax. Be sure to refer to the lists of top attractions in the Annapolis Valley and historic Lunenburg and Mahoney Bay to find more things to do in Nova Scotia.