12 Top-Rated Tourist Attractions in Moncton
One of the largest cities in New Brunswick, Moncton is at the end of the narrow Petitcodiac River estuary, where it flows into the Bay of Fundy. Moncton has a strong French cultural scene, and its Francophone university has made it a world center for celebrating the culture of the Acadian diaspora.
The Acadians are the descendants of French colonists who first settled here in the early 1700s. Expelled, along with the Acadians in Nova Scotia, in the 1750s for refusing to swear allegiance to the British crown after the British defeated the French at nearby Fort Beauséjour, many later returned to New Brunswick. The Acadians have a separate history and culture from the French who settled in the separate colony of New France, modern-day Quebec. Acadians and Québécois developed two distinct cultures, and even speak a somewhat different French language.
Along with the things to see and do in Moncton itself, the city is surrounded by some of New Brunswick's best tourist attractions, including beautiful sandy beaches on the Northumberland Strait, and the natural attractions caused by the Bay of Fundy's tremendous tides. The city, with its many hotels and restaurants, makes a good base for touring this fascinating region of New Brunswick. Traveling by car is easy here, with good roads and free parking normally included at hotels.
Plan your trip to this picturesque city with our list of the top tourist attractions in Moncton.
See also: Where to Stay in Moncton
1. Bay of Fundy Tidal Bore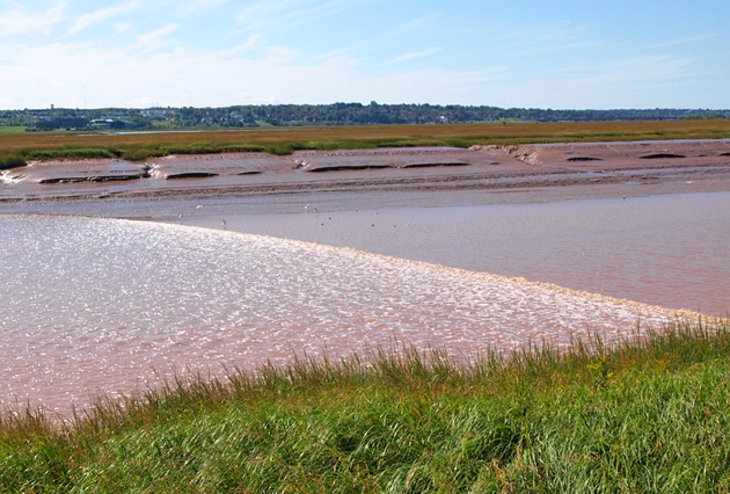 Twice a day, the rising tide rushes through the Bay of Fundy, creating some of the world's highest tides. The force of this rapidly rising and falling sea water has given this coast some of its most fascinating attractions, among them Moncton's Tidal Bore. Water sweeps into the Petitcodiac estuary—whose banks of dark brown mud at low tide look like a deeply carved bed of chocolate—as a meter-high wave, swelling it into a broad lake and covering nearby mudflats and salt marshes.
In Moncton, the narrow, muddy riverbed becomes a 7.5-meter deep river within an hour. Tidal Bore Park in the city's downtown is the best place to see the natural phenomenon, with a clock showing when to expect the next bore. For several years, Moncton's signature attraction almost disappeared, after a causeway interrupted the flow of the tidal river, but its removal has restored the famous Tidal Bore.
Address: Main Street, between King and Steadman Streets, Moncton, New Brunswick
2. Hopewell Rocks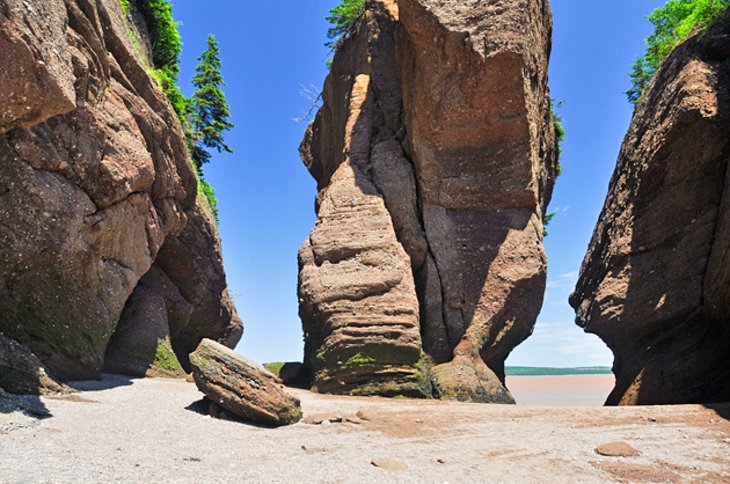 The Bay of Fundy tides flood the marshes around Moncton, but at Hopewell Cape, they have carved unusual sea stacks. The Hopewell Rocks, also known at the Flowerpot Rocks, are tide-sculpted pillars left standing as the adjoining high cliffs have been eroded by the Fundy tides. Some of these pillars tower as much as 21 meters above the ocean floor, still crowned by the trees and plants that once grew atop the cliffs. These trees, combined with the terra-cotta color of the rock and the narrower bases of the pillars makes them look like giant flower pots, hence the nickname.
At high tide, the water covers all but the tree-covered tops, and you can view them from a platform; at low tide you can descend the long flights of steps to the sea floor and walk among them. Or you can join a guided kayak tour to paddle among them at high tide.
Also in Hopewell Cape, there's the local-focused Albert County Museum. The heritage buildings and artifacts at the museum recall the area's pioneer shipbuilding and logging past.
Address: 131 Discovery Road, Hopewell Cape, New Brunswick
Official site: http://www.thehopewellrocks.ca/
3. Magnetic Hill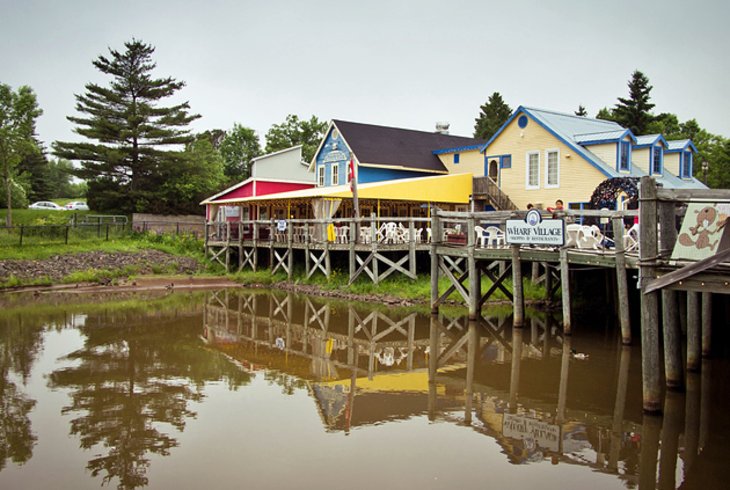 Just northwest of Moncton, Magnetic Hill is one of Canada's most visited natural wonders, so much so that this long-time tourism icon has been named to the Canadian Register of Historic Places. The fascination stems from the illusion that a car placed in neutral with brakes released is mysteriously drawn uphill. Of course, you'll be wondering how this can happen.
Magnetic Hill is an optical illusion caused by the grade of the surrounding terrain. The car isn't really moving uphill, but your perspective—and perception—of the terrain makes you think it is. The Magnetic Hill Wharf Village is a tourist area with shops and restaurants, designed to look like an old maritime fishing village.
Official site: http://www.magnetichill.com
4. Magnetic Hill Zoo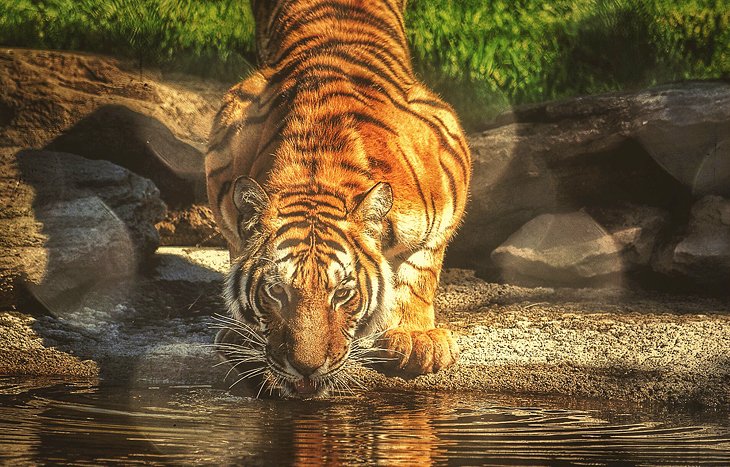 The 40-acre Magnetic Hill Zoo is the largest in Atlantic Canada, with nearly 600 indigenous and exotic animals in residence. The range is quite broad, from African lions and Amur tigers to the indigenous white-tailed deer and woodland caribou. Other big cats include jaguars and the Amur Leopard; and other exotic species found here are anteaters, tamarins, elands, lemurs and several varieties of monkeys. Bird species include peacocks, Caribbean flamingos, toucans and cockatoos.
The Zoo is divided into areas representing different habitats: the Americas, Asia, Africa, and the Discovery Centre. A huge three-level playground is an added attraction for children.
Address: 125 Magic Mountain Road, Moncton, New Brunswick
5. Parlee Beach Provincial Park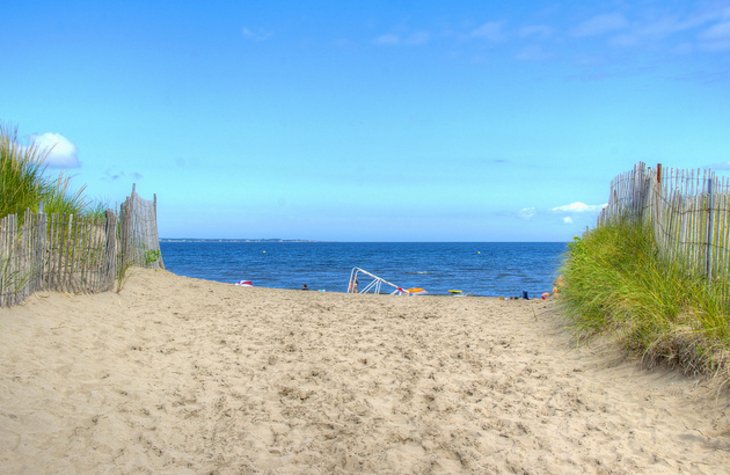 On the Northumberland Strait, north of Moncton, Shediac's Parlee Beach Provincial Park has one of the finest sandy beaches on Canada's Atlantic coast. Add to that the attraction that in summer, the relatively shallow water here can get as warm as 20 degrees Celsius (68 degrees Fahrenheit). Along with its long white sands and gentle surf, Parlee Beach Provincial Park offers changing facilities, picnic areas, and a campground.
The nearby town of Shediac proclaims itself the lobster capital of the world, as evidenced by the giant lobster statue near the visitor information center. You can be sure to get fresh seafood in one of the several restaurants lining the shore here.
Address: 45 Parlee Beach Road, Pointe-du-Chêne, New Brunswick
6. Bouctouche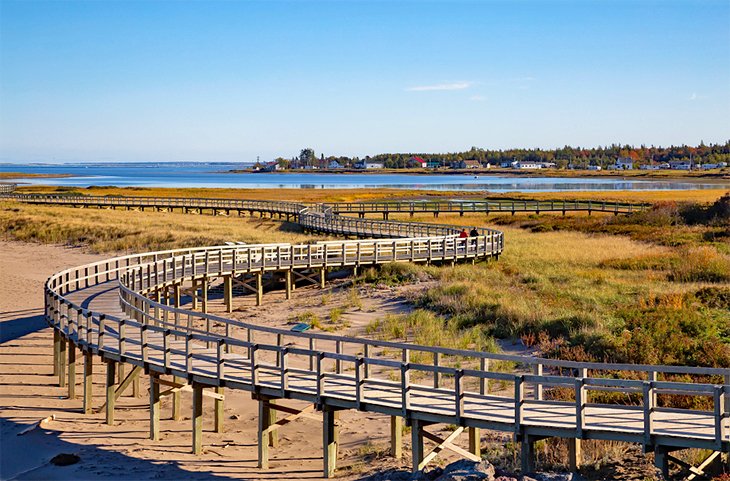 Bouctouche, about 50 kilometers north of Moncton, is a traditional Acadian fishing community, and home to La Dune de Bouctouche, one of the few remaining sand dunes on the northeast coast of North America. The dune extends across Bouctouche Bay, providing a vital marine habitat, and you can explore it via a wide boardwalk that runs for much of its length.
The Irving Eco Centre provides information on the dunes, area wildlife, and habitat preservation through guided ranger tours and an interpretation center, which is especially appealing to children, with telephones that allow them to listen to birds.
Nearby, Le Pays de la Sagouine is a charming stage-set town that pays homage to the fictional world created in the works of Antonine Maillet. A small island has been transformed into the Depression-era hometown of La Saguine, Maillet's central character, and its houses and shops are filled with real artifacts of that time. This makes it a mix of living history museum and fun park, and although the encounters between the characters who inhabit these are in French, anyone can enjoy the performances—and the chance to hear authentic Acadian music.
Address: Route 134, Bouctouche, New Brunswick
7. Sackville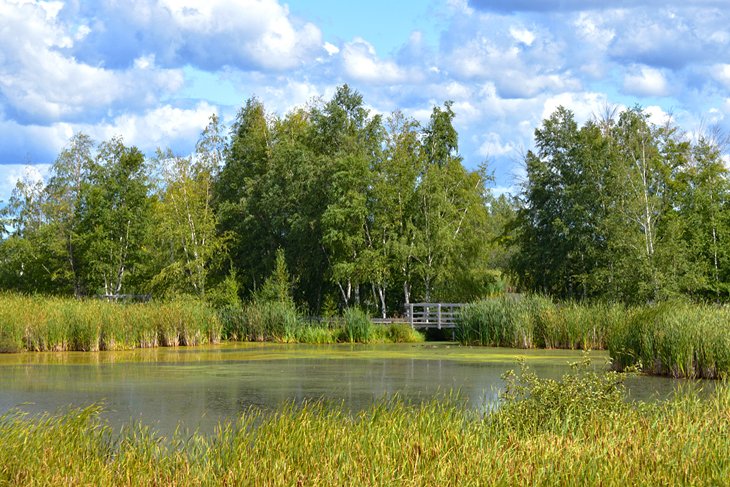 Sackville is located five minutes from the Nova Scotia border, on the Tantramar Marshes. The marshland provides wonderful habitat for birds, making the area a popular destination for bird-watching. The Sackville Waterfowl Park has 2.5 miles of boardwalks and walking trails through its 55 acres of woods, water, marsh, and meadows, where more than 180 bird species and 200 plants are found. A brochure available at the tourist office includes a checklist for recording your sightings.
Sackville is a center for the arts, and the self-guided Sackville Arts Walk brochure can lead you to galleries, public art works, and museums, including the Owens Art Gallery on the Mount Allison University campus, which has a permanent collection of more than 3,000 works.
Historic attractions include the interesting Campbell Carriage Factory Museum, originally a tannery and converted to a carriage factory in the middle of the 19th century. The museum houses more than 6,000 artifacts related to horse-drawn vehicles, agricultural equipment, and caskets.
8. Cape Enrage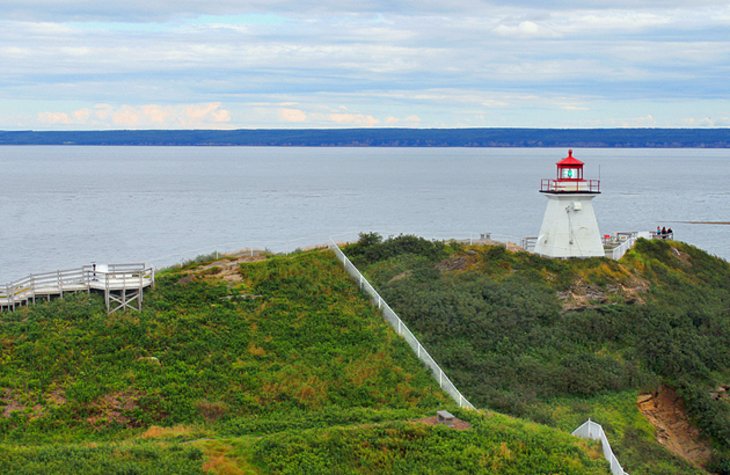 Cape Enrage extends out into the Bay of Fundy nearly halfway to Nova Scotia, and off it lies a large reef that causes violent seas, especially at mid-tide when the reef is partially exposed, and the water is in motion. This made the cape prone to shipwrecks, and in 1839, the lighthouse was built. It remains in operation today, and has become the home of an outdoor activity center offering rock-climbing, rappelling, and kayaking, as well as a 182-meter zipline.
Also at the lighthouse are the charming little Cape House Restaurant and the Gallery at the Cape, and there are viewing platforms overlooking the towering cliffs and light station. Below is a beach strewn with fossils from the soaring cliffs, revealing layers of 320-million-year-old sedimentary rock, but this area is dangerous and should only be accessed with a guide from the center or with their advice.
Address: 650 Cape Enrage Road, Waterside, New Brunswick
Official site: http://www.capeenrage.ca/
9. Fort Beauséjour National Historic Site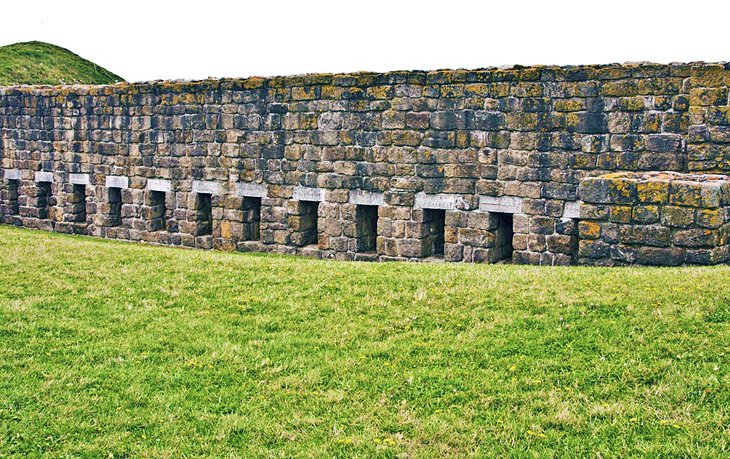 Fort Beauséjour is a national historic site southeast of Moncton, near the Nova Scotia-New Brunswick border. French settled here in the second half of the 17th century, calling the land "Beau Bassin." The Treaty of Utrecht in 1713 gave the area to the Scots and the English, and the border between British Nova Scotia (New Scotland) and French Acadia was similar to the provincial boundary today.
The French built Fort Beauséjour on their side, and the British built Fort Lawrence on theirs. The British captured Fort Beauséjour in 1755, and deported the French-speaking Acadians, who refused to swear allegiance to the Crown.
You can explore the earthworks, casemates, and ruins of the star-shaped fort and learn about settlers and soldiers through fascinating artifacts and exhibits, and enjoy sweeping views over the Cumberland Basin and Chignecto Bay.
The ridgetop setting makes Fort Beausejour a favorite spot for flying kites. While in Aulac, follow signs to the Sun Maze at Trueman Blueberry Farms, on Etter Ridge Road. This unusual variation on the corn maze is a stunning field planted solidly with bright sunflowers and worth seeing even if you don't want to get lost among them.
Address: 11 Fort Beauséjour Road, Aulac, New Brunswick
Official site: https://www.pc.gc.ca/en/lhn-nhs/nb/beausejour
10. Centennial Park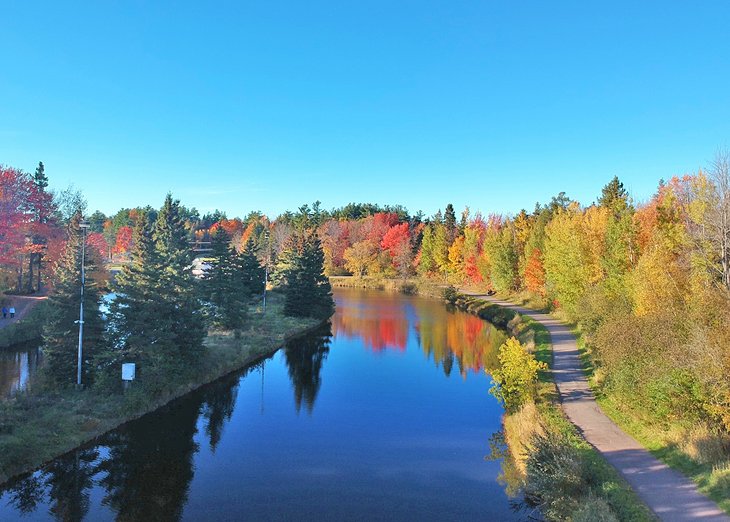 The large park in the center of Moncton mixes woodlands and open recreational spaces that offer a variety of activities year-round. A new swimming pool and beach area with a wading pool for children opened in 2019, and there are picnic facilities, lawn bowling, tennis courts, and playgrounds, as well as gravel and paved trails for hikers and cyclists.
In the winter, the park is popular for ice-skating, snowshoeing, tobogganing, and skiing (the park has Eastern Canada's longest lighted cross-country ski trail).
Address: 811 St. George Blvd, Moncton, New Brunswick
11. Acadian Museum (Musee Acadien)
Located at the Université de Moncton, founded in 1963 with French as its primary language, the Acadian Museum brings together historic artifacts and audio-visual exhibits to examine the Acadian people and their history and culture. Unlike most other Acadian centers, the focus here is more on the life of the Acadian people, their farming, homes, and arts as part of a living culture. While it includes the 1755 deportation and its aftermath, it also brings the Acadian story into the present, portraying a vibrant living culture and its recent resurgence.
Alongside the Acadian Museum is the Galerie d'art Louise-et-Reuben-Cohen, whose collections concentrate on contemporary Acadian art, as well as works by Canadian and international artists.
Address: 405 Université Avenue, Moncton, New Brunswick
12. Resurgo Place
Although designed primarily for children, this history and science discovery center/museum has plenty to interest and entertain adults, too. Interactive exhibits center largely on transportation, highlighting Moncton's own past as a rail and shipbuilding center. Hands-on activities include testing aircraft in a wind tunnel, building and racing small boats, and discovering how gears and pulleys work.
Artifacts from Moncton's past are displayed to illustrate life from the times of the Mi'kmaq to the present, and include exhibits on the early Acadian farms. A huge interactive map of Moncton is a central feature of the museum.
Address: 20 Mountain Road, Moncton, New Brunswick
Official site: https://www.resurgo.ca/home
Where to Stay in Moncton for Sightseeing
Mid-Range Hotels: With an enviable location in the middle of the downtown restaurants and shopping, Residence Inn by Marriott Moncton has spacious studios and one- or two-bedroom suites with fully equipped kitchens. There is an indoor pool and whirlpool, and both breakfast and parking are free.

In the same area, close to shopping, restaurants, and entertainment, Crowne Plaza Moncton Downtown has quiet rooms, some accommodating families. There's an indoor pool and 24-hour fitness center. Breakfast is included.

Four Points by Sheraton Moncton is located a bit out of town, right off Route 2, a good choice for those using Moncton as a base for day trips. There are several restaurants just down the road.

Just across Route 2 is the Hampton Inn & Suites by Hilton Moncton, with a fitness center, indoor pool, and water slide. Chateau Moncton Trademark Collection by Wyndham sits alongside the river, a bit out of town, but convenient to the Champlain Place mall and within walking distance of downtown.
Budget Hotels: The Midtown Motel & Suites is in a convenient location a few blocks from the central restaurant area. Rooms have kitchenettes, and parking is free. Rodd Moncton Hotel has an enviable downtown location, with riverside rooms overlooking the Tidal Bore. There is an outdoor pool and terrace, and both breakfast and parking are included.
More Related Articles on PlanetWare.com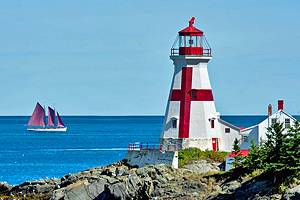 Places to Visit near Moncton: The Tidal Bore and Hopewell Rocks will surely spur your interest to see more of the Bay of Fundy and its attractions. You can find other nearby places to visit in our pages on the city of Fredericton and the top tourist attractions of New Brunswick.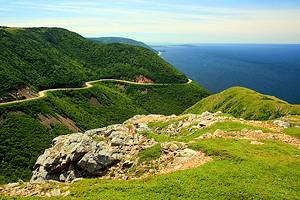 Where to Go in Atlantic Canada: When you visit Sackville and Fort Beausejour, you are close to New Brunswick's border with the province of Nova Scotia and its lovely Annapolis Valley. If you have time to spare, it's worth adding this area to your eastern Canada itinerary. For more things to do in Nova Scotia, refer to our pages on Cape Breton Island and historic Lunenburg and Mahoney Bay.
More on Canada