14 Best Lakes in Canada
We may earn a commission from affiliate links ()
Canada has an estimated two million lakes – but only 12 of them made it onto our list of the best lakes in the country.
From brilliantly blue glacier-fed lakes to lakes begging to be paddled by canoe in the summer, or skated on in the winter, we've narrowed our list to include some of the most popular, picturesque, and spectacular lakes in the entire nation.
While some of the lakes on this list are perfect for taking a dip, others remain ice-cold even on the hottest summer day – and one of them prohibits swimming altogether. But as you'll discover, it's still well worth a visit.
Plan your sightseeing with our list of the best lakes in Canada.
1. Lake Louise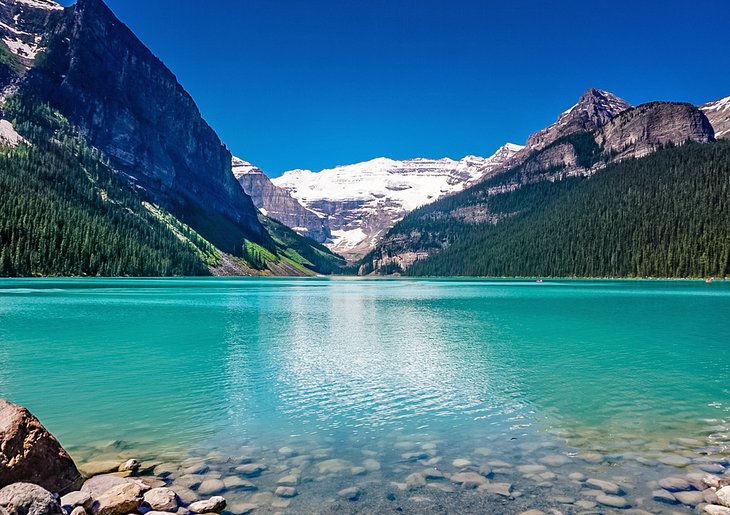 One of the most extraordinary lakes in Canada is the beautiful Lake Louise, located in Banff National Park. The aqua blue water looks tantalizingly tropical – but as you'll quickly realize if you hop in for a dip, this glacier-fed lake is freezing cold year-round.
While it may not be the best lake for swimming, it's an incredibly popular tourist destination. The lake is easily accessed and is incredibly photogenic, nestled below the towering Rocky Mountains. It's a picturesque spot for a paddle in the summer and a lovely place for ice-skating in the winter.
There are plenty of day hikes to tackle around the lake. An easy one to start with is the Lake Louise Lakeshore trail, a flat, hour-long accessible hike that will take you around the circumference of the lake. The Fairview Lookout is another fairly easy option, gaining 100 meters and leading to a lookout above Lake Louise. Moderate trails will take you to other lakes in the area, like the Lake Agnes Teahouse hike , while more difficult trails bring you even higher into the mountains.
2. Moraine Lake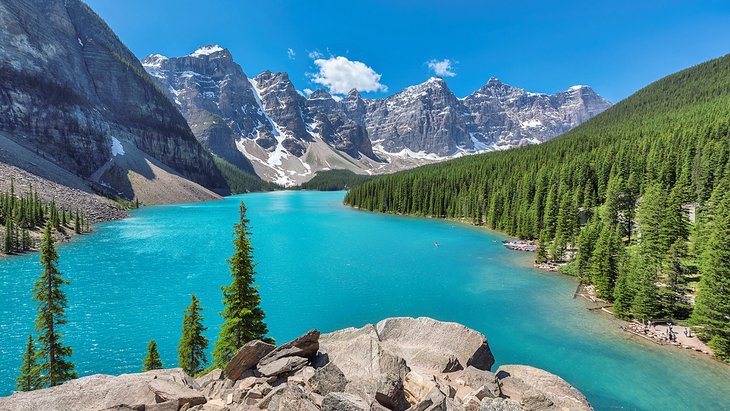 Not far from Lake Louise is another spectacular lake: Moraine Lake. Though it's only about half the size of Lake Louise, Moraine has the same sparkling green color and is flanked by some equally impressive mountain peaks.
It can be a little trickier to get to Moraine Lake: the road that accesses the lake closes in the winter and the lake remains frozen as late as June. The parking lot by the lake is relatively small and tends to fill up quickly. Parks Canada staff manages the lot, and if you're not there early enough, you may be turned back. You can always opt to take a shuttle to the lake to avoid dealing with the parking altogether.
Moraine Lake makes for a great day trip: you can take a canoe out for a spin (rentals are available right at the lake), hike along the shores of the water or trek one of the more challenging trails in the area, or simply sit by the lake to take in its beauty. If you can't get enough, there's a lodge offering overnight accommodations that is open seasonally.
Read More: Best Lakes in Alberta
3. Lake Superior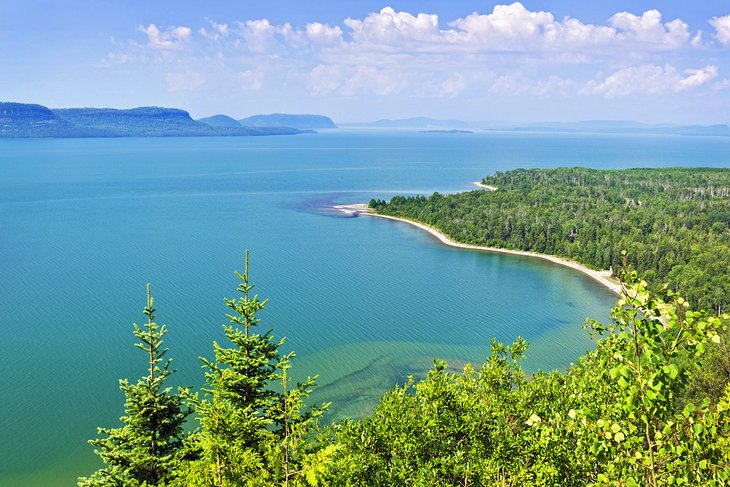 There are five Great Lakes, each with its own interesting features and attractions - but only one claimed a spot on our list: Lake Superior.
So what is it, exactly, that makes this lake so superior? Its size is certainly noteworthy: at 128,000 square kilometers, it is the largest of the Great Lakes and the biggest freshwater lake by surface area in the whole world.
But it's more than just a really big lake: Lake Superior's beauty is rugged and humbling. In clear weather, its bays sparkle blue, and the sandy beaches could almost be mistaken for the tropics - but in the blink of an eye, a creeping fog can take over and leave wanderers completely disoriented. In stormy weather, the lake rages with choppy waves.
There are plenty of ways to get up close and personal to Lake Superior: you could swim in the lake at one of its beaches, head out on the water for some fishing, explore the shore by kayak, or take a wilderness hike in one of the parks along the way, including Lake Superior Provincial Park, Ruby Lake Provincial Park, Sleeping Giant Provincial Park, and Pukaskwa National Park.
Read More:
4. Emerald Lake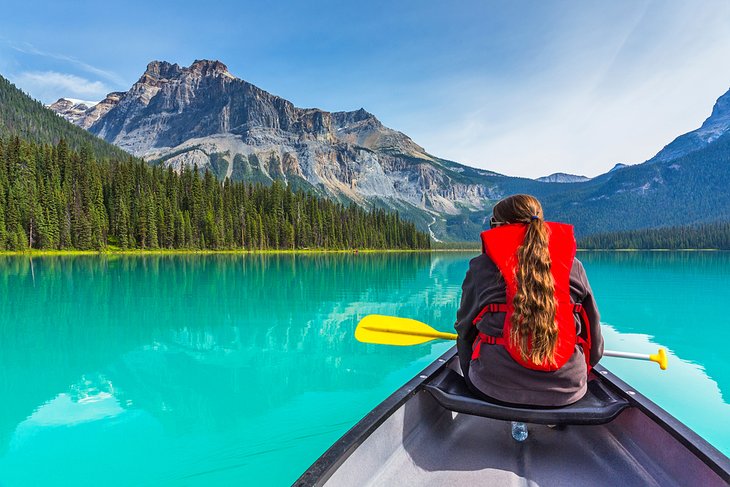 There are 61 lakes and ponds in British Columbia's Yoho National Park. Emerald Lake nabs the title for being the biggest one within the park's boundaries.
You don't need much of an imagination to figure out how this lake got its name: thanks to rock flour (superfine particles of glacial sediment), the water has a sparkling green hue, much like the gem it's named after.
There's plenty of fun to be had at Emerald Lake year-round. In the summer months, you can rent a canoe and take it for a paddle out on the water. Come wintertime, the lake freezes over and is a popular spot for cross-country skiing. One of the best times to check the lake out is early fall, before the snow arrives and after the summer crowds have come and gone.
There's a 5.2-kilometer trail around the lake, about half of which is wheelchair- and stroller-friendly - when there's no snow on the ground, that is. Thanks to its high elevation, snow can linger on the trails as late as June.
The Emerald Lake Lodge is a lovely resort on the water's edge. You can spend the night or just stop in for a bite to eat.
5. Spotted Lake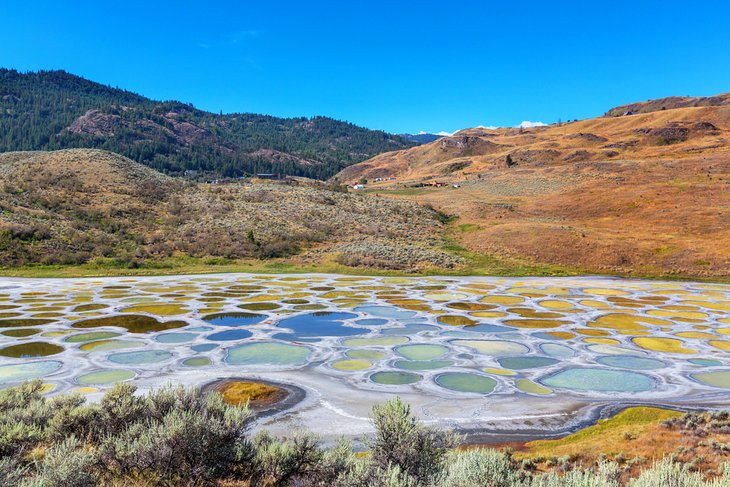 Arguably the coolest lake - figuratively, that is - in all of Canada is Spotted Lake near Osoyoos, British Columbia.
The lake has a delightfully whimsical look, featuring large polka dots speckling the water; some are blue, while others look green.
Though the lake looks magical, there's a scientific explanation behind the spots: it's all about the minerals. There are dense deposits of minerals throughout the lake, including magnesium sulfate, calcium, and sodium sulphates, among others. When some of the water evaporates in the summer, the spots are revealed. The colors of the spots vary, depending on the mineral composition.
The lake is beautiful to look at - and that's all you can really do here. Spotted Lake is an ecologically sensitive area and is a sacred site of the Okanagan Nation, so public access is restricted. Stop by in the summer months, when the spots are more pronounced.
6. Garibaldi Lake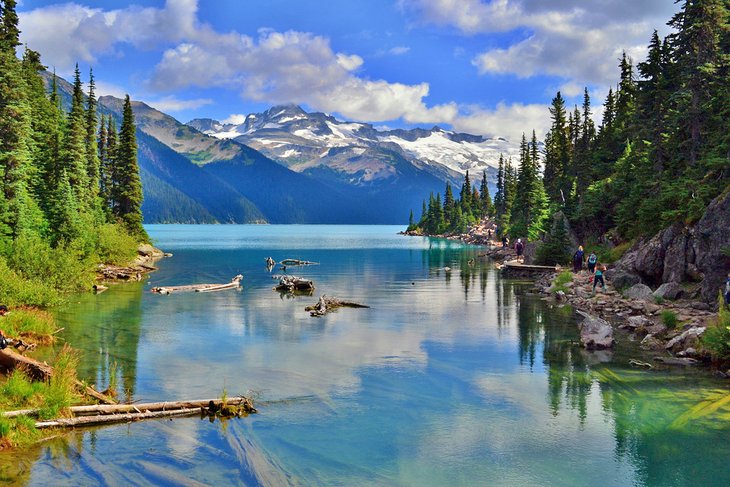 Many of the lakes on this list are fairly easy to access. Some require a long drive, others require you to battle for a parking spot - but still, you don't have to work very hard to get to the lake.
Garibaldi Lake is another story.
Located in British Columbia's Garibaldi Provincial Park near Whistler, Garibaldi Lake is an incredibly beautiful alpine lake - and you're going to have to work up a sweat if you want to see it in person. It's a nine-kilometer hiking trail - each way - to get to Garibaldi Lake, and you'll gain a whopping 820 meters along the way.
The trail starts with a steady climb through forested switchbacks, eventually reaching alpine meadows that are blanketed with colorful wildflowers in the summer.
You can hike to the lake as a day trip, or you can reserve a campsite spot right along the lake - though hiking up with a backpack full of camping gear will slow you down a little. From the lake, there are even more trails to explore, like the hike up Black Tusk or the Panorama Ridge trail, which will give you incredible views of Garibaldi Lake from above.
There is one way to experience the beauty of Garibaldi Lake that doesn't require hiking boots: a scenic flight tour in a small plane will grant you a bird's-eye view of the lake. Unlike hiking, it's not free - but you won't break a sweat, and you'll get there much faster!
Accommodation: Where to Stay in Whistler: Best Areas & Hotels
Read More:
7. Peyto Lake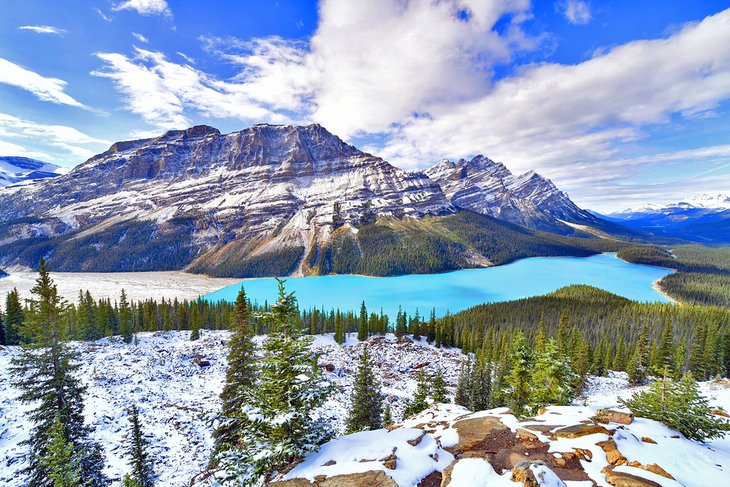 We know, we know - another glacier-fed blue lake in Banff National Park?
You'd be forgiven for thinking that once you've seen one beautiful glacial lake, you've seen them all - but you'd also be sorely mistaken. Even if you've had the chance to visit Lake Louise and Moraine Lake in person, it's still well worth making a trip along the Columbia Icefields Parkway to see the bluer-than-blue Peyto Lake in person.
Like the other easily accessible lakes near Banff, Peyto Lake tends to get busy during tourist season. A lot of people try to beat the crowds by showing up early in the morning, but we'll let you in on a secret: late afternoon/early evening also tend to be quieter times for a visit.
Note: The viewpoint, viewing platform, and upper parking lot is closed for improvements for the 2020 season and is anticipated to re-open in winter 2020.
8. Lake of Bays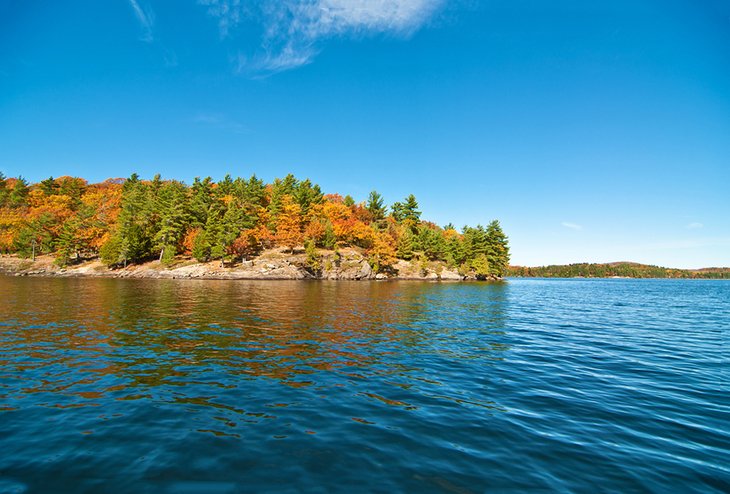 Muskoka is Ontario's cottage country, the place people go to escape the madness of the city for a little rest and relaxation by the water. There are tons of great lakes in the area, but one of the best is Lake of Bays.
The nature of the lake changes, depending on where you are. Some parts are developed, with golf clubs, public beaches, and lodges by the water. There are lots of nooks with private cottages, and parts of the shoreline remain untouched. There are several islands throughout the lake, too.
As the name suggests, the huge lake (covering 671.5 square kilometers) features tons of bays, creating calm pockets of water that offer dream conditions for cottage activities like boating, swimming, paddleboarding, and water skiing.
When the water freezes over in the winter, the lake becomes a hot spot for ice fishing, snowmobiling, and impromptu pond hockey games.
9. Kathleen Lake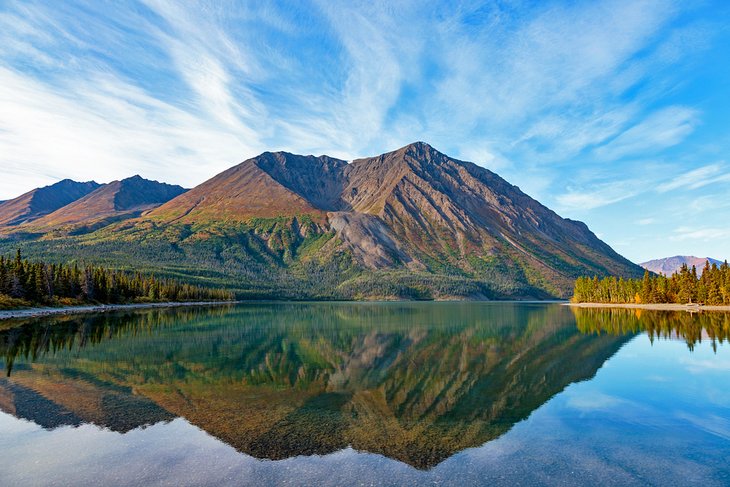 Situated in the Yukon's Kluane National Park, Kathleen Lake is a picture-perfect silver-blue expanse of water nestled beneath the snowcapped mountains.
There's lots to do in - and around - the lake. It's a great spot for a refreshing dip after completing the famous King's Throne hike nearby, or you could opt for a shorter, mellow hike along the lake's perimeter.
You can also pitch a tent at a campsite close to the lake and make it your home base as you explore the park. The campsite is open mid-May to mid-September - reservations are recommended in the summer.
This is a beautiful spot to check out all four seasons, from enjoying the golden foliage in the fall to watching the ice melt on the lake in the spring. When the lake is smooth and glassy, it's a great place to pop in your kayak and go for a paddle. However, keep an eye on the weather - the area is known to get very windy, and you don't want to be caught out on the water when it's blowing hard.
10. Lake of the Woods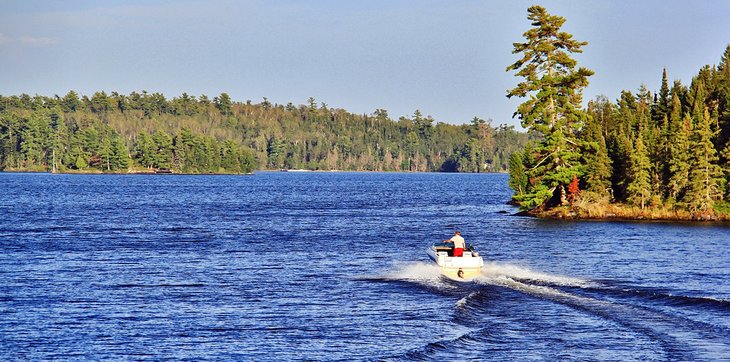 Shared between Manitoba, Ontario, and the American state of Minnesota, Lake of the Woods is a huge lake - nearly 4,500 square kilometers - with more than 14,550 islands scattered throughout. It's also one of the top attractions in Ontario.
Think about it this way: it would take you nearly 40 years to camp a single night on each of the islands located throughout the lake!
The character of the lake changes, depending on where you go. Close to Kenora, you'll find plenty of motorboats whizzing by and cottages perched on the lakeshore. The farther out you go, the more remote it feels. You can head out exploring in your own boat - or you can even bring a small crowd and rent a houseboat.
Anglers, this is a lake that you'll definitely want to put on your list: the fishing is excellent, and your catch of the day could include walleye, northern pike, or lake trout, among others. Settle in at one of the luxury fishing lodges and explore the lake with a guide.
Lake of the Woods is a little out of the way if you're planning on coming from a major city, like Toronto - but that's part of its appeal, too.
Read More: Best Lakes in Ontario
11. Berg Lake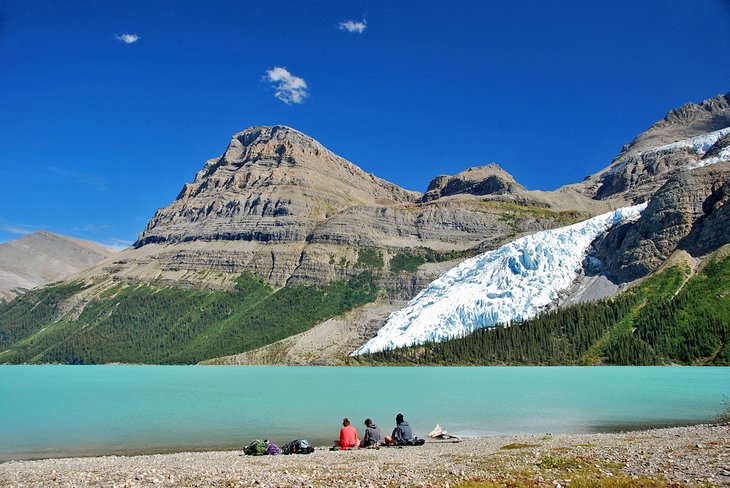 British Columbia's Berg Lake is a jaw-droppingly beautiful glacial lake with water so turquoise it almost looks fake. In order to get to this slice of paradise, be prepared to work for it: you will need to hike 23 kilometers (each way) along the Berg Lake Trail in Mount Robson Provincial Park to get to the lake.
The hike to Berg Lake is beautiful, first passing by Kinney Lake (a pretty lake well worth stopping at for a picnic) and past the cascading Emperor Falls. From here, it's another few kilometers to Berg Lake. You can't miss it, stretching below Mount Robson - which, at 3,954 meters, is the highest peak in the Canadian Rockies.
You can camp at the lake, but a reservation is needed and should be booked well ahead of time, especially if you're heading up during the popular summer months.
12. Lake Athabasca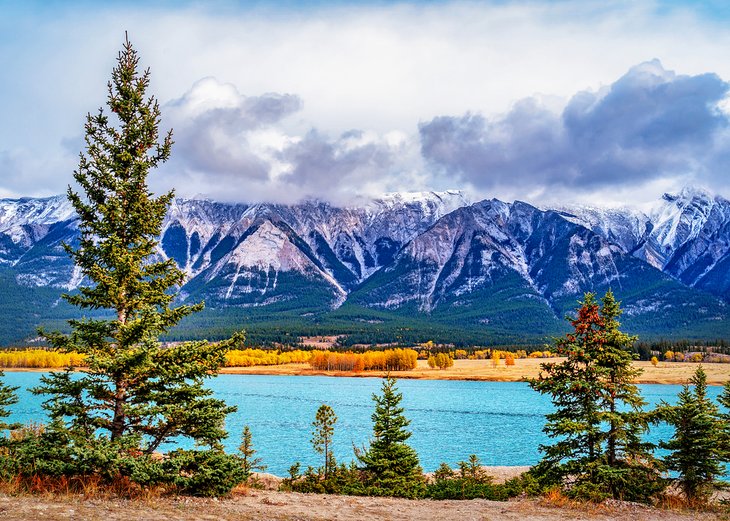 Straddling Saskatchewan and Alberta (with about 70 percent of the lake lying within the boundaries of SK), this 7,850-square-kilometer lake is the 8th largest lake in Canada, and the largest in both Alberta or Saskatchewan.
One of the best ways to experience Lake Athabasca is to plan a trip to Athabasca Sand Dunes Provincial Park. The dunes surrounding a portion of the shoreline in Saskatchewan are unlike any other landscape you'll see in Canada - but you'll have to either fly in or catch a boat to access them.
Expect a true wilderness experience; plan and pack carefully, as there isn't much in the way of amenities once you're in the dunes.
13. Rainy Lake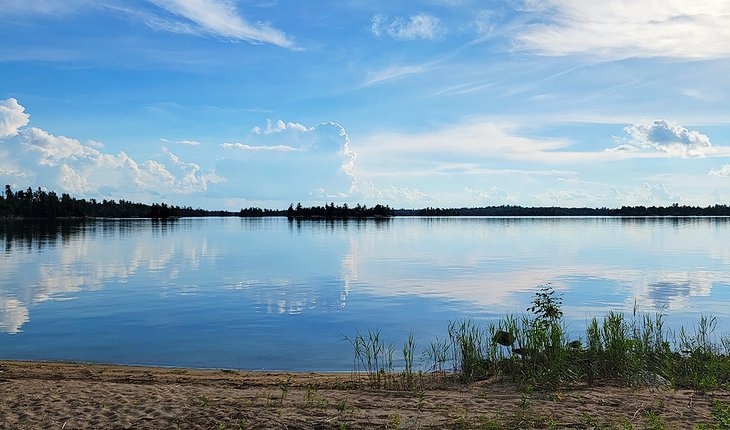 Massive and undiscovered by most people, Rainy Lake is unique in many ways. The lake stretches north, south, and east of Fort Frances, Ontario, one of the best small towns in Canada.
This body of water is full of bays, over 2,000 islands, and wide-open stretches of water that any pleasure boater will love exploring. Cottages dot the lake, and swimming and water sports are a highlight.
Islands, large white pine trees, and exposed granite shorelines are trademarks of the north arm of Rainy Lake, while larger expanses of water typify the south arm. On the southern shore of the lake, you'll find Voyagers National Park, one of the best national parks in the United States.
The lake is also a hot spot for fishing. Bass is one of the most popular species that anglers chase after, and each July, the Fort Frances Canadian Bass Championship draws teams from across Canada and the United States. Walleye (pickerel) is also plentiful, and large northern pike reach trophy size on a regular basis.
14. Great Slave Lake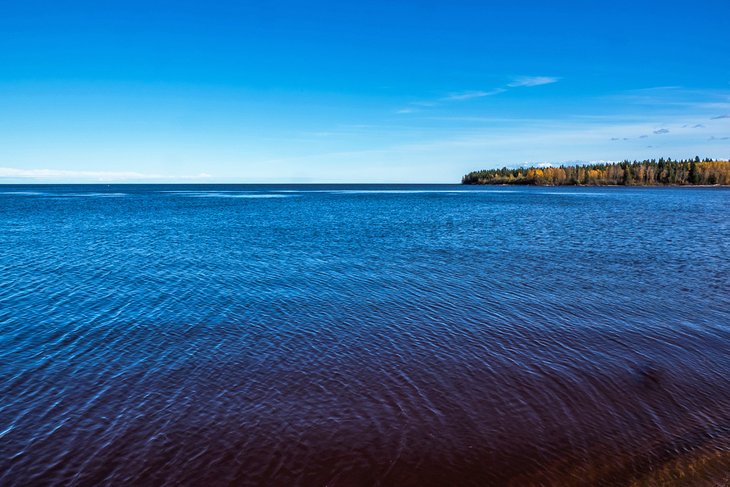 Northern Canada has some of the most impressive and remote lakes, and if you can get to them during the short summer season, you'll be in for a treat.
Great Slave Lake is a massive body of water, the tenth largest body of water in the world. It's an astounding 615 meters deep in sections and runs for 480 kilometers from end to end.
The lake is especially known for fishing, with Arctic grayling, trout, and northern pike. Birders also come from around the world to see over 200 species of birds that have been recorded on and along the lake's shorelines.
One pastime you may not think of immediately is sailing, but with huge expanses and deep waters Great Slave Lake is an ideal place for running up the sails and heading off into the sunset, which this far north could be after 11pm.