9 Top-Rated Tourist Attractions on Cape Breton Island
The highest mountains in Nova Scotia drop almost straight to the sea in places, combining to give Cape Breton Island some of Canada's most beautiful coastal scenery. Cape Breton Island forms the northeastern part of the province of Nova Scotia, linked to the mainland by a causeway across the Strait of Canso. Celtic culture blends with Acadian French to create a shared island heritage that's celebrated in festivals and community events throughout the island's towns and villages.
The Cape Breton Highlands National Park and the Cabot Trail that circles it draw tourists to the north, while the magnificently restored French Fortress of Louisbourg draw them to the southeastern corner, but these are by no means the island's only attractions. Hiking trails crisscross the national park, where there is also camping, and the beautiful beaches at Ingonish and elsewhere are popular with families.
The annual Celtic Colors Festival in October draws Celtic artists from across the diaspora, and the island's four 18-hole golf courses rank among Canada's best. Plan your trip with our list of the top tourist attractions on Cape Breton Island.
1. Cabot Trail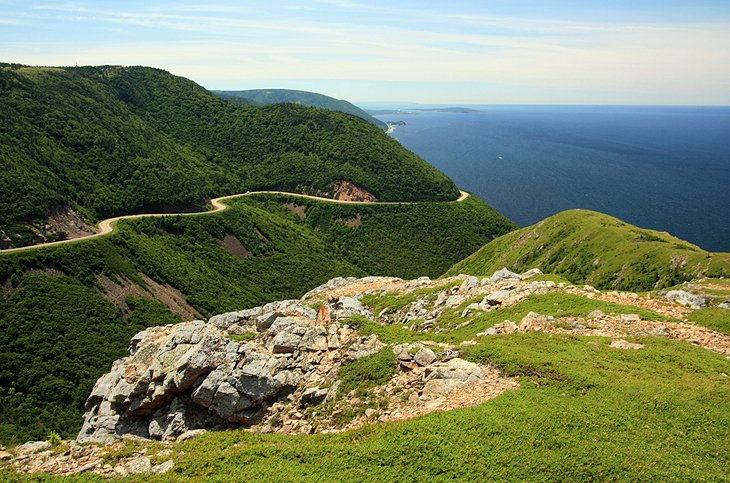 The Cabot Trail is a 300-kilometer scenic drive in the north of the island, starting from Baddeck and looping around Cape Breton Highlands National Park. It is named for Italian seafarer Giovanni Caboto (John Cabot), who sailed to North America in 1497 and claimed land in what is now Canada for England.
The combination of cliffs dropping into the ocean, rounded mountains, highland moors, glacially scarred rocks, and old-growth forests make the Cabot Trail one of the most beautiful stretches of road in North America. Viewpoints, beaches, hiking trails, small towns, and scenic attractions tempt drivers to pull over and linger along the way.
In addition to hiking and the scenery, towns along the Cabot Trail offer year-round sports, from kayaking and horseback riding to cross-country skiing and ice fishing.
Official site: http://www.cabottrail.travel/
2. Fortress of Louisbourg National Historic Site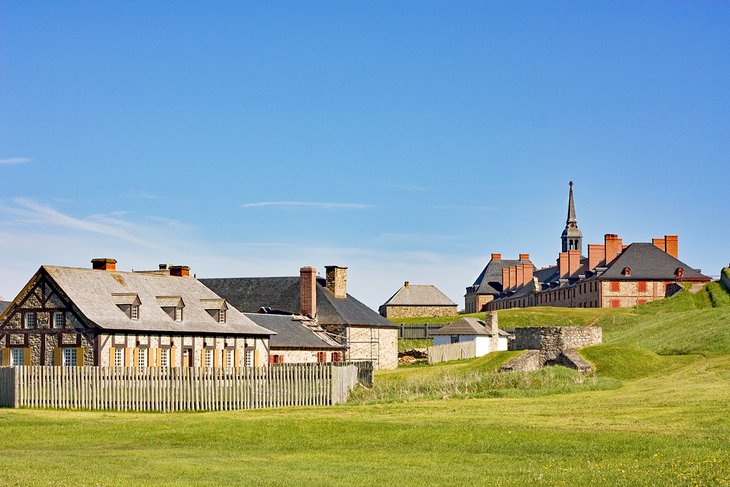 The Fortress of Louisbourg is Canada's most famous historical reconstruction, painstakingly recreated from ruins and contemporary records into an exceptional living history museum. Here, you will be introduced to the rigors of mid-18th-century life on the inhospitable, frequently mist-shrouded east coast of Canada.
Throughout the main tourist season, appropriately costumed "townspeople" (including servants, soldiers, merchants, maids, and fishermen) re-enact the arduous daily tasks of those times. Restaurants serve specialty dishes prepared from old recipes.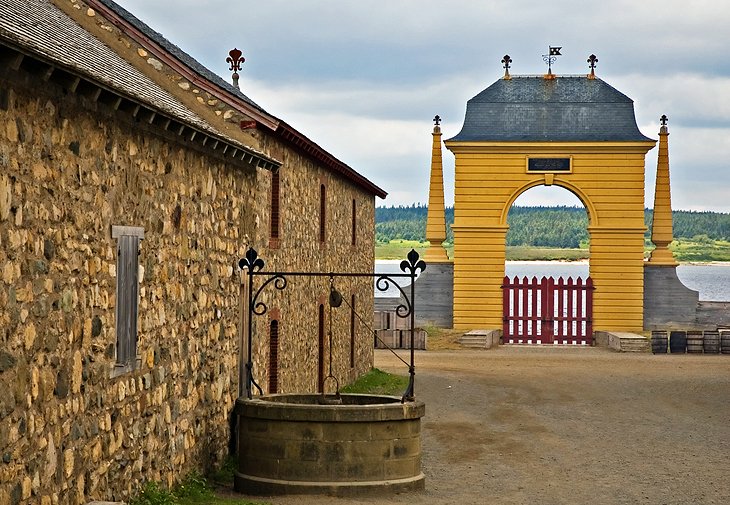 The fortress is surrounded by a wall with towers and bastions and encompasses more than forty buildings. The town, of which seven blocks of houses were rebuilt, was right on the water, so that ships could moor there. The most luxurious buildings are in the Bastion du Roi, which was occupied by the French King's representative. The ordinary soldiers' barracks were simply furnished.
You can experience some of the activities here, like firing a musket or even staying overnight in a period-style house, or camping in an authentic 18th-century style tent.
Address: 259 Park Service Road, Louisbourg, Nova Scotia
Official site: http://www.pc.gc.ca/eng/lhn-nhs/ns/louisbourg/index.aspx
3. Hiking Trails in Cape Breton Highlands National Park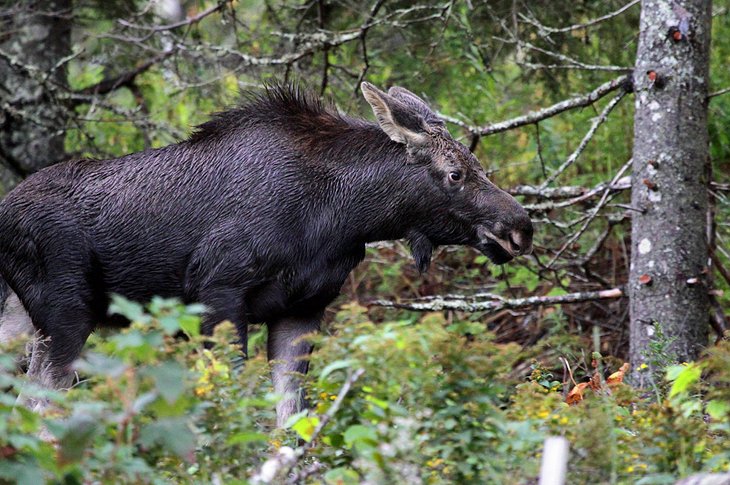 Along with touring on the Cabot Trail, one of the most popular things to do in Cape Breton Highlands National Park is hiking its scenic trails and enjoying its natural attractions up close. This mountainous national park in the north of the island extends for more than 950 square kilometers that are home to moose, beaver, deer, wild cats, duck, boreal birds, and eagles.
One of the most popular of the numerous footpaths and hiking trails, the spectacular Skyline Trail, is also one of the easiest. The trail begins at the top of French Mountain, on the Cabot trail and continues in a relatively level route to a dramatic headland where cliffs drop into the sea. It's important to stay on the boardwalk here, both for your own safety and to protect the fragile headland plant life.
Another highlight is the view down onto the Cabot Trail roadway far below. The distance out and back is 6.5 kilometers, or you can make a loop of 8.2 miles on a somewhat more rugged trail.
The park is home to two of the several waterfalls on Cape Breton Island, Beulach Ban Falls near Ingonish and the smaller Mary Ann Falls. Park visitor centers are located near Chéticamp and Igonish on the Cabot Trail.
Official site: http://www.pc.gc.ca/en/pn-np/ns/cbreton
4. Alexander Graham Bell National Historic Site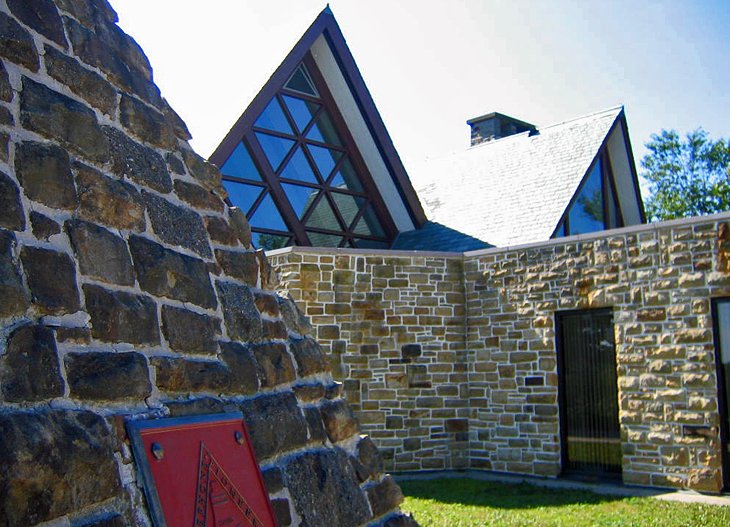 At the summer home of inventor Alexander Graham Bell, you can enjoy a glimpse into the life and work of the man who brought us the telephone and put his genius to work in areas as diverse as flight and artificial respiration. The Alexander Graham Bell National Historic Site houses personal effects and documents belonging to the famous inventor, as well as parts of two hydroplanes made by Bell and powered by aircraft engines.
Special programs include a White Gloves Tour that lets visitors handle actual artifacts, and a Tetrahedral Kite Workshop, where you can build and test a kite based on his designs. The Bell home is on the shores of Bras d'Or Lake, in the beautiful town of Baddeck, a starting point for the Cabot Trail scenic drive.
Address: 559 Chebucto Street, Baddeck, Nova Scotia
Official site: http://www.pc.gc.ca/eng/lhn-nhs/ns/grahambell/index.aspx
5. Cape Breton Miners' Museum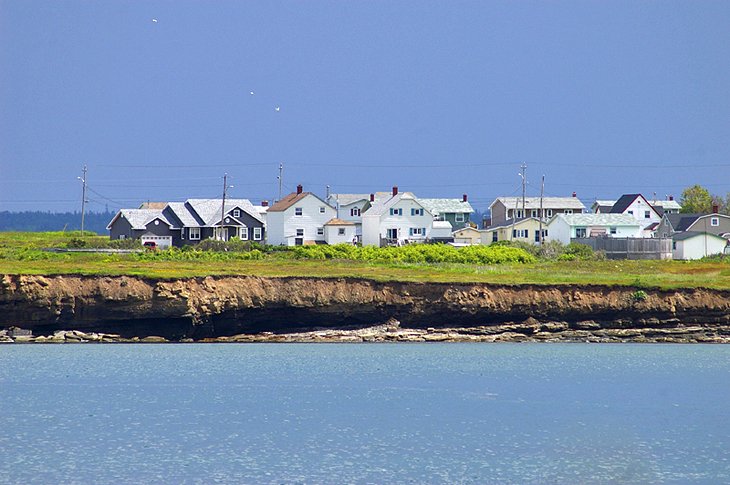 Glace Bay has long been known for its coal. The hill on which the town was built contained vast coal deposits, mined by the French since 1720. The Cape Breton Miners' Museum shows how coal originated, as well as demonstrating old and new coal mining methods. Retired miners lead fascinating tours of an actual coal mine, relating real-life stories of the miners lives and experiences working the coal seams.
Next to the museum is a reconstruction of miners' quarters from the second half of the 19th century. The Men of the Deeps, a choir made up of working and retired Cape Breton coal miners, give weekly evening concerts in the summer.
Also in Glace Bay, Marconi National Historic Site deals with the life and work of Guglielmo Marconi, the Wizard of Wireless, who proved it was possible to send messages across the Atlantic using electromagnetic waves instead of wires.
Address: 17 Museum Street, Glace Bay, Nova Scotia
Official site: www.minersmuseum.com
6. Celtic Music Interpretive Centre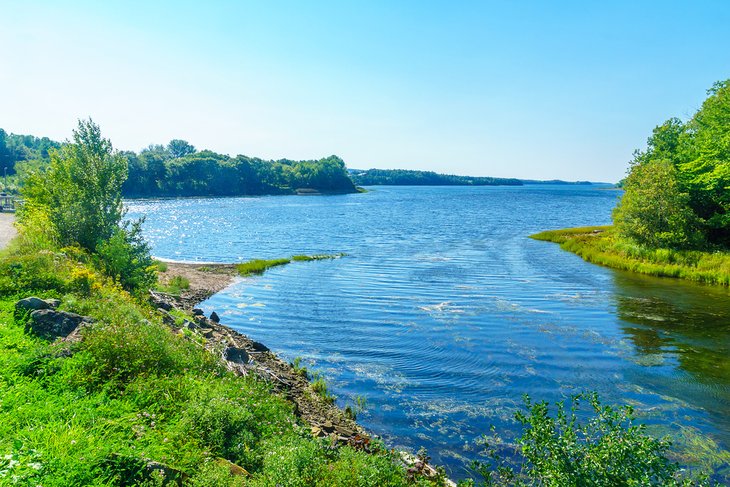 The Celtic Music Interpretive Center is a unique place that offers an immersive experience for visitors who want to learn about the importance of Celtic music on Cape Breton Island.
The center has a traditional exhibit room that is fully interactive, offering historical information, as well as hands-on opportunities with a variety of instruments, including the chance to try your hand at the fiddle. Visitors can also admire examples of vintage instruments, learn about what distinguishes one type of music from another, learn Gaelic, or try out traditional dances.
Beyond the exhibit hall, there are even more experiences, including the Musical Walking Tours. This 90-minute tour explores the Celtic Shores Coastal Trail, featuring a knowledgeable guide who explains local history and culture while entertaining the group with their fiddle along the way. Often, a bagpiper joins the group to serenade a part of the walk, and all walks include a short rest with snacks and mini dance lessons.
One of the best parts about the center is its restaurant, with ceilidhs (Celtic social events with live music) at lunchtime. The center also hosts frequent workshops and concerts, and offers live music every day of the week.
Address: 5473 Hwy 19, Judique, Nova Scotia
Official site: www.celticmusiccentre.com
7. Les Trois Pignons, Chéticamp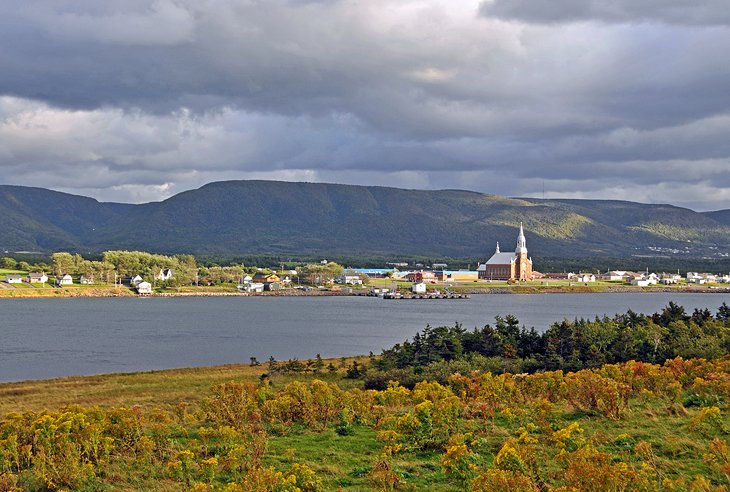 Les Trois Pignons in Chéticamp, a little Acadian fishing village on the edge of Cape Breton Highlands National Park, focuses on the art form perfected by Acadian women who settled here: rug hooking. It blends the area's history with the evolution of hooked rugs, preserving entire rooms of furniture and household items and opening a window into the lives of Acadian settlers in this part of the island.
But what you'll remember most are the examples of antique and contemporary rug hooking, shown in gallery after gallery. These range from small scatter rugs to room-sized masterpieces and wall hangings, even hooked portraits by artist Élizabeth LeFort. Her portrait of President Dwight Eisenhower, which hung in the White House, was made up of 160,000 tiny loops of wool fabric.
Address: 15584 Cabot Trail, Chéticamp, Nova Scotia
Official site: www.lestroispignons.com/en
8. Highland Village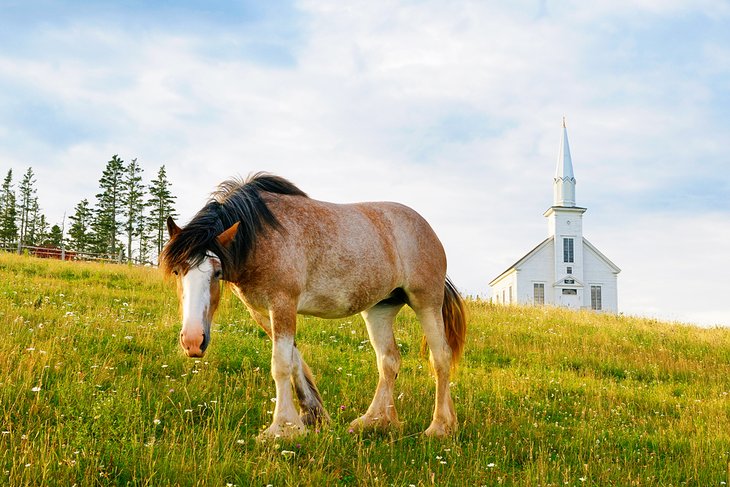 Gaelic culture is the theme of this living history museum in the heart of the Bras d'or Lakes. Lives of the Scottish families who settled here are captured in the period homes, church, general store, and one-room schoolhouse. A blacksmith is busy at his anvil, farmers harvest crops, and women prepare meals in the kitchens, while other costumed interpreters demonstrate spinning, dyeing, and weaving. You'll hear the lilting rhythms of the Gaelic language as well as traditional music, or perhaps be able to join in a Gaelic milling frolic.
The Bras d'or Lakes and their many bays spread across more than 1,000 square kilometers of southern Cape Breton Island, with both fresh and salt waters that provide plenty of boating and sailing opportunities. The lakes have been declared a UNESCO Biosphere Reserve.
Address: 4119 Highway 223, Iona, Nova Scotia
Official site: https://highlandvillage.novascotia.ca
9. The Lighthouses of Isle Madame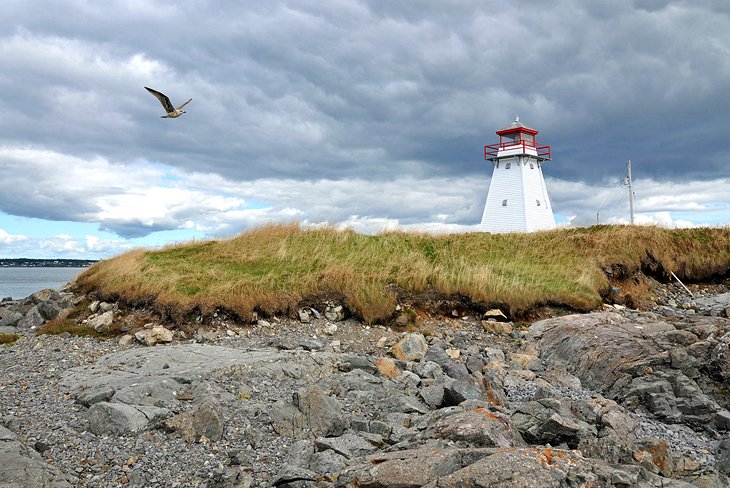 Nova Scotia has the most lighthouses of any Canadian province, and some of the most photo-worthy are on Isle Madame. You can download a map to see them on your own or join a guided driving and walking tour with the Isle Madame Lighthouse Preservation Society. On these tours, you'll hear stories of the lights, their keepers, and shipwrecks, and even learn why American Revolution Commander John Paul Jones' visited the island.
Isle Madame was settled by France, and at the time of the Acadian expulsion, many took refuge on Cape Breton Island, some escaping deportation by hiding on Isle Madame. The attractive villages on the island still bear an unmistakable French flavor.
Official site: http://www.islemadamelighthouses.ca
Map of Tourist Attractions on Cape Breton Island
Cape Breton Island (Sydney, NS) - Climate Chart
Average minimum and maximum temperatures for Sydney, Canada in °C
J
F
M
A
M
J
J
A
S
O
N
D

-1

-10

-2

-11

1

-7

6

-2

13

2

19

7

23

12

23

13

18

8

13

4

7

0

2

-6

PlanetWare.com
Average monthly precipitation totals for Sydney, Canada in mm.

152

125

132

125

99

91

86

97

104

137

160

173

Average monthly snowfall totals for Sydney, Canada in cm.

80

70

63

26

5

0

0

0

0

2

15

69
Average minimum and maximum temperatures for Sydney, Canada in °F
J
F
M
A
M
J
J
A
S
O
N
D

29

14

28

12

34

19

42

28

54

36

65

45

73

53

72

54

64

46

54

39

44

32

34

21

PlanetWare.com
Average monthly precipitation totals for Sydney, Canada in inches.

6.0

4.9

5.2

4.9

3.9

3.6

3.4

3.8

4.1

5.4

6.3

6.8

Average monthly snowfall totals for Sydney, Canada in inches.

31

28

25

10

2.0

0

0

0

0

1.0

5.8

27
More Places to See near Cape Breton Island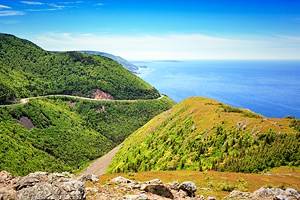 As you travel through Nova Scotia on your way to Cape Breton Island, you'll want to stop and explore the province's Acadian region in the lovely Annapolis Valley, as well as the towns of Lunenburg and Mahone Bay on the southern coast and the lively capital city of Halifax. You can cross the Bay of Fundy by ferry to visit the New Brunswick cities of Saint John and Moncton, or you can take a ferry or cross the Confederation Bridge to visit Prince Edward Island and its capital of Charlottetown, where the Canadian Federation was born. Cape Breton Island's westernmost city of Sydney is the port for ferries to Canada's island province of Newfoundland.