14 Top-Rated Attractions & Things to Do in St. John's, Newfoundland
The capital of Newfoundland St. John's rises on hillsides overlooking one of the world's finest natural harbors. The setting is spectacular, and unlike many cities, it embraces its harbor closely, so ships come and go in the very heart of its commercial and residential center.
The oldest city founded by Europeans in North America, St. John's served as a base for fishing boats from various countries from as early as the 1500s, and even today has the distinct feel of a maritime port. Many of its tourist attractions relate to its long and interesting history, but a number of best things to do here and in the area will bring you closer to the nature—and even wildlife—that make eastern Newfoundland so interesting: its wildly dramatic shoreline and the sea birds and animals that thrive off its shores.
You'll hear the term "Jellybean Row" used to describe St. John's brightly colored row houses. It's not necessarily one particular street and could apply to many groups of painted wooden homes that cover the hillside. Do take some time to stroll the streets above Water Street to see these icons of the city.
Discover all the best things to do during your visit with our list of the top attractions in St. John's.
1. Signal Hill National Historic Site & Cabot Tower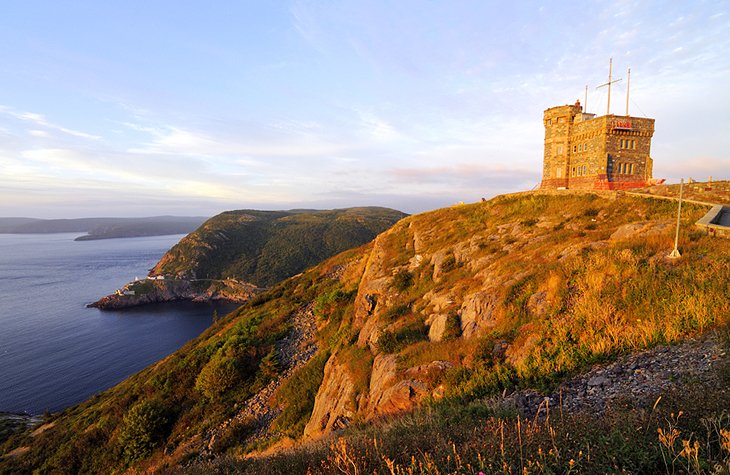 Several attractions make Signal Hill National Historic Site, overlooking the entrance to the harbor, the top place to visit in St. John's, not the least of which is the 360-degree view encompassing the city, harbor, and sea. You can learn about the history and importance of Signal Hill and the harbor in the Visitor Centre, and explore the ruins of Queen's Battery, built in the 1700s.
Crowning the hill, Cabot Tower was begun in 1898 to mark the 400th anniversary of John Cabot's Voyage. Inside are exhibits about Guglielmo Marconi and the first transatlantic wireless broadcast. It was here, in 1901, that Marconi received that first transmission from England. The traditional Noonday Gun is fired daily in the summer from beside the tower.
Also in the summer, the Signal Hill Tattoo recreates military drills from the 1800s, with marching bands, cannons, and musket fire, commemorating the last battle of the Seven Years' War, fought here in 1762. This is usually performed four days a week, and it's one of the favorite things to do for families visiting the city.
Address: 230 Signal Hill Road, St. John's, Newfoundland
Official site: http://www.pc.gc.ca/eng/lhn-nhs/nl/signalhill
2. Cape Spear Lighthouse National Historic Site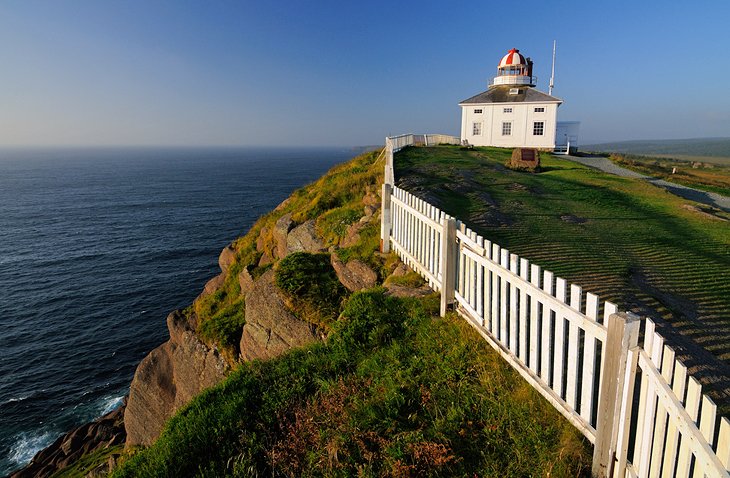 Atop dramatic cliffs just southeast of St. John's, Newfoundland's oldest surviving lighthouse marks Cape Spear, the most easterly point in North America. The 1836 lighthouse represents the unique design of that period, rising out of the center of the keeper's house, which has been restored to show the life of a 19th-century lighthouse keeper. This was the home of the same family for 150 years, as generation after generation of Cantwells worked to maintain the light that guided mariners safely past the cape.
You can also explore the remains of Fort Cape Spear, a World War II coastal defense battery that guarded St. John's and its harbor from German U-boats. Along with its historic significance, Cape Spear is a popular spot for spotting whales and icebergs, and for hikes along the dramatic coast.
Address: Blackhead Road, Blackhead, Newfoundland
Official site: https://www.pc.gc.ca/en/lhn-nhs/nl/spear
3. The Rooms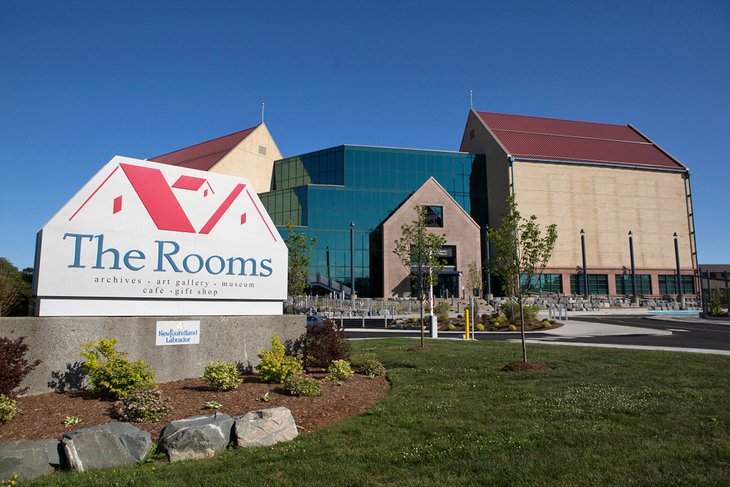 On a ridge overlooking the city, The Rooms combines the Provincial Museum, the Provincial Archives, and the Art Gallery of Newfoundland and Labrador into one integrated experience. Filled with interactive programs and exhibits, the innovative museum presents visitors with a changing set of experiences: meet a real Newfoundland dog, sample favorite Newfoundland foods, hear traditional music and learn to play an instrument, try a new art form, and learn how Newfoundland and Labrador played a central role in the development of air travel.
There's always lots of things to see and do here for the whole family. The observation deck offers views over the entire harbor
Address: 9 Bonaventure Ave, St. John's, Newfoundland
Official site: https://www.therooms.ca/
4. Quidi Vidi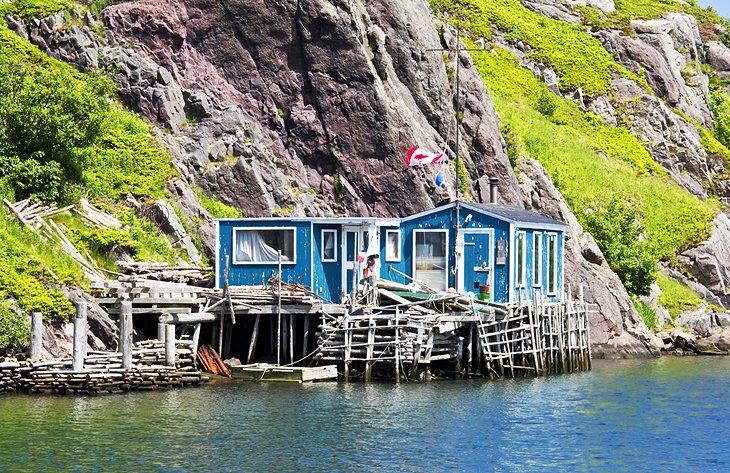 The charming little fishing community clustered at the shore of an inlet on the north side of Signal Hill has become a haven for local artisans and craftspeople, who welcome visitors to their studios and workshops. This is not only an excellent place to go shopping for quality gifts and souvenirs, but it's also the place to meet the artists, who are happy to demonstrate and discuss their work and answer questions.
The restored Quidi Vidi Battery overlooks the inlet and dates to the French occupation of St. John's. After British regained control in 1780, they strengthened the battery and used it as a garrison until withdrawing from Newfoundland in 1870. Possibly the oldest house in British Canada, built in 1740, survives within the fort. A narrow channel links the inlet with Quidi Vidi Lake, where the oldest sporting event in North America, the annual St. John's Regatta, is held.
5. Maritime Music on George Street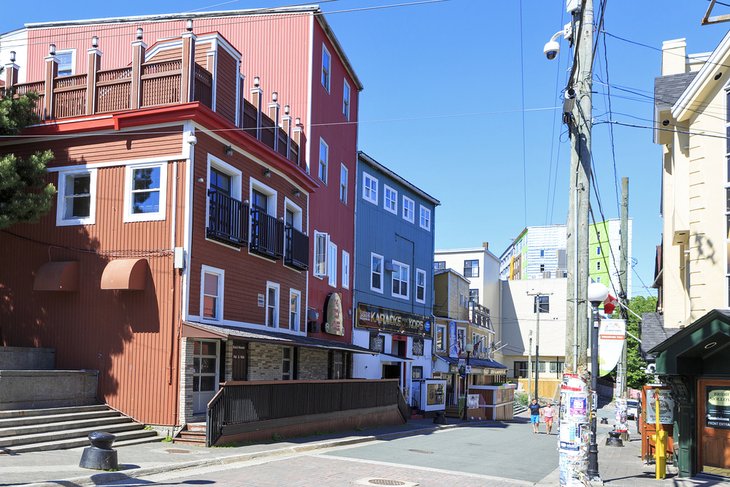 Newfoundland is a center for traditional Maritime Music, a style characterized by its strong Scottish and Irish influences and by the songs and ballads of sailors and fishermen. Hard to classify, Maritime Music usually features fiddle and guitar and often piano, and although its sounds and rhythms vary, it's a distinctive—and addictive—style that carries a strong sense of its seafaring roots. The place to hear it is on the two-block George Street, the tiny but active entertainment district in St. John's.
That's not the only kind of music you'll hear here, especially during the early August George Street Festival, when top Newfoundland bands gather for five days and nights of music. In October, George Street celebrates Mardi Gras (Newfoundlanders seem to delight in doing things differently) with more music.
But you don't need a festival to find music and conviviality in friendly George Street's restaurants and terraces. The street is closed to traffic in the afternoons and throughout the night (there's no such thing as "closing hours" here).
6. Hike the East Coast Trail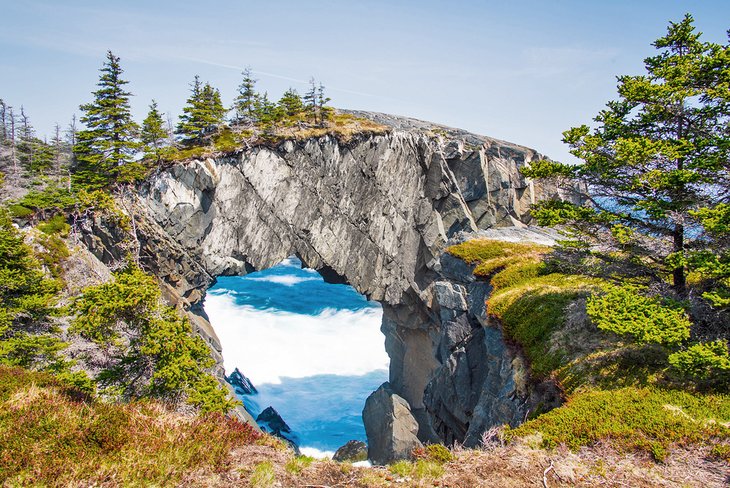 The East Coast Trail is among Canada's most spectacular hikes, over 300 kilometers of developed trails that run along the East Coast of Newfoundland. The developed portion starts north of St. John's at Cape St. Francis and runs south to Cappahayden. There are several different points that access individual sections of the trail for shorter hikes.
Along the towering cliffs and headlands the trail covers, hikers can find fjords, sea stacks, seabird colonies, lighthouses, abandoned coastal villages, whales, icebergs, puffins, archaeological digs (one not far from St. John's) and the world's southernmost caribou herd. From a section of the trail leading from Bay Bulls north to Shoal Bay, you can reach the natural sea geyser, The Spout.
Official site: http://eastcoasttrail.ca
7. The Harbor and Water Street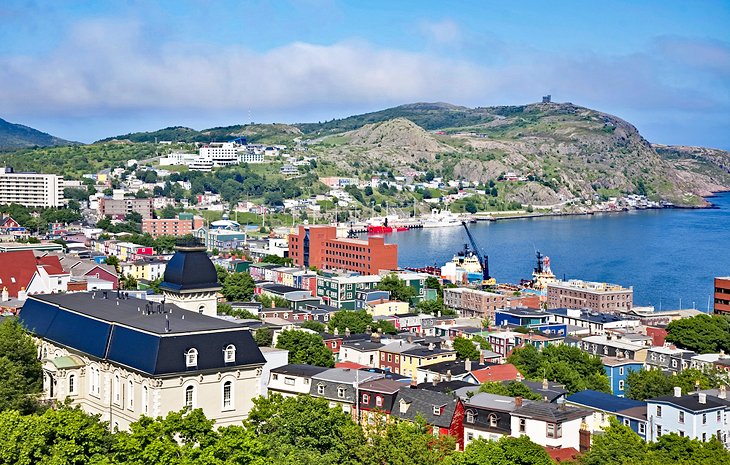 Beginning as a pathway for early explorers and settlers, Water Street is the oldest main street in North America. As the commercial center of St. John's, it is still the meeting place for sailors from all over the world and close to where transatlantic cruise ships dock.
The historic district today still has 19th-century buildings, including the Murray Premises, a mercantile building that was once offices and a warehouse for trade and fishing. Built in 1846 and one of the few buildings to survive the fire of 1892, it's a National Historic Site and now houses shops and a hotel.
Along Water Street, Harbourside Park has benches and views of ships, along with occasional performances in the summer and statues of the province's two signature dogs, the Newfoundland and Labrador Retriever.
Also on Water Street is the Railway Coastal Museum, in the historic Newfoundland Railway station, with exhibits on the province's land and sea transportation.
8. Johnson GEO Centre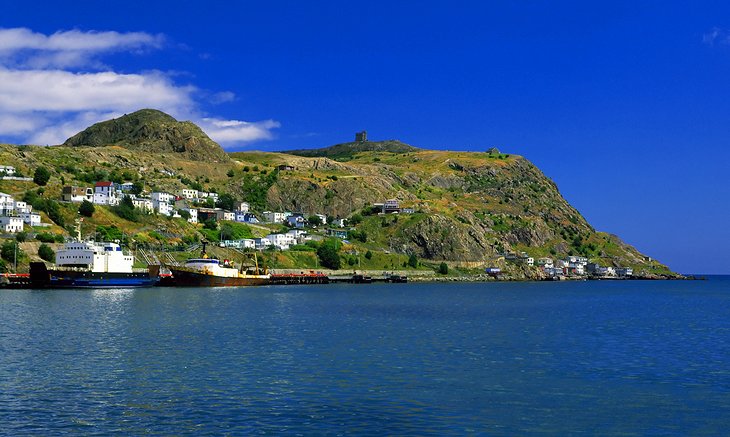 Designed to incorporate the surrounding terrain into its exhibit space, the Johnson GEO Center takes visitors beneath Signal Hill and into the 550-million-year-old rock bed. More than a dozen interactive exhibits describe the earth's geologic and cultural history, and Newfoundland life.
One of these, the Amazing Earth Theatre, uses a variety of special effects to travel through time and space to the era when Earth was a molten mass. Other exhibits include those on the future of space, the Titanic, the Solar System, and a special area for younger children. This center has a lot of things to do for children of all ages.
Address: 175 Signal Hill Road, St. John's, Newfoundland
Official site: https://www.geocentre.ca/
9. Basilica of St. John the Baptist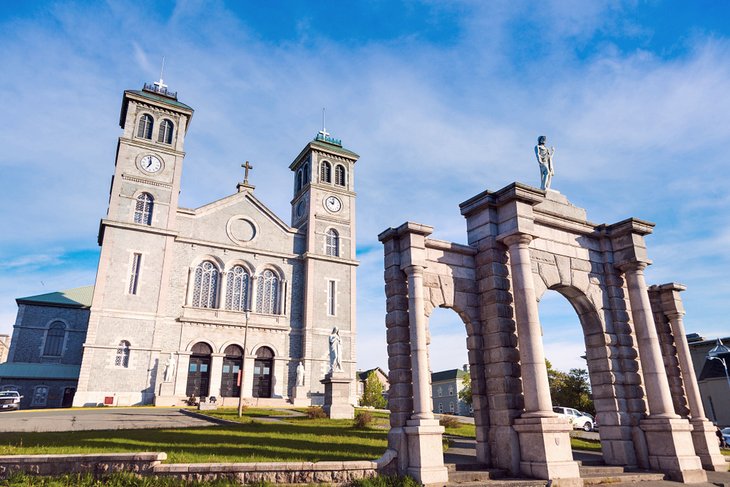 The Roman Catholic basilica is considered one of Newfoundland's most architecturally important buildings. The Basilica of St. John the Baptist, built between 1842 and 1892, is in the form of a Latin cross, with slender twin towers 46 meters high. Its most notable artistic features are its beautiful ornate gold leaf ceiling and some fine statues. The statue of Our Lady of Fatima in one of the transepts was a gift from Portuguese sailors who were fortunate enough to survive being shipwrecked on the Banks. The basilica is now a National Historic Site.
Address: 200 Military Road, St. John's, Newfoundland
10. Puffin and Whale Watching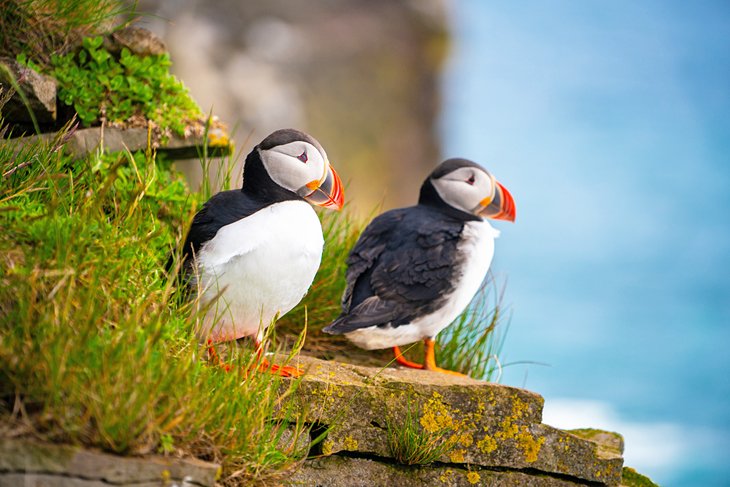 North America's largest puffin and kittiwake colonies are on Newfoundland's east coast, with more than 90 percent of the continent's Atlantic puffins breeding in Newfoundland. In all, more than two million seabirds come to nest, breed, and feed their chicks on the capelin, the small, herring-like fish that run from mid-June to mid-July.
Whales also follow the capelin and other small fish in their annual migrations into Witless Bay and the waters off Newfoundland's coast, and you are likely to see them even from the shore in June and July. Any boat tour becomes a whale watch, but several firms specialize in finding as many as possible of the 20 species that breach and spout wherever the water is deep enough for them. Several firms in Bay Bulls and Witless Bay offer puffin and whale watching cruises.
A good place to visit to look for whales (and icebergs) from the shore is at the village of Flat Rock, on the Marine Drive north of St. John's.
11. Memorial University Botanical Garden and Pippy Park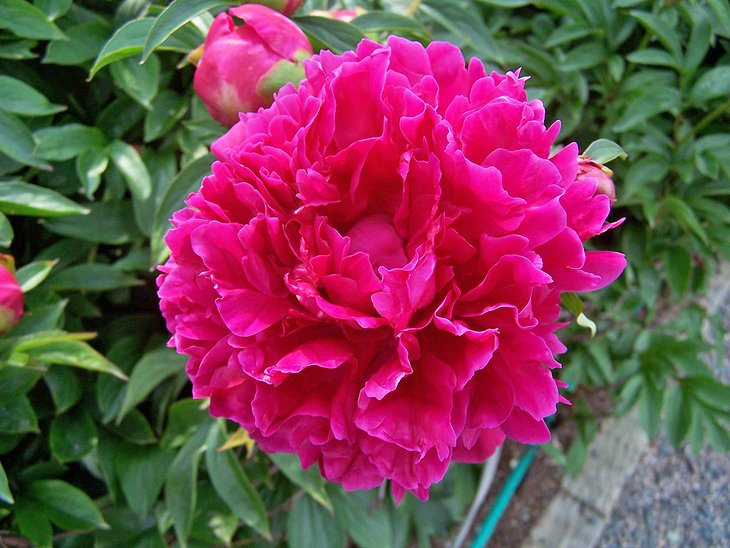 In the large Pippy Park, on the outskirts of the city, Memorial University (MUN) Botanical Garden has themed gardens and trails through different ecosystems, which include a bog, a marsh, and various types of forest. The flower gardens feature extensive collections of native wildflowers and plants, along with display beds of cultivated annuals, perennials, and herbs. In June and early July there is a splendid display of rhododendrons.
Also in Pippy Park, at the edge of Long Pond, is the Fluvarium, an underwater viewing station that year-round gives a close-up view of the fish, insects, and plants that live underneath the water. Rennie's River Trail connects Long Pond, in Pippy Park, to Quidi Vidi Lake, following the river that runs between the two.
Address: 306 Mt. Scio Road, St. John's, Newfoundland
12. Anglican Cathedral of St. John the Baptist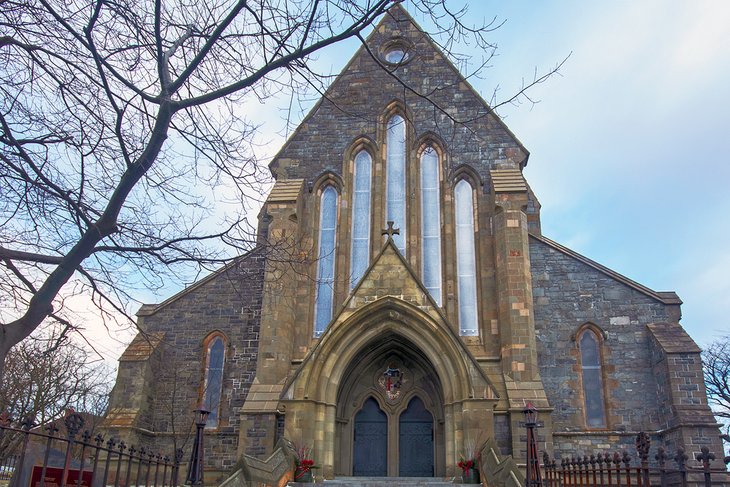 Dedicated to St. John the Baptist, the Anglican cathedral on Church Hill (a short distance south of the Catholic basilica) is a National Historic Site and the oldest Anglican Church in Canada. Architect George Gilbert Scott designed the 1847 cathedral, and it ranks among the finest examples of pure neo-Gothic architecture in North America. It also has fine interior furnishings.
After suffering serious damage in two major 19th-century fires, the cathedral was not fully restored until 1905. On summer afternoons, The Crypt Tearoom serves refreshments and home-baked desserts.
Address: 16 Church Hill, St. John's, Newfoundland
Official site: http://www.stjohnsanglicancathedral.org
13. Explore Bell Island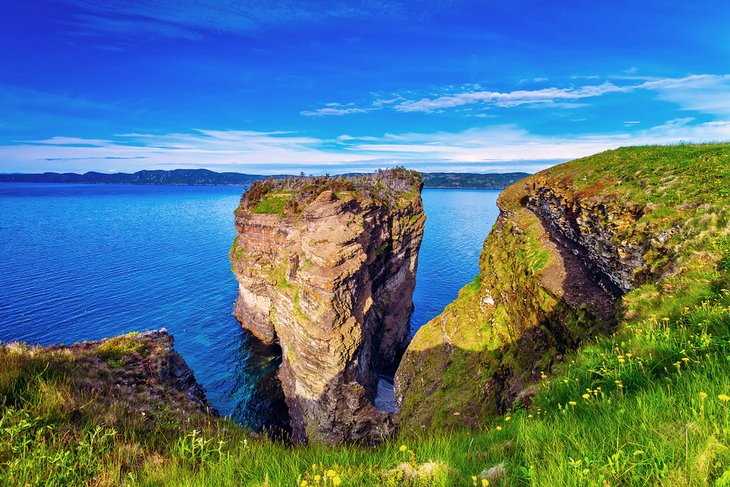 A short ferry ride from the village of Portugal Cove, a few kilometers north of St. John's, takes you to Bell Island, once home to the world's largest undersea ore mine. The island is unique for its geology — a mass of sandstone in a region mainly formed of granite and shale.
The island's fantastically carved 100-foot cliffs, the sea stacks, and the caves are the result of constant sea action on the relatively soft sandstone. You can visit the mines museum to learn about the island's history, and follow trails to the lighthouse, to beaches and for views of the cliffs.
At Grebe's Nest, on the north end of the islands, birds nest on the cliffs above sea caves.
14. Salmonier Nature Park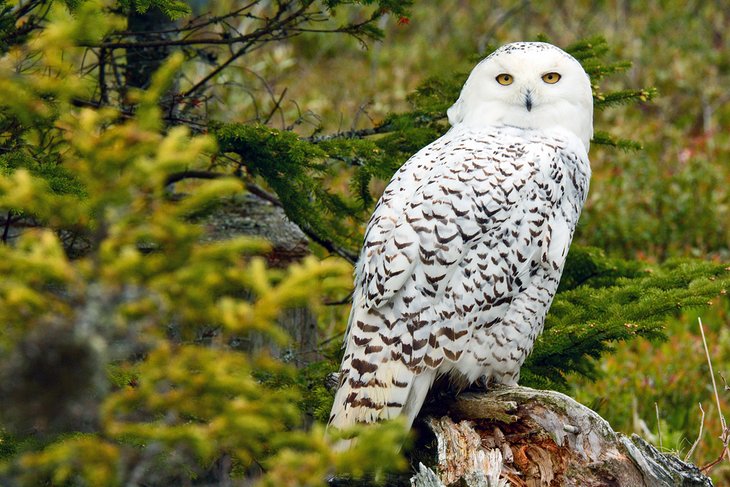 Not far from the city of St. John's are miles and miles of wild parklands where moose, caribou, and other wild animals and birds roam free. But tourists rarely have a chance to observe these woodland creatures.
A 45-minute drive from St. John's, Salmonier Nature Park is home to moose, caribou, lynx, foxes, otters, mink, beavers, snowy owls, and other wildlife, which you can see as you follow a two-mile loop of forest trails and boardwalks across wetlands. Enclosures are sensitively designed to assure that each species is in its own natural habitat.
Originally designed for wildlife education, the park has evolved as a center for wildlife rehabilitation, research, and environmental monitoring.
Address: Salmonier Line, Holyrood, Newfoundland
Official site: https://www.gov.nl.ca/ffa/wildlife/snp/
Map of Attractions & Things to Do in St. John's, Newfoundland
St. John's - Climate Chart
Average minimum and maximum temperatures for St. John's, NL in °C
J
F
M
A
M
J
J
A
S
O
N
D

-1

-8

-1

-9

1

-6

5

-2

10

1

16

6

20

11

20

11

16

8

11

3

6

0

2

-5

PlanetWare.com
Average monthly precipitation totals for St. John's, NL in mm.

147

135

127

112

102

97

79

122

125

152

145

145

Average monthly snowfall totals for St. John's, NL in cm.

83

69

54

27

8

1

0

0

0

4

21

55
Average minimum and maximum temperatures for St. John's, NL in °F
J
F
M
A
M
J
J
A
S
O
N
D

30

17

29

16

33

21

40

28

50

34

60

42

68

50

67

51

60

45

51

38

43

31

34

23

PlanetWare.com
Average monthly precipitation totals for St. John's, NL in inches.

5.8

5.3

5.0

4.4

4.0

3.8

3.1

4.8

4.9

6.0

5.7

5.7

Average monthly snowfall totals for St. John's, NL in inches.

33

27

21

11

3.1

0.6

0

0

0

1.6

8.5

22
More Related Articles on PlanetWare.com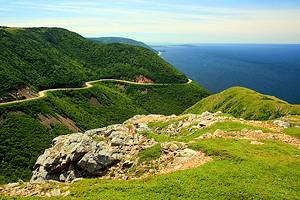 Where to Go from Newfoundland: Canada's East Coast is worth taking some time to visit. When you're planning your itinerary in Canada, after you explore Newfoundland, you might want to take a ferry to Cape Breton Island in Nova Scotia to see more of the Maritime Provinces.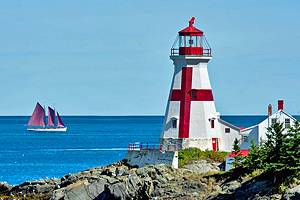 Where Else to Go in Atlantic Canada: Bordering Nova Scotia is the province of New Brunswick, where you can explore the natural wonders of the Bay of Fundy. Or you can cross over the Confederation Bridge to explore Prince Edward Island and its lively capital of Charlottetown.