Plan Your Trip to Canada: 7 Great Itineraries
Planning a trip to Canada and figuring out an itinerary may seem monumental due to the size and geographical layout of the country. Bordered by three oceans, the Canadian motto "from sea to sea to sea" becomes more relevant when you start planning a cross country tour.
Most travelers with limited time who are looking to plan an 8- or 10-day Canada itinerary, tend to focus on one area of the country. This is a good idea, unless you incorporate some long-distance internal flights. Canada stretches more than 5,500 kilometers from east to west, and much of the remote north is all but inaccessible.
The best option, unless you have plenty of time, is to focus your itinerary on Western, Central, or Eastern Canada. Western Canada is home to some of the country's most spectacular scenery, with mountains, glaciers, alpine lakes, and Pacific coastline. Central Canada is most well-known for its vibrant cities, including Toronto, Montreal, and Ottawa, but also consists of prairies and the lakes and forests of the Canadian Shield. Atlantic Canada, which includes the Maritime Provinces and Newfoundland and Labrador, is known for endless shorelines, quaint coastal villages, and friendly cities with a small-town atmosphere.
1. Western Canada: Canadian Rockies Itinerary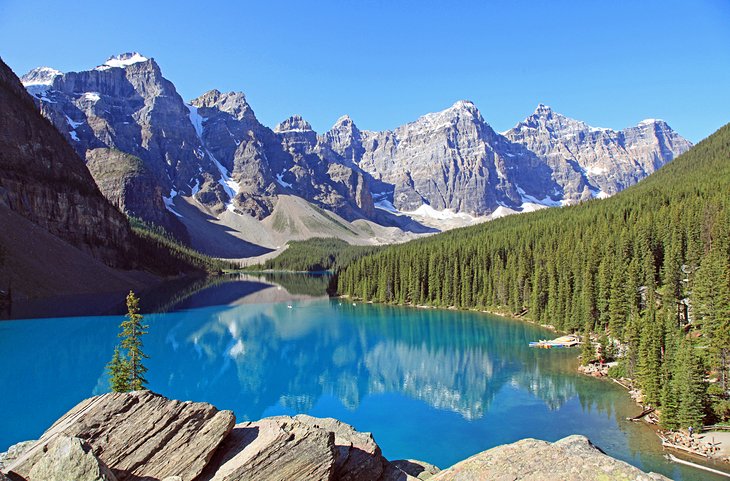 Western Canada Itinerary Highlights: Vancouver, Kelowna and the Okanagan Valley, Banff National Park, Jasper National Park, Lake Louise, Calgary
The best way to see the Canadian Rockies is by car, with a road trip beginning either in Vancouver and ending in Calgary, or doing it in the reverse order. A scenic seven-day trip will take you from Vancouver to Kelowna for a stop along the beautiful Lake Okanagan, and on to Banff National Park. From here, do a side trip up the Icefields Parkway to Jasper and end your trip in Calgary. This route runs through some of the most spectacular scenery in Canada.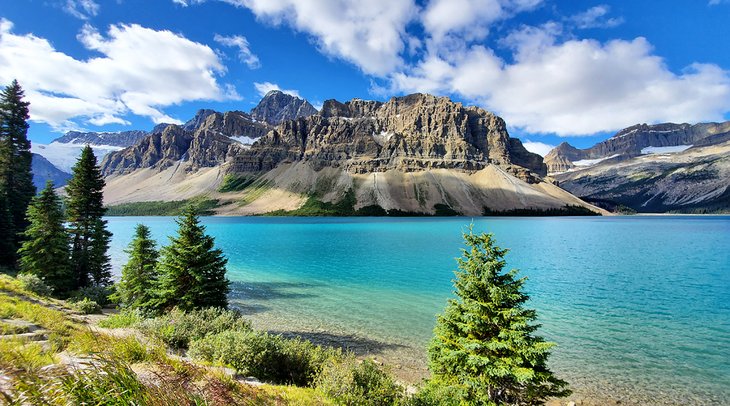 Kelowna is a pleasant city that caters to skiers in the winter, with nearby ski resorts of Big White and Silver Star. These are two of the best ski resorts in Canada. In summer, this is a popular area for renting a cottage, golfing, or exploring the lakes by houseboat.
Banff and Jasper National Parks, including the area around Lake Louise, are highlights of this route, and offer some incredible day hikes. You can plan your own Banff to Jasper itinerary along the Icefields Parkway. Even if you are not interested in getting active, there are scenic pullouts along the Parkway to see the turquoise lakes, glaciers, waterfalls, and other sites.
The town of Banff, in the park of the same name, is a beautiful mountain tourist town with all kinds of accommodation, including camping. In town, the dining and shopping options are substantial, with too many stores and shops to count.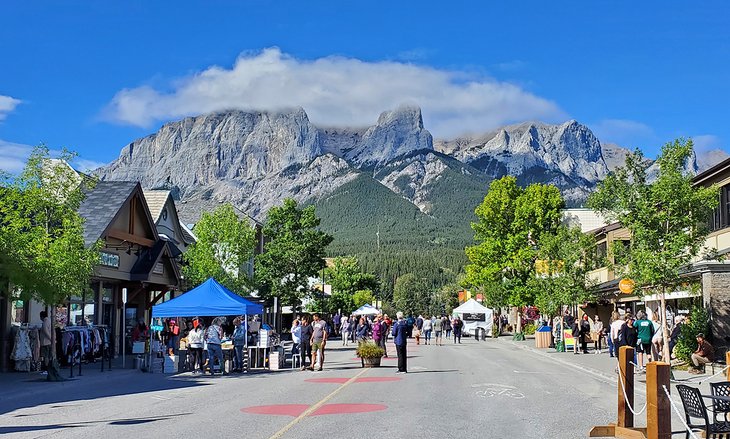 Just outside the park to the east, the small mountain town of Canmore is a great base, with plenty of resorts if you don't want to stay in Banff. Beyond Canmore, an hour and a half east of Banff, is the city of Calgary, home to the famous Calgary Stampede held in July.
Flights run regularly between Calgary and Vancouver. Another option for returning to Vancouver is a train trip on the Rocky Mountaineer, a high end rail journey through the Rocky Mountains.
2. Canada West Coast Itinerary: Vancouver, Vancouver Island & Whistler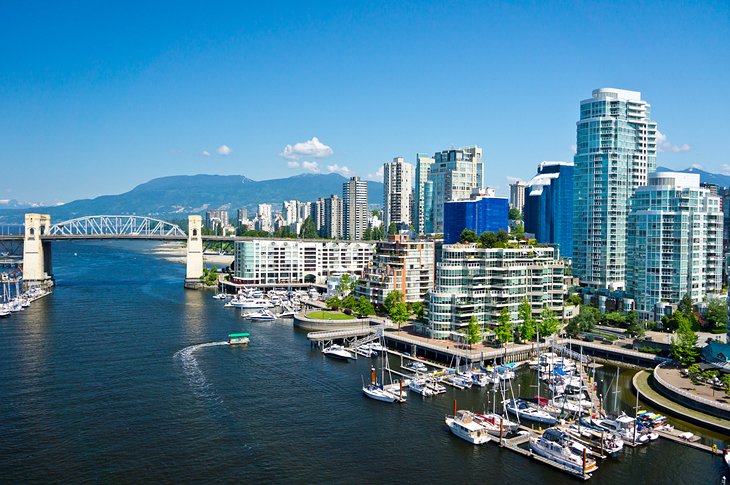 West Coast Itinerary Highlights: Vancouver, Whistler, Victoria, Salt Spring Island, Tofino
Spend a couple of days seeing the sights of Vancouver. Drive or catch a bus up to the posh ski town of Whistler for a day, a fun destination any time of year, and head back down to Vancouver where you can catch a ferry to Victoria, the capital of British Columbia. For some people, depending on how much time you allow in Vancouver and Victoria, this might be enough to fill seven days.
However, if you find you still have more time, plan a Vancouver Island itinerary or some excursions from Victoria. For a day trip from Victoria catch a car ferry to Salt Spring Island for a day of sightseeing, or visiting local farms and artisan studios.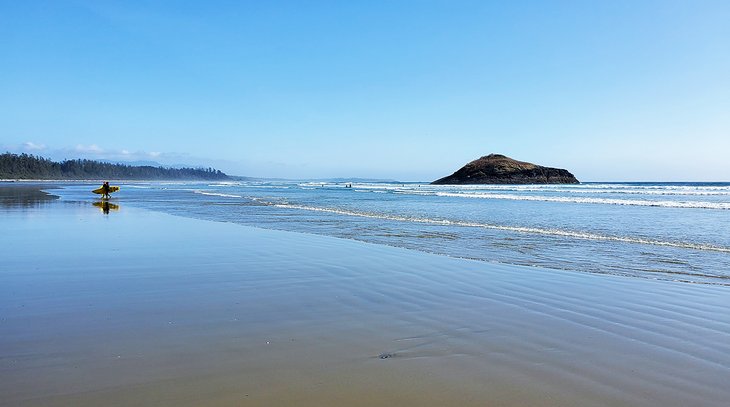 With a few days available, you can plan a Vancouver Island Road Trip. Drive up Vancouver Island to Tofino for a night or two, where you can stay in one of the beautiful seaside resorts. Spend some time surfing or walking along the beaches in Pacific Rim National Park, enjoy some of the beautiful day hikes around Tofino or near the village of Ucluelet, and see the pristine coastal forest all along this remote stretch of the island.
A car makes this trip simple and is the best way to see the attractions. If you are using public transport, it will be cheaper and include a bus to Whistler and walk-on ferries to Victoria and Salt Spring Island. With a car, be aware that taking a car ferry may require some wait time, especially around holidays. If you add on a trip to Tofino a car is almost essential.
If you are looking for more things to do on Vancouver Island, consider taking the time to explore the best hikes on Vancouver Island, or set up your tent or RV at one of the scenic campgrounds. The campgrounds near Tofino are especially beautiful. You can also plan excursions out of Nanaimo and Parksville.
Accommodation:
3. Central Canada: Toronto, Montreal & Beyond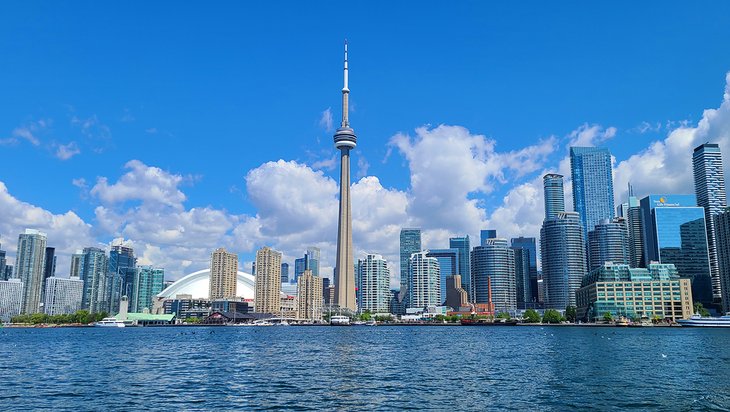 Central Canada Itinerary Highlights: Toronto, Niagara Falls, Ottawa, Montreal, and Quebec City.
With Toronto being a major point of entry for many travelers to Canada, this is the best place to start a tour of Central Canada. Spend a few nights in Toronto to see the sights, take in a Broadway show, and do a day trip to Niagara Falls. There are several tour operators offering day trips to the falls, which usually include a stop at the lovely little town of Niagara-on-the-Lake, one of Ontario's most romantic small towns.
From Toronto, you can drive or take a train to Ottawa, Canada's capital, to see Parliament Hill, some national museums, and in winter, you may even be able to skate along the Rideau Canal running through the city.
Montreal is another must-see city in Central Canada. You can get there easily from Ottawa, or directly from Toronto if you choose to skip Ottawa. Trains run regularly from both cities to Montreal, and by car, it is quite an easy drive (4.5 hours from Toronto to Ottawa, 5.5 hours from Toronto to Montreal, and two hours from Ottawa to Montreal).
With more time available, you can continue on to Quebec City to tour this historic French city. This is a city definitely worth visiting, and may even serve as an alternative to visiting Montreal if you are unable to visit both.
4. Eastern Canada: Nova Scotia & Prince Edward Island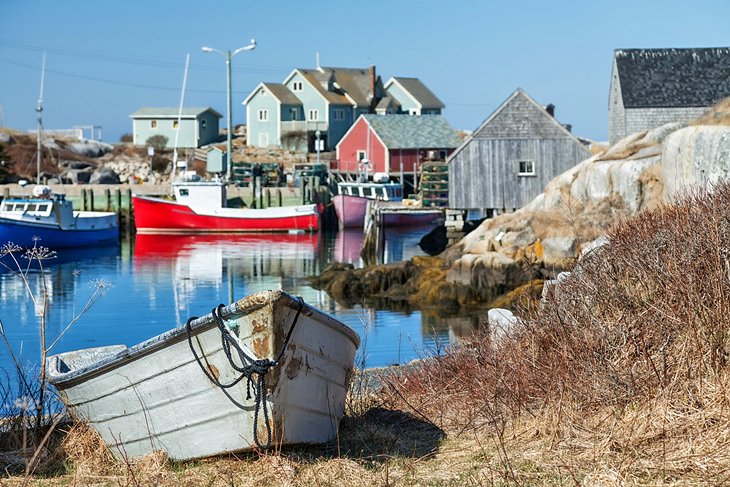 Nova Scotia and PEI Itinerary Highlights: Halifax, Lunenburg, Charlottetown, Cape Breton Island
Eastern Canada is a large area and you may want to explore a region rather than try to see everything. Beginning with Nova Scotia and PEI is a good start. The most practical way to tour this area is with a car.
With eight to 10 days, you can easily see the highlights of Nova Scotia and Prince Edward Island. Begin in Halifax with some sightseeing around the city, and then spend a day touring the surroundings, with visits to Peggy's Cove and historic Lunenburg, before moving on to Annapolis Royal. From here, continue up and along the Bay of Fundy, making your way to the Confederation Bridge and over to Charlottetown, Prince Edward Island.
Take at least a day to explore the PEI, with a trip to Prince Edward Island National Park and Green Gables, the fictional home of Anne of green Gables. If the weather cooperates, take some time to enjoy the seashore. PEI's Brackley Beach with its long stretches of golden sand, is one of the best beaches in Canada. When you are ready to leave, take the Wood Islands Ferry to Caribou, Nova Scotia and head up to Cape Breton Island. There is plenty to see and do here, but the most popular activity is driving the scenic Cabot Trail, which runs through Cape Breton Highlands National Park.
If you have time, make your way out to Louisbourg to see the Fortress Louisbourg National Historic Site. From here you can head back to Halifax.
If you have another seven or 10 days for exploring the Maritimes, tack on a tour of Newfoundland.
5. Newfoundland: Explore the Rock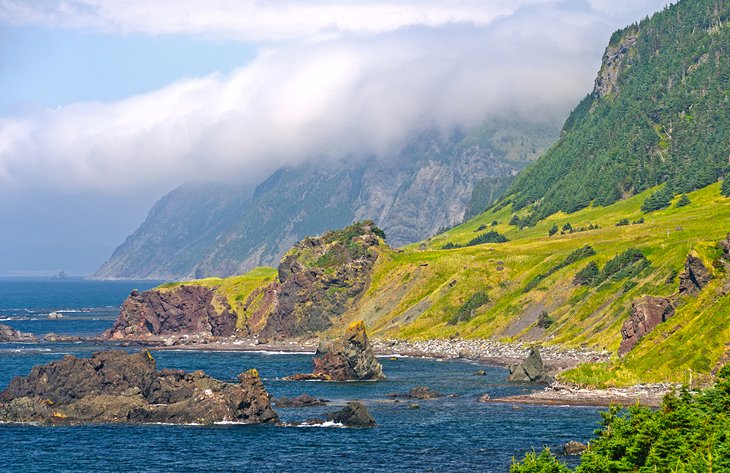 Newfoundland Itinerary Highlights: St. John's, Gros Morne National Park, coastal towns
Start your Newfoundland itinerary with a stop in St. John's, the provincial capital, to explore Signal Hill National Historic Site and George Street, in the lovely downtown area. When you leave St. John's, take the scenic drive along Conception Bay and over to the Bonavista Peninsula to the charming town of Trinity. This scenic little seaside village with colorful houses looks out onto oceanfront cliffs. Tour some historic buildings to get a feel for the culture, take a whale-watching tour, or go for a hike. If you are visiting in the late spring, you may even see an iceberg.
From here, continue up the coast through Terra Nova National Park and on to the village of Twillingate to experience a quaint coastal community. After a night in Twillingate make your way to beautiful Gros Morne National Park, for a boat tour or some hiking in this spectacular landscape. Stay in the park at Rocky Harbour, Norris Point, or at nearby Deer Lake.
If you have more time, consider making a trip up to L'Anse Aux Meadows, a UNESCO World Heritage Site, to see some Viking history. Afterwards, make your way back to St. John's. Keep in mind, driving in Newfoundland may take longer than you expect, with winding roads and last-minute decisions to turn off the highway and visit coastal towns or scenic areas.
6. Exploring Canada's North: Polar Bears, Arctic Landscapes & Culture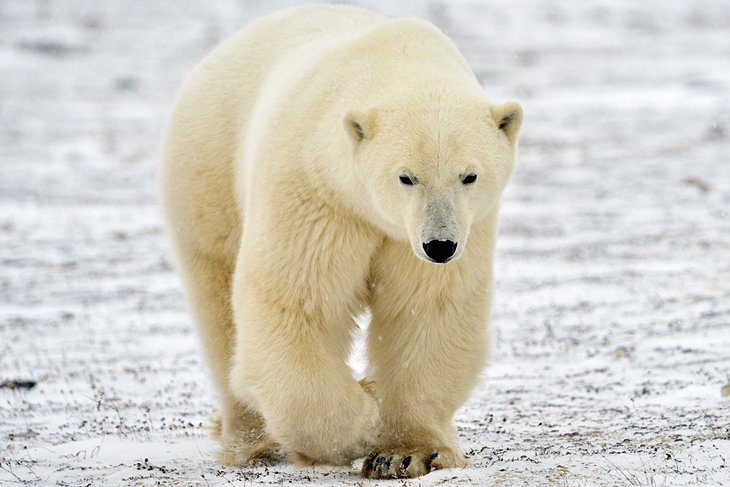 Northern Canada Itinerary Highlights: Churchill, Whitehorse, Yellowknife
There is no easy way to see all of Canada's north in one trip. The region is extremely remote, and the highlights are, in many cases, geographically distant from one another.
Here are some options for a Northern Canada itinerary:
If your goal is to see wildlife you should consider a trip to Churchill, Manitoba in the late fall to see the polar bear migration. Many different tours leave from Winnipeg, offering multi-day stays that include options to see the bears in a Tundra Buggy and stay in a Tundra Lodge. Most tours involve a flight from Winnipeg to Churchill, but it is also possible to take a train to Churchill.
The two main cities of the north are Whitehorse, in the Yukon, and Yellowknife, in the Northwest Territories. Both of these cities are accessible by car.
Many people incorporate the Yukon into a driving trip to Alaska. This route typically involves driving up through northern British Columbia and runs from Haines, going through Skagway, Carcross, Whitehorse, Dawson City, and into Alaska to the cities of Fairbanks and Anchorage, then back into the Yukon to Haines Junction and back to Haines. This route will give you a chance to experience some of the characters and cultures of the north, learn about the history of the Klondike Gold Rush, and see some of the beautiful landscape.
To reach Yellowknife, most people drive up the Mackenzie Highway from northern Alberta to Highway 3 running through Fort Providence. While in Yellowknife, be sure to get out on the waters of Great Slave Lake to battle the giant northern pike and trout waiting beneath the surface.
To see more of the north from Yellowknife, flights are in order. Possible options include side trips to Nahanni National Park, one of the jewels of Canada's north, or to the northern community of Inuvik, just 200 kilometers from the Arctic Circle, to see what life is like in the far north.
7. City Hopping across Canada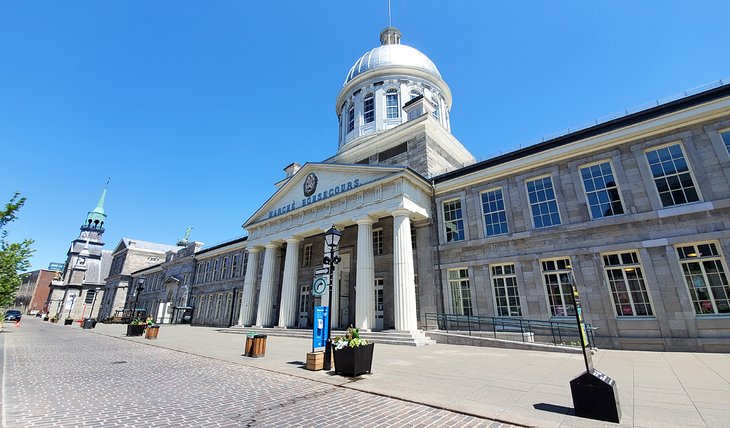 Canadian Cities Itinerary Highlights: Vancouver, Toronto, Montreal (Optional: Calgary, Halifax, St. John's, Quebec City)
If you are looking for a cross-Canada cosmopolitan adventure, the key cities are Toronto, Vancouver, Montreal, and the nation's capital, Ottawa. But if you want to probe a little deeper, you could easily add on Calgary, Halifax, St. John's, and even a side trip from Montreal to Quebec City. There are regular flights to all of these destinations and quick and convenient train connections that run between Toronto, Montreal, and Ottawa. Flights to the eastern cities of Halifax and St. John's are generally more expensive.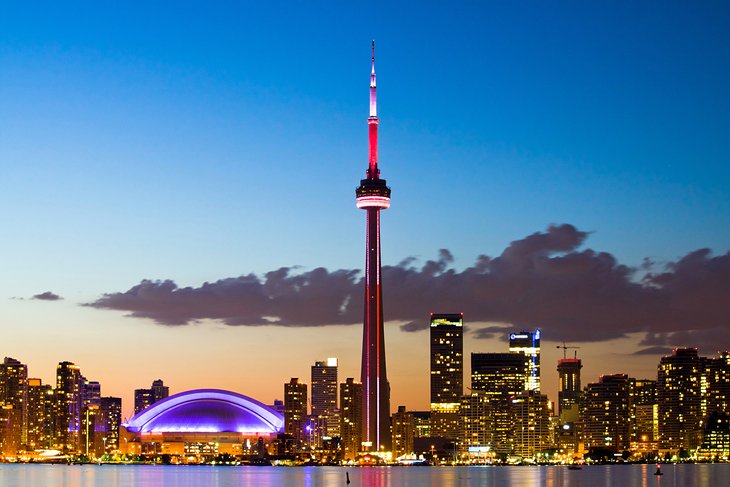 Vancouver is arguably Canada's most beautiful city, while Toronto is a great place to see a show, take a day trip to Niagara Falls, and enjoy the view from the CN Tower.
Montreal is an incredibly vibrant city known for its French culture, shopping and fashion, and trendy Old Town. With extra time, you could add on a trip to Ottawa, between Toronto and Montreal, to tour some of the best museums in Canada.
Nature lovers could make a stop in Calgary for a quick trip out to Banff National Park and Lake Louise. For a more complete picture of Canada, catch a flight to either Halifax or St. John's to enjoy some seafood and experience the culture and friendly people of Atlantic Canada.
Map of Canada: Great Itineraries
When to Travel in Canada: Best Times to Visit
Planning a trip to Canada involves more than geographical considerations; the weather should be high on the list of things to research as well. Canada is so massive that the country can be experiencing four seasons on the same day. For example, on a typical June day, it could be 30 degrees Celsius, hot and humid in Central Canada, fogbound and cool in the Atlantic provinces, pleasant with cool sea breezes in Vancouver, and snowing in the Rockies or far north.
The best months to visit Canada are July and August. During these months, you'll get the warmest temperatures and have the best chance to do all the activities you have planned. However, this is when all the Canadians like to do things as well, so prices tend to rise and the most popular places can get crowded. If you can get away in September, you'll be rewarded with warm days, cool nights, and less crowded attractions.
Vancouver and coastal British Columbia along with Eastern Canada have temperate climates - it rarely gets too hot or too cold. The farther you move inland from the moderating effect of the oceans, the more extreme the temperatures get.
Planning a trip in the winter is less popular, unless you are a downhill skier or hardy outdoorsman. The best winter month for a ski trip is March, with its more moderate temperatures, sunny days, and copious snowfall. December is early for consistent snow conditions; January and February can be bone-chillingly cold and have short days.
Winter can also be a great time to experience the arts. Enjoy the ballet, symphony, and theater, or spend some time at the museums.
More Related Articles on PlanetWare.com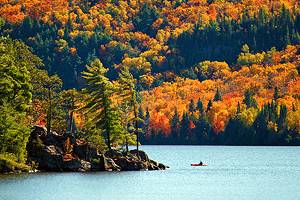 Ontario's Nature Escapes: If you want to add a little summer adventure to your Canada itinerary, you may want to look to Ontario. Central Canada is home to some pristine natural areas, perfect for visitors looking to plan a canoe trip, fishing trip, or to simply soak up nature at a lodge. A good place to research ideas for canoeing or camping is with our guide to the Best Parks in Ontario. For fishing, see our list of the Top Fishing Lodges in Ontario. And if you want to experience nature without compromising on luxury, see our guide to the Best Resorts in Ontario.