10 Top-Rated Resorts in Tofino, BC
Authors Michael and Lana Law lived on Vancouver Island in 2022, and Tofino is one of their favorite small towns in Canada.
Set on the western shores of Vancouver Island, Tofino is one of the top destinations in the province, both for the quality of the resorts and the incredible outdoor experiences the area offers.
Visitors come here for the outstanding scenery, ancient rainforests, rugged coastlines, incredible beaches, remoteness, surfing opportunities, and to catch a glimpse of the area's abundant wildlife. Tofino is home to some of British Columbia's top wilderness resorts and many of these cater to travelers looking for these experiences.
Pacific Rim National Park, home to the area's famous Long Beach, is one of the main attractions, and all of the resorts listed here are within easy driving distance of the park.
From historic and quaint oceanfront lodges to hip surfing-centered resorts, Tofino is the perfect spot for those wanting to get away from it all in comfort and style. This is the place for romantic getaways, fun family vacations, or active outdoor pursuits.
Plan where to stay with our list of the top resorts in Tofino.
1. The Wickaninnish Inn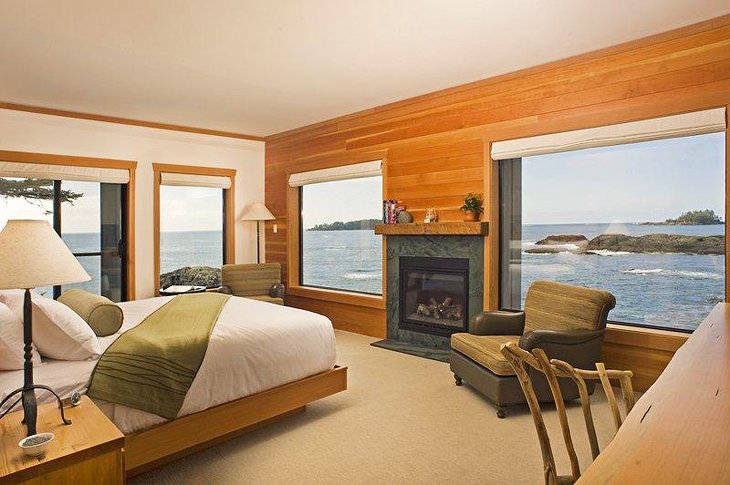 The Wickaninnish Inn is one of the best-known of Tofino's luxury lodges and has been since it opened in 1996. It offers a luxurious coastal wilderness experience and a cozy atmosphere. One of the main attractions is the resort's stunning setting, looking out over the north end of Chesterman Beach.
The 72 luxury accommodations include everything from standard rooms, with large soaker tubs and separate showers, fireplaces, and private balconies offering stunning views over the ocean, to much larger suites with additional living space and bigger balconies.
The Pointe Restaurant, set on a high rocky point, has outstanding views from the dining room's curving wall of windows that look out over the beach and crashing waves. The fine dining experience here features freshly caught BC seafood and locally sourced produce. Even when I'm not staying at this resort, I like to make a point of enjoying a meal here.
On the more casual side is the Driftwood Cafe, looking out over the beach from a much lower position than the Pointe Restaurant. This is a great place to come and relax over a meal while watching surfers riding the massive waves.
Also on-site, the Ancient Cedars Spa is the perfect spot for relaxation and pampering. Services here include massage, reflexology, pedicures, skin treatments, and more. You can also enjoy the warmth of the Steam Cave or join a daily yoga class.
Pets: If you're traveling with pets, let the resort know in advance, and they'll pamper your pooch with goodie bags and bedding, as well as provide services such as dog sitting and grooming.
The Wickaninnish Inn is a member of the luxury hotel Relais & Châteaux group. The resort closes for a period of time each January to focus on improvements and upgrades. This tradition means the resort is always in top condition.
Address: 500 Osprey Lane, Tofino, British Columbia
2. Long Beach Lodge Resort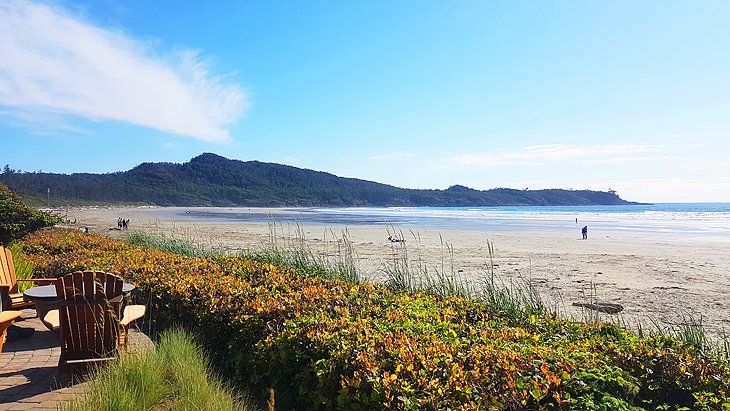 Located on Cox Bay Beach, this eight-acre oceanfront property has stunning views from the seaside rooms and dining areas.
Long Beach Lodge offers an intimate experience, with just 20 cottages and 41 lodge rooms. You can choose from oceanview lodge rooms that allow easy access to the beach, or select a cottage tucked into the woods.
While couples will find the lodge rooms ideal, larger groups and families will enjoy the chance to spread out in the Rainforest Cottages (some pet-friendly), each with its own full kitchen, large living and dining space, fireplace, and two bathrooms. Large decks are also provided on which to relax and enjoy the views, an especially fun activity from the comfort of your own hot tub.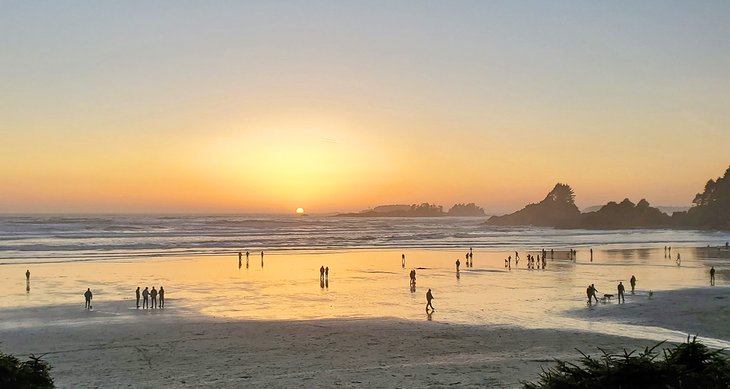 The Great Room is a fabulous post-and-beam-style restaurant looking out over the beach. Sunsets from here are amazing! Even if you are not staying here, it's worth stopping by to enjoy a meal in this fantastic dining room and watch the surfers playing in the waves. On sunny days the beach offers an endless parade of people and pets and activities that you can watch from the serene atmosphere of this restaurant. The sun filtering in during the afternoons makes this a place you'll want to linger. Be sure to make a reservation.
The Surf Club offers a casual atmosphere where you can grab a bite and hang out on the outdoor patio if it's a nice day. Inside you'll find a
The resort also has an on-site surf center offering everything needed to enjoy this increasingly popular sport.
Address: 1441 Pacific Rim Highway, Tofino, British Columbia
3. Pacific Sands Beach Resort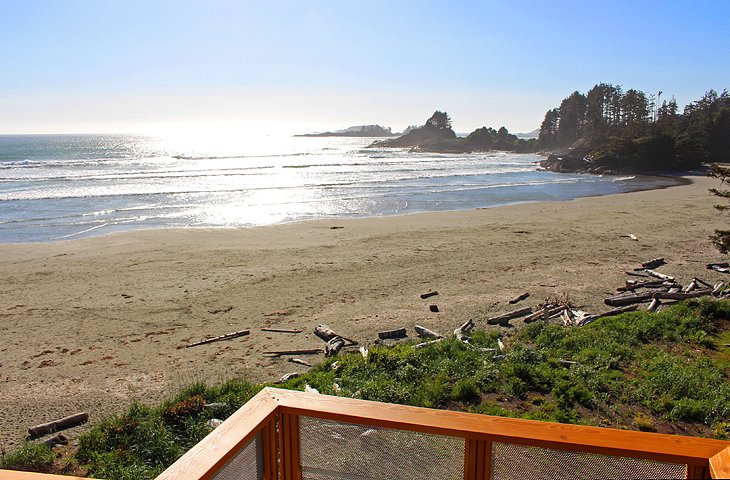 Set on a beautiful stretch of beach on Cox Bay, Pacific Sands Beach Resort is the perfect place for families, couples, people traveling with a dog, or anyone interested in surfing. Surfers take advantage of the waves, while guests lounge in hammocks at the top of the beach, below the towering pines.
A mix of accommodation styles offers a full range of options for visitors. Traditional beachside cottages, with wood trim, fireplaces, and some with high, open ceilings and massive windows looking out to the ocean, are just steps from the beach.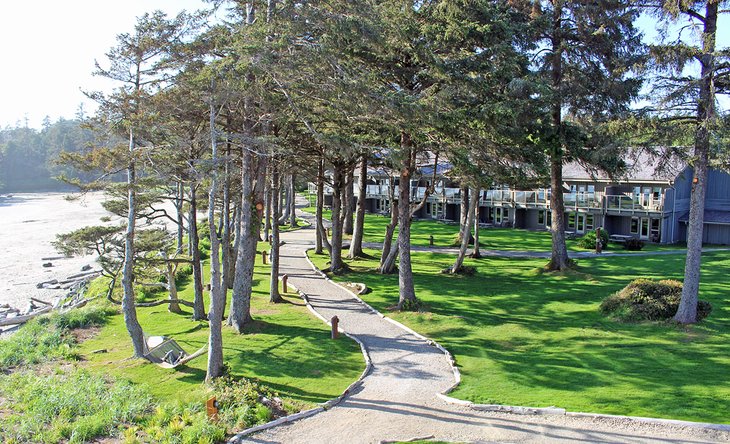 Pacific Sands continues to invest in the property to make the guest experience even better. As part of an $11.2-million program, in 2022 the resort completely renovated all of the Lodge Suites. These beautiful oceanfront suites are now luxuriously appointed with the latest amenities to make a stay here even more enjoyable. Also renovated was the Sunset House. This stand-alone four-bedroom home is perfect for families looking for a bit more space in a beautiful and secluded setting.
In 2018, a fabulous new extension saw the addition of modern condo-style suites. These luxury oceanside condos offer surf-in, surf-out convenience with a pavilion for storing your surfboard. Walk barefoot from your unit, grab your board, and be on the beach in no time at all. The new units have a sleek, modern design and come complete with balconies, fireplaces, kitchens, and one to three bedrooms.
The resort has its own surf shop, where you can rent a board or take lessons, and a convenient take-out restaurant. But you don't have to be a surfer to enjoy this area. Lounge on the beach, take a stroll on a trail that runs through the property, or head over to Pacific Rim National Park, just a few minutes away.
You may also find that you hardly ever leave the resort. Complimentary yoga; kids' camps; s'mores by the campfire in the evenings; and unlimited use of the beach toys; and games, bikes, and movie nights make spending time here easy.
Address: 1421 Pacific Rim Highway, Tofino, British Columbia
4. Middle Beach Lodge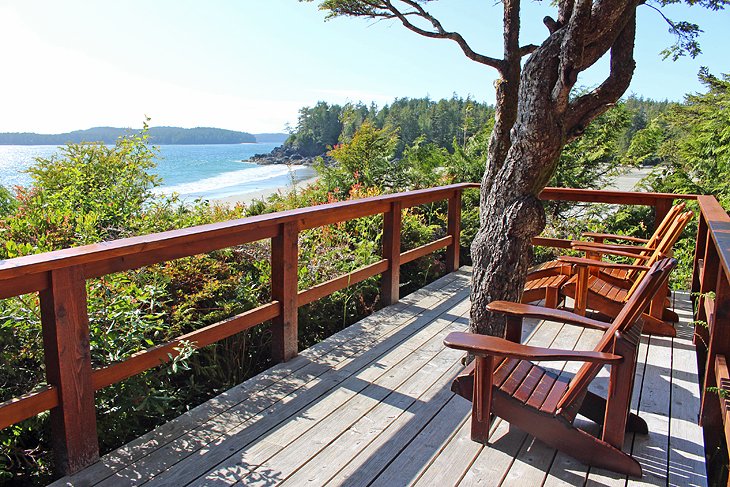 Boasting more than a kilometer of unspoiled beach, Middle Beach Lodge offers a quiet peaceful retreat, particularly wonderful for couples. You can sit in front of a huge stone fireplace on a rainy day and enjoy the complimentary fresh-baked cookies, or lounge in a patio chair from the outdoor deck soaking up the sun on blue sky days.
From the deck, set high above the ocean, a set of stairs delivers access to the beach below, perfect for a long walk in rain or sunshine. Raincoats and umbrellas are provided free of charge. The resort's beach connects with a further nine kilometers of beach, meaning guests can explore the coast for hours.
The property includes Lodge at the Headlands and Lodge at the Beach, as well as 20 quaint cabins. Lodge at the Beach offers adults-only rooms overlooking the beach or the forest. Stand-alone two-bedroom cabins facing the ocean offer guests everything needed to be completely self-sufficient during their holiday, including a kitchenette and hot tub.
Middle Beach Lodge recently undertook a major expansion with the addition of five new treehouse lodges. These self-contained units are elevated off the forest floor and are set in beautiful locations, some with partial ocean views. Each unit has a queen bed, a small kitchenette, and an outside deck perfect for soaking up the forest ambience. If you get a bit cool, a cozy gas fireplace takes the chill off in mere minutes.
Address: 400 MacKenzie Beach Road, Tofino, British Columbia
5. Ocean Village Resort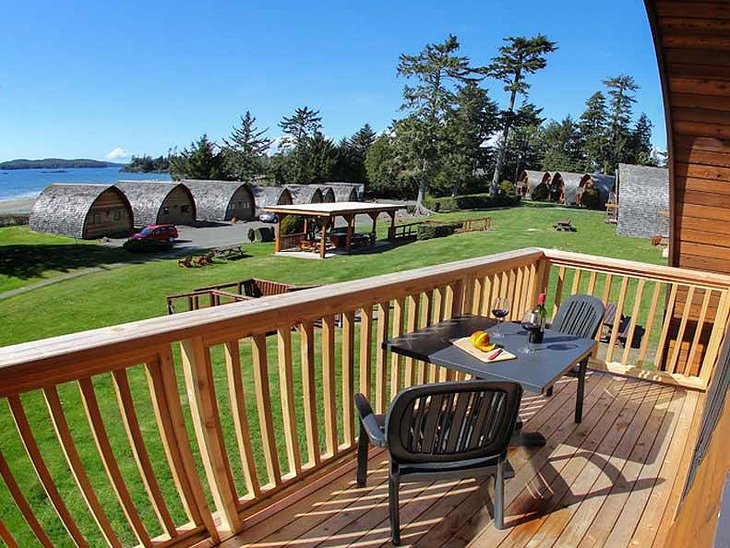 Located on Tofino's MacKenzie Beach, the cabin-style accommodations at Ocean Village are particularly popular with families. Along with its direct beach access and proximity to provincial parks, there's no end of fun things for young and old alike to enjoy.
On-site amenities include a large heated indoor swimming pool, hot tub, communal covered BBQ, surf shack, plus plenty of fun board games and beach toys for the kids.
Built in 1976, all cabins have undergone renovations and upgrades, with special attention being paid to lessening their environmental impact. Options include well-appointed one- and two-bedroom cabins, each with full kitchens, queen beds, and a queen pullout sofa for extra guests, and great ocean views (the larger two-bedroom variant has a set of twin beds in the second bedroom and sleeps six comfortably).
A number of smaller studio cabins and garden suites are also available.
Address: 555 Hellesen Drive, Tofino, British Columbia
6. Best Western Tin Wis Resort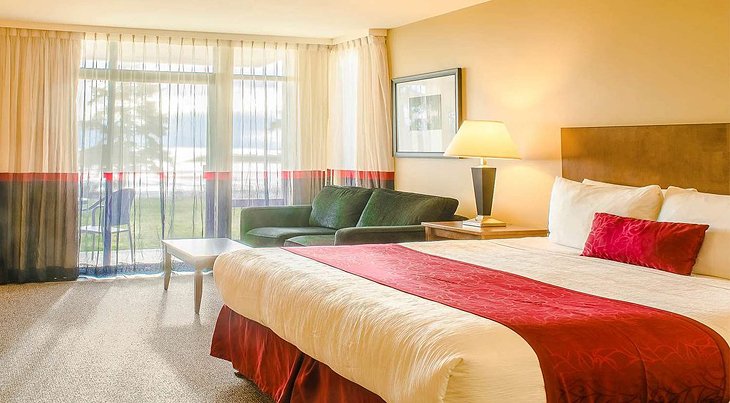 Another fun family resort situated on Mackenzie Beach, Best Western Tin Wis Resort makes a great base from which to explore beautiful Clayoquot Sound. It's just a short distance from Pacific Rim National Park. The resort has an on-site surf shop providing rentals of boards and other equipment.
You can also choose to simply relax on the private balcony or patio of their one- or two-bedroom recently renovated suites while enjoying the view. Depending on your suite, your room may have a mini kitchen, fridge, and a Keurig coffee maker.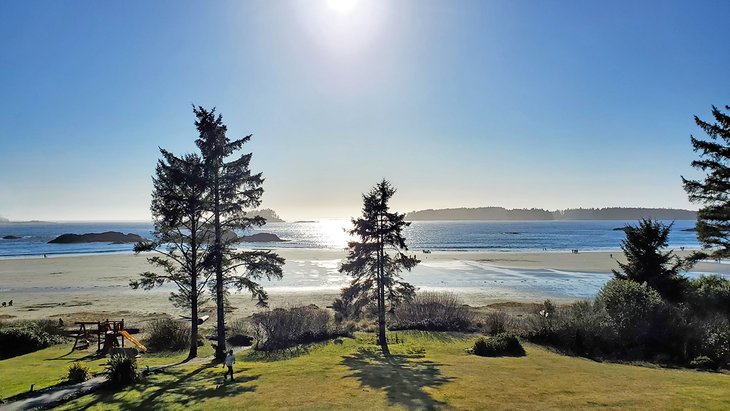 The hotel provides a complimentary breakfast but does not have a restaurant. Other amenities available to guests include an exercise room, beach-view hot tub, fire pit, and barbecues. The grounds of the hotel offer plenty of green space to set up lawn chairs and have a picnic.
Address: 1119 Pacific Rim Hwy, Tofino, British Columbia
7. Cox Bay Beach Resort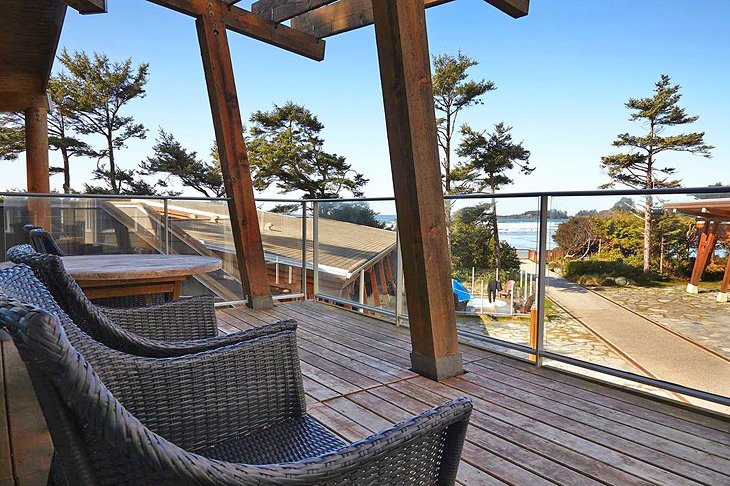 Situated just a few minutes' drive from Tofino, adjacent to Pacific Rim National Park, Cox Bay Beach Resort offers a great choice of accommodation options. Consisting of just 40 one- and two-bedroom suites in the main Beach House building, guests can enjoy features such as a private master bedroom, pull out couch, gas fireplace, full kitchen, a large deck area, plus great views over the beach and ocean.
On-site amenities consist of a fitness center with a sauna, an outdoor hot tub, a large lounge area for mixing and mingling with friends and other guests, and a peaceful pavilion overlooking Cox Bay Beach. The resort also has direct beach access, allowing guests to enjoy watery pursuits like kayaking, paddleboarding, and swimming.
Address: 1431 Pacific Rim Hwy, Tofino, British Columbia
8. Clayoquot Wilderness Resort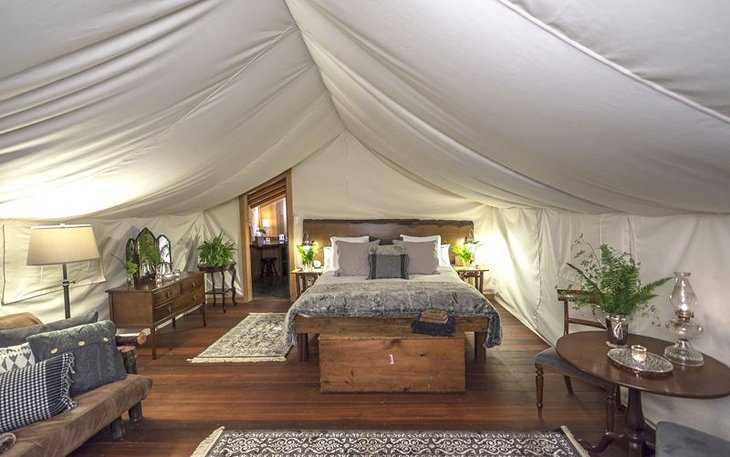 For those looking to connect with nature, few accommodations can match the unique experience offered by Tofino's Clayoquot Wilderness Resort. Guests are treated like royalty in what the resort calls its "safari experience" (think glamping) which includes a variety of sumptuously decorated and furnished canvas-covered rooms and suites. Rates include all meals and drinks and one 60-minute massage per day per person.
Elegantly furnished, each of the 25 tents overlook Clayoquot Sound and are set on the banks of an estuary. Interior highlights include ample living quarters, king beds, washrooms with full tubs, showers, and heated floors. Those opting for the larger suites — complete with expanded seating and lounge areas — can cook in their own fully-equipped kitchen when not enjoying a meal in the resort's dining tent or log Cookhouse.
The resort changed hands in 2021 and is now owned by Baillie Lodges. Significant upgrades are planned into 2022. Tents will be upgraded and improved to showcase a more contemporary look. In time for the 2022 season, the Cookhouse restaurant will be upgraded along with improvements in the guest facilities.
Address: 1 Clayoquot, Tofino, British Columbia
9. Duffin Cove Oceanfront Lodging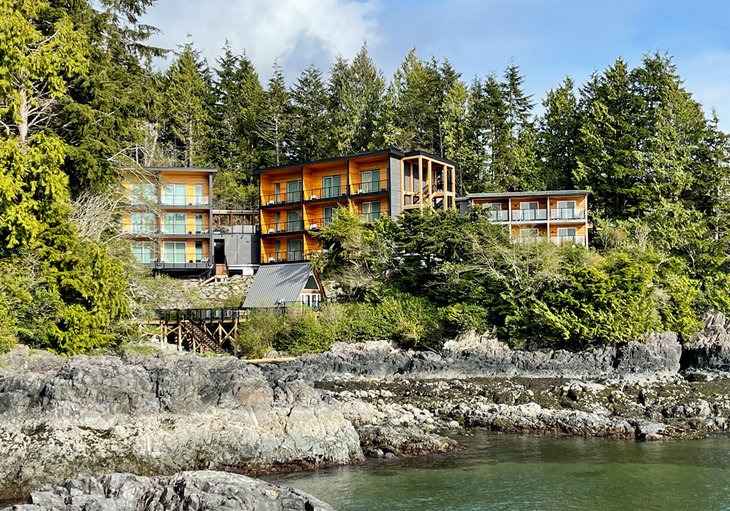 This former hotel has gone through a complete redevelopment process over the past few years and opened its brand new doors in 2020. The hotel has amazing water views and is only a few steps from the restaurants and shops of downtown Tofino. Accommodation choices include bright, modern rooms, many with patios in the main lodge, or oceanfront A-frame cabins complete with gas fireplaces.
The main lodge rooms are perched upon a rocky headland and provide expansive views out over Clayoquot Sound. The A-frame cabins are reached via a 50-step staircase and are nestled right at water level. If you like to travel with your four-legged friend, the hotel has an assortment of dog-friendly rooms.
Address: 215 Campbell Street, Tofino, British Columbia
10. Crystal Cove Beach Resort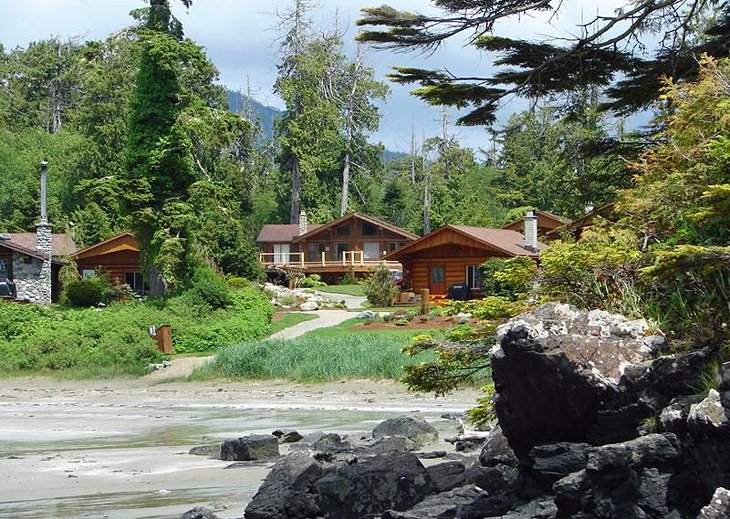 Suitable for families seeking rustic West Coast cabin accommodations (or for those bringing their own RV), Crystal Cove Beach Resort is a good option for those on a budget looking to enjoy everything Tofino has to offer.
Consisting of 34 charming, rustic log cabins with ocean or rainforest views, fireplaces, private hot tubs, full kitchens, decks, and barbecues, the resort is perfectly situated for explorations of the adjacent Mackenzie Beach and coastline, as well as serving as a base for visiting Tofino and the Pacific Rim National Park.
An alternative to the resort's cabins are its nine large "5th wheel" RVs, available for rent and providing all the modern comforts of home. For something a little different, book one of the resort's unique two-story treehouse cabins, also with full kitchens, wood-burning fireplaces, private decks, and even a treehouse just for the kids. A number of pet-friendly units are also available.
Address: 1165 Cedarwood Place, Tofino, British Columbia
Map of Resorts in Tofino, BC
Frequently Asked Questions
When is the best time to stay at a resort in Tofino?
The summer is the best time to visit Tofino, when the sun is shining and the weather is at its best. However, Tofino has a mild climate and is a great escape at any time of year if you don't mind a little rain. Fall through to spring sees much more precipitation.
You can surf year-round and find countless things to do in Tofino and the surrounding area in any season. It's not uncommon to see an occasional February day look like the middle of summer, with sunny skies and people on their boards enjoying the waves. In November, visitors come to Tofino specifically to storm watch. Huge waves roll in the beaches and crash against the headlands. This is the perfect time to cozy up to a stone fireplace and gaze out at the ocean.
What are the most popular activities in Tofino?
The town of Tofino has several galleries and shops to wander through. You can also find fabulous restaurants with fine dining or casual fare. If you want to get active, the hiking trails in Tofino are outstanding. You can walk through the ancient trees, over headlands, or along the beautiful beaches. Other activities include kayaking, whale watching, and flightseeing tours.