13 Top-Rated Things to Do in Tofino, BC
We may earn a commission from affiliate links ()
On the west coast of Vancouver Island, Tofino is a remote destination where tourists come to appreciate nature, play in the ocean, and relax at a seaside resort. The town is small enough that you feel like you are getting away from the city and big town busyness, but developed enough to offer things to do, great accommodation, and even fine dining.
This is a year-round destination. In summer, tourists flock here, particularly families, to enjoy the beaches and other attractions and activities, but in winter, people come here to escape crowds, storm watch, enjoy surfing, and take advantage of the near-empty hiking trails and tranquility. Many people prefer to come between fall and spring, rather than during the busy summer tourist season.
Pacific Rim National Park Reserve, home to Long Beach, is the highlight of the area. It stretches from just north of the small town of Ucluelet to just south of Tofino. The park has wonderful hiking trails and long stretches of empty beach that you can access at numerous points.
Other popular activities involve getting out on the ocean, from boat trips and wildlife viewing to kayaking. Stop by the Tofino Visitor Centre for information on specific tour providers and plan out your visit with our list of the best things to do in Tofino.
Note: Some businesses may be temporarily closed due to recent global health and safety issues.
1. Walk on Long Beach in Pacific Rim National Park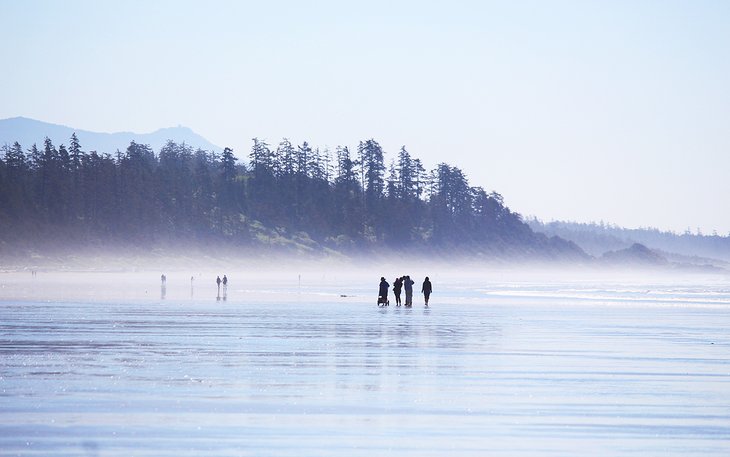 The star attraction of Pacific Rim National Park and the Tofino area is the 16-kilometer Long Beach. This magnificent stretch of sand is accessed from numerous points, either along hikes or simply from a parking area on the edge of the beach.
This beach is flat and incredibly wide when the tide is out, making it a perfect place for walking. One of the iconic sites on Long Beach is incinerator rock, a large rock island that can be seen from well off in the distance, with the surf crashing around it. The park is also a hot spot for surfing and hiking.
Official site: https://www.pc.gc.ca/en/pn-np/bc/pacificrim
2. Go Surfing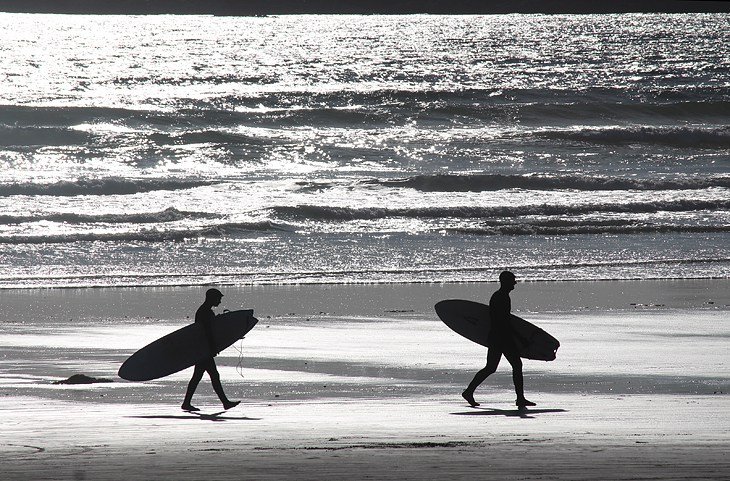 The miles of endless beaches and perpetual waves make Tofino one of the top destinations for surfing in Canada. You can surf here year-round but thick wetsuits are required. On sunny days in February, it's hard to tell it's not the middle of summer, with surfers flocking to the beaches from morning until sundown.
Long Beach and Chesterman Beach are some of the most popular areas in the region for surfing. You can take lessons at several different beaches, and many of the beachfront resorts will arrange surf lessons for you. Pacific Sands Beach Resort on Cox Bay even has its own surf shop, lessons, and rentals right on the property at their Surf Sister Surf Shack.
3. Hike through Old-Growth Forest to Beaches and Coves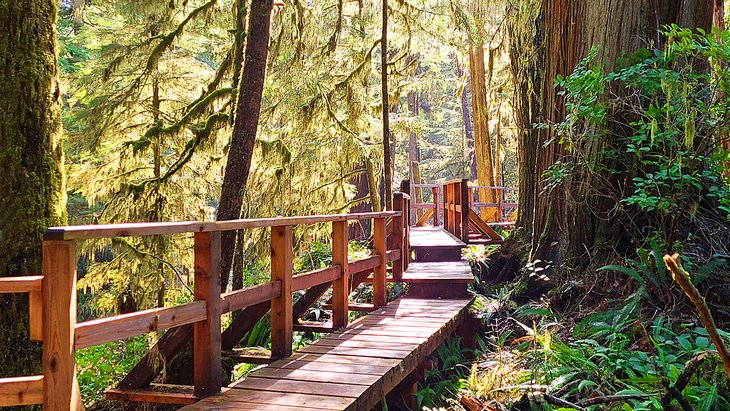 The hiking trails in Tofino and nearby Ucluelet are relatively short but nothing less than spectacular. The old-growth forests here contain some of the oldest documented trees in Canada. Huge, centuries-old Douglas fir, Sitka spruce, and western red cedar line most of the trails, and many lead to secluded coves and empty beaches.
Some of the most popular short hikes include Schooner Cove Trail and South Beach Trail, both of which offer forest and beach scenery. The Wild Pacific Trail in Ucluelet is a longer trail covering a more rugged landscape. You can find numerous beautiful hikes within easy reach of Tofino.
Unlike many areas of Canada that are under snow a portion of the year, the hiking trails are open year-round in Tofino and are actually much more peaceful in the winter months when the main tourist season has died off.
4. Storm Watch in Winter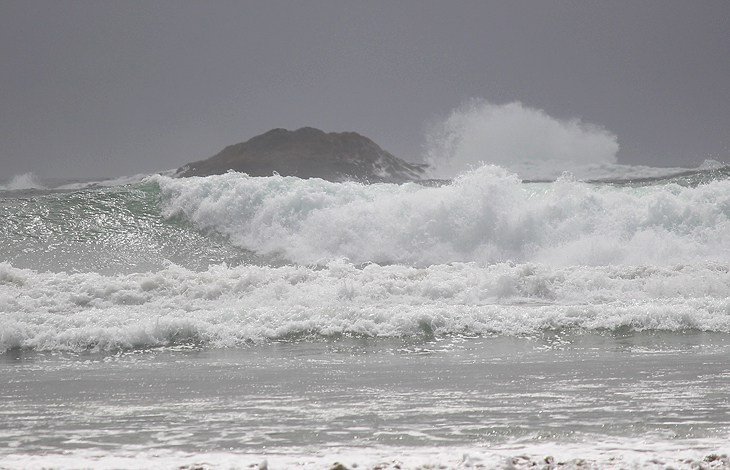 To see one of the area's most spectacular displays of nature, come to Tofino in the late fall or winter, during storm season. Huge waves, often reaching up to six meters (20 feet), reveal the power of the ocean in jaw-dropping fashion between the start of November and the end of February.
Beyond the shores of Tofino is an uninterrupted stretch of ocean, with nothing between here and Japan. Storms generated by the warmer ocean temperatures and the cool air masses at this time of year make for powerful lows. The resulting storms and waves attract photographers, surfers, and nature lovers, but it's also a great time of year to enjoy a romantic getaway.
Tofino winters rarely see snow, and temperatures are quite moderate by Canadian standards.
5. Take a Whale Watching Tour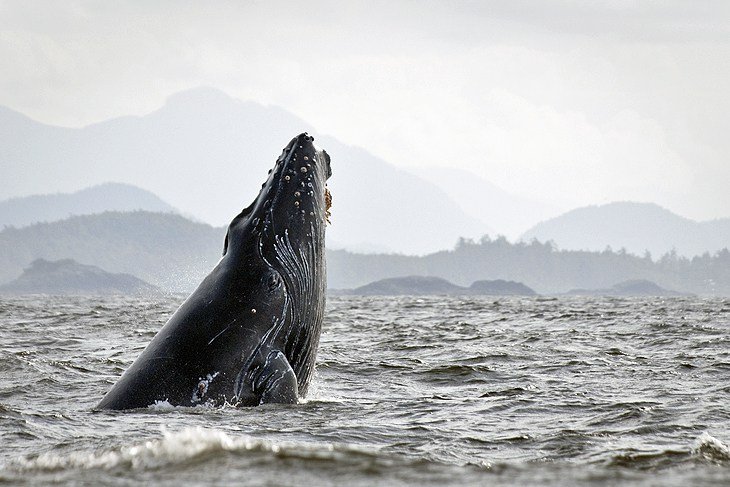 If you want to get out on the ocean and enjoy some wildlife viewing, a whale watching tour is a must. In the waters around Tofino, you can see gray whales quite regularly, as well as orcas on occasion, and in summer, humpback whales.
A variety of tour operators, which you'll see as you walk through town, offer trips, either in large Zodiac-style, semi-covered, or covered boats. These tours also offer a great opportunity to see some of the area and landscape, including the scenic Clayoquot Sound.
6. Kayak around Clayoquot Sound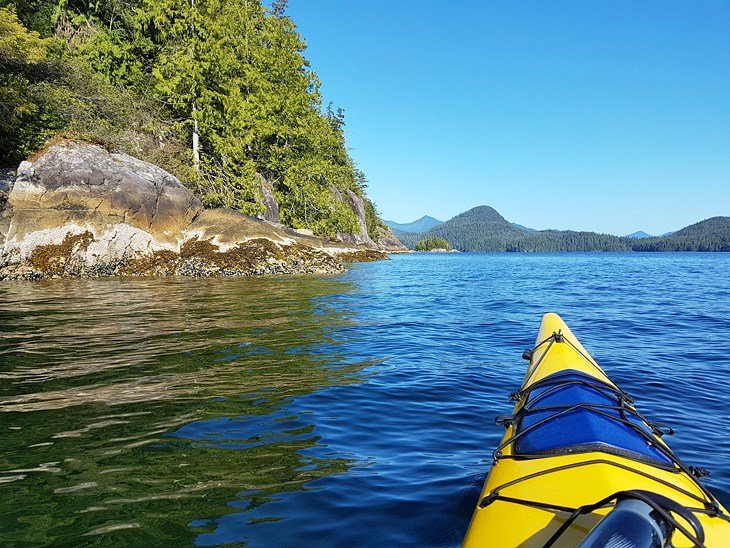 Sea kayaking is a beautiful way to explore nearby Clayoquot Sound. One of the most popular destinations on kayaking tours is to Meares Island. This is an area of old-growth forest, where you can hike trails and walk along the boardwalk of the Big Tree Trail.
A number of outfitters offer guided tours. This is not something you need to have experience in to participate; beginners are welcome. All equipment is included with your tour.
7. Take a Bear Watching Tour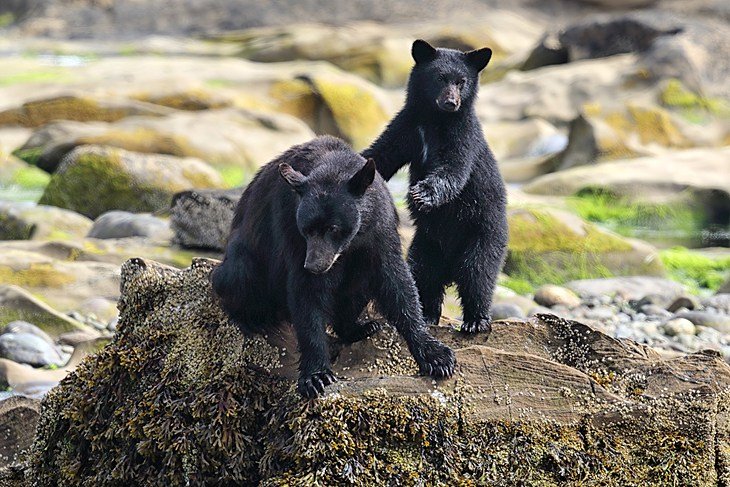 One of Canada's most iconic animals, black bears are abundant around Tofino. They can often be spotted wandering along the shores at low tide looking for food. Bear watching tours offer visitors a chance to see these beautiful animals in the wild from a respectful distance.
Tours are done from a boat and offer a safe way to see bears in their natural habitat. Tour times vary depending on the tides, and tours operate between the start of April and the end of October. This is also a great time for seeing bear cubs.
8. Walk through Tofino Botanical Gardens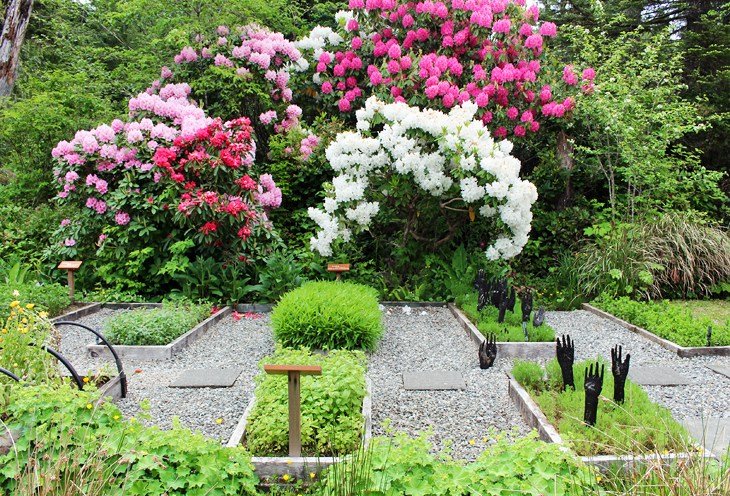 Tofino Botanical Gardens combine nature and art. Beautiful gardens and forest areas are sprinkled with art installations that range from simple and small wood carvings to large and funky pieces of art, some of which stand out and others that blend so perfectly into the surroundings, you may miss them if you don't look carefully.
Trails lead through the forest areas, along a coastal mudflat, and through areas of carefully designed gardens that include vegetables, herbs, and flowers. In the spring, the rhododendrons bloom in fantastic colors.
A small section of the garden is a memorial to the 2011 Japan earthquake and tsunami. On display here are a variety of items from Japan that washed up along the coast in the years following the tsunami.
Address: 1084 Pacific Rim Highway, Tofino, British Columbia
Official Site: http://tbgf.org/
9. Stop in at the Eagle Aerie Gallery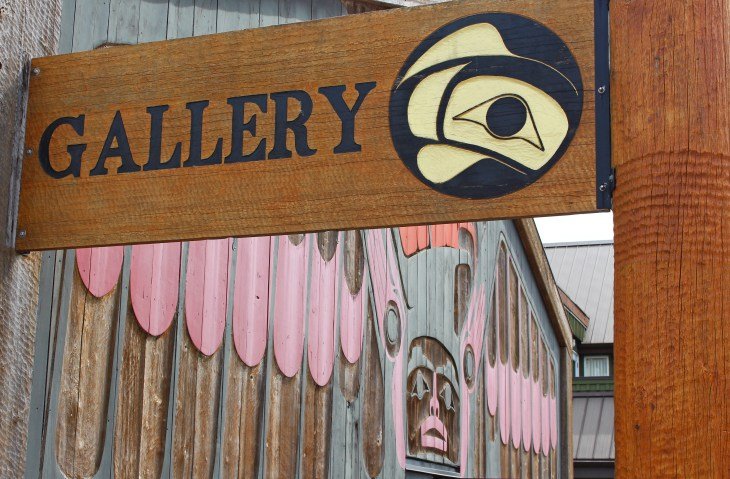 On the main road running through Tofino, you'll see the intricately carved and painted facade of the Eagle Aerie Gallery, featuring the colorful works of artist Roy Henry Vickers. Even if you are not looking to buy a piece, these works by this renowned Canadian artist are worth seeing.
Bright, vibrant colors dominate the pieces, which feature the wildlife and scenes of nature related to the West Coast. Vickers was born in northern British Columbia, and his works are also on display in several prominent Canadian museums.
Address: 350 Campbell Street, Tofino, British Columbia
Official Site: https://royhenryvickers.com/
10. Get an Aerial Perspective from a Scenic Flight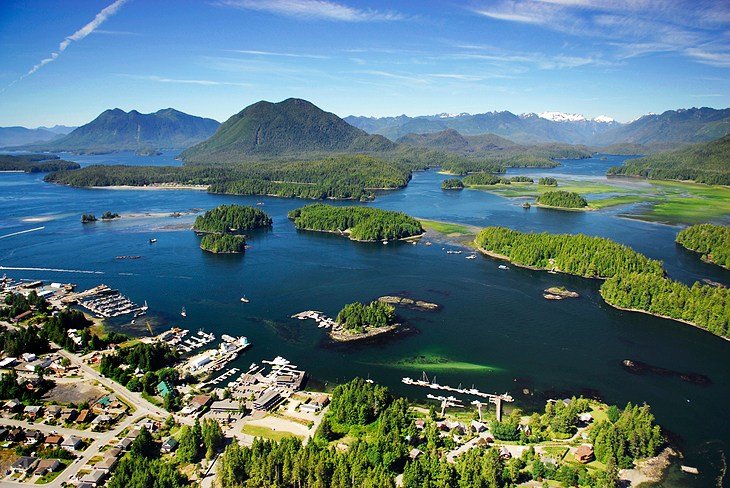 To see the towering mountains, rugged coastlines, glaciers, and stunning alpine lakes around Tofino, there is no better way than on a scenic flight.
Tours take place via float planes or helicopters and range in length from 20 minutes to five hours. On a clear day, Clayoquot Sound is spectacular. This trip will give you a unique perspective on the area, and depending on what your interests are, the pilot can land on a glacier, an alpine lake, or at a remote hot springs location where you can take a dip.
Individuals and couples are welcome, but you'll get the greatest variety of destinations and best pricing with a group of four.
11. See the Views from Radar Hill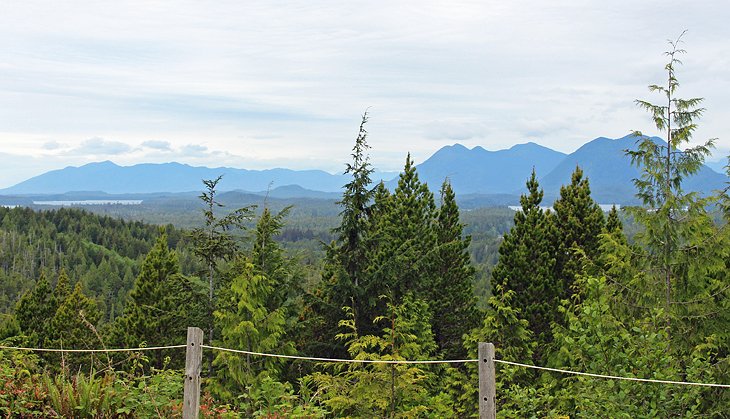 Radar Hill is an easy-to-access high point of land near Tofino. Views from the top look out in both directions from above the trees to the mountains and ocean. It's not exactly a 360-degree view, but two separate viewing areas look out in different directions and offer a completely different perspective from anywhere else in the Tofino area.
A road leads right to the top, and the viewpoint is a short walk along a well-graded pathway.
Radar Hill is also a place that lodges and bed-and-breakfasts nearby inform their guests about, referencing it as a place to go in the event of a tsunami.
The hill was used as a radar station in the 1950s, during the start of the Cold War, although you won't see many remnants of this today, apart from some foundations.
12. Explore the Best Dining and Desserts in Tofino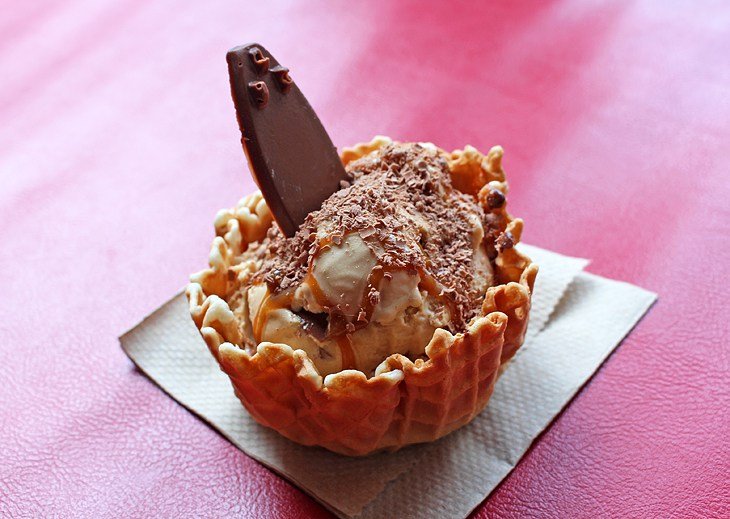 For such a small community, Tofino has a diverse range of dining options. You can find everything from fine dining to food trucks, you just have to know where to look.
One of the tastiest places for young and old and everyone in between is Chocolate Tofino at 1180A Pacific Highway, just before you enter the main downtown area of Tofino. The owners make chocolate treats and gelato like you won't find anywhere else in Tofino or possibly on Vancouver Island. Their signature gelato Salted Caramel Sundae, complete with a chocolate surfboard on top is a must-try.
In the same roadside retail complex of rustic-looking wooden structures is the original Tacofino Truck, serving an awesome assortment of tacos, burritos, and more. This eccentric looking "truck restaurant" has since expanded to several restaurant locations in B.C., but this is where it all began.
For fine dining head to the Pointe Restaurant at the Wickaninnish Inn, where you can enjoy the views from their cliffside location, or stop by their more casual Driftwood Cafe, with windows that look out to the beach.
For something right in Tofino, The Shelter offers inside and outside dining looking over Clayoquot Sound. If you are simply looking for a good cup of coffee and a tasty pastry, the Rhino Coffee House is the place to go, right in Tofino.
13. Go Deep Sea Fishing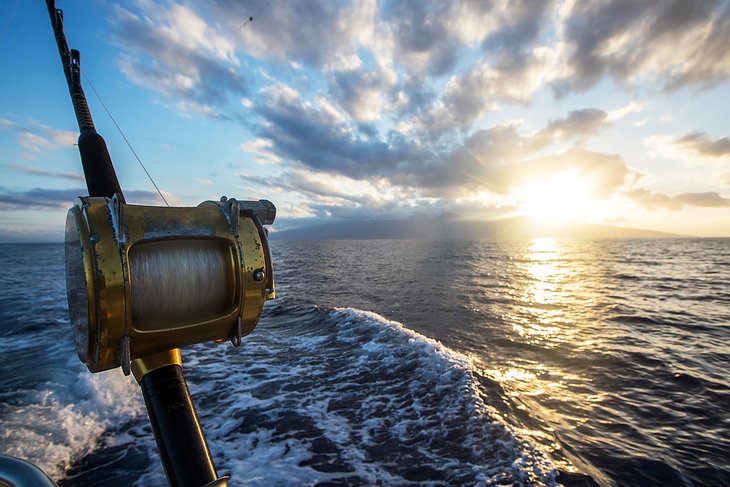 The waters off Vancouver Island are some of the best fishing grounds in Canada. For a real adventure out on the open ocean consider taking a full- or half-day fishing charter from one of the outfitters in Tofino.
The fish out in the Pacific waters grow to incredible sizes — when you hook into one be prepared for a long, drawn-out fight. Fish available include several species of salmon, halibut, and ling cod. The best fishing is generally from mid-June through to mid-September.
Where to Stay in Tofino
Luxury Hotels: If you are in Tofino to surf or storm watch, you'll want to be on the beach. Pacific Sands Beach

Resort

, just to the north of Pacific Rim National Park, is a great surf-in, surf-out property, with a pavilion for storing boards, an on-site surf shop offering lessons, and a take-out restaurant. The suites, including brand new units, as well as more traditional, rustic-looking luxury units are just steps from the sand.

Neighboring Long Beach Lodge

Resort

is another lovely property, with a mix of lodge rooms and cottages, great for romantic getaways.

The traditional go-to property for high-end luxury is the Wickaninnish

Inn

at the north end of Chesterman Beach. Beautiful suites with balconies look out over a fantastic stretch of beach, and the service here is impeccable.

Located on the same beach but offering a much more intimate atmosphere is BriMar Bed &

Breakfast

. All rooms offer ocean views, but each is uniquely decorated. The top floor suite, complete with a romantic clawfoot tub and wood burning stove, makes the perfect romantic getaway.
Mid-Range Hotels: At the upper end of mid-range, Middle Beach

Lodge

overlooks a usually quiet and uncrowded crescent of beach. The lodge and cabins are set well above the ocean and have fabulous views from the decks, but you can still walk down to the shore from the resort. Rooms and common areas are beautifully decorated, with exposed wooden beams in some rooms and a huge stone fireplace in the main lodge.

Cox Bay Beach

Resort

is another good beachfront property, with comfortable suites and an outdoor hot tub for guests to enjoy.

At the Best Western Tin Wis

Resort,

you are sure to have an awesome view. All rooms offer ocean views and have balconies. This hotel also has a hot tub and a restaurant.
Budget Hotels: Tofino Travellers Guest

House

is located in downtown Tofino, within easy walking distance of restaurants, shops, and galleries.

Also in town is the recently renovated Tofino Resort +

Marina

. This property is more of a mid-range hotel but sometimes offers good deals. The property has been recently renovated, and rooms look over the harbor.

Set on MacKenzie Beach, Ocean Village Beach

Resort

offers fully outfitted cabins with kitchens, perfect for guests who want to self-cater.
More Related Articles on PlanetWare.com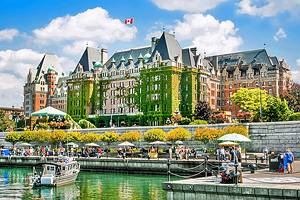 Victoria: British Columbia's capital, Victoria is a small city with old-world charm. The harbor front is where most tourists find themselves when they visit, but be sure to see our list of the top attractions in Victoria. If you have time to explore the outdoors a little while you are here, check out some of the hiking trails in and around the city.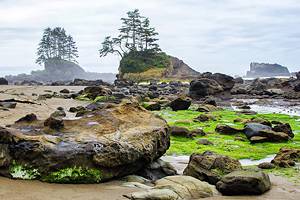 Vancouver Island: For tourists looking to explore the island more in-depth, start with our list of the top things to see and do on Vancouver Island. If you are arriving by ferry from the mainland, chances are you will arrive at either Victoria or Nanaimo. While many people use it as a transit point, Nanaimo is also a lovely city with a picturesque harbor. This is a good base for taking a whale watching tour, but you can find out more with our list of things to do in Nanaimo.