11 Top-Rated Things to Do in Nanaimo, BC
Centrally located on the east coast of Vancouver Island, Nanaimo is a scenic city looking out over the Salish Sea to the Coastal Mountains on mainland British Columbia. The harbor is the central focus of the city, where seaplanes take off and land, boats and tours come and go, and walking trails line the shore.
Nature is a big part of what makes this city so enticing, but the downtown, with shops, restaurants, and museums, also adds to the appeal. Some of the most popular things to do are whale watching and wildlife tours, soaking up the sights from the Harbourfront Walkway, and exploring some of the nearby parks. For more ideas, see our list of top attractions in Nanaimo.
1. Stroll along the Harbourfront Walkway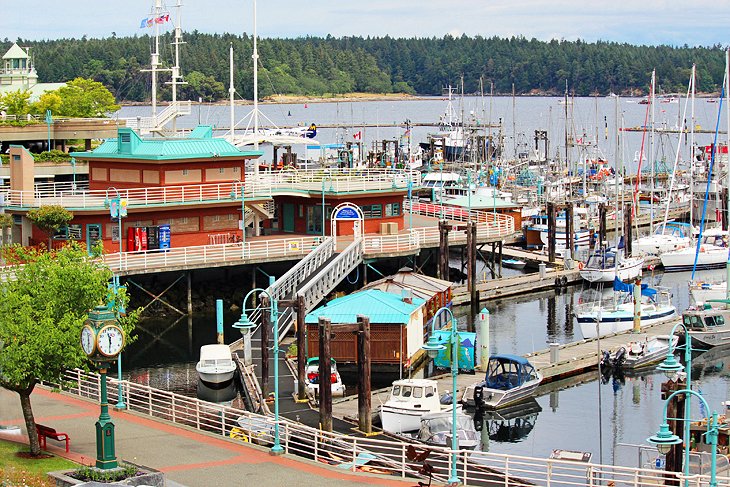 Nanaimo's Harbourfront Walkway is one of the things that makes this city so beautiful. Running all along the waterfront below Front Street, this walkway is suspended above the shore and ocean in some areas and in other parts, it skirts around parks and green spaces. Along the Harbourfront Walkway are tourist shops, restaurants with outdoor patios, docks, boats, and the seaplane base.
Whale watching boats dock here. Seaplanes depart from here and take passengers to various destinations, including Vancouver, or on 40-minute Seaplane Tours over the Strait of Georgia, with views over the Sunshine Coast. For a nice meal, head to the Lighthouse Bistro on the walkway overlooking the harbor, in the same building as the seaplane passenger waiting lounge.
If you want to stay in this area, the best hotel is the luxury Coast Bastion Hotel, a tower near the waterfront with incredible views over the harbor and beyond to the Coastal Mountains on the mainland.
2. Shop & Dine in Downtown Nanaimo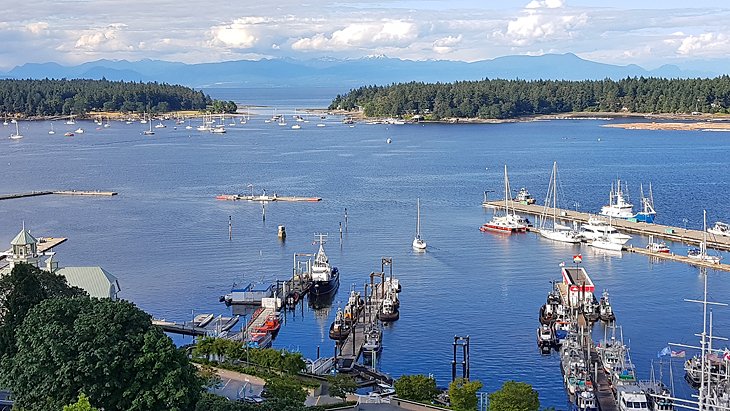 For a city of approximately 90,000 people, Nanaimo has a surprisingly small-town feel in the downtown area. Interesting boutiques and retail stores, restaurants, and French pastry shops, and a mix of museums and other attractions are what you'll find along Church Street, Commercial Street, and other streets in the downtown area up behind the Harbourfront Walkway.
If you are a bit hungry, downtown Nanaimo is the place to be. Over 20 restaurants are all located in this small area, and cover cuisines from around the world.
3. Take a Whale Watching Tour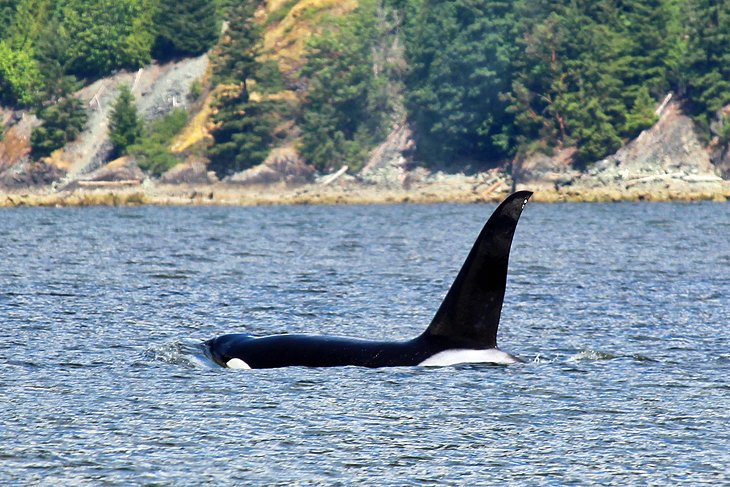 One of the nicest ways to enjoy a sunny day on the ocean is to take a whale watching tour from Nanaimo. The incredible scenery, with the mountains of Vancouver Island on one side and the even higher mountains of mainland British Columbia across the strait, makes for a spectacular backdrop to the surfacing whales. It also means, unlike whale watching tours on the west side of Vancouver Island, the waters here in the Strait of Georgia, in this approximately 60-kilometer-wide stretch between Nanaimo and Vancouver, are usually relatively calm.
You can see a variety of whales, but the tour focuses on orcas. A professional guide, schooled in marine biology, leads the group and offers insight into the whales. Sightings are very frequent, and the tour operator guarantees a sighting, or you can try again, with no expiration date. The operators work as part of a group, and information is shared between boats to help locate pods. Even if you don't see whales, this can still be a great way to spend a day, and you will likely see sea lions and harbor seals, which are also part of the tour.
Boats are either semi-covered, 23-passenger boats or 12-person zodiac boats. All boats have a washroom on board. On the zodiac tours, guests are given suits to wear, which serve as insulation and flotation. Tour times depend on how long it takes to travel to where the whales are but are generally three to four hours, with about one hour spent with the whales. Boats are required to maintain a 100-meter distance from the whales and stay out of their path. The tour closes with a discussion on whale conservation.
Especially during high season, it's advisable to reserve your tickets in advance. Choose between the Nanaimo Whale Watching Tour in a Semi-Covered Boat, or for the more adventurous minded, the zodiac Open Boat Nanaimo Whale Watching Tour.
4. Snorkel with Seals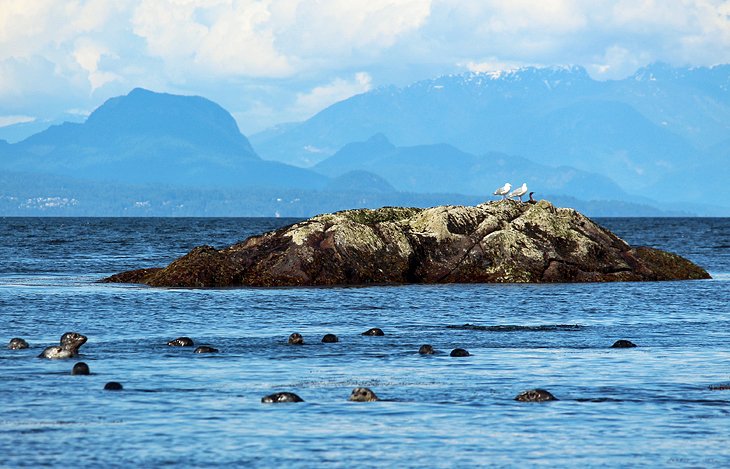 Harbor seals can be seen around docks and rocks all up and down the coast, but if you want a truly unique experience with these delightful animals, try taking a dip with them. You have to be 10 years or older to participate in these outings, which involve boating out to a rock island inhabited by a colony of harbor seals. This is a weather-dependent tour.
Guided tours are available through local diving outfitters. No experience is necessary, but you do need to be able to swim.
5. Take a Scenic Flight along the Sunshine Coast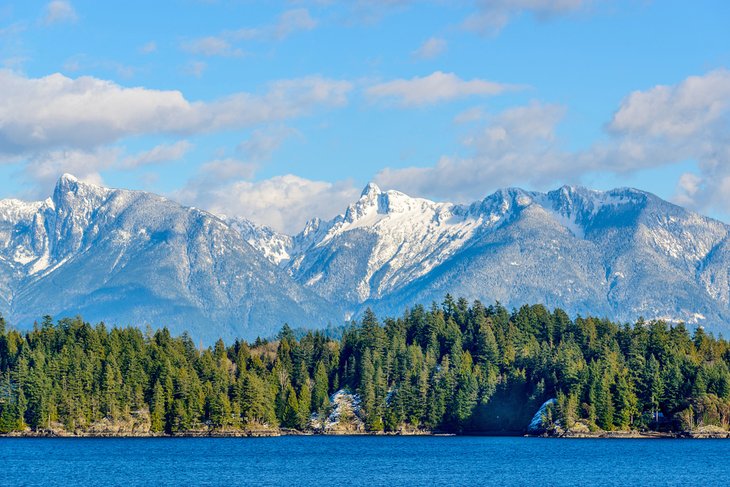 Have you ever wondered what it would be like to climb into one of those float planes and roar off over the ocean? In Nanaimo, you'll have your chance. The city is a hub for float planes servicing remote and beautiful areas on Vancouver Island and the Sunshine Coast.
On the Strait of Georgia Seaplane tour, you'll take a regularly scheduled 20-minute flight to and from the small town of Sechelt. Along the way, you'll fly over countless small islands; see the impressive snow-covered Coast Mountains; and, if luck is on your side, spot a few whales.
In Sechelt, you'll have, depending on the day, one to four hours to explore this delightful seaside town with its seafood restaurants and eclectic shops. After your time in Sechelt, you'll get to feel the thrill of taking off again as you roar into the sky and fly 20 minutes back to Nanaimo to make the exciting landing right in the main harbor area.
6. Learn about Local History at the Nanaimo Museum and the Bastion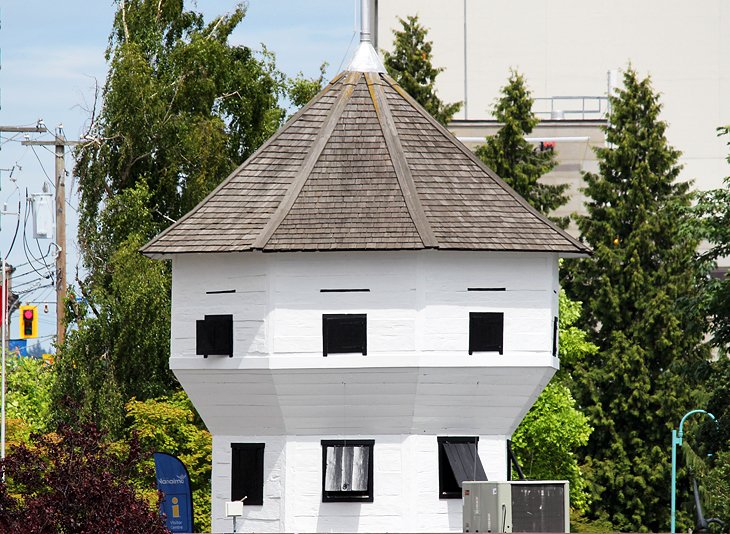 The Nanaimo Museum is a great place to learn about the history of the area, from the Snunéymuxw culture through to the Bastion Era, the coal mining history, and much more. The museum also brings in feature exhibits from museums across the country.
The museum was started in 1967, Canada's centennial year, but in 2008, the museum moved into a new facility in the Vancouver Island Conference Center in downtown Nanaimo. The museum also has a beautiful gift shop and is attached to "Serious Coffee," a coffee shop on the Nanaimo Bar Trail.
The Nanaimo Museum also operates the Bastion, the wooden white tower standing above Harbourfront Walkway. Built in the mid 1800s by the Hudson's Bay Company, this three-story fort was a multi-purpose building, used for trade, defense, and storage. You can enter the Bastion free of charge. It's open from the May long weekend to Labour Day and serves as a visitor center during this time. A replica cannon is fired each day at noon.
Address: 100 Museum Way, Nanaimo, British Columbia
Official site: http://nanaimomuseum.ca/
7. Spend a Day at Neck Point Park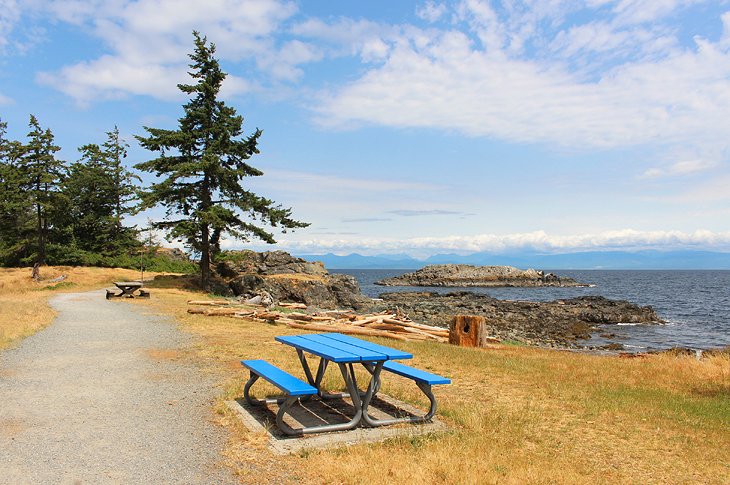 This scenic park is a popular place to visit for walking, picnicking, swimming, and scuba diving. You can also sometimes see orcas, sea lions, and other marine life from the lookouts in the park. A beautiful walking trail, just under two kilometers, follows the shoreline of this little peninsula, past beaches and through arbutus trees, Garry oaks, and Douglas fir.
Sunset Beach, Last Beach, Indian Beach, and Finn Beach are found in the coves between the headlands and provide opportunities for swimming on every side of the park.
At the far end, between Indian Beach and Last Beach, is a lookout point on a high rock. In front of the lookout is a tidal zone, which at low tide is an exposed gravel sandbar that ends at a small rock island. This is the "neck" the park is named for. This is one of the popular dive sites in the park, and divers can walk in from the neck. Divers also leave from Finn Beach, near the parking lot.
Official site: https://www.nanaimo.ca/parks-search/Parks/224-Neck-Point-Park
8. Snack along the Nanaimo Bar Trail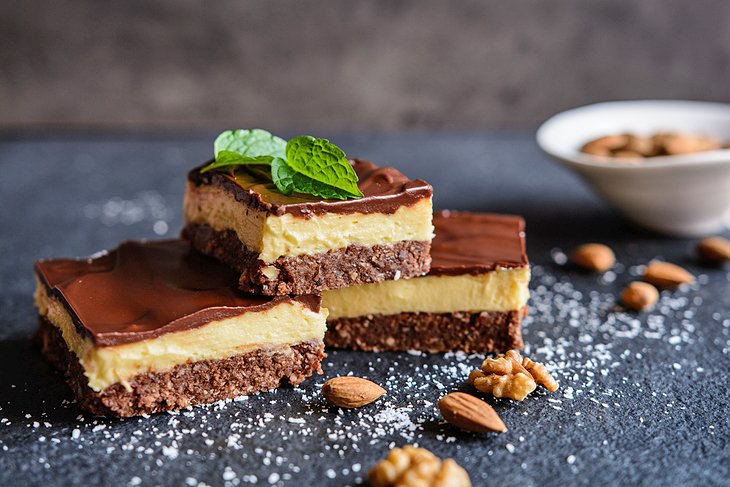 The city's signature sweet, the Nanaimo bar is a must-try snack while you're here. This yellow and brown delight consists of a thick layer of custard-flavored icing sugar topped with a thin layer of chocolate, all sitting on a coconut and crumb wafer.
The city has put together a list of the best places to buy and try these desserts and even published a map showing the route of the Nanaimo Bar Trail. Even if you don't head out on a day of Nanaimo bar tasting, you can keep the map handy and pop in at a couple of coffee or pastry shops to try some of these treats. Maps can be picked up at the Nanaimo Visitor Center.
9. Take a Ferry to Newcastle Island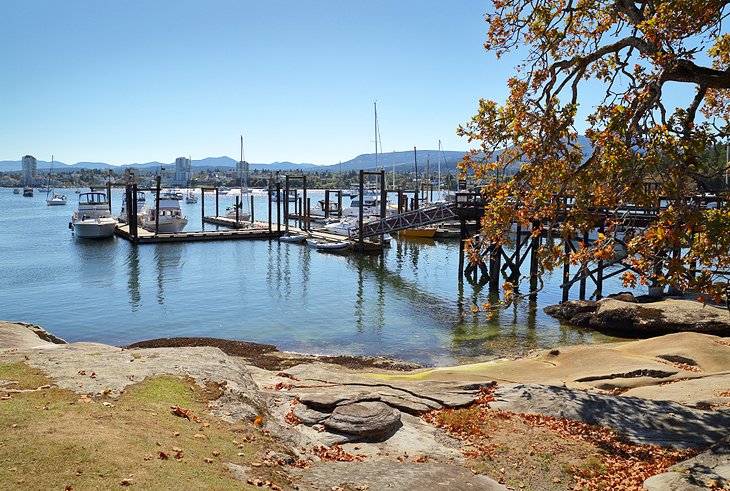 Looking across the Nanaimo Harbour from the Harbourfront Walkway, you can see Newcastle Island off to your left. A small ferry transports walk-on passengers to the nearby island, which is officially called Saysutshun, the Newcastle Island Marine Provincial Park.
Nature and history combine here in the form of nature trails, beaches, Snunéymuxw village sites, old sandstone quarries, the remains of a fish saltery, and coal mine sites. This is also a great place for camping, with walk-in sites that are popular with families looking for easy access to nature.
10. Enjoy Nature at Pipers Lagoon Park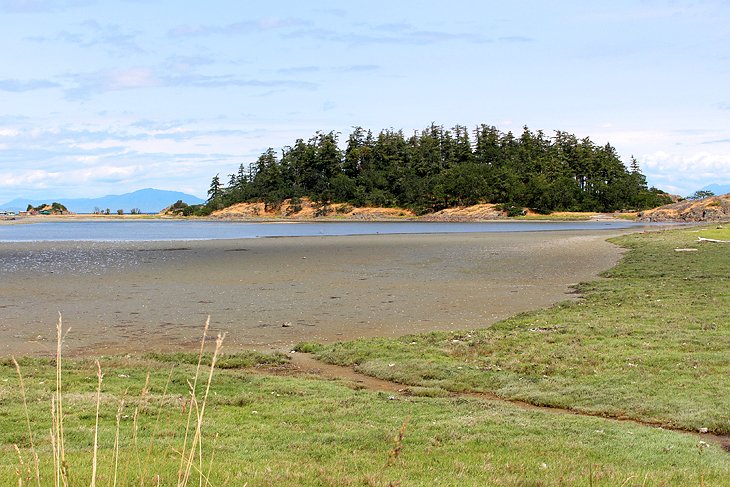 Just north of downtown Nanaimo, Pipers Lagoon Park juts out into the ocean, creating an interesting tidal flat on the inland side and offering views over the Salish Sea from the outside. Walking trails lead around the small peninsula with high points that look out over cliffs and lower areas where you can get down to the water's edge. The park is popular with locals who come here to walk or relax. If you are staying in the city center, this can be a nice place to come to get close to the ocean and do a bit of wildlife spotting.
11. See the Vancouver Island Military Museum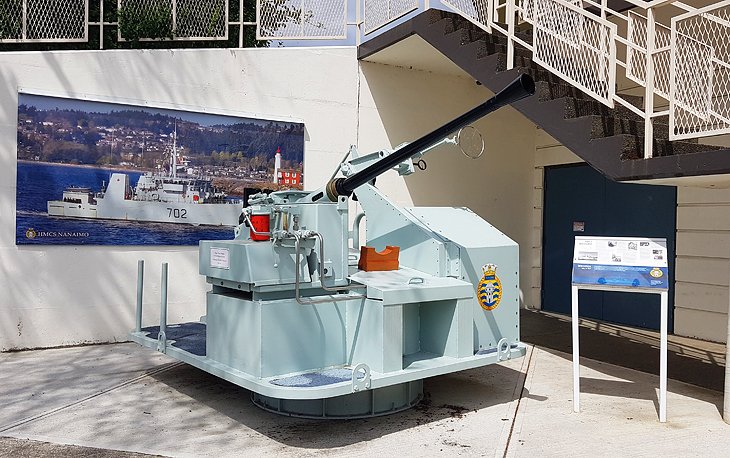 On a hill high above downtown Nanaimo is the octagon-shaped Vancouver Island Military Museum. The view from up here, over the harbor and out over the ocean, beyond to the Coastal Mountains is outstanding. Displays include a look at Canada's navy, army, and air force, as well as the wars they have been involved in and their role throughout Canada's history.
Exhibits include a wide range of artifacts and other items, including uniforms, weapons, models, medals, and other memorabilia. Volunteers here are more than happy to show you around and answer questions.
Address: 100 Cameron Road, Nanaimo, British Columbia
Where to Stay in Nanaimo
Nanaimo's residential areas are quite spread out, but the city center is compact and easy to navigate on foot. The best place for tourists to stay is right downtown near the harborfront. This will put you within walking distance of everything from the whale watching boats and seaplane tours to the museums, restaurants, and shops. If you are planning on taking the ferry to Vancouver, you may want to consider accommodation near the ferry terminal instead.
Luxury and Mid-Range Hotels:
Providing stunning views of beautiful Nanaimo Harbour and the Coast Mountains on the mainland is the Coast Bastion

Hotel

. This tower is one of the few true luxury hotels in Nanaimo and has modern and comfortable rooms complete with Juliette balconies and sliding glass doors to let in the fresh ocean air.
The Ramada by Wyndham

Nanaimo

is slightly back from the waterfront but still a good choice for those wanting to stay near downtown. Rooms are large and bright, and breakfast is included.
A great mid-range option close to the Departure Bay ferry terminal is the Buccaneer

Inn

. This family-owned hotel offers wonderful views, and the rooms have a maritime theme.
Budget Hotels:
Nanaimo has a good selection of budget hotels that offer great value and quality accommodations. The pet-friendly Travelodge

Nanaimo

is close to the Departure Bay ferry terminal. Room rates include breakfast.
Just a short drive from the town center and waterfront is the Harbour Light

Motel

. Rooms are clean and comfortable and come with a fridge and coffee maker. The restaurant next door provides a discount for hotel guests.
The Port-O-Call

Motel

has been recently renovated and offers decent value rooms at a fair price and is in a good location near downtown shops and restaurants.
Best Time to Visit Nanaimo, Canada - Historical Climate Averages
Average minimum and maximum temperatures for Nanaimo, Canada in °C
J
F
M
A
M
J
J
A
S
O
N
D

6

-1

8

0

11

1

14

3

18

6

21

9

24

11

24

11

21

8

15

5

9

1

6

-1

PlanetWare.com
Average monthly precipitation totals for Nanaimo, Canada in mm.

163

127

117

61

48

41

25

31

43

102

191

201

Average monthly snowfall totals for Nanaimo, Canada in cm.

31

15

8

0

0

0

0

0

0

1

9

30
Average minimum and maximum temperatures for Nanaimo, Canada in °F
J
F
M
A
M
J
J
A
S
O
N
D

42

29

47

31

51

33

56

37

63

42

69

48

75

51

75

51

69

46

58

40

48

34

43

30

PlanetWare.com
Average monthly precipitation totals for Nanaimo, Canada in inches.

6.4

5.0

4.6

2.4

1.9

1.6

1.0

1.2

1.7

4.0

7.5

7.9

Average monthly snowfall totals for Nanaimo, Canada in inches.

12

5.9

3.2

0.1

0

0

0

0

0

0.3

3.4

12
More Related Articles on PlanetWare.com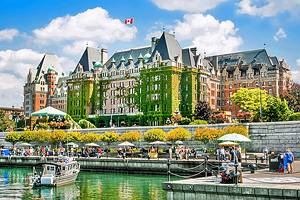 Vancouver Island Destinations: Just a two-hour drive from Nanaimo is the beautiful little town of Tofino. Located along the wild west coast of Vancouver Island, this is one of Canada's premier surfing destinations, where you can take advantage of the waves year-round. Most people come here to hike in the old-growth rainforest, enjoy the sights of scenic Clayoquot Sound, or storm watch. Find out more with our article on things to do in Tofino. Also, don't miss out on British Columbia's capital city and one of the most scenic cities in Canada, Victoria. These two destinations should be on every traveler's itinerary, but if you are looking for more ideas on what to see and do on the island, use our list of Vancouver Island attractions to help plan your trip.