10 Best Campgrounds in Parksville, BC
As a premier vacation destination on the east coast of Vancouver Island, Parksville offers a range of accommodation options, from luxury resorts to rustic camping. Perhaps you are thinking that the poshest properties have sewn up all the best locations.
Not so — there's enough scenery to go around for everyone, no matter what your budget is. With advance planning and a reservation, it's possible to park yourself in a camp chair next to a scenic beach or rest in a hammock beside a bubbling river.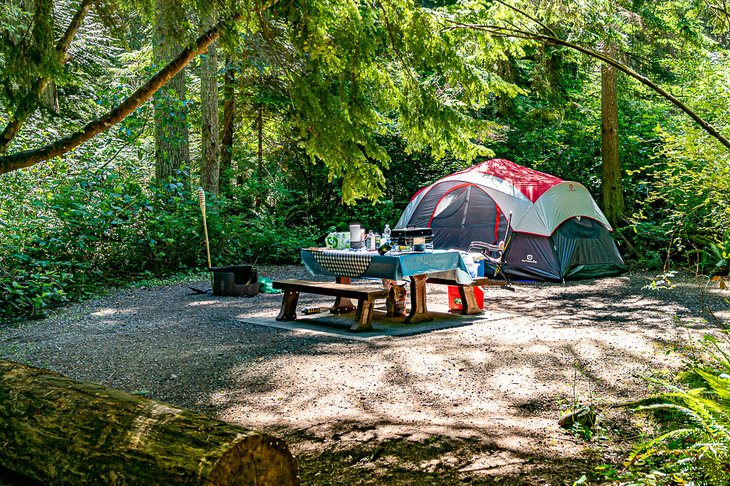 After Golden Ears Provincial Park just north of Maple Ridge, Parksville's Rathtrevor Beach Park is the most popular camping destination in British Columbia.
Many of the smaller family-run campgrounds in Parksville offer fewer than 100 sites, so visitors wishing to camp in RVs and tents might need to go further afield during high season. For this reason, our top picks extend a short distance from Parksville to include Englishman River Falls Provincial Park, Little Qualicum Falls Provincial Park, and two private campgrounds in the Coombs area.
For more ideas, see our list of the best campgrounds in Parksville, BC.
1. Rathtrevor Beach Park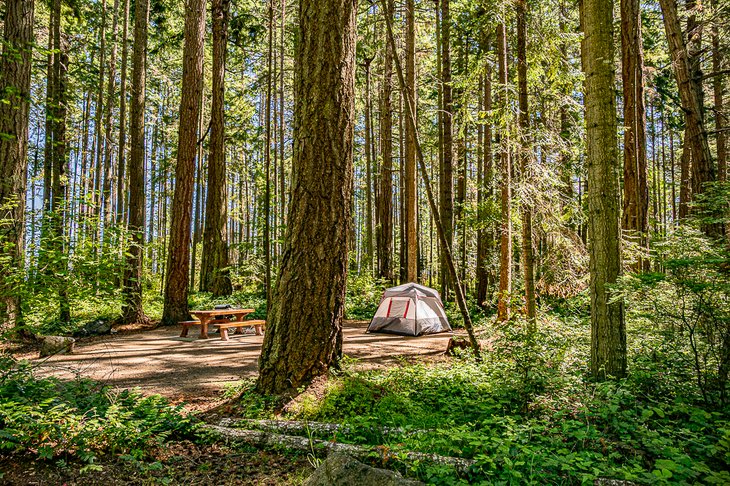 Rathtrevor Beach Park, located within a five-minute drive of downtown at the east end of Parksville, is the most popular choice for camping.
It's also one of the top campgrounds on Vancouver Island. Comprising 347 hectares, it's large enough to give you a sense of separation from city noise and highway traffic.
Exploring the 1.2-mile sandy beach, biking the nature trail through mature Douglas fir trees, and pausing with your leashed dog to admire the view across the strait, you can easily tap into the serenity that comes with slowing down and being in a natural setting. Find your balm to the spirit in the twitter of an eagle, the cry of passing seagulls, and surf gently lapping on the shore.
The park has 250 vehicle-accessible sites and 25 walk-in campsites. There are also six group camping sites. You can walk to the beach in five minutes or less from any of the campsites. Reservations are required between the last week of June and Labour Day. Campsites that haven't been reserved or claimed may be available on a first-come, first-served basis.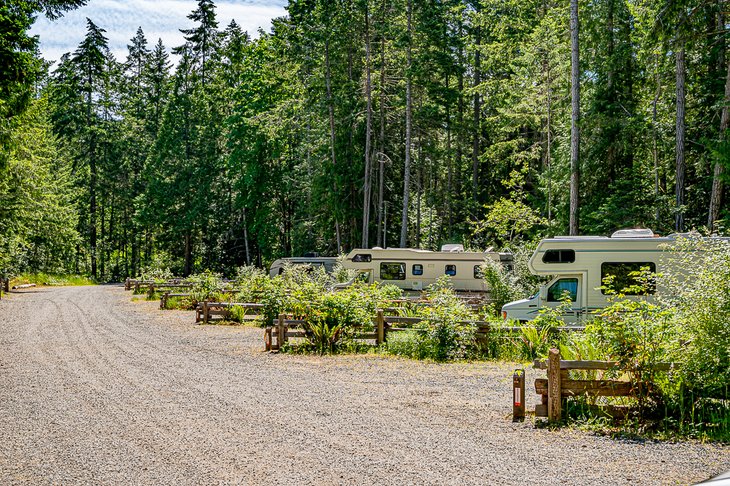 If you are camping in a large motorhome, you'll park in one of three loops where it's easy to move in and out. The main campground of non-serviced sites is located in the forest, with generous space between sites to enhance privacy.
Each campsite has nearby access to drinking water, a picnic table, and a fire ring (although the park encourages the use of stoves instead of campfires to help protect the environment). There's a Sani-Station within the park.
Away from their sites, campers can wander 5.5 kilometers of easy hiking trails that skirt the beach, wind through forest, and cross open areas of park habitat. There's a day-use area for picnics and a children's playground with lots of space to run around.
Rathtrevor Beach Nature House provides interpretation through displays that showcase the natural attractions of the park. Check out the collection of bones, and see if you can identify the bird or animal they came from.
Learn more about this park and its long history of human enjoyment. Irish gold prospector William Rath and his wife Elizabeth originally farmed the area in the late 19th century. After his death, Elizabeth turned the farm into a campground and eventually it became a provincial park in 1967.
2. Riverbend RV Resort & Cottages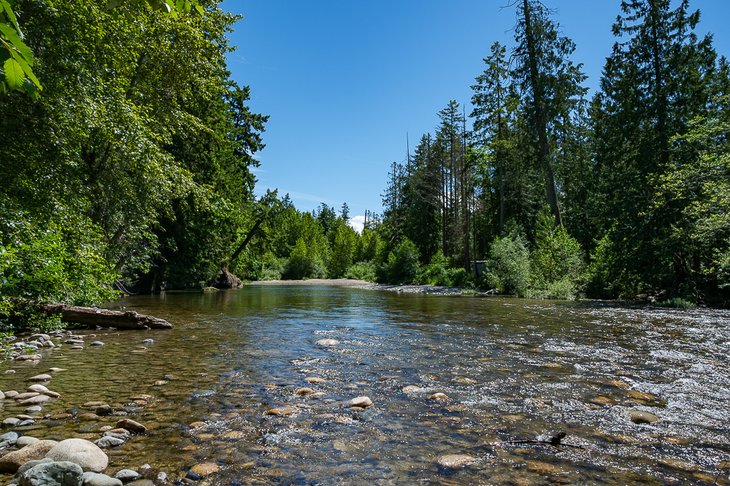 Within walking distance of Rathtrevor Beach, Riverbend RV Resort & Cottages is situated on 6.5 forested hectares along the Englishman River. There are more than 100 sites offering 30- and 50-amp service. There are also tent sites near the showers and washrooms, as well as in the forest above the river.
Accommodation also includes several cottages, three luxury yurts, and a lodge that can accommodate up to 10 tourists. On either side of the high bank riverfront sites, short trails lead to the scenic river, where you can take a refreshing dip in the shallows, swim in the deeper pools, or cast your fishing line. Children will be drawn to the playground, where they can look up in the trees and see colorful birdhouses.
The visitor center is located in a welcoming log-framed lodge made from huge beams of yellow cedar. On a cool rainy day, relax by the fire with a book or play a board game, both of which are available in the lending library. There's also a large-screen TV. Gifts and snacks are available at the visitor center, where friendly staff help you plan your activities.
Address: 1-924 Island Hwy E, Parksville, British Columbia
3. Paradise RV Park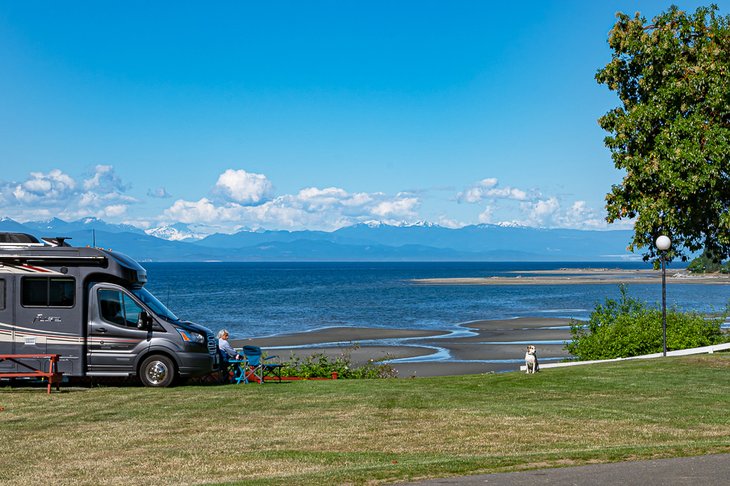 In the center of town, you can't miss the dominant features of an amusement park that has been part of the Parksville landscape for more than 30 years. Look for the attraction's big castle, an oversized shoe, the water features of two mini-golf courses, the bright lights of an arcade, and bumper boats.
Beyond the fence that borders the parking lot, you'll find Paradise RV Park, which features an open area with 30 full hookup sites, some of which have a commanding view of Parksville Bay. The campground also has internet service and hot showers.
There's not much space between the oceanfront sites, so if you wish more room, park in the grassy area on the west side. Each site has a fire ring and picnic table. At the east end of the lineup of RVs, there's a fire pit where campers can convene under the stars. There's also a trio of swings for children.
This is a small park, and oceanfront camping is popular, so it's recommended to make a reservation. There are no tent sites.
Address: 375 Island Hwy W, Parksville, British Columbia
4. Heart Haven RV Family Campground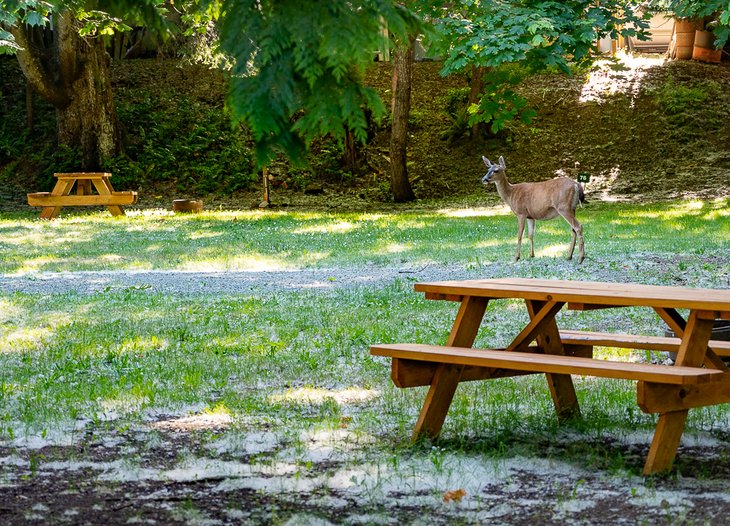 On the lower level of Heart Haven's riverside campground, a deer nonchalantly wanders through the forest, undeterred by the arrival of visitors. What this says about the campground, in operation since 1976, is that it is peaceful enough for wildlife to wander.
There's not a scrap of litter — not even a cigarette butt in the fire pits. That's how they want to keep it, as outlined in the campground rules.
Many of the 105 sites in this grassy park-like campground are located right beside the Englishman River. RVers have 71 full-service (15-, 20-, 30-amp, electric, and septic) sites, while tent campers have access to 34 sites, some of which have partial service. Two pull-throughs are available, and there is an option for cable hookups.
Campers can wade or swim in the river and cast a line for catch-and-release fly fishing. Amenities include a fire pit and picnic table in every site, Wi-Fi, laundry facilities, restrooms, coin-operated showers, a basketball hoop, and an open area to play volleyball and horseshoes. Pets are allowed if on a leash.
Address: 745 Island Hwy E, Parksville, British Columbia
5. Coombs Country Campground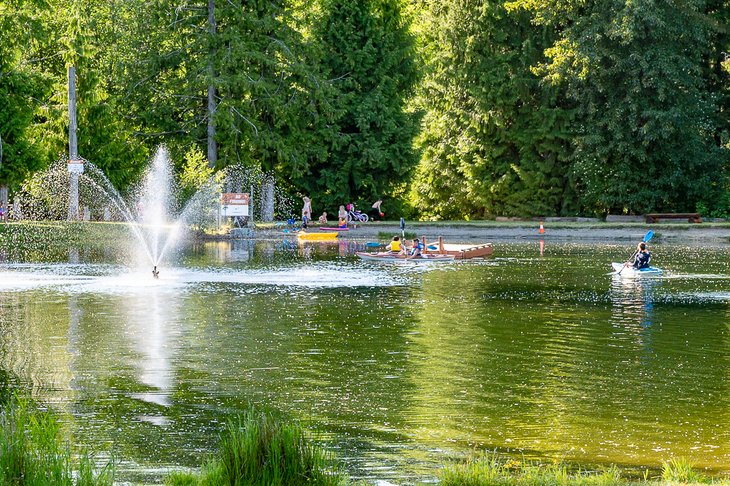 Most visitors to Parksville go a few kilometers out of their way to visit the famous goats on the roof at Coombs Old Country Market.
If you are one of those people or attending the Coombs Bluegrass Festival at the beginning of August, here's a handy place to camp: Coombs Country Campground. Choose your shady spot from 100 sites (full and partial services) in the forest or beside the one-hectare man-made lake. Both tent and RV camping are available.
Coombs Country Campground is a spacious park of almost 14 hectares, filled with lots of things to do. Go for a swim, dive from the dock, launch a kayak or paddle boat, and see how wet you get when you paddle under the spray of the lake fountain. The heated swimming pool and hot tub provide other ways to relax.
Attractions and amenities include a 75-foot zipline, Wi-Fi, games room, volleyball, horseshoe pit, and a small general store. Be dazzled at Butterfly World, an ecological attraction located across the Alberni Highway from the campground.
Address: 2619 Alberni Hwy, Coombs, British Columbia
6. Englishman River Falls Park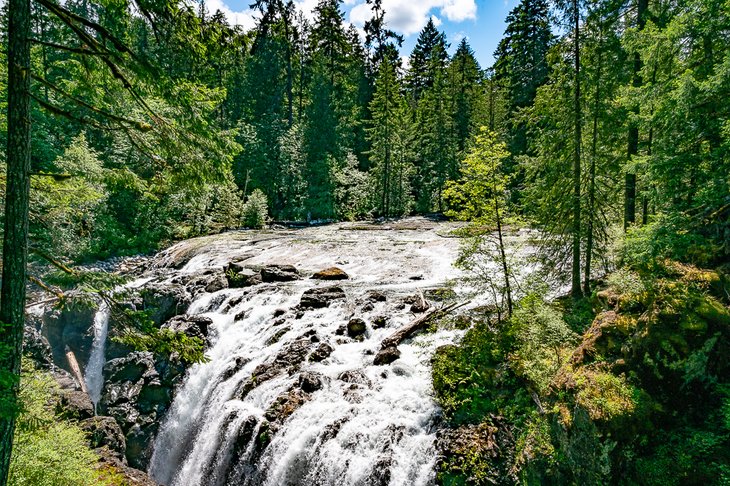 Waterfalls are the big attraction at Englishman River Falls Park — not just one but two (upper and lower) and the deep canyon between them. Campers can hike three kilometers of trails that cross the river twice, stopping at benches along the way to snap photos and take a rest.
Freshen up with a dip in the deep pools below the lower waterfalls, whenever this activity is permitted. (Swimming is not allowed when the water is high, because rocks and riverbanks are slippery and unstable.)
The campground has 104 vehicle-accessible sites located in a forest of mature Douglas fir trees that help to enhance privacy between sites. There's a fire ring and picnic table in each site, with drinking water located from a nearby spigot. Reservations are accepted, but not required.
This campground is located 13 kilometers southwest of Parksville.
7. Little Qualicum Falls Park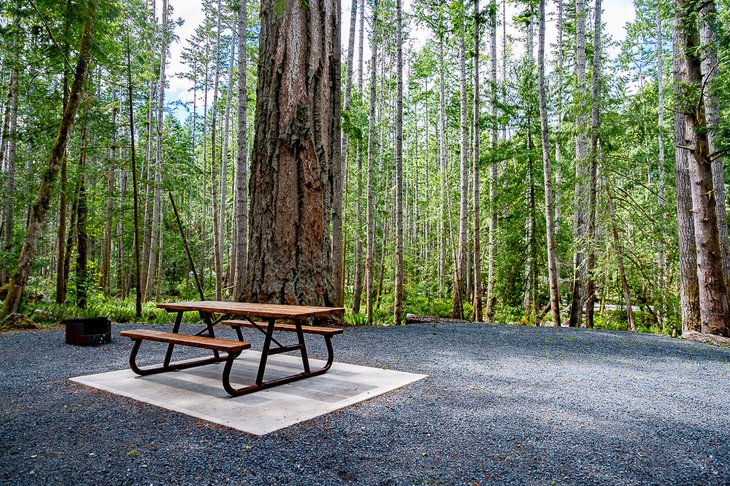 Although Little Qualicum Falls Park is located 19 kilometers west of Parksville, it's worth knowing about for its beautiful scenery and activities. There are 96 vehicle-accessible campsites in its upper and lower campgrounds located on the Little Qualicum River. You can book a campsite from May 12 through September 3, but reservations are not required.
Attractions include cascading waterfalls, dramatic rock cliffs, and a forest of mature Douglas fir mixed with arbutus. Located on 440 hectares, the park was established in 1940 to protect the falls, riverbanks, rock cliffs, and old-growth forest.
Little Qualicum Falls is known not just for its scenery but as a top choice for tourists who want an active camping experience. Explore one of eight nature trails, such as the three-kilometer out-and-back route that includes a waterfall. Moderate and strenuous trails lead fit campers to the picturesque scenery at higher elevations, or go for a beautiful hike along the river. Cameron Lake is the place for water activities: swimming, fishing, and sailboarding.
Three day-use areas are available for picnics: Little Qualicum Falls, Cameron Lake, and Beaufort. Cameron is best for swimming, and Beaufort for swimming and fishing. Cameron Lake and Beaufort are located six kilometers west of the park.
8. Whiskey Creek RV Campground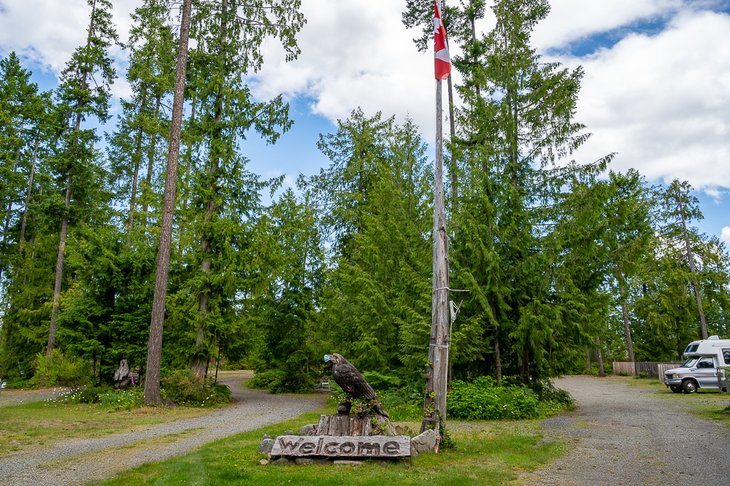 Visitors to Parksville often head west for a day trip to explore Little Qualicum Falls, see old-growth trees at Cathedral Grove, and perhaps make a longer journey from the serene east coast of Vancouver Island to the wild west side. If this is your itinerary, consider setting up your RV or tent at Whiskey Creek RV Campground, roughly 20 kilometers west of Parksville.
The campground has been in operation for more than 25 years, serving campers who return time and again to enjoy quiet family or couple time in a woodsy environment. Ten of the 15 sites have full service (water, electric, sewer) for RVs, and five sites are set aside for tenters. Sites are located on grass and gravel, separated by trees or a fence.
The campground has Wi-Fi, a playground for children, and trails to the mountain down the road from the campground. For swimming and fishing, drive five minutes to Cameron Lake.
Address: 1268 Chatsworth Road, Qualicum Beach, British Columbia
9. Paradise Acres Ranch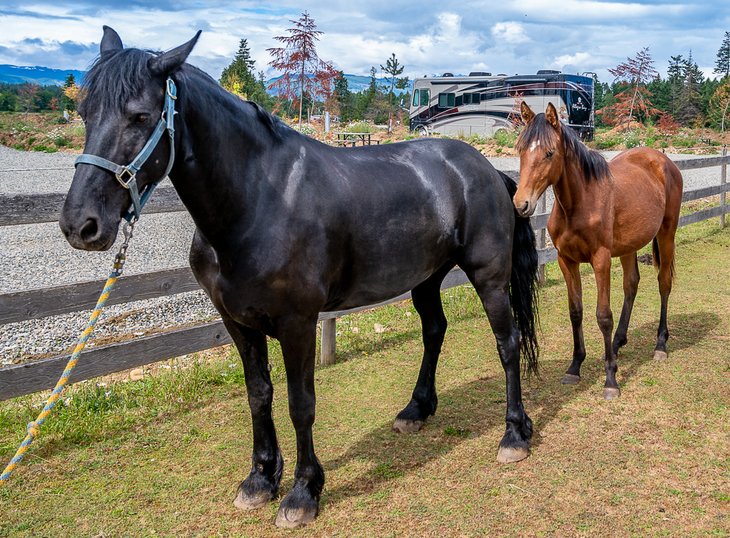 If you like being around horses and want to improve your riding skills, camp at a ranch with mountain views from almost every site. Located five minutes from the Parksville Visitor Center and seven minutes from downtown, Paradise Acres Ranch has 10 full-service RV sites (50- and 30-amp service with water and septic) on level gravel pads. RV sites are 30 feet wide, separated by a 10-foot raised vegetated berm.
Tenters can set up almost anywhere on the 50-hectare ranch — a wooded or open space with views to the mountains. Where you choose to pitch your tent depends on how adventurous and secluded you wish to be, and how far you want to walk to the bathroom and showers. Campers can bring their own horses with them. Paddocks are adjacent to the campground.
You can also opt to stay in less rustic accommodations at Paradise Acres Ranch. Choose from rooms with views of the mountains or paddocks, a loft apartment, or the glamping-style solarium glass tent. Guests in these spaces get access to an infrared sauna, games room, and an outdoor kitchen.
Apart from the usual amenities (laundry and Wi-Fi), Paradise Acres Ranch offers the attraction of meeting friendly horses. Walk around, pat the horses, book a riding lesson or trail ride. The hay field is next to the RV sites.
Campers can walk their dogs around the edges or play in the entire field once the hay has been cut for the season. Walk the trails on the property, which is within easy walking distance of the Englishman River for swimming or fishing.
Address: 1085 Paradise Pl, Nanoose Bay, British Columbia
10. Park Sands Beach Resort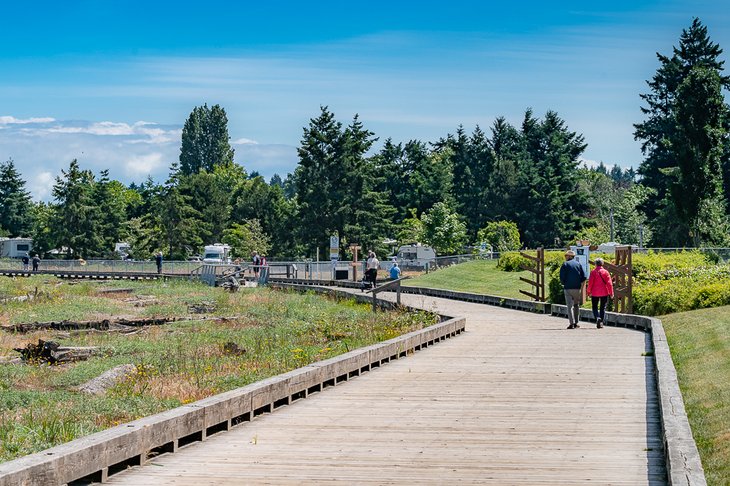 Bordered by a community park on one side and Parksville Bay on another, you're never far from water activities at Park Sands Beach Resort. There are 97 RV sites, 40 of which are on concrete pads and the rest on grass.
Full and partial hookups are available with 50-, 30-, and 15-amp service. The choicest sites to view the sunset, located in the "blue zone" facing the oceanfront boardwalk through a metal chain-link fence, require a reservation. Park amenities include coin-operated showers, laundry facilities, and wireless internet.
Address: 105 Island Hwy E, Parksville, British Columbia
Map of Campgrounds in Parksville, BC