12 Top-Rated Campgrounds on Vancouver Island, BC
The best campgrounds on Vancouver Island are found, as you might guess, in some of the best outdoor areas. In the south of the island, popular camping destinations include the Victoria area and the coast to the southwest, right up to Port Renfrew. Farther north, you'll find places like Tofino on the west side of the island and Strathcona Provincial Park in the interior, closer to Campbell River. And if you really want to go exploring, consider heading to the far north, beyond Port Hardy, to the wild shores of Cape Scott Provincial Park.
For those more interested in an activity than a location, you can also find some campgrounds that are highly associated with certain sports, like surfing, kiteboarding, or hiking.
When you are planning your camping trip, you should take into consideration that summer, particularly July and August, is a busy time, and if you want to secure camping in the most popular areas, it's best to book well in advance. Also, many campgrounds are seasonal and only operate from May to September or October.
The first step is determining where to camp, and for that, have a look at our list of the best campgrounds on Vancouver Island.
1. Surf Grove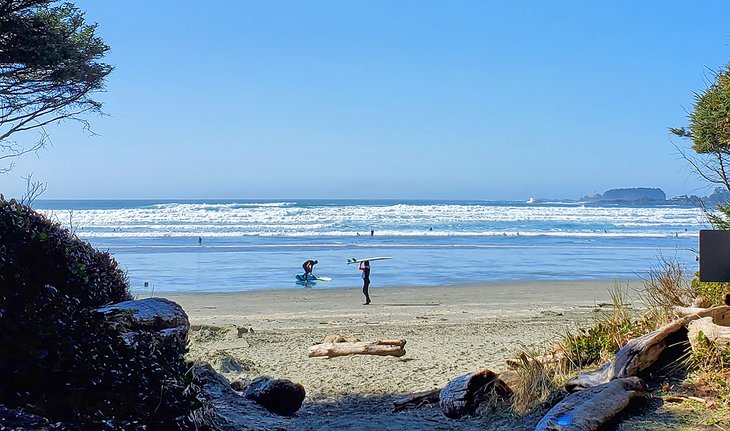 Surf Grove, just outside of Tofino, is one of the newest campgrounds on Vancouver Island. Its modern amenities and beachfront location on stunning Cox Bay have set the new standard for commercial campgrounds in British Colombia.
Mere steps from one of the best beaches in Tofino and set in tall trees, camping here is just about as close to setting your tent or rig up right on the sand as you can get. The campground has 190 sites currently and is expanding in 2021. Sites are in loops and offer a mix of serviced and unserviced options and can accommodate tents right through to large RVs. If you don't have your own gear, fully outfitted RVs are available to rent.
Surfing is one of the most popular things to do in Tofino, and this campground has you covered with rentals and lessons through their on-site Pacific Surf Company.
Cox Beach is reached via a short pathway; it's one of the top surfing destinations in Tofino. Camping doesn't have to be all about roughing it. Should you feel like a first-class meal while watching the sun set, just walk down the beach to the Long Beach Lodge and have dinner in their Great Room restaurant.
Official site: https://surfgrove.com/
2. Wya Point Campground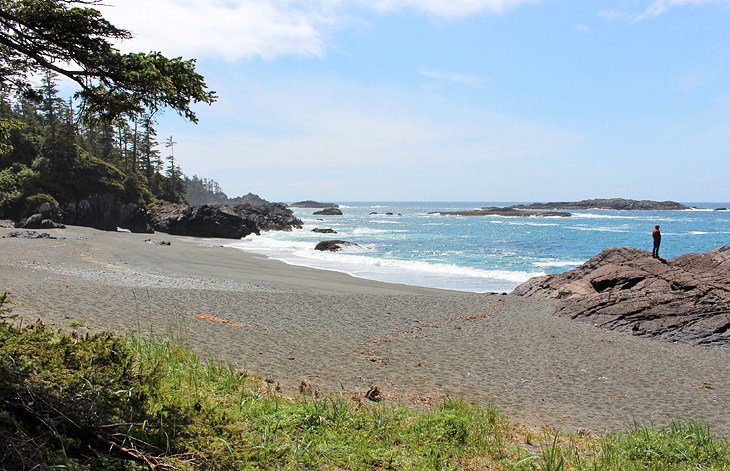 For scenery and solitude in one of the most popular outdoor destinations of Vancouver Island, Wya Point Campground is the place to go. Located just south of Pacific Rim National Park Reserve near Tofino, Wya Point is set on an isolated and beautiful beach. The surrounding black rock shoreline and offshore islands add to the scene. The campground is primarily a tent campground; small tow-behind RVs will also fit, but it will take some fairly creative and skilled backing up.
This campground is located down a dirt road, well off the main highway, and sites are set in a forested area offering plenty of privacy. Most sites offer vehicle access, but the oceanfront sites require you to park and walk a short distance to the sites. However, it's worth it for the views.
You can also rent yurts, which line the beach just a short distance from the campsites. Pets are welcome for a fee, and reservations are accepted. The campground also provides hot showers and flush toilets.
Official site: https://www.wyapoint.com/accommodations/oceanside-campsites/
3. China Beach Campground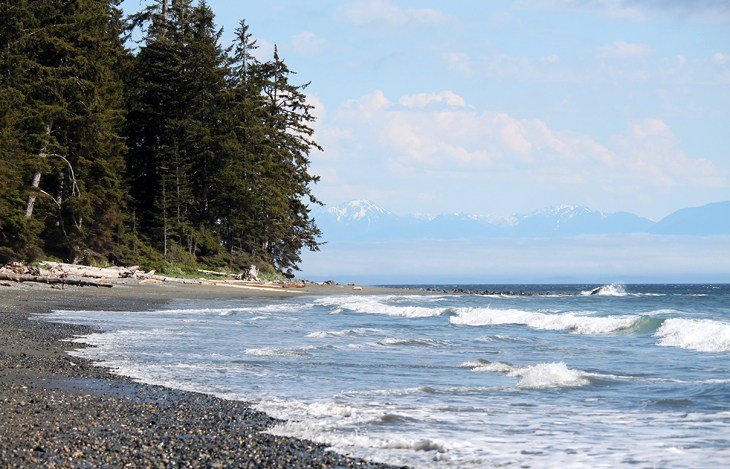 If you are looking for a quiet and peaceful area to camp, where you can hike and enjoy long walks along the beach, China Beach Campground is the perfect destination. Located at the southern end of Vancouver Island's wild west coast, the campground is located in one of the most scenic areas off Highway 14, which runs from Sooke to Port Renfrew.
China Beach is the southern terminus of the Juan de Fuca Trail, and as a result, offers some great nearby hiking. The beach itself is a huge stretch of pebbles and soft sand, backed by enormous trees. The campground is set a short distance down the highway from the beach and is in the forest, not along the ocean. It's protected form the predominant winds and makes a great base for exploring this area of the island. The trailhead to the wonderful hike to Mystic Beach is nearby.
Campsites are large and set among giant pines and cedars, and they offer plenty of privacy. This 78-site campground is open from the middle of May to the middle of September. You can reserve sites but first-come, first-served sites are also available.
Official site: http://www.env.gov.bc.ca/bcparks/explore/parkpgs/juan_de_fuca/#VehicleAccessibleCamping .
4. Rathtrevor Beach Provincial Park Campground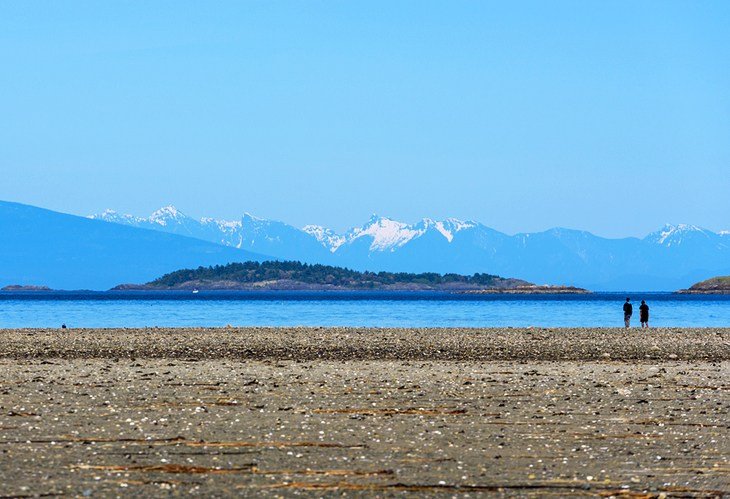 Set on a wide swath of sand, Rathtrevor Beach Provincial Park campground in Parksville attracts families who come to enjoy the seemingly endless beach. When the tide is at its lowest, the ocean recedes nearly a kilometer, and when the tide comes in, the water is warm and shallow. Campsites are sheltered among tall pines and large enough to accommodate families with excessive amounts of gear.
This is an extremely popular campground in summer, and sites are a reservable during this time frame, but first-come, first-served sites are available in the shoulder season. The majority of sites are accessible by vehicles but there are also 25 walk-in sites, although these are just a short distance from the park area. The campground has multiple showers and flush toilets. This is a year-round campground, but services are limited from mid-October to mid-March.
Official site: http://www.env.gov.bc.ca/bcparks/explore/parkpgs/rathtrevor/
Read More:
5. Goldstream Provincial Park Campground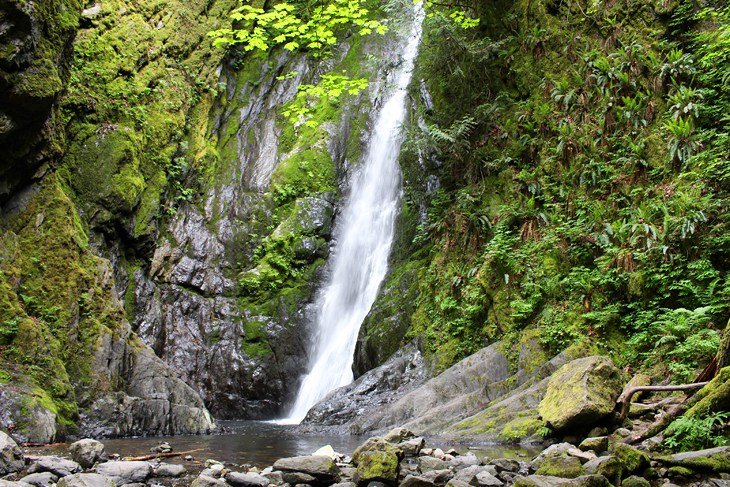 Located just minutes from Victoria, Goldstream Provincial Park is a wonderful campground for a weekend or midweek getaway. Home to some of the best hiking trails around Victoria, you'll find plenty of ways to fill your days before relaxing around a campfire in the evening.
Although it isn't far from the city, this campground is set in the forest and well off the highway, so you feel like you are camping in the woods and far from the city. It has the added convenience of being within easy driving distance of stores if you forgot groceries or other essentials.
Official site: http://www.env.gov.bc.ca/bcparks/explore/parkpgs/goldstream/
6. Green Point Campground, Pacific Rim National Park Reserve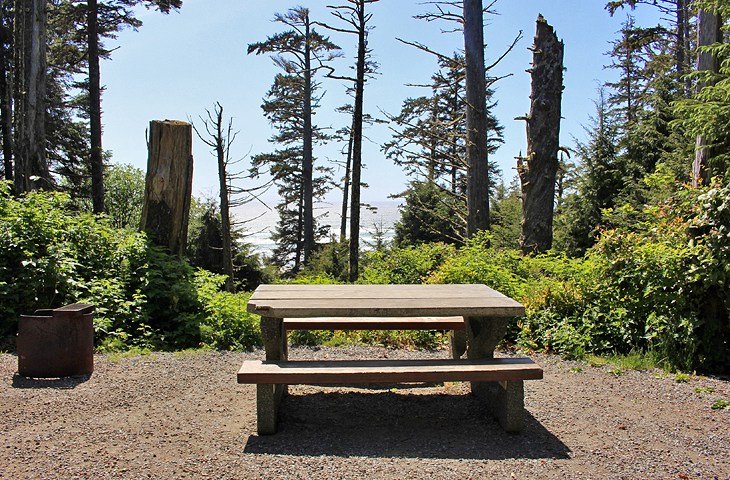 While this campground is not right on the beach, it is the only campground in Pacific Rim National Park Reserve and is just a short drive to the town of Tofino. Hiking and surfing are both within easy reach, and dining and shopping are just down the road. Green Point Campground is set in a heavily wooded area high above the ocean.
Sites are very private and can be a bit dark due to the forest canopy. Tents and RVs are welcome, and the facilities include flush toilets and showers. The campground is open from early March to early October, and reservations are definitely recommended from May to September if you want to be assured of a campsite.
Official site: https://www.pc.gc.ca/en/pn-np/bc/pacificrim/activ/camping
7. Living Forest Oceanside Campground and RV Resort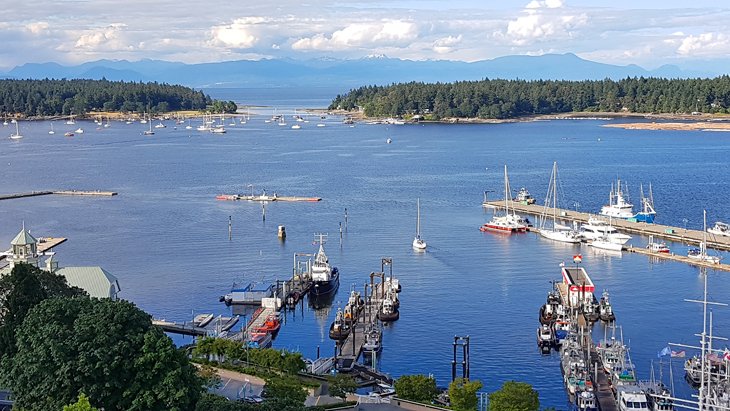 This large campground in Nanaimo has approximately 300 sites spread over 53 acres of prime waterfront and forest property. Sites vary widely and range from oceanfront and riverfront to forest, all with varying degrees of sun or shade. If you like to walk, the resort has many kilometers of paved trails available that wind their way around the property. Also on offer are beach volleyball, bocce ball, and a games room. The resort is located just a short drive from downtown Nanaimo, and shops are only a five-minute walk away. This is a full-service resort with 30 and 50 amp service, sewer and water, and showers. Tenters are also welcome and have their own section.
For a fun outing, one of the top things to do in Nanaimo is a whale watching tour. This is the perfect destination for this type of activity because the waters here in the Salish Sea between the mainland and Vancouver Island are generally quite calm, and orcas frequent the area. Tours are generally three to four hours, and options include the 23-passenger semi-covered boat whale watching tour, or the 12 passenger open boat whale watching tour in a zodiac.
Official site: http://www.livingforest.com/
8. Jordan River Regional Park Campground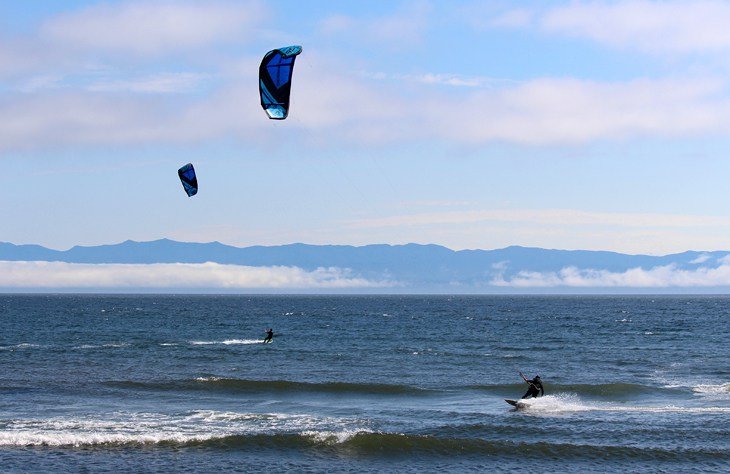 Kiteboarders and surfers can set up camp along Vancouver Island's west Coast, less than an hour from Victoria, at Jordan River Regional Park Campground. The shallow beach here is a kiter hot spot, and the campground looks out over the ocean, offering immediate and unfettered access to the beach.
In one area, RVs are set up along the oceanfront in what is really a wide parking lot. Beyond here are a number of campsites in the trees for tenters. All sites are first-come, first-served, and the campground is open year-round. Facilities are limited to pit toilets only.
Official site: https://www.crd.bc.ca/parks-recreation-culture/parks-trails/find-park-trail/jordan-river
9. French Beach Provincial Park Campground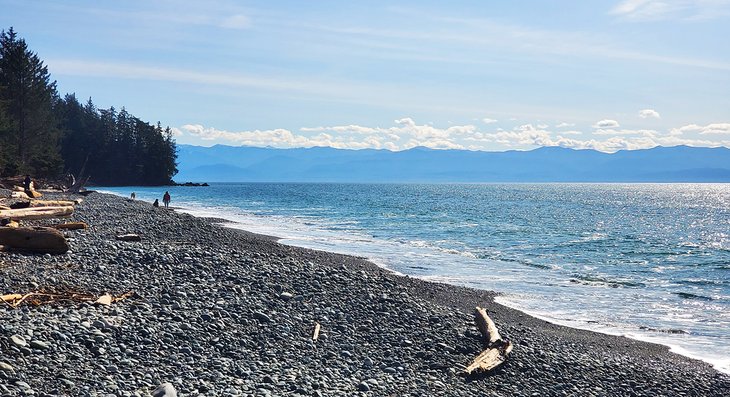 If you just want an easy and peaceful getaway from Victoria, French Beach Provincial Park offers an inviting stretch of beach; incredible views over the Strait of Juan de Fuca to the Olympic Mountains; along with a children's playground, picnic area, and a couple of kilometers of walking trails.
The campground is set among large trees, and sites are spacious and private. This campground will appeal to all kinds of campers, but families may find it quite enjoyable and easy. If you use this campground as your base, you can also explore some of the hiking trails and other beaches along this stretch of coast.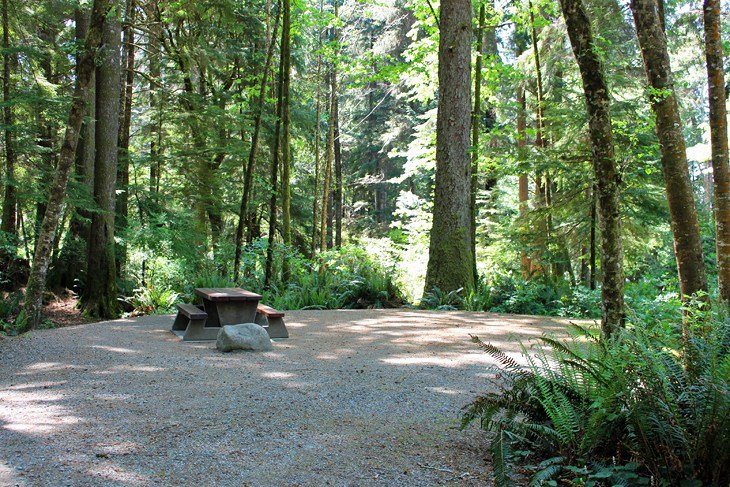 The campground is open year-round, and sites are reservable from May to the start of September. All sites are vehicle access, and facilities include pit toilets and water.
Official site: http://www.env.gov.bc.ca/bcparks/explore/parkpgs/french_bch/
10. Pachena Bay Campground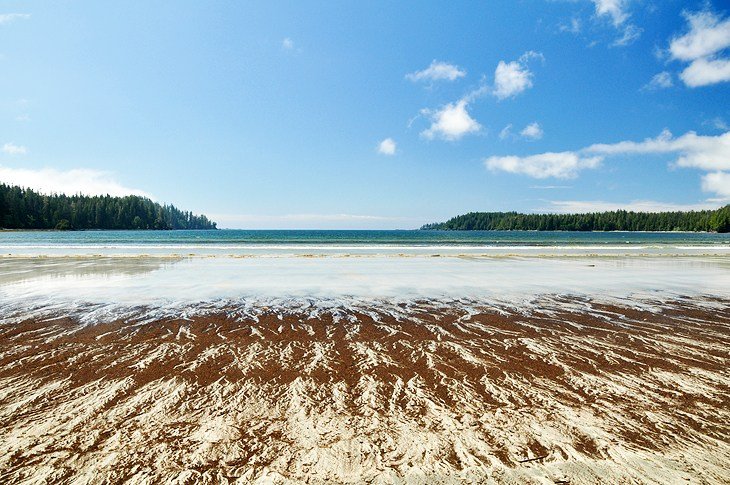 Pachena Bay Campground is located at the northern terminus of the West Coast Trail, a multi-day hike along the rugged shores of the Pacific Ocean. This is one of the most famous hikes in BC and of course, one of the top hikes on Vancouver Island. Hikers can start or end their trek from the Pachena Bay Campground, just five kilometers from the town of Bamfield.
The campground is tucked in the forest near a stretch of beach and can accommodate RVs, as well as tents. Sites have power and water hookup, and facilities include hot showers and flush toilets. The campsite is remote and well off the beaten path, and getting here is a journey. You can drive here but be prepared for gravel logging roads. A seasonal shuttle operates from Victoria and Nanaimo. Alternatively, you can get here by boat from Port Alberni or by sea plane from various destinations.
Official site: https://pachenabaycampground.ca/
11. Buttle Lake Campground, Strathcona Provincial Park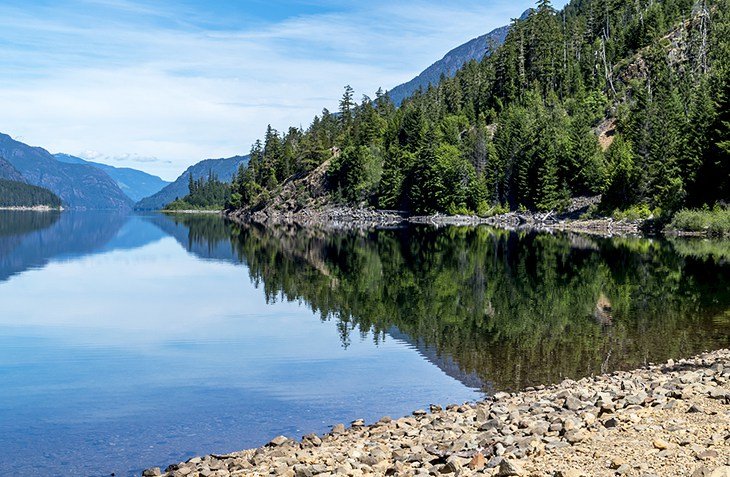 Located in North Central Vancouver Island, Strathcona Provincial Park boasts a mountainous landscape, with lakes and rivers, popular with hikers and mountain bikers. As the name suggests, Buttle Lake Campground is set on Buttle Lake, and campsites are mainly set in a forested area of Douglas firs, but some are lakefront. You can reserve a site in advance or take your chance with the first-come, first-served sites. All of the 85 sites are vehicle accessible.
If you can't get a site here, the Ralph River Campground is 35 kilometers south of here and is all first-come, first-served. This area has 75 sites, all of which are vehicle accessible. Facilities at both camping areas are limited to pit toilets.
Official site: http://www.env.gov.bc.ca/bcparks/explore/parkpgs/strath/
12. Saysutshun/Newcastle Island Campground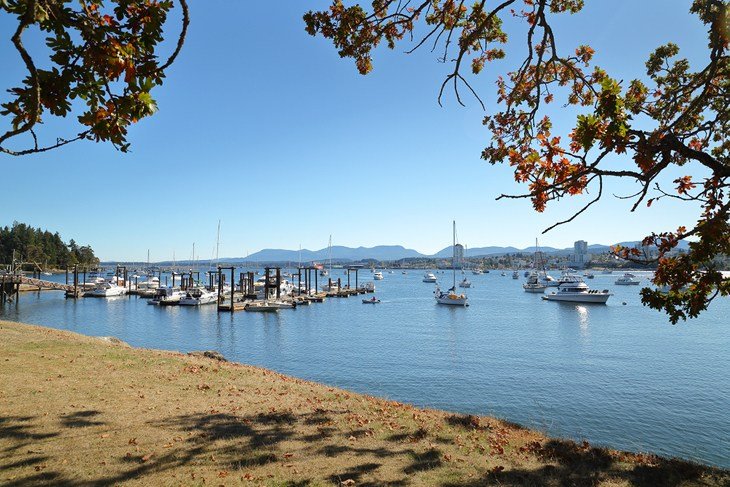 Saysutshun Newcastle Island is a perfect family camping destination just a 15-minute ferry ride from downtown Nanaimo. The island is car-free, so you need to be prepared to walk approximately five minutes to one of the 18 campsites. Some sites line the waterfront, but a majority are set in among large trees. Since this is an island, you don't have to worry about bears or cougars, however, there are raccoons who will be more than happy to pillage your cooler if it's left unattended.
For recreation, explore the beaches and tidal pools, take a walk or bike on the trails, or bring a ball and enjoy the soccer field right out in front of the campground. The campground has both flush and pit toilets along with hot showers. All the sites are available to be booked in advance via the BC camping reservation website.
Official site: https://newcastleisland.ca/
More Related Articles on PlanetWare.com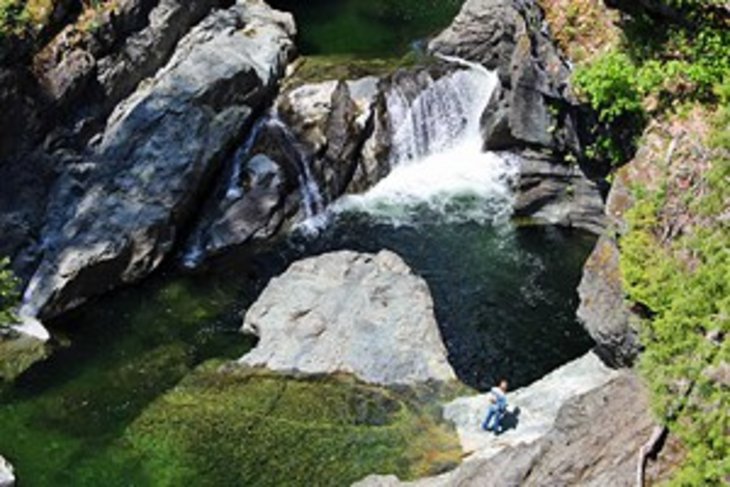 Camping: While we've selected some of our favorite campsites here, you can find a more comprehensive list of campgrounds and RV parks on our best campgrounds near Victoria article, as well as our top campgrounds near Tofino article.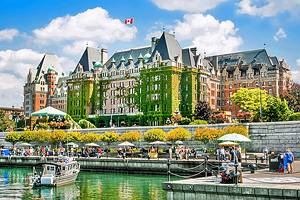 Vancouver Island: If you are looking for ideas to help plan your trip, our article on the top attractions on Vancouver Island is a great place to start. Most people begin with the sights of Victoria, the provincial capital, but you'll find more gems up both coasts.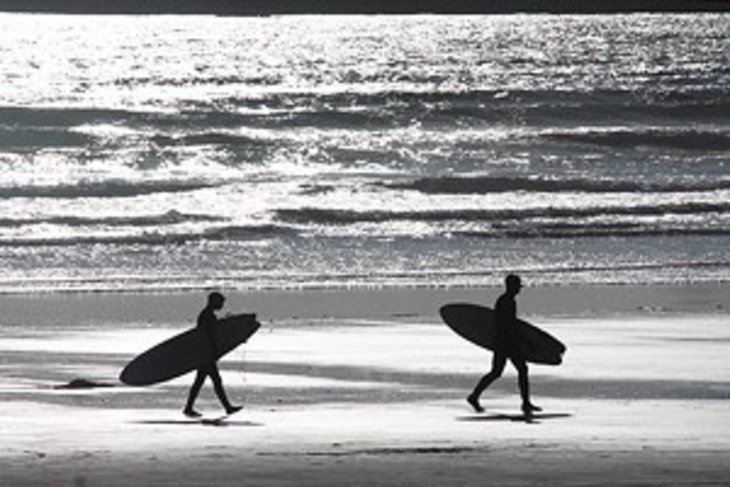 British Columbia Outdoors: Have a look at some of the top outdoor towns around the province. On the mainland, summer or winter, it's hard to beat Whistler, where you'll find everything from skiing to golf, and much more depending on the season. And if you have time to head into the interior of British Columbia, you'll find plenty of things to do in Kelowna, from skiing in winter to water sports in summer. Nearby Penticton has one of the best beaches in British Columbia.