15 Top-Rated Attractions & Things to Do on Vancouver Island
We may earn a commission from affiliate links ()
Off Canada's West Coast, Vancouver Island is the largest island on the Pacific Coast of North America. Old-growth forests, beautiful rugged shorelines, and beaches offer an endless repertoire of things to do, from hiking and camping to surfing and whale watching. The capital of British Columbia, Victoria delivers cultural attractions, nightlife, dining, and shopping.
Small towns spread around Vancouver Island are some of the best places to visit, where you'll find a slower pace of life and discover remote lodges in the rainforest, where you can relax and soak up nature.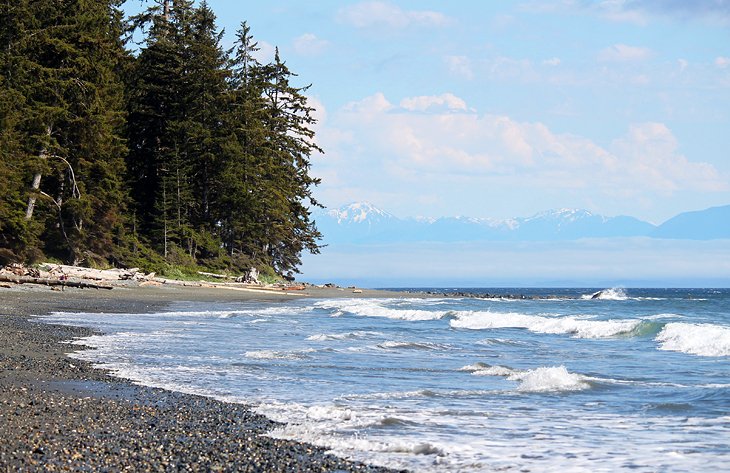 The mild coastal climate draws visitors here year-round. Vancouver Island is one of the warmest places in Canada in winter. Although summer is the busy season, in winter, it's not uncommon to find surfers riding the waves on the western shore, while skiers head to the slopes in the interior of the island. The landscape is one of mountains, lakes, rainforest, and dramatic coastline dotted with small towns and villages.
Most visitors begin their trip to Vancouver Island in Victoria, at the sound end of the island. Arrival is usually by air or by ferry from Vancouver or Seattle. Ferries also run regularly from Vancouver to Nanaimo.
On the west side of Vancouver Island are towns like Tofino and Port Renfrew, and the famous West Coast Trail. On the east side of the island, looking out over the Salish Sea, are the towns of Ladysmith, Nanaimo, Parksville, Qualicum Beach, Courtney, and Comox.
To help plan your trip, see our list of the top things to see and do on Vancouver Island.
See also: Where to Stay on Vancouver Island
1. Visit Victoria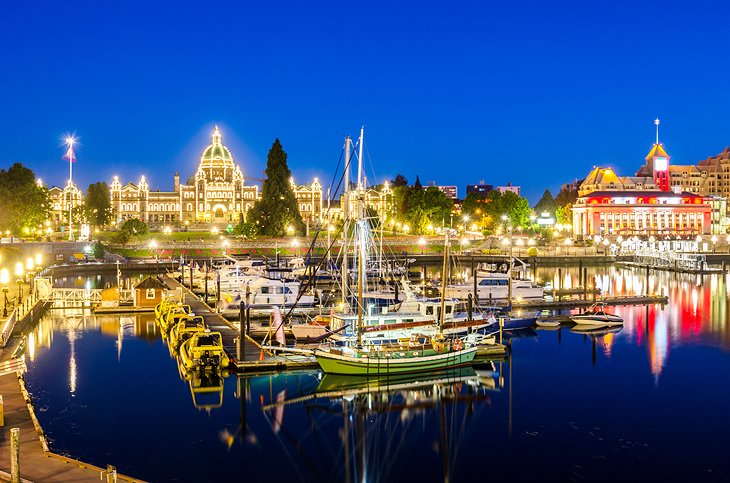 As the main gateway to Vancouver Island, Victoria is where most visitors will begin their trip, and it is a great starting place. Looking out over the Juan de Fuca Strait to the mountains on the Olympic Peninsula in Washington, British Columbia's capital is one of the most beautiful cities in Canada.
The scenic Inner Harbour is where much of the action is centered and where many of the tourist attractions are located. The historic Fairmont Empress, one of Victoria's landmark buildings, looks over the Inner Harbour. Built in 1908, this hotel has hosted visiting royalty throughout the decades. High Tea at the Empress has become a popular thing to do in Victoria, where visitors can sip tea and enjoy sandwiches, scones, and desserts in a lovely old room filled with antique furnishings.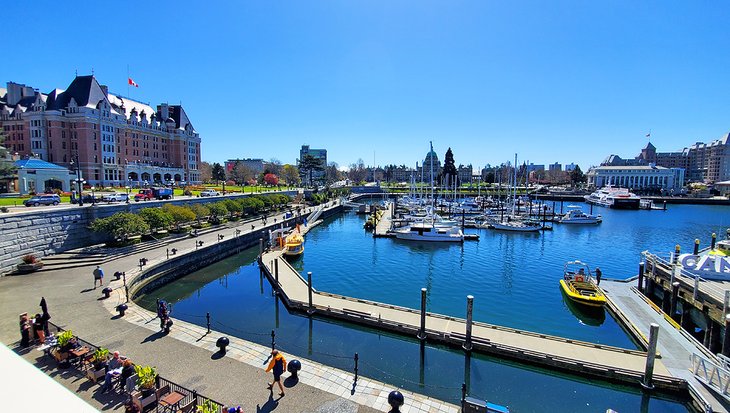 Also unmissable on the Inner Harbour are the Parliament Buildings. Lit up at night, they are impressive no matter what time you visit. Another major attraction, located between the Parliament Buildings and the Empress Hotel, is the Royal BC Museum, offering insight into the natural and human history of British Columbia.
Victoria is a small city, and the compact downtown makes visiting the sites incredibly easy. It's also filled with stores and restaurants that range from casual to fine dining.
If you are spending a few days in Victoria and want to expand your sightseeing to include parks and outdoors activities, beautiful hiking trails are scattered around the city and nearby areas.
2. See Vancouver Island's Old-Growth Forests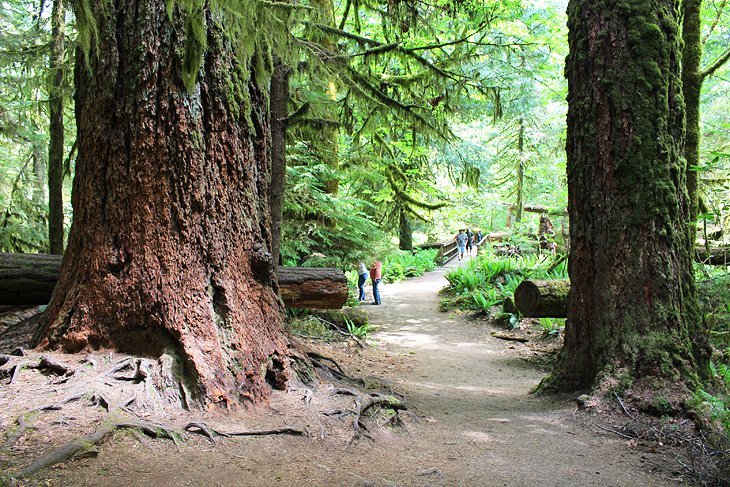 Vancouver Island's old-growth forests are truly a national treasure and an absolute must-see for anyone with an appreciation for nature. Found in a few small pockets around the island are some remaining virgin forests, home to enormous trees up to 800 years old. Some of the best places to see these giants are around Tofino, Port Renfrew, and an area known as Cathedral Grove.
Cathedral Grove
Near Port Alberni, in MacMillan Provincial Park, is Cathedral Grove. This is one of the most popular places to see ancient trees. It's an easy stop on the way to Tofino. Cathedral Grove is a stand of towering Douglas firs, with some trees between 600 and 800 years old, reaching 75 meters tall and as much as nine meters in circumference.
You can park at a roadside pullout on the Alberni Highway (Hwy 4) and follow an easy and relatively level walking trail through the grove. Also in the park are old western red cedar.
Cathedral Grove was hit by a major wind storm in 1997, which took down many old trees. You can see the huge trunks that are now on the ground and still an impressive site.
Official site: http://www.env.gov.bc.ca/bcparks/explore/parkpgs/macmillan/
Port Renfrew: Eden Grove, Big Lonely Doug & Avatar Grove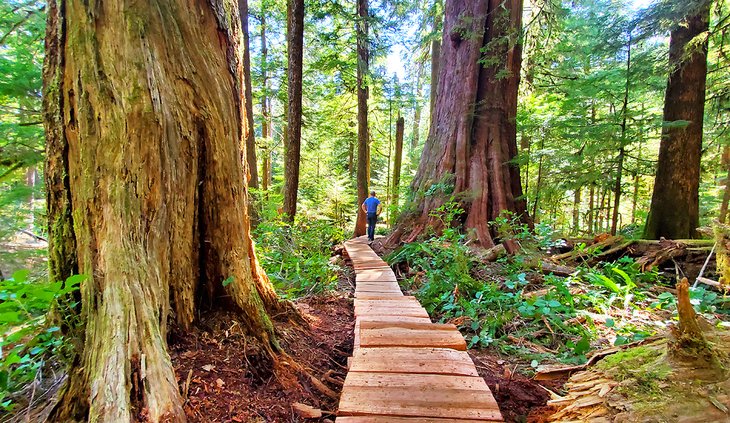 From Victoria, another fantastic day trip to see old-growth rainforest is to take a drive up to Port Renfrew, about two hours from the city, and just beyond to the big trees. This scenic trip takes you up Highway 14, past Sooke and Jordan River, along a curvy road.
The most famous sites in this area are Eden Grove, Big Lonely Doug, and Avatar Grove, all of which are free to the public. All of these are found just north of Port Renfrew, with Big Lonely Doug and Eden Grove at the farthest end, 18 kilometers from town.
Eden Grove is arguably the most impressive area to see old-growth forest on Vancouver Island that visitors can access on their own. It is a much less visited area than places like Cathedral Grove or Tofino, but much more worthwhile. There is a tranquility here you won't find at the more popular sites and a feeling of truly being in the forest.
Home to Douglas fir and western red cedars, the trees are enormous! One cedar is more than 12 feet wide. Volunteers have built a rough boardwalk through the stand of trees that allows you quick easy access to the forest.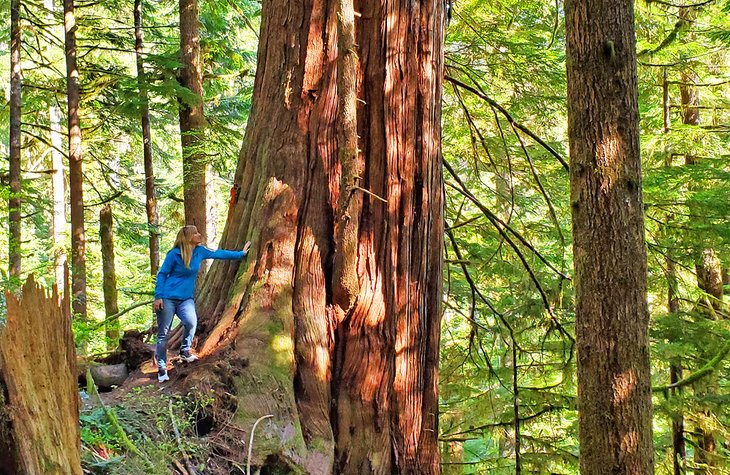 Just a few hundred meters before you reach Eden Grove is a clearing that has been logged. One huge 1,000-year-old Douglas fir stands alone in the cutover. This is Big Lonely Doug. He was the one tree not logged here, and stands now as a stark reminder of what has been lost by logging and what future logging may destroy.
About 1.8 kilometers before you reach Big Lonely Doug and Eden Grove, the road becomes very rough in a couple of spots. If you don't have a 4WD vehicle, you can park here and walk in, and many people do. At this point, you will also likely see people who have come here in an effort to protect the forest from logging. They are an extremely helpful and friendly bunch who are happy to see you, point you in the right direction, and answer questions. Eden Grove is in a logging area and at extreme risk of being destroyed.
Also worth seeing is Avatar Grove, which you will pass on your way back to Port Renfrew. Here, trails run through the forest on both sides of the road, and also lead past several giants.
Pacific Rim National Park, Tofino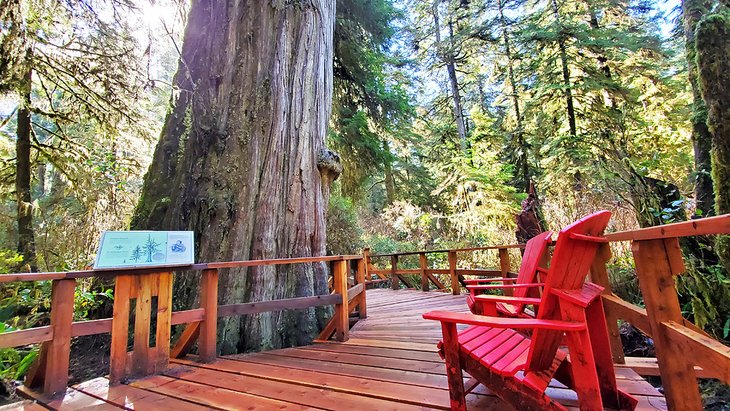 Pacific Rim National Park, just outside the resort town of Tofino, is another excellent area to see the giant trees of Vancouver Island's rainforest. One of the best hikes in Pacific Rim National Park is the Rainforest Trail. Two one-kilometer loops lead past hundreds-of-years-old trees. You can even settle in on a park-provided Adirondack Chair for a while and gaze up at one of these beauties while you listen to the sounds of nature.
3. Enjoy a Getaway to Tofino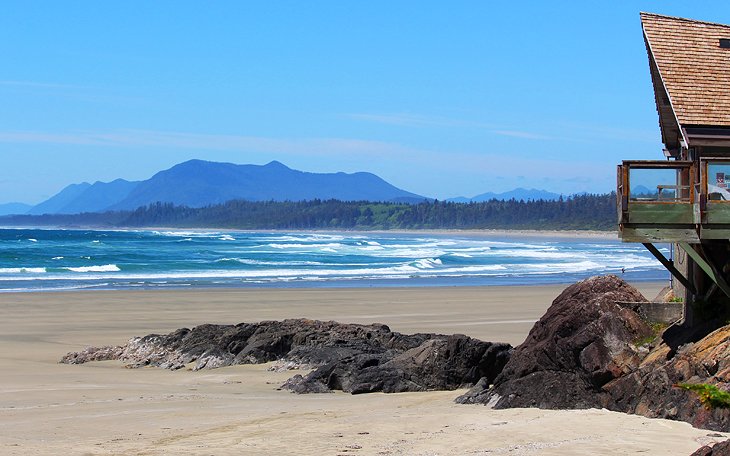 The little town of Tofino is the jewel of Vancouver Island's western shore. Looking out over Claoquot Sound and surrounded by old-growth forest and seemingly endless beaches, this little fishing village is a popular tourist destination on Vancouver Island, but rarely feels busy. It's also known for being Canada's hottest surf destination, with people coming here to surf year-round.
If you aren't into surfing, storm watching from November to February, when huge waves roll in off the Pacific Ocean, is another reason people like to visit Tofino in the quiet of the off-season.
Just outside of town is Pacific Rim National Park, an incredible natural area with some of Tofino's best hikes and campgrounds. This area is home to ancient cedars, which are some of the oldest trees in Canada. It's also where you'll find Tofino's famous Long Beach, stretching along the coast for 16 kilometers.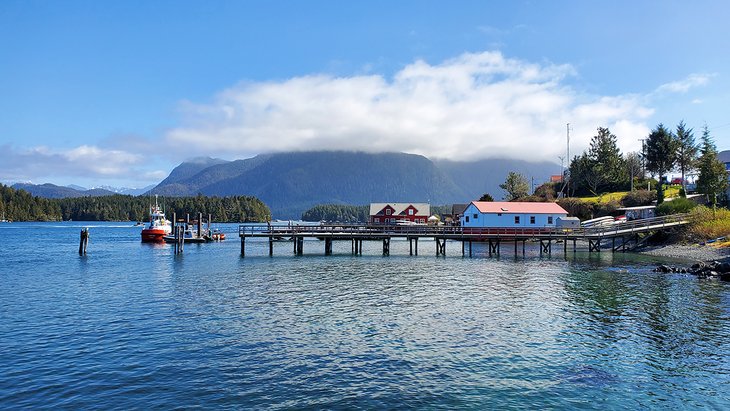 Approximately 42 kilometers north of the small town of Ucluelet, Tofino is one of the oldest settlements on the West Coast, and it has a very remote feel. Despite its popularity, it has remained small. The town has surf shops, tourist stores, restaurants, and hotels. Nearby are a number of outstanding lodges and resorts with great views out over the ocean. The Wild Pacific Trail, one of the best on the island, is located just south of town.
4. Walk, Surf, or Relax at Pacific Rim National Park & Long Beach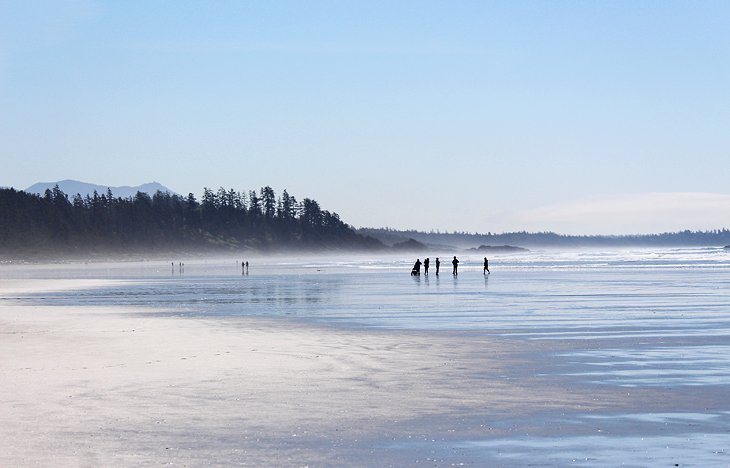 Pacific Rim National Park covers a lush stretch of coast between Tofino and Ucluelet. The rainforest of ancient cedars and shoreline of beaches and rocky headlands reveals the wild and rugged natural beauty of Vancouver Island.
Long soft-sand beaches are found all along Pacific Rim National Park. The 16-kilometer-long Long Beach is a vast expanse of sand where people come to walk, beachcomb, surf in the big waves, or simply enjoy a sunset. Whales can sometimes be spotted offshore, especially in spring and autumn.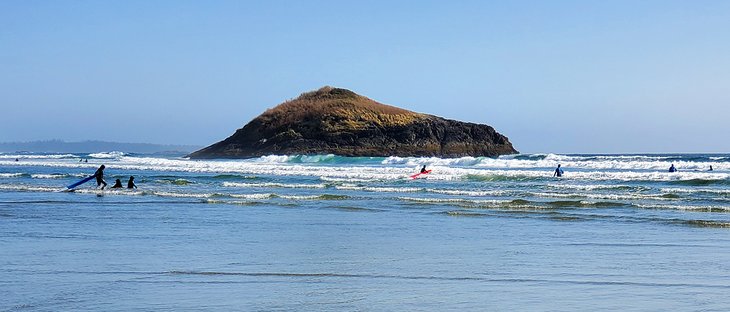 Storm watching has become a popular activity in fall and winter, when photographers and visitors come to the park to watch the huge waves crash against the shore. Massive piles of driftwood along some of the beaches testify to the violence of the ocean waves.
Official site: http://www.pc.gc.ca/eng/pn-np/bc/pacificrim/index.aspx
5. Tour Butchart Gardens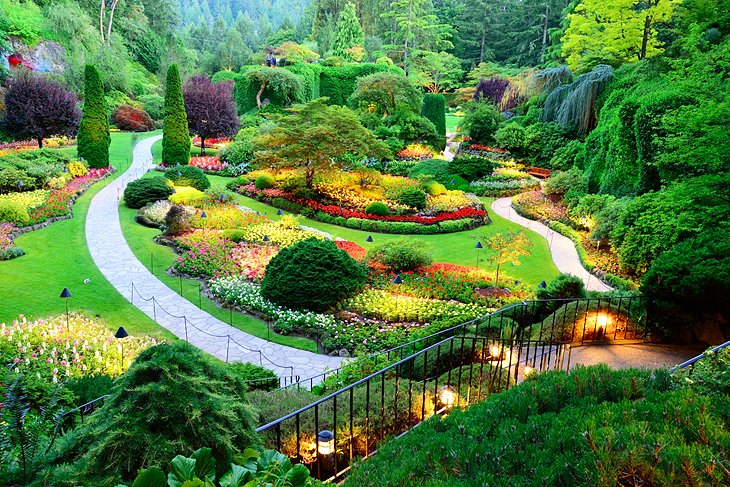 For those with a love of gardening, a visit to Butchart Gardens will be one of the highlights of Vancouver Island. Set in an old quarry outside Victoria, these fabulous gardens provide a year-round opportunity to step into a peaceful natural setting with flowers, trees, pathways, and places to relax.
Begun in 1904 by Jennie Butchart, the grounds have been over a century in the making. In the evening, the gardens are illuminated with creative lighting and on Saturday nights you can enjoy a firework display set to music. Every evening in July and August live music performances take place at Butchart Gardens.
Botanical displays change seasonally and are particularly lovely between spring and fall. At Christmas, the gardens are lit with a display of Christmas lights and decorations, and various festivities and activities are on offer, including ice skating in an outdoor rink.
Official site: http://www.butchartgardens.com/
6. See Goats on the Roof at the Old Country Market, Coombs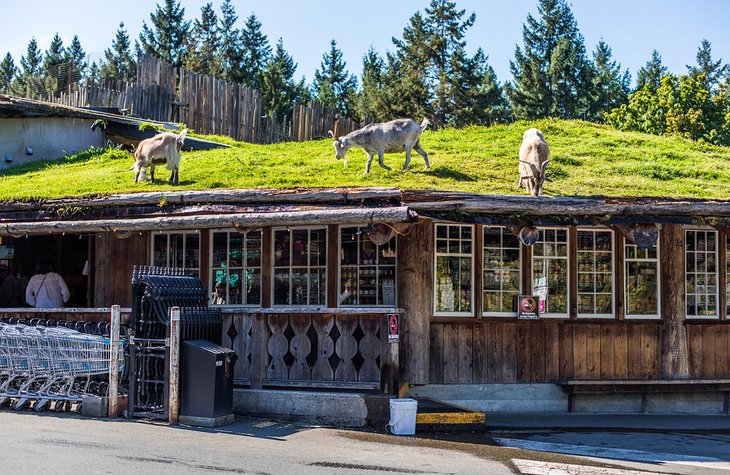 One of the more unique and long-standing attractions on Vancouver Island is the Old Country Market, complete with resident goats on the roof. For over 30 years, goats have been happily posing for pictures as they munch contentedly away on the sod roof. The goats are only out in summer, but the area is a popular place to visit year-round.
Located a short drive from the cities of Parksville and Qualicum, the Old Country Market is a fully-fledged tourist attraction and perfect family outing. Not only will you find the goats, you'll also find an assortment of restaurants, an ice cream stand, gift shops, a vegetable and fruit market, a garden center, and a surf shop.
Official site: https://oldcountrymarket.com/
7. Hike the Trails on Vancouver Island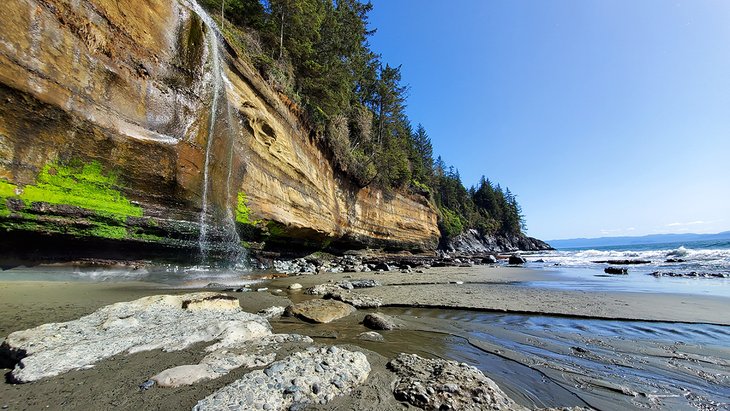 Vancouver Island is a dream destination for hikers. Remote, yet well-maintained, the trails here offer outstanding scenery, a chance to see wildlife, and a solitude rarely found in popular national parks and more well-known hiking areas. The most famous hike is the West Coast Trail, although this is often much more than a typical hiker is looking for.
Much more reasonable and open year-round is the Wild Pacific Trail. But you can find interesting hikes from one end of Vancouver Island to the other.
One popular hiking area on Vancouver Island is Port Renfrew. This is where you'll find the start of the 47-kilomter Juan de Fuca Marine Trail, but also shorter hikes, like a walk out to Botany Bay or Botanical Beach that can be completed in a day or even an hour or two. From China Beach, on the road to Port Renfrew from Victoria, not far beyond the town of Sooke, is the other end of the Juan de Fuca Trail. From here, you can walk a couple of kilometers along the trail to the waterfalls on Mystic Beach. This is an easy day hike that can be done on a day trip from Victoria.
There are several popular day hikes around Victoria. You won't exactly find solitude on these hikes but they will take you through beautiful scenery and to high lookouts, waterfalls, or old train trestles.
You can find dozens of great hiking trails around Tofino, many of which can be completed in a half-day or less. You can even combine a kayaking trip with a hike here. Hiking around Tofino involves a mix of forests and coastal trails, and time spent walking along the beaches.
Other areas for hiking on Vancouver Island include the remote regions to the north. Not far from Campbell River is Strathcona Provincial Park, and at the far northern end of Vancouver Island is Cape Scott Provincial Park. Both of these have interesting hikes to explore. For more details on these trails and other hiking areas, see our article on the best hikes on Vancouver Island.
8. Hike the West Coast Trail for an Epic Adventure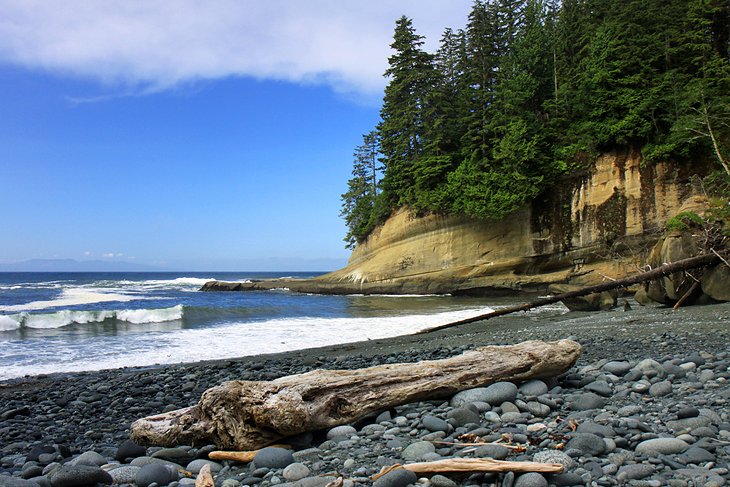 The almost 75-kilometer-long West Coast Trail is one of Canada's most famous hiking trails. Known for fabulous coastal scenery and treacherous conditions, it's a bucket-list hike.
Until the beginning of this century, Canada's stormy Pacific coast with its deceptive shallows and rocky headlands was known to sailors as the "graveyard of the Pacific." A great many ships were lost in storms and fog. To give survivors a means of escape from this otherwise impassably rocky coastline backed by impenetrable rain forest, a primitive trail was opened in 1906, following the route of the telegraph lines laid in 1890 between the various lighthouses.
The trail eventually became obsolete but was discovered by backpackers in the 1960s. Now managed by Pacific Rim National Park, the West Coast Trail is an extremely popular, although arduous hike across challenging terrain.
The hike is open from May 1 to September 30, and the numbers of hikers is limited from June 14 to September 15. Hikers must make a reservation and should book well in advance. The trail has very basic campsites, and hikers must carry all their supplies with them. The park offers detailed information for hikers who want to undertake this adventure.
Official site: https://www.pc.gc.ca/en/pn-np/bc/pacificrim/activ/SCO-WCT
9. Take in the Views from the Wild Pacific Trail, Ucluelet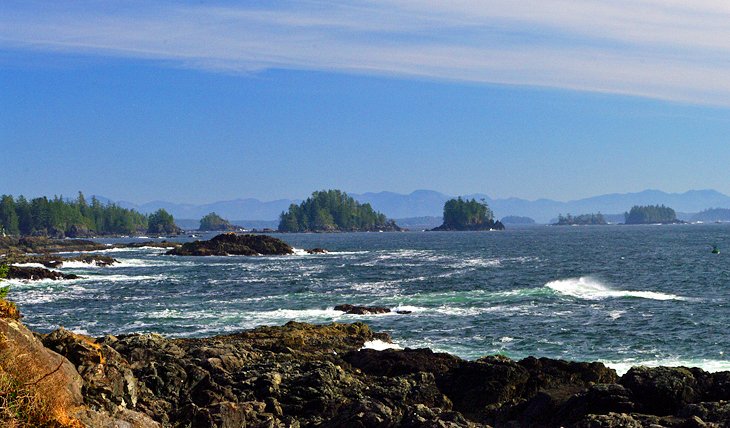 A wonderful way to experience some of Vancouver Island's most beautiful scenery without the treacherous ordeal of hiking the West Coast Trail, is to spend some time on the Wild Pacific Trail at Ucluelet. This trail system offers easy access to beautiful coastal areas with views of Barkley Sound and the Broken Group Islands.
The trail has different sections that can be done independently of each other and vary from roughly 2.5 to eight kilometers. Sections include Lighthouse Loop, Big Beach, and Brown's Beach to Ancient Cedars. Scenery ranges from waves crashing on rugged rocky shoreline to sheltered coves, and of course, giant trees.
Many consider the Lighthouse Loop to be the best route, particularly the section from the parking area to the lighthouse. The trail winds its way along an incredibly rugged coastline with huge views to the south, eventually leading to the scenic Amphitrite Point. It's here, you'll find a lighthouse and good views up and down the coast. While here, listen for the eerie sound of a foghorn just offshore.
It should be noted that visitors do not even need to complete these hikes to find beautiful views along the shoreline, and there are benches for resting and soaking up the scenery.
Official site: http://www.wildpacifictrail.com/
10. Explore Clayoquot Sound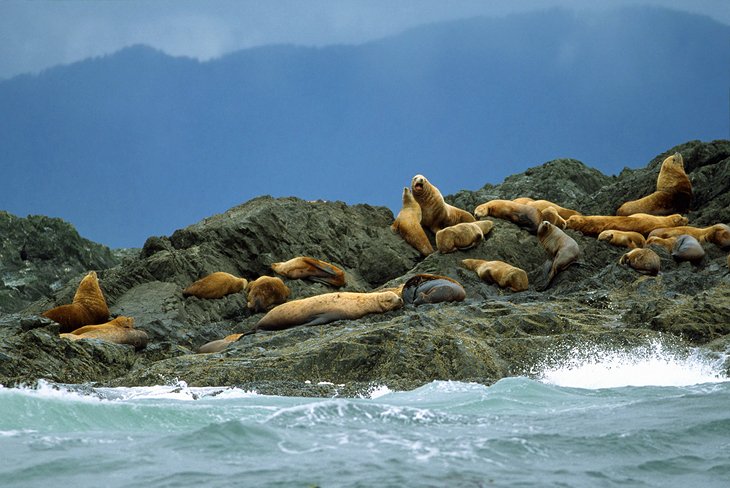 Clayoquot Sound is a remote area on the west coast of Vancouver Island. Much of it lies north-west of Tofino, with beautiful deep fiords, countless little islands, and one of the last surviving areas of temperate rainforest. It is a designated UNESCO Biosphere Reserve.
A decision by the provincial government to allow clearance of half the remaining 3,500 square kilometers of virgin wilderness met with much resistance and protests, and led to the preservation of this special place.
You can arrange trips to remote sections of this area from Tofino, which may involve a float plane, boat, or kayak, depending on the type of experience you're looking for. Wildlife tours, often to see black bears, as well as other animals, are popular.
11. Go on a Whale Watching Tour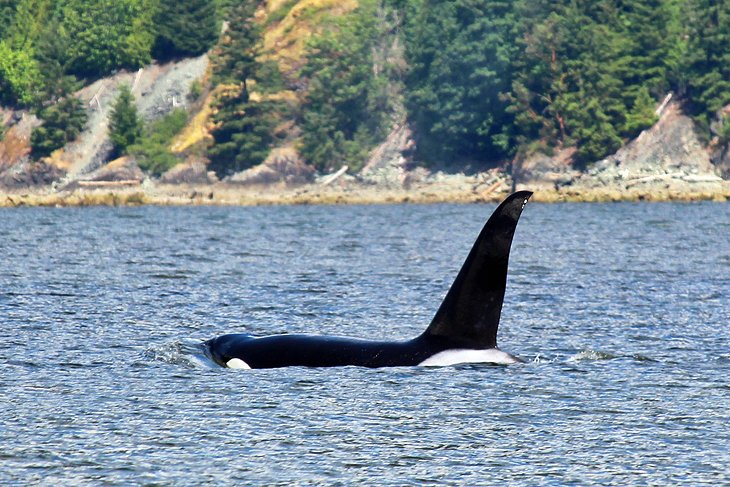 Whale watching tours are one of the top things to do on Vancouver Island. Two popular places for these tours are in Nanaimo and Tofino.
In Nanaimo, boats take visitors out on the Salish Sea, between Vancouver Island and mainland British Columbia. Commonly spotted here are orcas, humpback whales, sea lions, porpoises, and other marine life. Tour operators avoid viewing endangered southern resident orcas. Tours are in zodiacs or larger semi-covered tour boats.
In Tofino, you can spot orcas and humpback whales, but the main species is gray whales, which can be seen regularly between March and November. Depending on the tour and the operator, boats range from a covered cabin cruiser to open Boston Whaler boats or Zodiacs.
12. Hit the Slopes at Mount Washington Alpine Ski Resort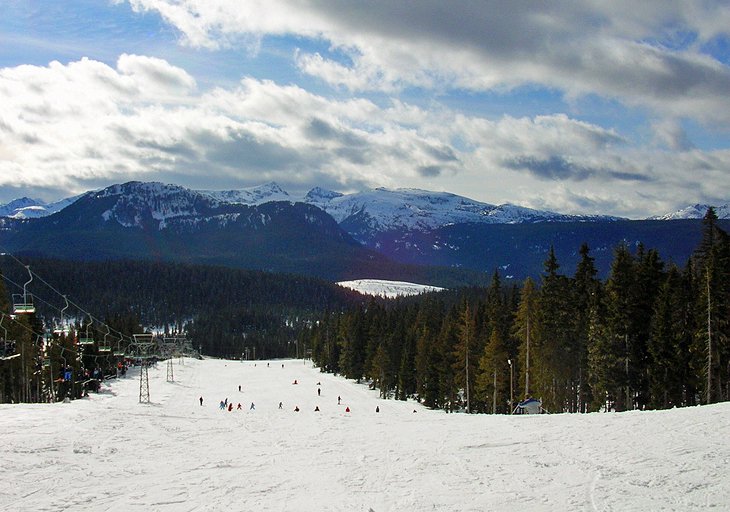 Mount Washington is Vancouver Island's most popular family ski resort with year-round activities. In winter, the mountain offers a variety of ski runs and a terrain park. The resort has more than 500 meters of elevation from base to top.
There are also opportunities for cross country skiing, snowshoeing, tubing, and tobogganing. In summer, visitors can enjoy alpine hiking, with the help of the Scenic Chairlift Ride to the top of Mount Washington, or on the trails at the base.
Official site: http://www.mountwashington.ca/
13. Go Camping on Vancouver Island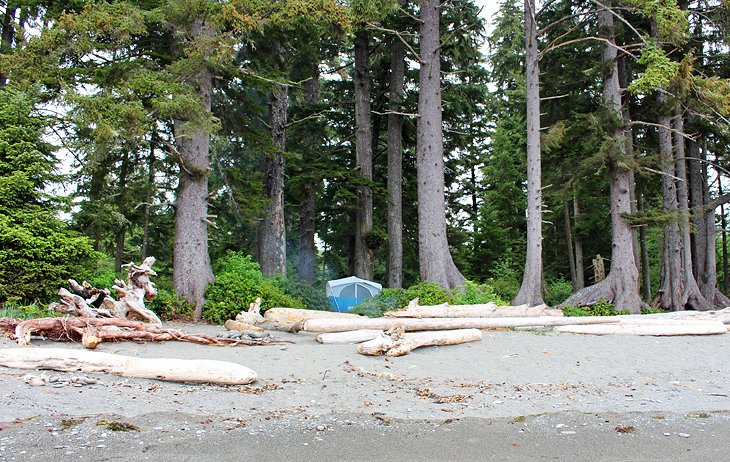 Given the incredibly scenic nature of Vancouver Island, it's not surprising that camping is a popular pastime. You can set up a tent at a walk-in site tucked among the tall pines, with views out over the Pacific Ocean, or park your RV at a manicured campground. Either way, it's hard to beat waking up in the fresh air on a still morning, looking out over glass-calm water, or watching the smoke rise up from your campfire.
Along the west side of the island, just a short drive northwest of Victoria, you can find a number of very nice campgrounds at places like French Beach Provincial Park and China Beach. Kitesurfers camp at Jordan River Regional Park Campground.
Families looking for something a little less wild can find some good campgrounds around Nanaimo, like Living Forest Oceanside Campground and RV Resort. You'll find numerous campgrounds around Tofino, catering to tenters or RVers. Several of the other provincial parks farther north also offer good campgrounds. For details on these and more, see our article on the best campgrounds on Vancouver Island.
14. Experience Nature and Serenity in Port Renfrew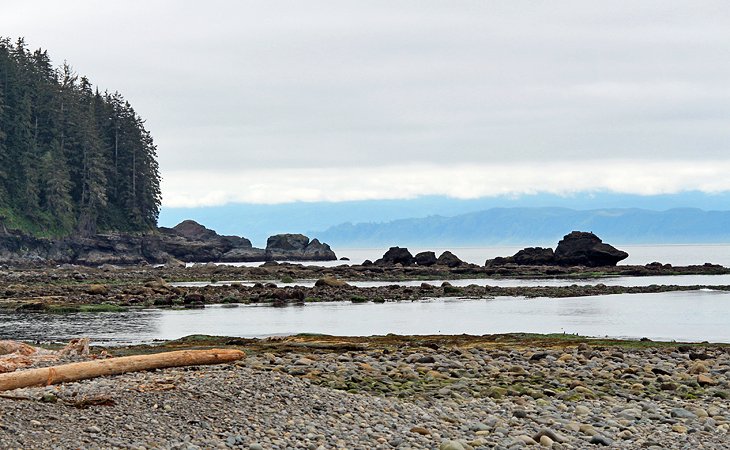 Just two hours northwest of Victoria, Port Renfrew feels far more remote than you might expect. You won't find the cute tourist town atmosphere here like you do in Tofino. In fact, you may wonder if you've missed the town as you drive through. The real attraction is the feeling of isolation and relaxation that comes with being surrounded by mountains, forest, and ocean.
Rugged wilderness, beautiful views, and perhaps a relaxing stay at a lodge are what you can expect to find here. Spend a day exploring the area. Head out on a short hiking trail to see ancient trees in the old-growth forest at Eden Grove and Avatar Grove. Walk along the oceanfront to Botany Bay and Botanical Beach, where you can see small sealife in the tidal pools, or gaze out at the waves.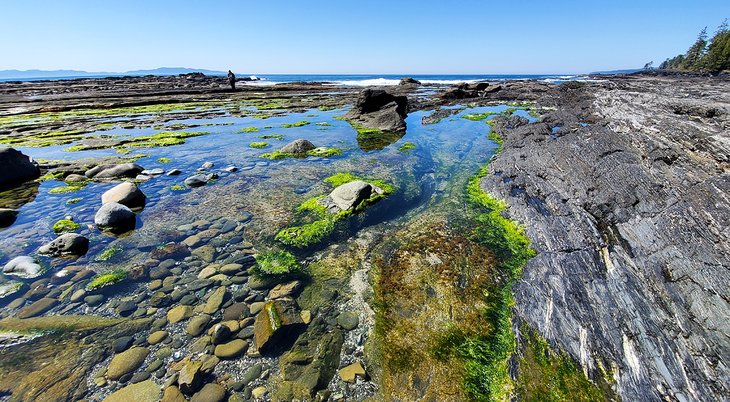 Port Renfrew offers some unique accommodation options, many of which truly offer a sense of place and a West Coast experience. At the Soule Creek Lodge, you can book a lodge room or a freestanding luxury yurt, and gaze out over the ocean from the hillside location. The lodge's restaurant serves set meals, and you can opt in or out after hearing about the meal being planned for that night, but one of the owners is a graduate of the Culinary Institute of America.
15. Chemainus Wall Murals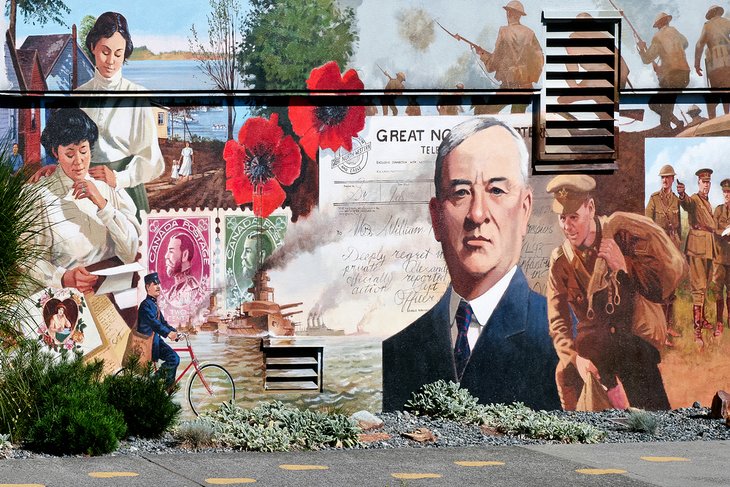 About an hour north of Victoria, Chemainus is known for its larger-than-life size murals that decorate the sides of buildings throughout the town. The images illustrate the history of the town and are painted by well-known artists. A walking path leads visitors on a trail to see the murals.
This is a big tourist draw for the community, but the Chemainus Theatre and the Chemainus Theatre Festival are also of interest, showcasing talent from across the province and Canada.
Where to Stay on Vancouver Island
The main tourist destinations around Vancouver Island are Victoria, Tofino, and to a lesser extent, Nanaimo. Below are some quality hotels and resorts in these areas.
Victoria: Set in a Tudor mansion from the 1930s, Abigail's

Hotel

is an adult-only property. It offers affordable luxury, old-world charm, sumptuous four-poster beds, clawfoot tubs, and complimentary breakfast and appetizers. For more of a mid-range option, try the Best Western Plus Inner

Harbour

. This hotel is within walking distance of Victoria attractions, features an outdoor pool, and provides complimentary hot breakfast.
Tofino: The Wickaninnish

Inn

has been one of Tofino's top luxury resorts since the 1950s. Its beautiful beachfront location, adjacent to a dramatic rocky headland, provides a stunning setting for the resort, with beautiful views from the rooms and restaurants, which overlook the ocean. Set on a beautiful stretch of beach, the Pacific Sands Beach

Resort

offers a variety of rooms and cabins in a range of prices, from luxury oceanfront multi-room townhomes to new condo-style units featuring modern decor, fireplaces, kitchens, and balconies.
Nanaimo: Overlooking Nanaimo's harbor, the Coast Bastion

Hotel

is one of Nanaimo's most posh hotels, offering luxury rooms and suites, and fantastic views. The Best Western Northgate

Inn

is a budget-friendly property, conveniently located near shops and restaurants. It features an on-site sauna and fitness center, and comes with a continental breakfast.
More Related Articles on PlanetWare.com
Visiting British Columbia: Vancouver Island is just one small area of British Columbia, a province that has much to explore. Many people add a trip to the island on to their overall BC or Canada itinerary. Other popular stops in BC include Vancouver and the resort town of Whistler. In the interior, many people head to Kelowna and the Okanagan to relax around Lake Okanagan in summer, or ski at the nearby ski resorts of Silver Star or Big White. These are two of Canada's top ski resorts.