12 Warmest Places in Canada in Winter for Travelers
When most people think about winter in Canada, one thing comes to mind: cold. While chilly Canadian winters can be a lot of fun (think ice-skating on frozen canals, skiing down snowy mountains, or watching the Northern Lights dance in the winter sky), not everyone is willing to brave the frigid temperatures of the Great White North.
If you're traveling in Canada in the winter but prefer to stick to places with mild winters – and yes, such places do exist – then this list is for you.
There's a clear theme to the destinations on this list: most of them are located in Canada's westernmost province, British Columbia. Although BC is home to some of the best ski areas in the world, many of its coastal communities benefit from warmer temperatures and mild climates. But as you'll discover, there are a few cities located in some of Canada's other provinces that are warmer than most – a few of which might surprise you!
The destinations listed here are not just the warmest places, they are interesting towns and cities where travelers will want to spend some time, even an entire winter. Find the best places to visit at this chilly time of year with our list of the warmest places in Canada in winter.
1. Victoria, British Columbia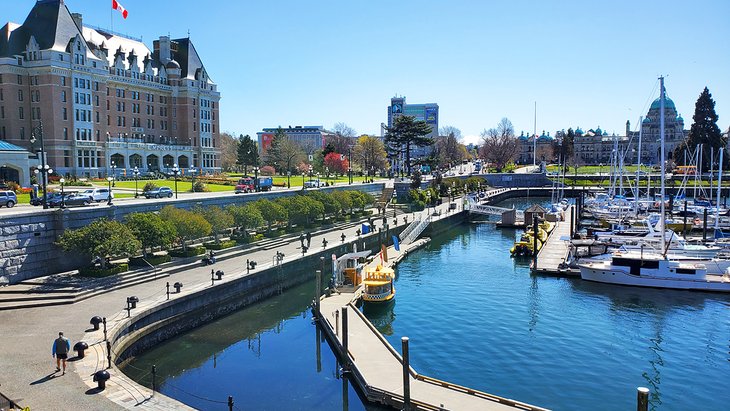 Victoria – the capital of British Columbia – has the distinct honor of being Canada's warmest city. It boasts the highest average temperatures in the entire country, with an average daily high temperature of 7.6 degrees Celsius (45.7 degrees Fahrenheit) and an average daily low temperature of 1.5 degrees Celsius (34.7 degrees Fahrenheit) in January, the peak of the Canadian winter.
There's a reason so many people choose to retire to Victoria and other beautiful places on Vancouver Island: the gloriously mild winters make it pleasant to enjoy a stroll outside year-round. There's plenty to do in winter in Victoria; even the popular Butchart Gardens remains open in the dead of winter (though you'll have to head to their indoor gardens to see flowers in bloom).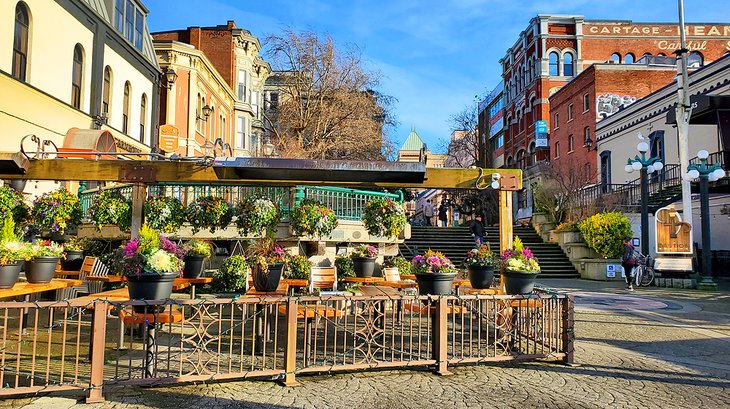 You can still experience winter activities in Victoria, like ice-skating, Christmas light tours, and a cozy cup of tea. The difference is that you can enjoy these activities comfortably, without losing feeling in your fingers and toes!
Accommodation: Top-Rated Resorts on Vancouver Island
Read More:
2. Vancouver, British Columbia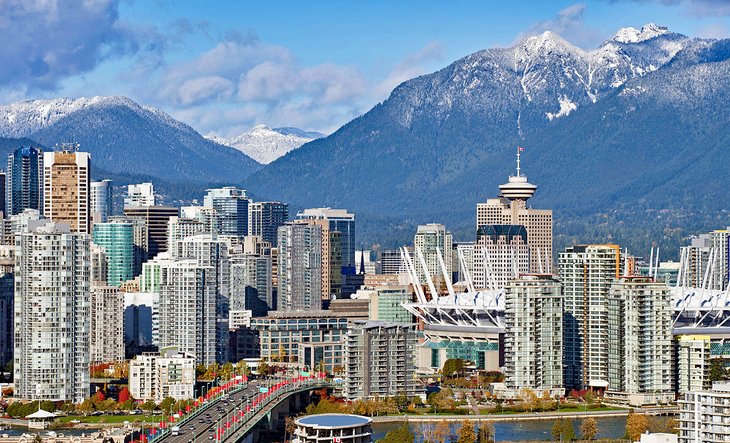 While the rest of the country is zipping up their winter parkas and scraping frost off their windshields, Vancouverites can be found taking a leisurely stroll on the Sea Wall, enjoying lunch on a sunny patio, or even playing a round of golf (seriously - there are golf courses that are open year-round).
The average daily high temperature in January in Vancouver is 6.9 degrees Celsius (44 degrees Fahrenheit), with daily lows of 1.4 degrees Celsius (34.5 degrees Fahrenheit). It's not Florida or Hawaii, but it's warm enough to actually enjoy being outside. Plus, it's not unusual to experience a few extra warm and sunny days right in the middle of winter in Vancouver - it's like a bonus sneak peek of spring.
While you're unlikely to encounter snow any time of year in Vancouver, odds are pretty high that you'll experience some of that infamous Vancouver rain if you visit over the winter. Pack an umbrella or a rain jacket, and don't let a little wet weather discourage you from enjoying the city.
3. St. Catharines, Ontario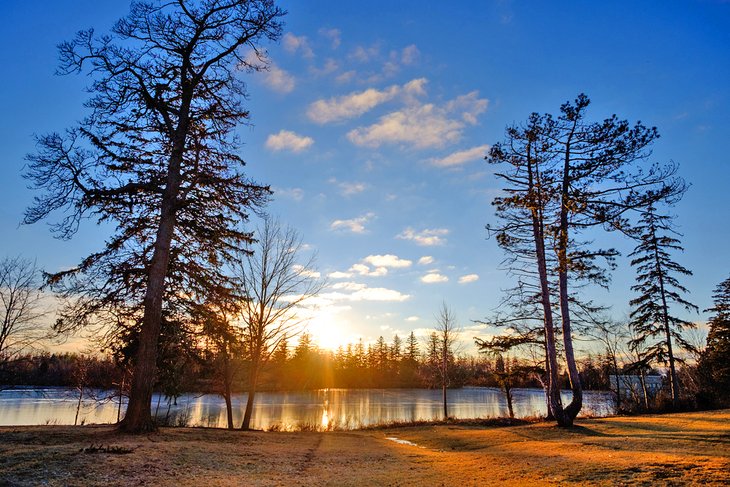 We know what you're thinking: What is a city in Ontario doing on a list of Canada's warmest places in the winter?
No, it's not a typo. St. Catharines, a charming city in Ontario's Niagara Region, benefits from its proximity to Lake Ontario and Lake Erie, as well as the shelter provided by the Niagara Escarpment. The result: a microclimate that keeps the city relatively warm, even in winter.
St. Catharines is warmer than other places in Ontario (although Sarnia is slightly warmer than St. Catharines) but it still gets pretty chilly in deep winter. However, temperatures are reasonable early and later in the season; in November, the average daily high is 8.4 degrees Celsius (47.1 degrees Fahrenheit), and it's almost as warm in March, when the average daily high is 7.4 degrees Celsius (45.3 degrees Fahrenheit).
4. Kelowna, British Columbia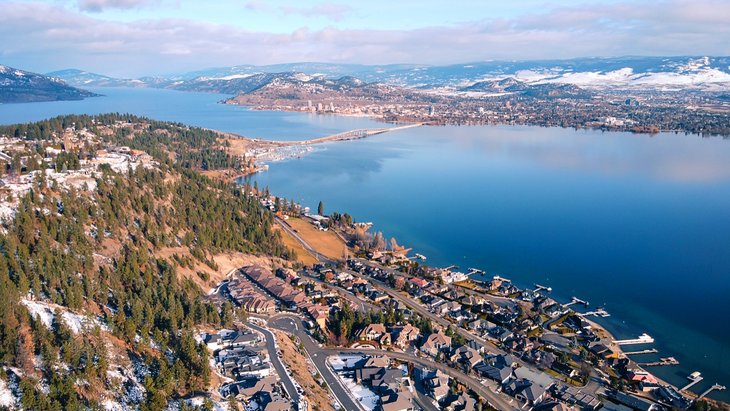 If you want to escape the cold but prefer not to get caught in the rain, check out Kelowna, British Columbia.
In the summertime, this is a popular destination for travelers – the weather is hot, and the lake is perfect for just about every water activity you can imagine. Though you probably won't want to go water-skiing in the winter, there are countless reasons to visit Kelowna and the Okanagan region in the winter months, like winter hiking, a day at the spa, or a meal at a world-renowned restaurant.
The best part about escaping winter here is that you can visit it when you want a fix of snow and winter fun. Kelowna is just a short drive from some of British Columbia's best ski resorts, so be sure to pack your ski gear.
5. Halifax, Nova Scotia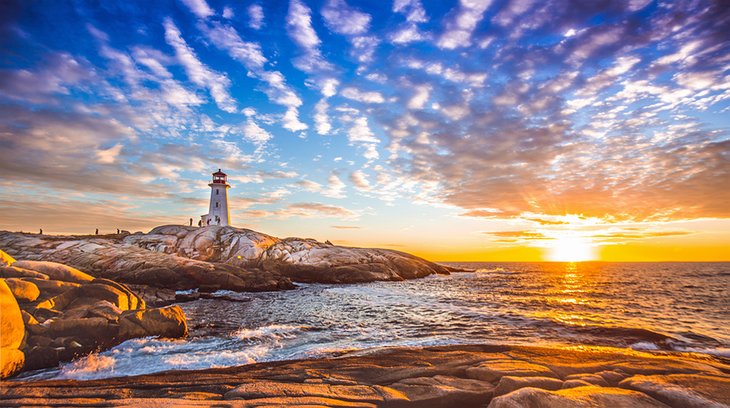 If you've got your heart set on visiting Canada's beautiful East Coast in the winter, the warmest city to travel to is Halifax, the capital of Nova Scotia. Situated on the shores of the Atlantic, Halifax experiences milder winters than the province's inland towns and cities.
The term "mild" is relative here – know that you are likely to encounter a fair bit of snow if you're visiting Halifax in the winter. There are lots of options for embracing the white fluffy stuff, from snowshoeing to cross-country skiing to tobogganing on Citadel Hill.
If you prefer to stay out of the cold, you can learn more about the rich history of Nova Scotia at the Canadian Museum of Immigration or the Maritime Museum of the Atlantic. For a dose of culture, hit up the Art Gallery of Nova Scotia. Want to learn about the stars or explore the world of science? Just head to the Discovery Centre.
A side benefit of visiting Halifax in the winter is that all of its attractions are significantly less busy than in the touristy summer months. Not only can you skip the crowds, but you might nab some excellent travel deals.
6. Courtenay, British Columbia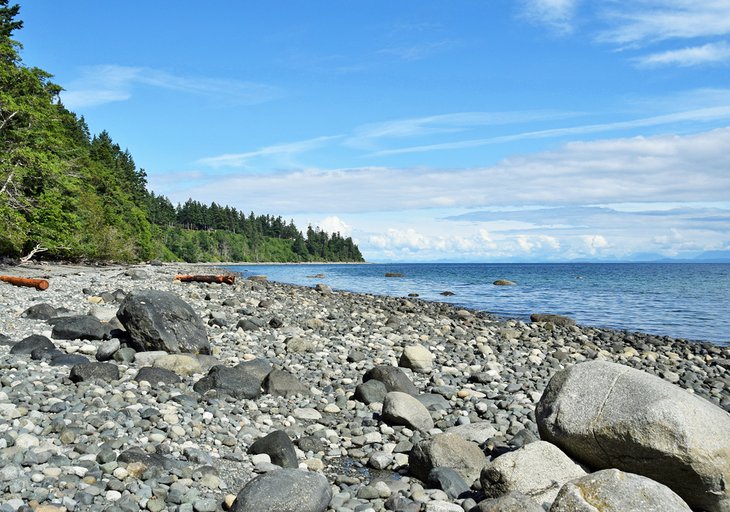 You know all about Victoria, one of the most popular tourist destinations in Canada, but have you heard about Courtenay? Located farther up on the east coast of Vancouver Island, this smaller city (population: approximately 26,000) is considered by many to be a hidden gem of the island.
Mild winters are just one of the many things Courtenay has going for it - the average daily temperature in January is 6.4 degrees Celsius (43.5 degrees Fahrenheit), with average daily lows of 1.4 degrees Celsius (34.5 degrees Fahrenheit).
One of the perks of winter in Courtenay is that you can experience traditional Canadian winter activities, like snowboarding, downhill skiing, and cross-country skiing, at Mount Washington, which is just half an hour away.
When you've satisfied your craving for winter, you can escape the snow and return back to Courtenay - perhaps to enjoy the indoor winter farmers market or one of several year-round golf courses.
7. Sunshine Coast, British Columbia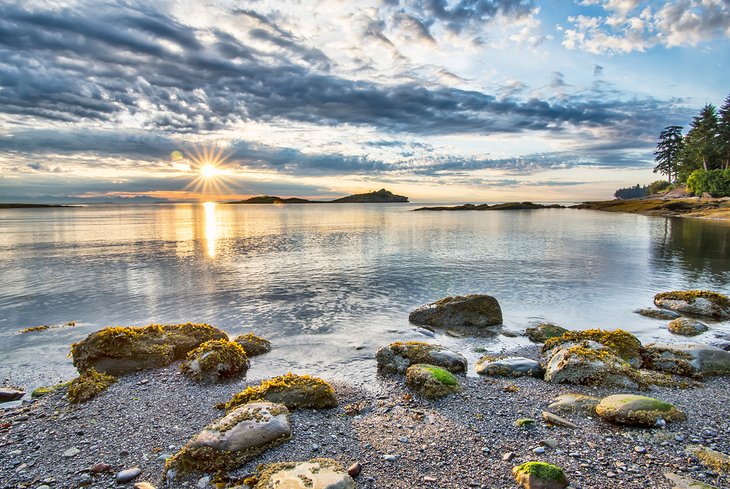 With a name like the Sunshine Coast, it's easy to understand the appeal of this region of southern British Columbia. Hugging the cost of the Pacific Ocean, the Sunshine Coast – accessible only by ferry, though it is technically connected by unpassable land to the rest of the mainland – is home to several quaint and cozy seaside communities, featuring cute shops, casual cafés, and restaurants with incredible views.
The communities on the Sunshine Coast are the kind you'd see in a Hallmark Christmas movie - minus the mounds of snow, that is. Temperatures remain relatively warm (for Canada) in the winter, so although the area doesn't get much snow, it does see a fair bit of rain in the winter months.
If you're not afraid of a little rain, then you'll enjoy spending your days exploring trails, checking out waterfalls, or strolling by the beaches. At night, you can snuggle up by the fireplace or take a dip in a hot tub. The Sunshine Coast has all the coziness of winter, minus the extreme weather.
8. White Rock, British Columbia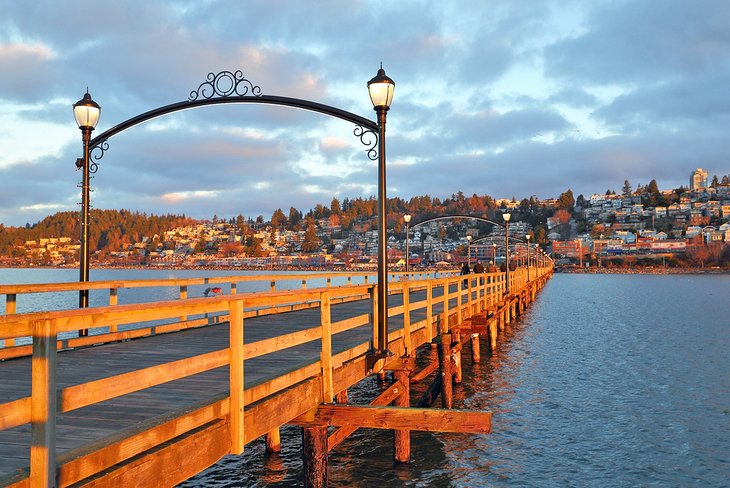 Take Vancouver, but subtract some of the rain and add a few degrees to the temperature. The result: White Rock!
South of Vancouver and just north of the US border, White Rock is a small city bordering Semiahmoo Bay in the Pacific Ocean. It is slightly farther away from the Coast Mountains, which is why it gets less rain and 20 percent more sunshine than Vancouver.
If you're visiting Vancouver in the winter and are desperate for a break from the gray skies and rainy weather, keep your eye on the forecast in White Rock. If the weather is calling for a sunny day, make the hour-long drive south and spend the day enjoying the sun. First, check out the White Rock Pier and stroll along the beach on the White Rock Promenade. Then, grab a long lunch at one of the many restaurants overlooking the ocean before heading back up to Vancouver.
White Rock is the perfect way to get a much-needed dose of Vitamin D in the middle of winter.
9. Kamloops, British Columbia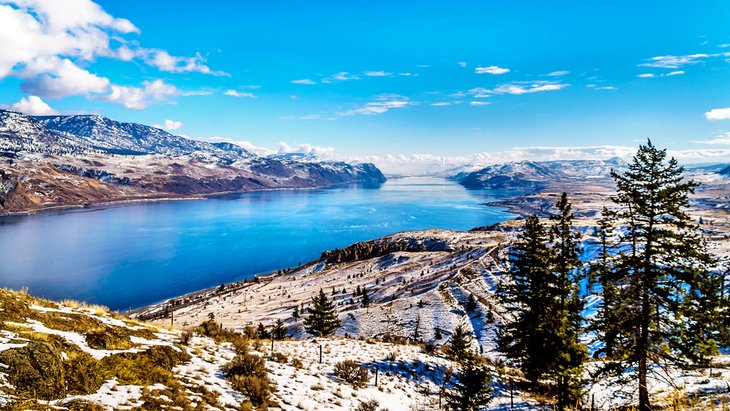 There's something about a sunny day in the winter that makes the cold feel a little more tolerable. As the province's second sunniest city, Kamloops experiences plenty of bluebird days, even in the dead of winter. Whether you're looking to escape snowstorms or endless rain, Kamloops just might be the place for you.
The city of Kamloops is located in a valley and is surrounded by mountains. Down in the valley, it generally stays pretty mild (by Canadian standards - you'll still encounter sub-zero temperatures in the winter, so it's not exactly a tropical vacation kind of place). Up in the mountains, it's colder and snowier – perfect for partaking in some of Canada's best snow sports.
You don't have to go far to experience skiing, snowboarding, skating, or snowshoeing – but if you prefer to stay out of the elements, there are countless ways to stay busy indoors. Challenge yourself physically at the indoor rock climbing gym trampoline park, or give your brain a workout by trying to solve an escape room. You'll be so busy that you will hardly notice the weather outside.
10. Sooke, British Columbia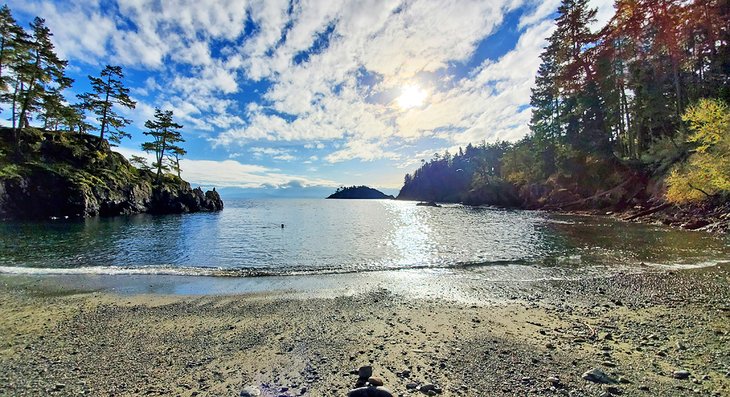 On the wild and remote west coast of Vancouver Island, Sooke is a wonderful small town for people interested in an active outdoor lifestyle but still wanting a good selection of restaurants and amenities.
Snuggled in behind a headland, which protects it from the worst of the weather coming in off the Juan de Fuca Strait, this small town is the perfect combination of an escape from winter and an escape from big-city living. With an average daily high in January of 7 degrees Celsius (44.6 degrees Fahrenheit), it's just half a degree cooler than Victoria.
You'll find an eclectic mix of people living here. Folks come from all walks of life, but they are all generally pretty friendly.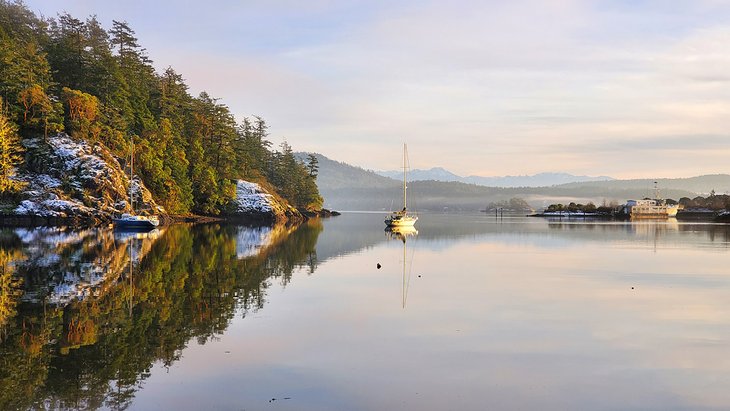 The town is surrounded by huge trees, and underneath this protective canopy lies some of Vancouver Island's best hiking. Nearby beaches also provide wonderful areas for walking, picnicking, and gazing out at the ocean. If you prefer to bike, the Galloping Goose Trail runs from Sooke all the way into Victoria, and numerous mountain biking trails can be found in the area.
Although Sooke only has a population of 13,000 inhabitants, the town is exceptionally well serviced by great restaurants. There's nothing quite like going for an invigorating walk in the fresh sea air on a sunny day along Whiffen Spit and then tucking into a giant Mountain Burger at the West Coast Grill to replenish your energy.
Should you feel the forest closing in on you and crave a bit of the big city lights and fun, downtown Victoria is only a 45-minute drive away.
11. Toronto, Ontario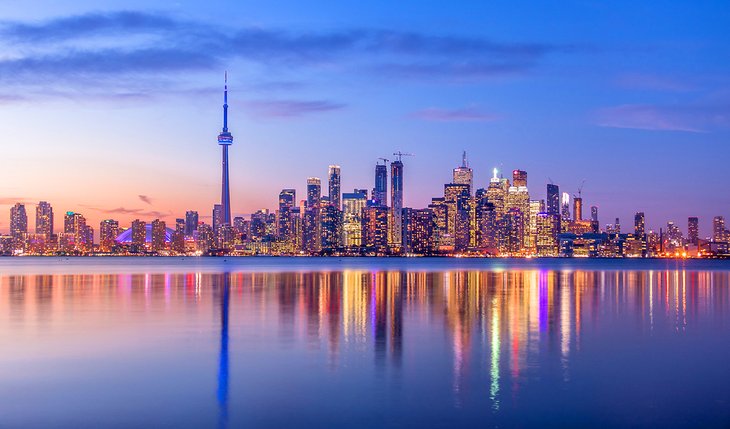 If you've ever visited Toronto in the winter, you may be doubting its place on this list. We won't lie: it gets cold in Toronto. It snows in the winter. You're going to need to pack winter boots, a warm coat, and a toque (that's a beanie or winter hat, for those unfamiliar with Canadian winter wear lingo!)
But Toronto has the distinction of placing fourth in the list of longest frost-free seasons of all the cities in Canada. For 203 days of the year – just eight fewer than Victoria, the mildest city in the country – Toronto is proudly frost-free. By Canadian standards, this means that it's actually pretty warm for most of the year.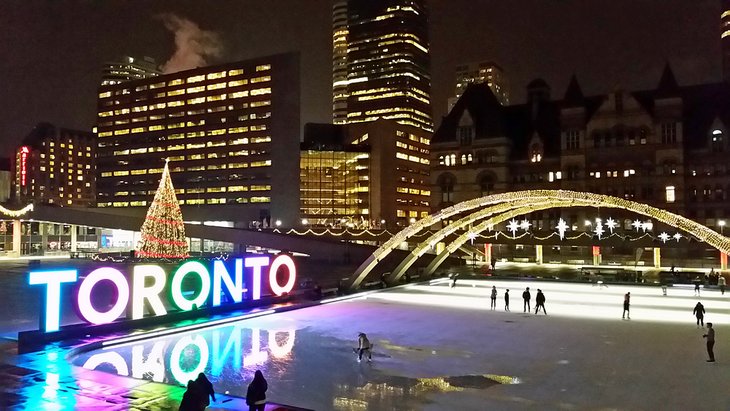 With an average daily high of -1.5 degrees Celsius (29.3 degrees Fahrenheit) in January, you probably don't need to pack a bathing suit when visiting Toronto in the winter – unless your hotel has a great pool. However, there are plenty of incredible indoor attractions all winter long, including cultural attractions (like the Royal Ontario Museum or the Art Gallery of Ontario) and professional sports games (namely, the Toronto Raptors and the Toronto Maple Leafs).
You can enjoy an action-packed trip to Toronto without spending all that much time outside. And when you do have to venture outdoors, just think: at least it's not as cold as, say, Calgary or Montreal!
12. St. John's, Newfoundland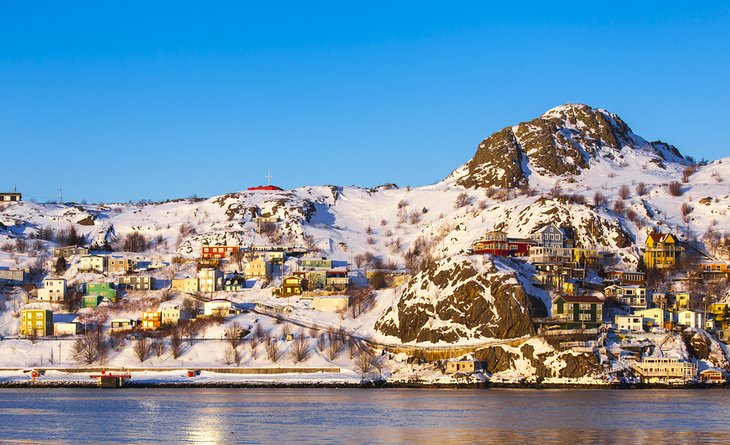 When it comes to weather, St. John's, Newfoundland, is known for a few different things: it is the #1 windiest, foggiest, and cloudiest city in Canada.
You're likely to experience each of these if you visit in the winter (often, all in the same day!), but thanks to the Gulf Stream moderation, you're unlikely to experience exceptionally cold weather. Winter temperatures are only slightly colder than Kelowna, BC (another mild city featured earlier on this list).
It would be a stretch to say that winter is truly mild in St. John's. The city sees snow – and a fair bit of it – but it generally melts quickly, thanks to the warmer temperatures. On the other hand, rain, sleet, and freezing rain aren't unusual for winter in St. John's.
An optimist would say that this stormy weather provides a great backdrop for taking in the rugged coast - picture wild waves crashing against steep cliffs. Signal Hill and Cape Spear offer unique vantage points for taking in the beauty of the coast.
When you're ready to dry off, head to downtown St. John's and check out the local shops, stopping for a coffee or tea to warm up. You can easily fill a day exploring The Rooms, a stunning museum celebrating Newfoundland's rich history and impressive artists.