10 Top-Rated Attractions & Things to Do in Yellowknife
We may earn a commission from affiliate links ()
The Northwest Territories capital city is the largest community on the shores of Great Slave Lake, and its name derives from the copper knives long used by the local First Nations. Although situated south of the tree limit, the modern town of Yellowknife is set in a landscape of dwarf firs, birch, and poplar – a transitional zone where northern fir forest becomes treeless tundra
First Nations people have hunted in the Yellowknife area for thousands of years. Europeans made their first appearance in the late 18th century, settling permanently only after the gold rush of 1934-5. Today, it is the nerve center of northern Canada, with a population of about 20,000. Gold and diamond mines at Yellowknife are among the biggest in Canada.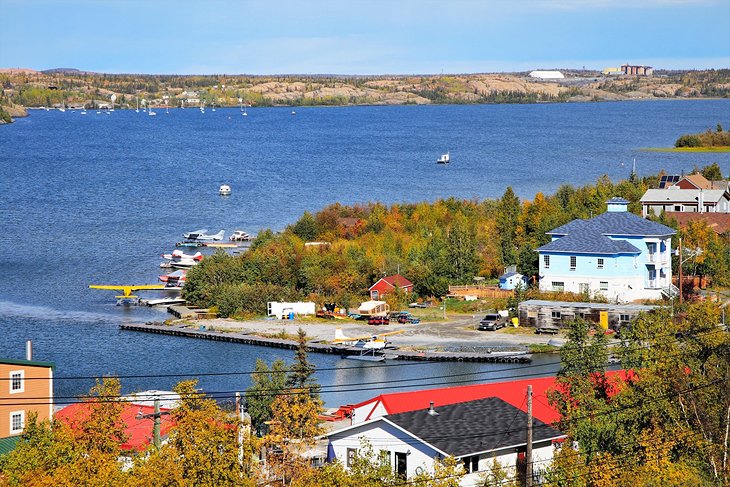 There are interesting drives around Yellowknife, one being eastwards along the Ingraham Trail (Hwy. 4) to Tibbitt Lake. Another route follows Hwy. 3 northwest through unspoiled country to Behchoko, also on Great Slave Lake. The same road goes to the Mackenzie Bison Sanctuary.
The major events in Yellowknife's calendar are the annual Snowking's Winter Festival and a dogsled race over the lake, both in March. To help you make the most of your visit, refer to our list of the top tourist attractions and things to do in Yellowknife.
See also: Where to Stay in Yellowknife
1. Prince of Wales Northern Heritage Centre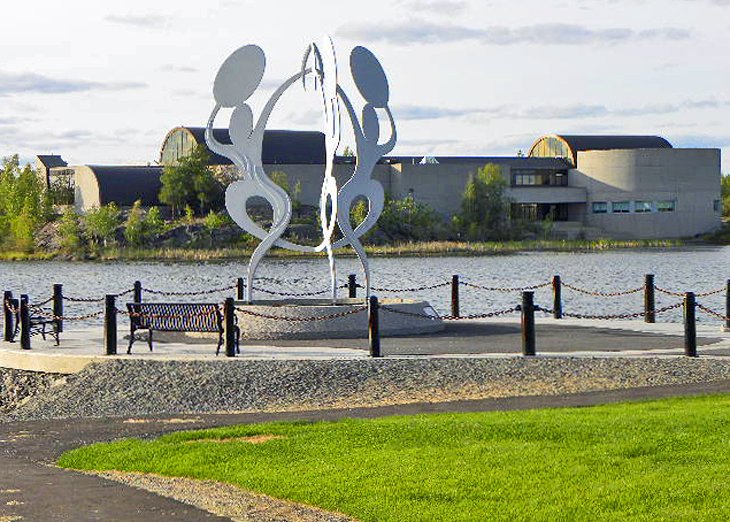 The Prince of Wales Northern Heritage Centre (PWNHC) in Yellowknife is the Northwest Territories' museum and archives. It displays and preserves important documents, photos, sound recordings, artifacts, and other materials related to the history of this vast northern region. The center is exceptionally interesting, and a visit to this top attraction is time well spent.
As well as displaying a large mineral collection and finds from the center's archaeological research, the museum explores the culture of the Dene First Nations people in-depth, and traces the pervasive influence of the fur trade, in operation here since at least the 18th century. The center also features changing exhibits. There's also a restaurant located on-site for lunches.
A great way to get the most out of your time at PWNHC is to join a guided Yellowknife Sightseeing Tour. These fun three-hour tours include the top historic and cultural points of interest here, taking in the Old Town, the Bush Pilots Monument with its scenic views, and a visit, of course, to the PWNHC (hotel pickup/drop-off provided).
Address: 4750 48 Street, Yellowknife, Northwest Territories
Official site: http://www.pwnhc.ca/
2. Explore Hidden Lake Territorial Park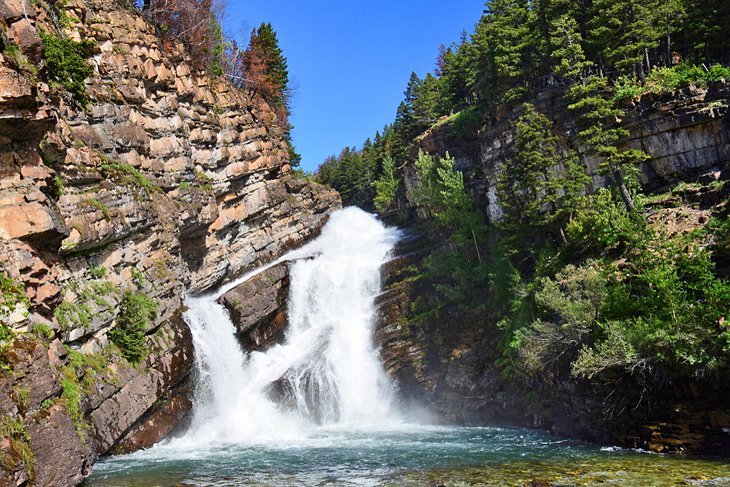 Hidden Lake Territorial Park is located about 50 kilometers east of Yellowknife on the Ingraham Trail.
One of the highlights of the park is Cameron Falls, an impressive sight even when frozen solid in winter. Reached via a 20-minute hike, the falls tumble down two levels of a rock embankment into a pool below. The trail is a relatively easy walk, with some stairs and uneven ground along with two bridge crossings.
For the more adventurous, there is a longer hike on a less-developed trail to the Cameron River Ramparts Waterfalls, approximately nine kilometers from the falls. It's a popular spot for backcountry camping, as well as hiking, with two abandoned gold mines within reach (no camping facilities are available, however).
Official site: www.nwtparks.ca/explore/ingraham-trail/hidden-lake
3. Visit Old Town Yellowknife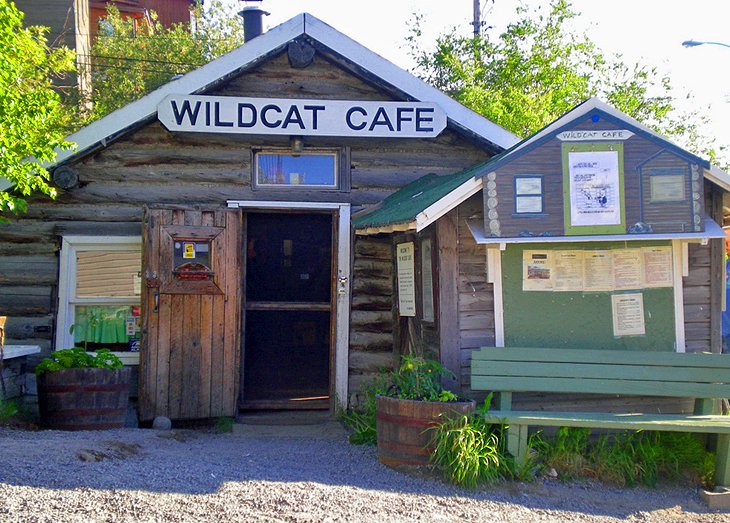 With the discovery of gold in 1934 and Yellowknife's first gold rush the following year, eager miners pitched tents and built small wooden shacks on the shores of Great Slave Lake. A few of those heritage log buildings remain in Old Town Yellowknife, which hints at the ramshackle frenzy of the 1930s.
The area is a popular place to explore with a mix of galleries, restaurants, and eclectic shops. Be sure to walk down Ragged Ass Road and climb to the top of "the Rock" for views from the town's highest point.
4. Get Out on Great Slave Lake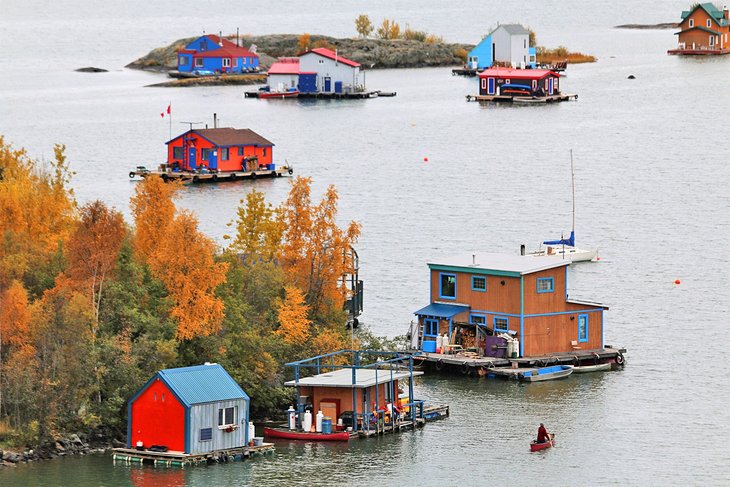 Great Slave Lake is the 10th largest lake in the world, and Yellowknife enjoys a prime position on one of its northern arms. In the summer, Great Slave Lake is a hot spot of all kinds of fun things to do.
One of the most popular is fishing, with anglers descending on Yellowknife to test their skills against the giant lake trout, some up to 40 pounds, lurking in the cold, deep waters. Owing to the sheer size of the lake, many anglers choose to take float planes to lodges located in the more remote areas of the lake.
The lake is host to one of the world's longest freshwater sailing races, the Commissioner's Cup. It's also a home for avid houseboaters, who live in brightly colored, highly photogenic houseboats in Yellowknife Bay.
If you can get out and explore, consider venturing to the lake's eastern arm. The lake looks completely different from the southern and western areas. Here, you'll find countless islands, rugged exposed shorelines, and beautiful beaches. Thaidene Nene National Park Reserve is located in this area; it's one of Canada's newest parks.
5. Snowking's Winter Festival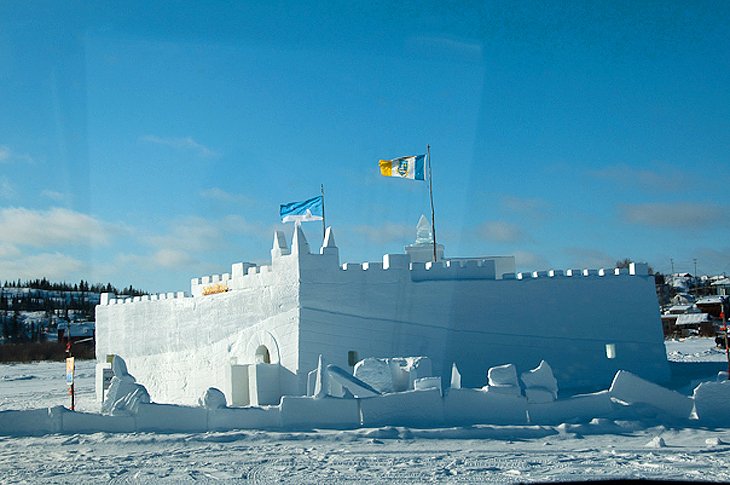 Snowking's Winter Festival in Yellowknife is an annual winter event that takes place in March and draws visitors from all over the country. A large castle built from snow is the stage for arts and entertainment. Highlights include musical concerts (book a cozy "snug" in the castle for a great couples' romantic evening), along with fun ice sculpting classes and other activities for kids. The festivities include a snow carving contest and coincide with a three-day dogsled race on Great Slave Lake.
Address: 3815 Bretzlaff Drive, Yellowknife, Northwest Territories
Official site: http://snowking.ca/
6. Aurora Village & the Northern Lights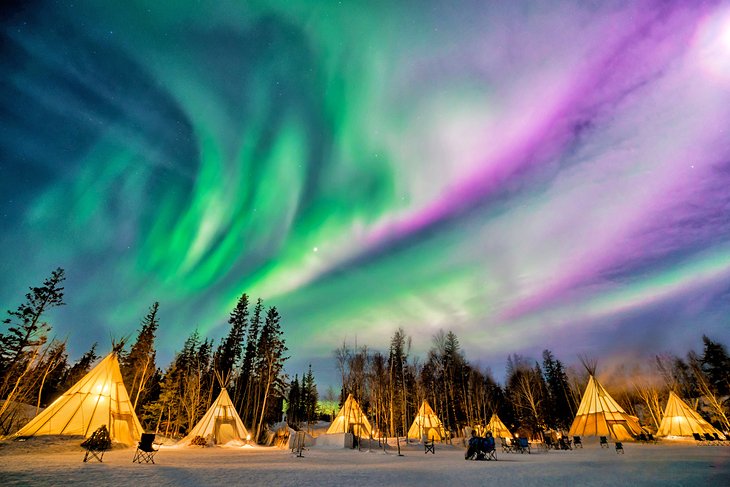 The Aurora Borealis, or the Northern Lights, appears as dancing, glowing patterns in the skies above Yellowknife. They don't always appear but when they do, this a great place to see them.
But aurora viewing is a chilly pastime, made much more comfortable by the dogsled rides, the heated seats in the viewing areas (which swivel 360 degrees to optimize your viewing experience), Arctic-suitable clothing, and hot drinks available at Aurora Village. All told, the site offers a choice of five hills on which to enjoy the lights. A number of teepees are also located on-site for shelter and warmth, and a gift shop is also available selling souvenirs.
Another option when it comes to seeing the spectacular Aurora Borealis is to join a four-hour Northern Lights tour from Yellowknife. Highlights include a guided drive out of the city to a remote wilderness location devoid of city lights to ensure you get the best possible views. These small group adventures include hotel pickup and drop-off, along with hot drinks and snacks.
7. Bush Pilots Monument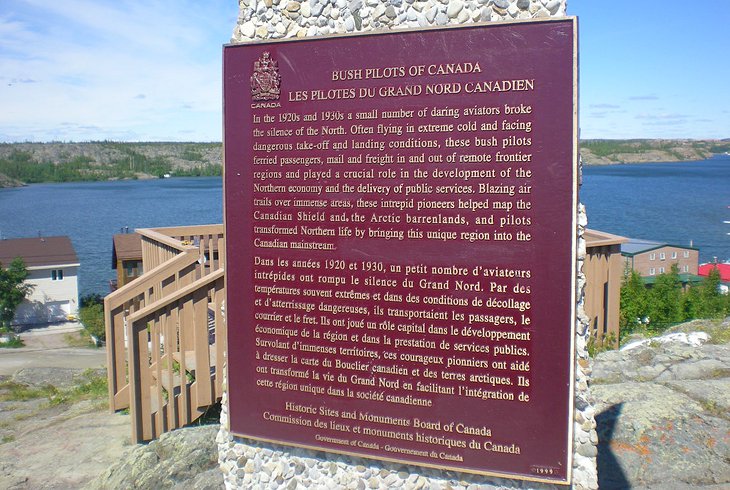 A must-visit while in Yellowknife, the Bush Pilots Monument was erected on a hill to commemorate the pilots partly responsible for opening Canada's northernmost regions to the rest of Canada. It's well worth the climb up the wooden stairs and boardwalk to the top of what locals refer to as "The Rock."
Here, in addition to reading the plaques commemorating the bush pilots responsible for flying supplies (and people) in and out of Yellowknife before a road was built, you'll also enjoy superb views over the town and surrounding area, including Great Slave Lake. You'll also learn that aircraft to this day remain the most important means of connection with the rest of Canada, as the site acknowledges those who continue to provide the service year-round.
Address: 3513 Ingraham Drive #3511, Yellowknife, Northwest Territories
8. Legislative Assembly of the Northwest Territories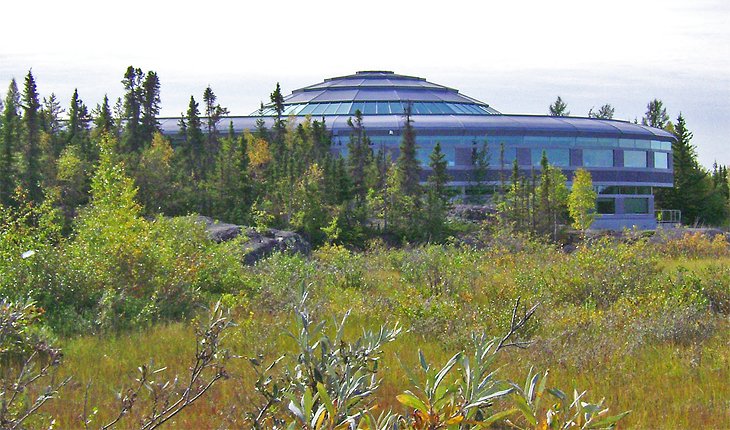 An interesting diversion when visiting Yellowknife, the Legislative Assembly of the Northwest Territories is an architectural delight. Modern and majestic, this stunning piece of domed architecture is where the government meets and handles the day-to-day business of the territories.
While self-guided audio tours are available, consider joining one of the hour-long guided tours provided year-round. In addition to learning about the unique domed building's history, you'll learn a lot about how this vast region of Canada is run and managed. It's a fascinating and informative tour, and definitely one of the top free things to do in Yellowknife. Tours leave three times a day throughout the summer (except Saturday, when there is no tour; on Sunday only one tour is offered). In the shoulder and winter season there is one tour daily.
Address: 4570-48th Street, Yellowknife, Northwest Territories
Official site: www.assembly.gov.nt.ca/visitors/tours
9. Arctic Art & Crafts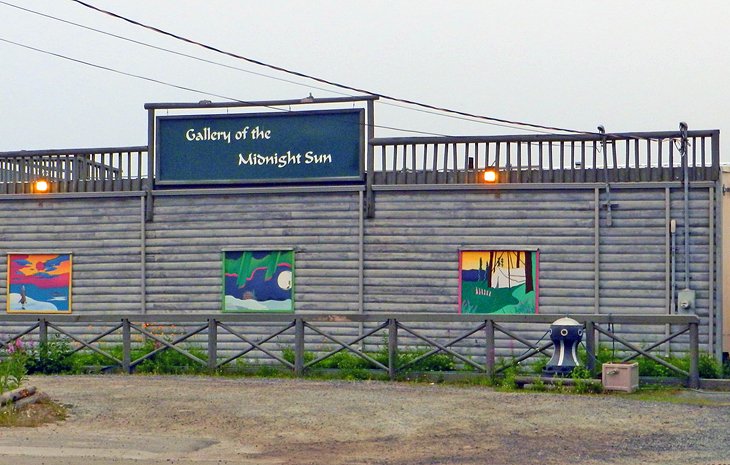 Yellowknife is, perhaps surprisingly for its size, a hotbed of artistic talents. Here, you'll find everything from commercial art galleries selling artwork created locally, as well as by artists from across the Canadian Arctic, to vibrant community groups united in their love of indigenous art.
One of the top-rated galleries for tourists to visit is the Gallery of the Midnight Sun. Located in the heart of the Old Town, this popular location was established in 1989 and offers a variety of work inspired by the north, and from the north.
Also in the Old Town, the Down to Earth Gallery features a variety of artists from across the Northwest Territories, and offers regular workshops. Also worth checking out are Northern Images, part of the Arctic Co-operatives, which represent 32 community groups in Canada's north, and features crafts, sculpture, prints, and books, and the Old Town Glassworks, which offers workshops and makes unique items from recycled glass (the workshops are especially fun for kids who can take what they make home with them).
10. Northern Arts and Cultural Centre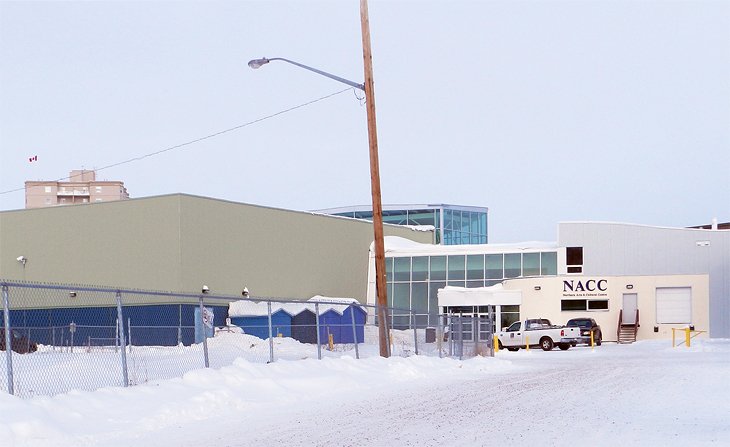 A 279-seat theater facility, the Northern Arts and Cultural Centre (NACC) opened to great fanfare (it's the only such facility in the territory) in 1984 and features northern, national, and international performing artists. Productions include a variety of music, dance, theater, and children's performances.
It is the premier cultural venue in the Northwest Territories, and as such hosts a variety of educational programs for both adults and children that include masterclasses, mentorships, and school community workshops for all ages and abilities.
Address: 4701 52 Ave, Yellowknife, Northwest Territories
Official site: http://www.naccnt.ca/
Where to Stay in Yellowknife for Sightseeing
To ensure you get the most from your Northwest Territories travel itinerary, we recommend you consider a stay at one of these centrally located hotels in Yellowknife near top attractions like the Prince of Wales Northern Heritage Centre.
Mid-Range Hotels:
A great option for those seeking quality mid-range accommodations is the Explorer

Hotel

. In addition to its good pricing and convenient location, this great hotel has friendly front desk staff and modern décor throughout.
Another good choice is Chateau Nova

Yellowknife

, a three-star hotel with bright contemporary décor, comfy beds, a sauna, and fitness room.
If you're looking for something a little more casual, Aurora Deluxe

B&B

comes with a shared kitchen and TV lounge.
Budget Hotels:
A good option for those seeking something solid in the budget category, Aurora Yellowknife

Jenny's

is an affordable B&B-style accommodation within walking distance of the downtown area. Its basic rooms come with hardwood floors, desks, free Wi-Fi, and private bathrooms, and a highlight is the buffet breakfast.
Also noteworthy is the Super 8 by Wyndham

Yellowknife

, which features great service, clean rooms, and a free breakfast.
More Related Articles on PlanetWare.com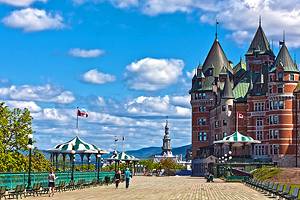 Keeping it French (Canadian): The French-speaking province of Quebec is a delightful place to spend a Canadian vacation. A must-see here is beautiful Quebec City, boasting a unique (for North America) European flare and plenty of historic attractions. Also worth visiting is the larger city of Montreal, a modern and world-class destination, with charming heritage areas, in particular in Old Montréal with its Parisian-style quarter.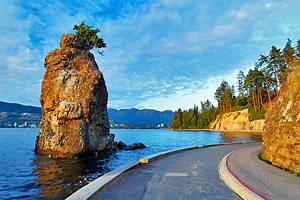 Canada Travel Ideas: Some of Canada's top tourist attractions, such as the iconic CN Tower, can be found in the country's largest city of Toronto, along with world-class cuisine and great shopping. And just a 90-minute or so drive away is Niagara Falls, as famous for its huge waterfalls as it is for its entertainment district and family-friendly theme parks. Over on the West Coast, the lovely city of Vancouver, with its superb parks makes for the perfect location from which to explore the amazing province of British Columbia. For ideas on planning your routing see our Canada Itineraries.