11 Best Beaches in Canada
Author Michael Law has lived in five provinces and traveled across Canada. He is also an avid kiteboarder and seeks out awesome beaches all summer long.
Canada has amazing beaches from coast to coast, some of which can even be enjoyed in the heart of winter. Discover ocean beaches with huge surf, calm inland lakes with warm water, beach towns packed with crowds, long stretches of sand along the shores of the Great Lakes, and beautiful flat stretches on the East Coast.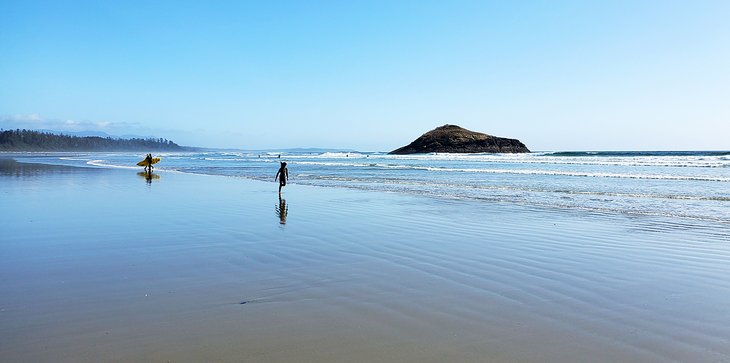 The hot summers in central Canada mean local beaches in places like Ontario and lakes in Manitoba are often packed with beachgoers looking to escape the heat. In British Columbia, soft-sand beaches lining the lakes in the interior are popular summer destinations, and on the Pacific Coast, you can surf and enjoy the beaches year-round. The Atlantic Provinces and the Îles de la Madeleine attract beach vacationers from across Canada throughout the summer months.
Find the perfect place to set up your beach chair with our list of the best beaches in Canada.
1. Long Beach, Tofino, BC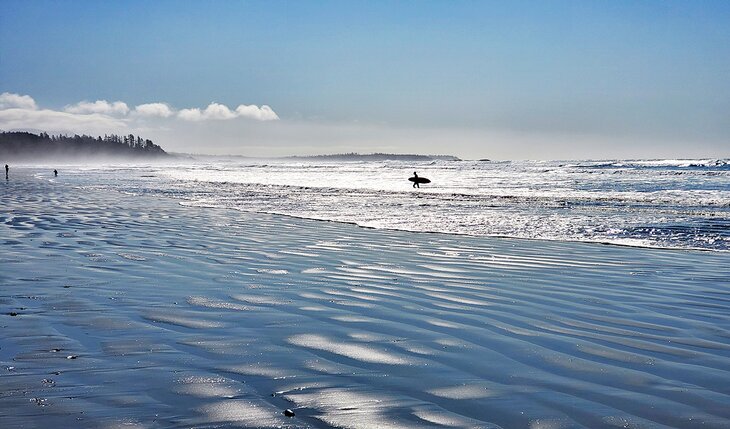 The resort town of Tofino on Vancouver Island is home to glorious stretches of beach. The most famous and arguably the most impressive is Long Beach in Pacific Rim National Park. Appropriately named, this wide beach stretches for 16 kilometers and bears the brunt of the Pacific Ocean's unrelenting assault on dry land.
The water here is cold, only warming from 8 degrees Celsius in the depths of winter to 12 degrees Celsius in the height of summer. However, that doesn't stop a cast of characters from donning their half-inch full-body wetsuits and surfboards to tackle the never-ending waves.
Surfing is a big deal in Tofino and a great place to learn. Due to the size and structure of the beaches, various spots are ideally suited to beginners. Sandy bottoms and shallow areas make trying this sport easier than it may appear.
A string of other beaches in the area also attracts surfers. Cox Bay Beach is known as one of the best surfing beaches in Canada, if not the best. You can also check out Florencia Bay Beach, Mackenzie Bay Beach, and more of Tofino's top beaches while you're in the area.
Strolling along Long Beach, particularly on sunny days, is a favorite pastime of almost all visitors. The sand is hard and easy to walk on. You can even push a stroller out here or walk your dog. Or, grab your rubber boots and go out on the beach at low tide to search for some of the elusive sand dollars. At the end of the day, warm up by a beachside campfire or cozy fireplace at one of the area's luxury resorts and inns.
Read More: Best Campgrounds in Tofino
2. Grand Beach Provincial Park, MB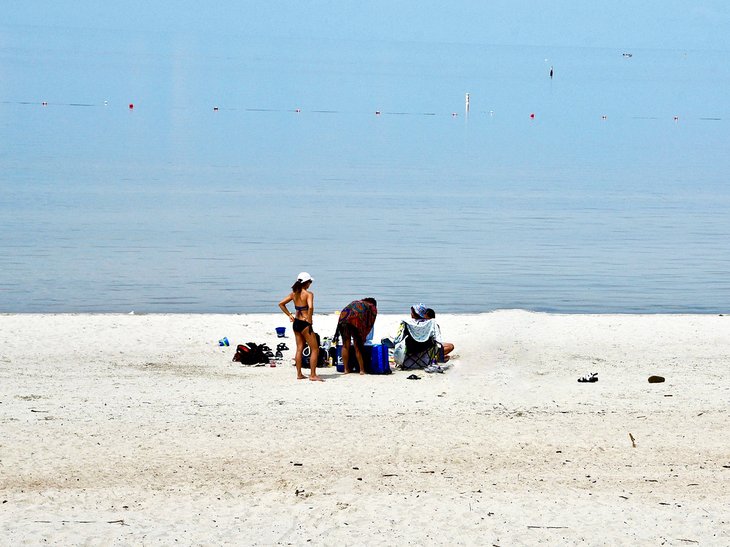 Consistently ranked as one of the top beaches in Canada, Grand Beach earns its kudos for its huge sand dunes, warm shallow water, and good-time atmosphere. Only an hour or so from Winnipeg, this beach is a perfect day trip, and as a result, attracts throngs of visitors every sunny summer weekend.
The beach, located on one of the best lakes in the province, Lake Winnipeg, stretches for three kilometers in a gentle arc. A wooden boardwalk runs along the back of the beach, and it's here that you'll find concession stands selling hot snacks, cold drinks, and popcorn. The soft, golden-brown sand of the beach is ideal for making sandcastles.
The water is shallow, and with the hot Manitoba summer sun, heats up to bathtub-like temperatures. This makes lolling about an easy and very popular pastime. The shallow water is also generally calm, making it perfect for families with small children.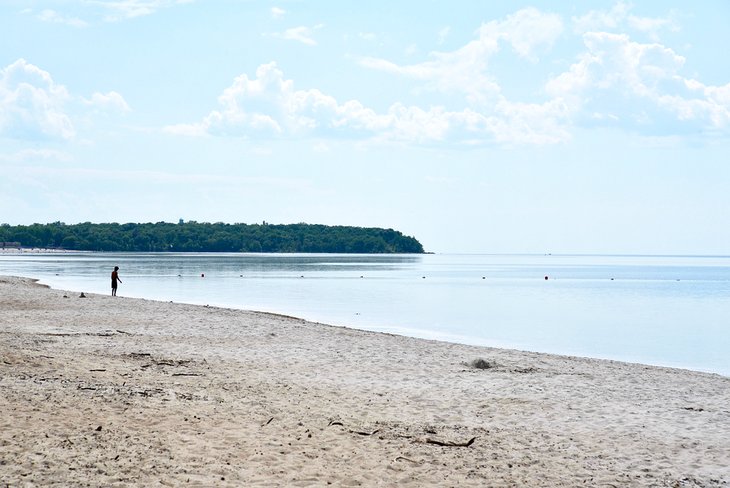 The water is shallow for a considerable distance, with naturally occurring sandbars creating especially shallow spots, great for games of touch football or Frisbee. The grey-colored water warms up fast each summer, making it easy to get in and stay in for extended periods of time.
Grand Beach is located in Grand Beach Provincial Park, which has a large campground and is considered one of the best campgrounds in Manitoba. Sites can and should be booked online well in advance if you want to secure a spot on a July weekend.
Accommodation: Top-Rated Resorts in Ontario
3. Kitsilano Beach, Vancouver, BC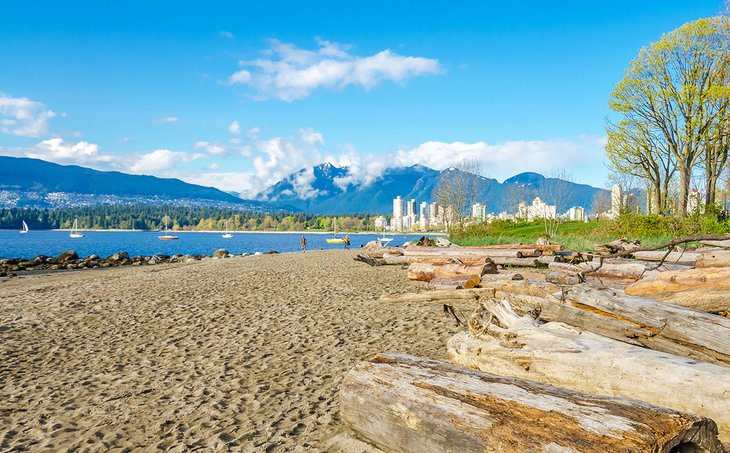 One of Vancouver's most famous beaches, Kitsilano, has everything for a perfect afternoon and is a popular summer attraction in Vancouver. Grab a log, lean back, and catch some sun while you gaze out at the North Shore Mountains. The beach, known locally as Kit's Beach, is a wide arc of sand fronting English Bay. A seawall runs behind the beach and continues onward to Stanley Park.
The water is cold but does warm up slightly in the shallows. For the more adventurous, a swimming platform is anchored offshore. Cold seawater not your thing? A more refined option is to take a dip at the Kitsilano Pool, a giant, 137-meter, heated saltwater pool right on the edge of the ocean. Waterslides and a water park will keep the kids entertained for hours.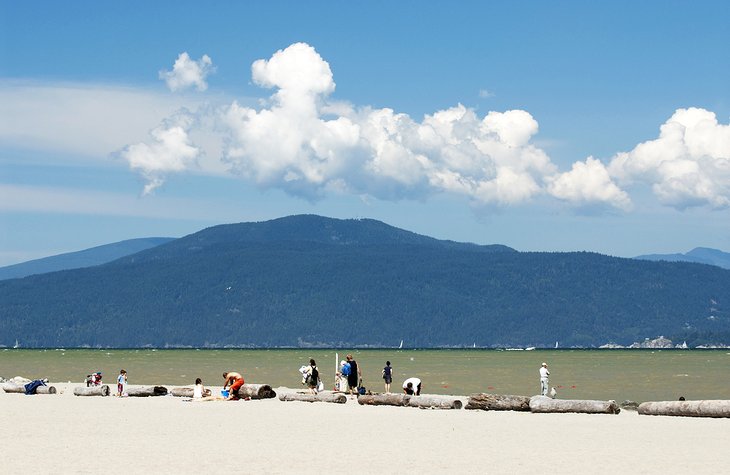 Just back from the sand is a wide-open park area, perfect for a family picnic. Or, if you prefer to have someone else do the cooking, concession stands and the well-regarded Boathouse Restaurant serve up great food. The park also has an off-leash dog park, tennis and basketball courts, and a playground with all kinds of climbing structures.
4. Wasaga Beach, ON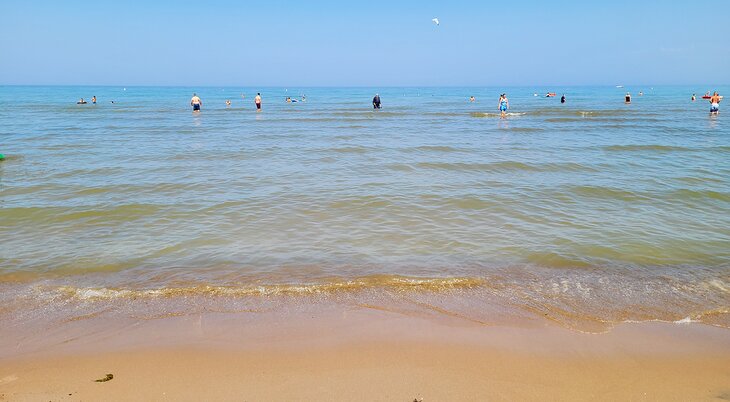 One of Ontario's fun beach towns, Wasaga Beach draws over two million sun and surf seekers from across the province. This is a place to see and be seen. A steady progression of tanned bodies strolls the water's edge snapping selfies and having a good time. Back from this show, and splashing in the shallow, warm waters, are countless families and their children.
Wasaga Beach, located on Georgian Bay, is said to be the longest freshwater beach in the world, so you can choose to be in a busy part or the nearly deserted area of beach. It's up to you. The beach is divided up into sections for easy navigation. Sections 1 and 2 are in town and where you'll find the most lively scene, with volleyball courts and a boardwalk. The town is just back from this area, and it's where you'll find all kinds of fun things to do.
Sections 3 through 6 are more sedate and the perfect place to find your own patch of sand to settle into the latest book you've been saving. If your dog is traveling with you, set up in section 3. This area allows dogs to swim and hang out on the beach with you while they fill their fur with sand.
5. Sauble Beach, ON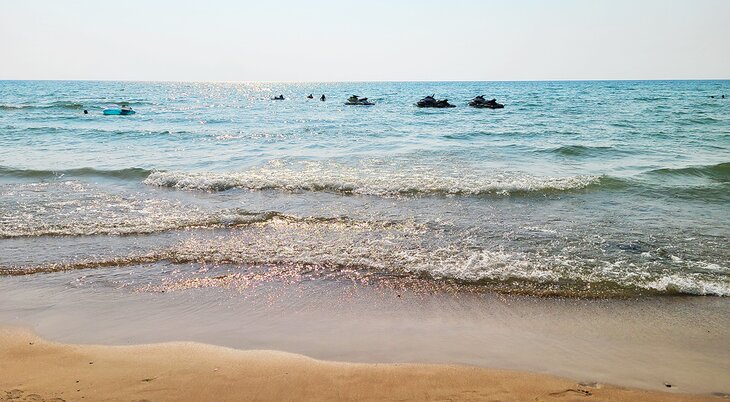 Located on the shores of Lake Huron, Sauble Beach is one of Ontario's most historical beach towns. Back in the 1960s and 70s huge gatherings of cars and people used to drive out onto the sand and have an incredible time.
Things are a bit more sedate now, but the beach is still just as fine, and the sunsets sublime. Over 10 kilometers of beach, some of which you can still drive on, are just waiting for your towel and umbrella. Pack all your gear, drive to what you think is the best spot, and set up for the day. Nothing could be easier.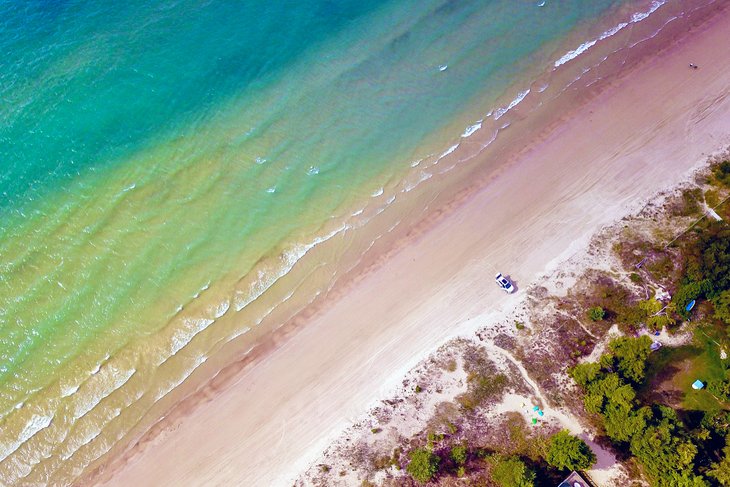 The town of Sauble Beach comes alive each summer after its quiet winter rest. Surf shops, ice-cream stands, and burger joints all compete for your sandy dollars. Out on the water, it's a non-stop spectacle of Jet Skis, pleasure craft, stand up paddleboarders, and swimmers. If the west winds are kicking up, which they frequently do, you may also see kiteboarders skimming across the waves.
6. Brackley Beach, PEI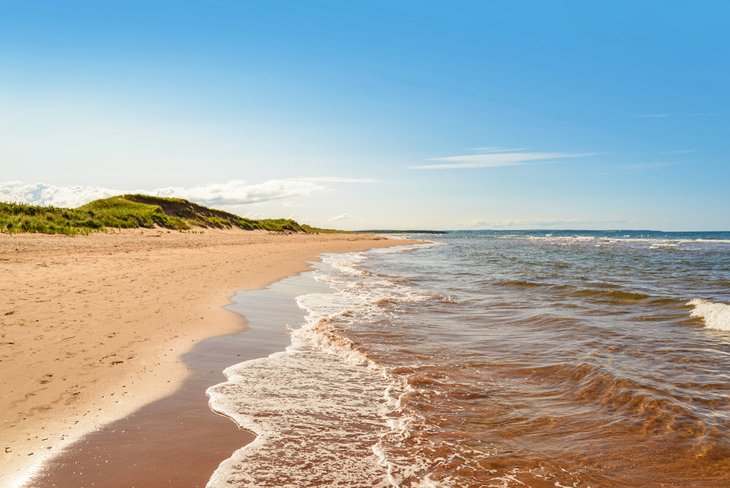 Just outside Charlottetown, Brackley Beach is one of the best beaches on Prince Edward Island. Stretching for miles, the golden sands are backed by impressive sand dunes. The surf here is usually gentle, making the beach an ideal location for families with small children.
The swimming areas have long shallow approaches, perfect for wading, a game of water football, or Frisbee. Although the water does warm up in the summer, the temperature is what many would call "refreshing."
The beach is located in Prince Edward Island National Park. The park has numerous recreational opportunities, one of the best is the Gulf Shore Way. This paved trail winds its way along the seashore and throughout the dunes. Beach walking and running are popular along the beach due to the flat, firm sand.
Read More: Top-Rated Tourist Attractions on Prince Edward Island
7. Parlee Beach, NB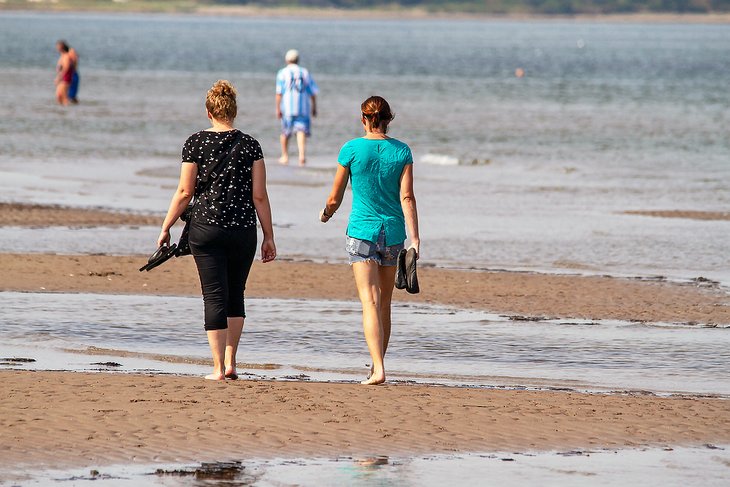 Parlee Beach Provincial Park boldly claims to have the warmest saltwater beach in all of Canada. Located only 20 minutes from downtown Moncton in the beach town of Pointe-du- Chene. The beige sands extend for one kilometer and are packed with locals and tourists during the treasured warm summer days of July and August.
The shallow water extends into the ocean, and as the tide recedes, the beach grows expansively leaving warm pools, perfect for kids. The beach is patrolled by lifeguards throughout the summer. Many families make Parlee Beach their summer holiday destination and stay for a week or longer in the beautiful campground. Over 200 sites in a mix of electrical and unserviced formats, are a 10-minute walk to the beach.
The nearby town of Shediac bills itself as the lobster capital of the world, and locals are so proud of this claim that they erected a giant lobster statue that measures 11 meters long by five meters wide and weighs 90 tonnes.
8. Okanagan Beach & Skaha Beach, Penticton, BC,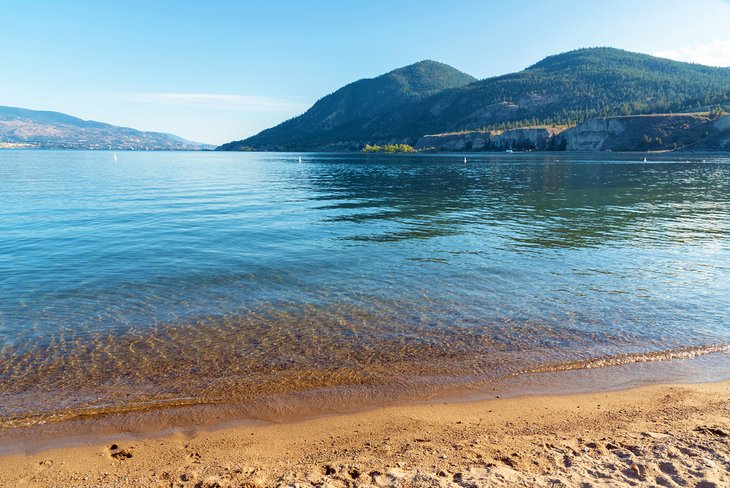 Long recognized as the region's most popular beach, Okanagan Beach has been drawing families for generations. The beach extends in a long, wide curve at the southern end of Lake Okanagan in Penticton.
The lake water warms up wonderfully in the summer, and the soft sand and shallow approach into the water make for a great place for small children to splash about. Located just offshore from the beach is the giant floating Wibit Water Park. A short walk back from the beach is the Loco Landing Adventure park with go-karts, rope courses, and rock climbing, along with other fun things to do.
Just back from the beach and across the road are a wide variety of hotels and motels. Their convenient location makes rolling out of bed in the morning and going for a walk along the beach an easy task. You'll also find great restaurants, many with patios, nearby and in downtown Penticton, with its assortment of great retail shops a short walk away.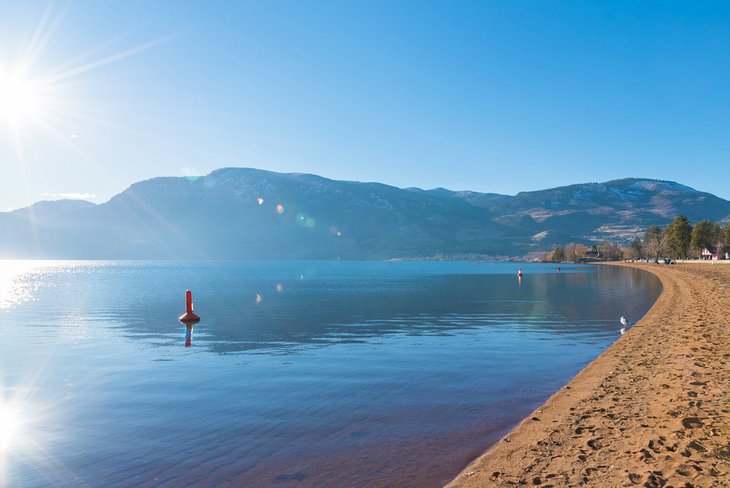 Penticton is fortunate in the fact that it is bookended by another fantastic beach. Located on the north end of town, Skaha Beach is a wide curving strip of sand backed by towering trees and parkland. It's a perfect place to cool off on a hot Okanagan summer day.
Soft golden sand is lapped by the crystal-clear waters of Skaha Lake, and the shallow water near the shoreline gets bathtub warm. Lifeguards keep an eye on bathers; waterslides at the water's edge provide hours of entertainment for young ones. Offshore are two swimming platforms, ideal destinations for those looking for a bit of exercise. Beach volleyball courts always have a game on the go, and new participants, regardless of skill, are readily welcomed.
Back from the beach is a 21-acre park, where you'll find barbecues, picnic tables, wide-open green spaces, a children's playground, tennis and basketball courts, along with fire pits. Concessions selling food and drinks are located along the Skaha Lake Walkway at the back of the beach.
Parking can be tricky on busy days; three lots are available: one at the east end of the beach, the other on the west side, and one near the sports pitches. Parking is free at Skaha Beach.
Read More: Best Campgrounds in Penticton
9. Woodbine Beach, Toronto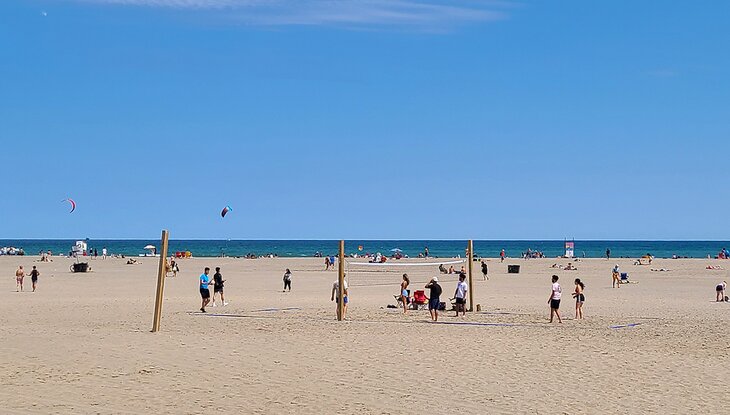 One of the best beaches in Ontario is located just minutes from the attractions of downtown Toronto. Woodbine Beach is a summer salvation for the legions of young condo dwellers. It's at this three-kilometer-long stretch of sand that people come to celebrate all that is wonderful about hot summer days in the city.
Throngs of people visit this beach when the sun shines and the temperature rises. Strolling the boardwalk and checking out the scene is a favorite pastime for young and old. Woodbine is a hot spot for beach volleyball, and every weekend, the courts are packed with teams, some trying to win, most just out for a good time.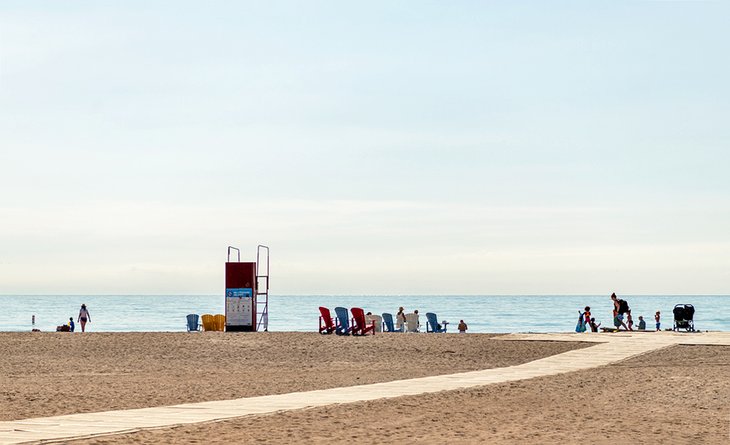 Should you work up an appetite or thirst from all your beach activity, stroll up from the beach into the fun and funky Beaches neighborhood. Here, you'll find trendy restaurants, with outdoor patios, ideal places for engaging in some serious people-watching.
10. Pancake Bay, Lake Superior, ON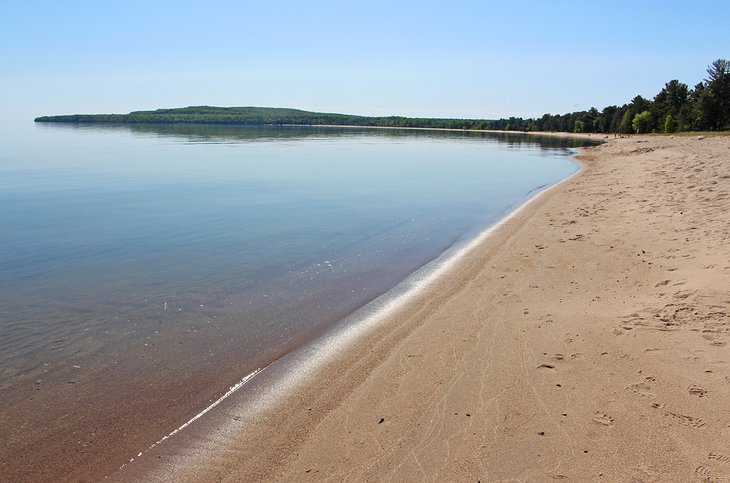 This achingly beautiful long arc of sand is one of the nicest stretches of beach on Lake Superior. The scenery here is outstanding, with points of land jutting out and protecting the bay on both ends and pine trees lining the sand.
Normally Lake Superior is bone-chillingly cold and not overly comfortable for swimming, but at Pancake Bay, the shallow water and golden sand heat the water up to a reasonable level. Families with small children will find this is a great spot.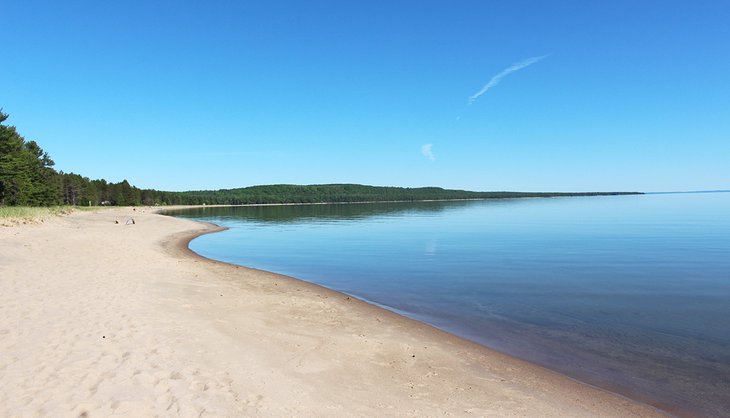 Picnic tables positioned just back from the sand are a lovely place to have lunch or a barbecue dinner. Pancake Bay also has one of the best campgrounds in Ontario. Many of the 325 sites are waterfront, mere steps from the lake.
11. Sandy Hook Beach, Îles de la Madeleine, Quebec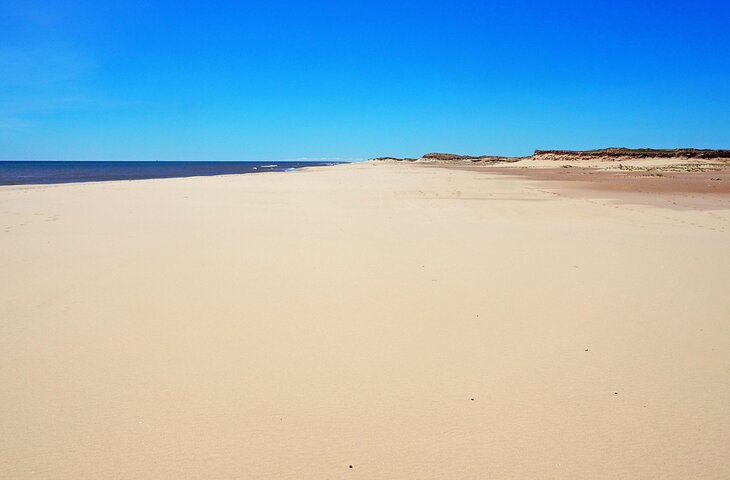 The Magdalen Islands (Îles de la Madeleine), have over 300 kilometers of beaches. Choosing the best one could be a lifetime of tough work! However, the general consensus is that Sandy Hook is the best. With its white sand and clear waters, this beach is sublime.
Located on Havre-Aubert Island, the beach is long and flat. As you walk along, it seemingly melds with the sky. A favorite of beach walkers, the journey to the tip of the island takes about 1.5 to 2 hours depending on how many sea shells you stop to look at along the way.
However, before you pack your bags, bear in mind that it is frequently very windy here. This attracts wind sports enthusiasts, who race across the waters on their windsurfers or kiteboards under colorful sails.
Getting to the islands takes a bit of planning. Count on a five-hour ferry ride from Charlottetown, PEI, or, if you don't mind small planes, a quick jaunt over the Gulf of St Lawrence. Be sure to book your accommodations well in advance.
Map of Beaches in Canada